For three years, we've neglected our fourth bedroom –the last bastion of beige. Home to cream walls and ceilings, battered trim and baseboards, wonky switches, and funky carpet (made worse by us cutting-out a patch, to stop the door sticking). We did sort the door/hardware, and we painted the beams. But little else. Time to rescue this ugly duckling.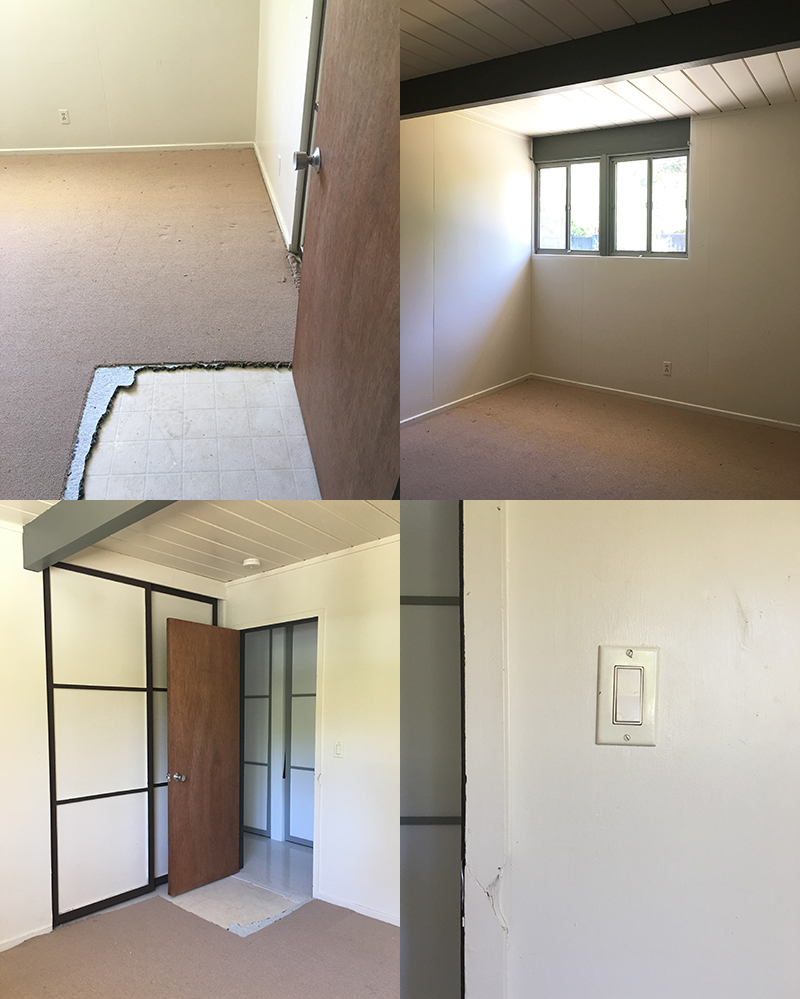 If you're a regular, you've probably guessed this will be our (much trailed) music room. We painted the walls and ceiling in (our go-to) Behr ultra pure white –notice how it contrasts the former shade, on the left? Beats me why cream paint exists. You get the same effect from years of cigarette smoke. Nice.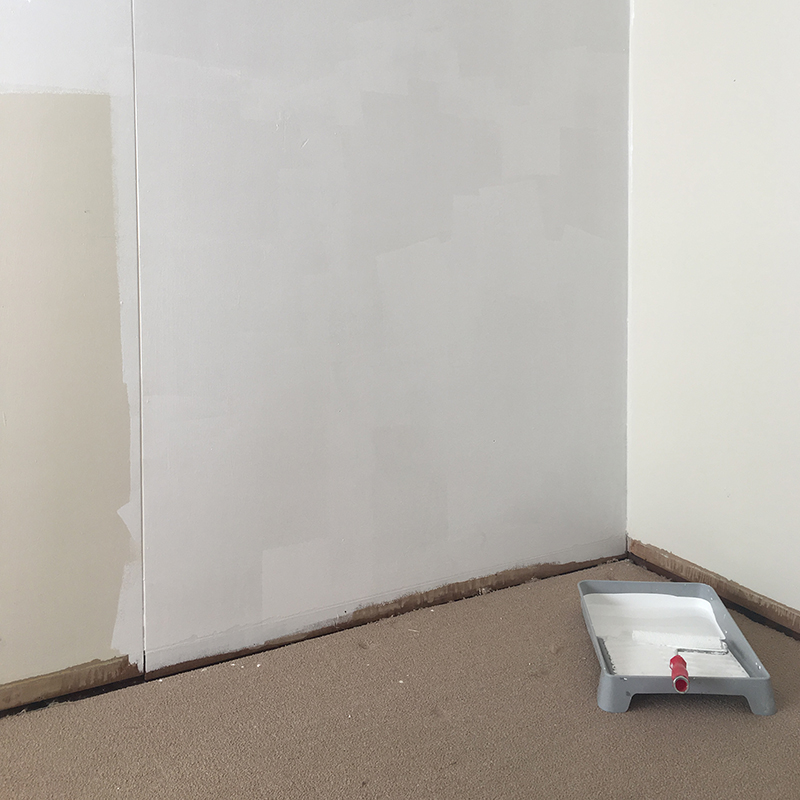 We didn't paint all the walls white –we stripped, sanded and restored this one, as we shared recently. Every wall in our Eichler was originally wood paneling –and it's all still there, just painted. We could return all the walls to wood, thanks to the process we've developed. We won't, but we'd happily have one per room, and that's how it's going –this is our fourth restored wall, so far.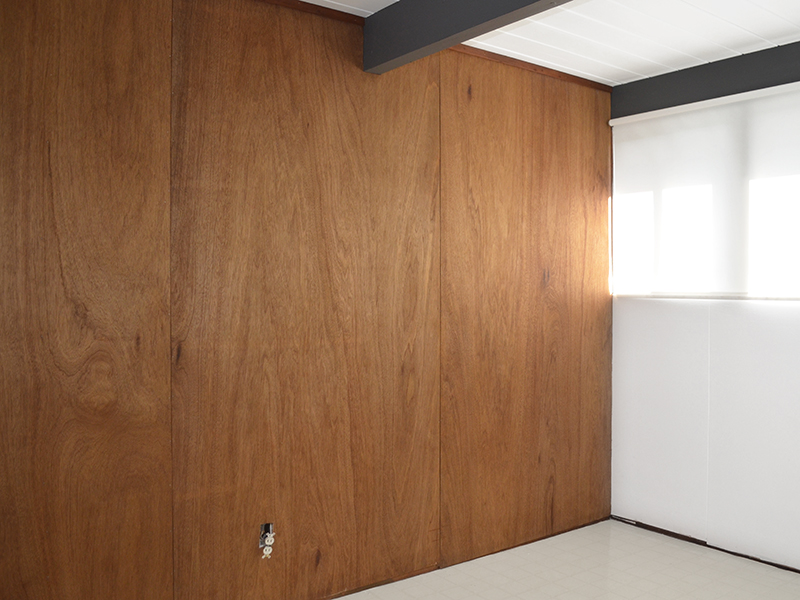 Next, we installed VCT (vinyl composite tile) I won't bore you with the details, as we've covered that before. Probably the easiest install we've done. 100% finished in a day. Here's the same corner as above, with new baseboards –a close match for our originals, stained/painted to match the walls. You get a glimpse of the flooring here, and more in later pics.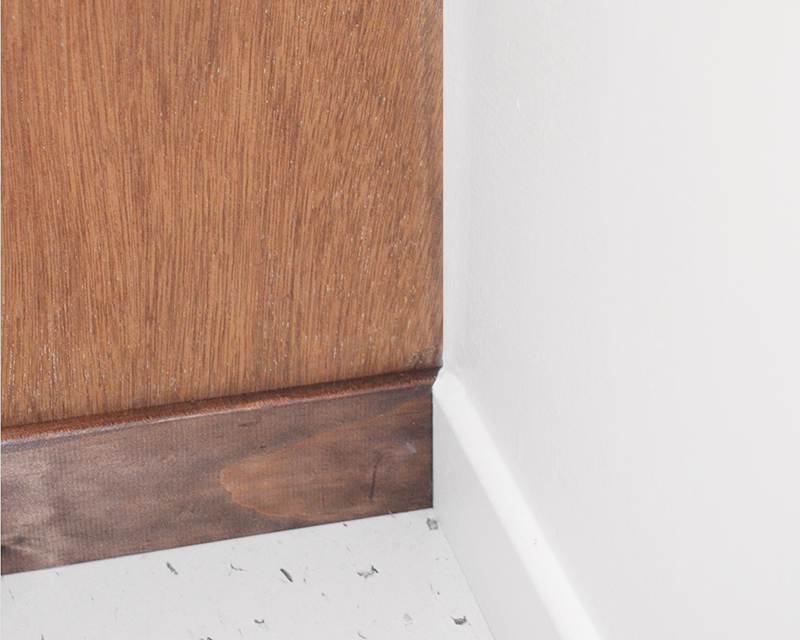 For authenticity, we needed a brown bakelite outlet cover for this wood wall. Again, all the originals are still here, just painted. We stripped the one we'd removed, using Ready Strip Pro –way easier than the boiling method we tried a while back. Once the stripper had done its thing, I started scraping off the paint, then finished with a scrubber.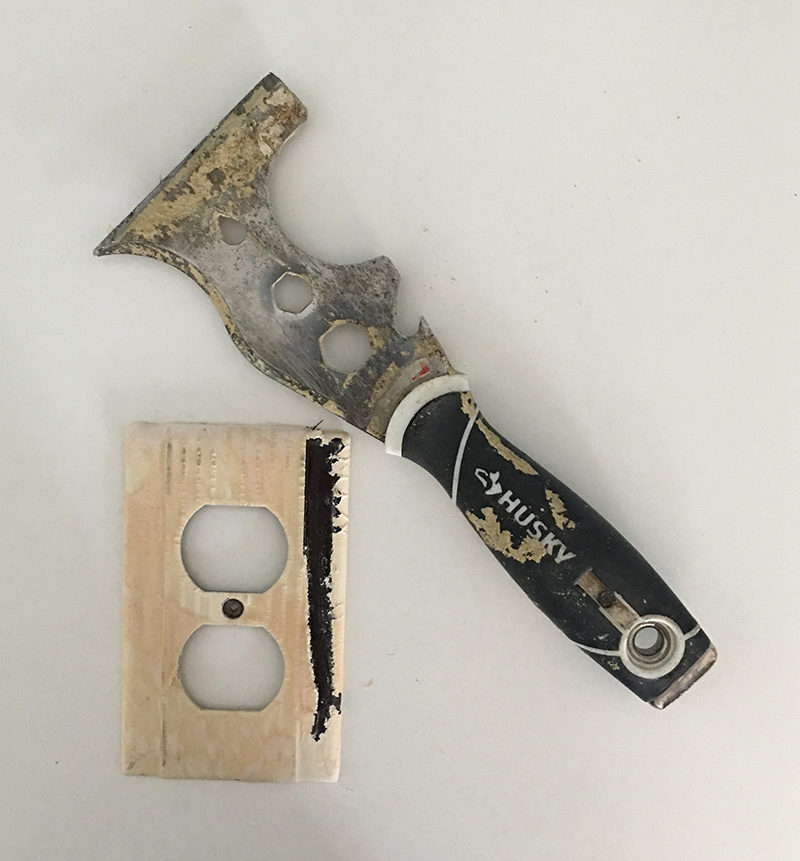 All done. Not perfect, but good enough. Home Depot sells the brown electrical outlet to match the plate.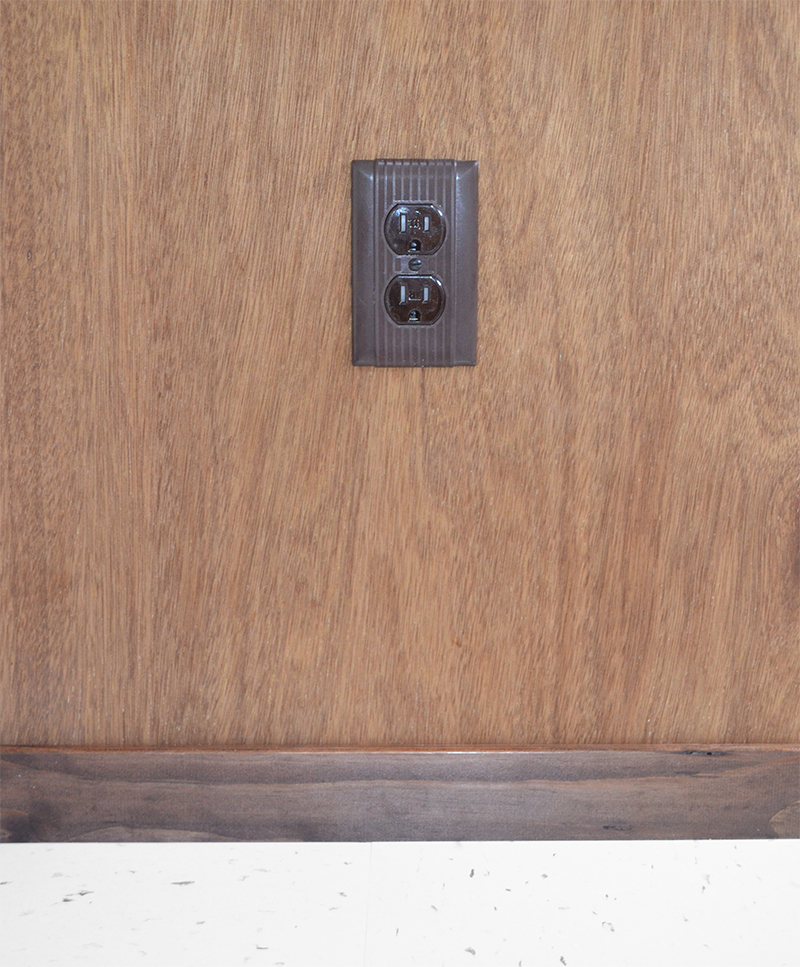 We painted the closet door trim in the same gray as our beams…though it looks darker here, for some reason. You'll notice it matches the cabinet (to the right) too. We like to keep our palette small.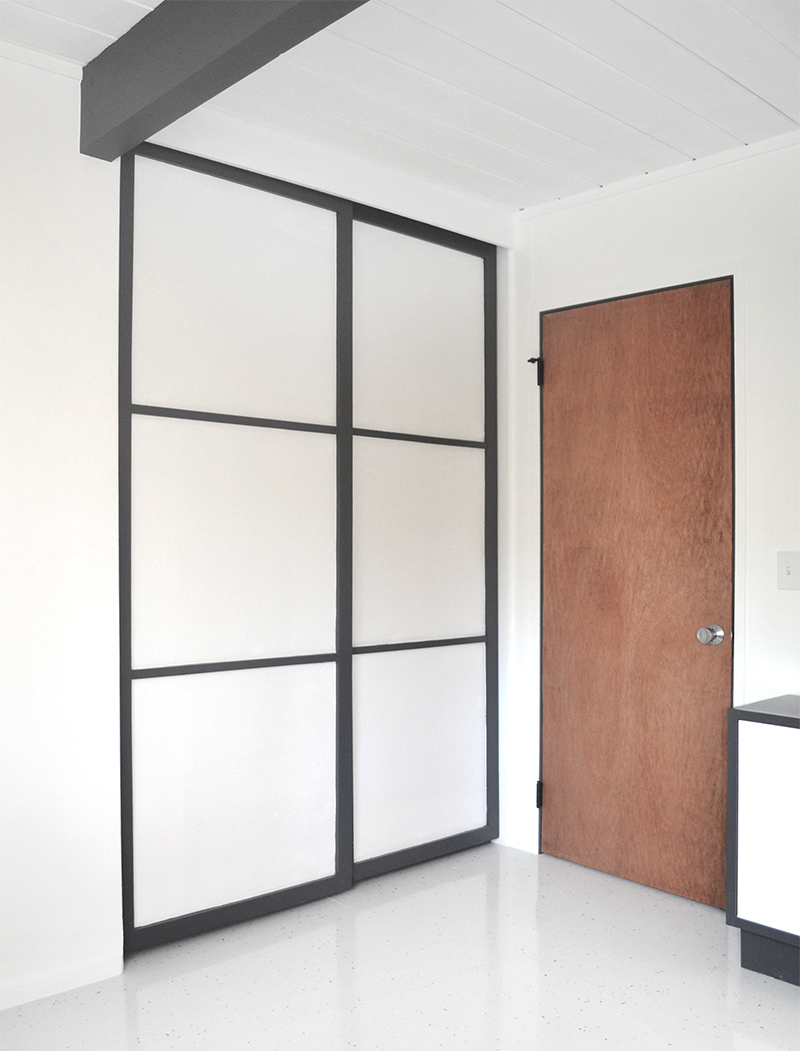 Likewise the door jamb. And we switched the large trim for a low profile version, as per elsewhere.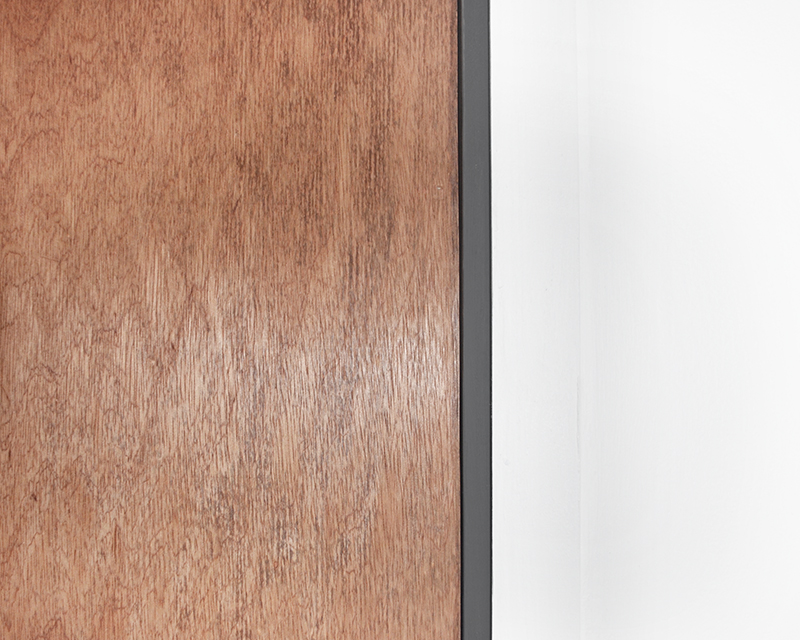 Here's more of that cabinet, with our minimal stereo setup on top –more on that here. You'll also notice an acoustic guitar. Super-cheap, but with decent reviews –I'm an absolute beginner (literally. I haven't even started yet) so it made sense not to shell-out much. At the very least, it's nice to look at.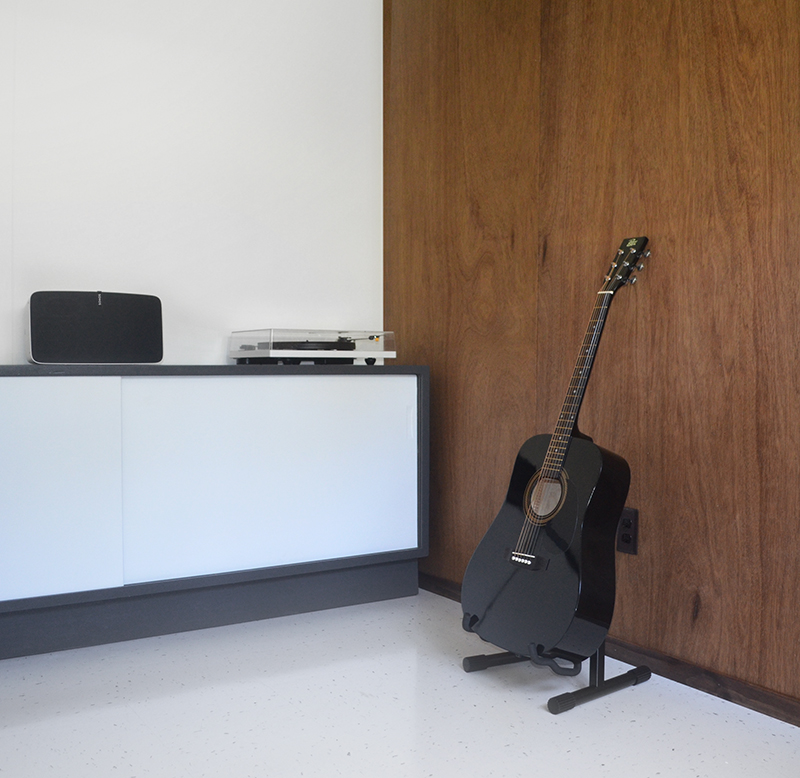 Talking musical instruments, here's our drum set (or 'kit' as we Brits say). I've learned the basics but this is very much Karen's thing –she has real aptitude, making solid progress since we bought "Ludwig" (we didn't need to dream-up a name, as it's right there on his belly). This was a $200 Craigslist bargain. No surprise, it even fits our color scheme.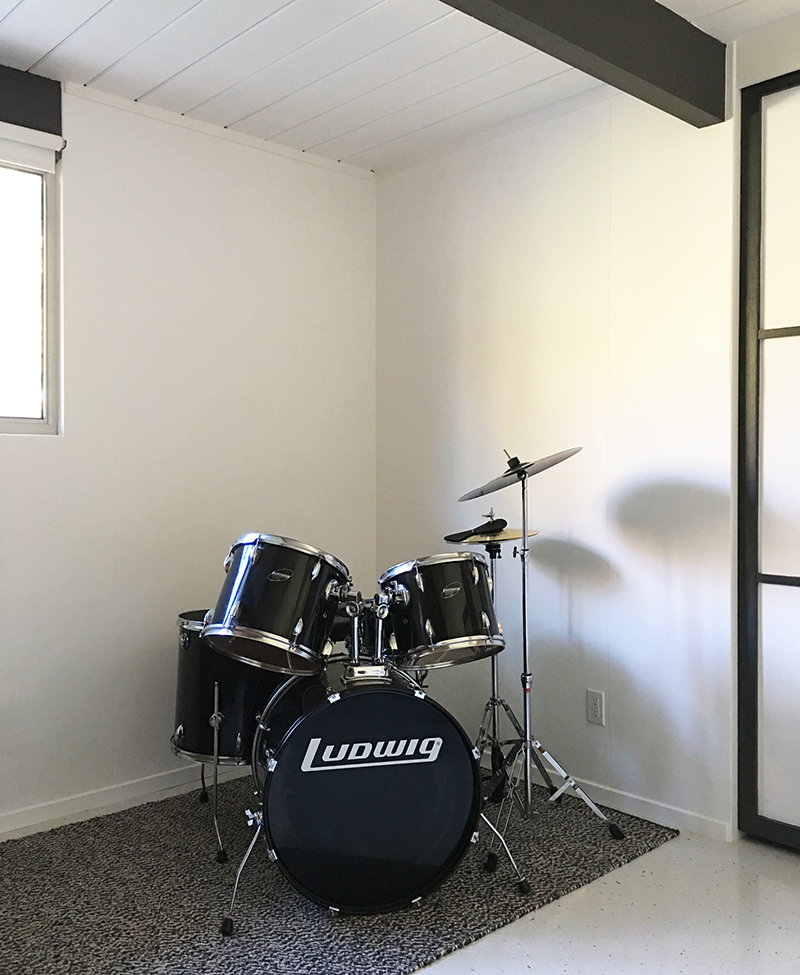 Now the really fun stuff. We've wanted a Hans Wegner shell chair for the longest time, but could never justify the $3K price tag. And we still can't, which is why we opted for a repro. But it's no cheap knock-off –this is a hand-crafted, faithful reproduction, by our friends at Rove Concepts.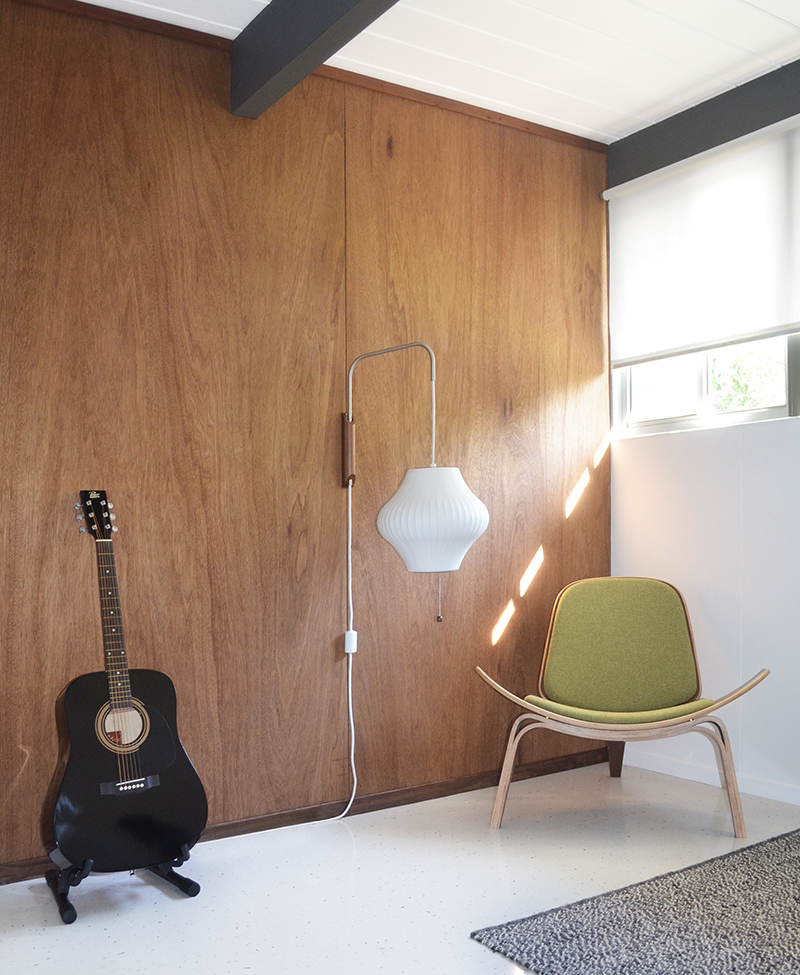 Gorgeous, isn't it? Rove makes chairs to order, so (unless they happen to have one in stock) it takes several weeks. Opting for walnut veneer was a no-brainer, but it took us a while to choose the fabric. After much deliberation, we picked Olive Tree Camera Tweed. This is just the prettiest shade of green.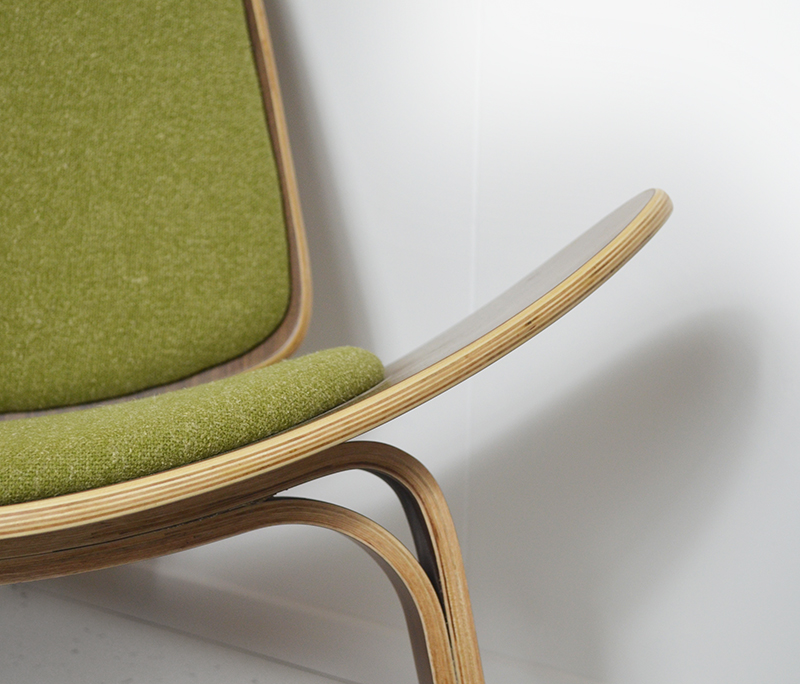 Here's a close-up. We love how the textured olive fabric contrasts the smooth walnut veneer. And the texture/color variation gives the tweed an almost vintage look, which we love. We couldn't have picked a better combination.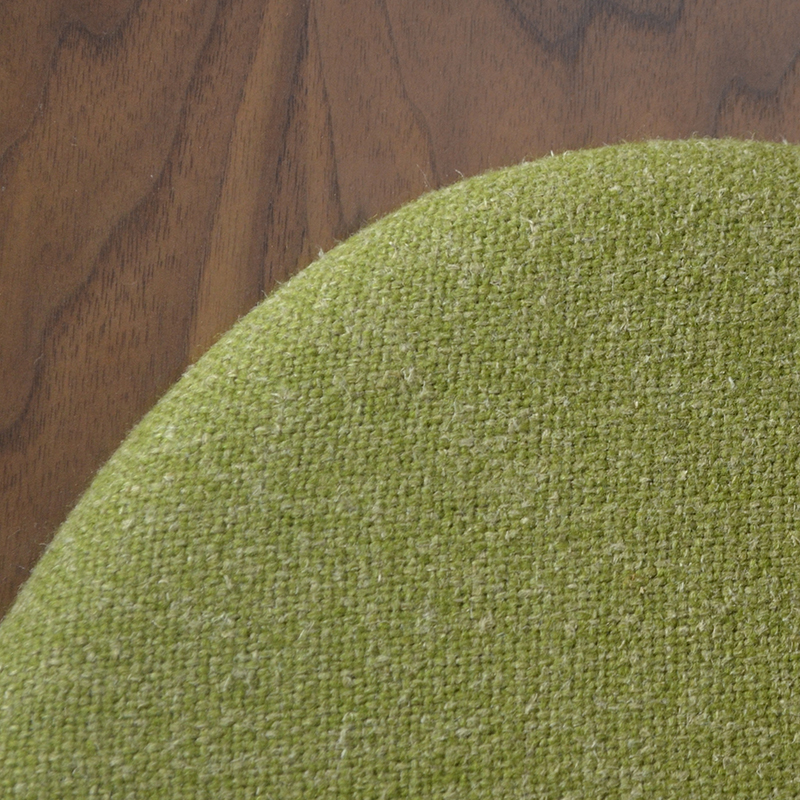 We planned to use this chair in our master (reading/rain-watching nook) where it beautifully complements our green accents.  But it looks SO good here, we couldn't resist. That said, it's a chair that impresses from all angles, including the back. It makes sense to place it by a window, so it can be observed from outside. We have three chair spots that fit that brief, so who knows where it'll end up.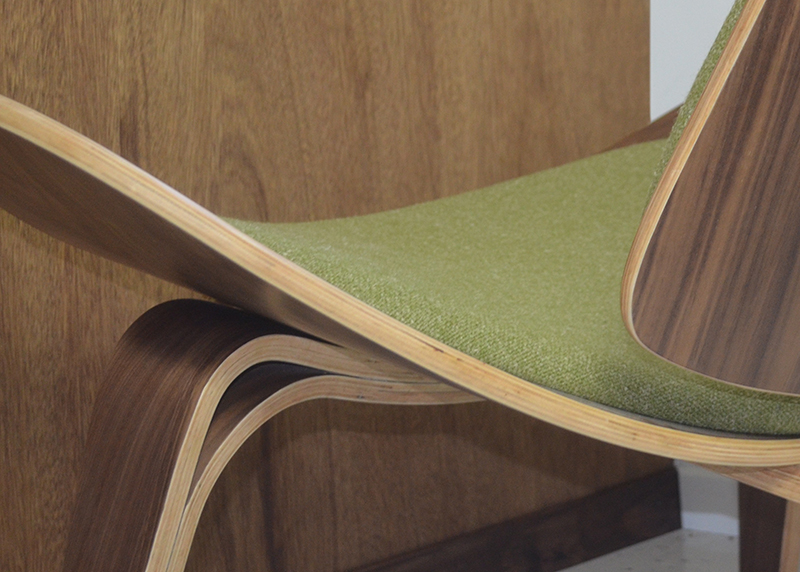 For now, it looks pretty darn good here. Works beautifully with our Nelson Pear sconce too –bought from Modernica (along with a couple of other lamps) during their crazy closeout sale, a while back. Herman Miller now handles production but (thankfully) prices haven't rocketed. Anyway, this is now a super-comfy spot to sit back for reading or listening to music…even live music!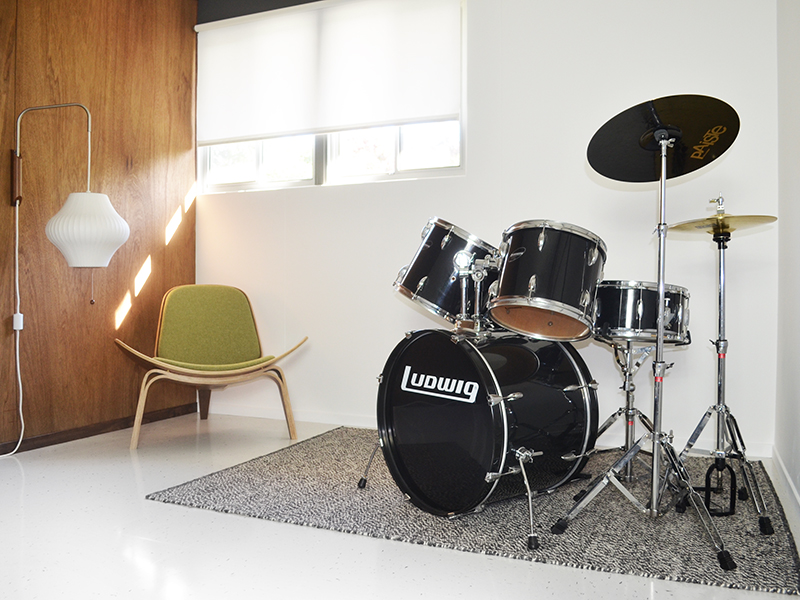 Save
We'll add a 'ride' cymbal to the left –plenty of space on our IKEA rug. We also have plans for music-related artwork, which should add a touch of color. And we need to fill the cabinet with LPs –a quest we undertook during our recent UK vacation (we just got back, and brought the rain with us). More on all that soon…
Save
Save
Save
Save
Save
Save
Save
Save
Save
Save
Save
Save
Save
Save
Save
Save
Save
Save
Save
Save
Save
Save
Save
Save
Save