An odd title, I know, but it will make sense. Originally, our light switch plates were brown Bakelite. All but one of them was replaced during the last sixty years –mostly with this ugly large flat type. They haven't been improved by smoke-induced yellowing.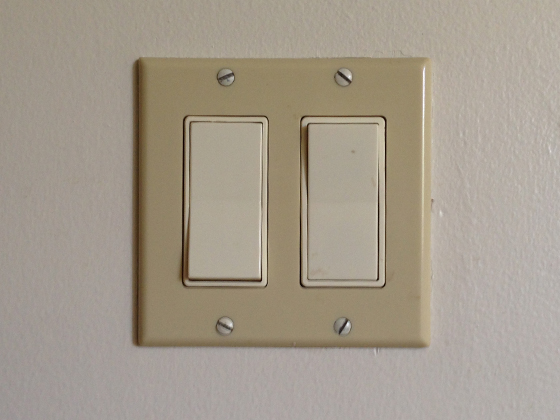 Some are whiter, but still ugly. They all need to go. I'd happily source replacement originals for all of them (plenty on eBay) but Karen's not so keen. And I get it. Brown Bakelite works on paneling (as intended) but doesn't look its best on white or gray walls.
If we'd inherited all originals, I'd fight my corner. We didn't. But while we only retained one original switch plate, we do have several outlet covers. Sadly, they've all been painted, but this post gave me hope of rescuing them (thanks Olivia!) –I'll get to that in a sec.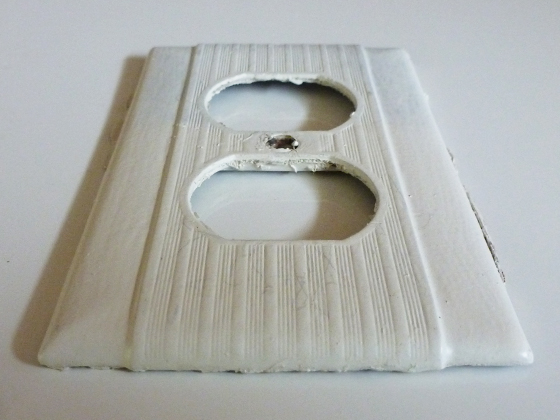 First, I'll explain the compromise Karen and I reached. We decided to only install the Bakelite covers on our restored wood paneling. Gray walls, like this internal siding, get gray outlet covers. While the color doesn't match, we like the look.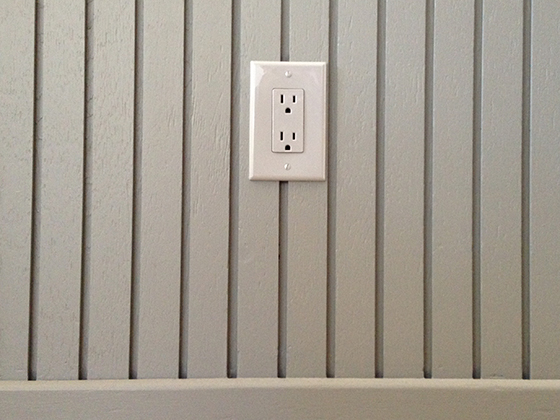 Walls we've painted white (like this one, in our master bedroom) get minimal, plain white covers, with small toggle-style switches. These look clean and modern, and are somewhat sympathetic (we think) to the original design.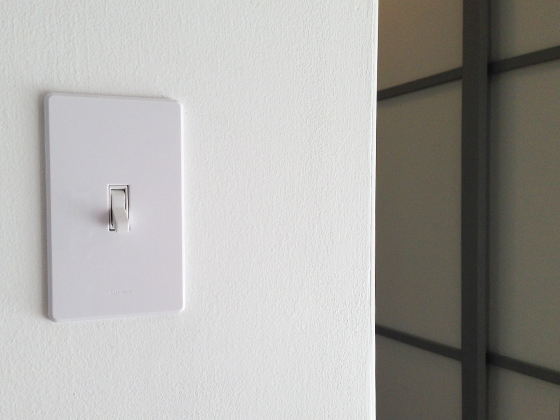 We also inherited a couple of ceramic switch plates –the double below, and a matching single. Though not original, they are old. And we kinda like them. These will remain (for now, at least) on the large white wall in our dining area.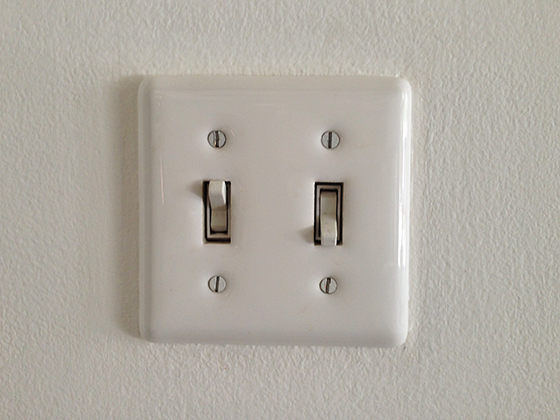 So, to the wood paneled walls. These are in our living room, office and master, and require six outlet covers and just one switch plate, which is lucky. I hope to restore more paneling eventually, and Karen's sort of on-board. For now, that's all we need.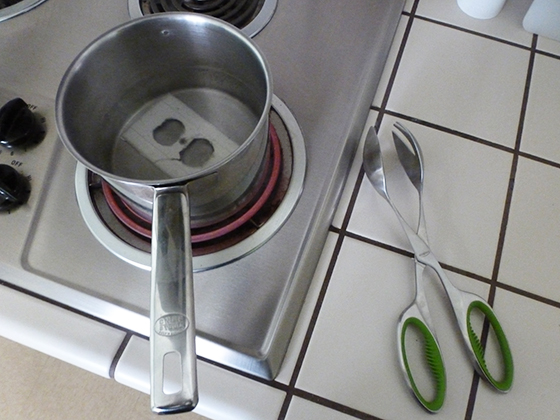 The post I referenced earlier suggests boiling to remove paint from outlet covers. Having tried to scrape and scrub away paint, with limited success, I was open to anything. I boiled some water, and tentatively dropped one in.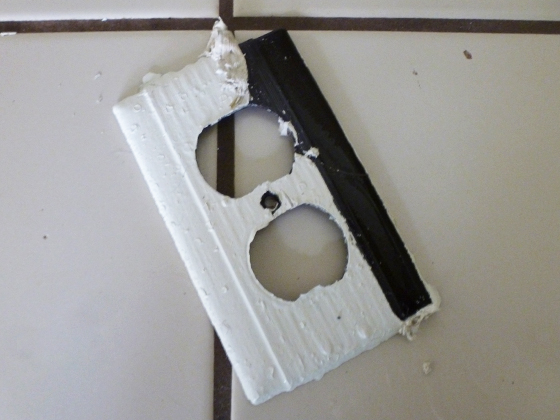 I checked it every so often –salad tongs make the perfect tool for this. After about 20 minutes the paint softened enough to make removal easy. I did over-boil one (not pictured) causing significant fading. These three came out great.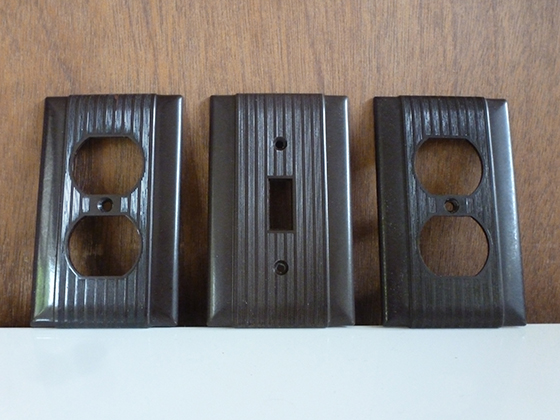 And this was all we needed for the first phase of replacements. The two outlet covers would go on our master bedroom wall. These are for our DIY wall sconces and are very much on display. We had installed gray plates, but these look way better.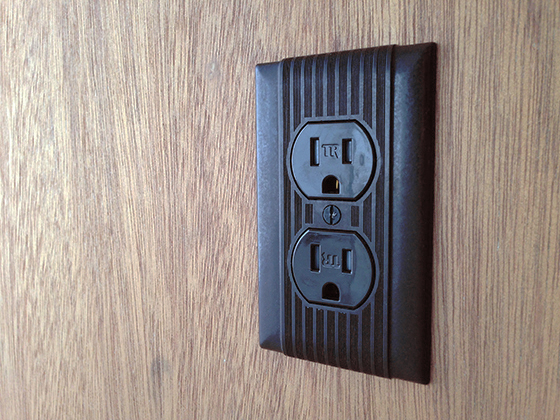 They work beautifully against the wood paneling, and contrast nicely with our blue cord. We bought standard brown duplex receptacles, from Home Depot –at first we thought these might be too glossy, but they look just fine.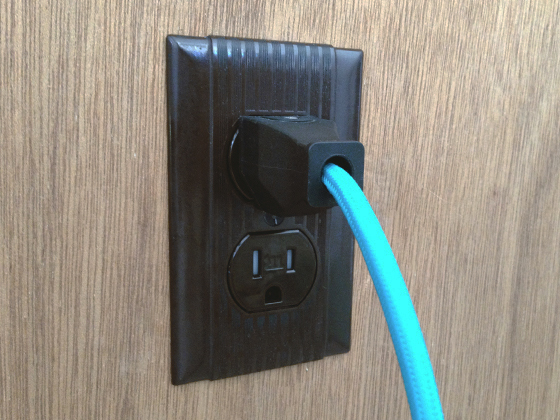 The solo switch plate is for our office. This is wired to an outlet, designed to control a free-standing lamp. This has been out of action since we moved in so, from a practical standpoint, it's great to have a light switch in here at all.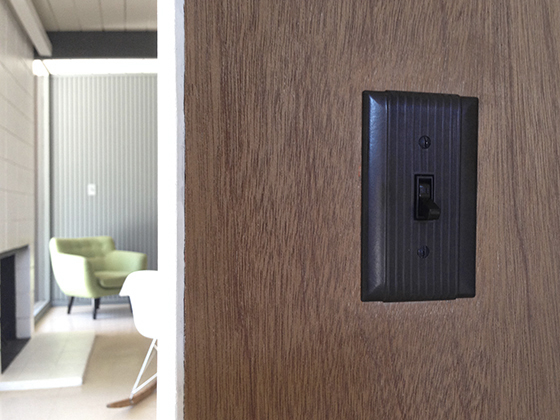 Even better, it looks exactly as intended. I know three covers isn't a big deal, but it's a good start. We need to strip four more outlet covers for the office and living room, then that will be it for a while. Hassle, but worth it don't you think?