Pending already, but we had to share this early (1959) atrium Eichler. I'm sure you'll see why. It sits on the Stanford University campus, and is only available to faculty members, but that won't prevent it topping the $2M+ price tag. No exterior shots, so I snagged this from the listing video.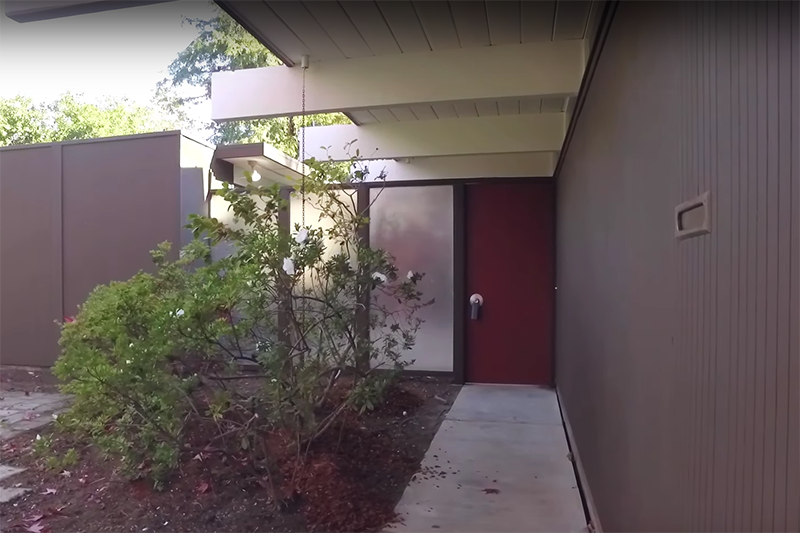 This 4/2 1825 SqFt Eichler bridges mid-fifties models (like ours) and later atrium models. You can see how the house wraps around the glass-walled atrium, with access via multiple sliders, or the actual front door (not visible) on the other side of the kitchen oven wall. The red door (in the distance) is to the street, and the brown door (in the large family room) accesses the garage. Confused? So am I.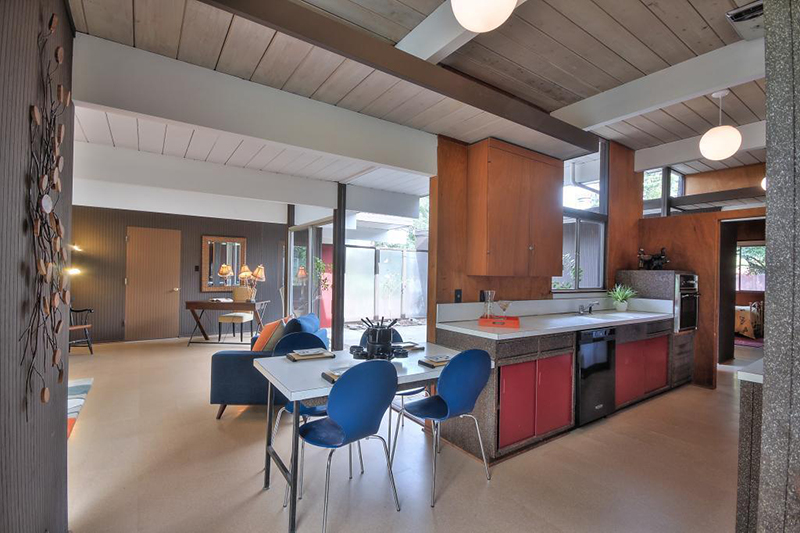 Spinning around, you'll see the kitchen is almost intact, with original sink, oven, Zolatone-painted cabinets, Formica counters, and the coveted swing-out breakfast table. Very nice. Though red wouldn't be our color preference. Like our model, it's divided from the main living area by a partial wall.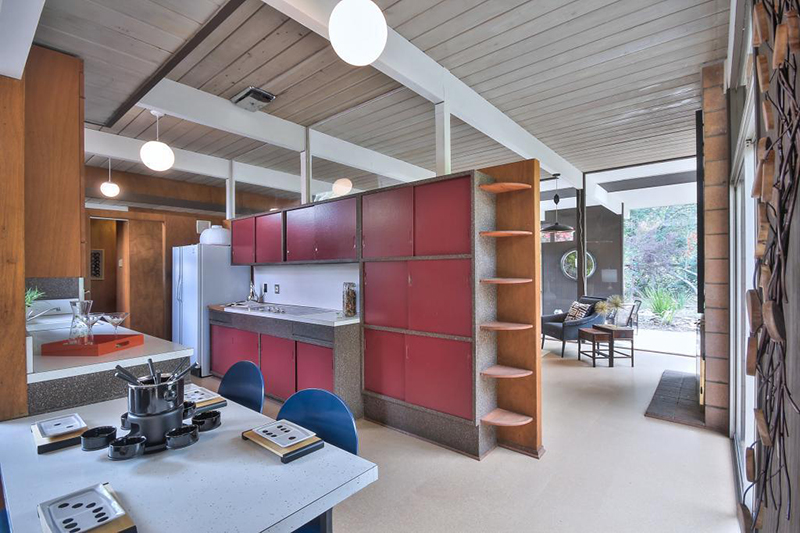 Also like ours, every wall is wood paneling. Unlike ours, they've been preserved throughout. The ceiling is also unpainted, so retains its gorgeous pickle-stain appearance, and the fireplace is natural square cinder-block. The flooring looks like period-appropriate cork, in a lighter variation, which we like.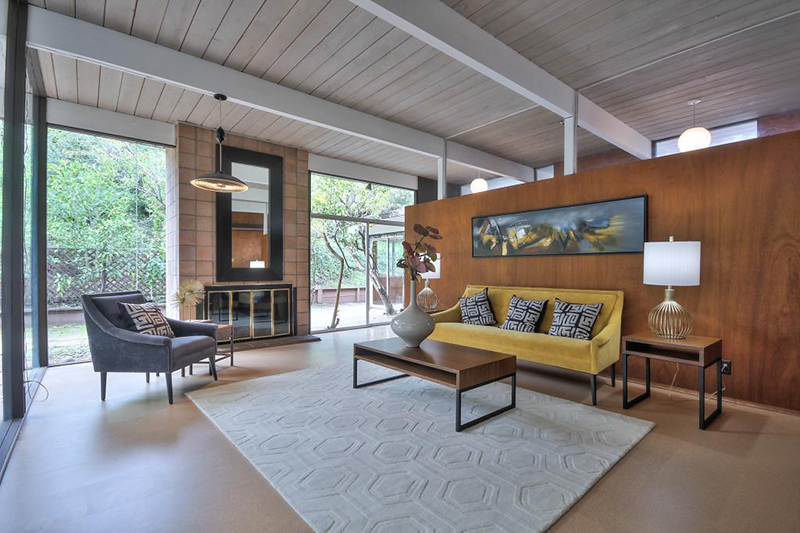 Tons of living space, with abundant glass surrounding it. Who doesn't like that combination? –if that's you, you're in the wrong place. Beyond the glass, a huge overhang and isolated siding wall, providing a focal point for covered outdoor living –such a cool feature, and one we've never seen before.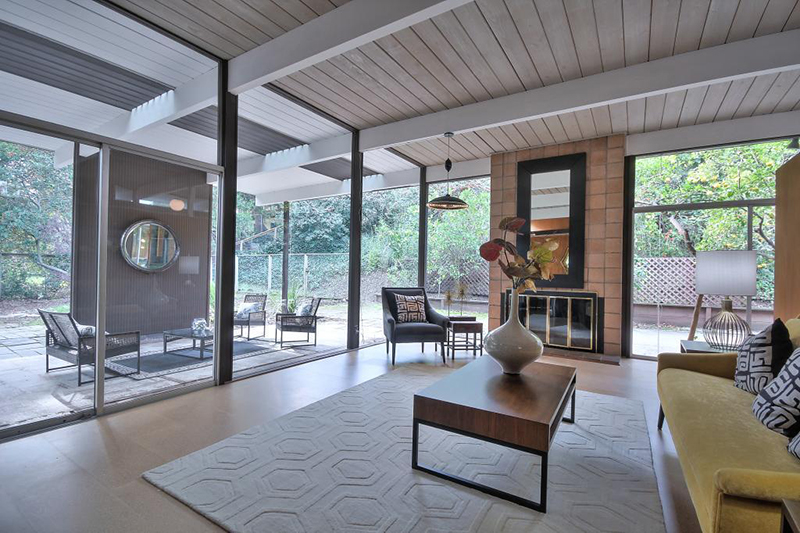 Something else we haven't seen –this dropped ceiling, extending from the (lower) bedroom wing, through the living room wall (also in the kitchen). Typically, you'd see clerestory windows above, but not here. Kinda cool, though I don't love how it intersects the window.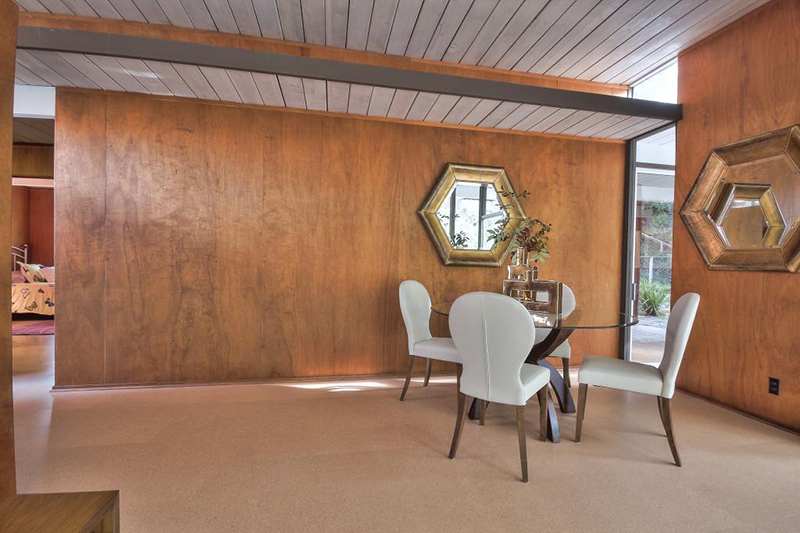 The bedroom layout is just like ours, with all the rooms off a long, closet-flanked corridor. At this end, a familiar-looking master suite, with a small corner window, large wall of glass/slider (behind us) and open access to an adjacent master bathroom.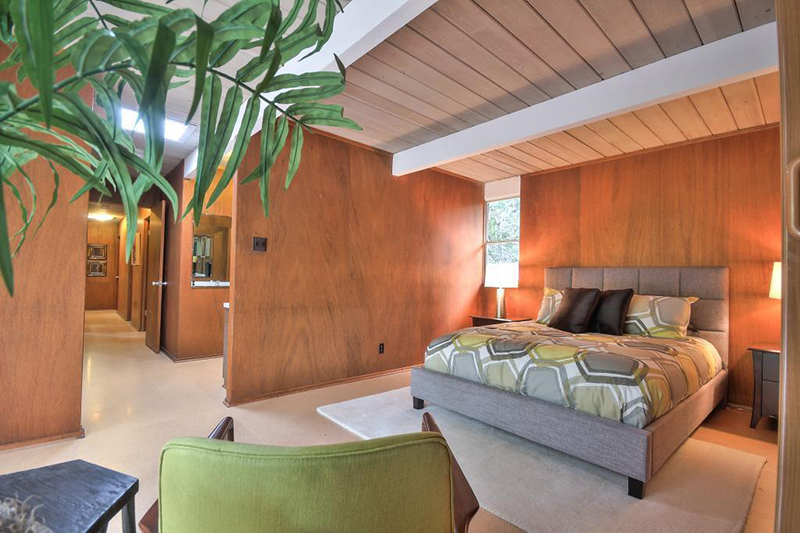 In there, original cabinets, sink, door/hardware, and more wood paneling. I bet the shower is original too.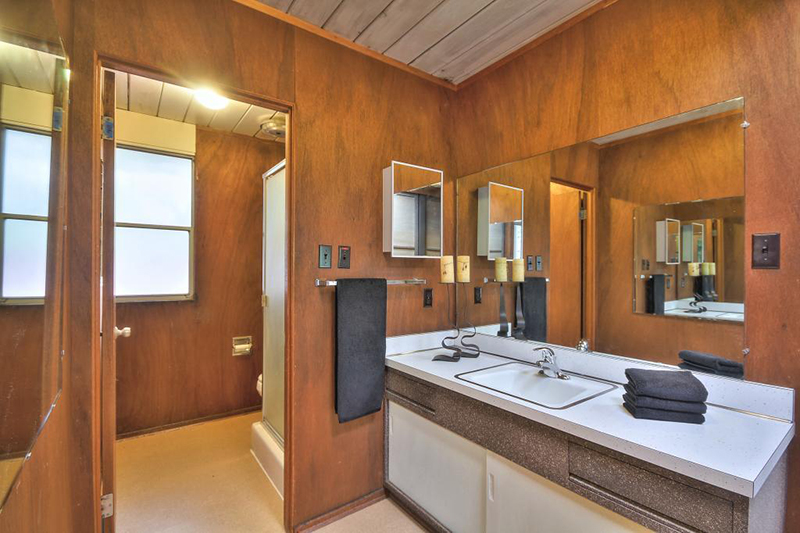 The other three bedrooms are fairly standard, but with all Eichler elements preserved –more wood paneling, unpainted ceiling, and original grasscloth closet doors. These oversized windows are a significant upgrade from our earlier model –compare with the windows in our music room.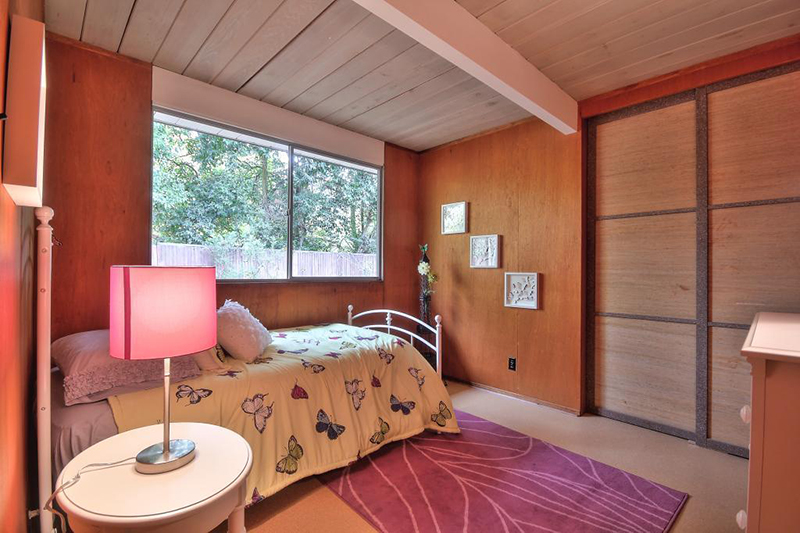 Presented by Monique Lombardelli, of Modern Homes Realty, who kindly gave us permission to share these pics –thanks Monique! If you crave more (and you should) check out the listing, and watch Monique's video tour, where she explains some of this home's rare and original features. Before you click, admire this shot (which doesn't appear in the video, oddly) showing the huge rear overhang and patio. So good.
As Monique says, this home is a "time capsule", and a real treat for Eichler purists. I hope the lucky new owners appreciate what they have. What do you think of this impeccably preserved Eichler? Does this original look do it for you, or would you be tempted to 'modernize' anything?Save
Save
Save
Save
Save
Save
Save
Save
Save
Save
Save
Save
Save
Save
Save
Save
Save
Save
Save
Save