We've always wanted VCT throughout, but kept flip-flopping on color. We finally picked Armstrong's Polar White –a pure white, with flecks of charcoal gray. We already dry-laid samples in our guest room, and noticed variations between batches –one had a bluish hue, which we hoped to avoid. We nervously opened one of our (40) boxes. It was white alright. Phew!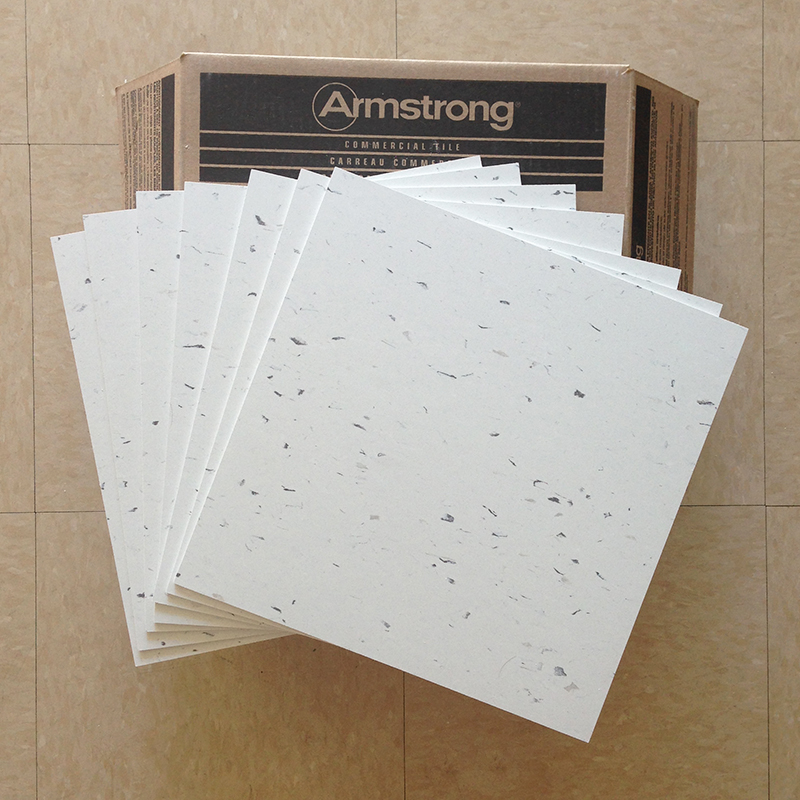 We specified all the tile from the same batch, so we should be good. Our schedule didn't allow us to begin install for a couple weeks. In the meantime, we couldn't resist laying-out tiles in several places, to get a feel for how it would look. We're phasing install room-by-room, starting with our 'all-purpose room'. We blocked-out a weekend and got to work.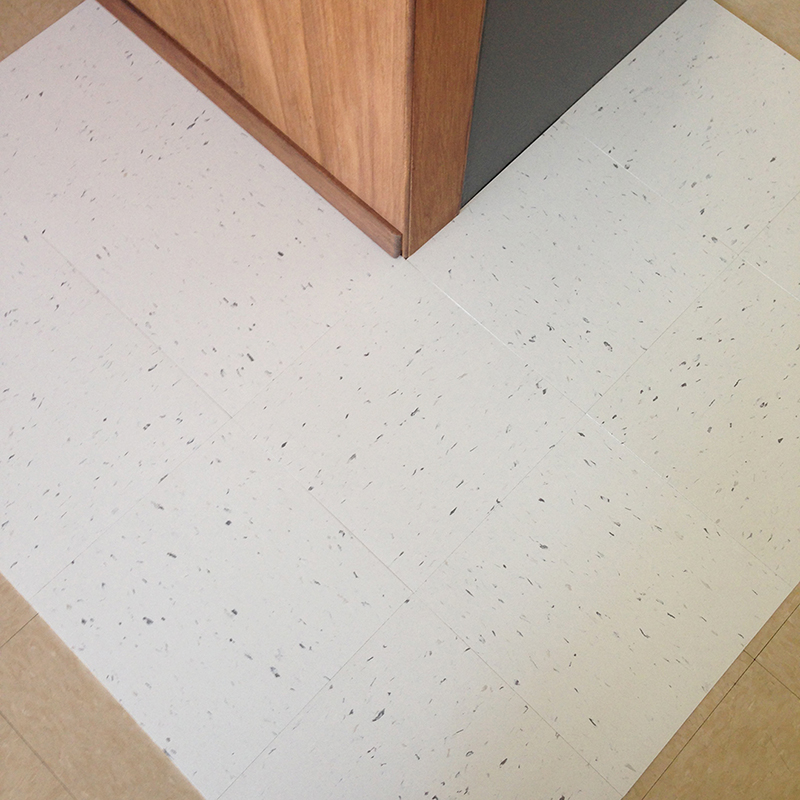 We'd be laying directly over (hideous 70s) linoleum in our AP room and existing (very beige) VCT elsewhere. Luckily, there's zero height transition between the two surfaces, and they're flat and smooth, so an ideal base for VCT. Leaving everything in-place also means less work, and encapsulates any asbestos that might be in/under the lino.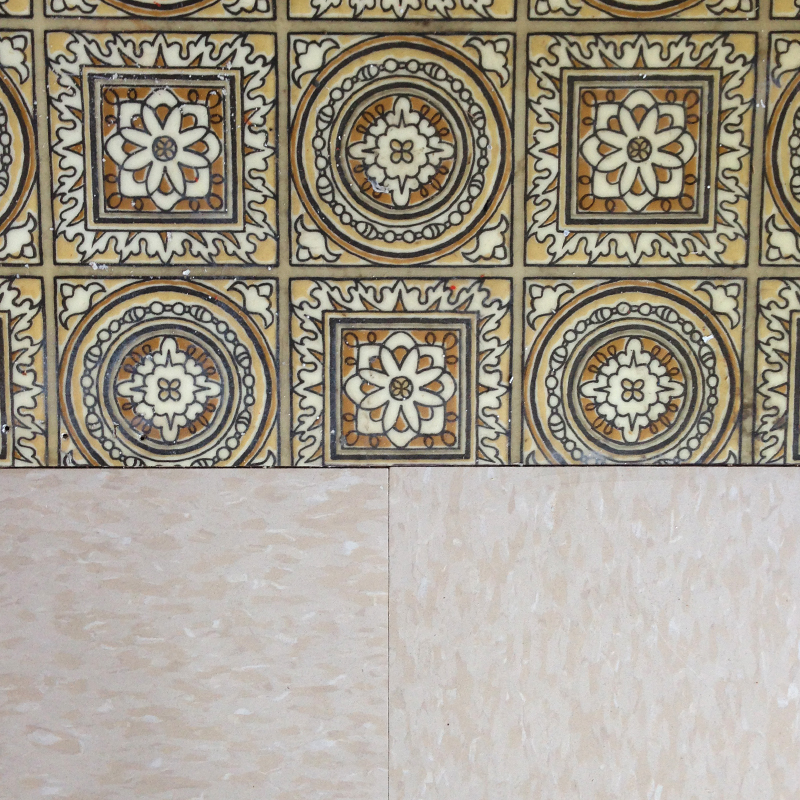 First step is marking lines, to ensure tiles run perpendicular to walls. With a concrete floor, we'd lay out a cross of tiles, then mark a vertical and horizontal line. As we're laying over an existing VCT install, we just lined-up the tiles with this and marked some starter lines. Next, we applied the adhesive, working back from the cinder-block. We did this late, aided by our photography/DIY lighting.
Spreading the adhesive is straightforward but tiring. We took turns. Once the floor was covered, we left overnight to dry. The adhesive goes clear (as below) when ready. The time had come, and this was my department –I tend to moan if things aren't 100% perfect, and they rarely are, so Karen figured if I do the install, I can't complain. She's smart.
I worked forward, then sideways, butting tiles together. The adhesive allows for minor re-positioning, once tiles are down. You can even remove and re-apply, if necessary. There's a subtle direction to most VCT patterns, including ours. We'd be laying tiles alternate, 'basket weave' style, but some people choose a straight-line install –guess this could help to visually widen/elongate a room.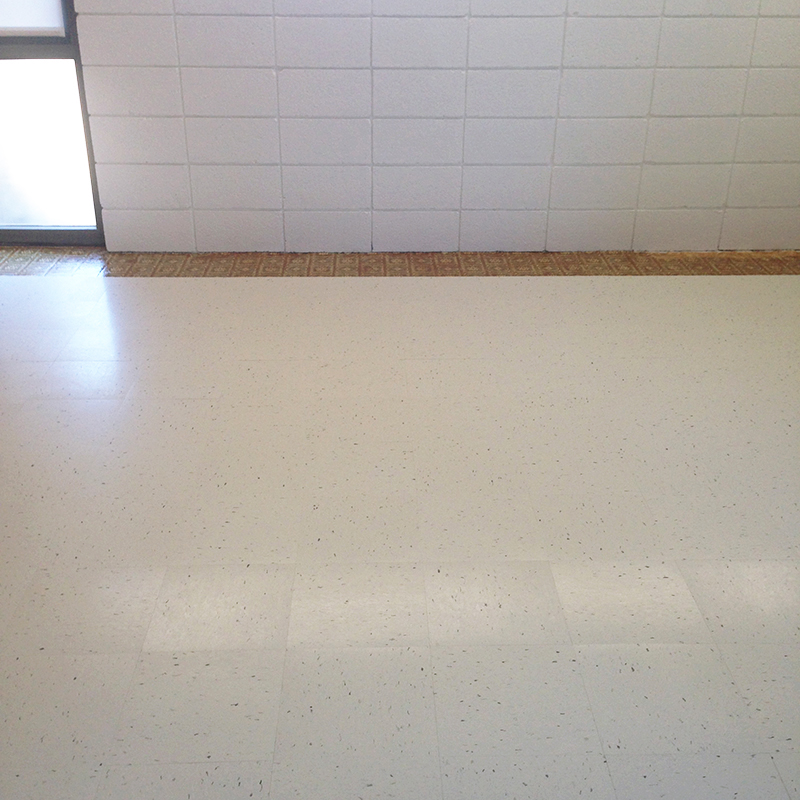 With tiles laid over the entire room, that just left the edges –the tricky bit. For straight edge cuts, you can place the tile you'll be cutting directly over the adjoining full tile (ensuring correct orientation). Then you lay another tile over the top, and push it against the wall. Next, you score a couple times, with a sharp carpet knife, before snapping the tile. It's very simple.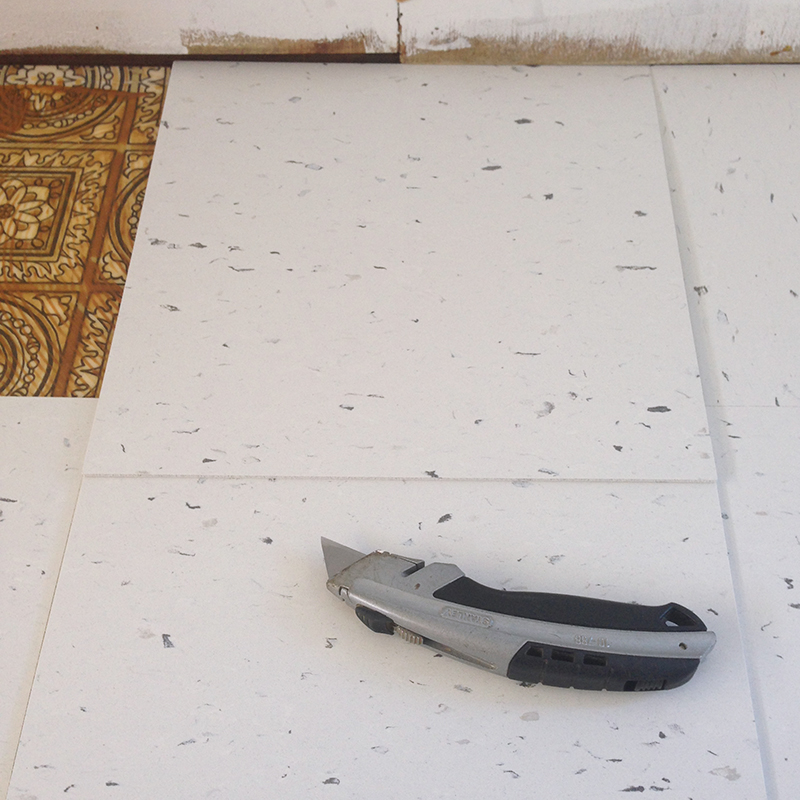 Where baseboard covers edges, you don't need 100% accuracy, though it's good practice to try. We took more care where the tile meets cinder-block and sliders, as these edges would just be caulked. Corners just need more measuring and scoring. For more complex cuts, you can apply heat, to make the tile more pliable and easier to break –a heat gun is ideal, but a hairdryer will do.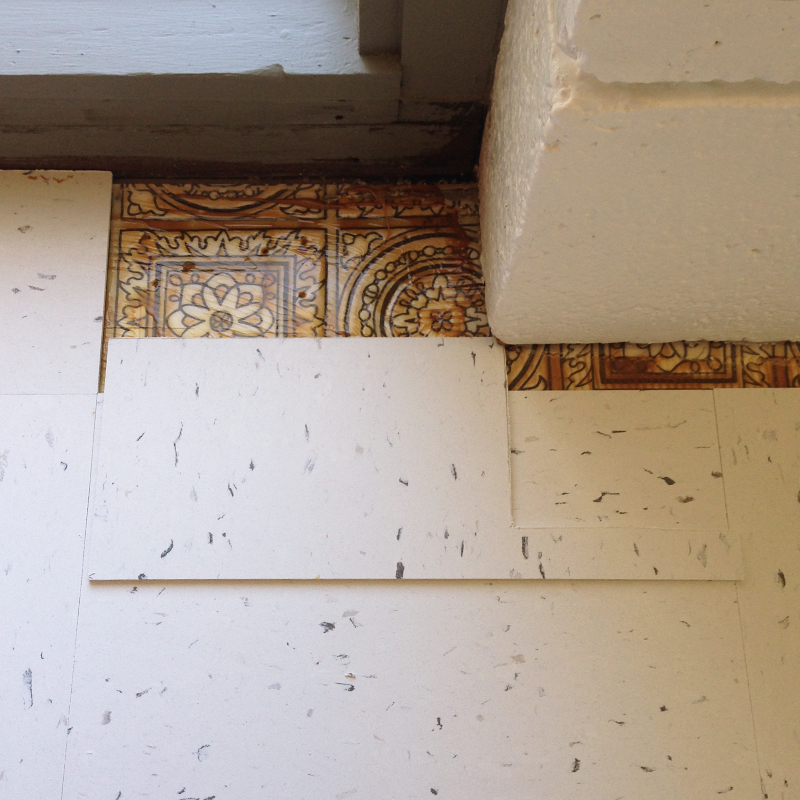 With the VCT installed, we vacuumed and wiped away any stray adhesive. Next, we applied two coats of Zep Stain Resistant Floor Sealer, with a microfiber mop, allowing 30 minutes between coats. Then we applied four coats of Zep High Traffic Floor Polish, with the same intervals. Apologies, not the greatest 'action shot' in the world. Suffice to say, it made the floor shiny.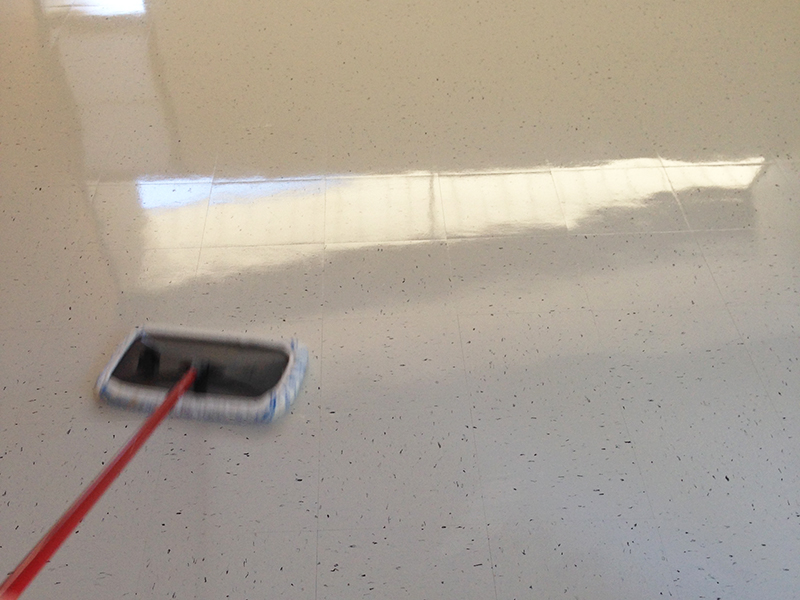 And it stays that way. You can make it even more so by using Zep's Wet Look Floor Polish instead, but we chose not to. It needs re-coating with polish periodically, depending on traffic. But sealing it ensures the tile is protected. I don't think our beige VCT, installed just before we bought, was ever sealed, so hasn't fared well. Finally, we reinstalled the baseboard and caulked where there wasn't any. Then we were done.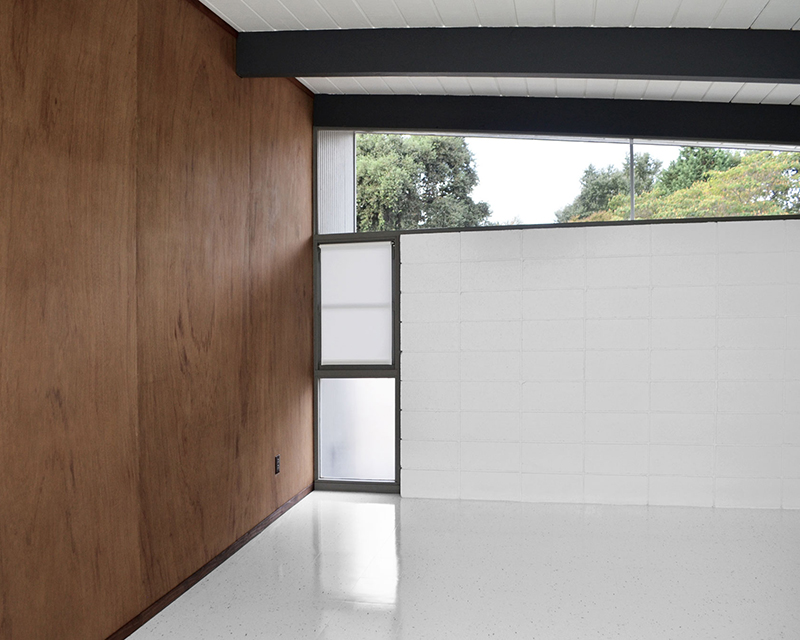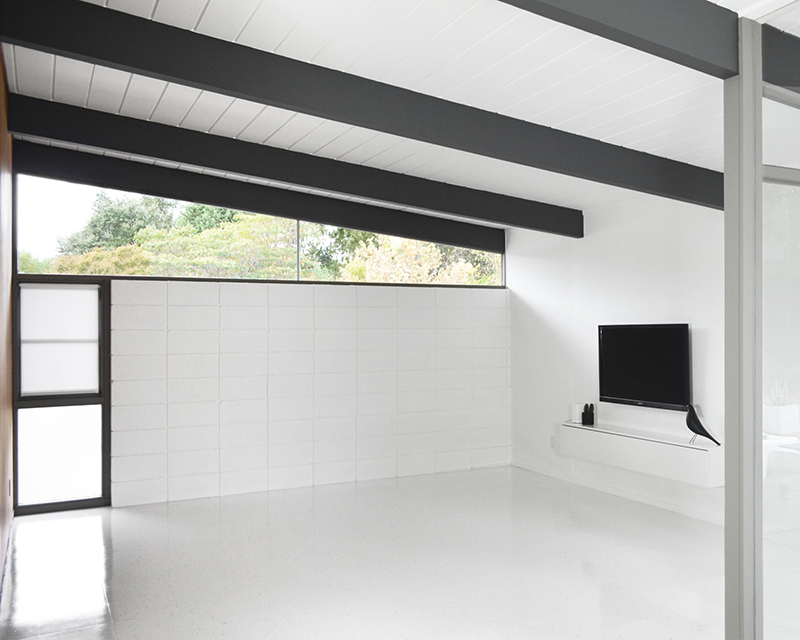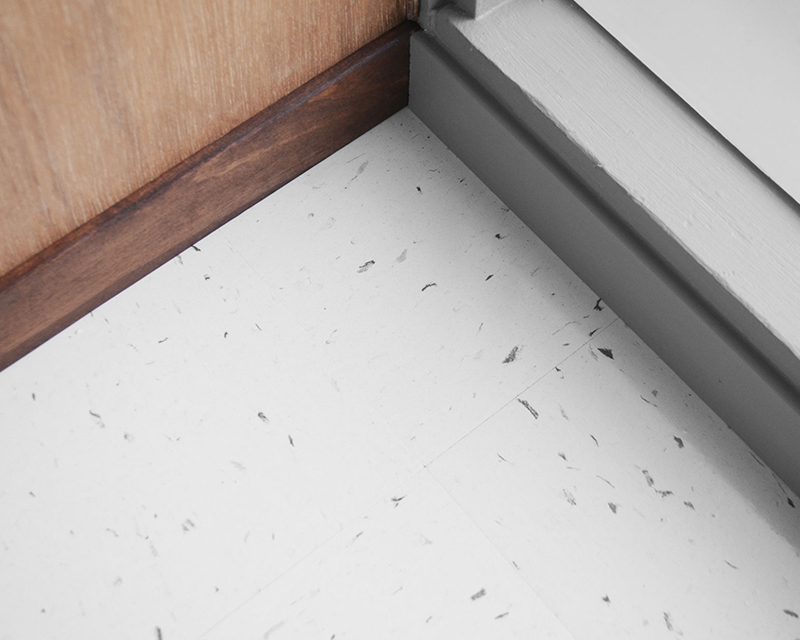 It's recommended to wait a few days before placing heavy furniture on new VCT –we waited a week, to be safe. This is by no means our final furniture setup –we need a chair for the near right corner (ideally something with a pop of color) plus we'll eventually switch out the lamp, and the beige rug (for gray). We're also not sure whether this sofa will stay here or shift into our main living room. But this is how it will stay for a while.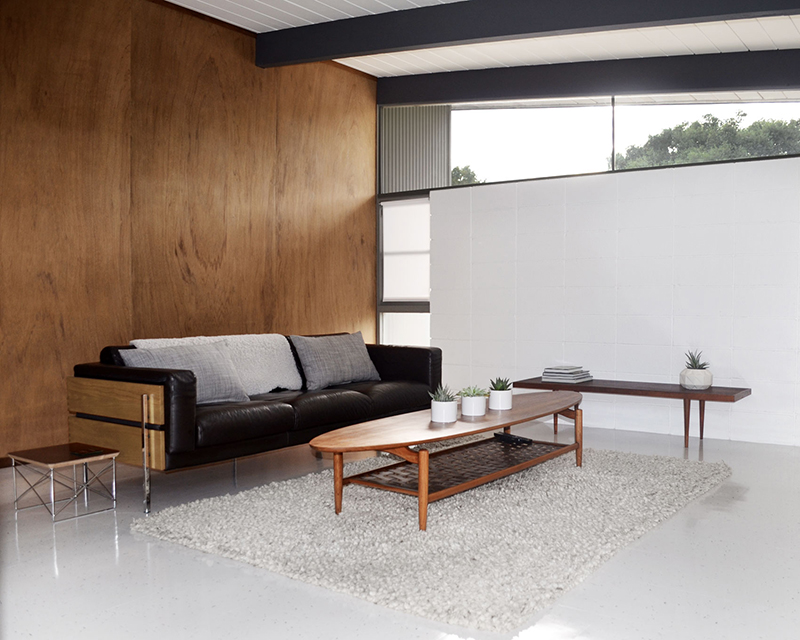 It's a good start, and we're happy. We plan to install the adjacent living room flooring next, then the kitchen and corridor. Then we'll pause for a bit. Speaking of living room and kitchen, we've made some significant progress in both areas –update coming soon…