Remember the suspended cabinet (AKA 'flying coffin') we removed from our kitchen last year? We loved how it looked, but it just wasn't practical. Since then, it's been gathering dust in our garage –but we always planned to re-use it, given the opportunity. And now was the time.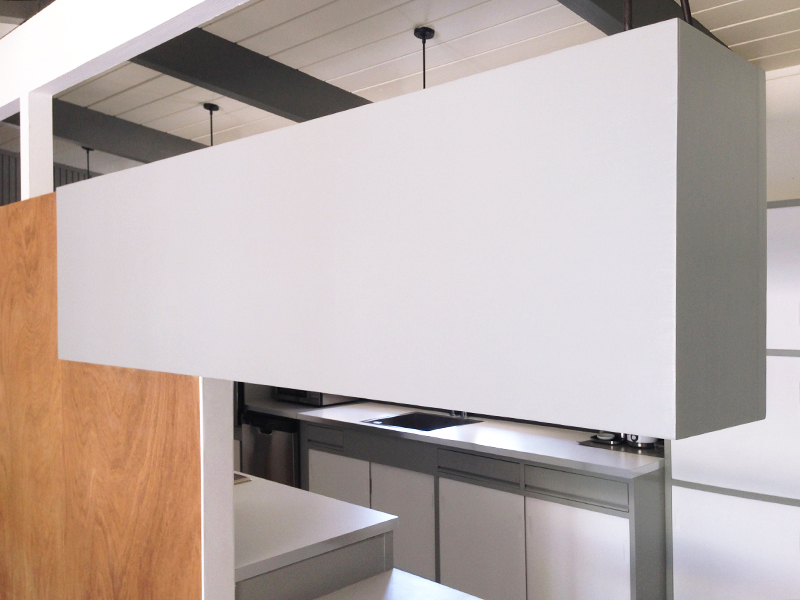 We figured it would fit perfectly in our new music room, for storing vinyl, amongst other things. Before it gets a new home, a few hoops to jump through. This cabinet slotted into the wall, Tetris style, so it isn't square –see that protruding section?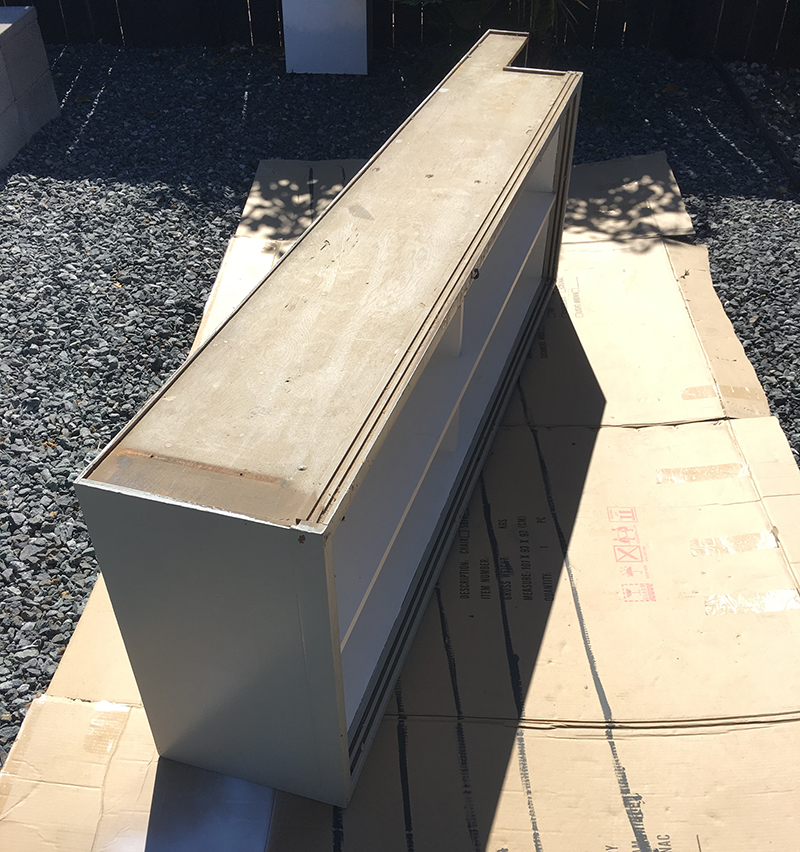 Here's a better look. We sawed this bit off, then re-faced that side.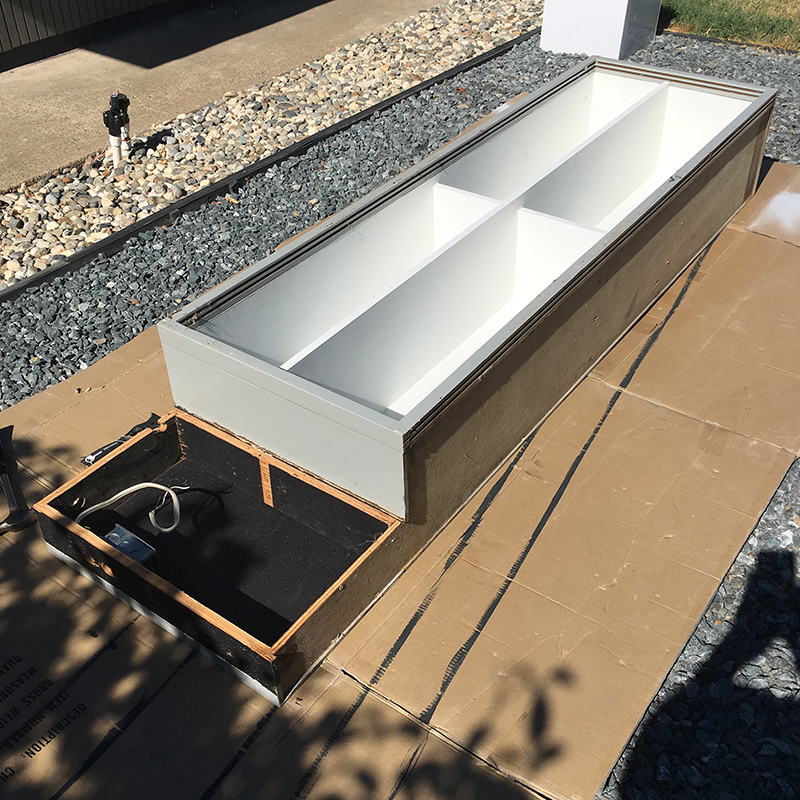 Like so. It ain't pretty (we're no carpenters) but caulk and paint will fix that.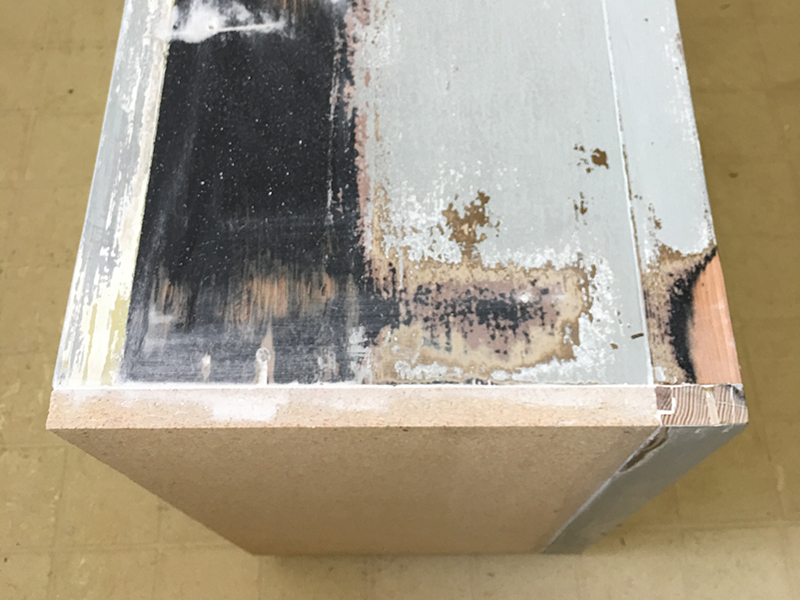 We painted the cabinet our dark gray beam color, using semi-gloss for durability. You'll notice the back has gone –embarrassingly, we hadn't checked the cabinet depth, and it turns out LPs won't quite fit. Oops. But we were set on using this cabinet, and weren't giving up now. So, we pulled the back off.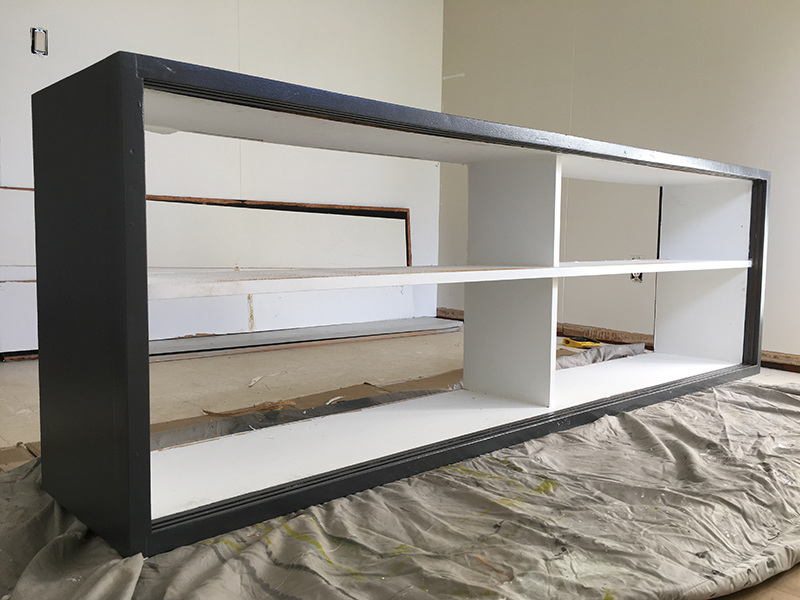 Next, we added a wood frame around the edge, plus a central support.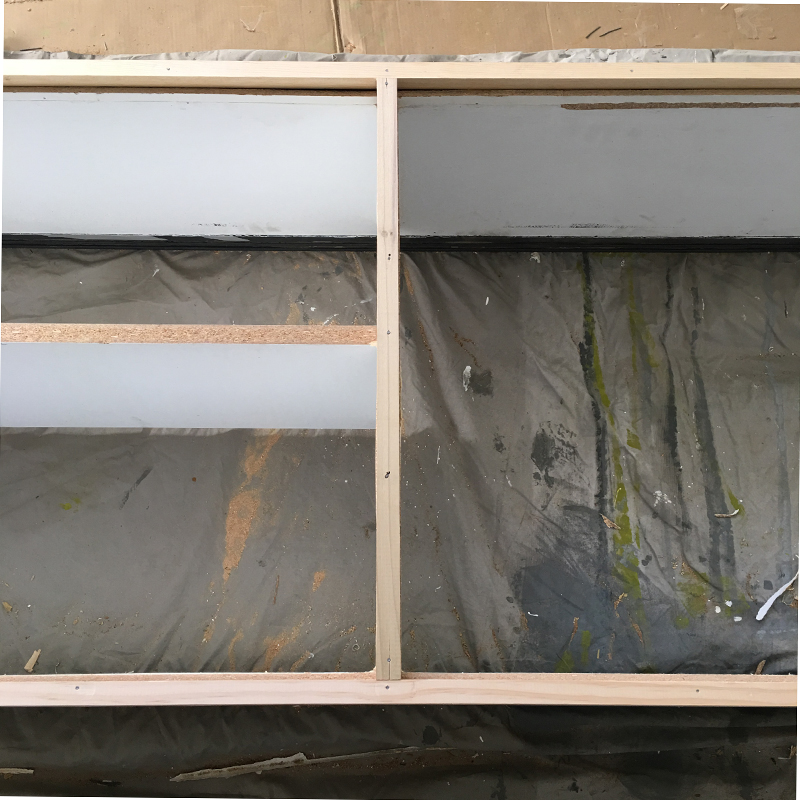 Then we reattached the back panel. Again, not pretty, but fine with some sanding, caulking, and painting.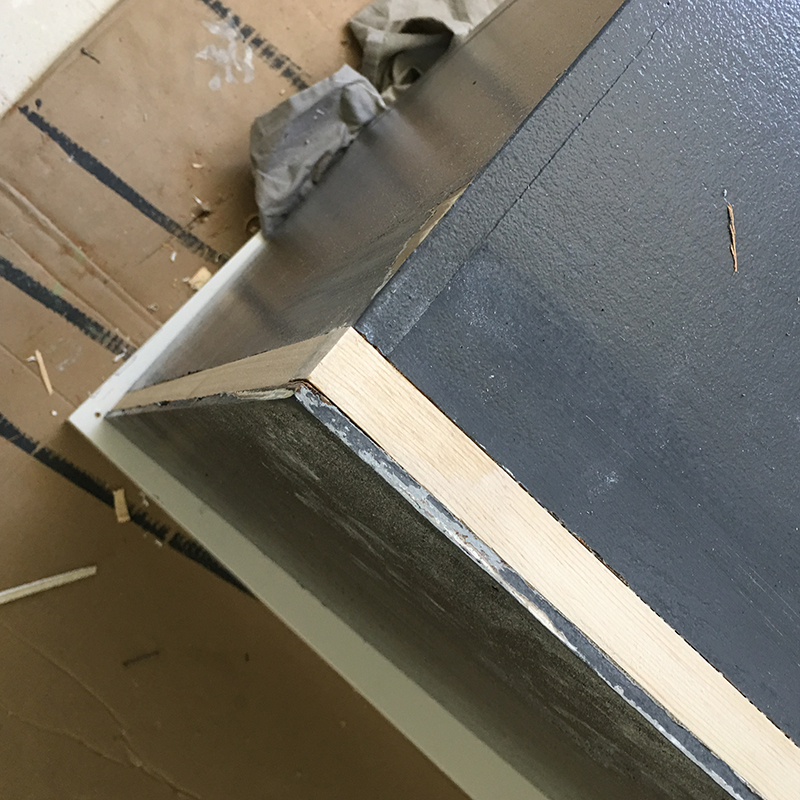 Our next issue was cabinet height. We had planned to mount this on the wall, but it's SO heavy. We figured it would be safer on the ground. We considered legs (hairpin, mid-century style, IKEA) but nothing felt right. We looked to our kitchen for inspiration –all the lower cabinets stand on a plinth.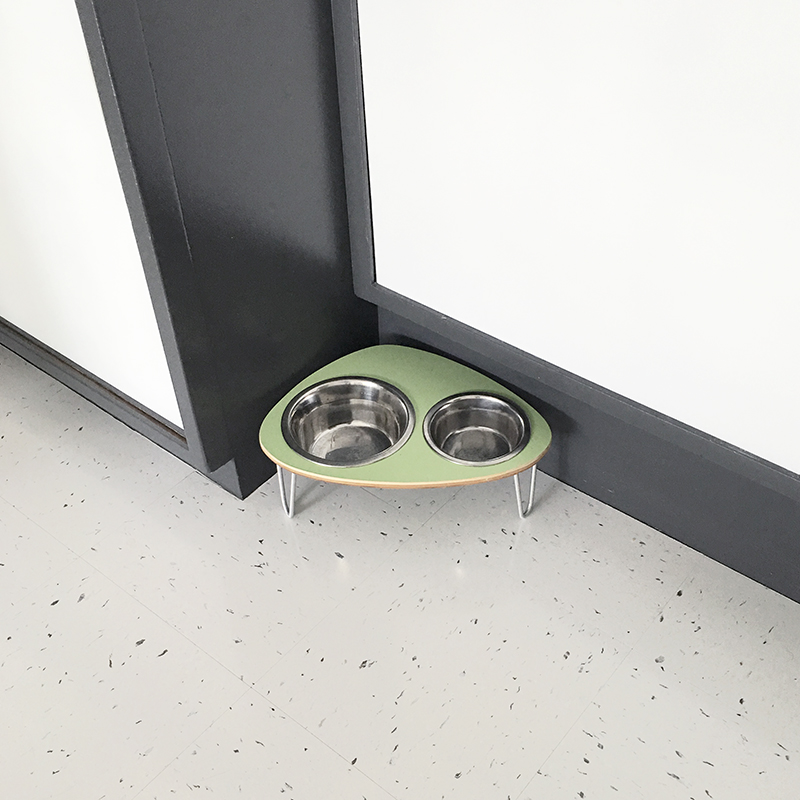 We figured replicating this would look somewhat authentic. Oh, that's Fog's food bowl –a thoughtful gift from our former Eichler neighbors, Jon and José. Anyway, we constructed a base from pieces of 2 x 6″. This would raise the cabinet to about 30 inches high, which seemed about right. We painted it to match, and mounted the cabinet on top.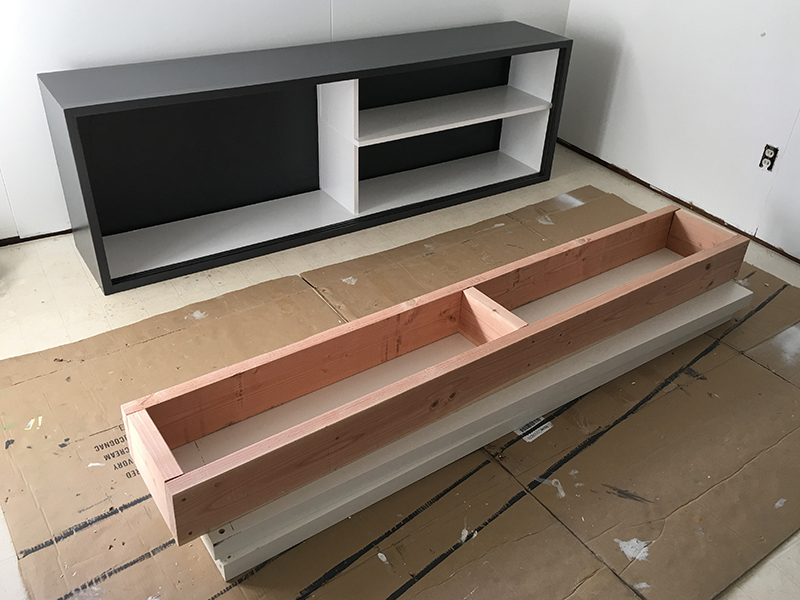 And here it is, in its new home. The doors need re-painting (not that you can tell here) and some tweaking, to make them slide more smoothly. But we love how it looks. And it contrasts beautifully with our recently-restored wood paneling –check out last week's 'how-to' post, if you missed it.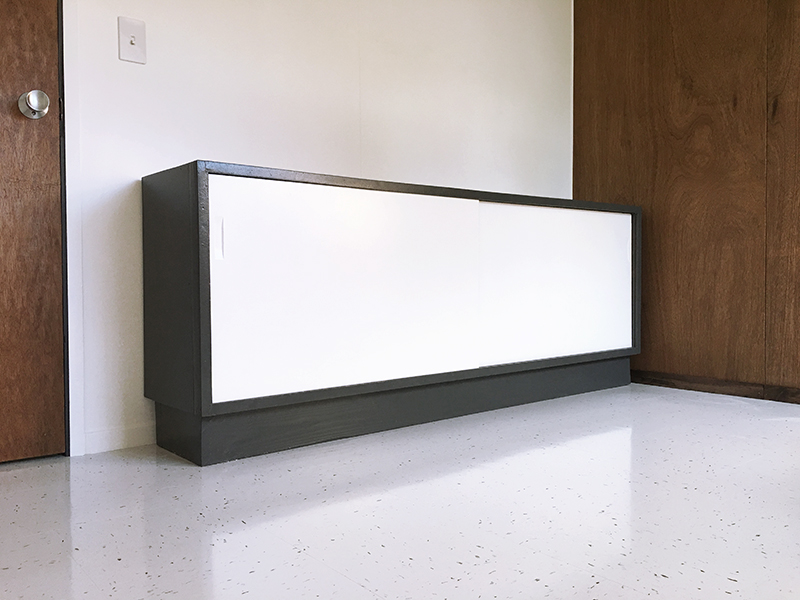 We treated ourselves to some aesthetically pleasing tech too…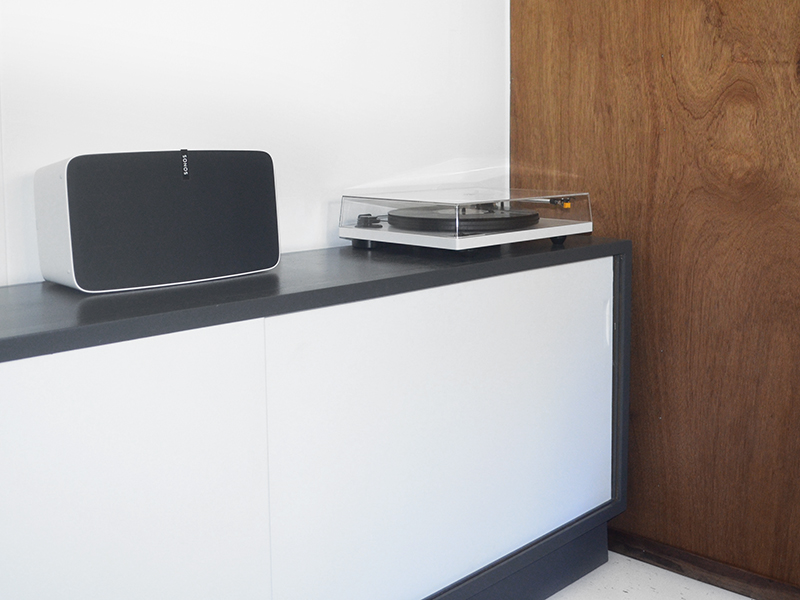 This is the Orbit turntable, by U-Turn –a pared down audiophile standard turntable, at a very reasonable price. We've been following these guys since their Kickstarter campaign. We fell in love with the design, so there really was no other choice for us. Performance lives up to the look, so we're very happy. We picked white (naturally) and added a built-in preamp and cue lever.
Then there's this –the PLAY:5 speaker, from Sonos. Impressive specs provide powerful but detailed sound –overkill for this small room, but portable enough to move (to the main living area) for parties etc. We'll add other networked Sonos speakers over time. Crucially, this has a line-in, so we can connect the turntable direct, with an RCA Y-cable.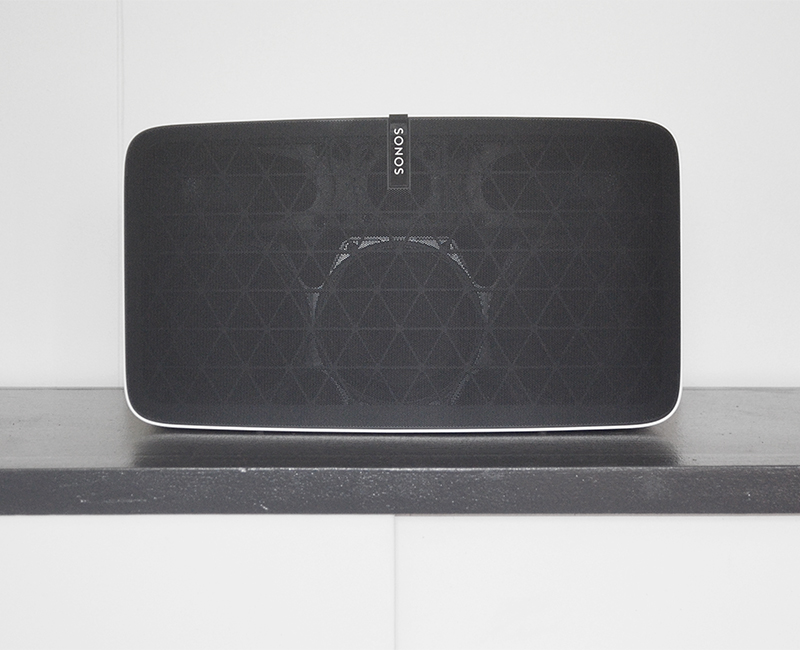 Good job it plays more than vinyl, as we're sadly lacking. We did pickup some LPs from a cool local store, Kicksville Vinyl & Vintage –the owners are super-friendly, and they also sell vintage furniture. We'll bolster our vinyl collection via an upcoming (and rare) UK trip –will be fun to sift through old albums. As you can see, we added a top shelf for 7″ singles, so we'll grab some of those too.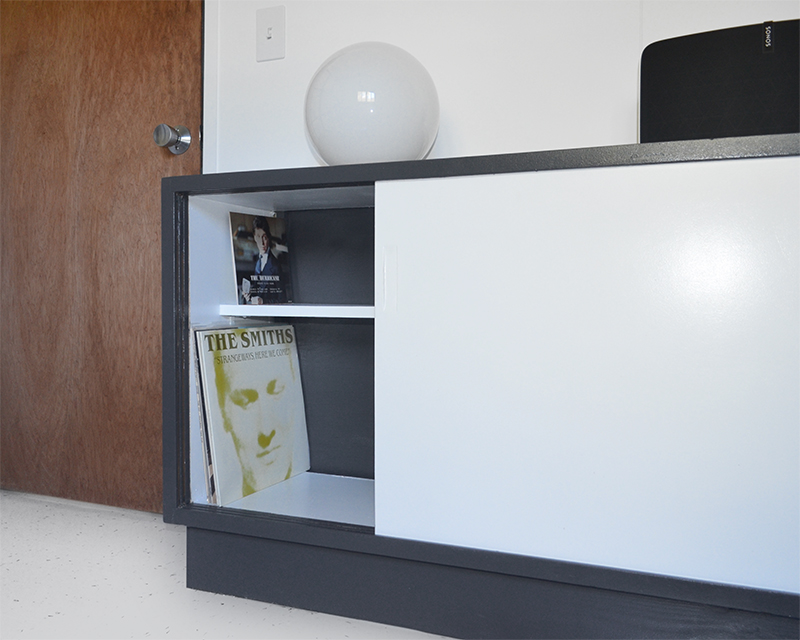 Behind the right-hand cabinet door (and not pictured) my guilty pleasure –a PS3…not that I can remember the last time I used it. And I won't be able to, until we get another TV in here. But that's the plan, making it more of a 'media room'. For now though, it's a minimal look. And we're cool with that, clearly.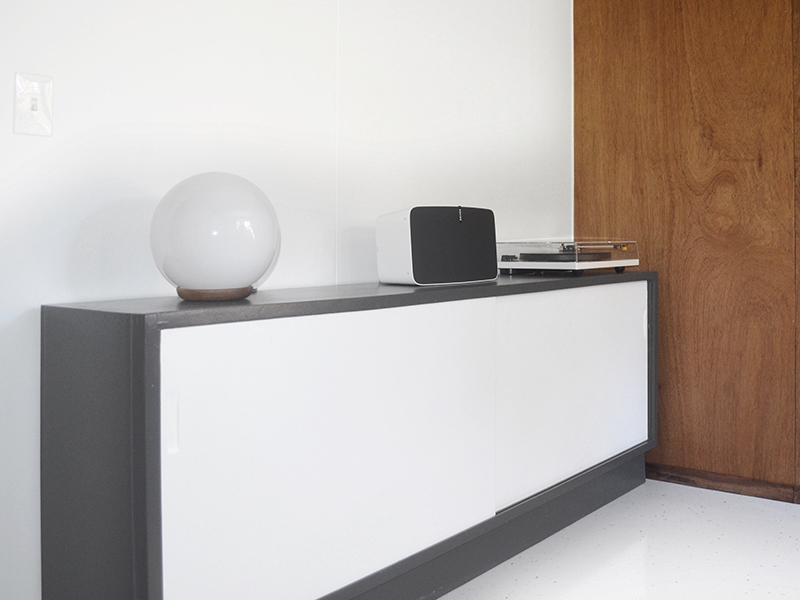 We're so happy to re-purpose this original cabinet, and make it part of our Eichler again. As you can see, we've also finished the VCT flooring in here. In fact, we're pretty much done with this room –it's not a big space, but we still have a few surprises to show you. More soon…
Save