Since we 'finished' our TV room (is anything ever really finished?) we've had a nagging doubt that it needed something more. With white ceiling, wall, flooring, and cinder-block, it just felt too white, even for us. We considered replacing some of the right-hand wall with glass, and we still might, but we wanted a quicker, easier medium-term fix, to break-up the white overload.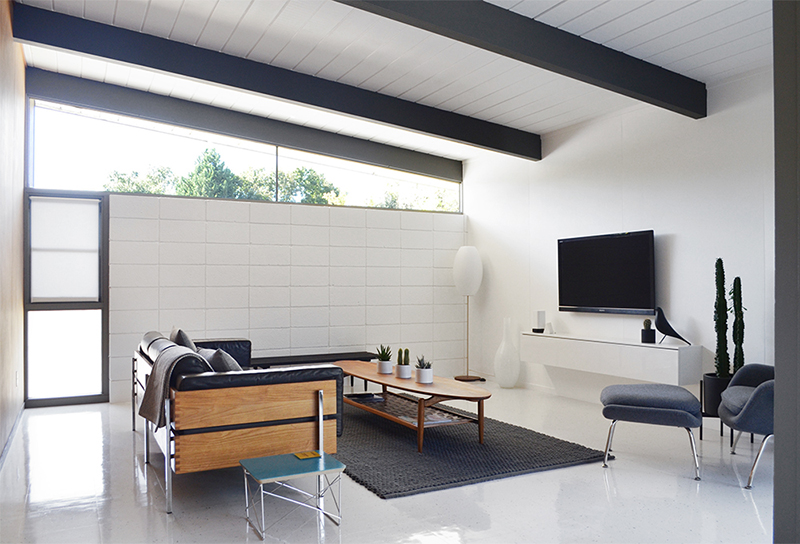 We figured painting the TV wall would provide some much-needed color, while contrasting with the other white surfaces. Our palette is deliberately small, and we didn't want to extend it, so we tried our door color: Behr's "Fresh Olive" –we painted a small board first (visible on the left) before tackling the wall. First though, we de-cabled and removed the TV/cabinet –no small task.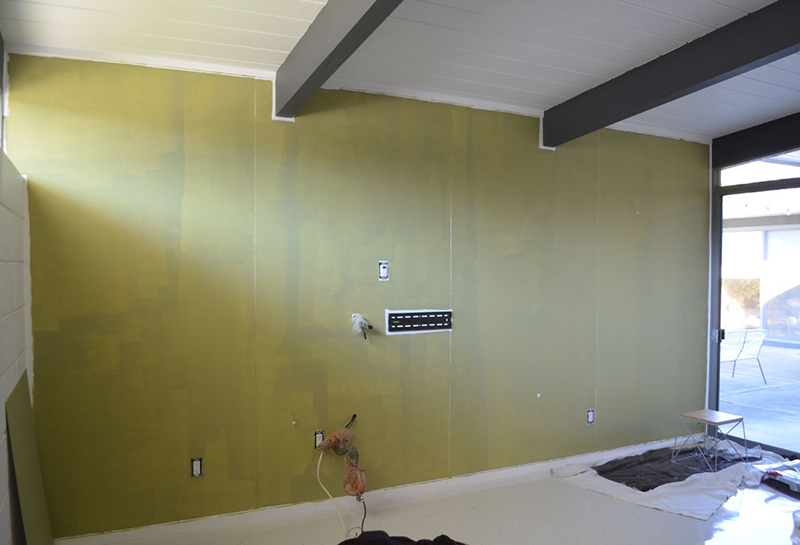 Obviously we added more coats, and painted the trim, but there are no more 'during' shots –you know what they say about watching paint dry, right? So, let's get to the 'afters'. For us, mission accomplished. Our only concern was that it may be too much color. Now it's done, this shade of green feels just right (to us) and naturally ties into the rest of our scheme.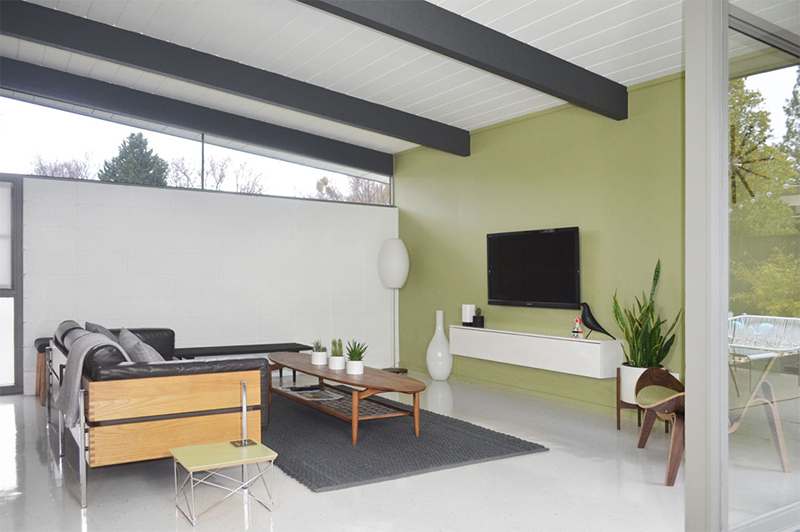 We moved a couple of pieces around, to celebrate our accomplishment. Clearly our nomadic Shell Chair is a good color match, but we will likely move that back to the master, where you'll notice there's now a gap (in the distance, below). So many chairs, so many corners, lots of options. We feel lucky.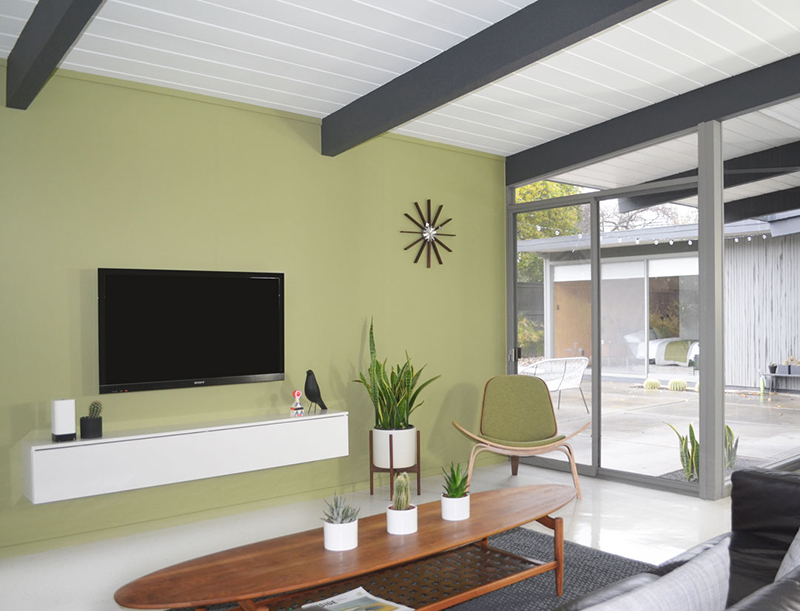 Talking of which, we're also lucky to get another new addition –this fabulous Wooden Doll, designed by Alexander Girard, in 1952, and made by Vitra. This was a super-generous (and unexpected) gift from our good friends at Lumens Light and Living. Thanks SO much guys, we love it!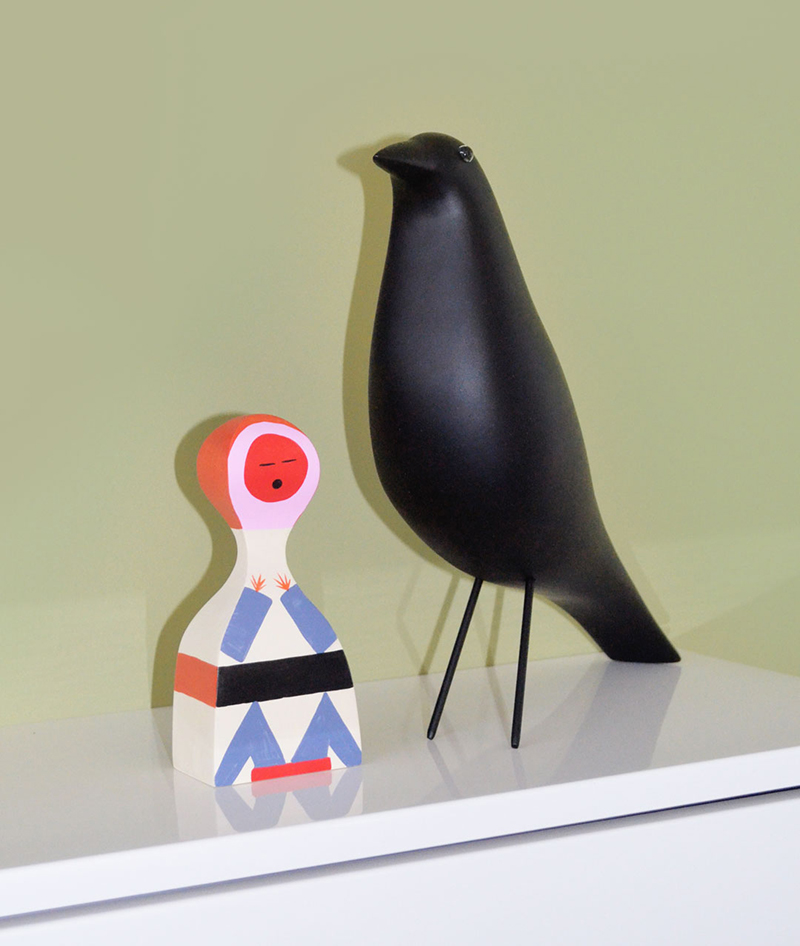 Mike (our snake plant) needs to move back to his living room corner, and Colin (our cactus) has now taken root in our master bedroom, so I'm thinking we need another Case Study planter for this spot. You can never have too many, within reason. Love how our clock looks against the green backdrop too.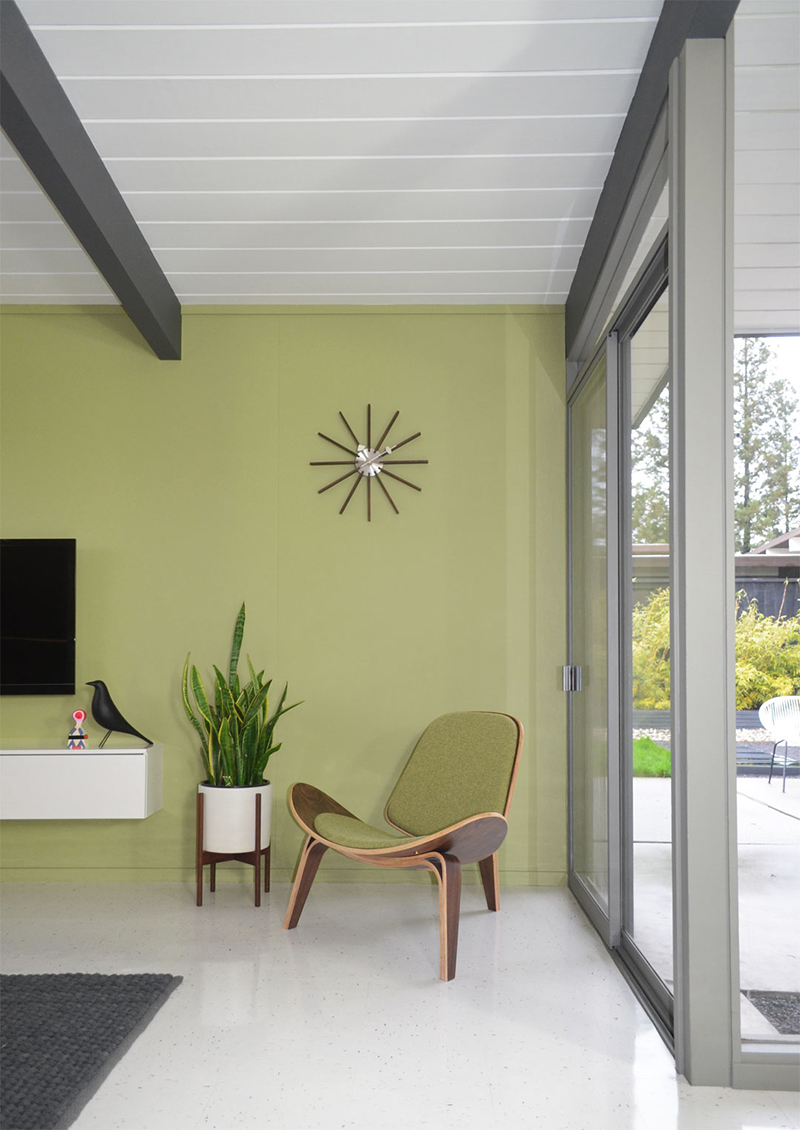 Truthfully, it'll take us a while to adjust, but we're enjoying the added color so far, particularly in this current bout of gloomy weather. And it feels good to make a positive change to begin 2017 –a year we hope will be great for us, and for you. Hope you like our first new year project. More on the way…
Save
Save
Save
Save
Save
Save
Save
Save
Save
Save
Save
Save
Save
Save
Save
Save
Save
Save
Save
Save
Save
Save
Save
Save
Save
Save
Save
Save
Save
Save