Just when you thought the Eichler market (like the weather) had gone cold, something special pops up -this 1963 pitched-roof atrium model, in Castro Valley's Greenridge neighborhood. Designed by prolific Eichler architect, Claude Oakland, with 4/2 over 1901 SqFt, on a 7,950 SqFt lot.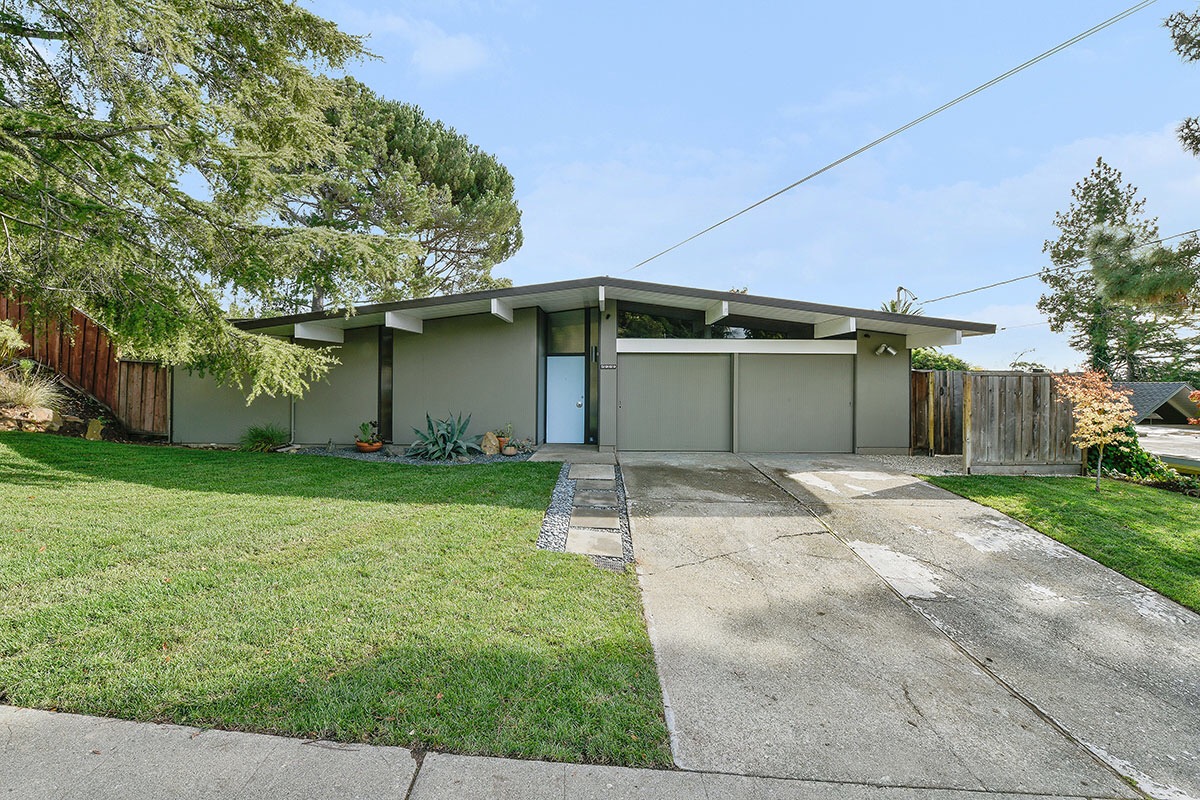 Dig this color palette -similar to ours, with gray siding, darker trim, and pale blue (versus green) front door. Authentic Eichler house numbers, and a period-appropriate cylinder light fixture by the entry. High pitch in this model, meaning a tall glass panel above the door.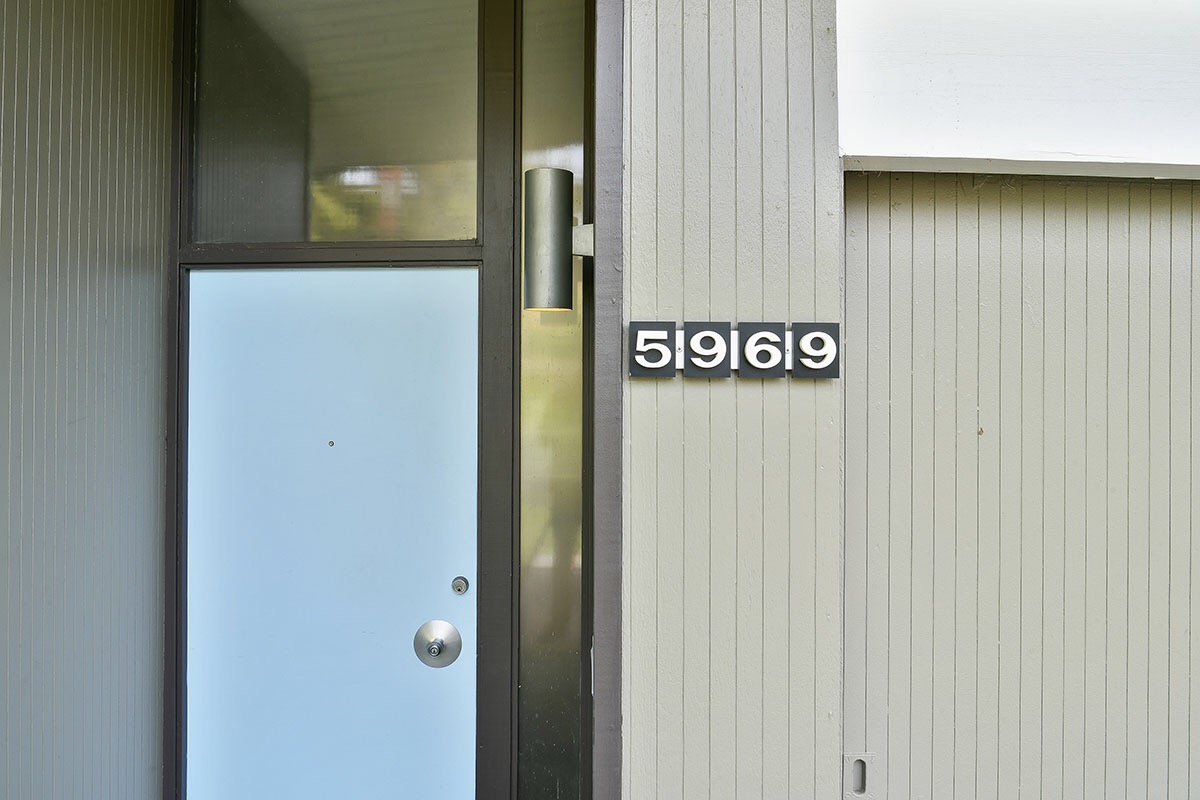 Note the setback door knob, with distinctive Eichler escutcheon. Love how this model reveals itself -push back the door, walk up the siding-flanked corridor, and into the atrium.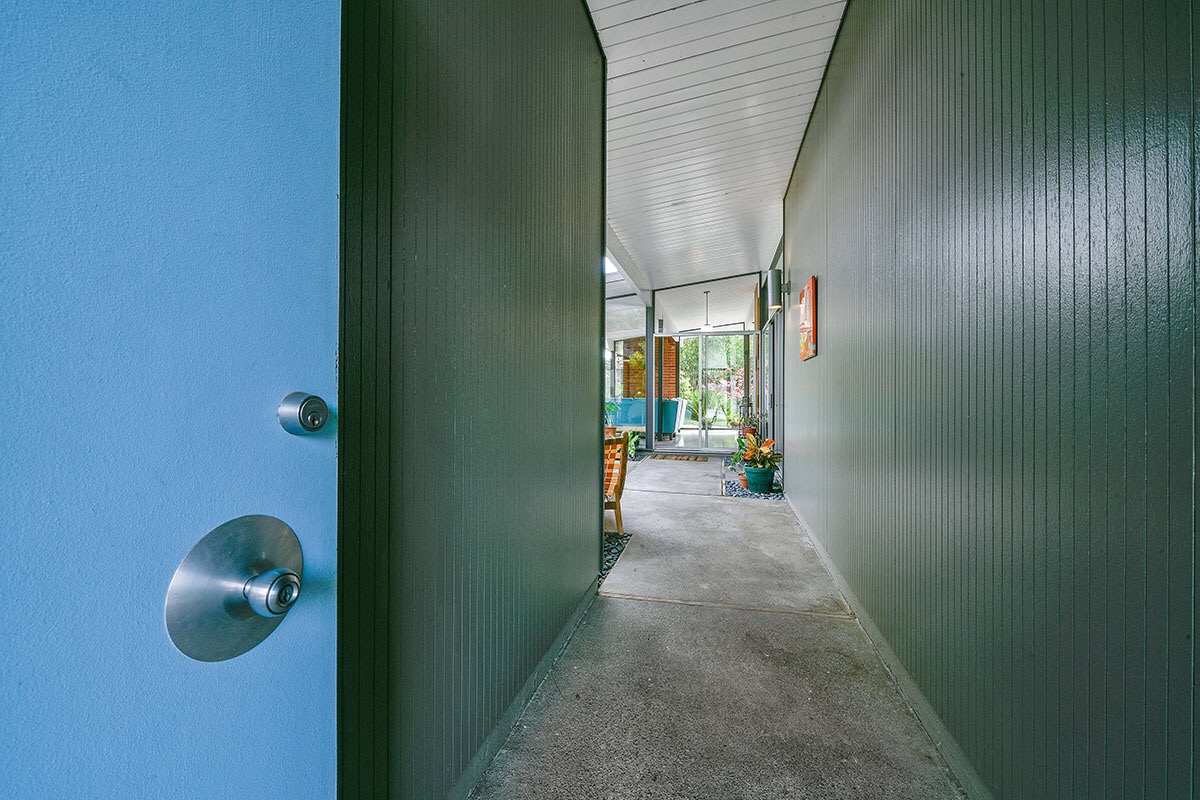 Then the house opens up, with glass walls and sliders to the living space and kitchen.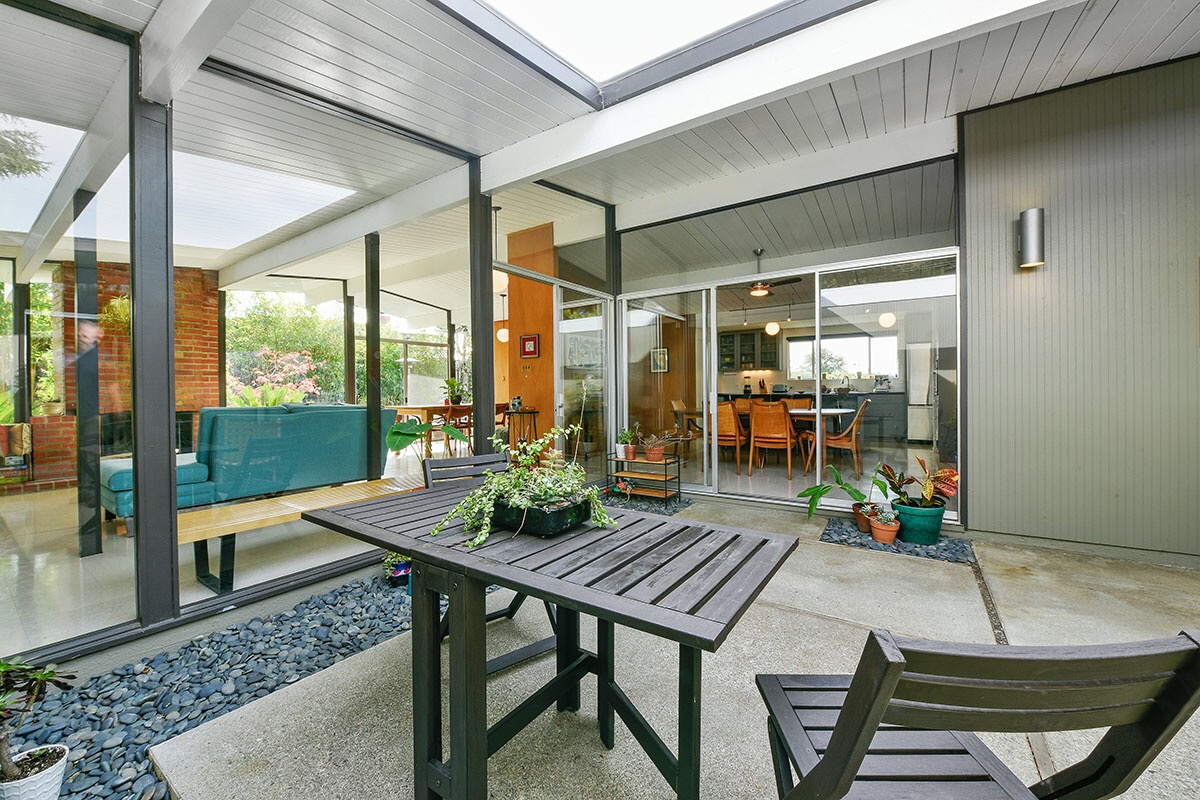 Here's a look back from the living room, through the atrium, to the front door. Check the pristine concrete slab with cutouts as intended -you often see these tiled-over, but it just looks 'right' this way.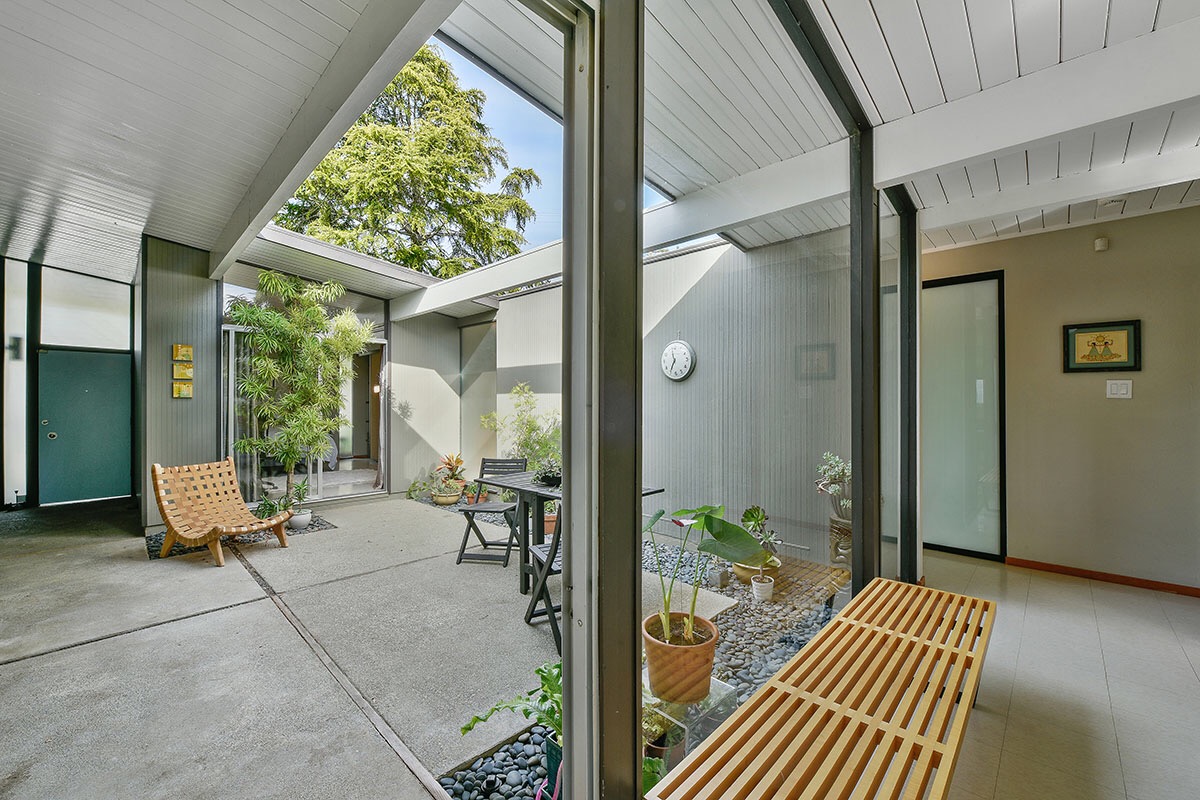 More coveted Eicher features inside, including this gorgeous unpainted red-brick fireplace. The rest of the rear is glass, overlooking an ample, and private, back yard.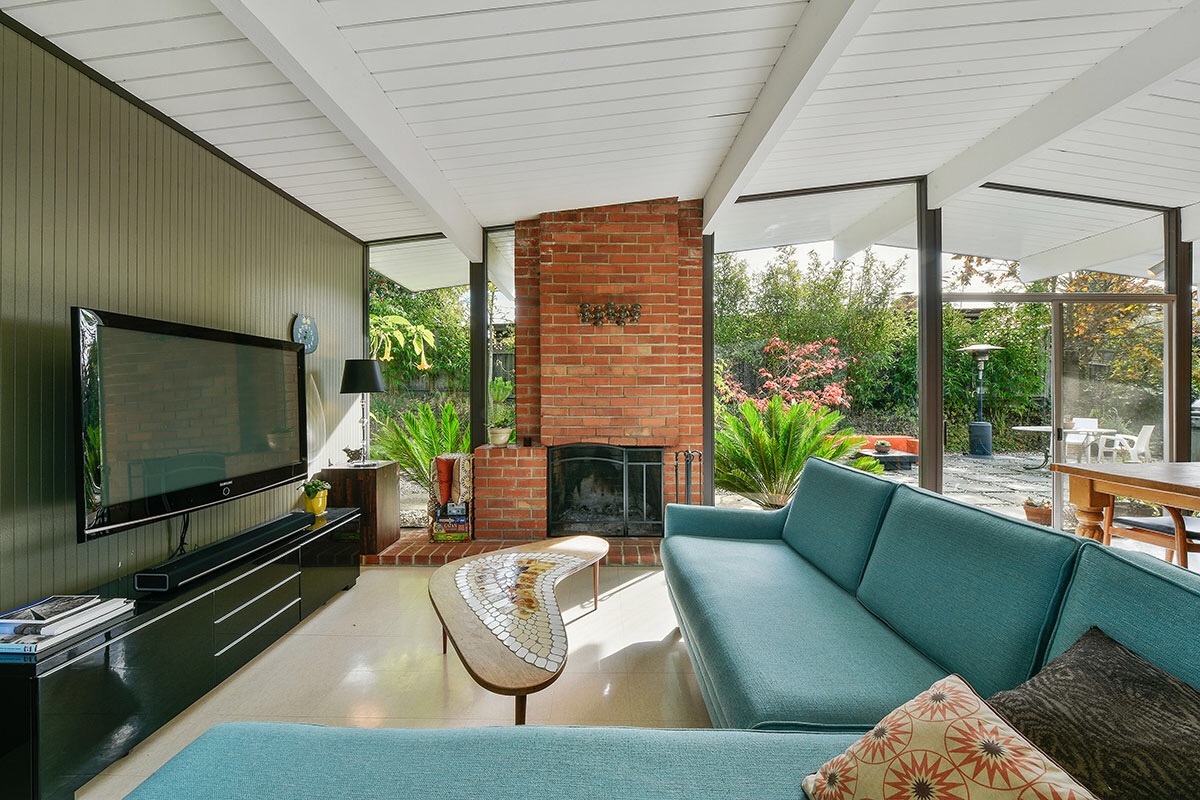 All the original mahogany paneling is intact, providing a warm contrast to the white ceilings, and neutral floors.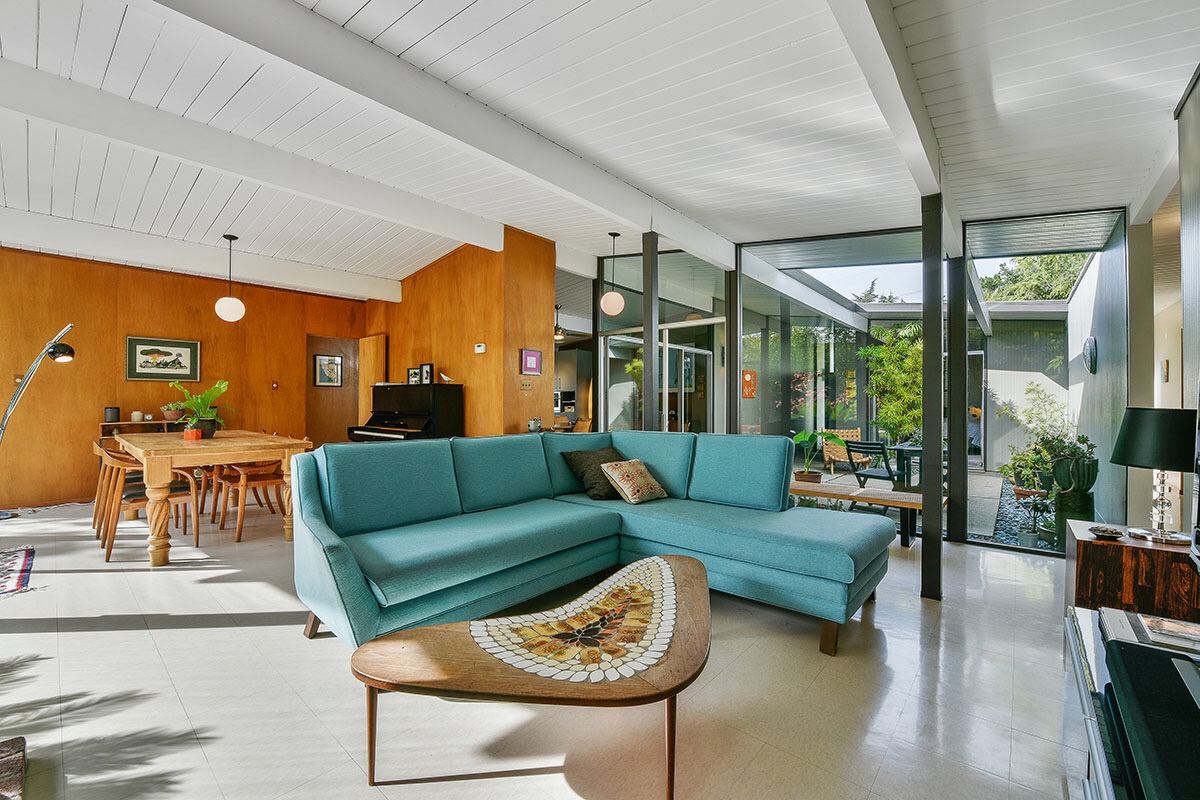 And those floors are period-correct VCT, much like ours. Unlike ours, this Eichler has working underfloor radiant heat. That's all I'll say on that, as we're too jealous to discuss. Great light in here, thanks to that giant wall of glass. All the globe lights are intact too.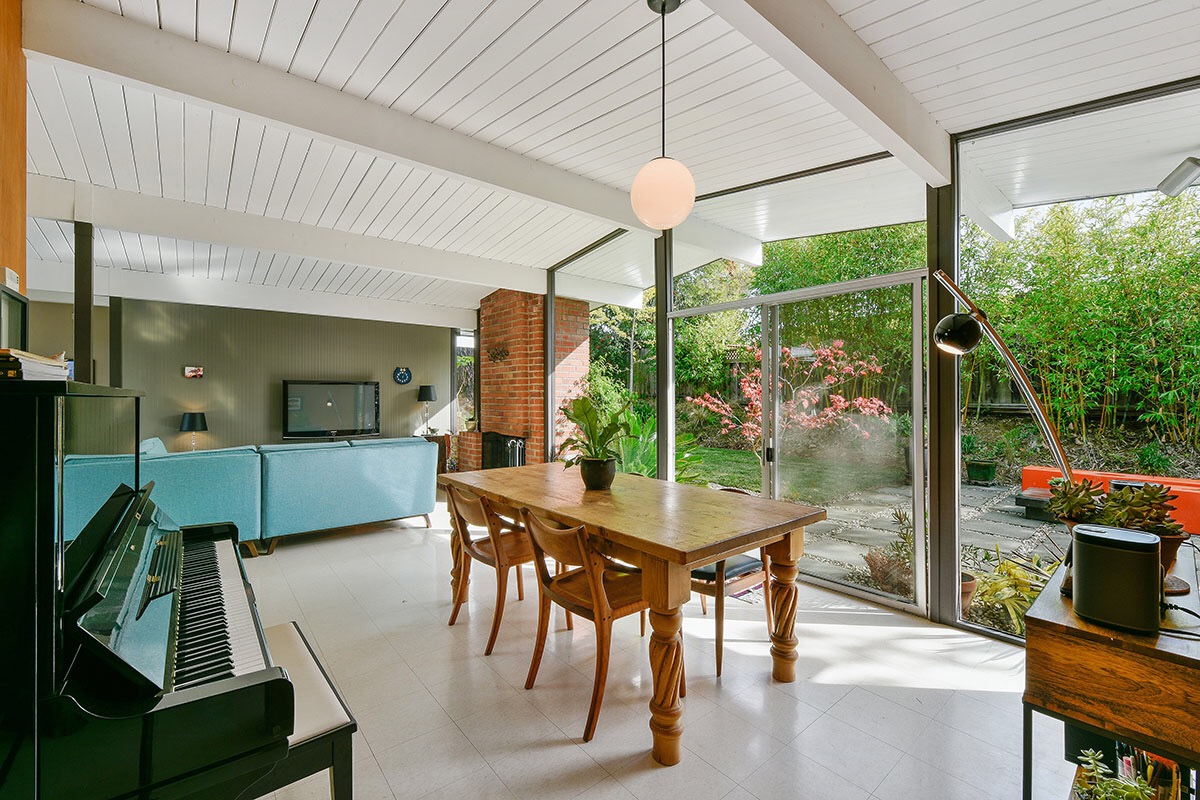 It's an oversized version of this model, with a large eat-in kitchen. The original Eichler kitchen is gone, but the replacement is clean, slick, and sympathetic to the design.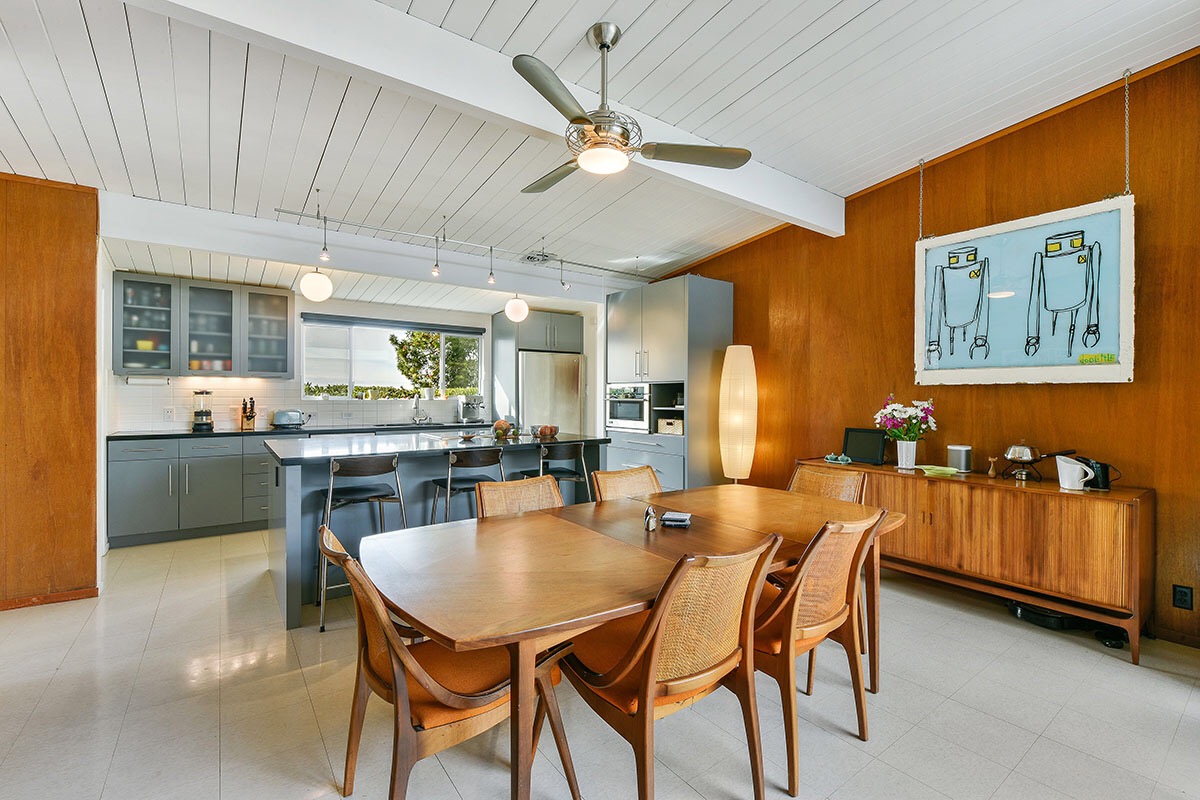 Too many high-end appliances to list (but they're in the property description), custom self-closing drawers and cabinets, plus acres of quartz countertops.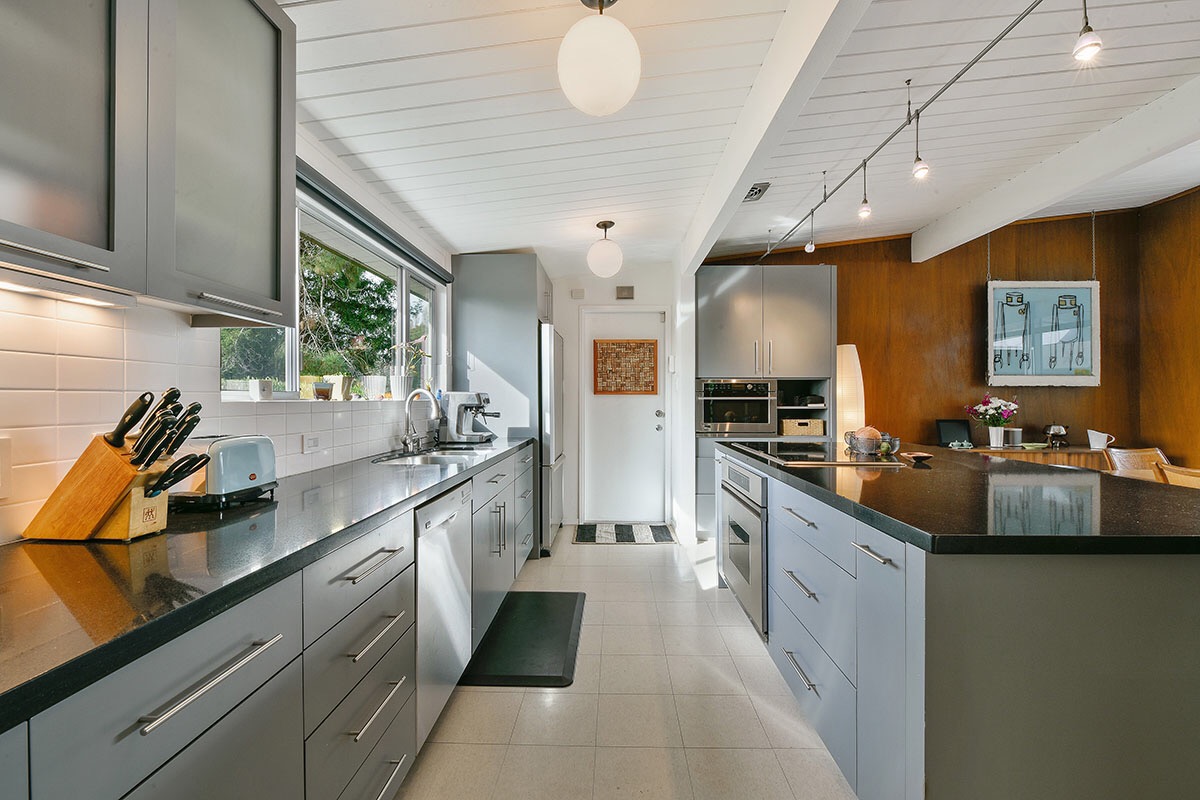 Oh, and there's a Bay view, through that window…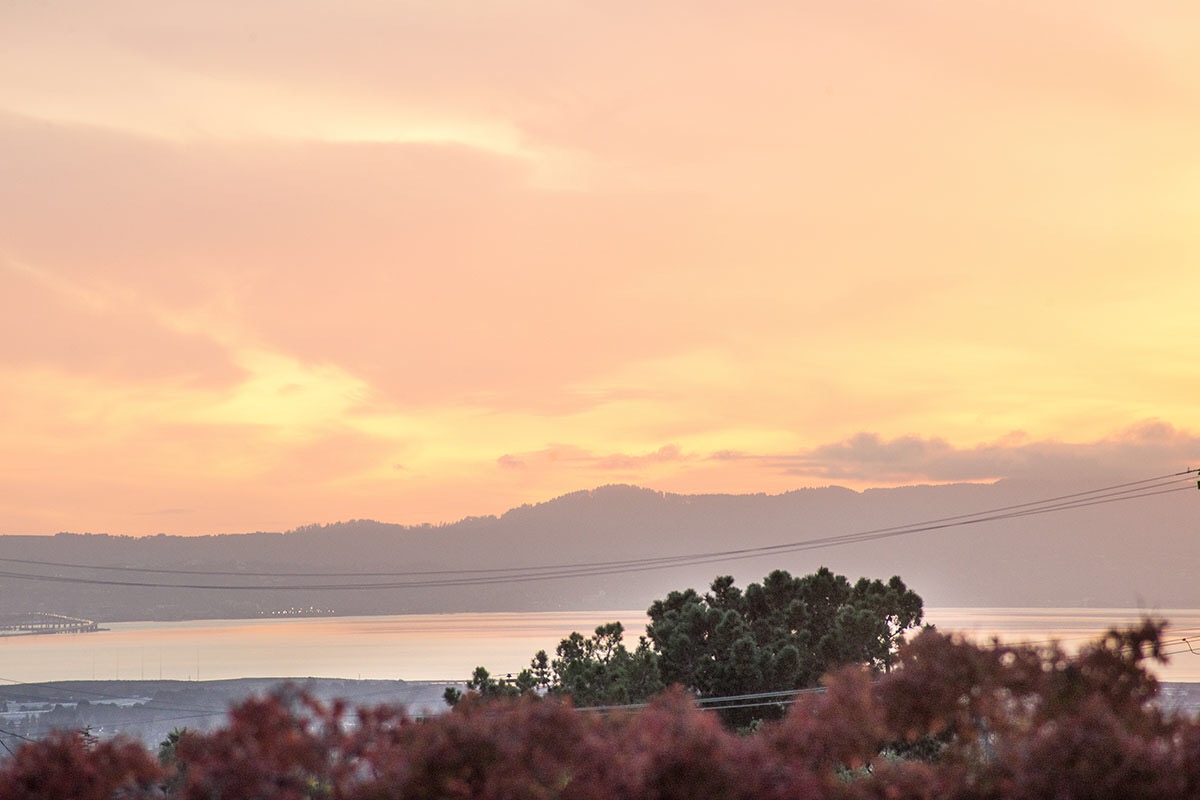 And also a view right through the adjacent atrium. It's a big house, made to feel bigger by the expanse of glass. And look at all that lovely wood paneling. Swoon.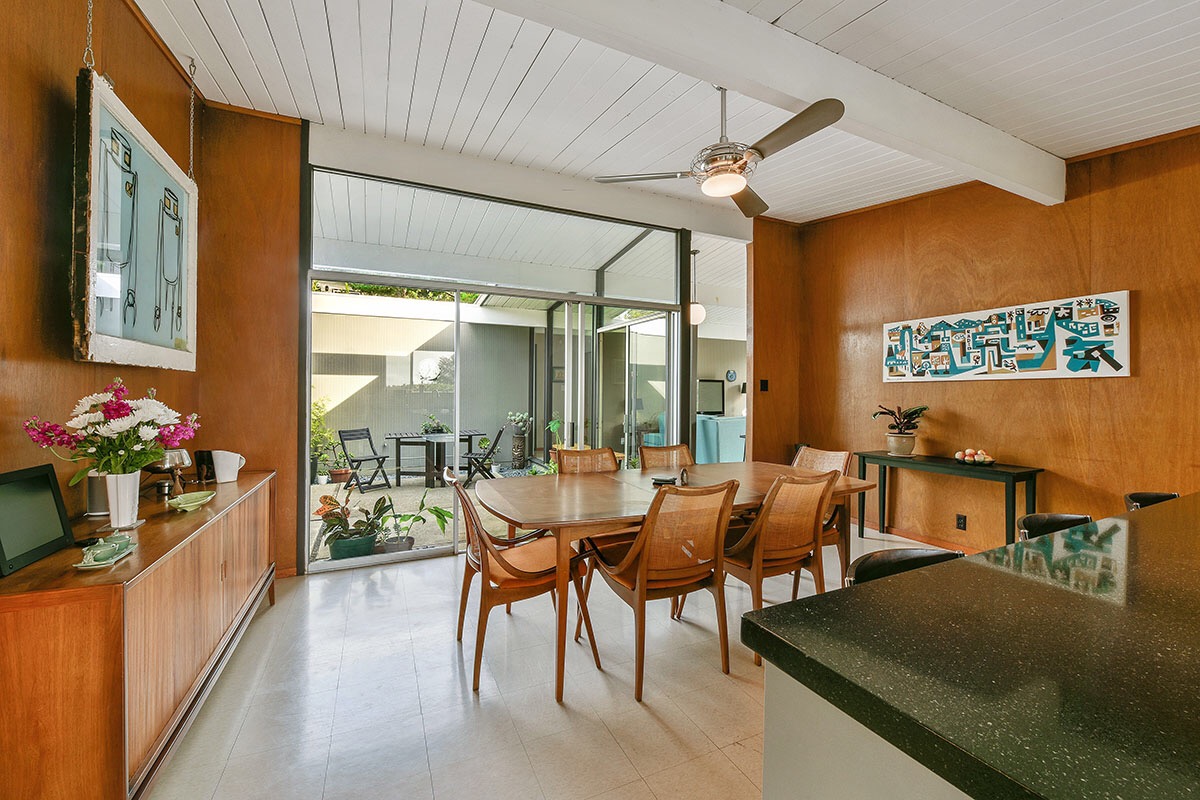 The bathrooms have been tastefully remodeled too, with counters and cabinetry that fits. Original doors throughout, and outdoor access from this one, in the guest bathroom. Handy.
Eichler bedrooms are rarely show-stoppers, but there are four functional bedrooms, all with some Eichler charm. Here's the master, overlooking the back yard, complete with en-suite bathroom, and walk-in closet.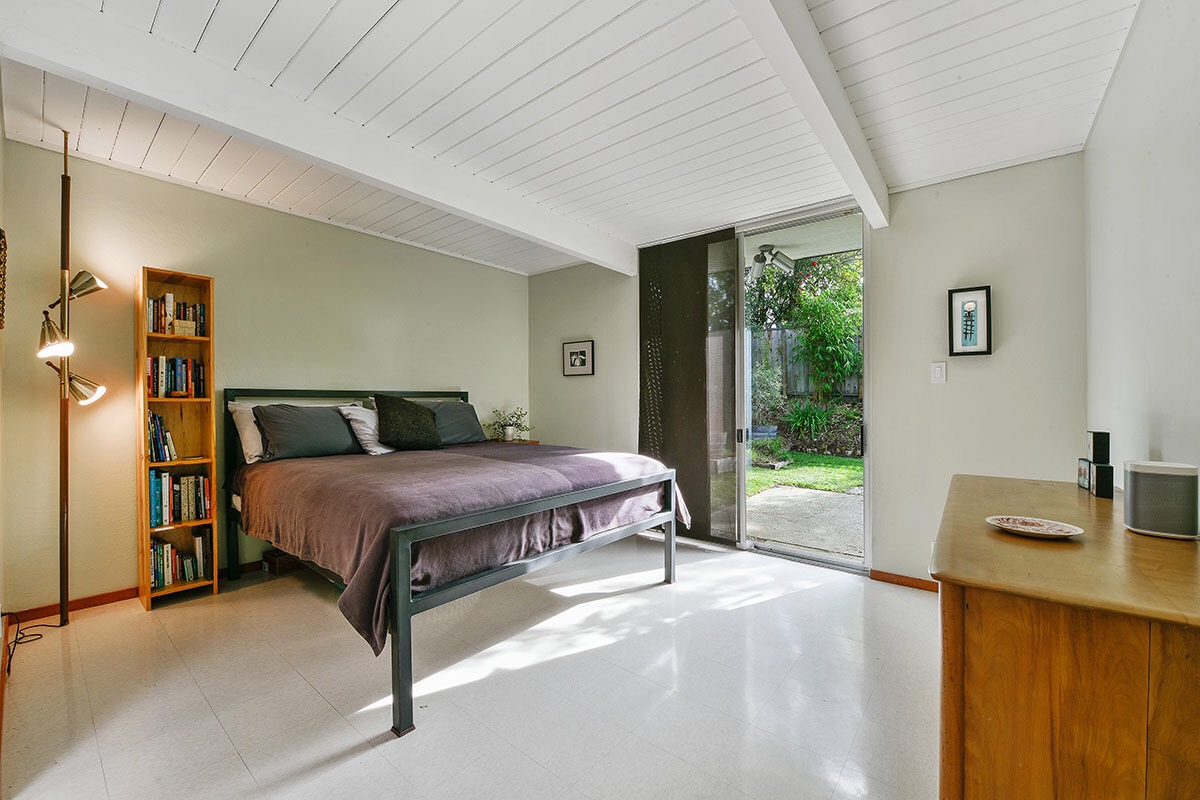 And here's the front bedroom, with atrium views/access -most people use this as an office, hobby room, or den, and you can see why. It's a cool space.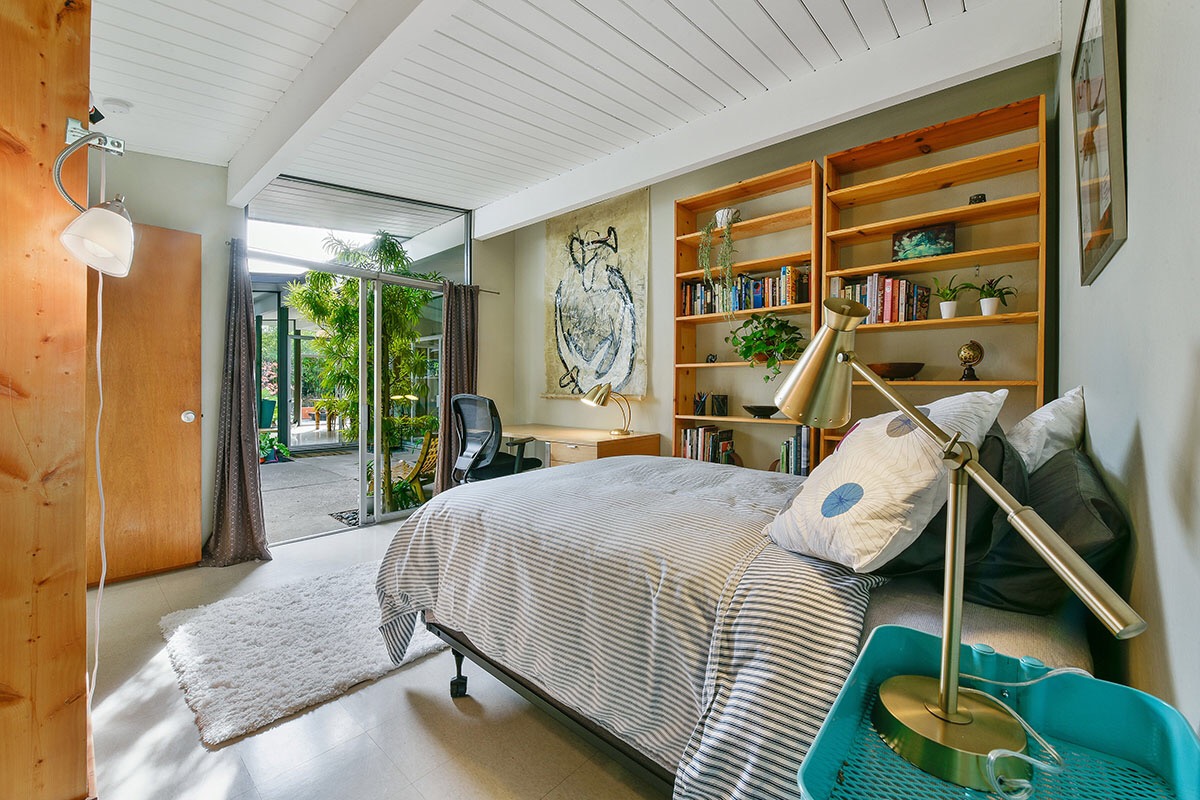 There are two further bedrooms, plus a dedicated laundry room. It's huge! Same custom cabinets/counters as the kitchen. More paneling too.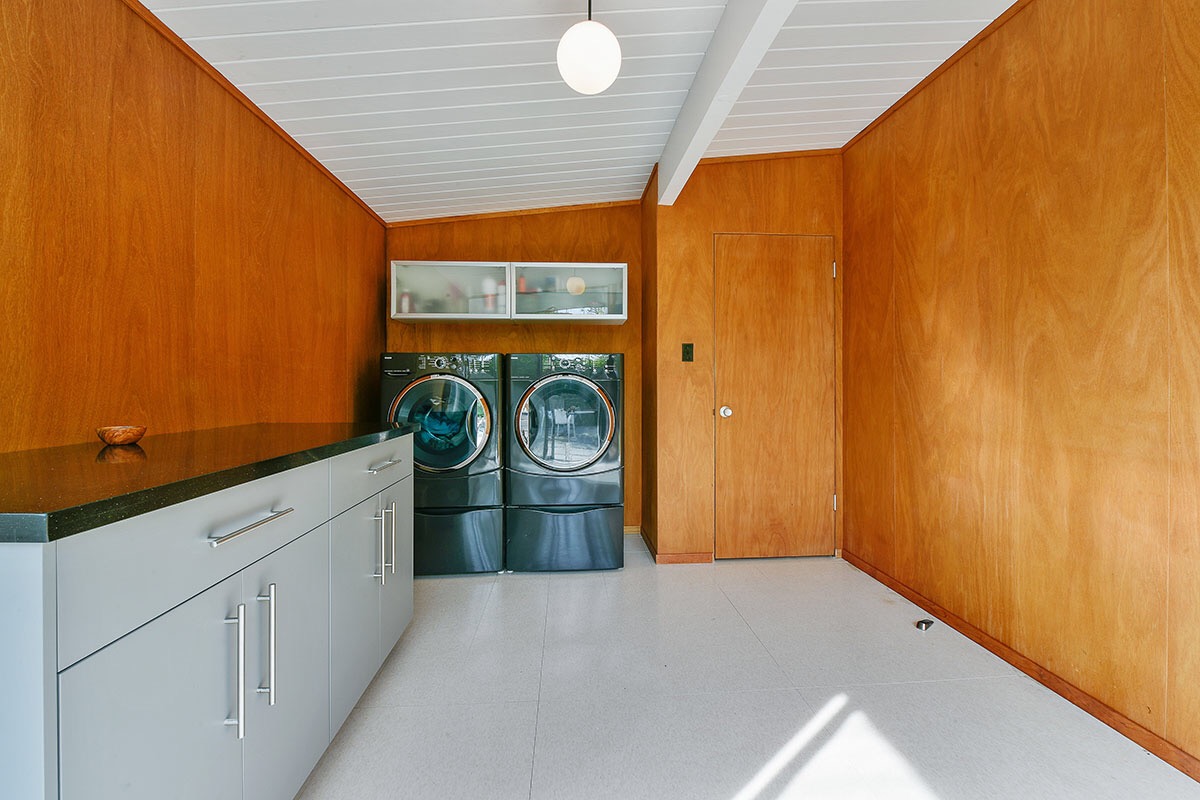 Here's the opposite view, through sliders, out to the back yard. With some re-plumbing, this could also work as an office. Or just a very nice spot to fold washing. Either way, we'd take it.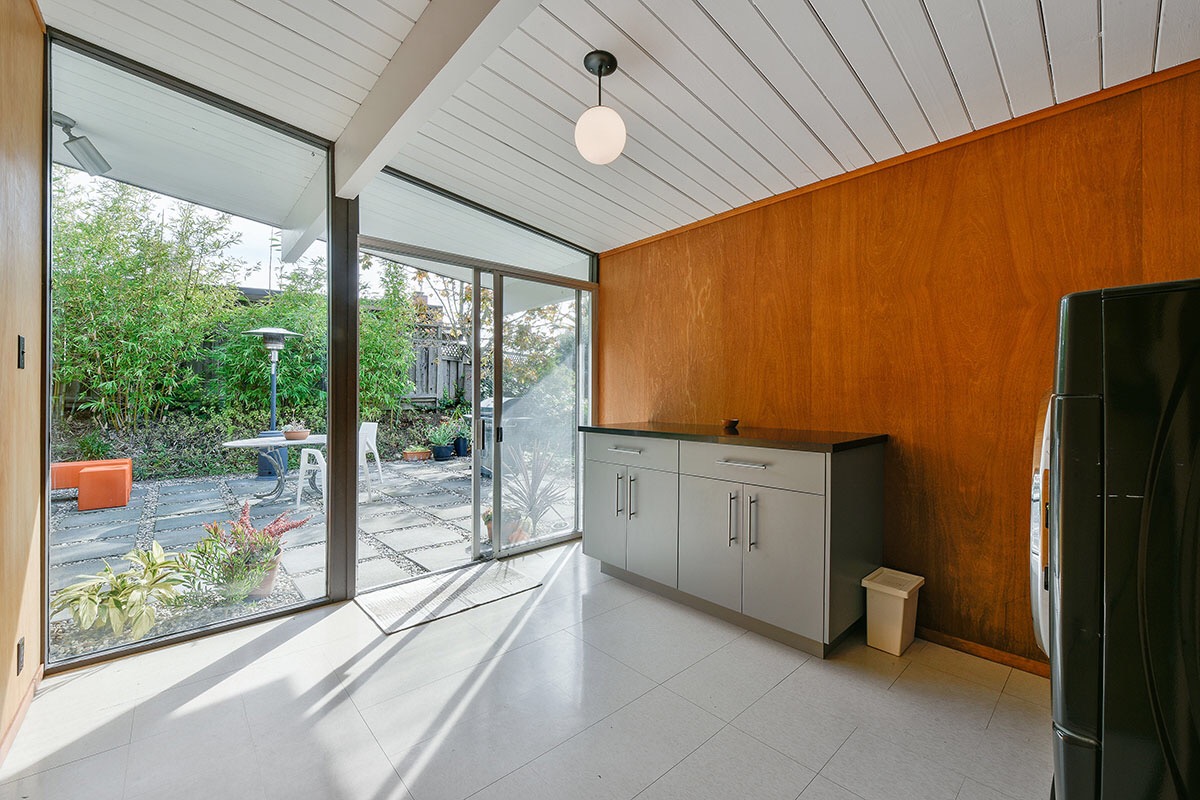 And here's the back yard. A good size, with room for a pool, if you want one.
We're a little sad to see this one sold, as we have a personal connection to the owner. But we'd love it to find the right buyer. We can also vouch for the quality of this home, having spent many hours there.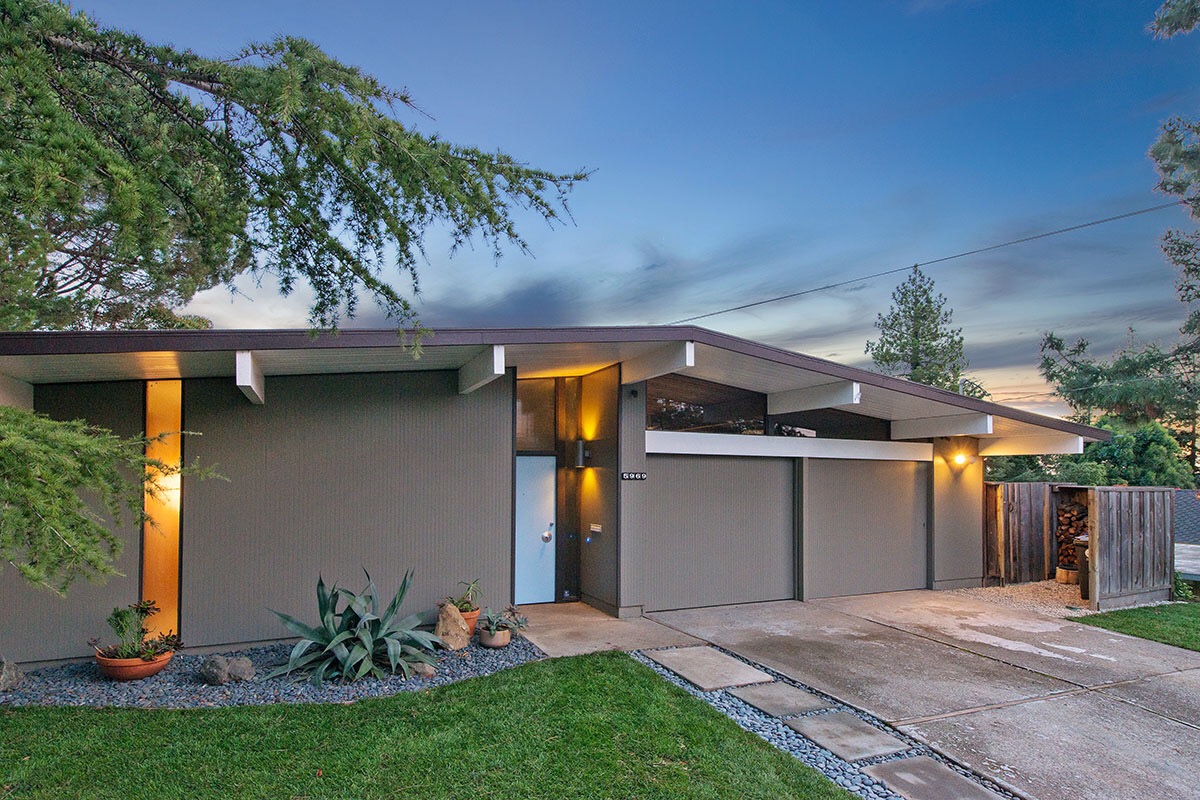 Offered at $1.1m by (our friend and realtor) Thomas Westfall, of Alain Pinel. Many more awesome pics, plus a full description of property and neighborhood here. Open house this Saturday and Sunday 1-4pm.