Now we're getting somewhere. We just placed our master bedroom on the 'done' list. We still need to add some artwork, plus the odd piece of furniture, but we're close enough to share. Before I show you how we got here, let's go way back, to see how far this room has come.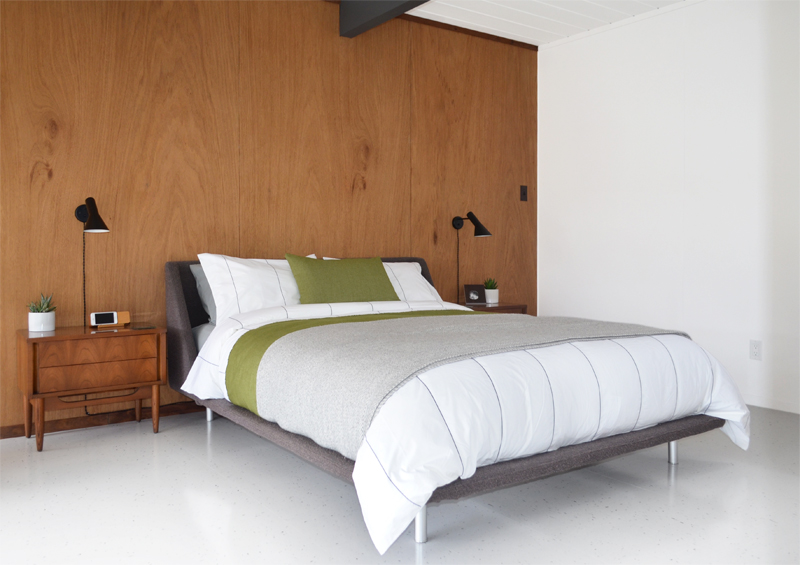 This was our master in week one (in September, 2013) –beige carpet, cream walls, ceilings and beams. Nothing to get excited about. We had very little furniture, though you'll recognize our bed. And my wooden iPhone alarm dock. And we still use those bent plywood side tables, in our TV room.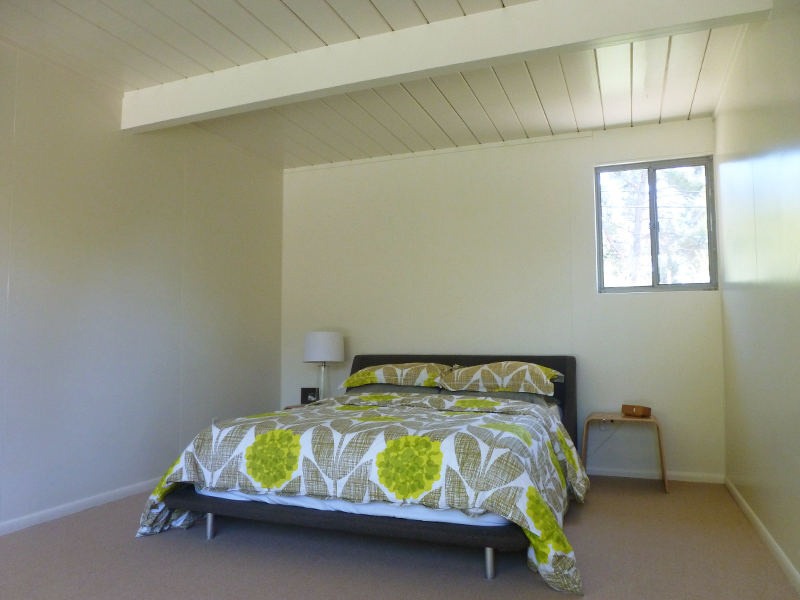 The opposite view had some potential, with glass sliders, overlooking our side yard/patio (and very brown house). At first glance, that wall sconce looks apt. Two words: gold plastic. It had to go. As did the messy shrubbery, and heavy brown exterior curtains (out of shot, lucky for you).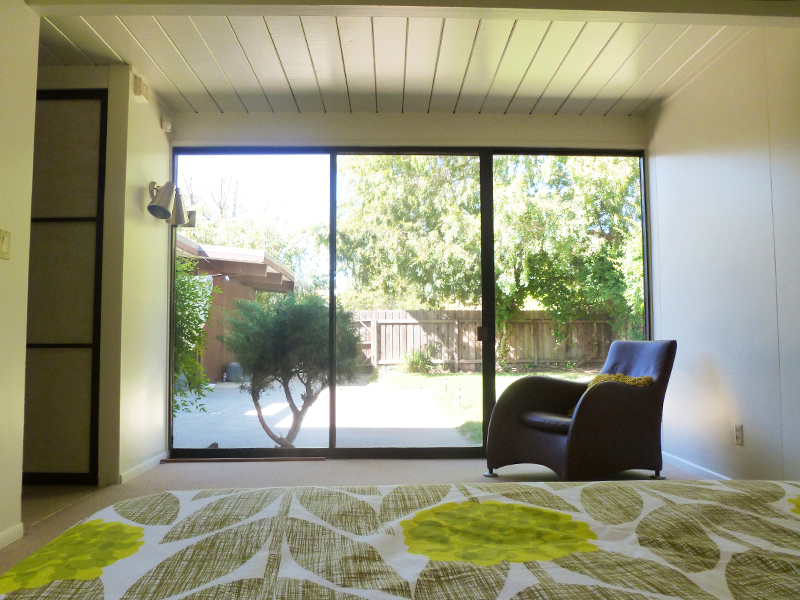 Over the next two years, we did plenty here –restoring wood paneling, adding DIY wall sconces, installing VCT flooring (version 1) a solar shade, new outlet/switch plates, and painting walls, ceiling and beams. And that was that, until recently, when we made our 'final push'. We started by (re)painting…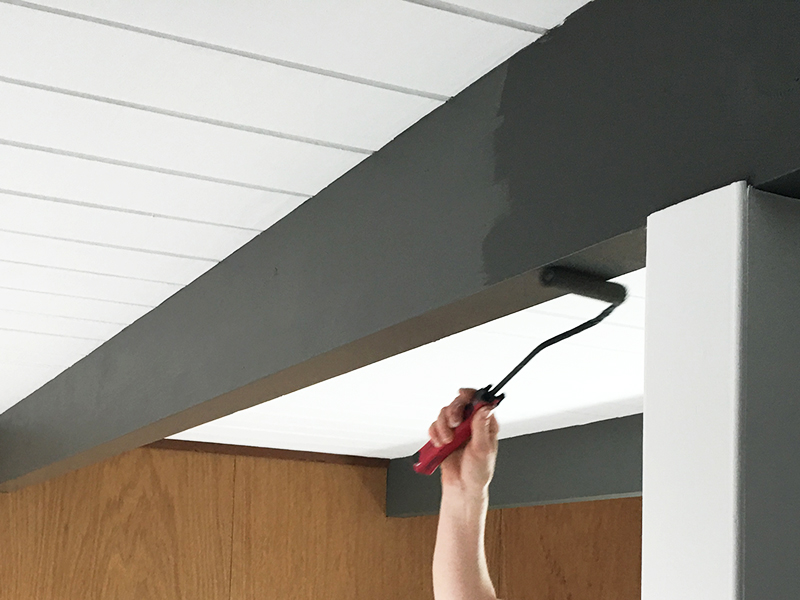 These beams went from our original gray to this darker shade –finally, they all match. We also freshened-up the white walls and ceiling. Next, we re-did the flooring (having settled on our final choice of Polar White) picking up where we left off, adjoining our master vanity area.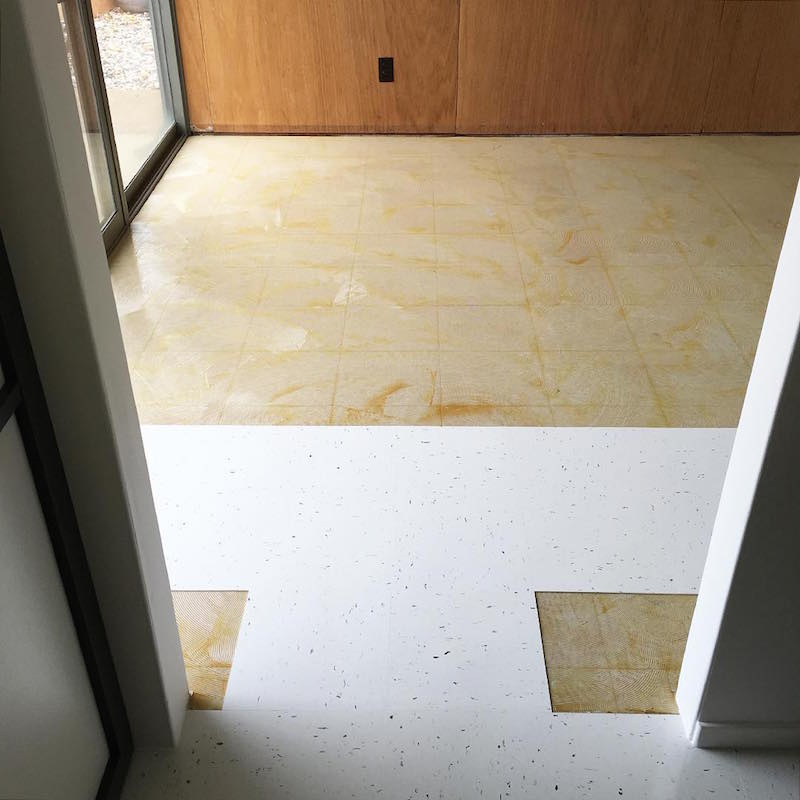 With the flooring down, we sealed (2 coats), polished (4 coats), then re-stained/re-painted and re-attached the baseboards. Love this corner view, where wood, white and VCT intersect. We waited a week before replacing furniture –plenty of time for disagreement discussion on bed placement.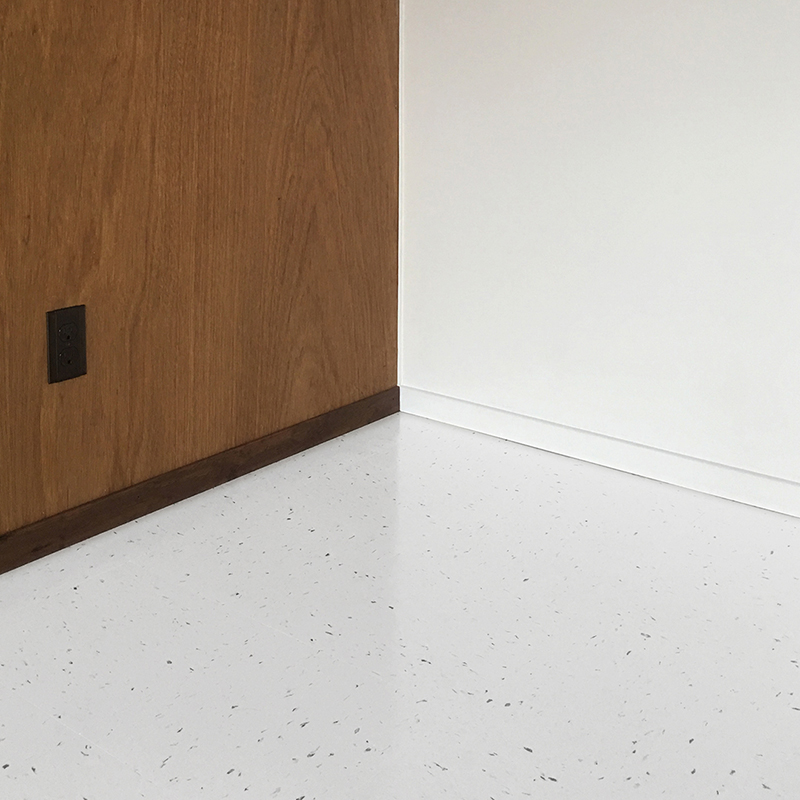 We flip-flopped but kept the bed on the wood wall –a nice backdrop, with a good view of the house. We did nudge it farther from the window, to create a larger 'reading nook' –ultimately, we'd love a womb chair here (now I'm dreaming) but our garage-sale rocker is a worthy stand-in.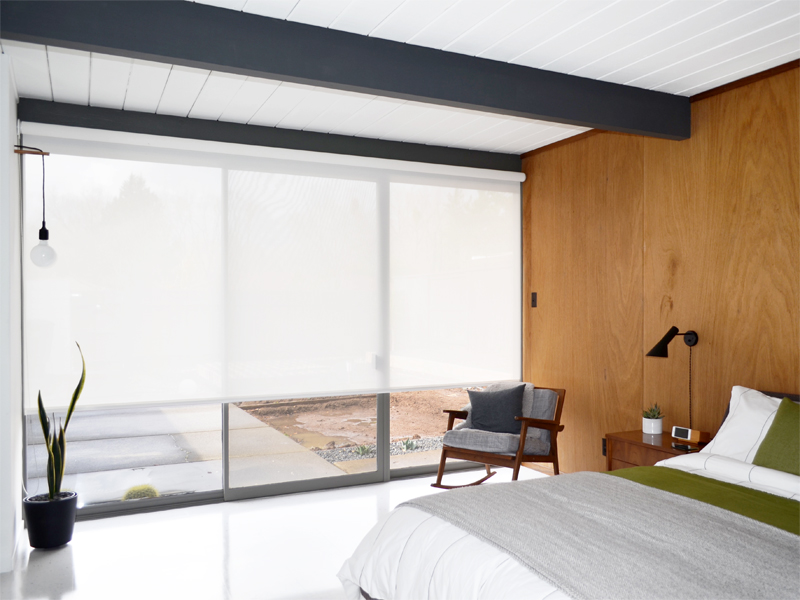 As usual, we kept colors to a minimum, adding (non-committal) green bedding accents. Either side of the bed, we installed black AJ sconces –we loved our DIY lighting, but these look way more sleek and minimal, and don't tie us to a an accent color. We dig the retro-style cord too.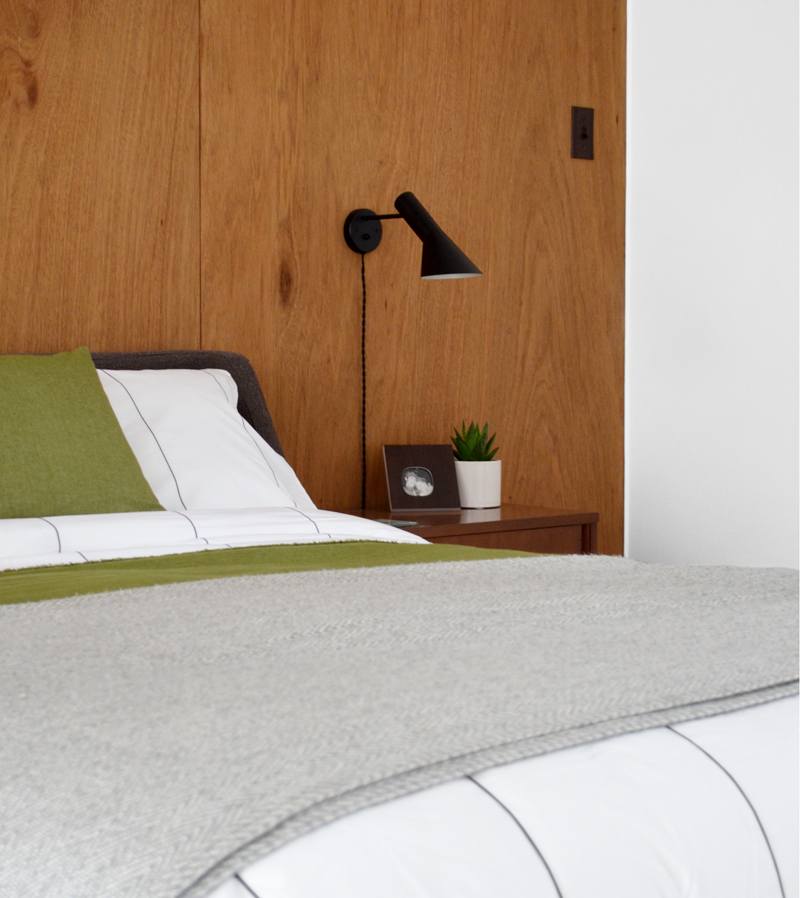 We added a pair of vintage Dixie nightstands –part of a set, including the long dresser in our living room, and a smaller dresser (we call it a "chest of drawers" but not sure if that flies here). All were bought from, and delivered by, our good friend, Camila (thanks again!) –a fellow Eichler owner, in Concord.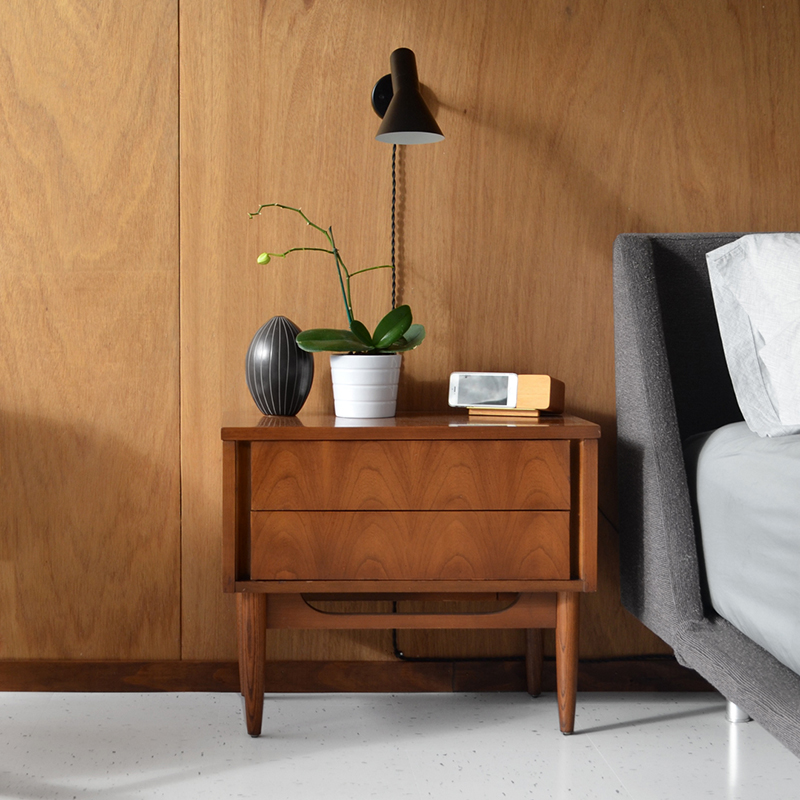 We kept our other DIY wall light, but switched the cord from blue to black, to fit our monochrome palette. We replanted some 'Mother in Law's Tongue' in a spare plant pot we had, and put it here as a placeholder –we'd love to add another case study planter, eventually.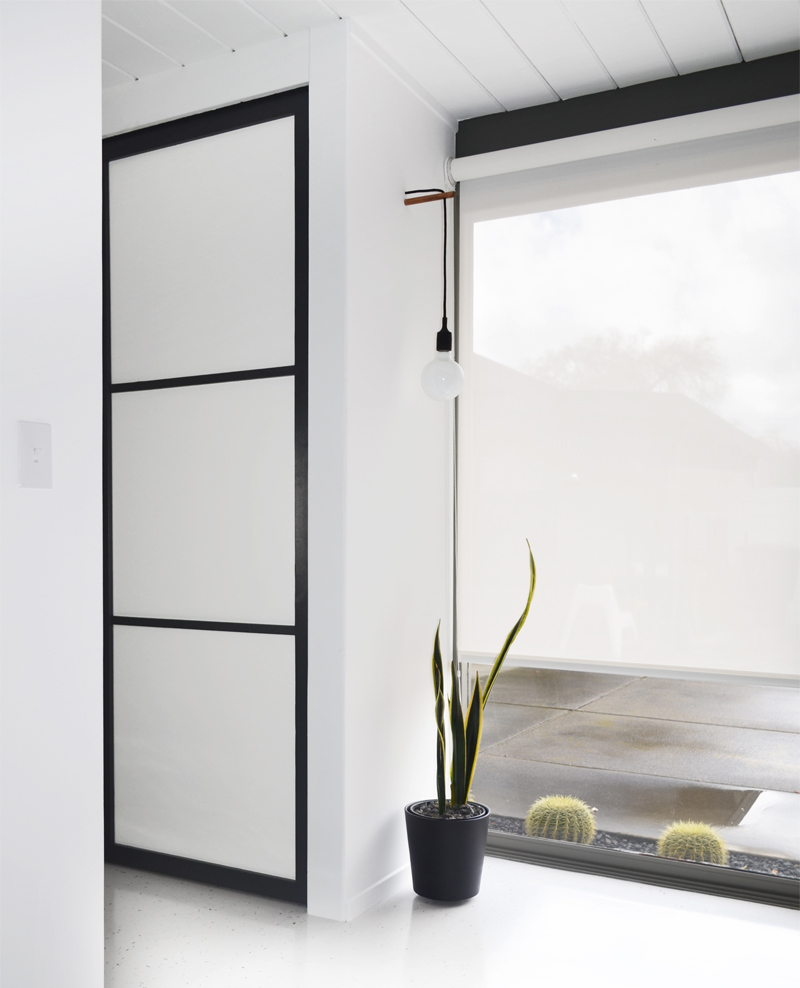 We like this little corner too, and it's a great fit for this small dresser. The window is also small, but we love how the gray beam provides definition. And yes, that's the same vase combo as the nightstand –we played around before settling on placement. That's just how we do things.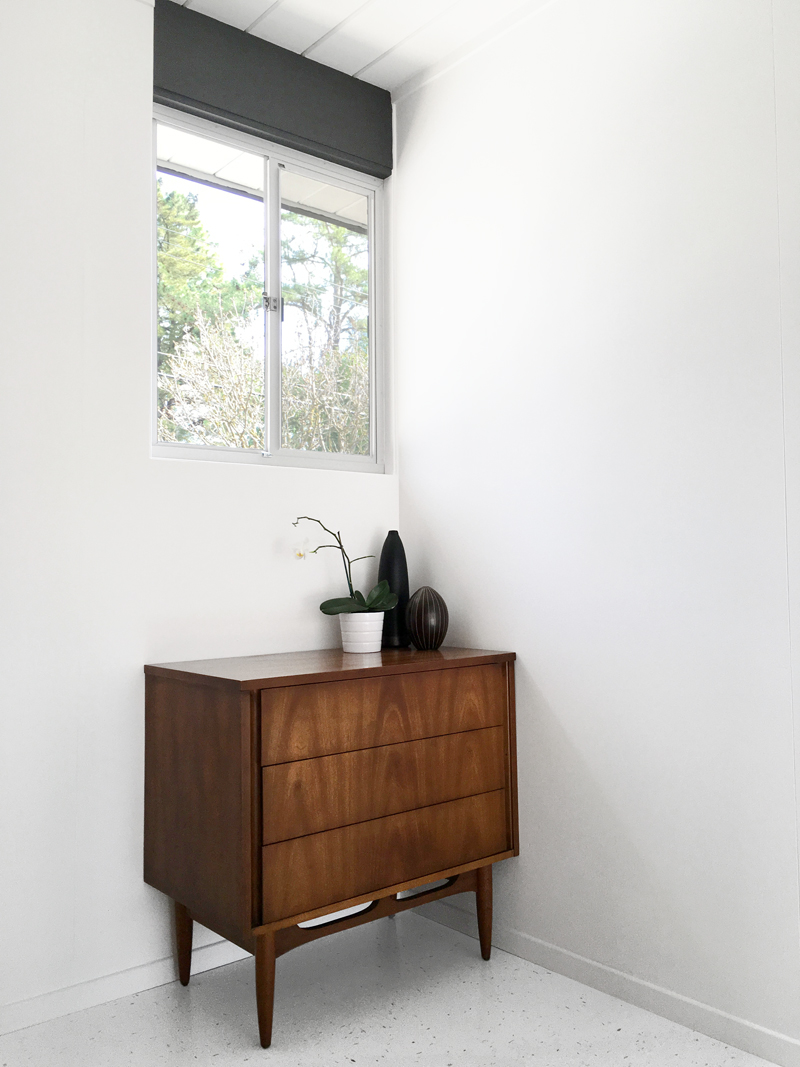 This was a gray day, but the room still gets plenty of light (even with the shade down). That said, we'll likely update these pics in the summer, when our side yard is done. Now I'm really dreaming. Truthfully though, it already feels like an English summer here.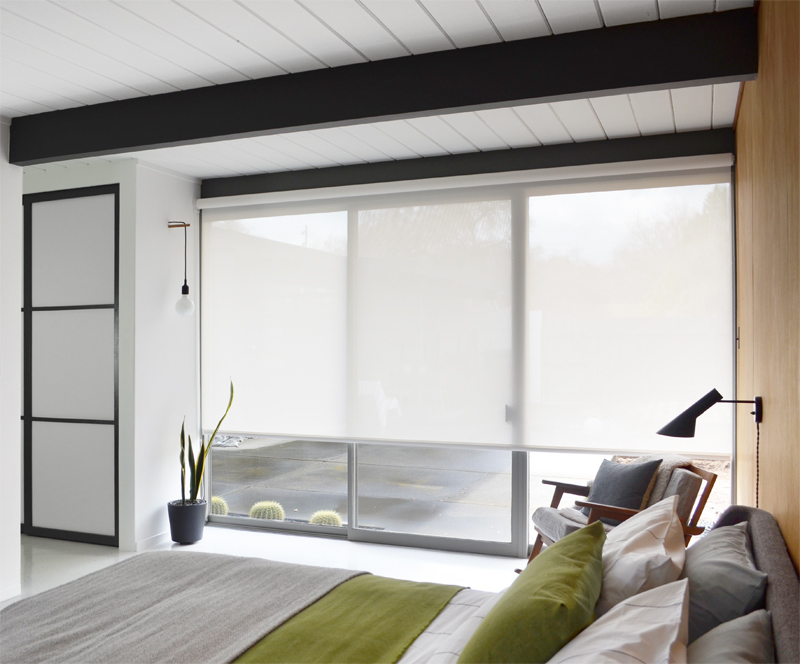 We plan to add a slider in place of that small window, as some neighbors have done. Currently, there's no access to our backyard (our largest outdoor space) from any of our bedrooms, which is odd. For now it's no big deal, but we hope to remedy once we have a backyard worth accessing.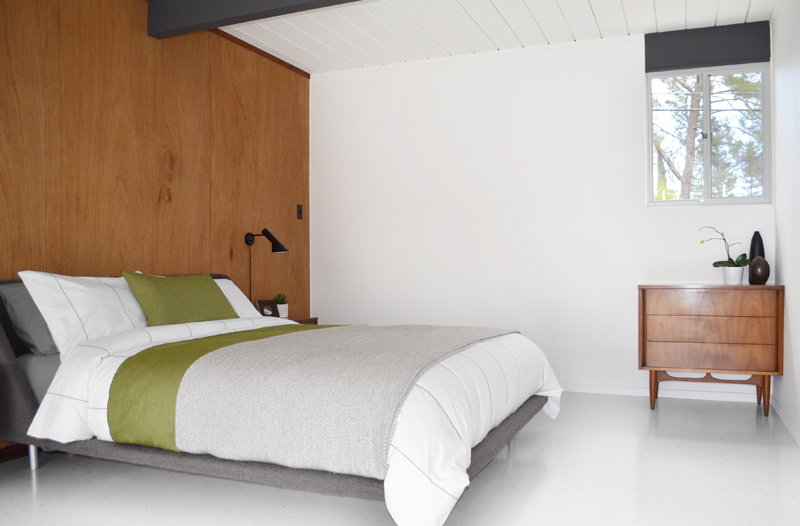 In the meantime, we'll add some artwork to that blank wall, maybe a bench by the bed, or a long dresser on the right-hand wall. We also want a rug. Then there's the womb chair. So we're not finished at all, are we?! For now though, we're loving how clean, minimal and tranquil this space feels.