With no rain respite, we're focusing on flooring. Having finished our all-purpose room and living room, we continued around the corner, along the corridor, and into our master bath (all shaded below). We skipped the kitchen, leaving a shoe-friendly channel from garage to back door –we'll tackle that last.
This corridor is our darkest spot, so grimy beige VCT doesn't help. We have an embarrassment of closets here (the collective noun, I believe) with a run of three, then two more beyond the doorway –an indulgence for us Brits, at home with free-standing wardrobes. Not that we're complaining.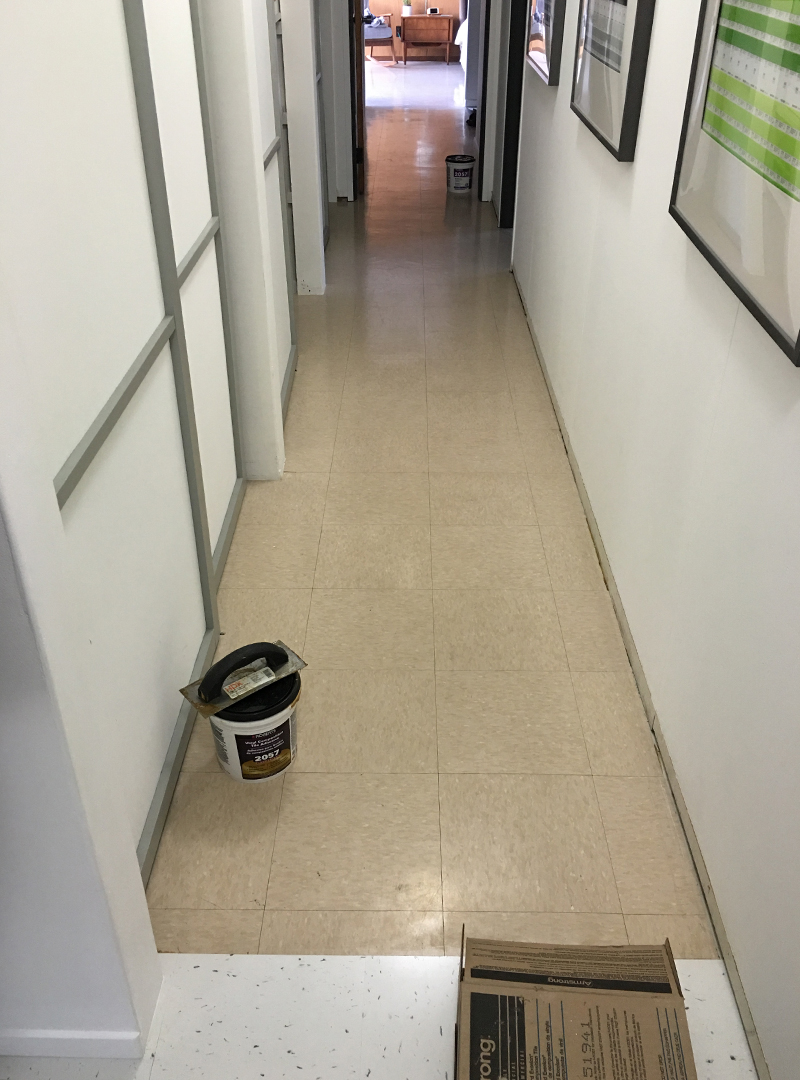 We installed our Polar White VCT, replaced the non-original baseboards, and caulked/painted. This section (before the door) took most of a weekend, thanks to lots of awkward cuts and wait times between adhesive, install and sealer/polish coats. Worth it though.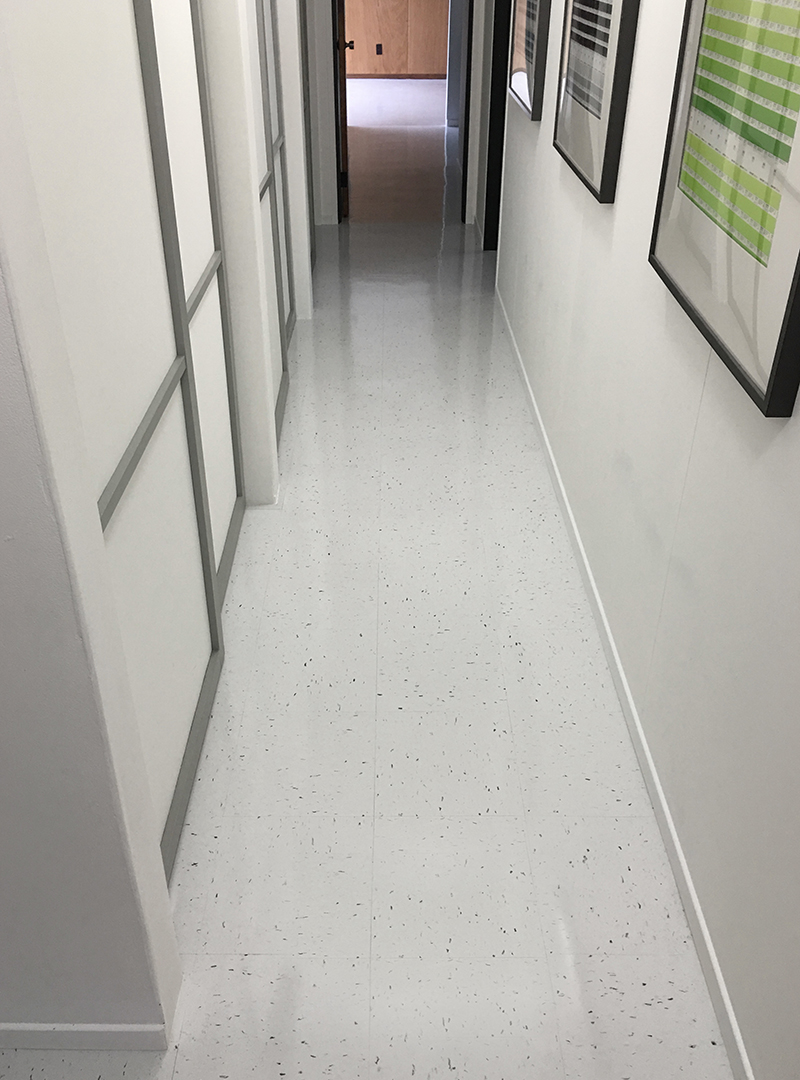 The following weekend, we moved beyond the doorway, into our master bath. This pic is from our first day here (August 31, 2013). The vanity cabinet is original. Everything else had been replaced, over the years. The beige flooring looks fine here, but it was never sealed, so hasn't fared well.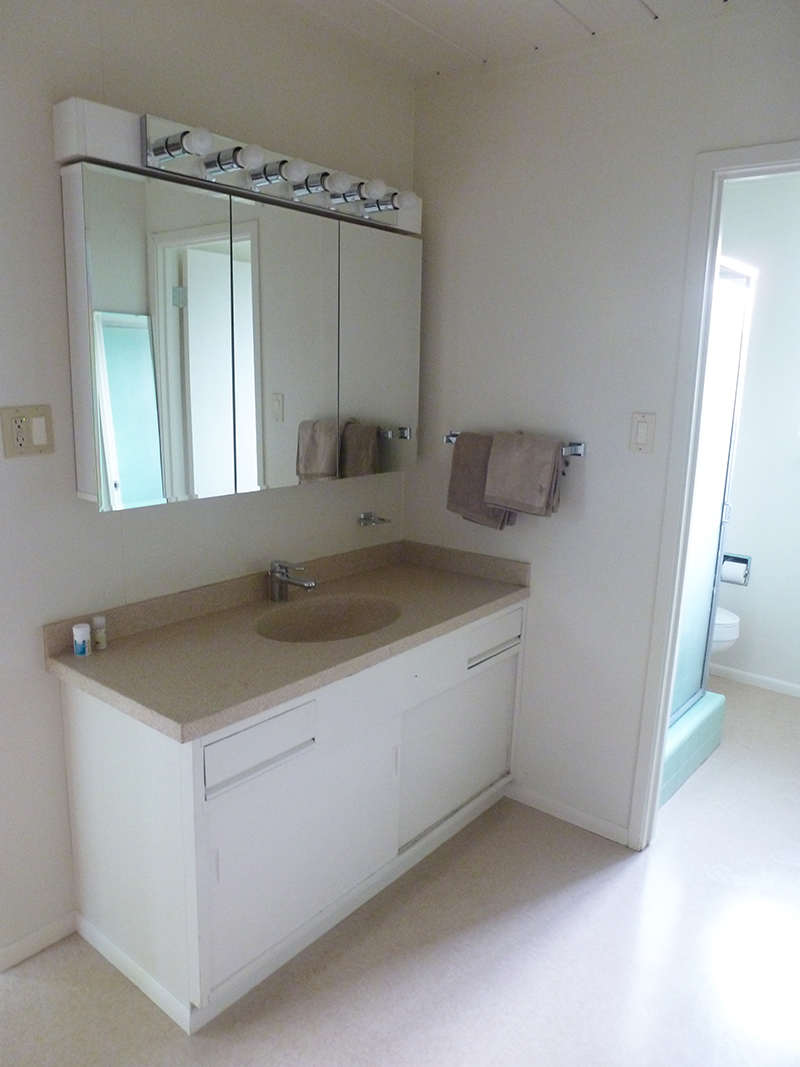 Since then, we repainted the vanity (twice), replaced the countertop, sink, light fixture, towel rail, outlet and switch, reinstated the original medicine cabinet (donated by our kind neighbors, John+Joan) and restored the wood door –adding Schlage Bell hardware, per all our internal/external doors.
Before flooring, we repainted the walls in Behr Ultra White (previously less 'white' Sherwin Williams) and the door jamb in our dark gray beam paint, as elsewhere –we love how it punctuates the white/wood; one of our favorite design decisions so far. With all that checked-off, we finally installed the VCT.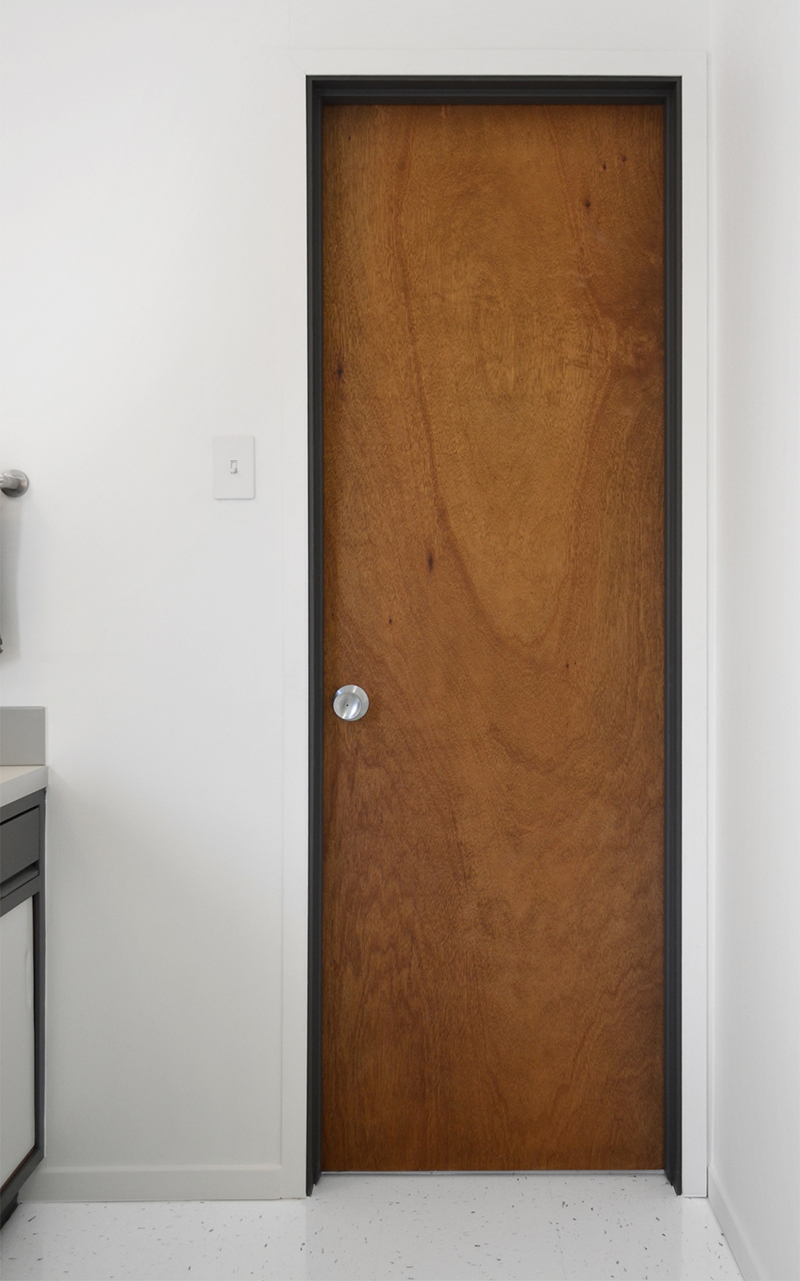 And we love it. We also improved functionality, adding IKEA soft-close drawers to the vanity (two on each side), as per our kitchen cabinets. This requires vertical supports on the internal side of the drawers. The remaining center gap allows space for plumbing, and additional storage for tall items.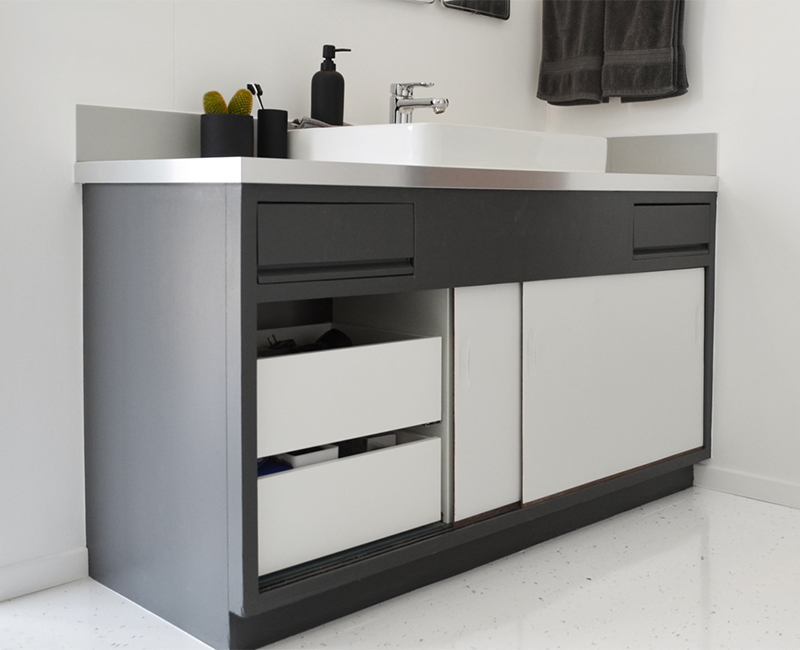 Still on storage, we sorted our closets –first repainting the doors from light to dark gray (see pics 2+3 for former color). This meant removing and reattaching all the white panels in-between (this is the back). Not sure how we'd cope without this nailer, loaned by more kind neighbors, Kelly+G.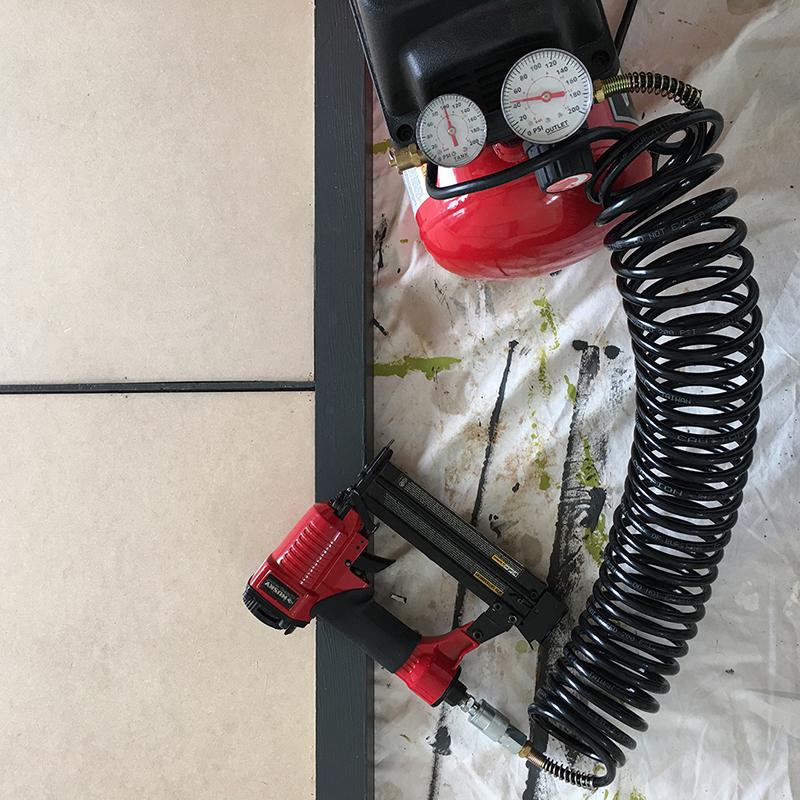 We like how our gray accents are unified, with beams, door jambs, cabinets, and now closets, all in the same dark gray. If you want color in here, you have to open the closets –we gave them a blue backdrop, long ago. We also reorganized, adding/replacing rails and shelves.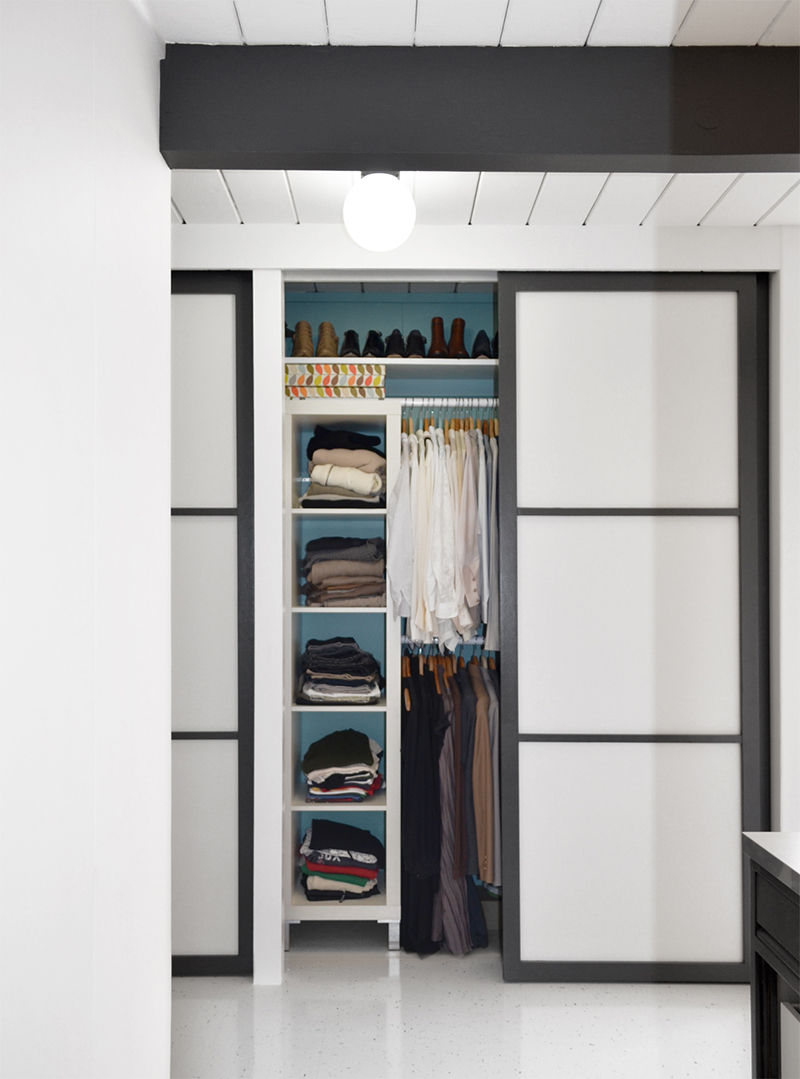 Looking back down the corridor, seems like we're done, no? Sadly not. Note the beige patch at the end, where the old flooring starts. Spinning around you'd see our master bedroom also needs attention. That's next –we've removed everything, and relocated to our guest room, while we get to work.
And that's this weekend's project. Same formula –repaint beams and walls, then install flooring. We're also making a couple of other tweaks, which I'll share here soon. Feels like we're making good progress inside –long may the rain continue. I may regret those words.