I wanted to revisit our master bedroom, to look back at the progress we've made, and share some details we just added.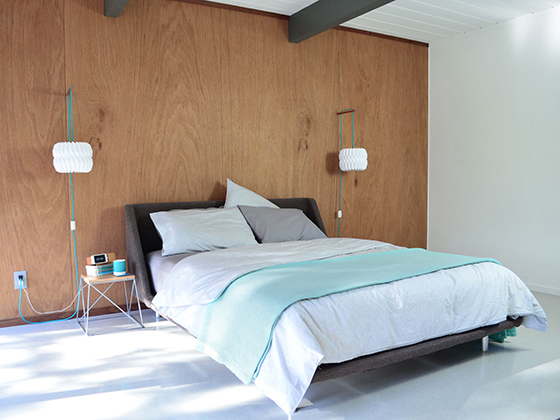 First, a quick recap of how we got here. We bought insulation for the external walls, only to discover better stuff already inside. Then we painstakingly restored a wall of paneling behind the bed, replaced trim and painted the other walls, ceiling and beams.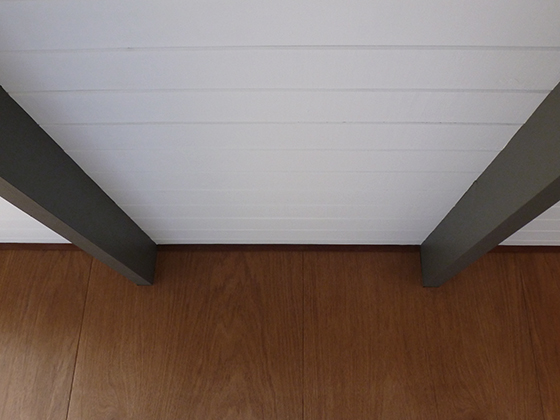 Next, we took our first shot at laying VCT flooring –this went surprisingly well, and it still looks great. Then we installed a solar shade, which makes a BIG difference, helping it stay relatively cool, despite the western exposure. It also looks pretty slick.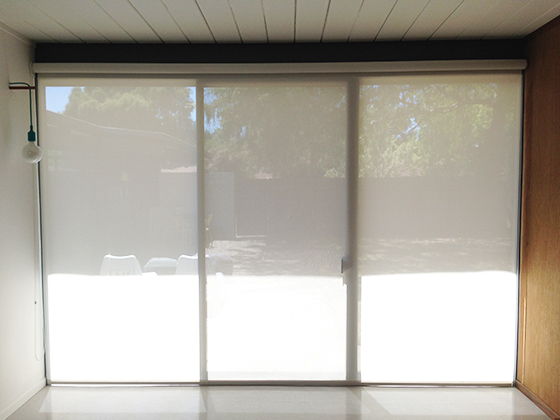 Then we got creative, making matching wall sconces, to flank the bed. We made another light fixture for the opposite wall, gave our hallway closets a refresh, and restored the original wood doors, to the master suite and shower room.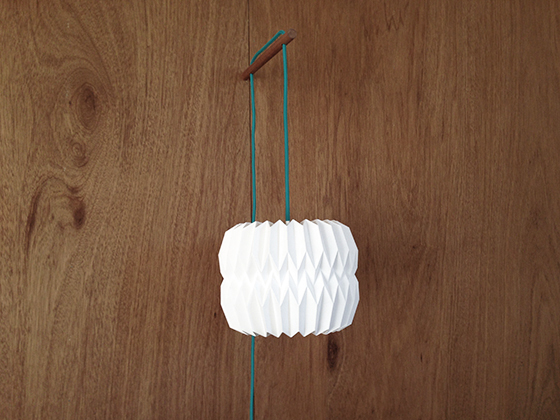 Now for the new stuff. We've struggled to find quality modern bedding in the US (without spending $$$) so we designed our own. As a result [cue shameless plug] we've started our own shop as part of fogmodern.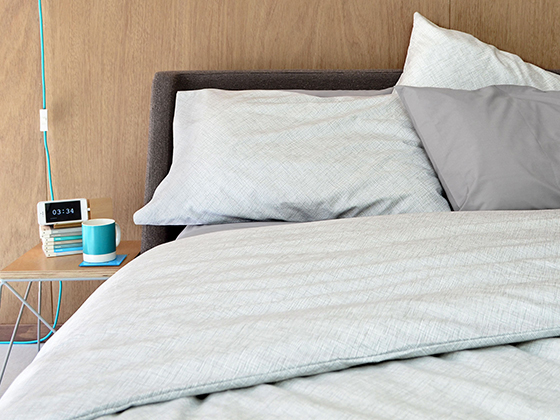 This is our Nest duvet set, with subtle gray/white crosshatch pattern. We'll be adding more bedding, pillows, and artwork, while curating/selling lots of other stuff for the home. Well, that's the plan. Plug over.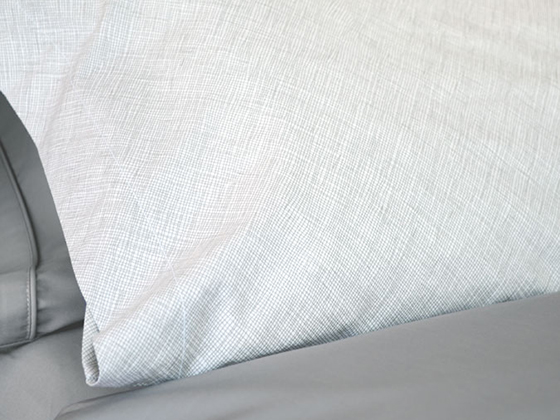 Elsewhere in the room, this simple furniture project. This used to be an office desk, but it was severely damaged during our move here. I cut it down, removing the affected section, and attached some legs, to make this TV table. Nothing special, but it works.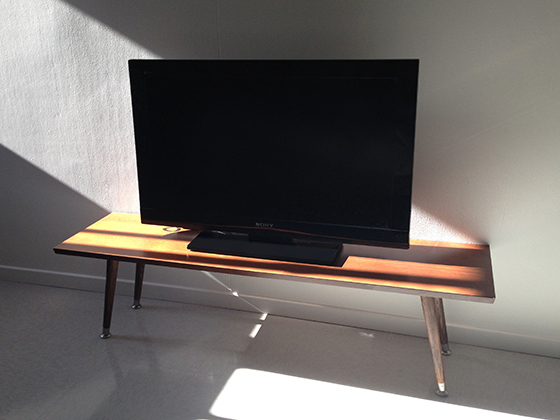 We also framed this PANTONE artwork. I'd like it on this wall, but Karen would rather it sit on a long, low (as yet, non-existent) bench/credenza. We have a green, orange, gray and brown version of this print too. A couple will likely land in our office, where they should make sense.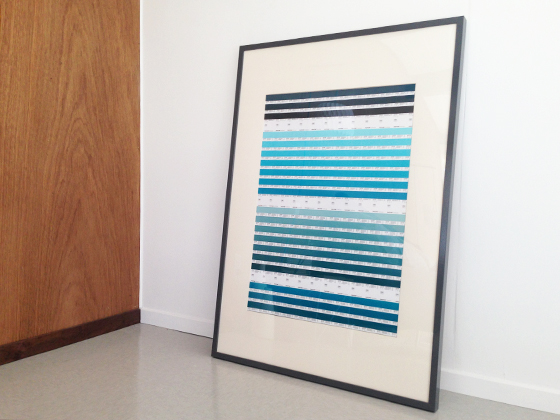 A few more things to do. We need to re-upholster Karen's long-owned brown leather chair (scratched by over-zealous English cats), install a blind for the small window behind it, get the bench/credenza I mentioned, and buy an area rug…which we're yet to find.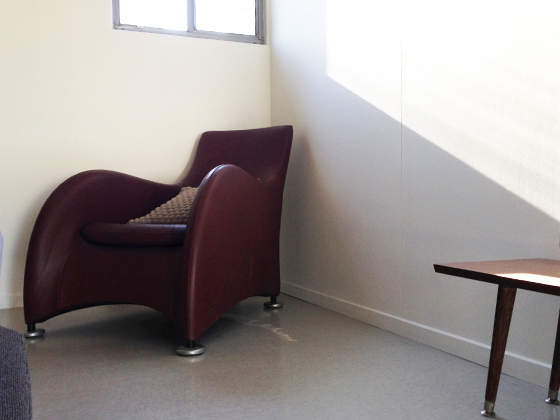 So we're not quite done, but the room has come a long way. Here's an early look-see. Note the off-white spray paint, covering walls, ceiling and beams. And the bleh beige carpet. Every surface has been changed. For the better, we think.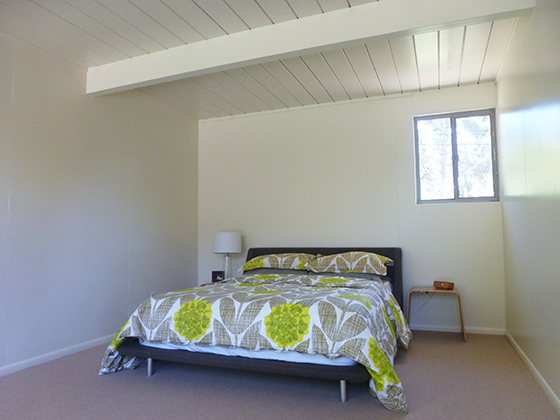 We re-orientated the bed too. We figure this must be the intended position, as there are equally spaced power outlets on either side –perfect for the wall sconces. Visually, the wood paneling makes an attractive backdrop too.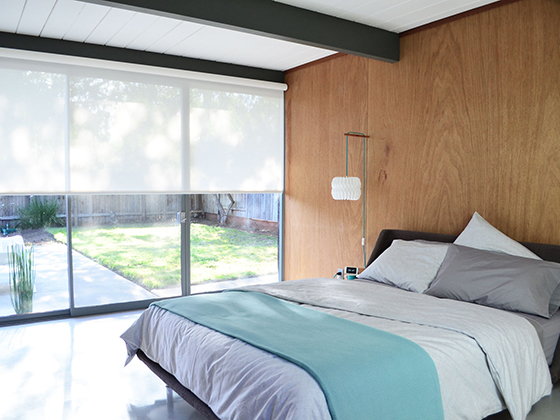 As a bonus, we now get to look back at the house/patio through the sliders. Our model doesn't have an atrium (like most later Eichlers) but I love how the living space and master wrap around this side patio.
This orientation also means we get to eye our office (AKA all-purpose room) when we wake up, and contemplate the tough morning commute. It's a hard life. A busy weekend ahead though. Plenty more updates on the way…
Save