We have a long list of furniture 'needs' –credenza, lounge chair, and floor lamp being our current priorities. To aid our search, we set up Craigslist alerts –these generate little in the "need" department, but lots in the "didn't need but do now" department. And sometimes you just can't say no.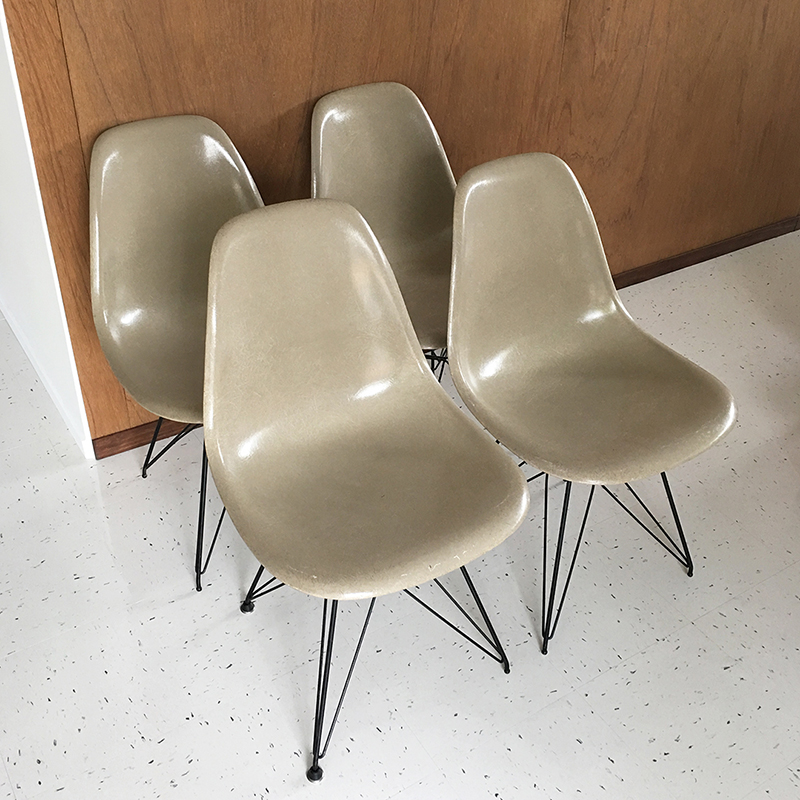 Take these four vintage fiberglass shell chairs. We certainly didn't need them, but we simply couldn't refuse. The ad popped-up, the price ($360) was right, and they were on our long-term list. So we jumped on them. So to speak. Some marks and worn areas close-up, but amazing shape for their age.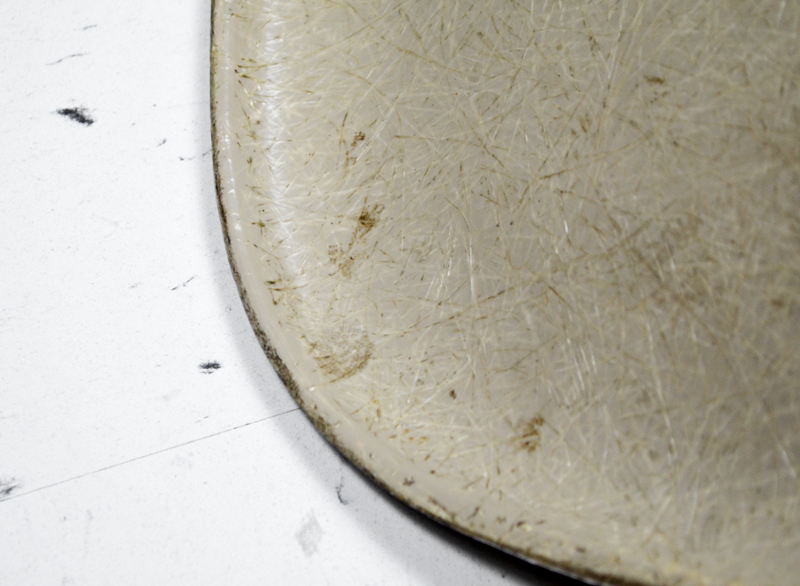 Think these are '50s. Pre-Herman Miller stamp, in 'greige' with black wire bases and rubber dome glides. Well, they did have glides. By the time we bought them, there were only three remaining. So, we had to source new ones –after a little research, we turned to Special K Products (SKP).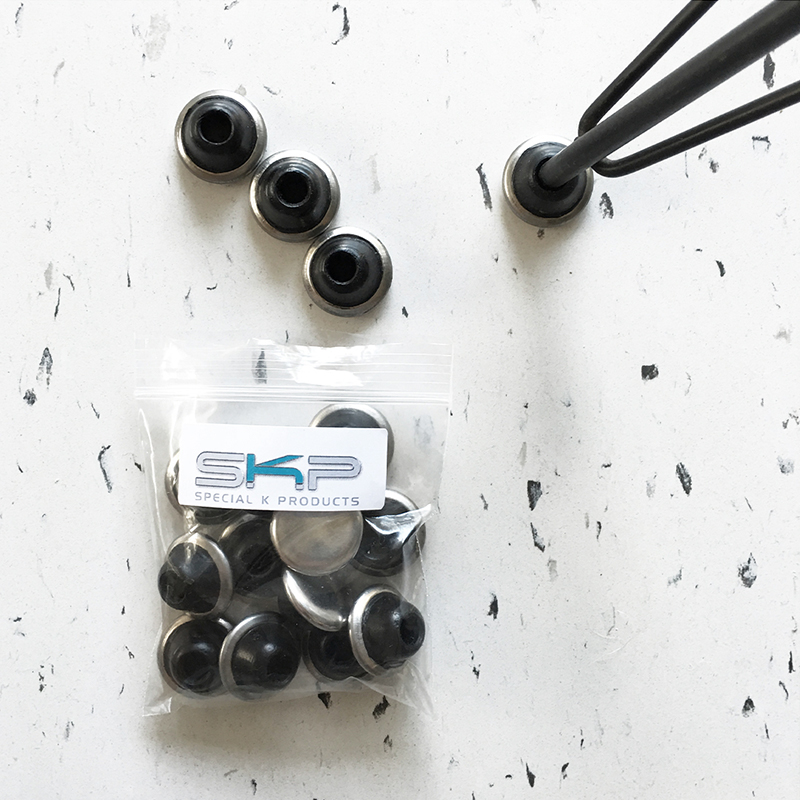 SKP sells authentic replacement parts (on Etsy and eBay) for many iconic MCM furniture pieces, including (crucially) Eames/Herman Miller shells. Everything is designed and handmade in California, and the owners (Elaine and Dean) even live in an Eichler, in Orange. It was meant to be.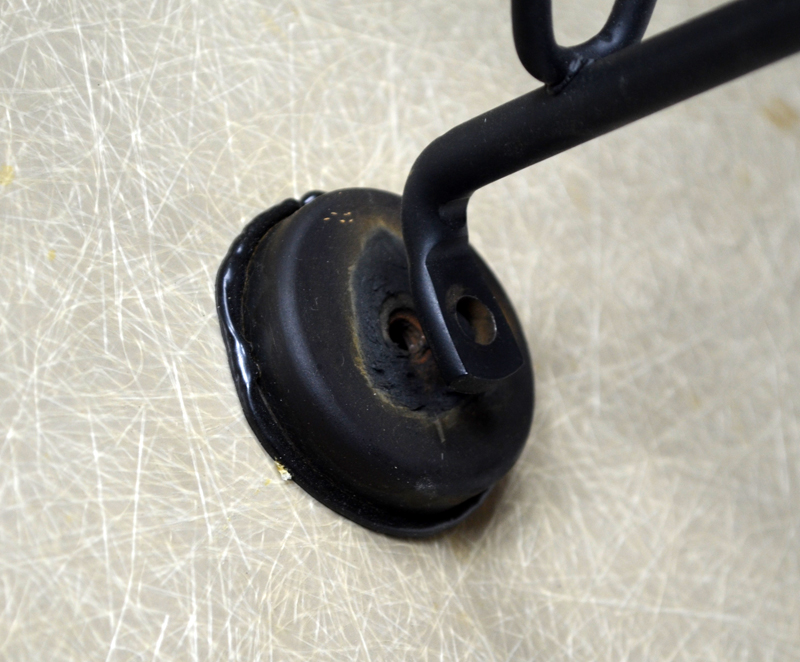 Best of all, they're super-helpful and really know their stuff. They matched the correct glides, and even threw-in a replacement screw we needed. Eichler people are the best…though we may be biased. Seriously though, we cannot recommend these guys enough. Next, we gave the shells a good scrub.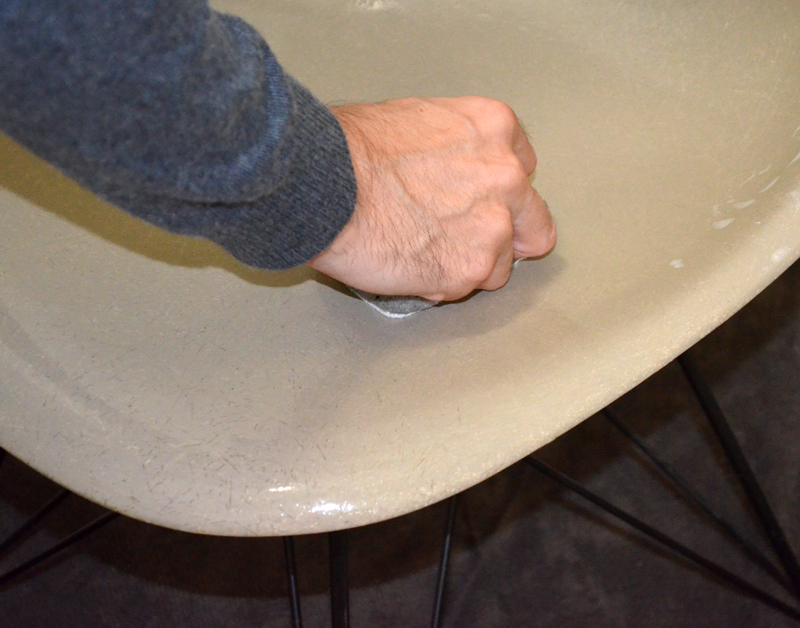 Never underestimate the power of cleaning. They looked so much better already. But we weren't done. Next, Penetrol –technically a paint additive, but someone (way smarter than me) discovered it's the perfect fiberglass restorer. You can't legally buy it in California, so we ordered online.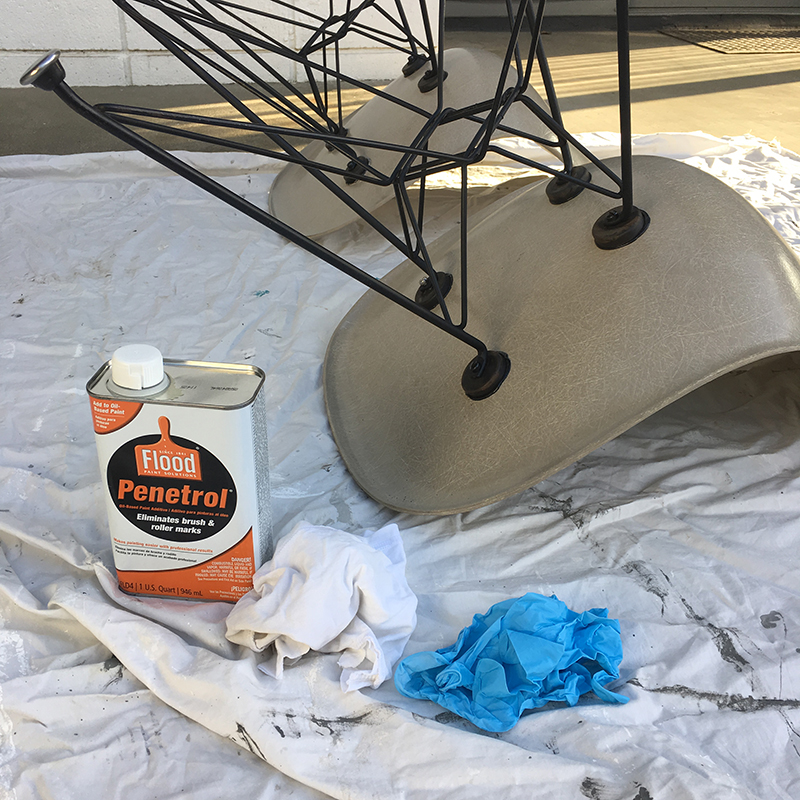 A little Penetrol goes a long way, so if you need some (and you're local) let us know. Despite being extremely oily, Penetrol probably isn't great for your skin. Gloves are a good idea. As advised, we soaked a cloth and applied liberally (cue exciting action-shot) on the underside first, then the seat.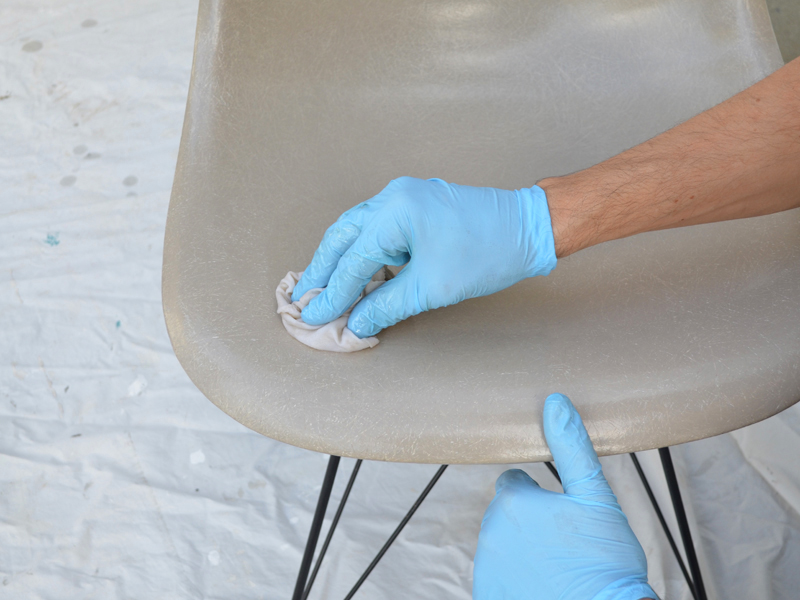 The Penetrol soaks in, adding moisture, removing minor blemishes, and blending the surface color. It also makes the chairs very glossy. And that was that. I stepped backed to admire them, and couldn't help singing "shiny happy shell chairs" in my head. Okay, out loud.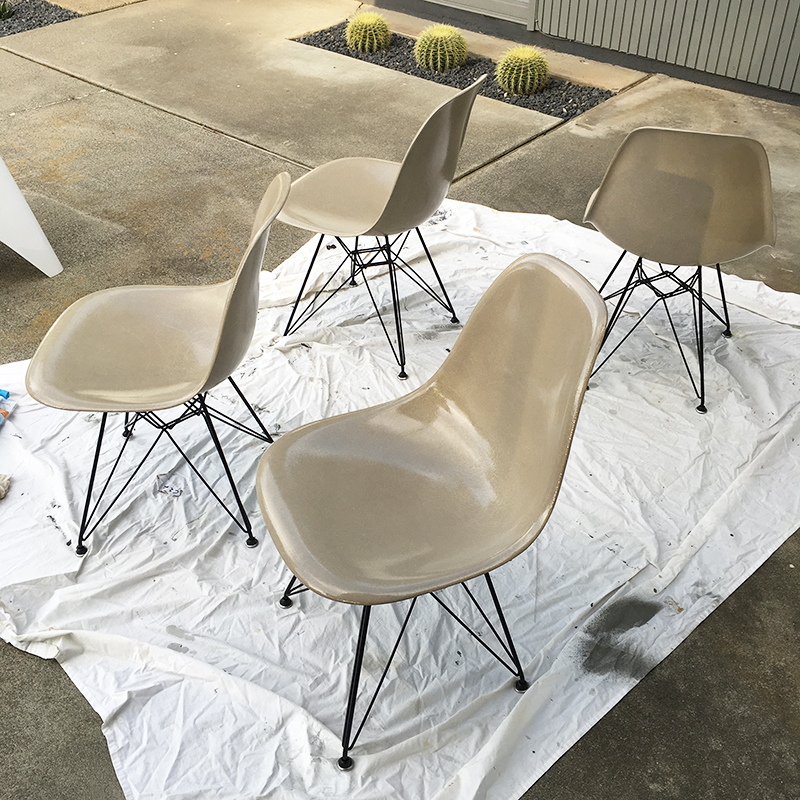 Karen wasn't impressed with my 'after' shot, so suggested artistically positioning the chairs, for dramatic effect. Why not, hey? What else do we have to do on a Thursday afternoon? Plenty, actually, but we did it anyway. That's how we roll.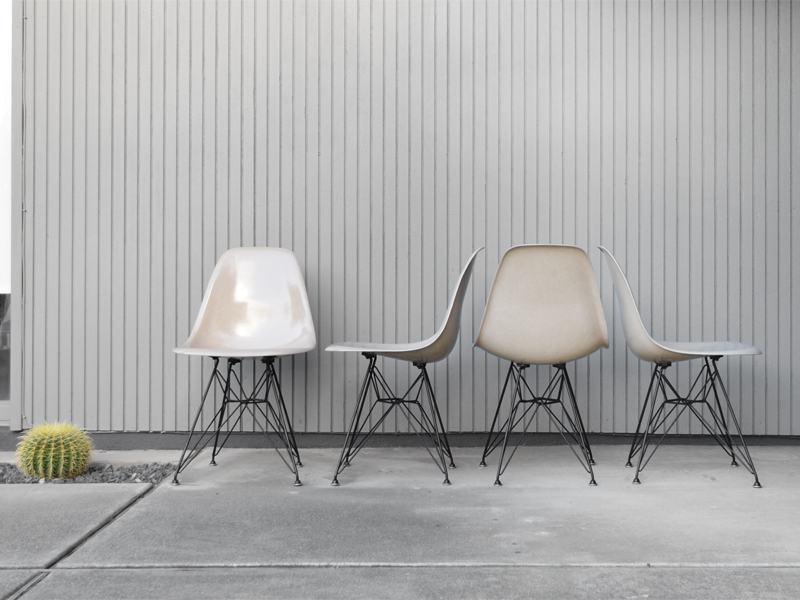 They dried-out here a while, then we carried them (by their bases) into our guest storage room. Penetrol takes about a day to cure, but we're in no rush. It does have an odor, so we shut the door and gave the chairs some ventilation. This morning, they are way less tacky, but just as glossy. Nice.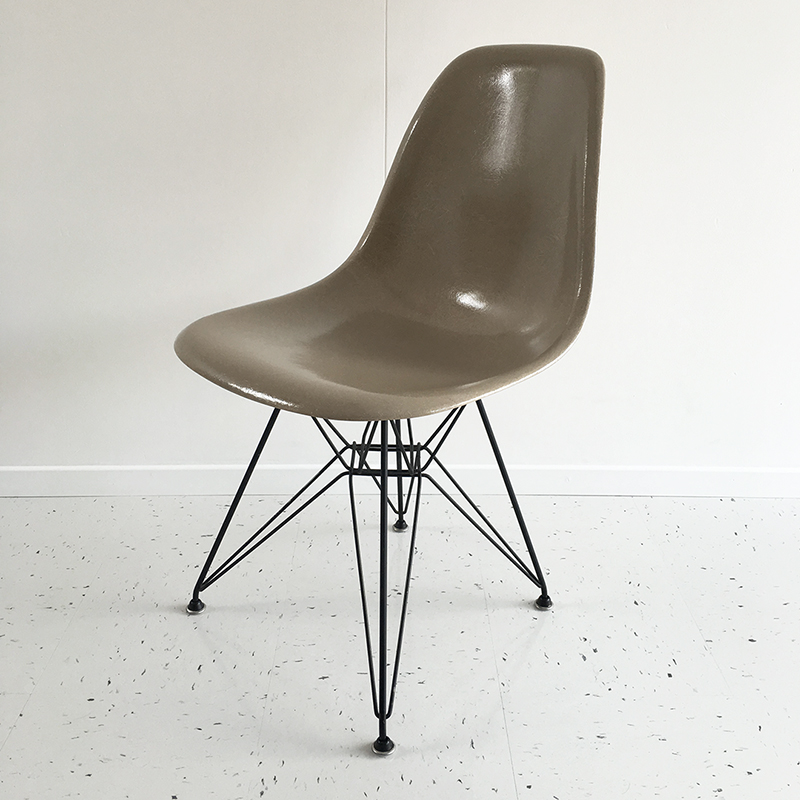 We love the color shift between light beige and dark gray, depending on light. These will replace our black plastic (knock-off) shells –those move outside. Oh, we just made another 'too good to miss' dining upgrade, which I need to share. And I must show you our finished master bedroom. More soon…