Remember our side yard? Back in December, we shared our DIY landscaping plan and initial work. Then the rain came. And stayed. Good for California. Bad for landscaping progress. Since then, a few false-starts, and plenty of tweaking. And now, finally, we're done. And it feels good.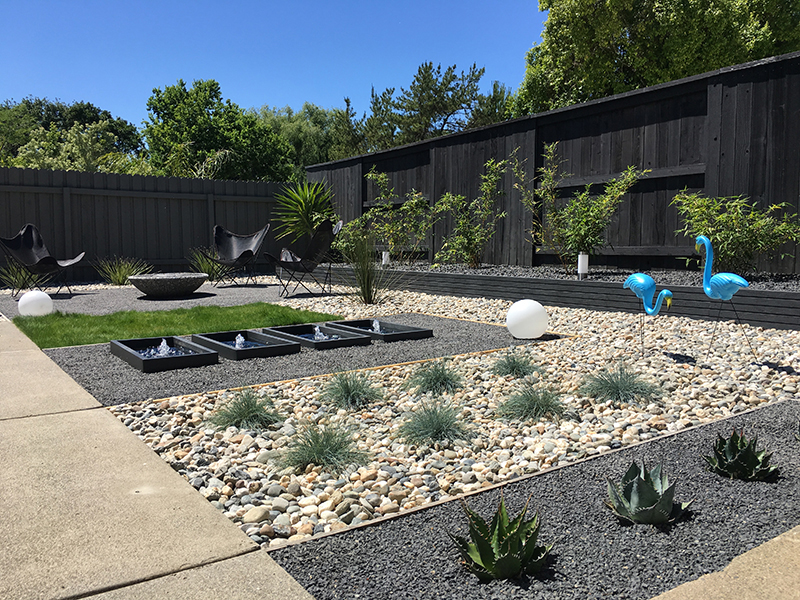 Just a side note (pun intended) –we'd like a more flattering term than "side yard", but that's technically correct, due to our home's orientation. Our back yard is a whole other story. For now, let's recall what it looked like last winter. Yep, a muddy mess.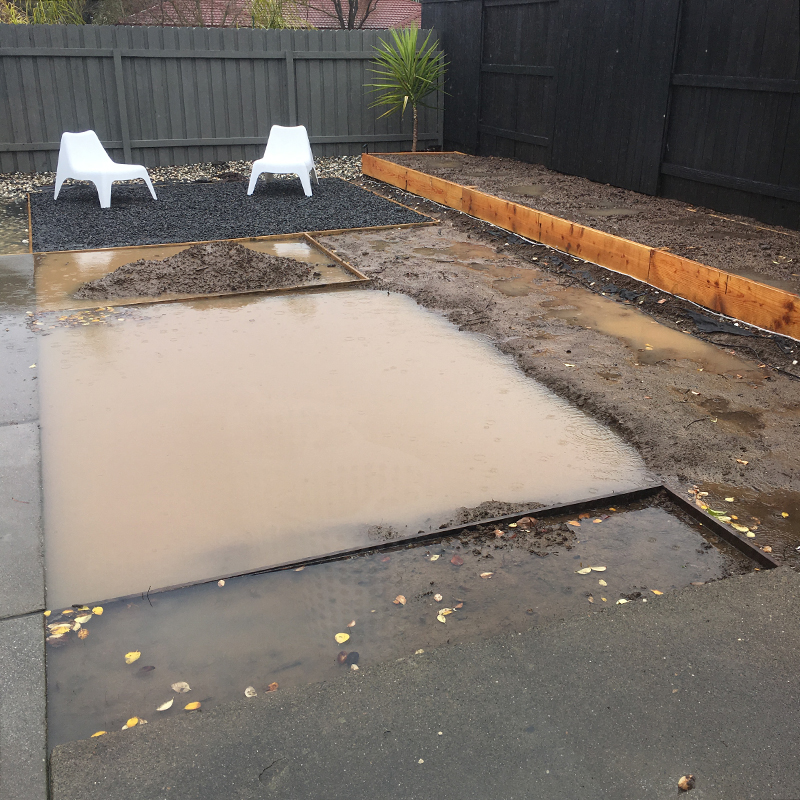 We planned on making that large hole a reflecting pool (more on that later) and the rain gave us preview. On a weather break (late Feb) we seeded the adjacent rectangle, with Prairie Nursery's no-mow lawn seed mix –a blend of six fescues, requiring low water and (predictably) no mowing.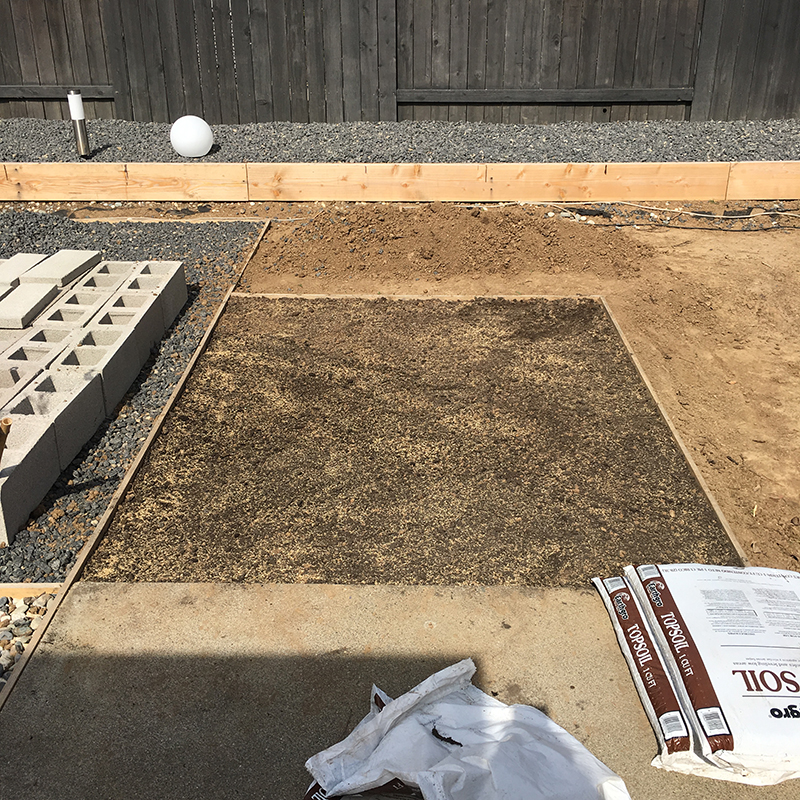 We planted 'Alphonse Karr' in the raised planter we built –a non-invasive clumping bamboo. We used six good-sized specimens for this 30-foot stretch. It should fill-in nicely over the next couple years. We've already noticed some good growth (see later pics) so it's happy here.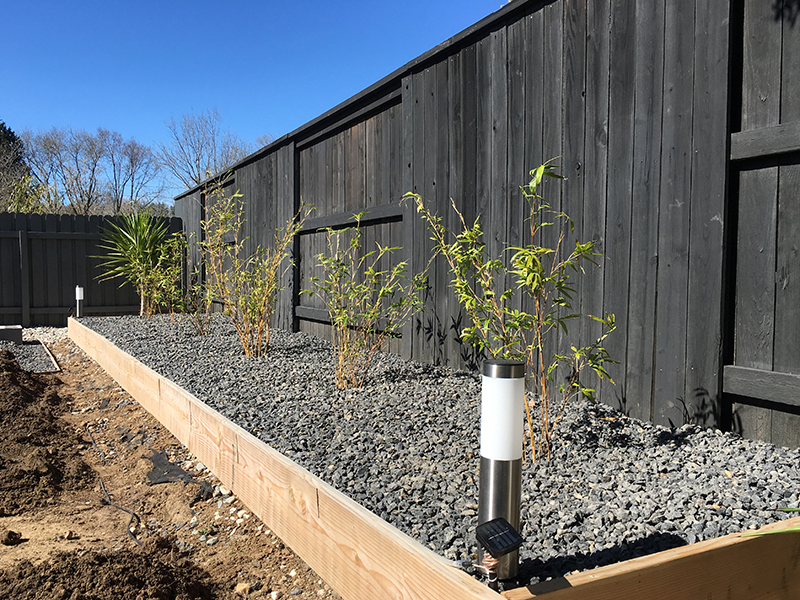 The rain kept coming. Good for the bamboo and no-mow (see the green shoots coming through). You can also see the mountain agave we planted in the right-hand cutout. Oh, and that cinder-block is just passing through –a donation from our friend, Andy…which we're yet to find a use for.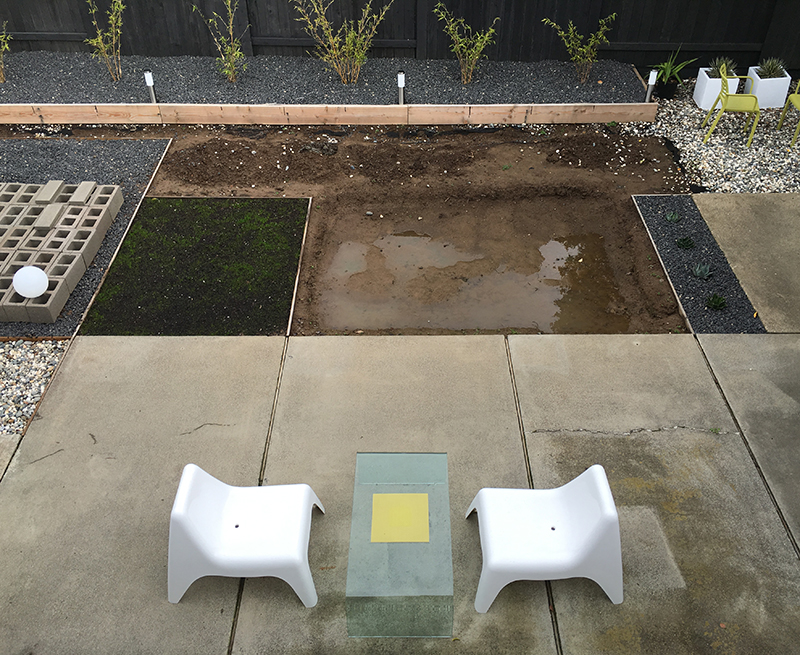 A little later (see the no-mow filling-in nicely) we got back to work. We explored the reflecting pool idea, but it just wasn't happening. We figured fountains would still give us the water we craved, so developed a plan. First, we dug a big hole and filled with sand.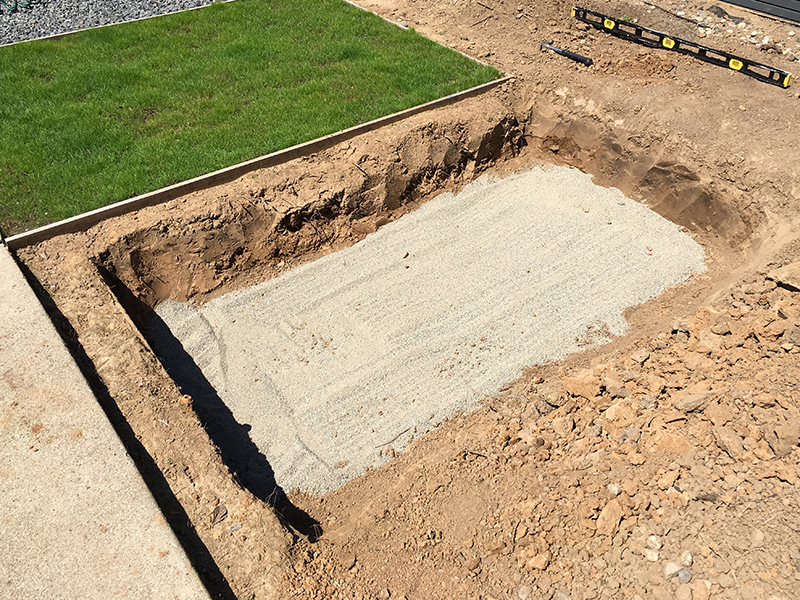 Next, we placed, spaced and leveled four galvanized charcoal planters from CB2 –not designed to hold water, so they need waterproofing. We fed the fountain pumps through existing drainage holes, and siliconed in place, along with all the seams. We filled with water and all looked good.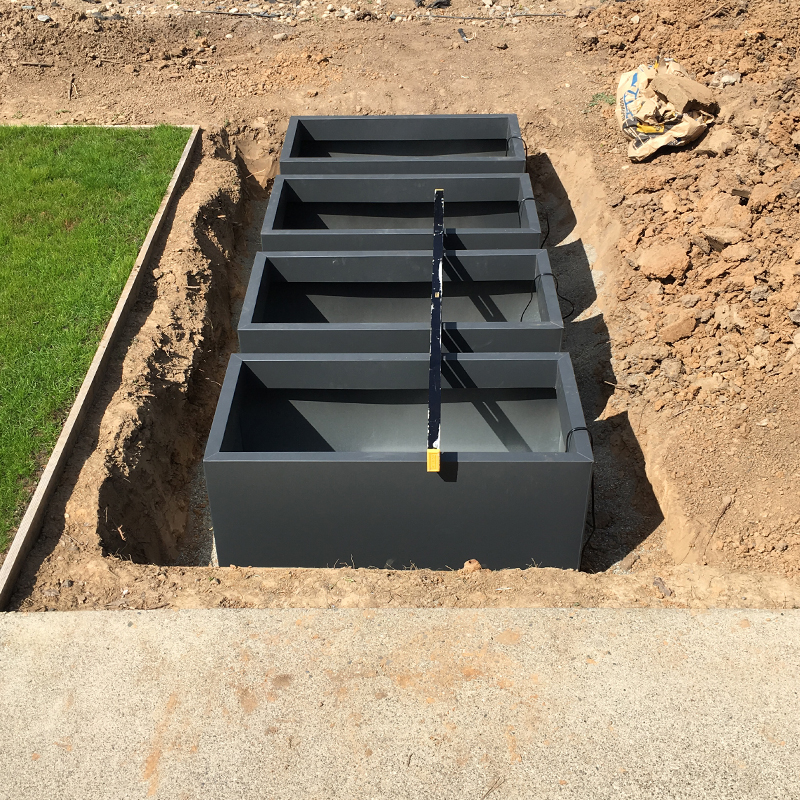 These fountain pumps have LED lights –not on our wish list, but we'll go with it. Actually looks pretty cool at night. In the bottom, we placed some dark pebbles –can't recall the name. Just what appealed at Home Depot. We've added a little more since this, to close all the gaps.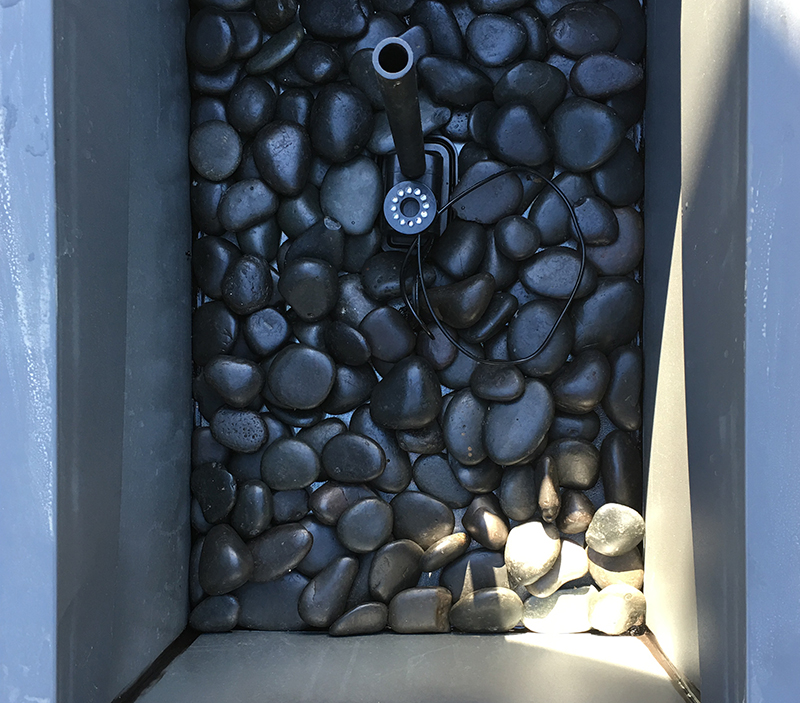 We ran electrical from a nearby outdoor source –thankfully, most of the route was partially dug-up, so this was simple. We used a weatherproof connection box, which will be buried in rock. You'll notice butterfly chair frames on the left, which I'll get to. Also, that the rear planter is now clad.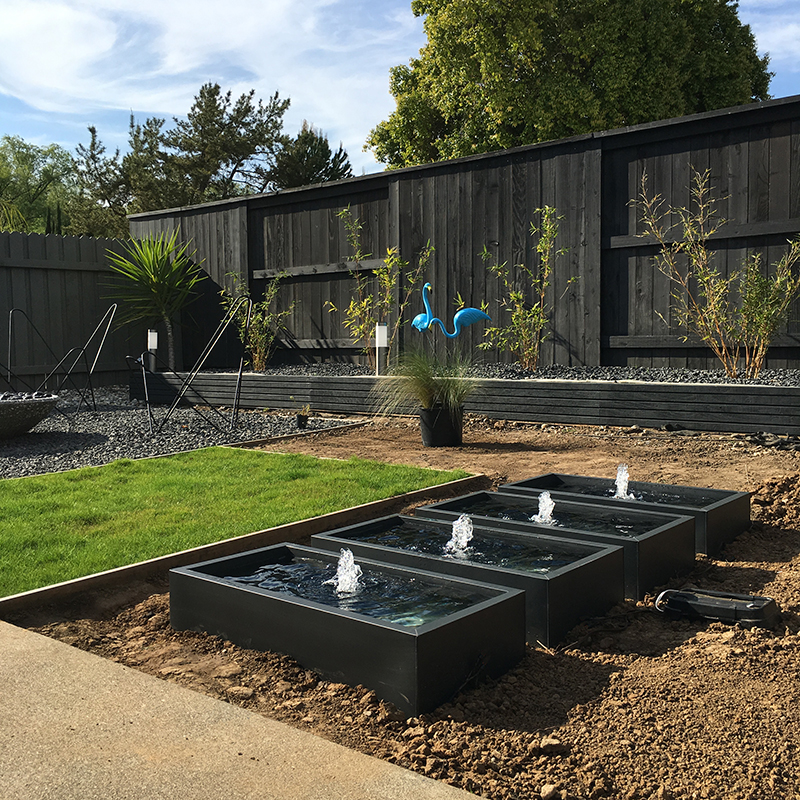 This wasn't our original plan, but we had a few sheets of spare Eichler siding in the garage –this was locally milled stuff, that we bought from our neighbor, Dane. Turned out to be a couple inches shorter than our lowest siding wall, so we couldn't use it. Until now.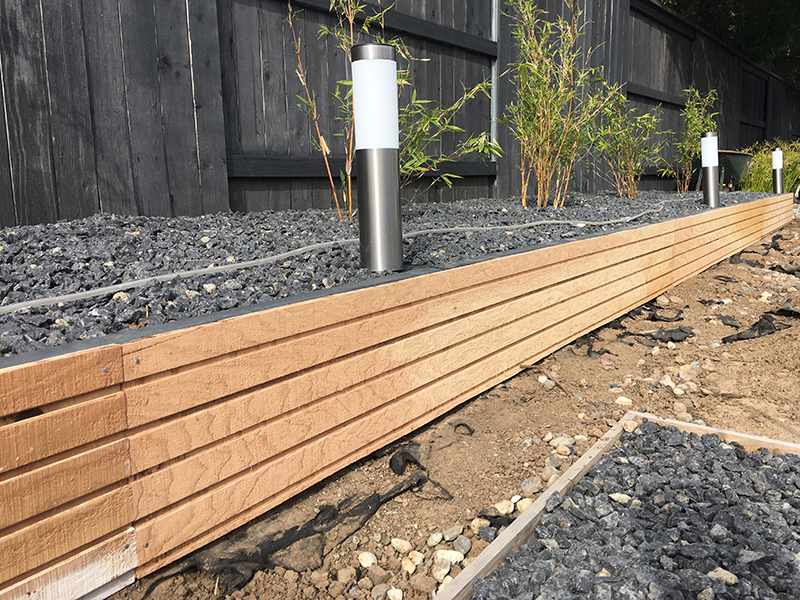 We cut the siding into strips with a circular saw, nailed into place, caulked, then painted in our dark gray beam color. We were so happy how this came out. Our neighbors picked up the solar lights from Costco for us (thanks K+G!) –we partially buried them, for a more discreet look.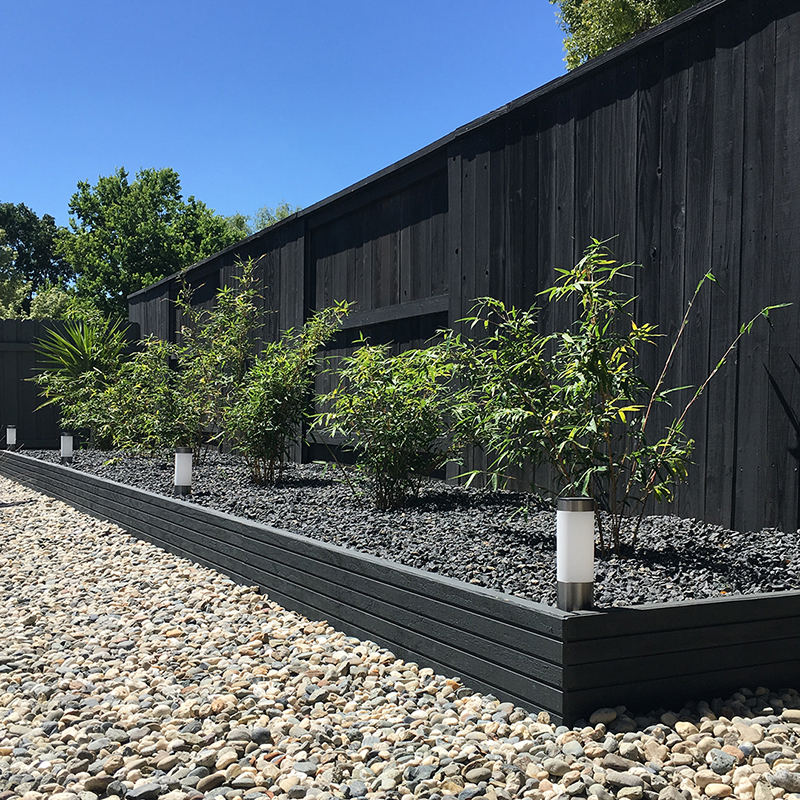 Let's go on a little tour. First-up, four mountain agave, followed by eight blue fescue. We had planned to buy standard pink flamingos and spray them black, but we spotted these and fell in love. We did spray the legs black though. We have three solar globes dotted around.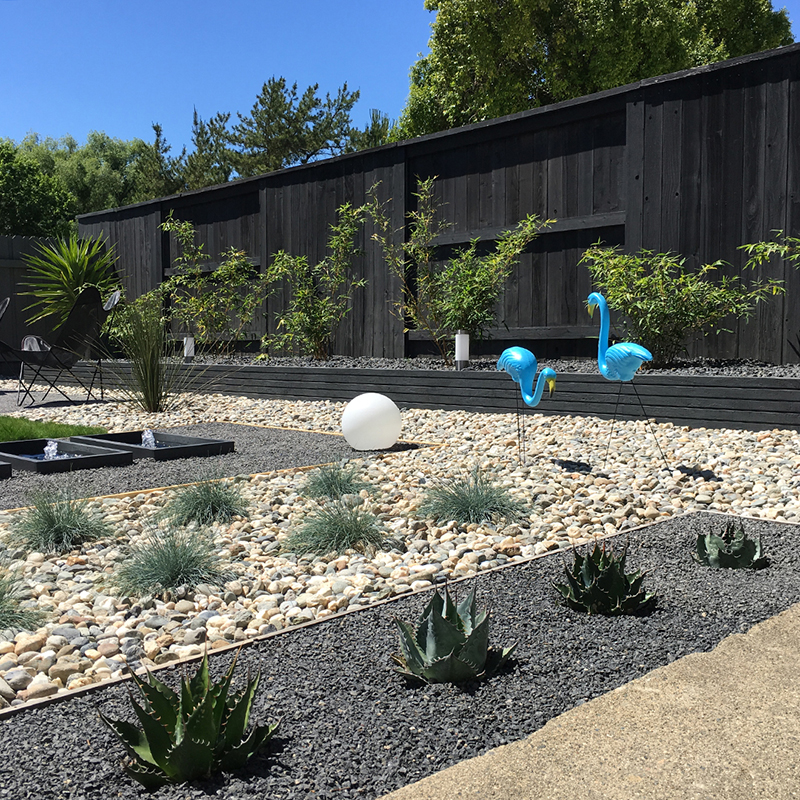 There's another, by the golden barrel cactus. We switched to 1/4″ rock for all the cutouts, and the fountain area. We did have salt and pepper next to the fountains, but we thought this would look cleaner. You can tell this was a tweak as the surrounding wood hasn't aged yet.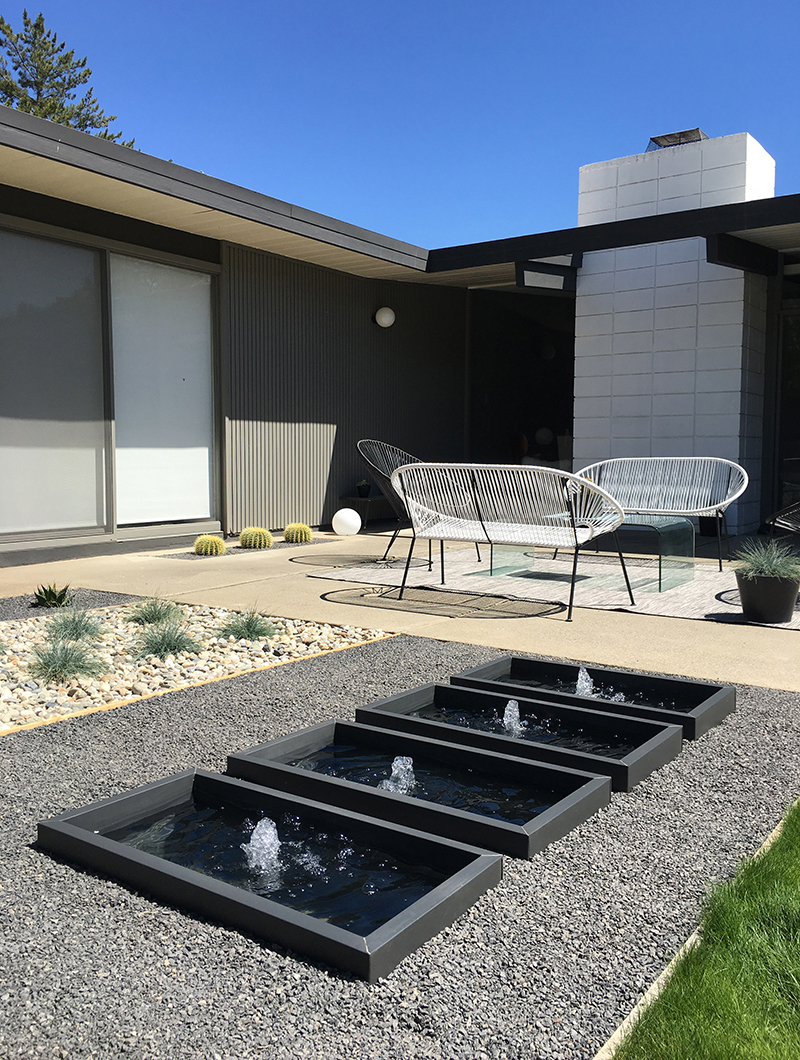 Next to the fountains, our Dasylirion Longissimum (try saying that when you've had a few) –we transplanted this from the front yard. Beneath that, our no-mow grass, which is doing so well. A couple of patches need to fill in, but nothing major.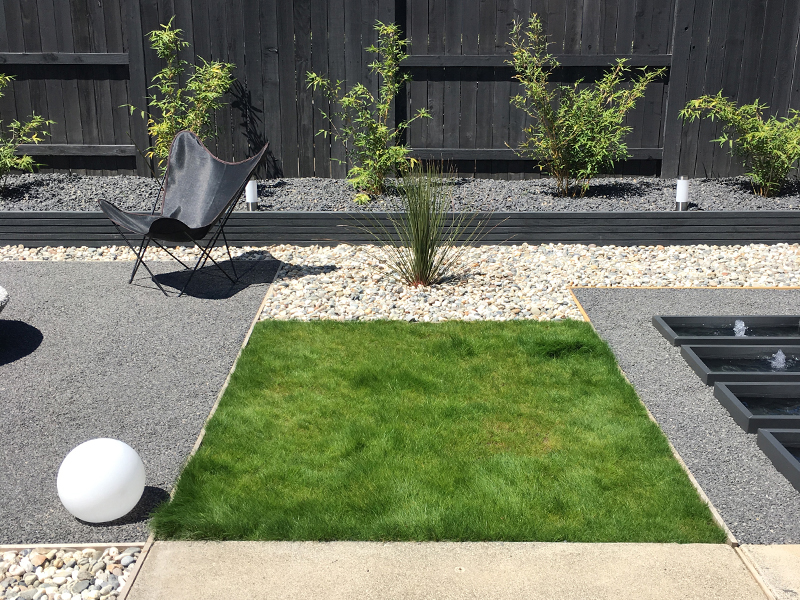 Close-up, you can see it's pretty much weed-free –a novelty for us. The fescue is very fine, and soft underfoot. Best of all, it provides a nice burst of vibrant green, to balance our monochrome palette. We seeded a much larger area at the back too, which I'll share one of these days.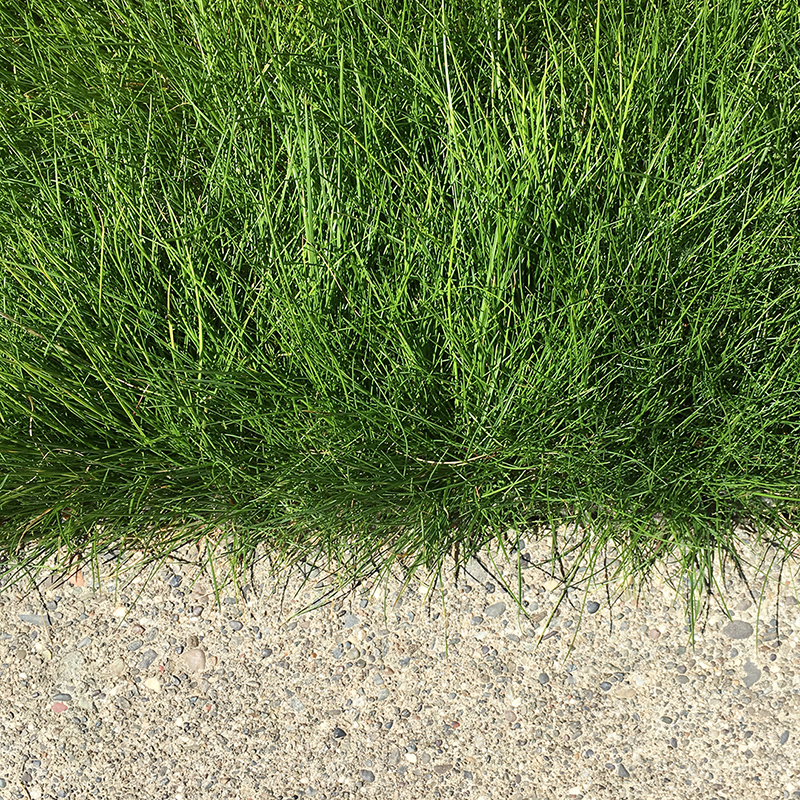 Next to that, our firepit patio. We originally ordered white butterfly chair covers, but when they arrived they had beige edging! So we switched to black. We planted alternate agaves in the front row –the smaller are quadricolor century plants and (embarrassingly) I have no idea what the others are called.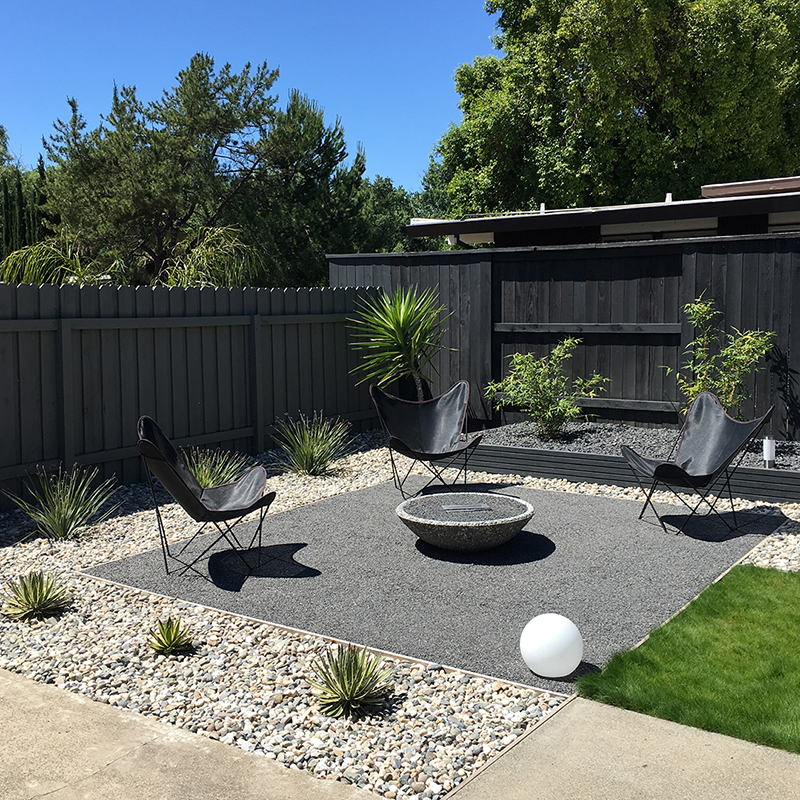 We re-purposed this aggregate fountain as a firepit (kinda) –the flames come from an ethanol-fueled insert. Doesn't give off much heat, but looks pretty. We used the same small gray rock here, for patio and firepit –an improvement (we think) from our original choice.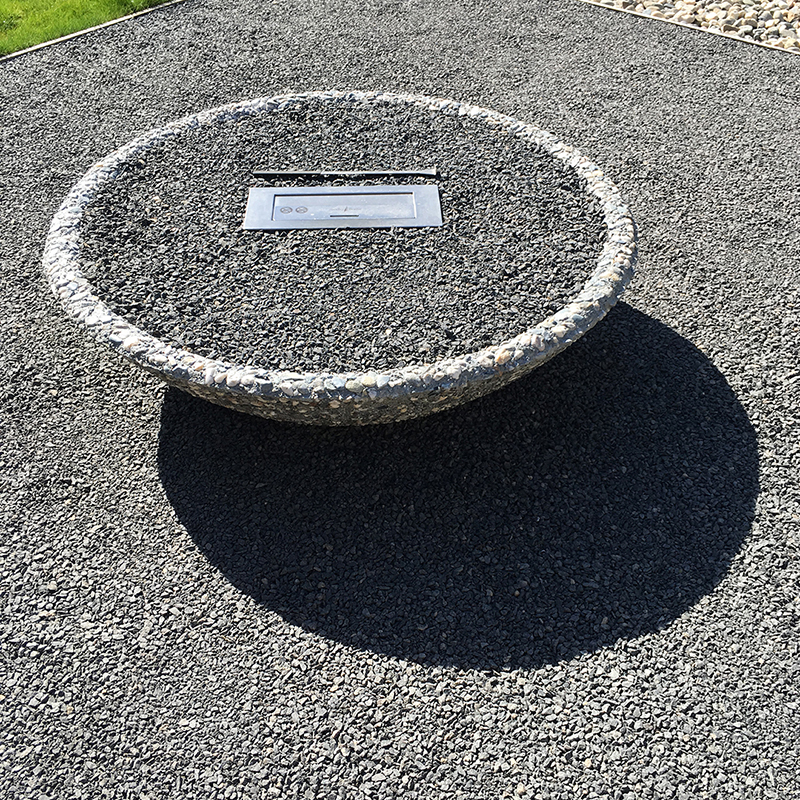 To the left, we planted three Dasylirion Wheeleri, which we adore. They're a pain to plant though, thanks to sharp teeth, which irritated our skin like crazy. Our long-time resident yucca is doing well, with multiple pups popping-up this year.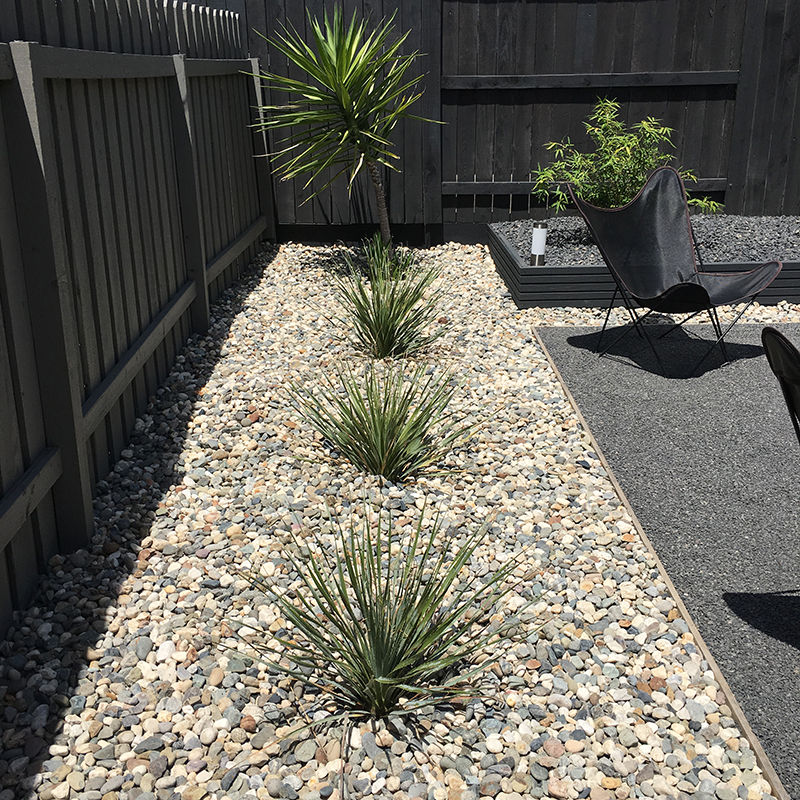 I got on the roof, for a better view. We have three seating areas –this one being our outdoor 'living room'. The loveseats and charcoal planter are from CB2. We picked-up the Acapulco knock-offs locally. The rug is from IKEA, and the glass coffee table traveled with us from England.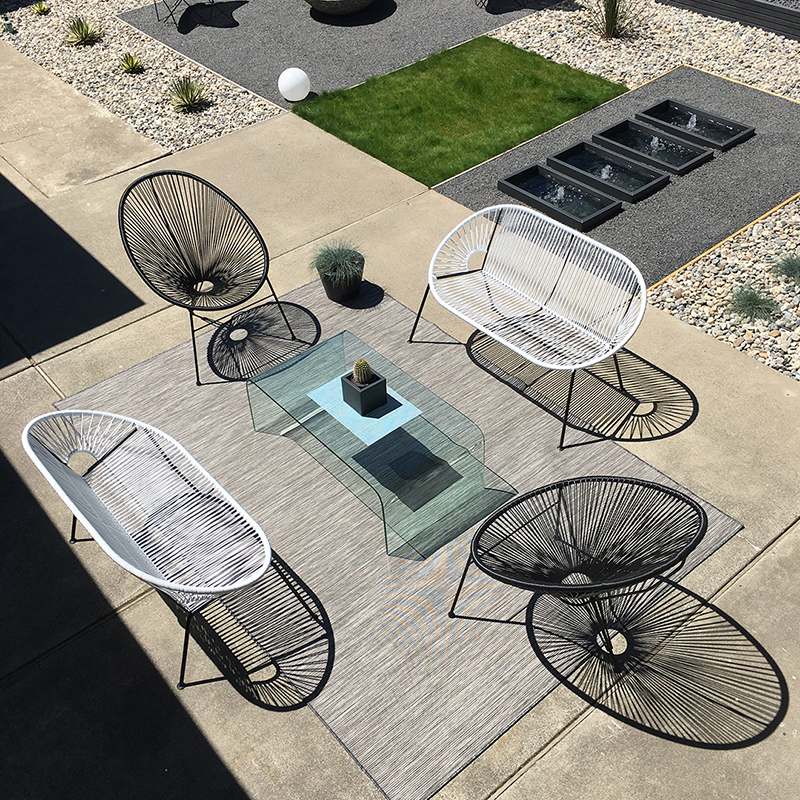 This might be our favorite spot. We were super-lucky to snag these three butterfly chairs (thanks, Camila!) but could honestly do with one more. We like the visual with three, but it's not too practical with guests –discovered this week, when I had to drag another chair over. It's a hard life.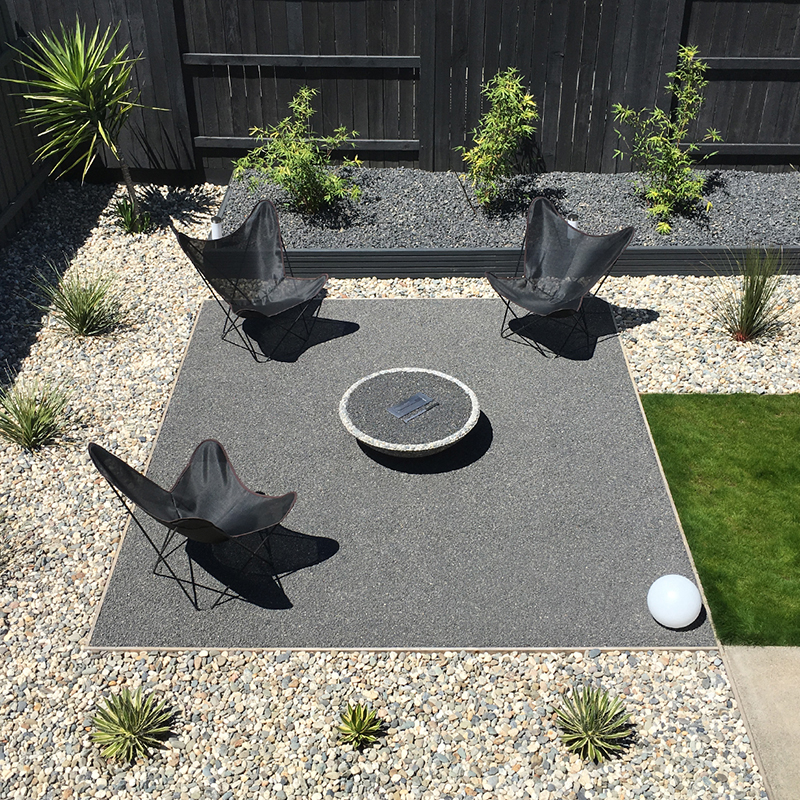 And here's our outdoor dining area, shot early evening. You may recognize the setup –this used to be our main dining table. We love how it works out here, and the overhang provides some cover. We added two end chairs to our original four –all plastic, so perfect for outdoors.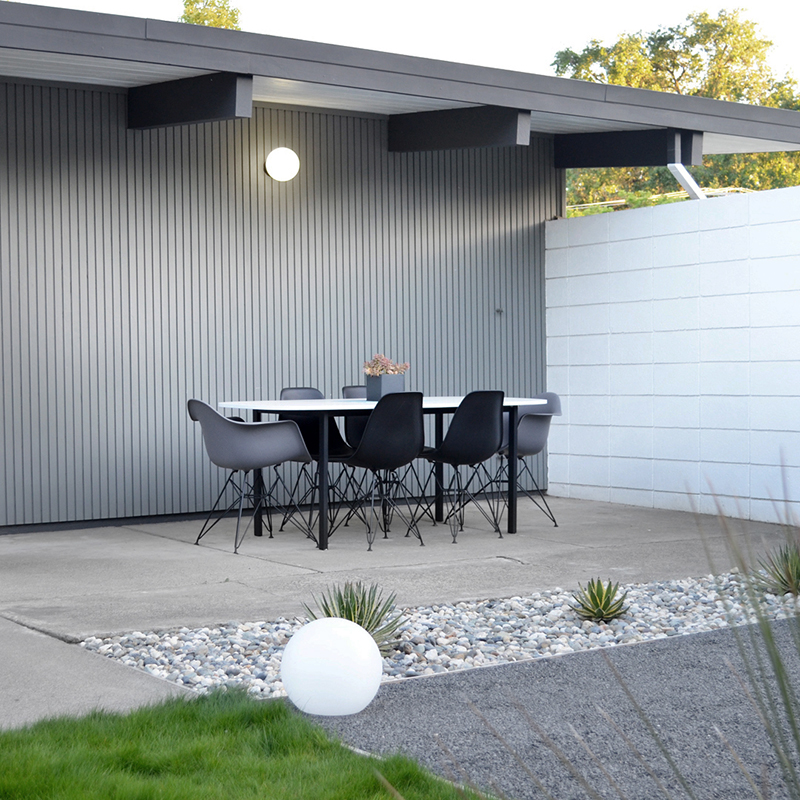 Back on the roof, here's everything in context. We love how the rectangles extend out from the original patio slabs. It's so new and visually interesting to us –we keeping staring at the different elements. We are proud of what we've created, especially being 100% DIY.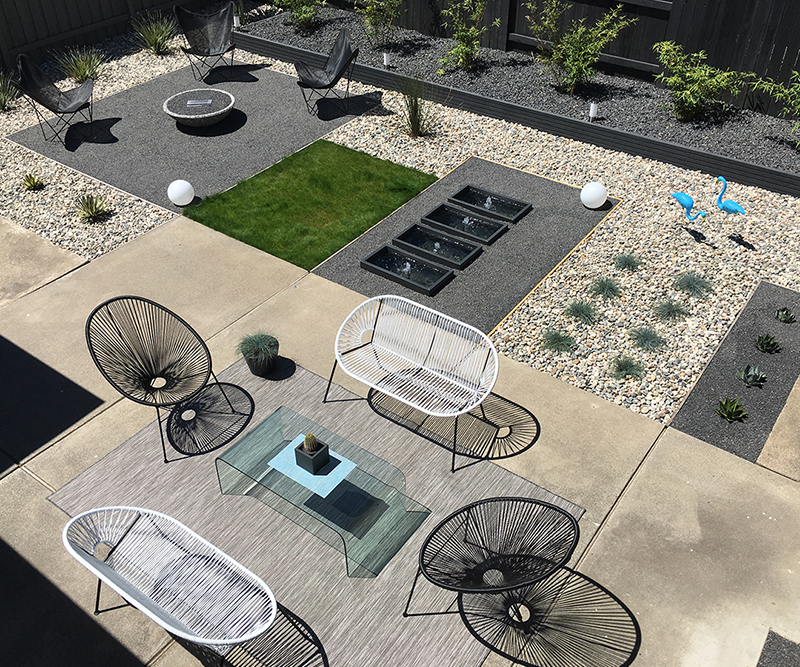 This was meant to be a temporary fix, pending a pool, but we now plan on keeping it this way. If we ever do get a pool, it will be in our back yard. And we're pretty sure it won't be DIY. Well, not all of it. We're frantic with tour prep, but we'll try to share more soon…