Our front door is at the side (so, technically, it's a side door) –confuses visitors, dissuades trick-or-treaters. The entrance is inset, left of the path, creating a small courtyard. Fair to say, we've neglected this little area over the past year or so. We're expecting a few guests soon, so we had to do something.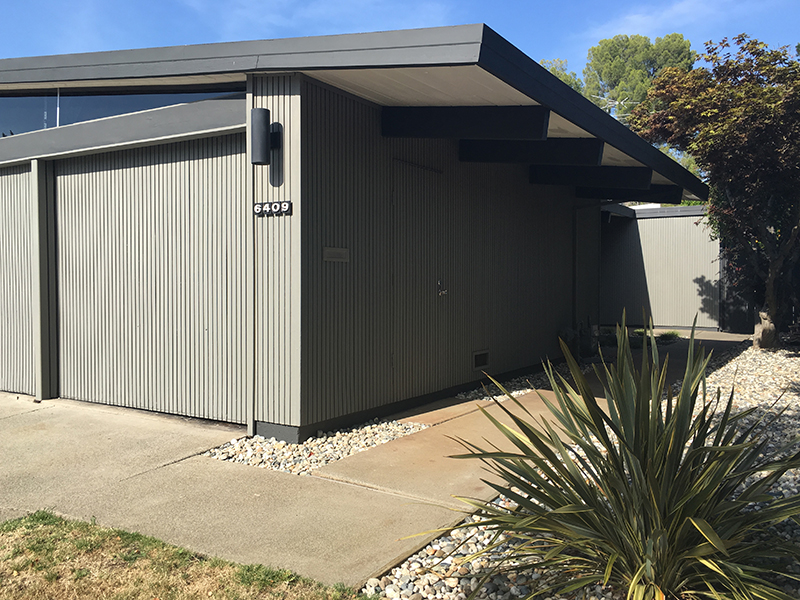 This is no 'wow' transformation, but it's an improvement (we think/hope). For context, let's go back. We inherited some stuff we liked (bird of paradise, papyrus) and some stuff we didn't (raggedy bush thing, dirt). We re-homed the BoP and umbrellas, killed the bush (with pleasure) and removed a ton of dirt.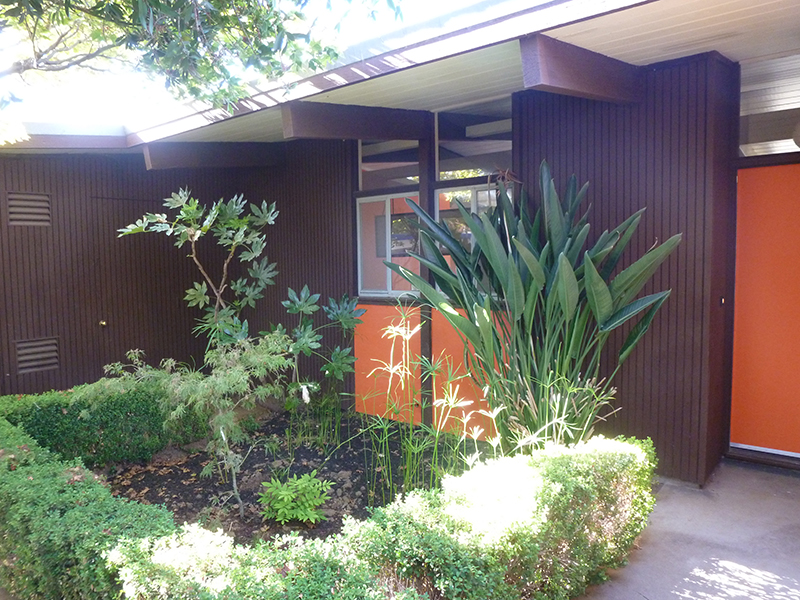 We were left with this brown and orange void. Can't recall the following order of events, but we replaced these rotten window panels, painted them and the door lime green, painted the exterior gray, covered the patch with landscaping fabric, and shoveled-in salt and pepper rock.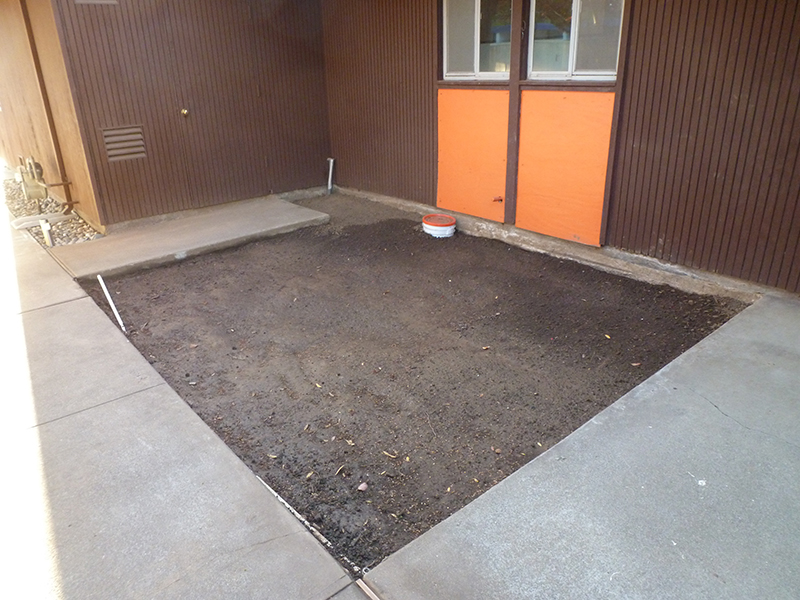 We added a donated (non-functioning) aggregate fountain and some potted plants, concluding 'phase one'. And that's how it stayed for a year. Neat, but boring –made worse when we moved the cactus/sansevieria, and re-assigned the fountain to our side yard, to masquerade as a fire pit. Just rock remained.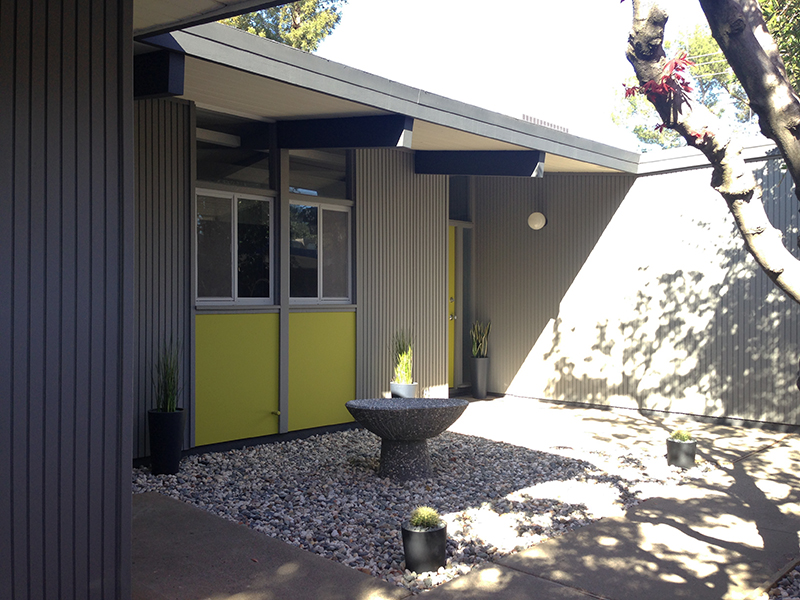 We didn't have much time, so hatched a simple plan. We'd create two L-shaped planting areas, in line with the long strip, flanking the entry path, leaving a rectangle in the middle for…something we'd figure-out later. We cleared some space, and framed it out.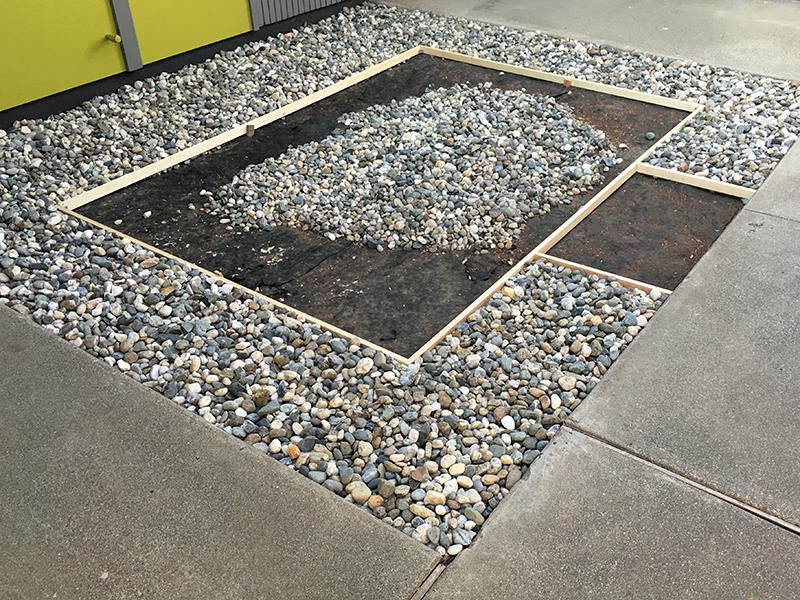 We filled the center area with quarter-inch gray 'table mountain' rock, retaining salt and pepper for the rest. We added a large ball planter, and dotted a a few concrete balls around –these are on loan from a neighbor (thanks Frank!) to be returned/replaced later.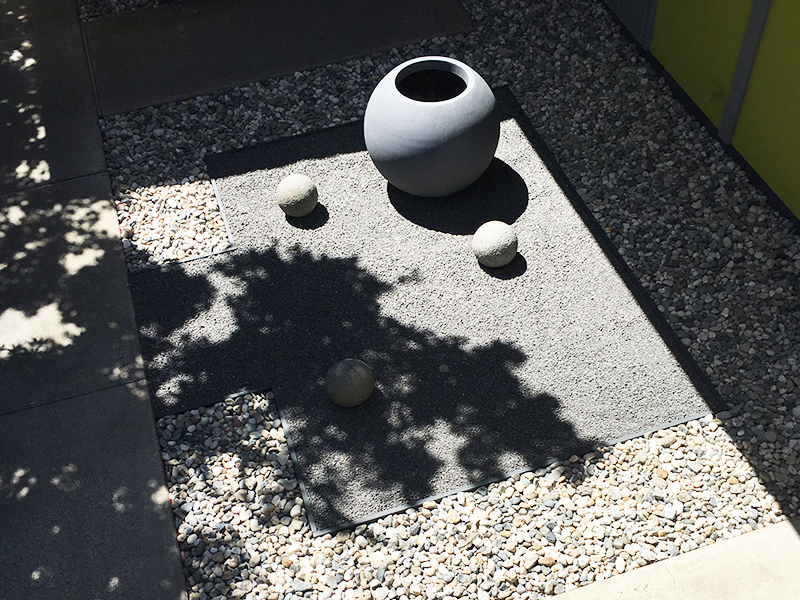 Next, we took a trip to our local nursery and picked out these "frosty curls" –a nice vibrant green, which plays well with our palette. We crammed ten into the 'boot' of our Mini Cooper, Austin. Apparently, they only need part sun…which is good, as it's all they'll get.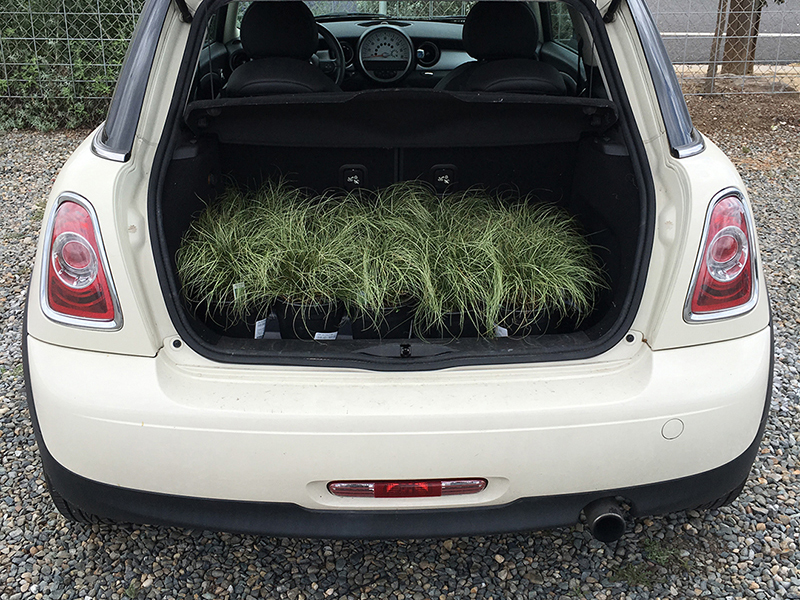 We planted five in each corner L-shape. Oh, and we painted the dividing wood in our dark gray beam color –we had planned to leave this natural but it looked too fresh and (with zero rain) wouldn't age any time soon. We love the contrast, so it was a good decision.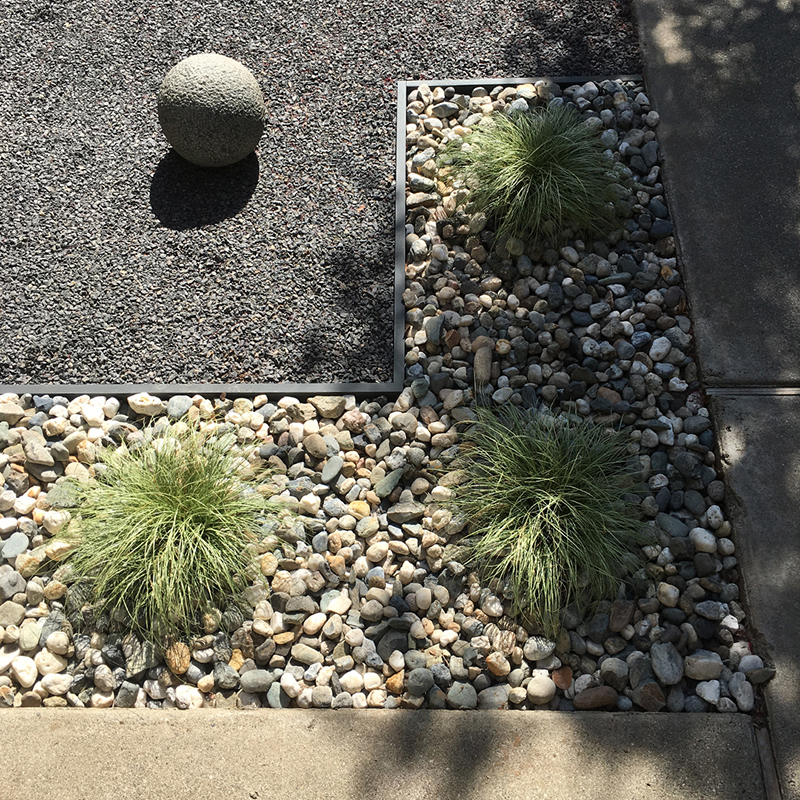 We planned to convert the ball planter into a fountain (as now seems our M.O.) but ran out of time –we'll add that to our post-tour list. As a temporary fix, we stuffed it with some Mexican feather grass, we already had –kinda looks like the frosty curls' big bro. Works for now.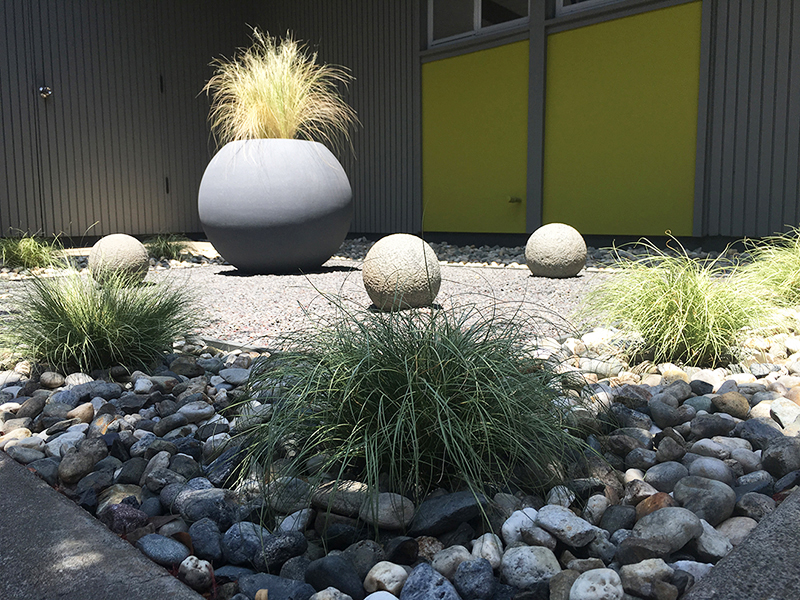 Here's the new view on approach from the path. Okay, nothing amazing, but definitely more visual interest, and somewhat in-keeping with the rest of our landscaping –the mix of materials/plants echoes what we used for our side yard.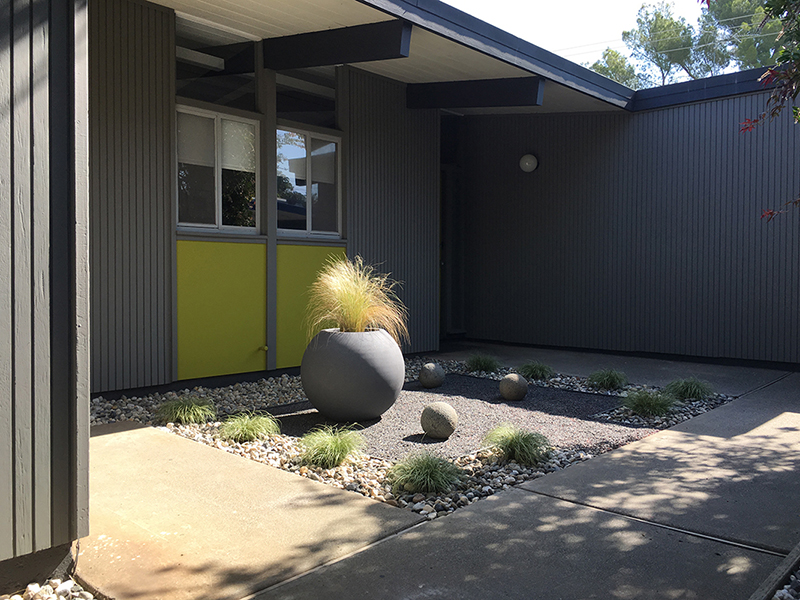 And this is looking back to the street. Eventually (as I've been saying forever) we'll add a secondary front door/fence at the end, to make this area more secluded. Oh, don't panic, that's not an Eichler roof addition in the distance –we have some regular ranch homes across the street.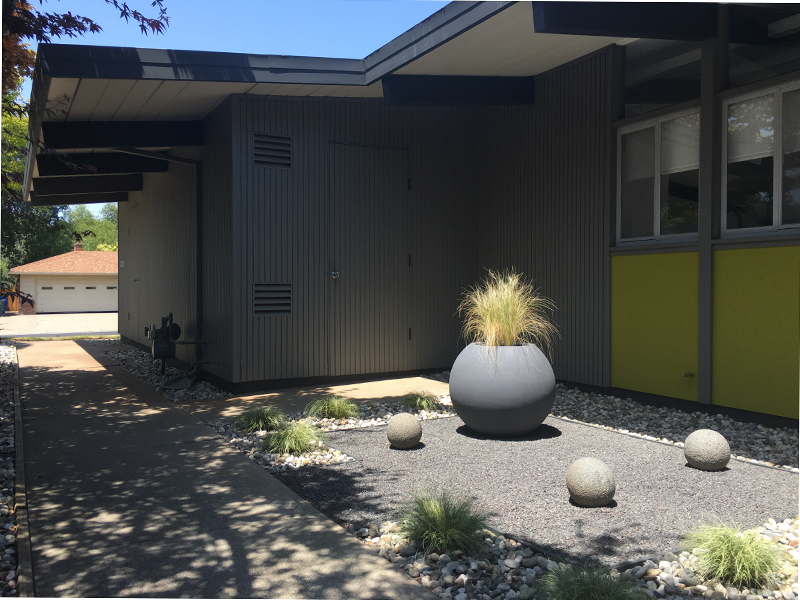 In case you were wondering, we did nothing on the opposite side. That's not to say we won't in future. We like our bottlebrush and maple trees, but they don't quite screen our neighbor's royal blue roofline, and industrial-sized AC unit, especially during winter.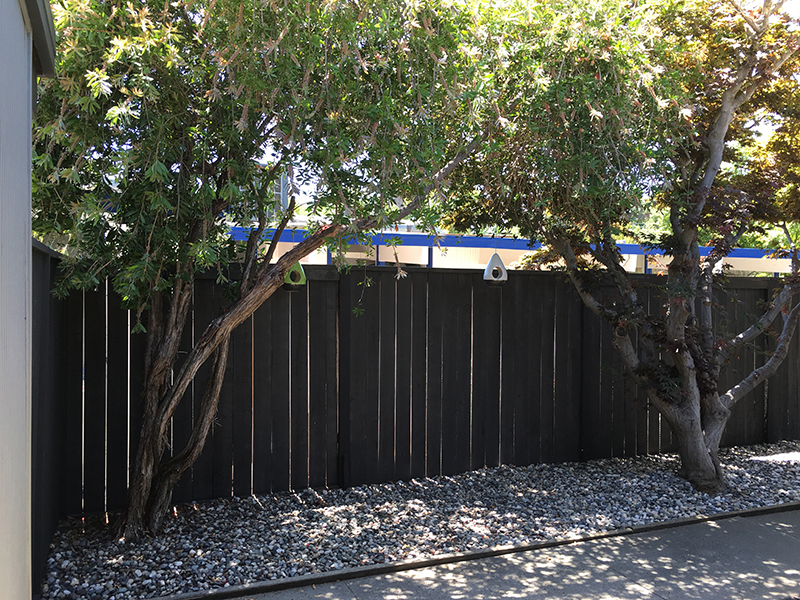 Back on the other side, we're deciding if we should add some extra bits –maybe half-randomly plant some golden barrel cactus on the middle gray section. Perhaps add a concrete bench…like we need more outdoor seating. We'll think on that.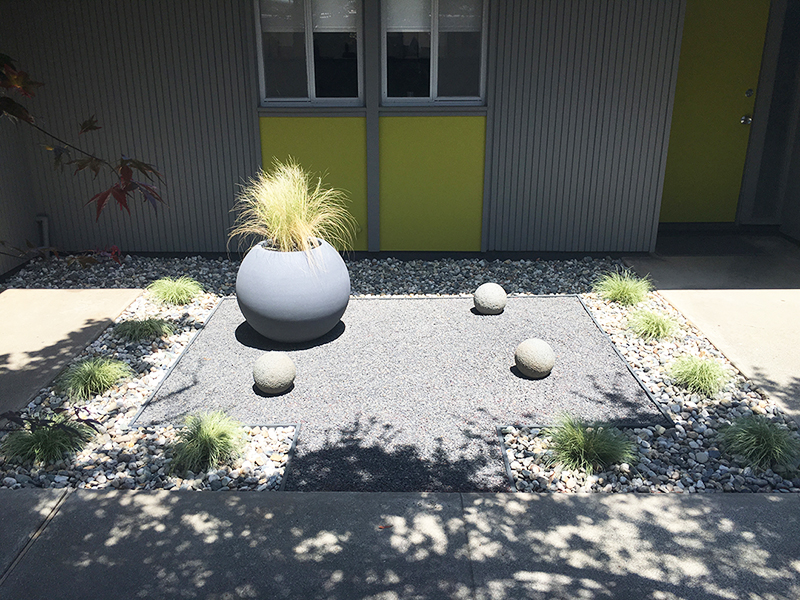 As you'd expect, with the tour only eleven days away, we're super-busy. We've resigned ourselves to not being 'finished', but it should be good enough. We plan on squeezing-in a few more posts, but you won't be 100% caught up –for that, you'll need to buy a ticket.