Before moving to Sacramento, we worried about the heat. In reality, it's more comfortable than the sticky summers we endured in Boston. And certainly preferable to the rainy ones we grew up with, in England. But hot is hot, and when it's 100ºF+ (as it is all this week) you need some respite. Lucky for us, our lovely neighbors have pools –this is Frank's, where we enjoy the odd poolside beer.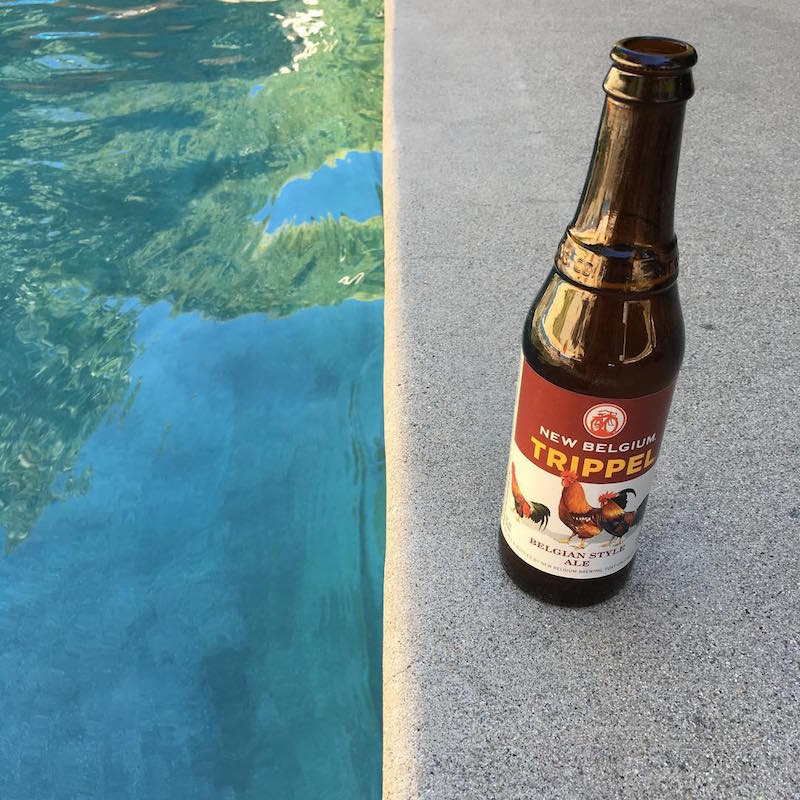 But we can't spend every day at the neighbors'…can we? Probably not. So we got creative, and used what we had: 80 cinder-blocks (donated by our friend, Andy), a small pool liner (from an abandoned project) and a dash of redneck ingenuity. Let's be clear, we're not building a swimming pool here.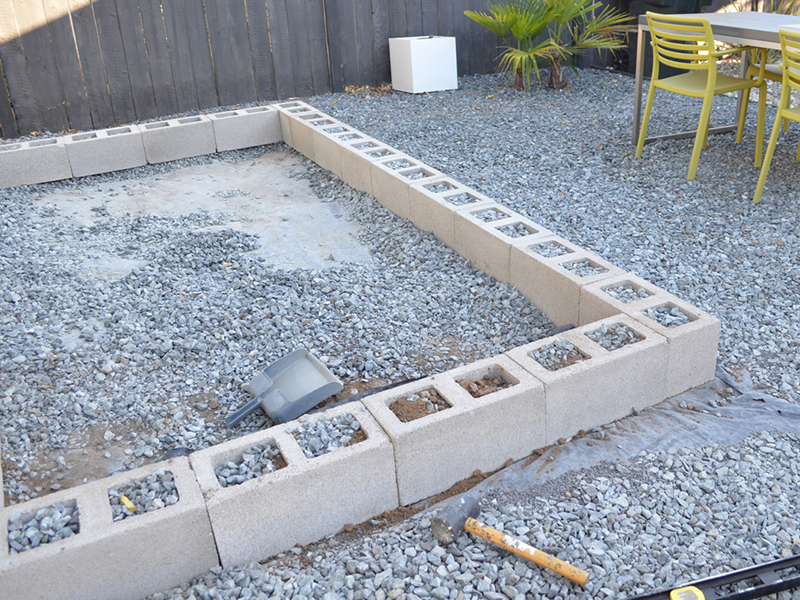 This is a 'paddling pool', as we Brits call it –just somewhere to dip your feet and cool off. We (and by we I mean me) moved the cinder-blocks (for the fourth time now) and arranged them in a 9 x 4 block rectangle. We added a second level, and a further row on the long sides.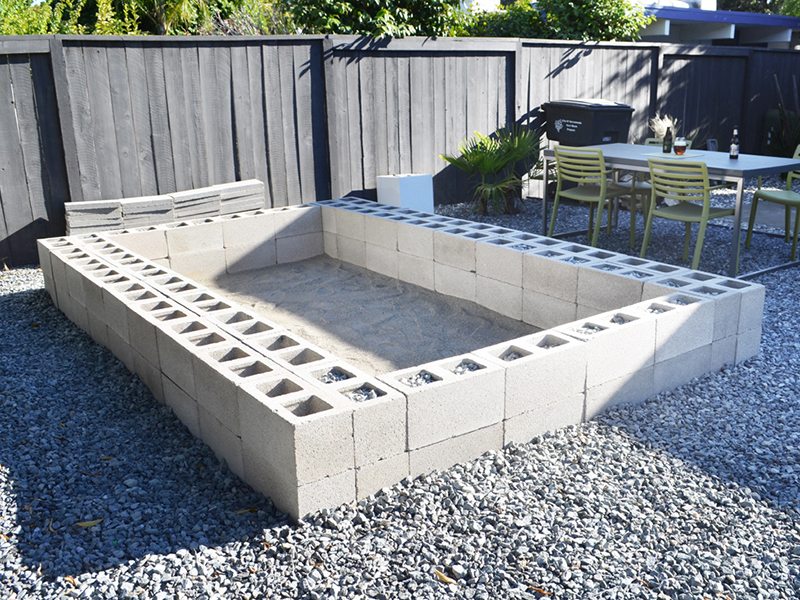 We used a spirit level and a mallet (the redneck's friend) to keep the blocks straight and flush. Pretty much. We cleared all the rock from the center, and used this to fill the cinder-blocks, for support. Then we poured 1-2 inches of sand for the base layer.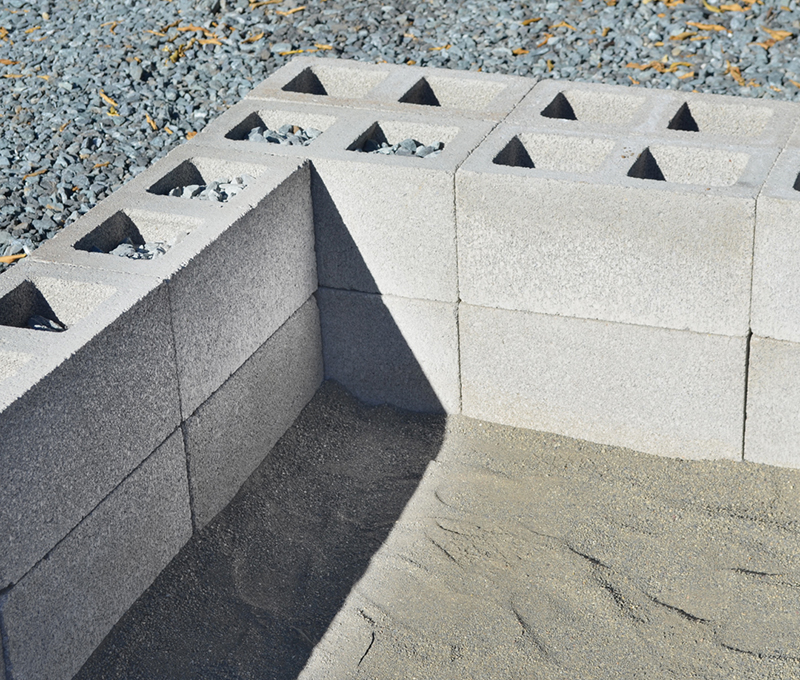 Next we added the liner. Clearly it isn't tailor-made –you can see how it's all bunched-up in the corners. Classy. Thankfully, this is as redneck as it gets. The internal measurement is about 10 x 6′ and 16″ deep, so nobody's gonna be drowning in this thing…or swimming, for that matter.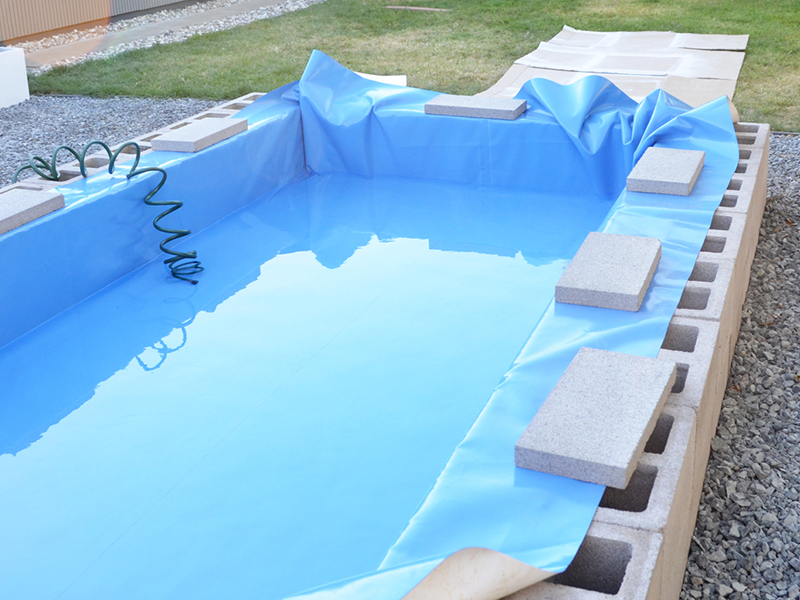 With the pool half-full, we smoothed-out the sides as best we could. Then we folded and cut the corners, to make them as neat as possible. This liner wasn't expensive (about $40) and we have no other use for it, so we were happy to cut a few corners. If you get me.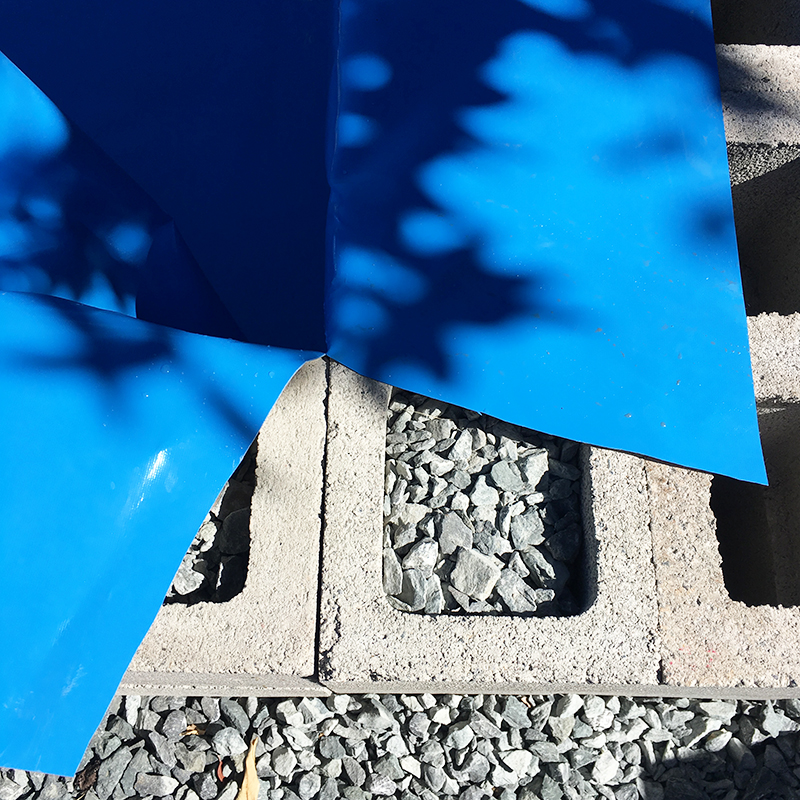 We trimmed the edges, and placed cinder-block caps on top –we had to buy these but will re-use them, when we build a wall back here. "Bobby", our solar globe light, was first to test out the pool. He liked it. The water looks pretty clear here, but soon attracted dirt, bugs and leaves.
This prompted our first pool accessory purchase –a skimmer. Now we really felt like pool owners. Hopefully you realize this is all very tongue-in-cheek –at this point, we imagined the pool might collapse overnight, or at best last a week. It's now nearly three.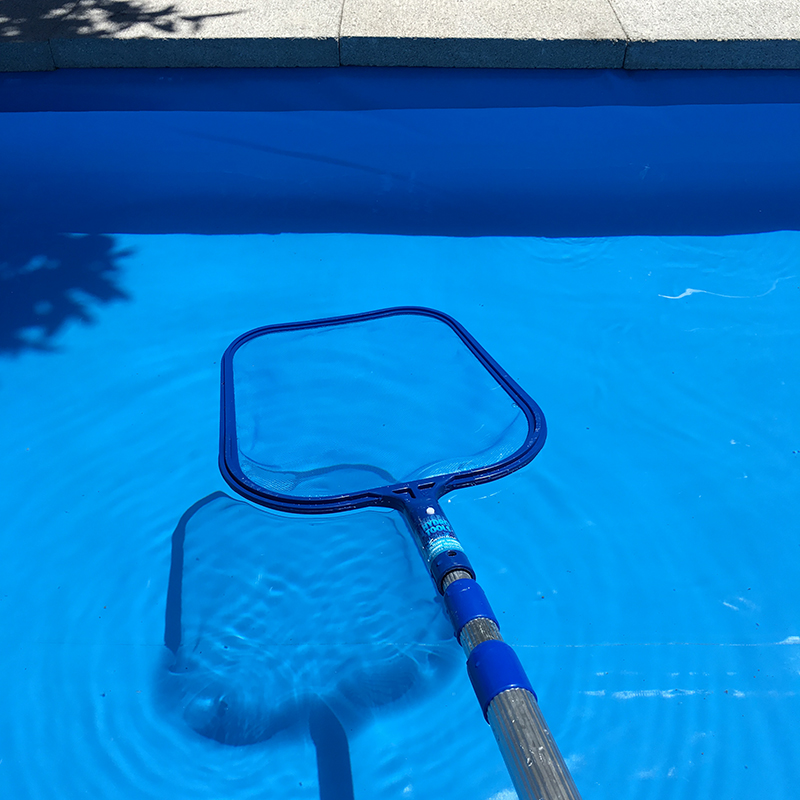 Here's the pool in context, at the far end of our back yard. We've done some work back here, mostly just neatening things up, but haven't shared, as we're far from finished. It's fine for now. Thanks to the water, these loungers fit in better than ever.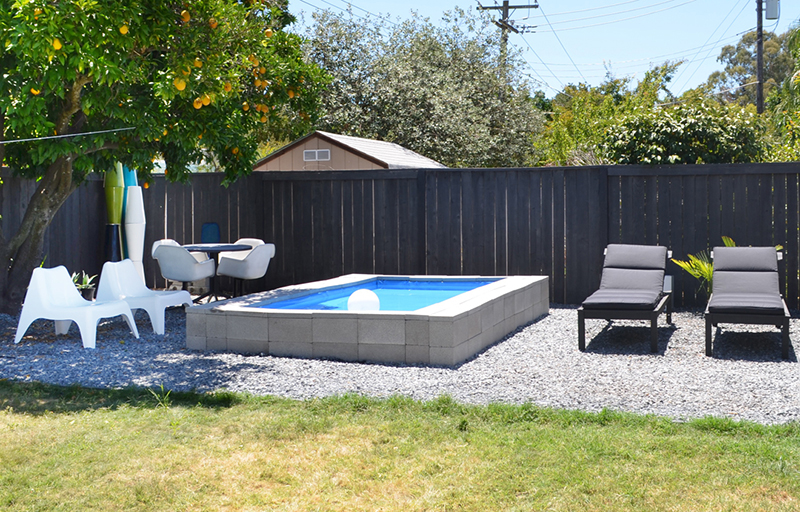 And here's the view back. You can see it's a big space, and needs some thought. It's flanked by the least attractive side of our house, which has limited connection to the yard. We'll remedy that by adding some sliders…eventually. Our side yard is around that corner, in the distance.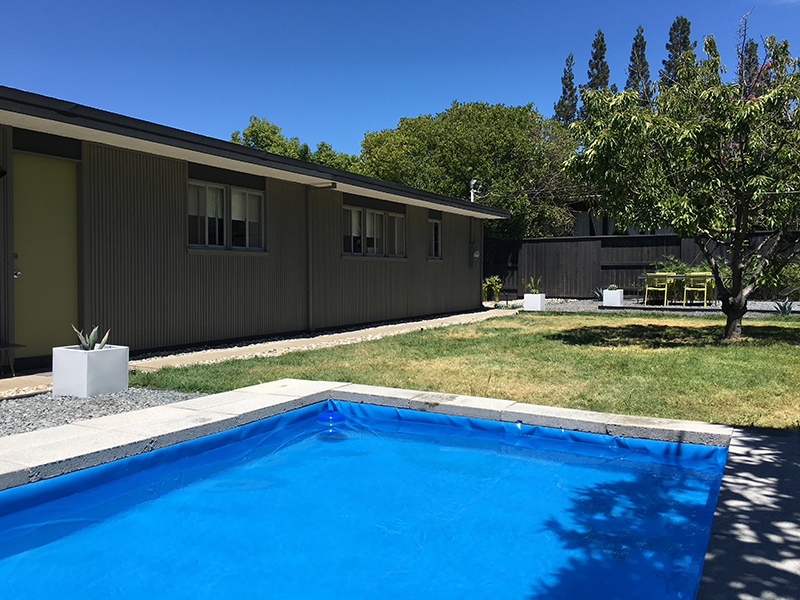 This is "Sharkie" –our pool thermometer, who tells us how ridiculously hot the water is. Our record is 96ºF, but it's a pleasant 80-90ºF most afternoons. We added a mini chlorinator, hoping to keep the pool blue for a while. It's working so far.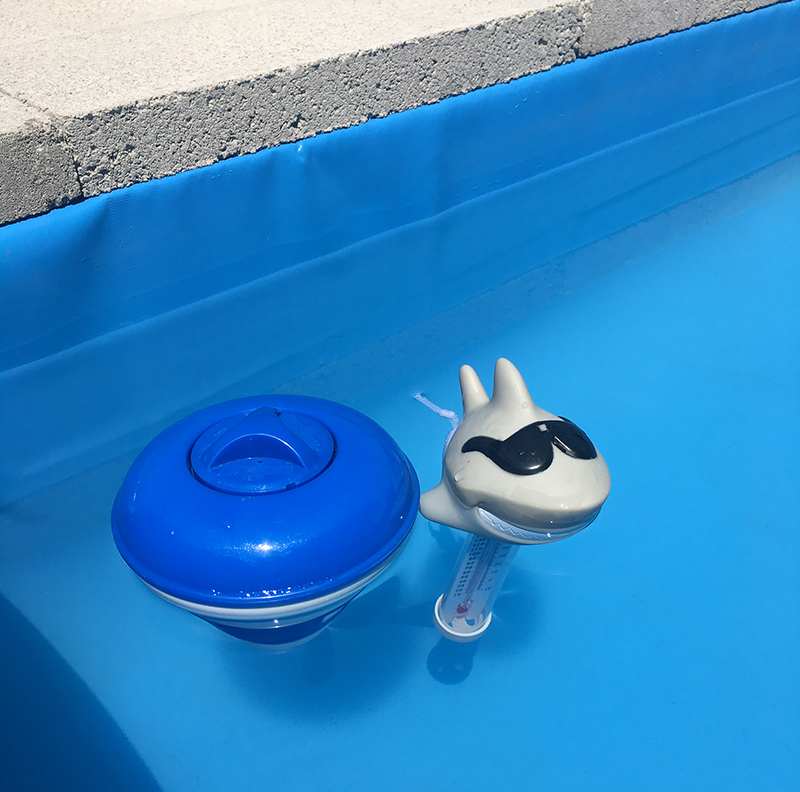 We also made a pool cover, cutting some clear plastic to size. We even bought a 'floatie' (called a 'lilo' in the UK) which bounces off the sides, like slow-mo pinball. Most items will come in handy when we get a real pool –definitely in our long-term plan.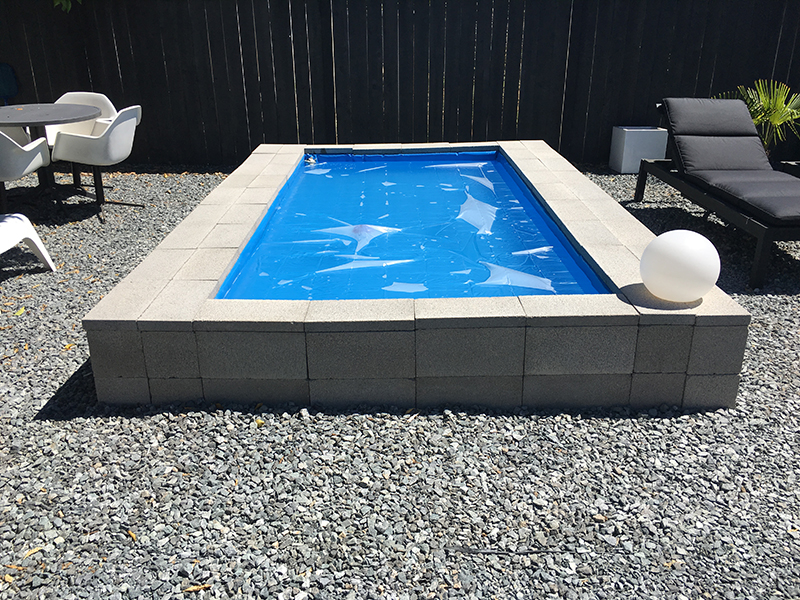 For now, we'll make do with this slightly scaled-down version –I jest, but it's getting plenty of use. We float on it, lie in it, but mostly sit on the side, dangling our feet and sipping a beer. We'll keep it for the rest of the summer. Or until it turns green.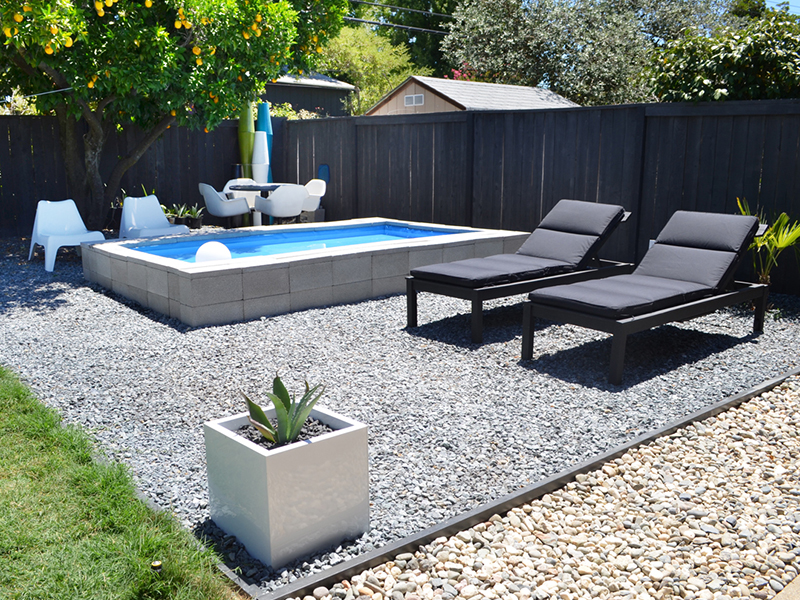 This project started as a joke –we figured our 'pool' would last a weekend at best. We didn't want the neighbors to see it, and had zero intention of sharing it here. A few weeks' on, we've grown attached to our redneck paddling pool. And oddly proud of it.
Save
Save
Save
Save
Save
Save
Save
Save
Save
Save
Save
Save
Save
Save
Save
Save
Save
Save
Save
Save
Save
Save
Save
Save
Save
Save