We've been doing LOTS of painting recently, as you may have seen on Instagram. Time to share some progress here, starting with the walls around our side patio. I didn't stop to take a 'before' pic, so this is way before –about six months back.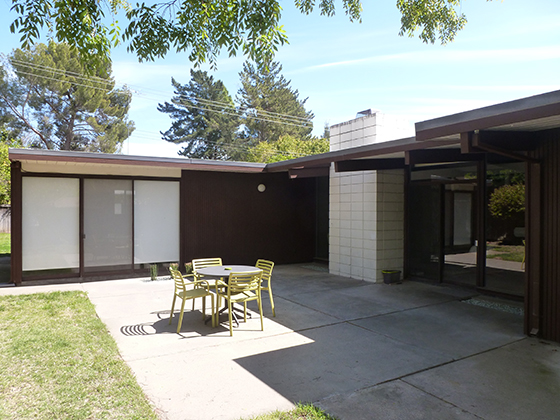 First, we needed to solve our paint-picking conundrum. Thought we'd done that? So did we –not once, not twice, but three times. We still weren't happy. So, we painted yet more samples on some exterior walls, like this one.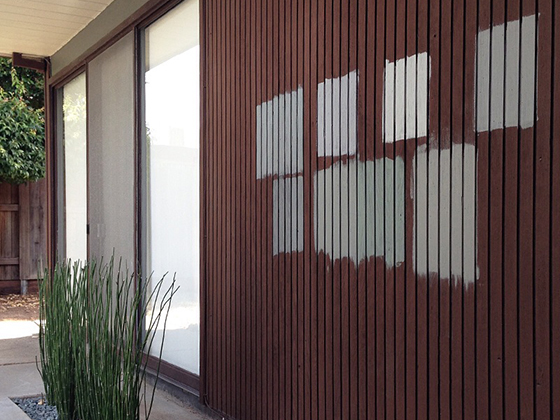 We observed these colors at various times of day, trying to find one that stayed 'gray' throughout. We settled on Pier, by Behr. We felt sure about this one…but we'd had that feeling before. We bought a gallon and painted this whole wall.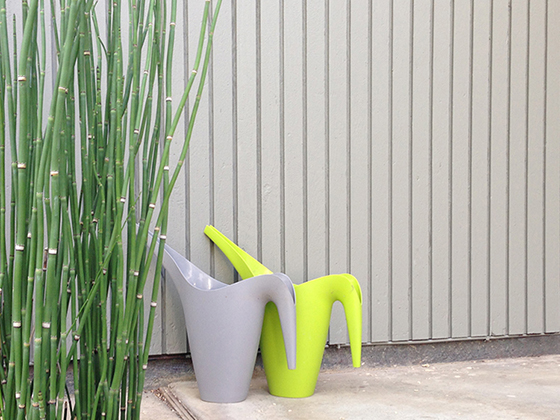 This was indeed 'the one' –a gray with subtle green/brown hints. Preferable (in our eyes) to the blue that had plagued our previous picks. We didn't plan to paint much more. For a while, at least. But we just couldn't resist.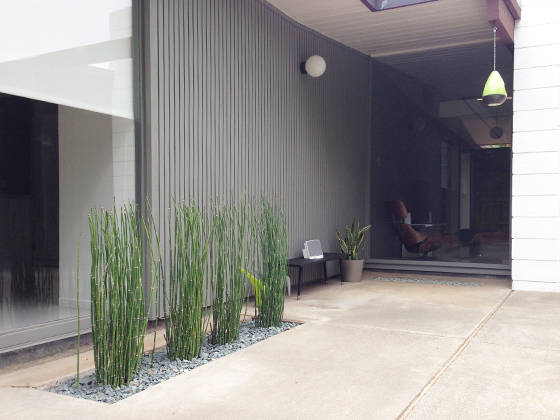 For 60-year-old siding, it's in great shape, but still needed some prep. We sanded, filled, sanded again, painted, filled again, sanded yet again, and painted–pretty much our regime for subsequent weekends. Tedious, but rewarding.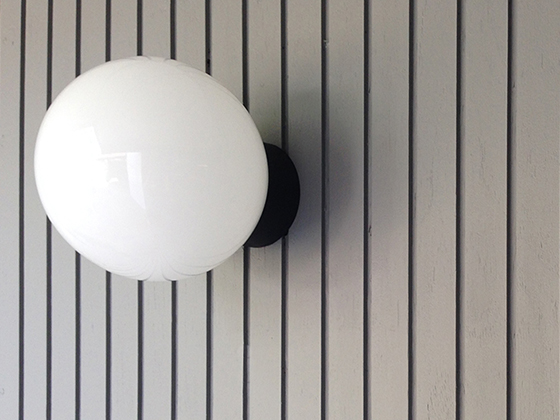 This had to be the first wall we painted, as the inside-gray-outside-brown thing had been bugging us. At least now it was gray right through. Unfortunately, the inside is still the previous gray we'd picked, so needs re-painting (again). But hey, it's progress.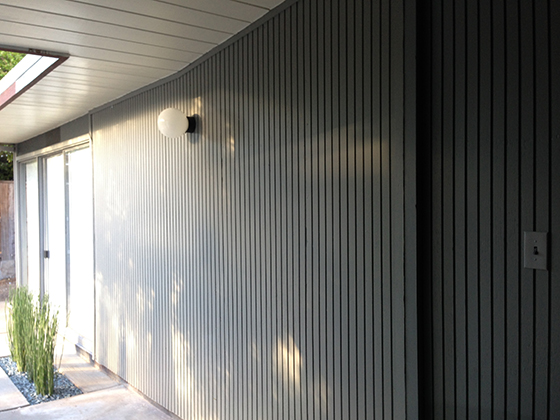 Next, we tackled a side-project –the screen door for our master sliders. The bug screen is likely original, and it shows. It needed replacing. We bought a roll of gray screen from Home Depot, along with a tool we apparently needed, and set to work.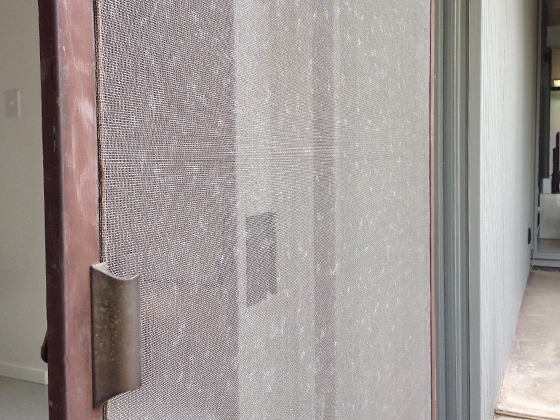 It was a bit fiddly to re-screen but I won't bore you with the details. This was the end result. We also decided to re-spray all the Arcadia handles black. I'm sure purists would prefer we left everything original, but brass jars with our scheme. So there.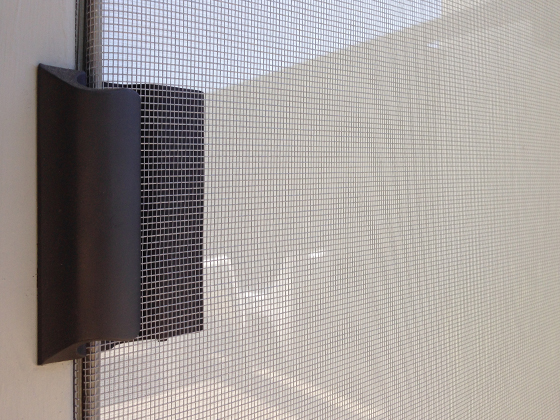 Next, we moved onto this wall; the exterior of our office/all-purpose room –another we'd covered in siding test patches, along with darker gray beam samples. I'll get to that later. Anyhow, this wall faces north. And minimal sun punishment = minimal prep. Yay!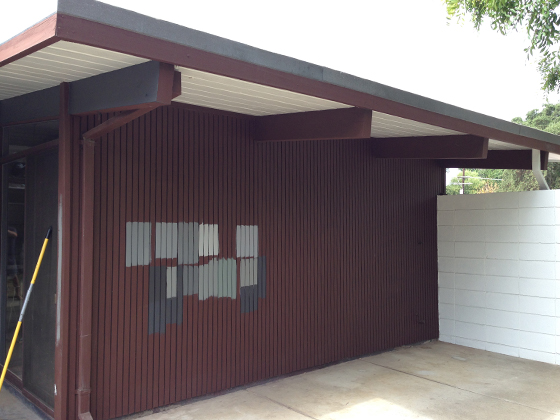 That said, I did have to remove a mass of stubborn old caulk. We'd re-caulk where the beams meet the siding, but not under the trim, where it isn't needed. This job took a long time. Luckily, this over-caulking hasn't been repeated on much of the exterior trim.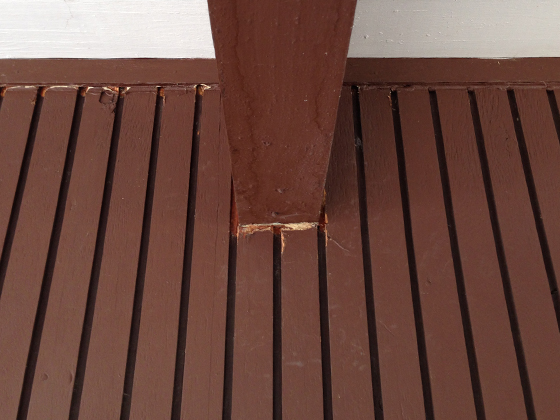 We also used wood filler here and there. A little sanding, and we were ready to roll…well, spray –but that didn't go well. It covered the surface okay, but getting paint into the grooves was tough, without significant wastage.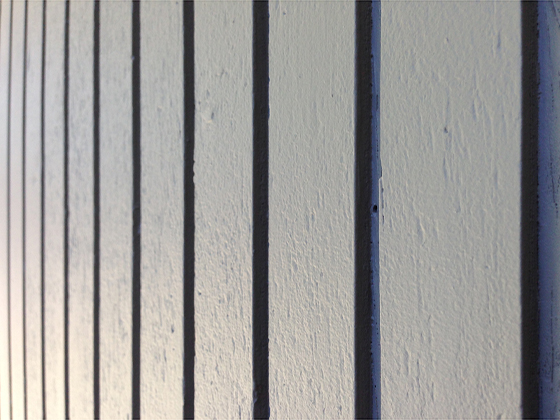 Ours is wideline siding, with very deep, visible grooves. Later Eichlers have thinline siding, with smaller grooves –I'm guessing this is a little easier to paint. We got there, eventually, but re-painted most of the grooves by hand.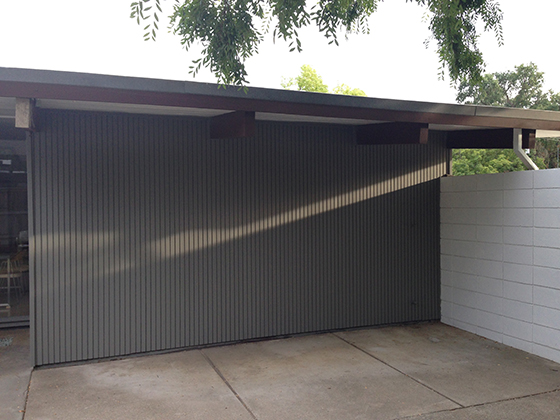 This sprayer had disappointed us several times before, so we returned it. From now, we'd roller the surface, and brush the grooves. Next, we tackled the trim surrounding our living/office sliders and windows. Not much surface area, but bags of time-consuming detail.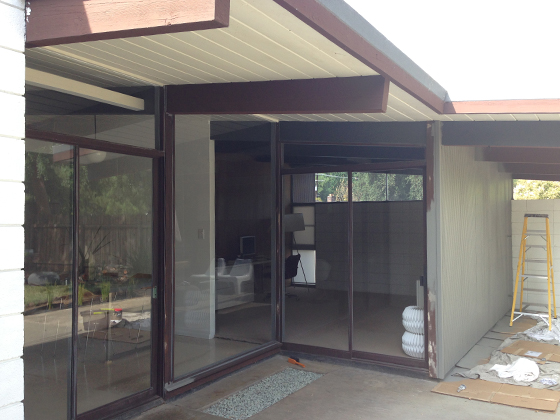 Once the trim was done, we replaced the bug screens for these two sliders. Our resident praying mantis then appeared, for a quality check. Check. I love these little guys, and have taken dozens of closeups since we've been here. So cool.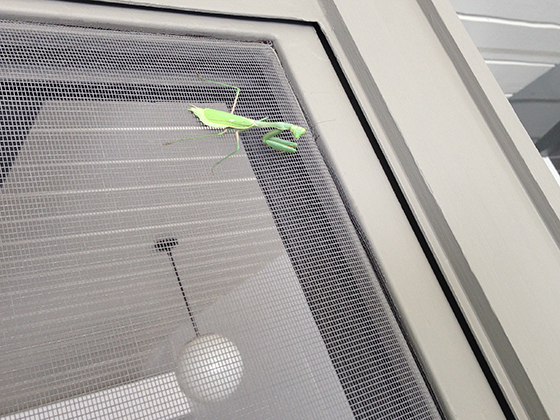 Next, the ladders came out (not sure why we need this many?) for our first stab at beam repair. We sanded back the beam ends, and they seemed to be in great shape. We applied bondo to a few problem areas, and wood filler to minor surface cracks.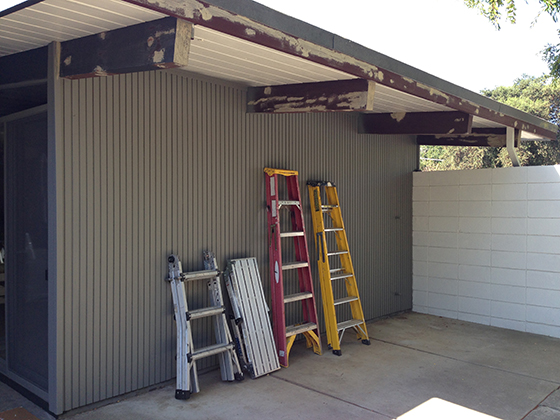 We did the same for the fascia. Now everything was smooth and paint-ready. Talking of paint, we had tested our original beam color on the fascia and it just didn't look right. We needed something darker –a stronger contrast to the mid-gray siding.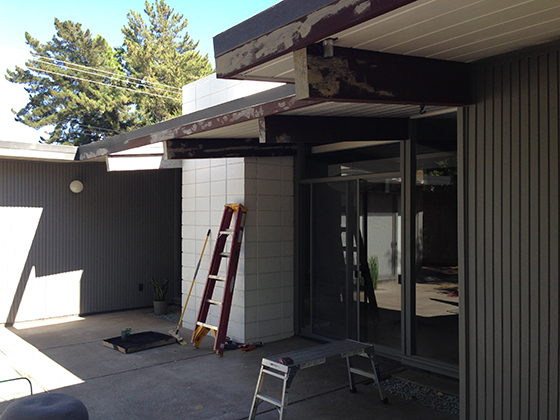 We tried a few standard Behr colors but couldn't find anything. By now, we had masses of gray samples, so mixed a few up, eventually creating one we liked. We painted a strip of wood, then color-matched it at Home Depot.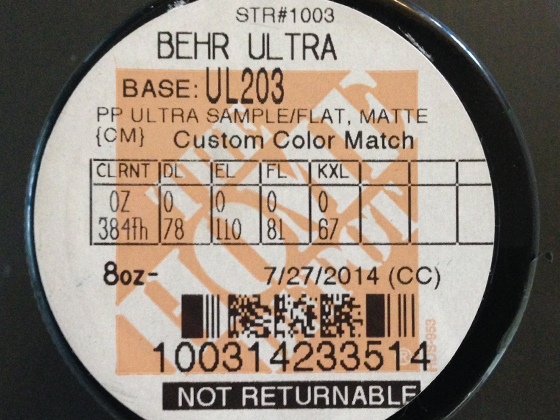 It looked almost black going on, but dried a little lighter –again, just what we wanted. As with the siding, we used Behr Premium Plus Ultra. After some disappointing results from other paint brands, we're sticking with this. It goes on smoothly, and covers well.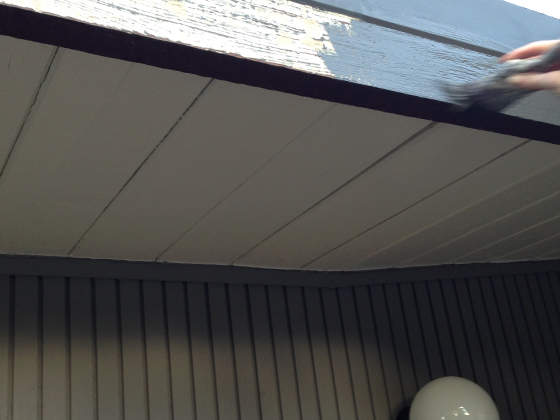 Once we'd painted all the beams and fascia here, it was really starting to come together. We love the strong contrast between these dark beams/fascia and the bright white cinder-block fireplace. The blue sky helps too.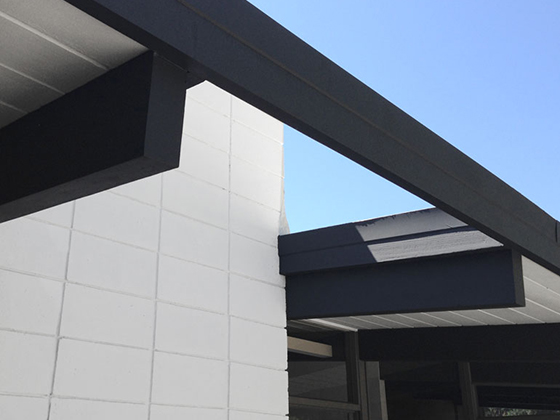 As with all these projects, each time you finish something, it highlights something unfinished. In this case, it was the thin portion of visible concrete foundation. Most people paint this to match the siding, but we're using the darker beam color.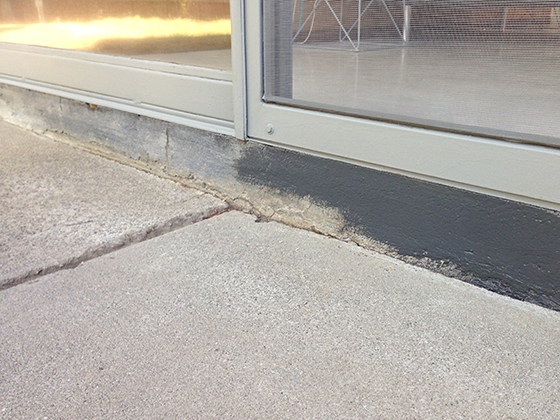 We'd seen other Eichlers painted this way, and loved the look. It mirrors the fascia, to punctuate the siding, top and bottom. We had to fill some concrete, in heavily trafficked areas. Someone (likely smarter than me) decided pink was a good color for this filler.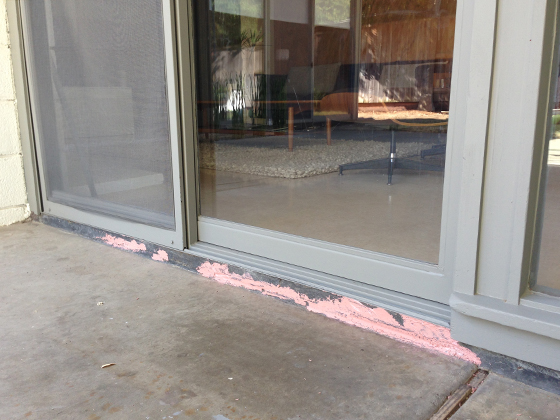 Anyhow, we finished painting the slab. You can see the definition it gives in the pic below. As it's so dark, it works well with the black elements in our design –globe base, outlet cover, slider handles, and this DIY bench I adapted from an old desk.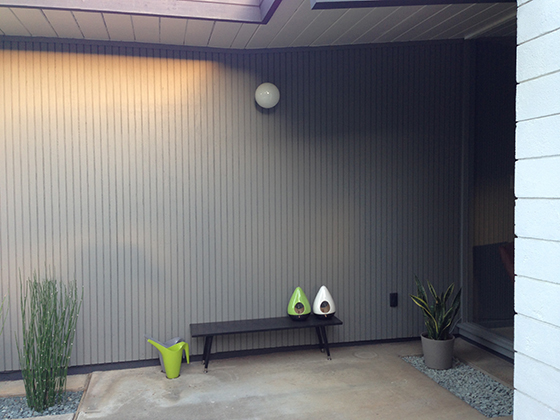 Here's a good view of the siding/beam contrast, and also how the palette works with the white ceilings –these (mostly) look okay, and it's a huge job, so we won't be re-painting them for a while. We'll do this as a separate project, sometime next year.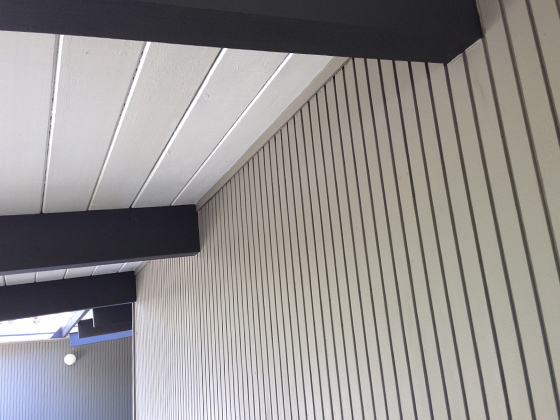 I love the light in this area, as the sun sets. The wall on the left faces west, and the sun casts some cool shadows…which I can't stop taking photos of –if you follow us on Instagram, you've probably picked up on my obsession.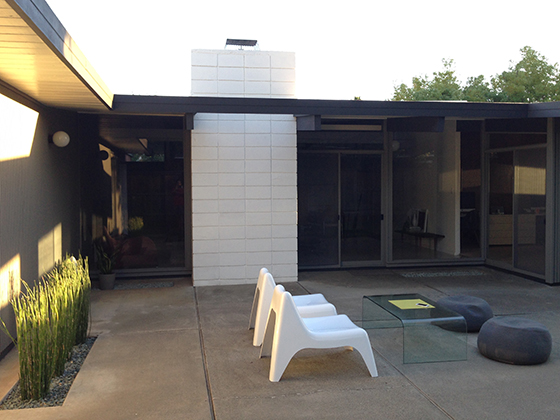 We plan on buying more patio furniture at some point. For now, this ensemble does just fine –we bought these cheap loungers from IKEA, the poufs were our temporary seating when we arrived, and the glass coffee table was relegated from our living room.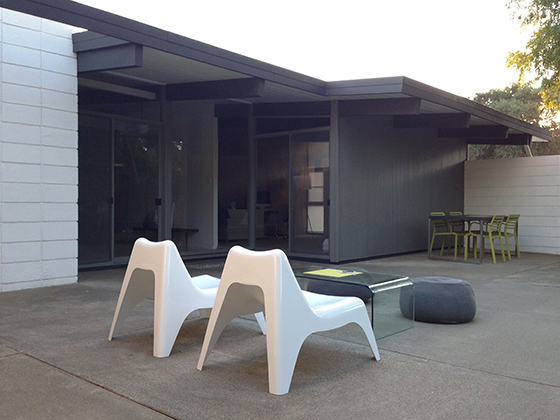 In the corner, our outdoor dining area. We've had this table for years (a gift from Karen's parents) but it's a little large for our indoor dining space. It was also pretty scratched and scuffed, so we painted it to match the beams, and gave it a new home.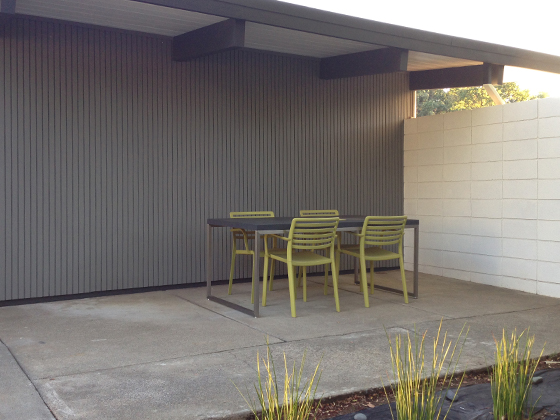 We got the chairs from Crate & Barrel, when we lived in Boston. We'll add a grill at some point, so this area will get plenty of use. We've done minimal landscaping here (as you can see) but we did plant some variegated Baumea grasses, which we love.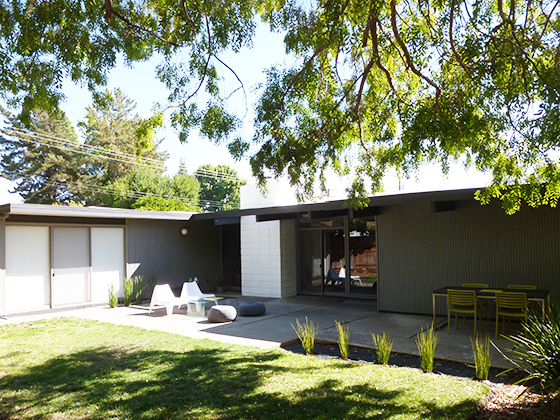 We have big (though fluid) plans for this area, and we'll get cracking soon. Just out of shot (left) is the next wall we tackled. That was rather involved, so gets its own post. Since this, we've painted lots more of the exterior. I'll catch up soon, promise.