You're familiar with the snowball effect, right? Well, a giant one just rolled over our side-yard. We'd already removed much of the lawn (where you now see rock) so figured it wouldn't be difficult to do the rest. We were wrong. Digging was tough and the lawn started looking a lot bigger. We didn't want to play any more. At this point, sensible people would call-in some hired help.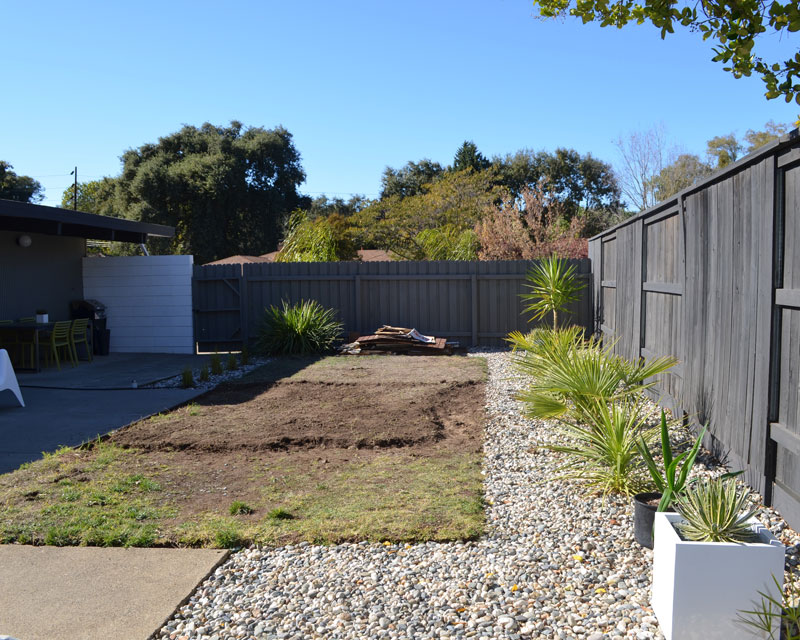 But we're not sensible people. So, we bought a tiller. Despite being electric, this thing (now named Tommy) generates plenty of power, and easily cuts through roots and clay soil. Only downside is dragging the cord around. But tilling is only half the task –shoveling/removing the earth is a BIG job, and we needed to put it somewhere. That's when the snowball started rolling…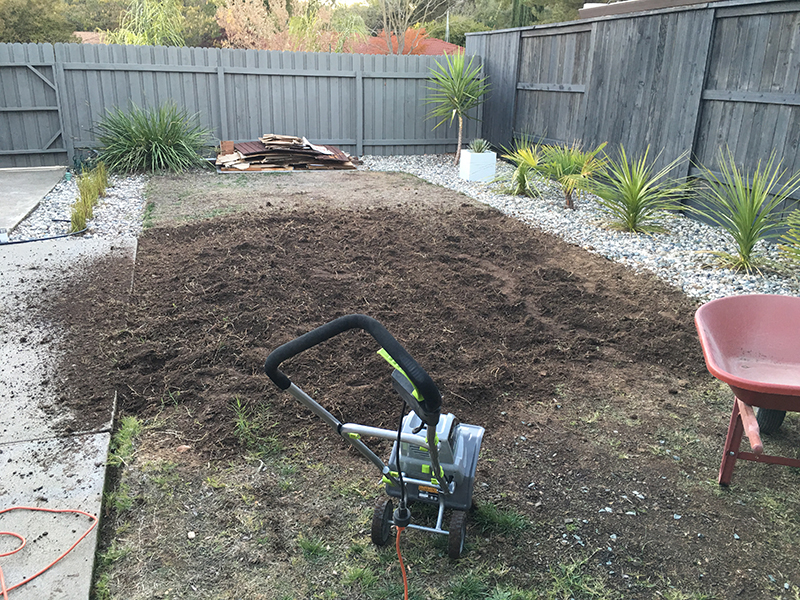 …"let's remove the lawn"…became "let's find somewhere for this dirt"…leading to "let's build a planter"…and, finally, "let's re-do the whole thing". Now we really needed a plan. And here it is. The long back row is a 30 x 4 ft planter, where all the earth will go. The big black square is rock with fire-pit, the green rectangle is grass, and the blue one a reflecting pool. Plants (TBD) here and there. Sounds like a plan…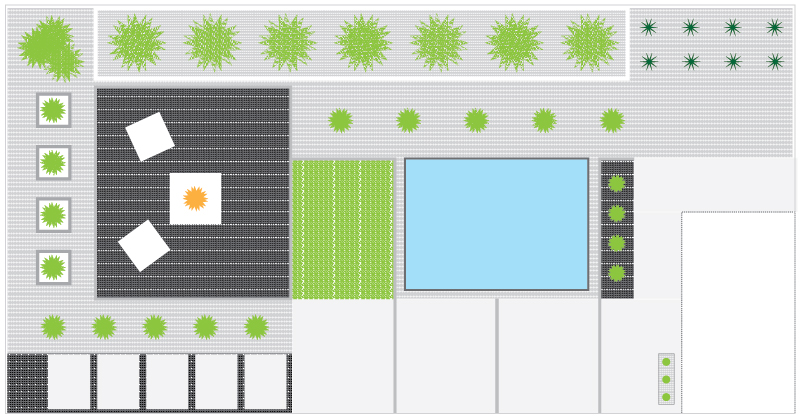 …but not our final plan –eventually, we want a real pool here. But that's likely 5+ years out, so this is our low-budget, medium-term fix. We started by building the planter, which meant borrowing a truck (thanks Frank!) and buying wood. We made three 10 x 4 ft frames, to be bolted together in-situ. This bit was easy.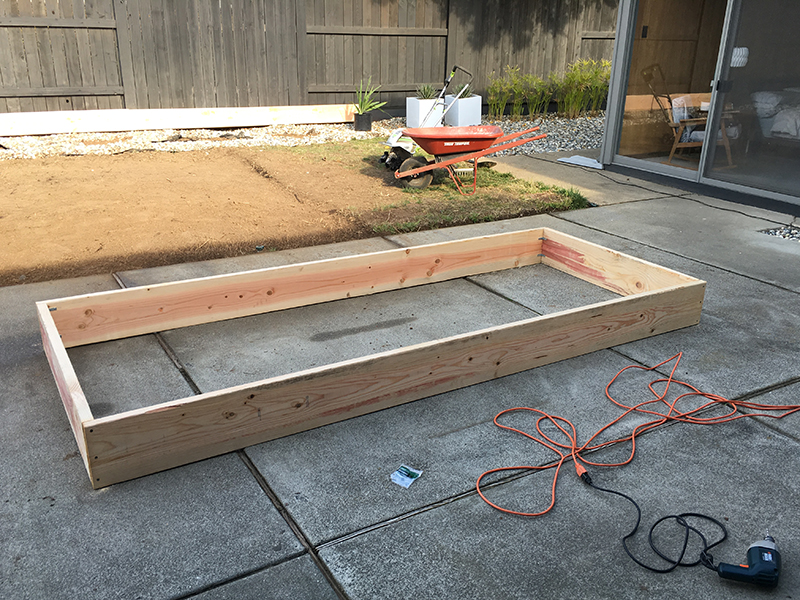 Next, we put the frames in place –we left the salt 'n pepper rock underneath, to make leveling them easier, and to help with drainage. When we were happy, we bolted everything together and were surprised how solid it felt. Good job, as it would be full of earth. As we continued to dig down, the planter filled up…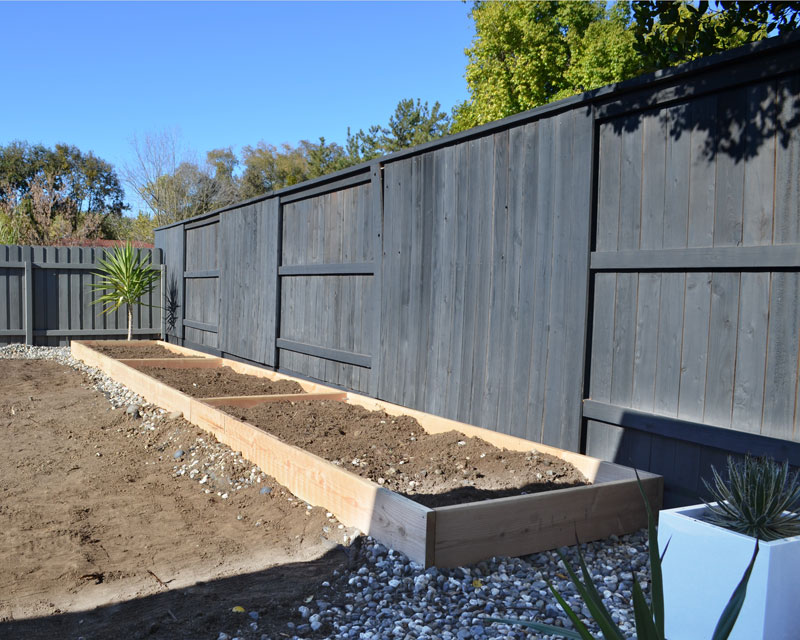 …if only it were that automatic –this was hard work…but oddly satisfying. Once the surface was relatively flat, we defined sections with string, to get a sense of scale and how the elements would inter-relate.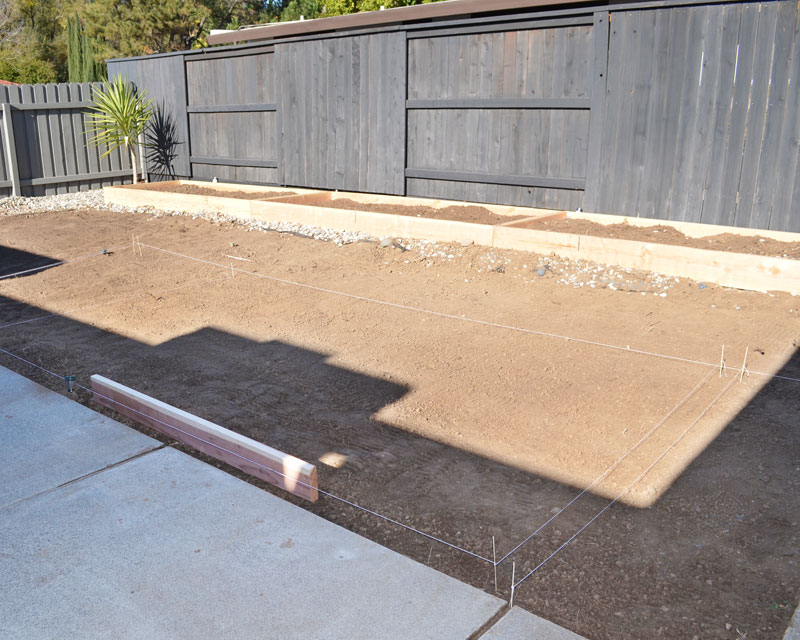 This area slopes significantly downwards, from fence to concrete patio. We won't be removing that incline completely, but we will reduce it to a more gradual slope. We used a line level to guide our digging efforts.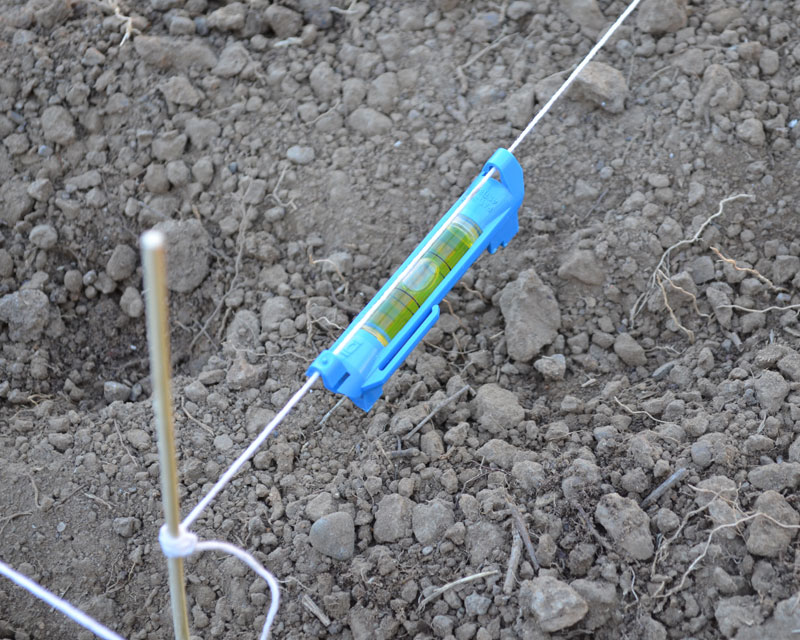 Next, we started framing the structure. Our plan was to echo the lines of the concrete patio, by extending the wood strips in between slabs. This L-shape forms a cutout planter (for these four mountain agaves), while completing the slab rectangle, and mirroring existing patio cutouts (see Golden Barrels, above).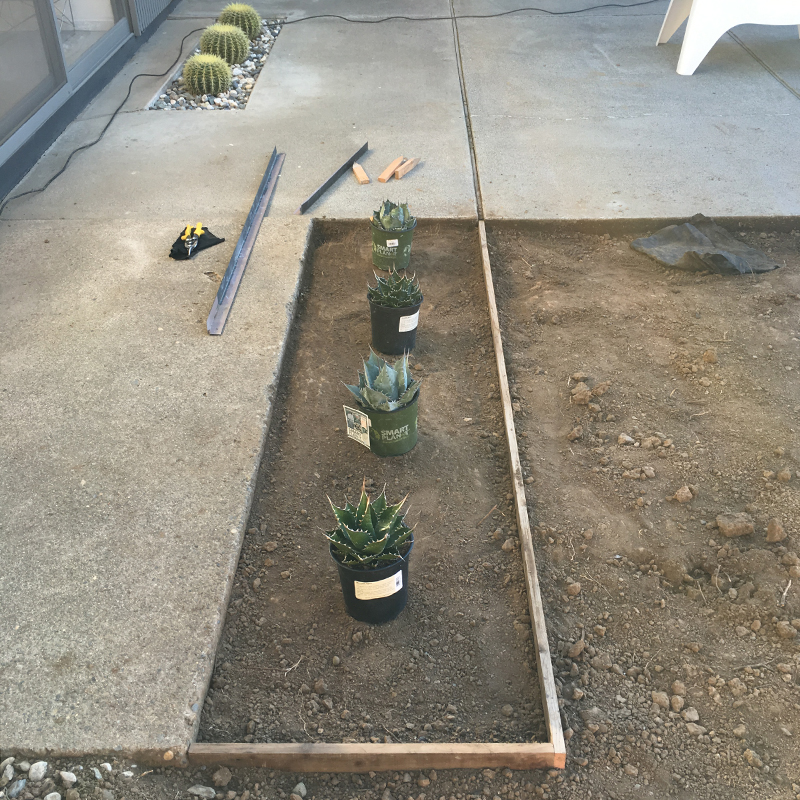 We framed-out the rest of the area, extending more patio slab lines. The small left-hand rectangle will house no-mow meadow grass. The larger adjacent rectangle will be our rock patio, with fire-pit. Doesn't look too glamorous here, but we were starting to realize our vision.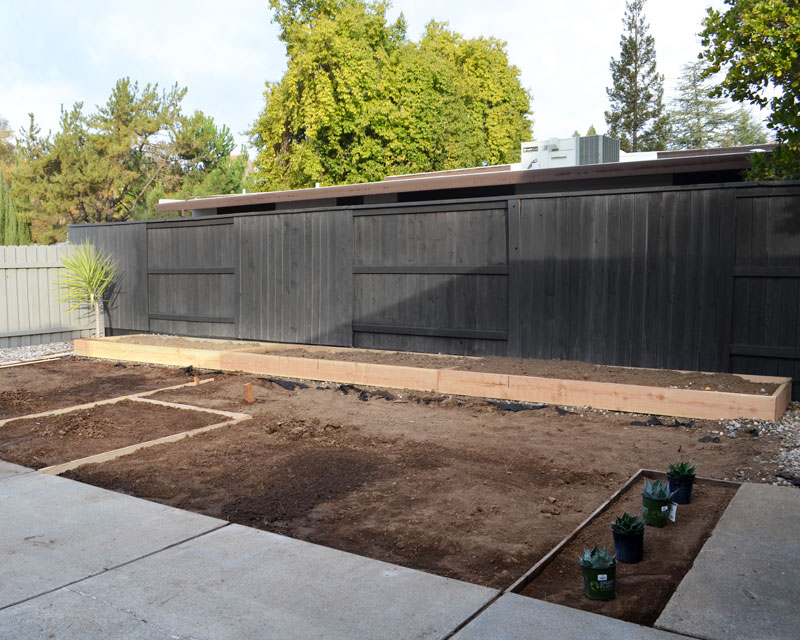 Here's a look from the other side, with the framing almost complete. The distant salt 'n' pepper rock will merge with the rock in this area, to form a pathway to our back yard. Eventually, we'll probably pour concrete pavers to create a more structured path.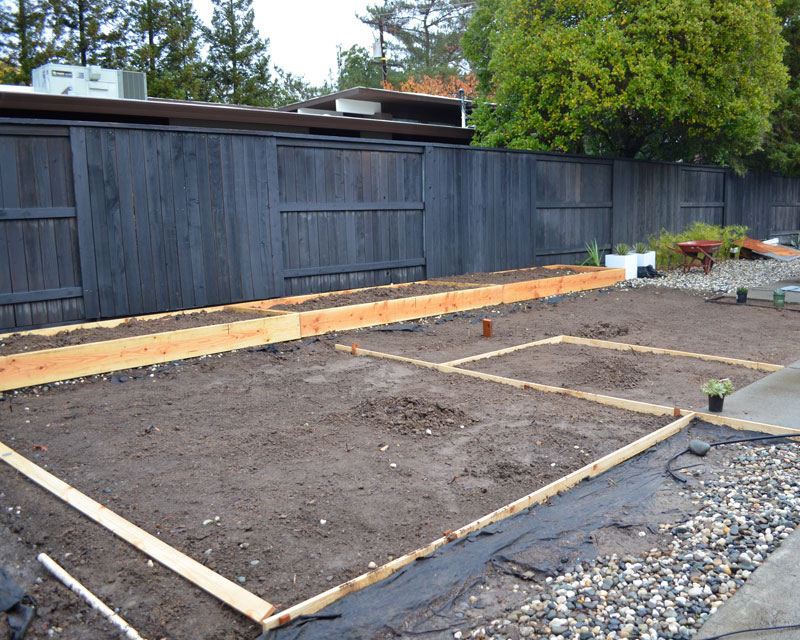 Our reflecting pool obviously has to go deeper, so we had a lot more digging to do…or Tommy did. Incredible how much earth this generates –we ended up leveling the rear planter. That's fine, as we'd be cladding it a few inches higher (material TBD) then topping-off with more rock.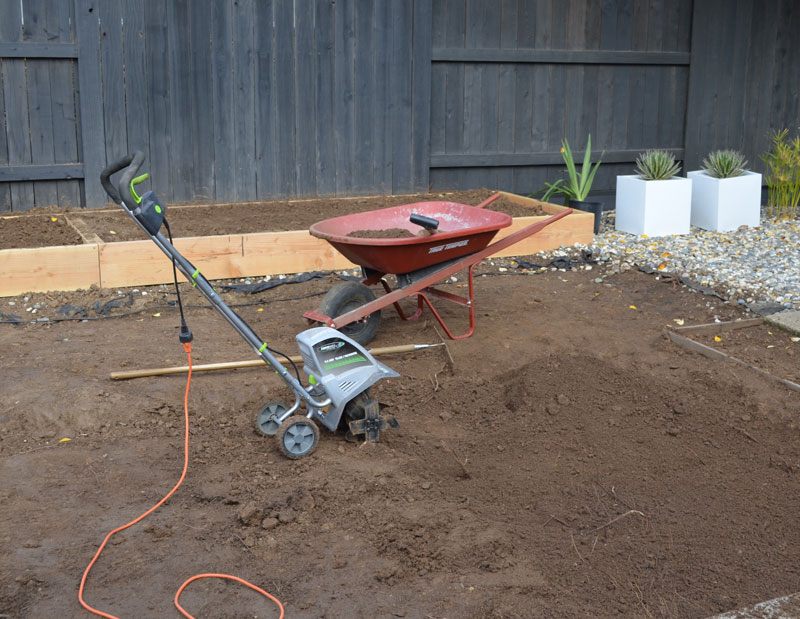 The pool will be 9.5 x 6 ft, with a 1 ft rock border. Depth will be 8 inches, with sides protruding 2 inches above ground. We'll be using a pool liner, which we've already bought. Can't quite believe we're DIY-ing this bit, but hopefully it'll turn out okay. What's the worst that could happen? Don't answer that.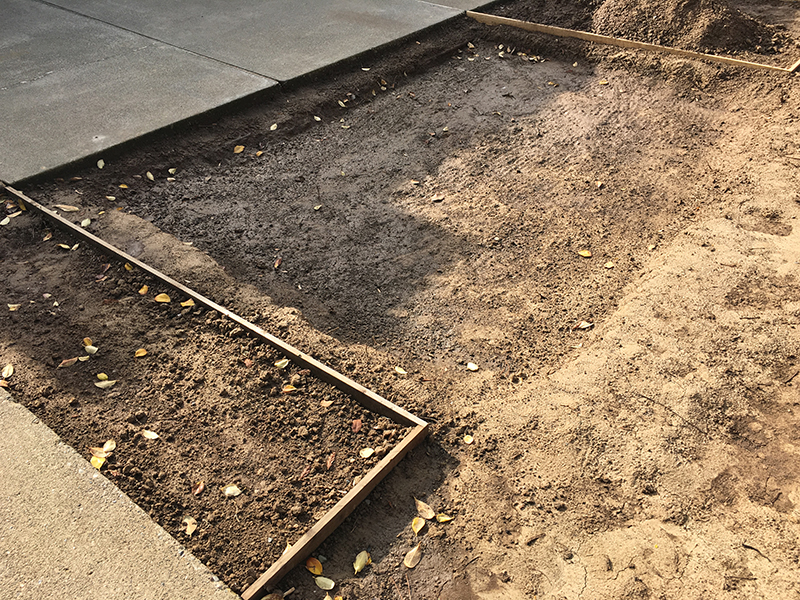 Progress was halted by heavy rain, providing a bonus muddy pool preview. On the left, we added "Mountain Table" rock –black when wet, gray when dry. With more rain coming, we chose to leave it there. We need to plant before adding more rock or cladding the planter, and no point planting 'til spring.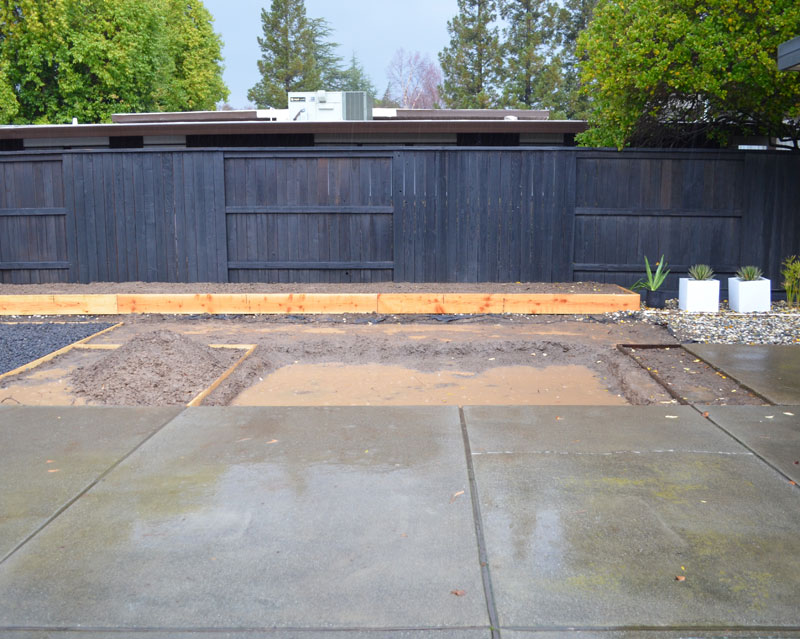 So, messy and unfinished as it is, we wait. In the meantime, we'd welcome your thoughts on what should go in the rear planter. A wall of green would be nice, though we only need to screen that AC unit. We're considering clumping bamboo (but worry about water-need and leaf mess) or maybe three queen palms (though trunks would dominate eye-level view, eventually). Any better ideas?