Our home has plenty of original Eichler features. Some we recognized instantly, and some we've grown to appreciate –mainly by noticing their absence in similar homes. Starting up front, our original garage doors. Sadly, many people switch these for 'modern' up-and-over doors.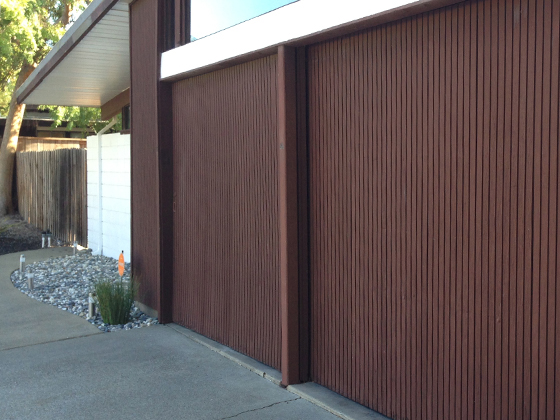 And there's no need. It's easy to convert them to automatic doors (hey Kelly & G?) or even reinstate the old look (hey Blaine?). To the left, our cinder-block wall –a feature few people lose, but worth a mention. Here's the internal side. It needs painting. As does the siding.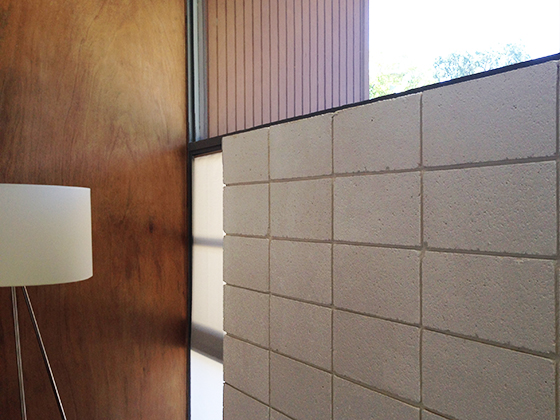 It's tricky to think of anything more Eichler-synonymous than globe lights…or balls, depending on your preference. Either way, we love them. So simple. So elegant. So lucky for us (as I posted way back) all of ours were intact.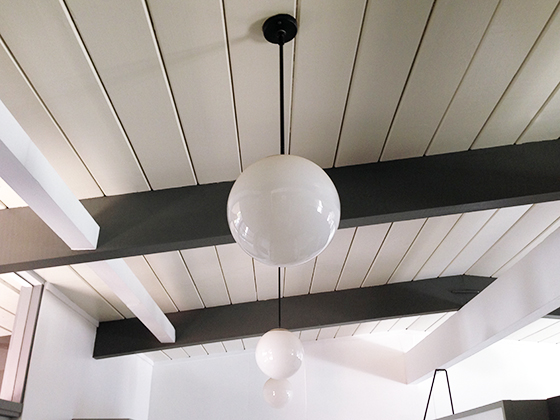 Well, not quite all –we had to reinstate this wall-mounted globe, which lights part of the patio, just outside our living room. We plan to add another just like this, on the exterior wall of our office. We have an original globe and base, so hopefully it'll look original.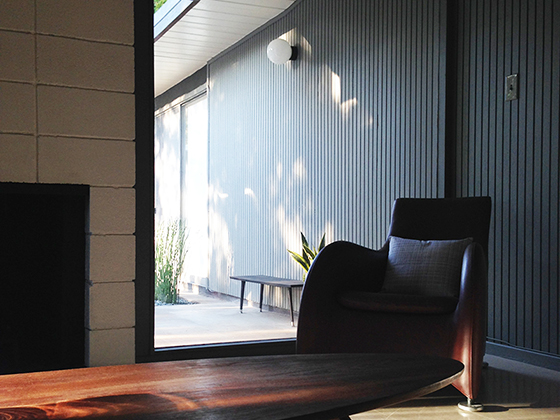 Talking of original, how about our wood paneling? Of everything we've done, restoring this impresses people most. In reality, it just takes time and effort. But some people don't have the opportunity to restore their paneling, as their walls were sheet-rocked long ago.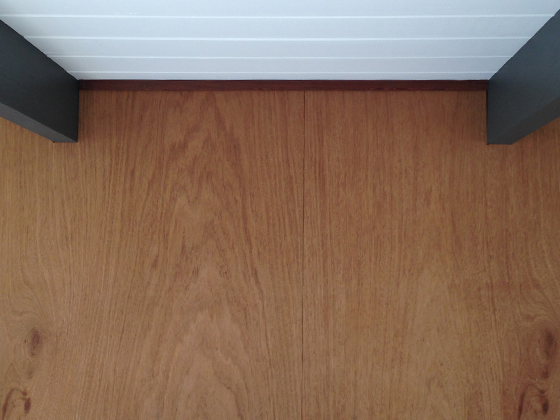 Despite fire-proofing/insulation benefits, we're pleased ours were intact…albeit painted. If we had the patience, and the inclination, we could restore all of them. But we don't. Talking of paneling, this wall (between kitchen/living area) often gets removed in our model.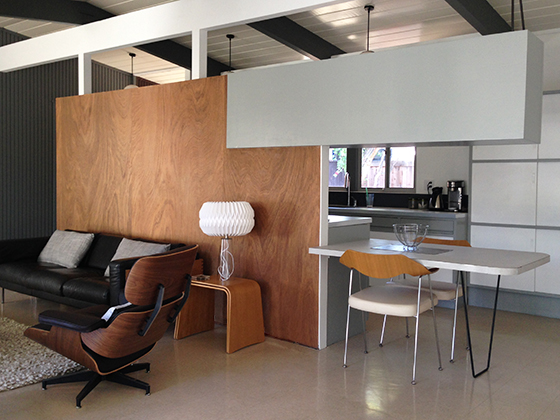 There are advantages to opening up the space, but we're glad ours stayed this way. If it had gone, we'd have likely lost our hairpin table. And that wouldn't do. Oh, and the flying coffin –which reminds me, we also retained our original kitchen/bathroom cabinets.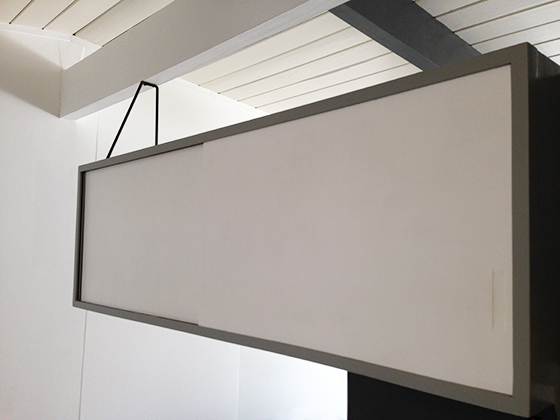 Here's something we took for granted initially –baseboards. A few had been replaced when the previous owners installed new flooring, but most were here. We love the low-profile look, so we're replacing any that have been changed.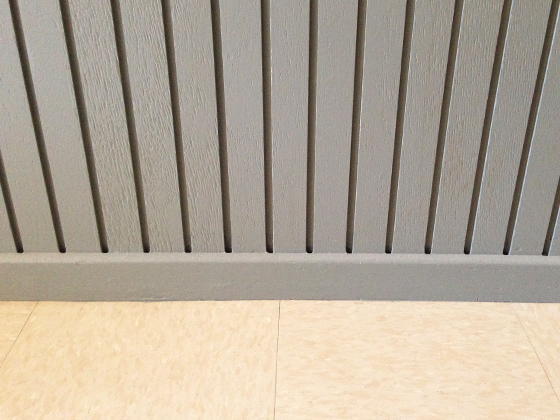 Having mostly originals allows us to easily measure, and match replacements –we found some good options at Home Depot. We replaced them in our master bedroom, both white painted and stained wood. The results are great. At least, we think so.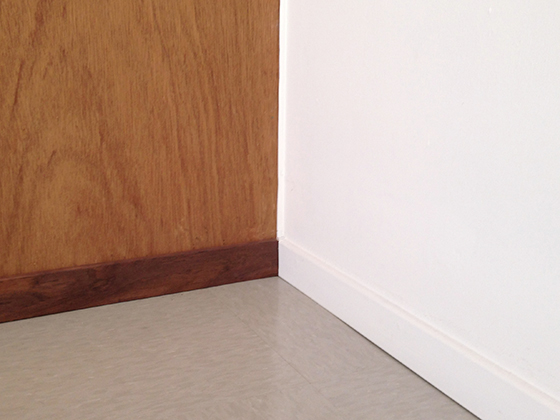 On a similar note, these distinctive narrow strips of trim that top the walls. We've noticed some are absent from other homes like ours –particularly this section, which runs along this internal wall of siding (in the living room) and extends outside.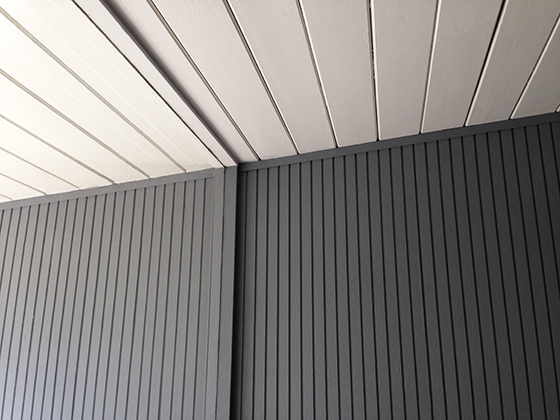 When we restored our master paneling, we just sanded and stained this original mahogany trim, and did the same in our office. We're painting the other sections to match each wall –this seems to be accepted Eichler convention, and keeps things clean and uninterrupted.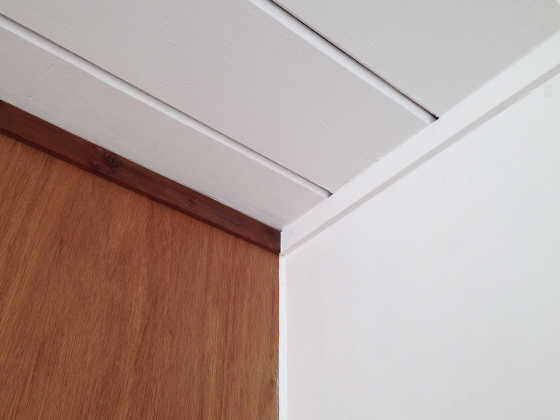 While we're on trim, check out this piece, which forms a cool architectural feature, framing the external portion of fireplace. This is something we didn't realize we were lucky to have, until a former neighbor (thanks Jon!) told us most had disappeared.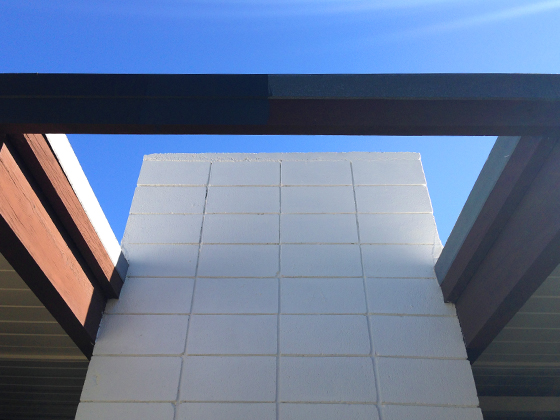 One thing we have lost is grasscloth –this originally covered all (16) of our closet doors. Ours had either been painted or removed. But we still have the original door frames –we're restoring them (kinda) with a modern twist, as per these closets in our master hallway.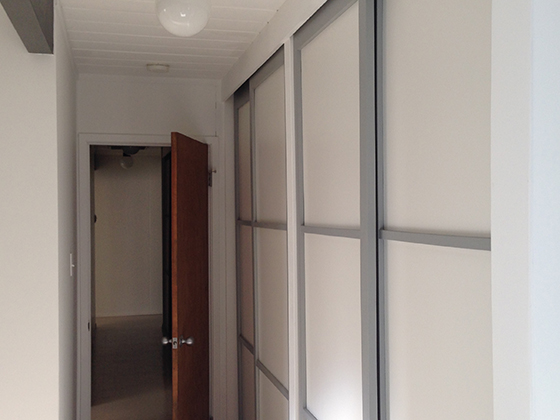 Original windows/sliders aren't a plus to most, but we love the look. Eventually we'll switch them for a close aluminum match (likely Blomberg/Milgard) to maintain design integrity. Luckily, this climate is forgiving, and most of our large windows face north. Not these though.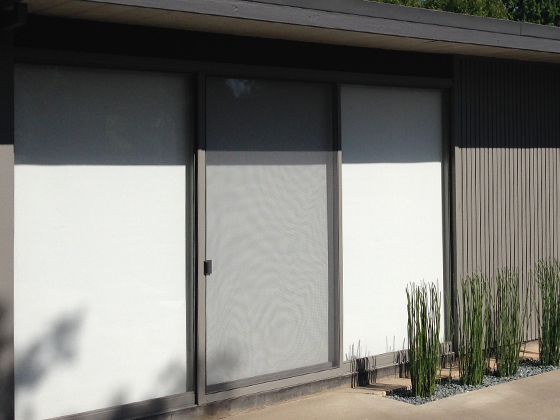 These sliders are west-facing, hence the solar shade. In addition to globes and paneling, we've put some other stuff back. We added this medicine cabinet (original to our model) in our master bath. This was kindly donated by neighbors (thanks John & Joan!) across the street.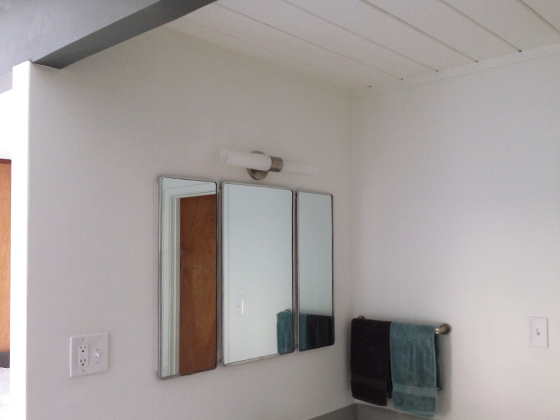 We also reinstated some original Bakelite outlet covers and switch plates. As I told you, we're just putting these on wood-paneled walls. Last weekend, we added a further two switch plates ($2.50 each on eBay) as part of a bigger project I'll be sharing soon.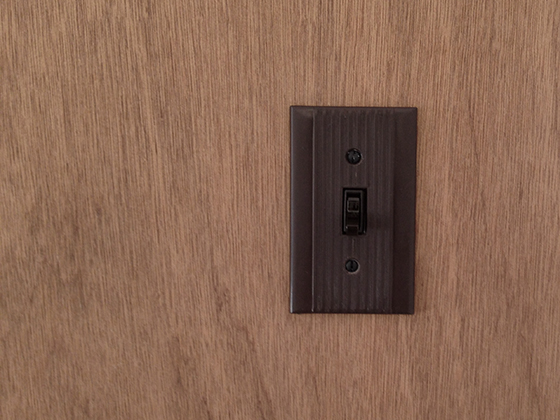 Almost forgot, we restored our hairpin table…and I probably have forgotten some other stuff. As we approach our first 'Eichlerversary' (we got here late August last year) it's fun to look back. We're proud of our progress, but we had a great starting point.