The latest Sacramento Eichler for sale is an interesting one. It's a 4 bed/2 bath, 1795 square foot, flat-roofed model, with 2-car garage. It was designed by A. Quincy Jones and Frederick Emmons (like all our Eichlers) and built in 1955.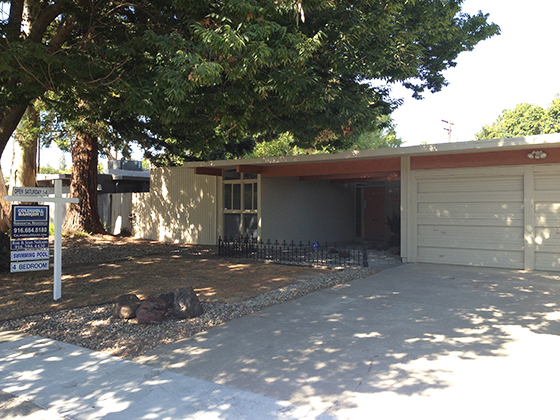 Compared with most models here, this home isn't such a mystery from the street –you can see the front door, along with two eye-level windows. This partially covered entryway is a nice feature, and is as close as our neighborhood gets to an atrium.
And the fiberglass panels to the right are cool, gone from some others I've seen. The home's 'wow' is in the main living space, where the ceilings are high throughout (10+ feet) rather than pitched, like other models here. This creates a feeling of volume.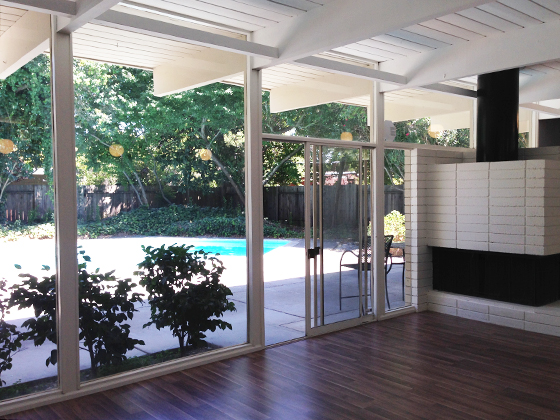 Another cool design element is the narrow cinder-block fireplace wall. This divides living and dining spaces, and is gorgeous to look at. Not so cool is the flooring –this laminate, plus some tile, with a few ugly transitions. It's functional, but (aesthetically) needs replacing.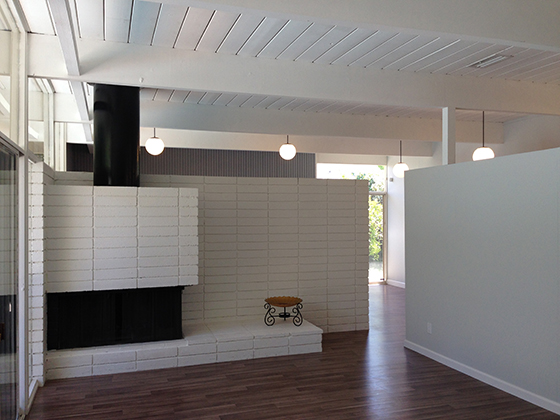 Here's the other side of the cinder-block wall. This is logically a dining room, and takes the place of the 'all-purpose room' in our model. I like that it's separate from the main living space, while still feeling connected. It's also easily accessible from the kitchen.
All the windows appear to be original in this home, including these Arcadia sliders, leading to the back yard. Not original are these two globe lights (added at some point) which have shorter stems and wider bases. They work just fine though.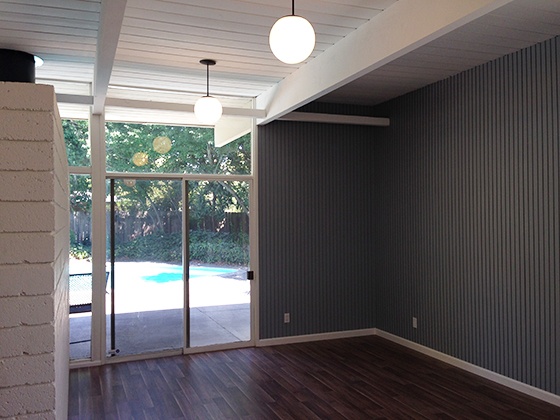 Here's a nice view of the back. This is classic Eichler, with a large overhang, and beams jutting out. From the left, the dining room, living room, and master bedroom on the right. All have sliders with access to the back patio.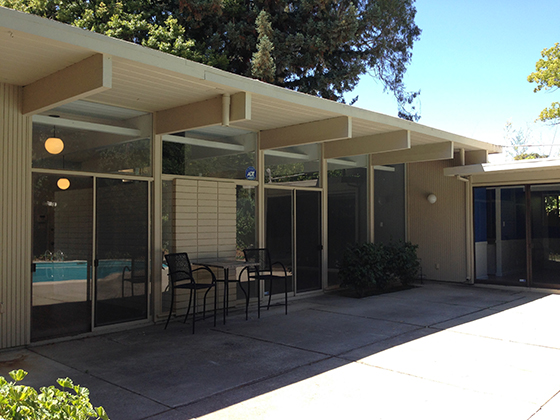 This model isn't in our South Land Park Hills Eichler brochure, but it is in the Highlands brochure, appearing on the cover, below. The plans inside aren't exactly like this one, but the SM-134 is very close –it's just a little bigger, and the fireplace is positioned differently.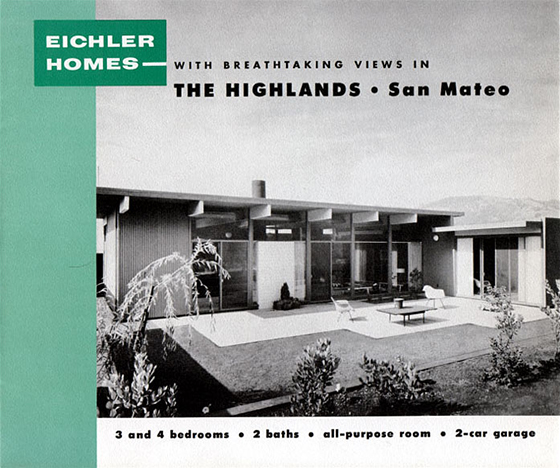 Back inside, a quick look at the kitchen. Appliances and countertops have been replaced, but all the cabinets are original (despite some inappropriate hardware) making it fairly straightforward to return this kitchen to something more authentic.
On the other side, more potential. This wall was originally wood paneling, and could easily be stripped and restored, like ours. It's work, but worth it. In fact, none of the walls here have been sheet-rocked, so (technically) all could be reinstated.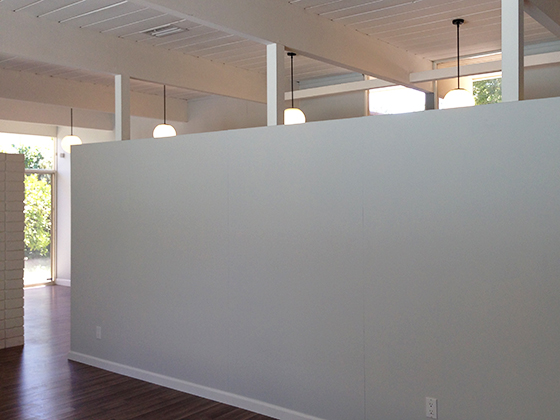 In the corridor, ceilings drop to the usual 8(ish) feet. And you feel it, thanks to the big differential, and a lack of paint –ceilings on these older Eichlers are dark in their natural state, so feel heavy. Those 'half-globes' are original too (apparently) though I've only seen them in this model.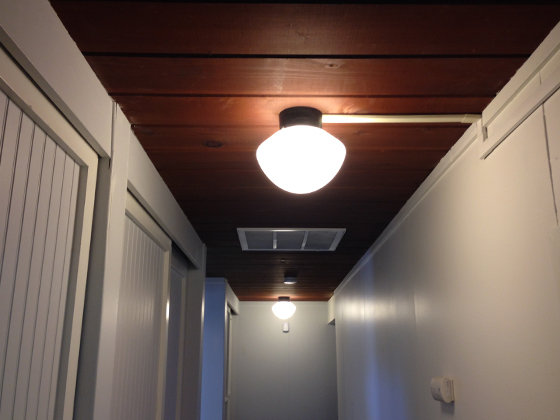 And I'm not sure what that cable routing is all about. The master bath has the original medicine cabinet and lower cabinets, so that's a good start. The blue and white paint job throws your eye a little, but that's easily remedied, as is the era-inappropriate chair rail.
The shower room has some updates, including a new enclosure, and tile that is pretty faithful to the original. It's a nice gray color, and can also be found in the guest bath, along with the original bath tub.
Something you don't see often is this built-in, in the front bedroom. We still have this, but it's one of only two others I've seen. The closets are original throughout, but the grasscloth has been replaced with beadboard panels. This looks a bit odd. As do the fussy baseboards.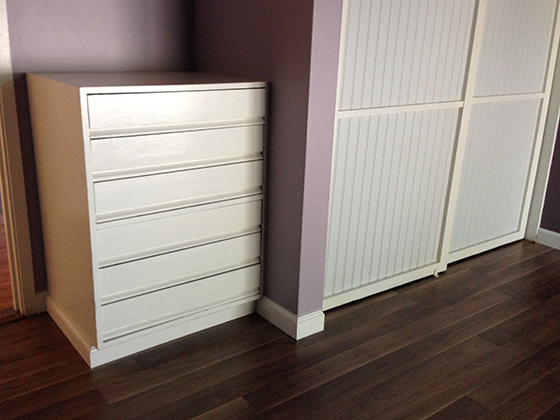 You get a good sense of the house scale from this view. It's far from pristine, with some deferred maintenance, siding needing replacement etc. But most of the work here is cosmetic. And the payback is huge. Did someone say pool?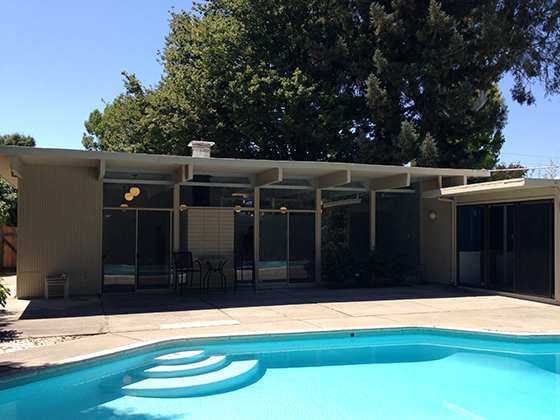 Here's a better view. It dominates the backyard a little, but it's prettier than plenty I've seen –angular and fairly modern looking. The backyard is a little overgrown in areas, but it's very private and relatively low-maintenance.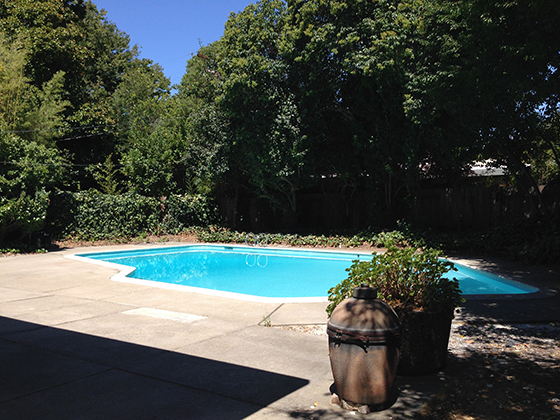 This home is offered at $520K, through Ronald Nakano of Coldwell Banker. Of the five Sacto Eichlers listed this year, this is the highest priced. It's not the most finished, but has the potential to be spectacular. Check out the listing for more details and pics.
Disclaimer: I am a Sacramento Eichler owner, and these observations are my own. Prospective buyers should conduct a home inspection, via a licensed professional.
Save