Long before buying our Eichler, we knew its eventual color scheme –mid-gray siding, contrasting beams, lime green door. During our twisty search, we imagined this on dozens of homes. And by "imagined", I mean 'Photoshopped' –these 5-minute mock-ups won't win awards, but you get the idea.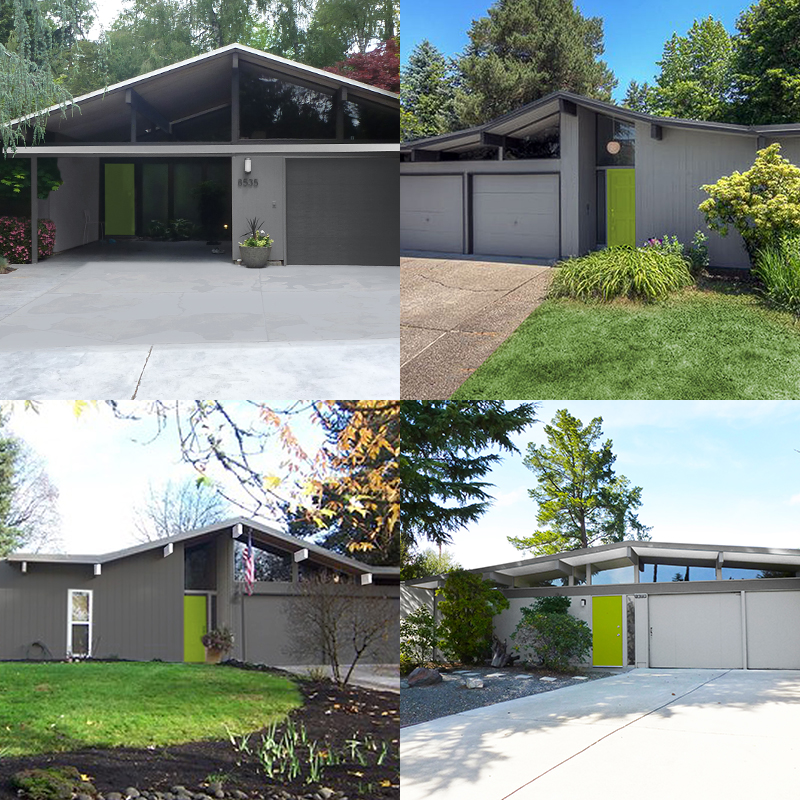 Likely no surprise, we created plenty of floorplans too –all this made it harder to let go, but we just couldn't help ourselves. Fun fact: only one of the above homes is an Eichler –can you tell which? The point is, our color scheme was set. Ironic then, it took us a year to find the 'right' gray.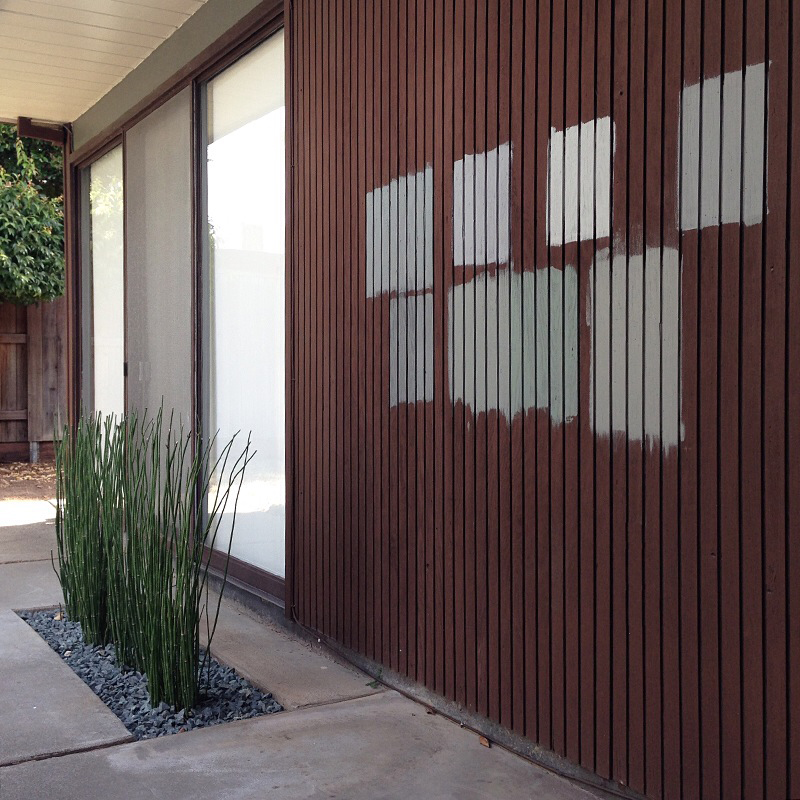 But it was worth the effort…well, we think so. And people seem to like it –some even requested the colors. First-up, Scott, owner of a cool '60s custom in North Carolina. He went with a similar blend and it worked out beautifully. Love the mix of brickwork, solid panels and vertical slats.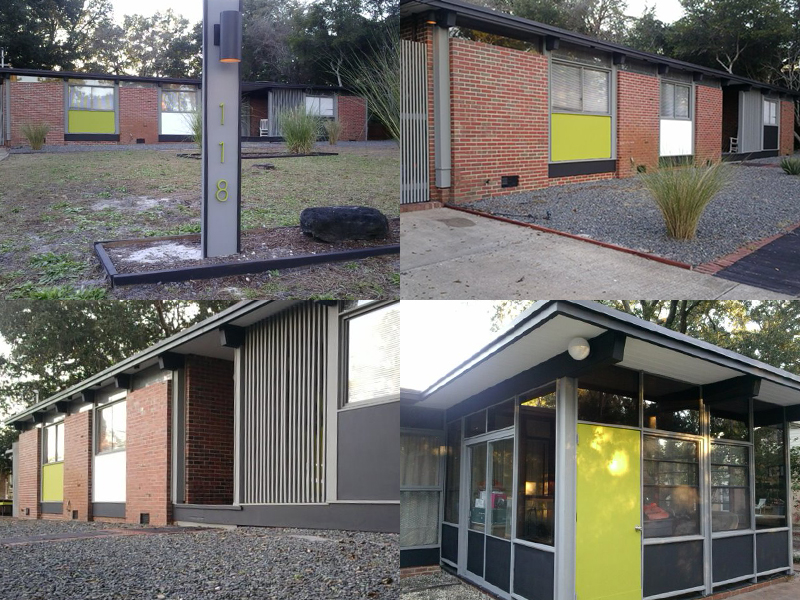 Then Brian knocked on our door, and said the gray would be perfect for his Streng Home, in Carmichael. I snapped this pic a while later, when we toured an open house in Brian's neighborhood. Same mid-gray siding, dark gray beams, and (I believe) lime green door, around the side.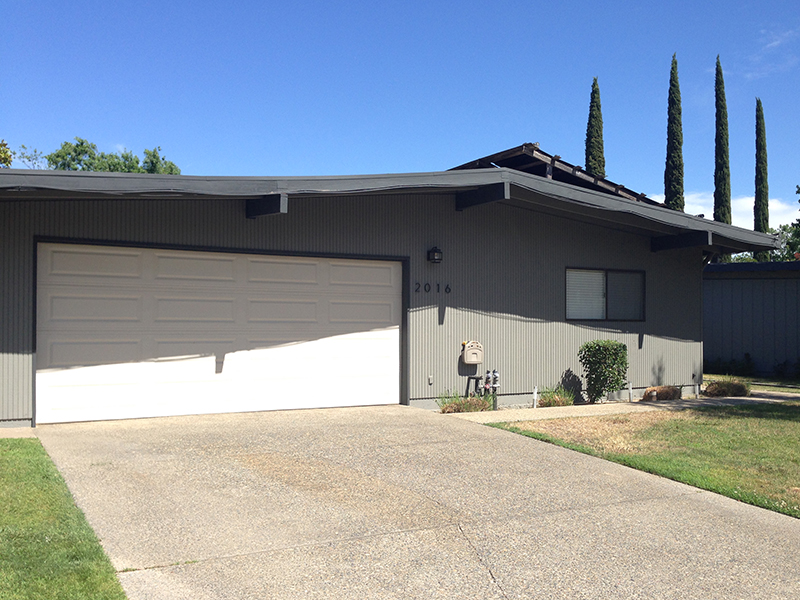 Next, Jay-Are emailed from Nebraska, to share his gray transformation –okay, no modernist masterpiece, but you work with what you've got, right? So. Much. Better. Jay-Are, an ex-Californian and fellow DIY-er, is working on lots of other design details, like replacing all the lights with Eichler-style globes.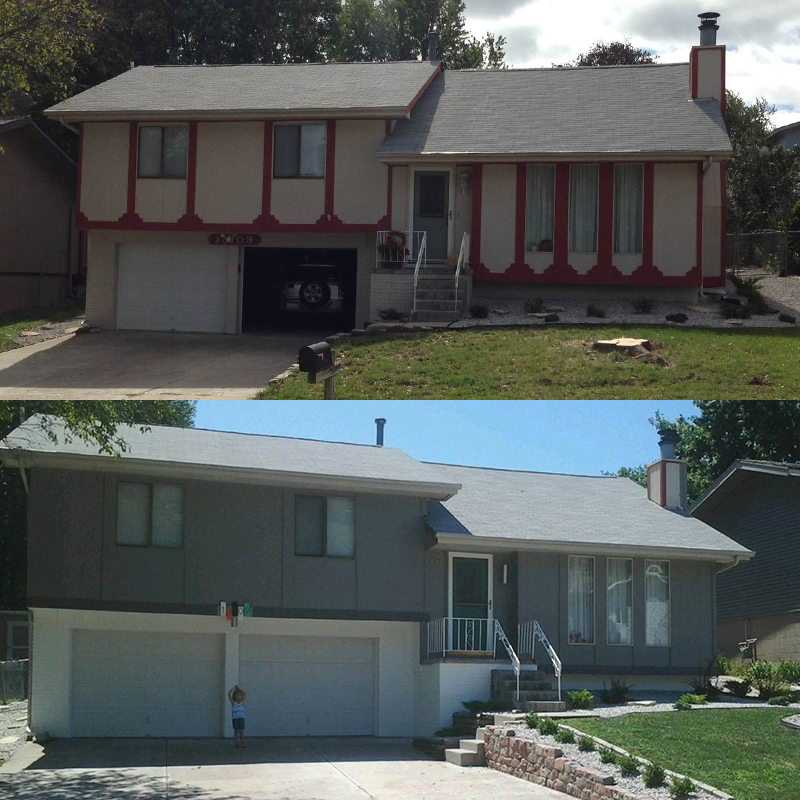 Closer to home, we've noticed some neighbors 'going gray'…in the house-painting sense. Funny –all four Eichlers sold last year have since been painted gray. This one was stripped to the studs and completely overhauled. The exterior is a blend of mid-gray siding and dark gray beams.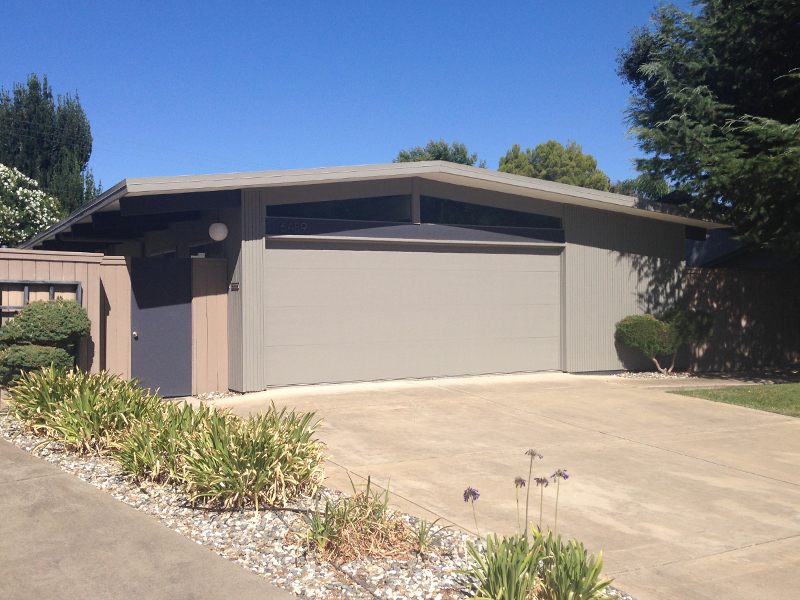 And this one was painted last summer, around the same time as ours. I believe this is 'seal gray' –the original color of the house. The lime green cross-beam provides a pop (also on the doors) and the Eichler numbers and black cylinder light are nice details.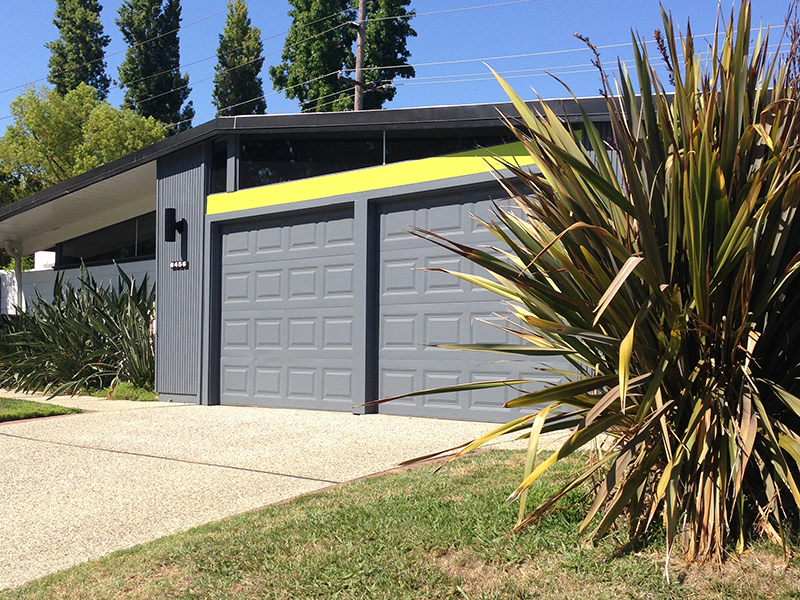 This is the closest our neighborhood has to later atrium models –closer still, since the new owners enclosed the front courtyard with a wall of siding and secondary door. The darker, blueish gray works well with the bold red door, and crisp white fascia.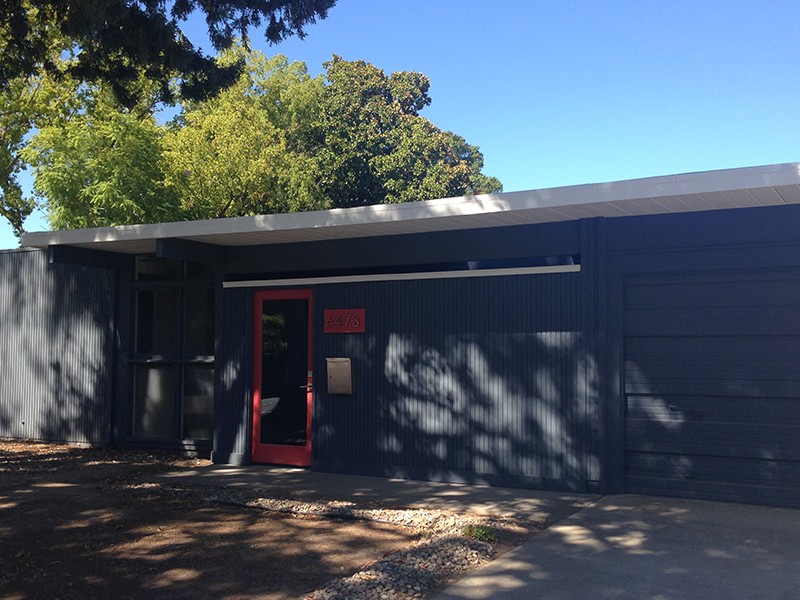 More recently, this Eichler, on the street behind us, was painted gray –a little darker than ours, but the combination of gray siding and white cinder-block look strangely familiar. They kept their beams and fascia white though, which does make for a nice contrast.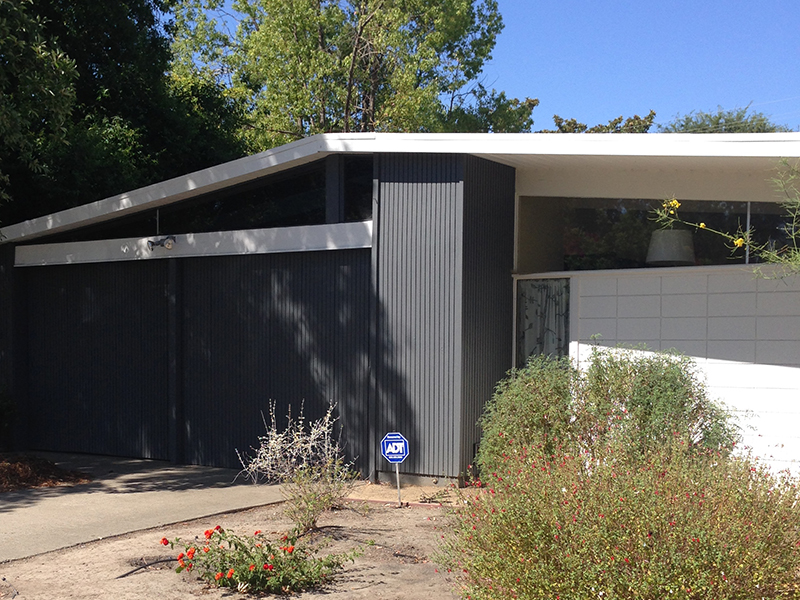 A few weeks back, another near neighbor went gray. Ignore the roof and this flat-top model could shine. Very close to our colors –mid-gray siding, dark gray beams, and lime green door. Clearly we like the palette, but it's a little too close for comfort –just a few doors up the street.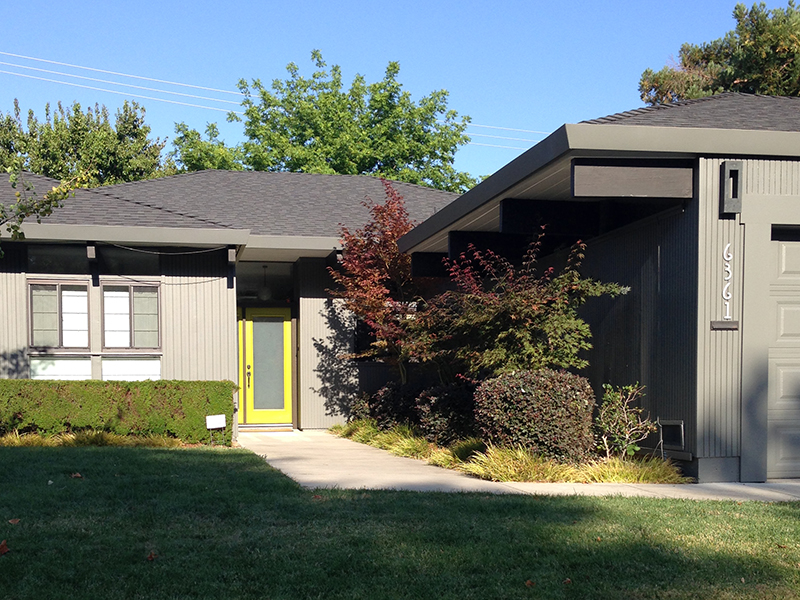 Don't get me wrong, I like gray, but if this continues, we may end up changing our own colors. I jest. And honestly, we weren't the gray/green adopters in the 'hood –we admired this house, on the street behind us, even before we moved here. Love the palette, and the green cinder-block is awesome.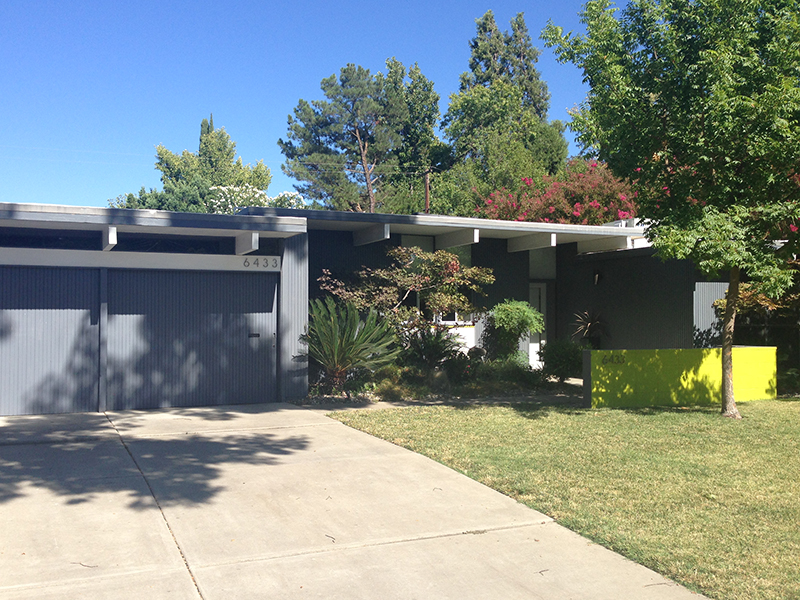 So, to our own transformation –the first pic was almost two years ago, and the second just last week. Okay, so the lawn looks a little a lot worse (we'll tackle that, eventually) and we don't get quite as much shade these days, but at least you can see the house, in all its gray glory.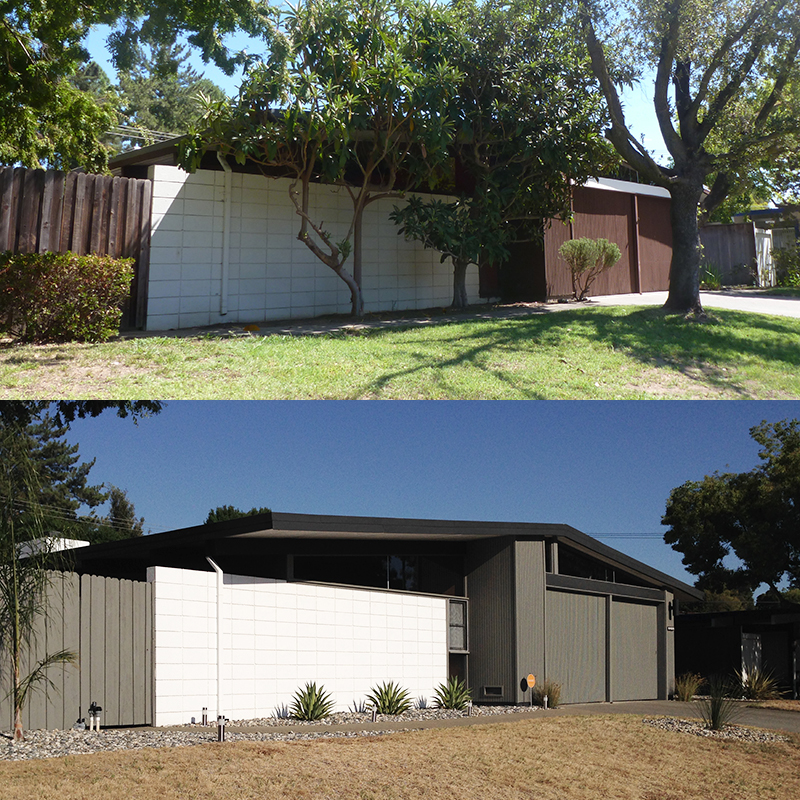 As it happens, we're only just completing the exterior painting, almost a year after we started –we ran out of steam after a long succession of punishingly hot painting weekends, last summer. But we're finishing-up the back this weekend –I'll reveal all in the coming weeks.