Let's face it (luckily, we don't have to), our front lawn is in rough shape. 97% weeds, 3% grass, 100% bad. We have no intention of watering it, so it's not about to look any healthier. We have long-term plans, but with big-time costs. Not happening yet. So, what to do in the meantime?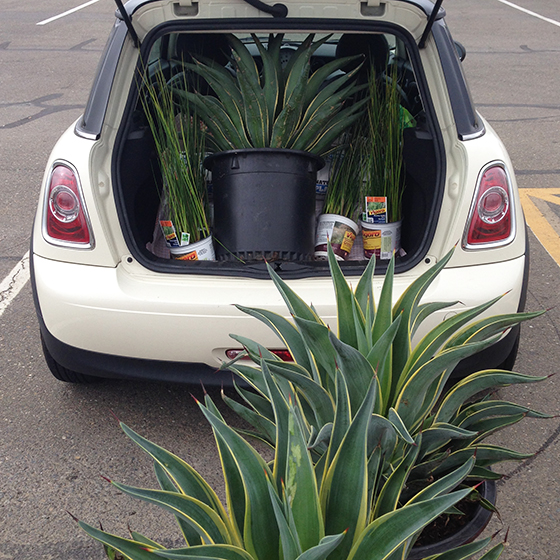 We figured planting a few things would help…or at least distract people. We took multiple plant-buying trips (there's only so much you can fit in a MINI Cooper) and assembled our lineup. Before going near the lawn, we had some long-overdue business to take care of –this wall.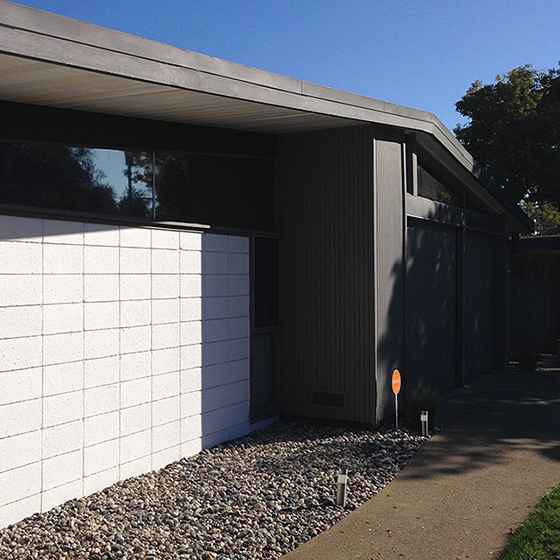 This spot has been empty since we removed two loquat trees, way back –we like to keep things minimal, so no problem. But it's a great backdrop, and deserves something special. We eventually decided on this Agave Desmettiana 'Variegata –a dwarf variety, which should max-out at three-feet wide.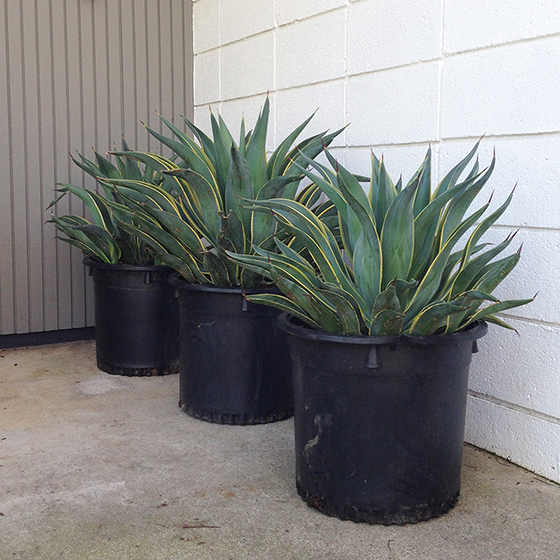 These are big plants. Meaning big holes to dig. Not fun.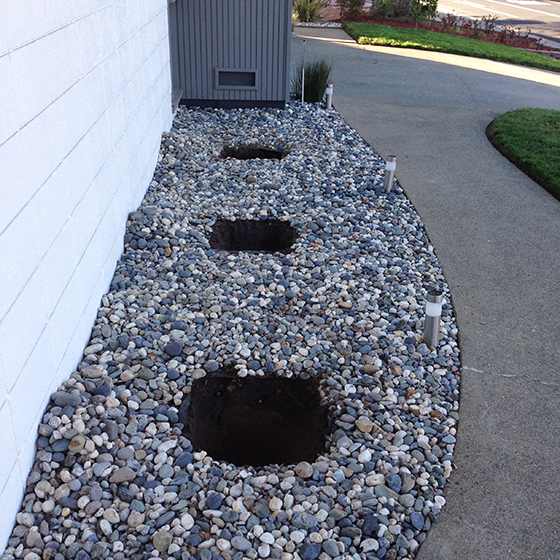 They were tricky to plant too, but we eventually wrestled them into the ground. And they look great…at least we think so.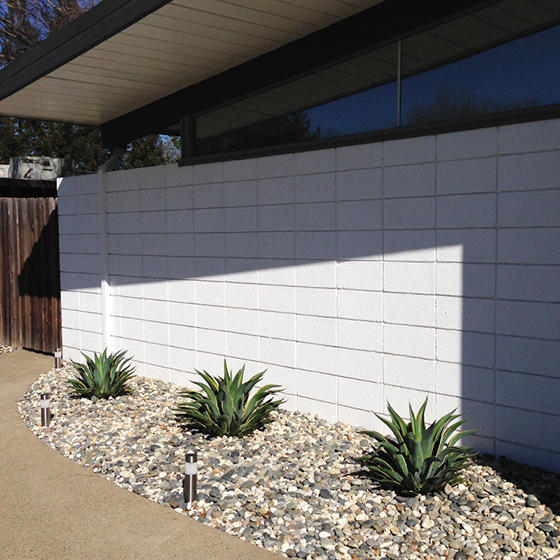 We couldn't be happier with our choice. Good job, as it took us over a year to make it. Now I just can't stop taking pics of these babies. Here's another.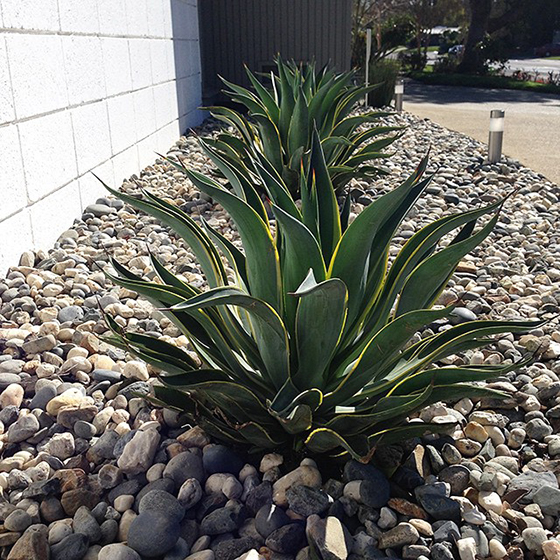 Next, we tackled the nearby patch of rock that fronts our fence. We'd ear-marked queen palms for here long ago. They're pretty cheap at this size, and we're in no rush for them to mature.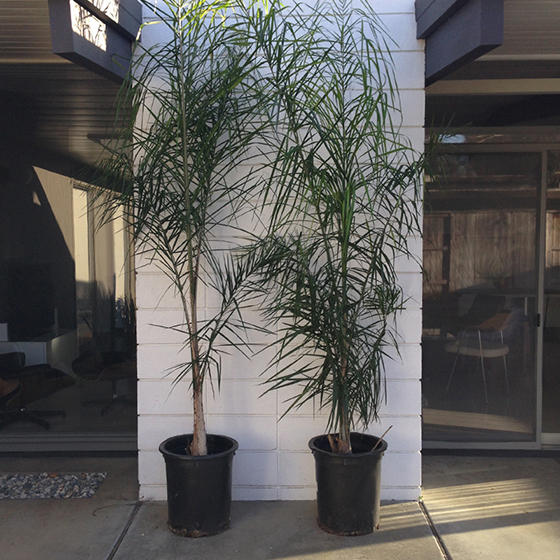 Here's where they'll live. You can see the trunk of the leaning Chinese Elm we keep meaning to remove. More digging, and two holes for the new occupants.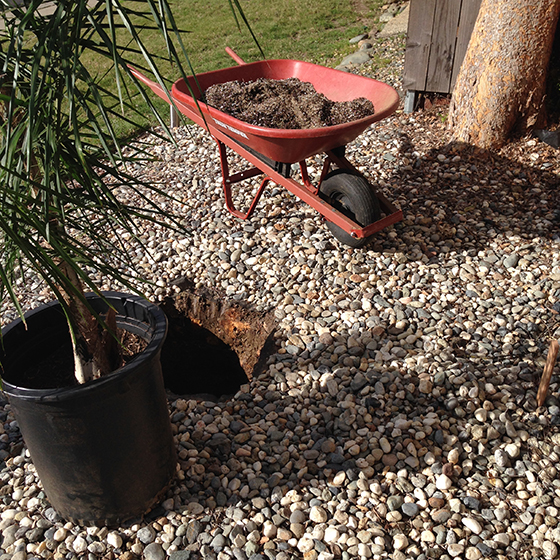 We supported them with stakes, which will stay for the first year. They've been in a month or so now, and it honestly feels like they've already grown significantly. Maybe we're imagining it.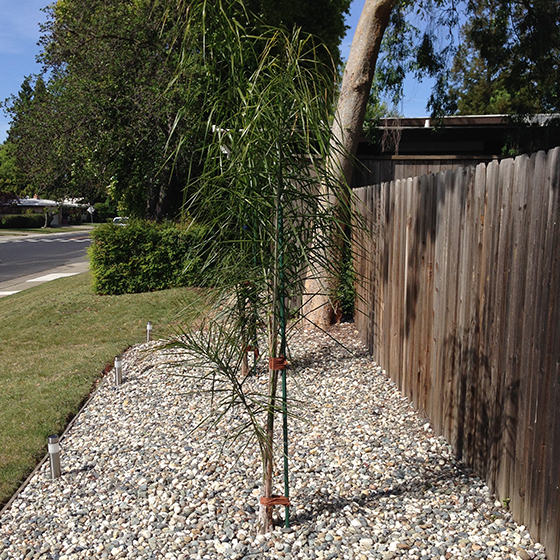 Another day, another trip in the MINI. This time we picked up a Mexican Grass Tree, AKA Dasylirion Longissimum –no surprise, we've shorted that to Daisy. She's not much to look at right now, but should be stunning, and big, eventually.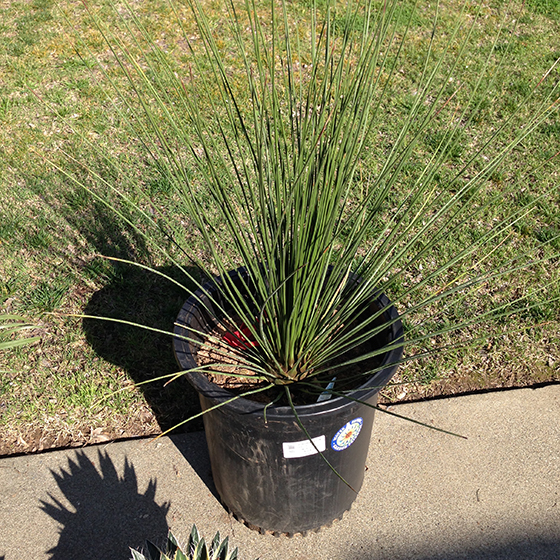 This was an impulse-buy, without regard to positioning. After some debate, we carved out a circle in the corner of the lawn. This was formerly the spot where a half-dead tree resided, so it took me a whole afternoon to dig and remove roots.  We'll lose the whole lawn eventually, so the circle isn't a design feature.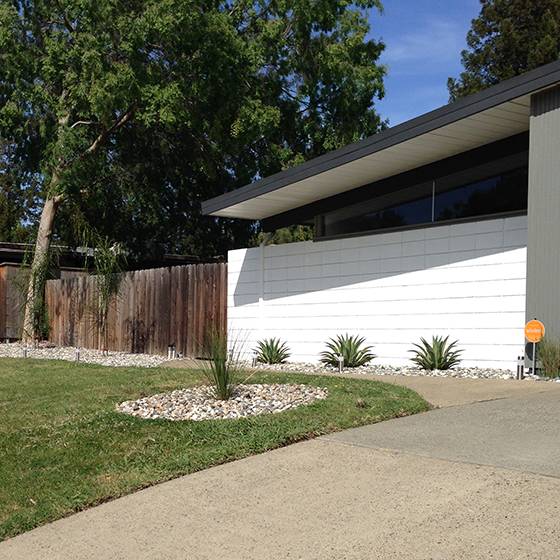 Another impulse buy was this tiny Mediterranean Fan Palm –we've always liked these, so found a spot on the other side of the front lawn. Again, I dug a hole, in a much smaller circle, and we planted Finn –everything gets a name, as you should know by now.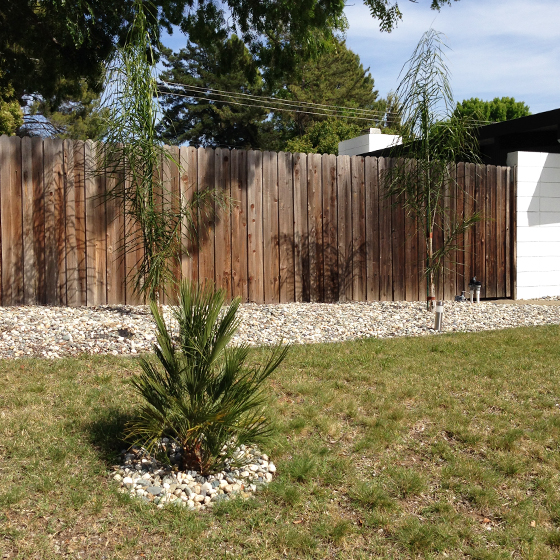 We have big plans for this area –as I said, the grass will go, but we will work these two into the design. We've done nothing to this section of grass on the other side. We did plant Russell (the flax) at the top, and we'll plant all down the right-hand side, to cover up those roses –sorry, just not our thing.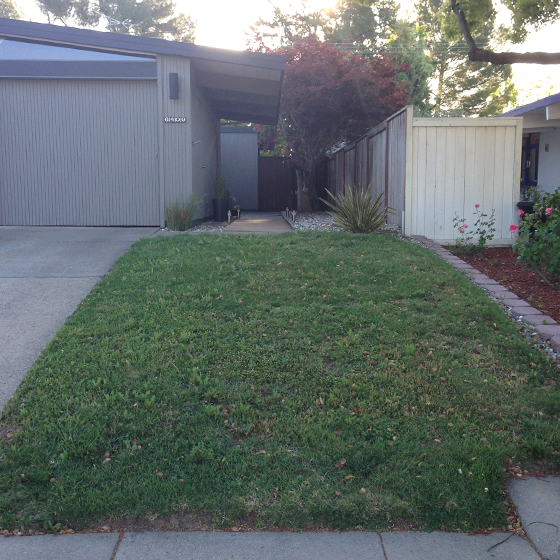 We'll also add some steps, to aid navigating our ski-slope driveway –the picture really doesn't convey how steep it is. Anyway, the lawn stays for now. Up beside the path, we placed two pots of variegated Baumea.
We added two more in our courtyard area, plus some Golden Barrel Cactus, and Mother-in-Law's Tongue by our front door –this will move inside during winter months.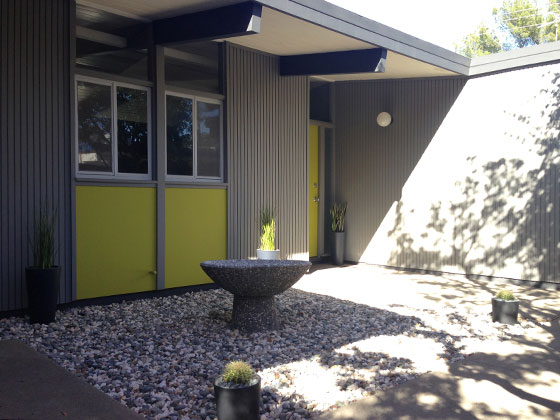 Back up front, the overall impression is much-improved…if you ignore the lawn –in all honesty, it'll get worse before it gets better, with a long, hot summer ahead. Baby steps.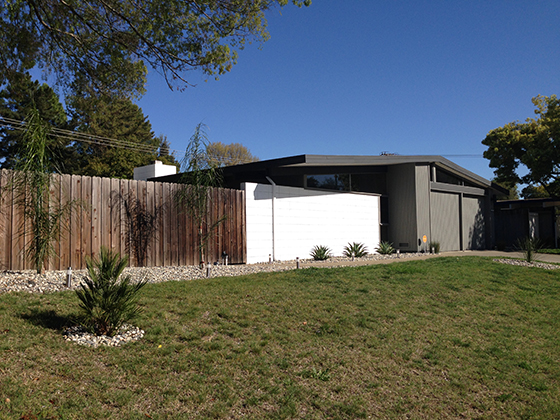 We've been frantically working in a few other areas, inside and out. More updates on the way…