This is our fourth Eichler Christmas. Each year we add to our holiday decor, increasing the amount of 'stuff' stored in our garage. And this was a bumper year for stuff, starting out-front. As we previewed last month, we switched our front pitch lights for variable color LED strips this year.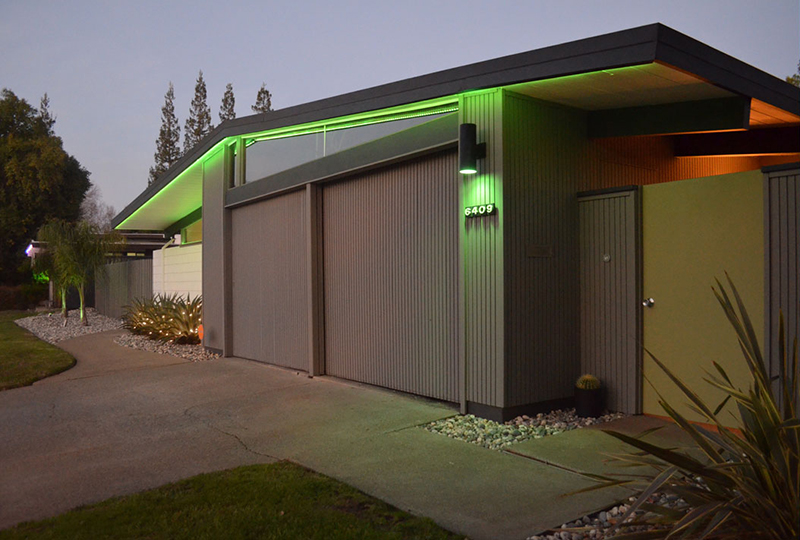 We have three independently controlled strips, one on the left-hand pitch, one on the right, and one atop the cinder block wall. This was due to strip length, not a desire for multi-colored light shows…though I guess that's now an option. In reality, we'll stick to one color at a time. And this year's choice is green.
We added a matching green LED bulb in the down portion of our cylinder light…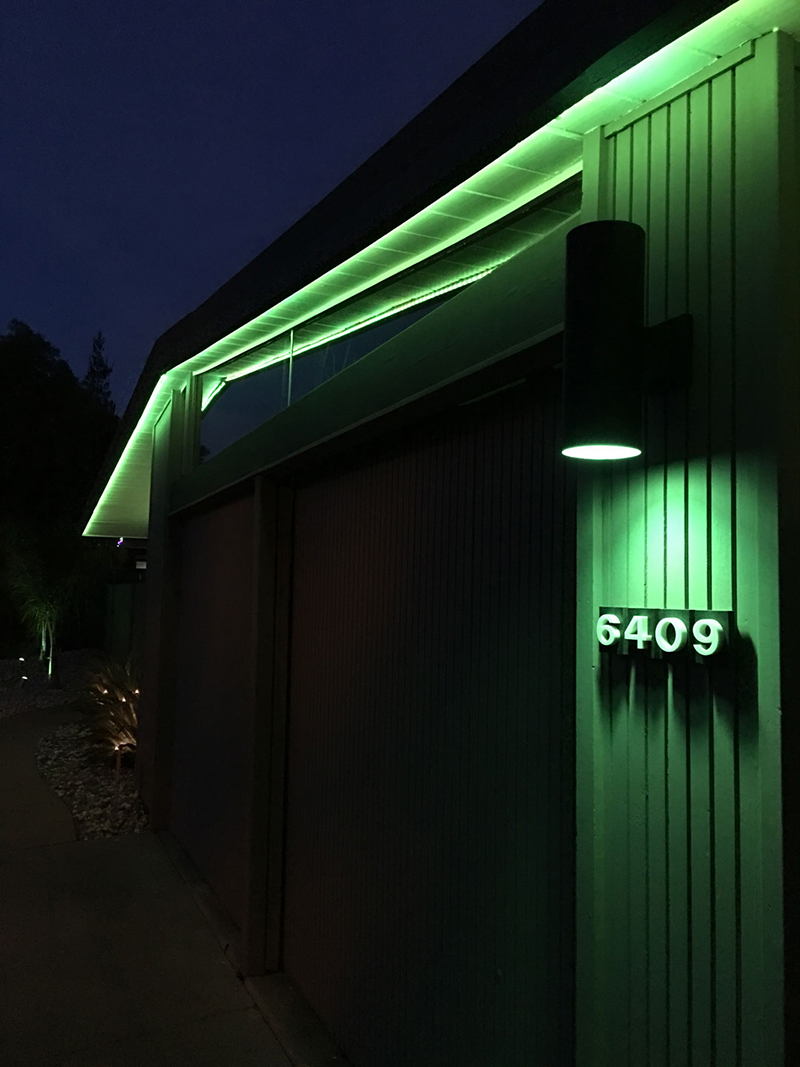 …and green spotlights for our queen palms –now way more substantial than when we planted them.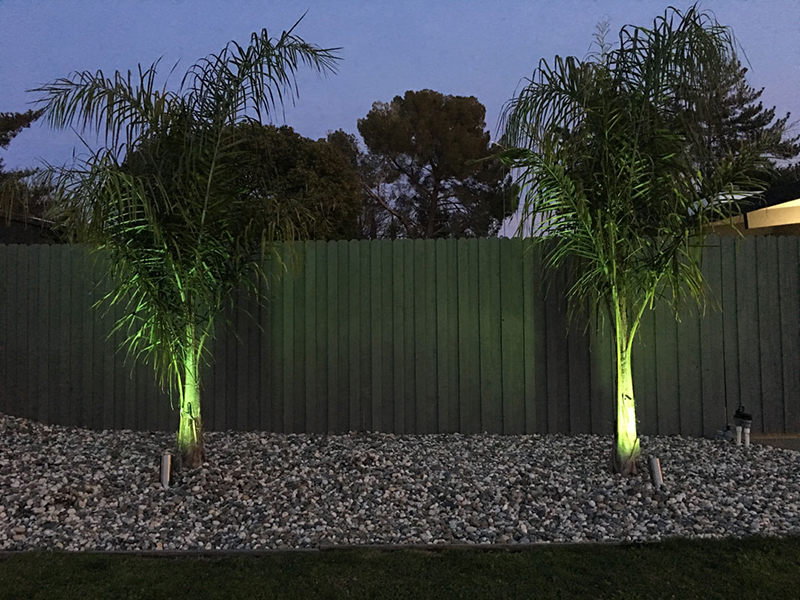 These cheap spike lights didn't act like spots until we used stainless-steel tube covers (from old solar lights we had) to direct the light. This supports my case for keeping seemingly useless bits of "crap" in the garage.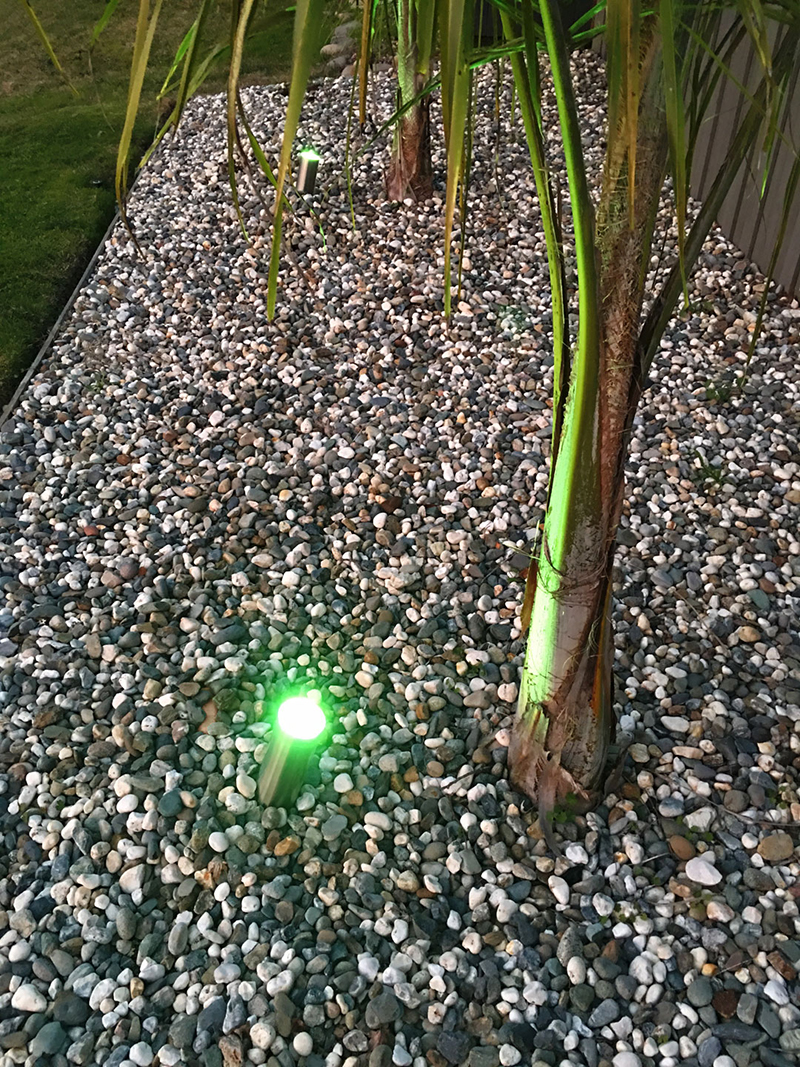 The only non-green front lights are on our agaves, which have also grown an obscene amount since last year –about two cinder-blocks higher, if you're counting. It makes us sad to think one day these will bloom then die, but we have plenty of (genetically identical) pups to take their place, so it's all good.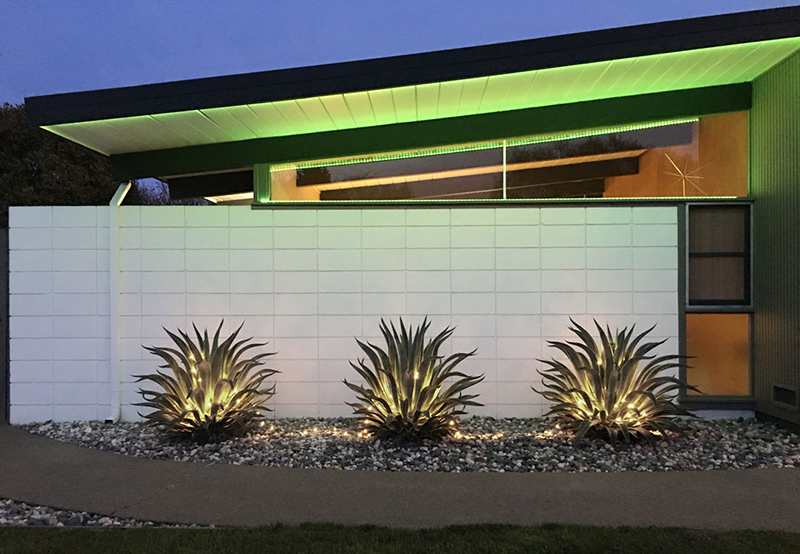 When you enter our courtyard, more lights, via this CB2 wire wreath –stored for two years, pending our new front door. When the moment came, we realized the wreath was too large. So it lives here. We added a few spare silver ornaments to our maple tree. Beyond that, our orange tree, with its own natural decoration.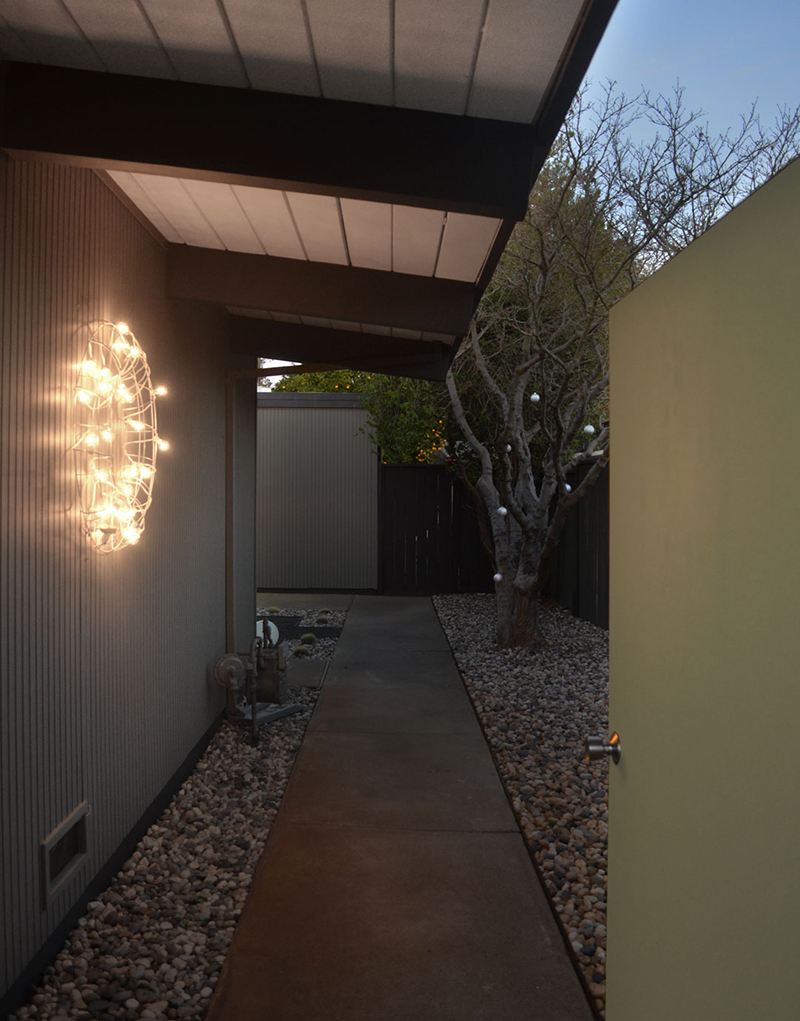 The lights for this wreath are minimal –determined by what we had spare. This is last year's cinder-block light string. Minimal, but we like it. We ran the electrical down a siding groove and through the garage vent. We love how private our courtyard feels now, once you shut the door.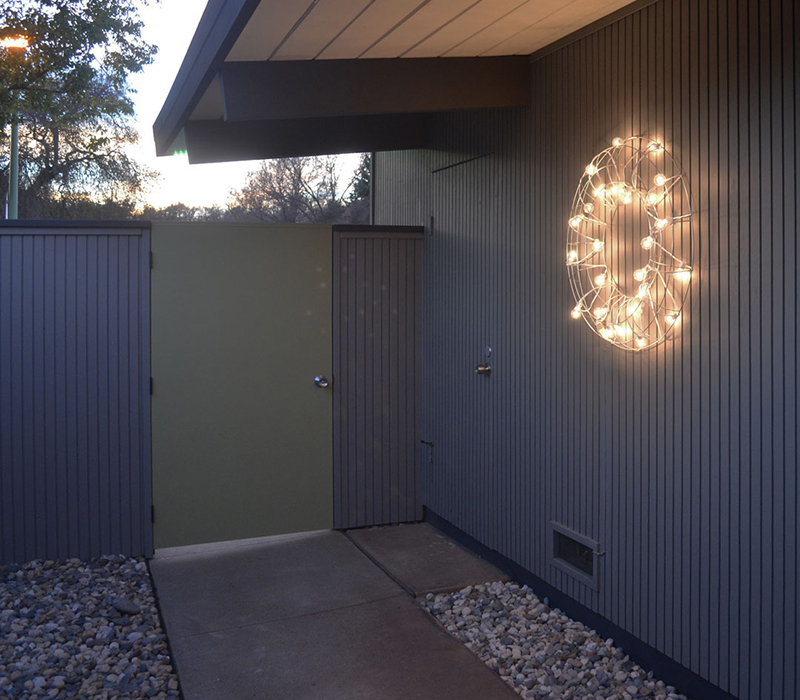 As in previous years, we hung a twin wreath on our fireplace, running a white extension cord between cinder-blocks. Barely noticeable, unless you really look for it. And what's that glowing, through the window?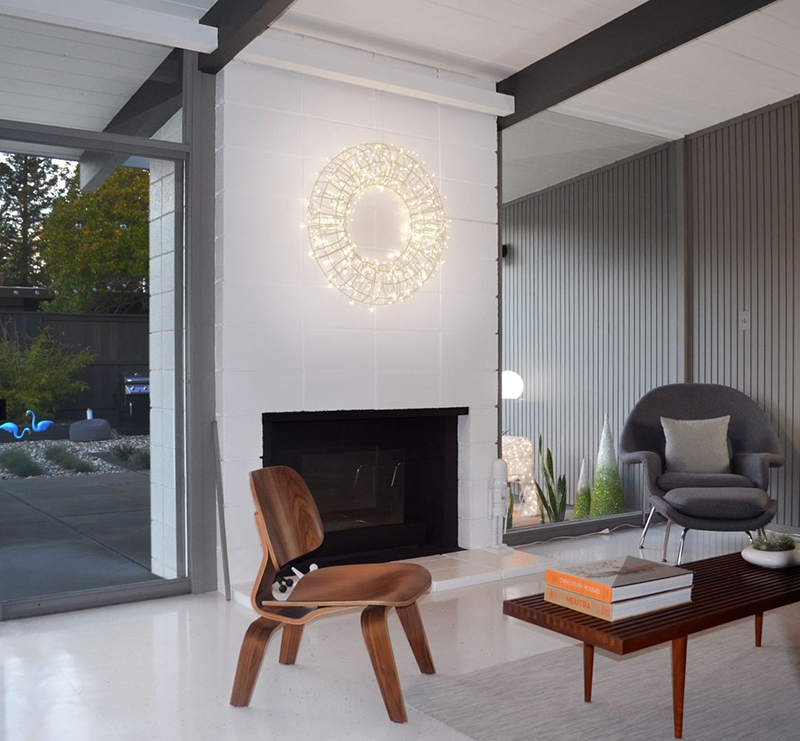 That's our sparkly polar bear, rescued from our friend Brian's attic, prior to his home sale. Bear-ie, as he's now known (long story) moves his head from side to side, giving the impression he's longing to come into the warm. Kinda cute…if kitsch. The nutcracker is also via Brian –we sprayed it white, naturally.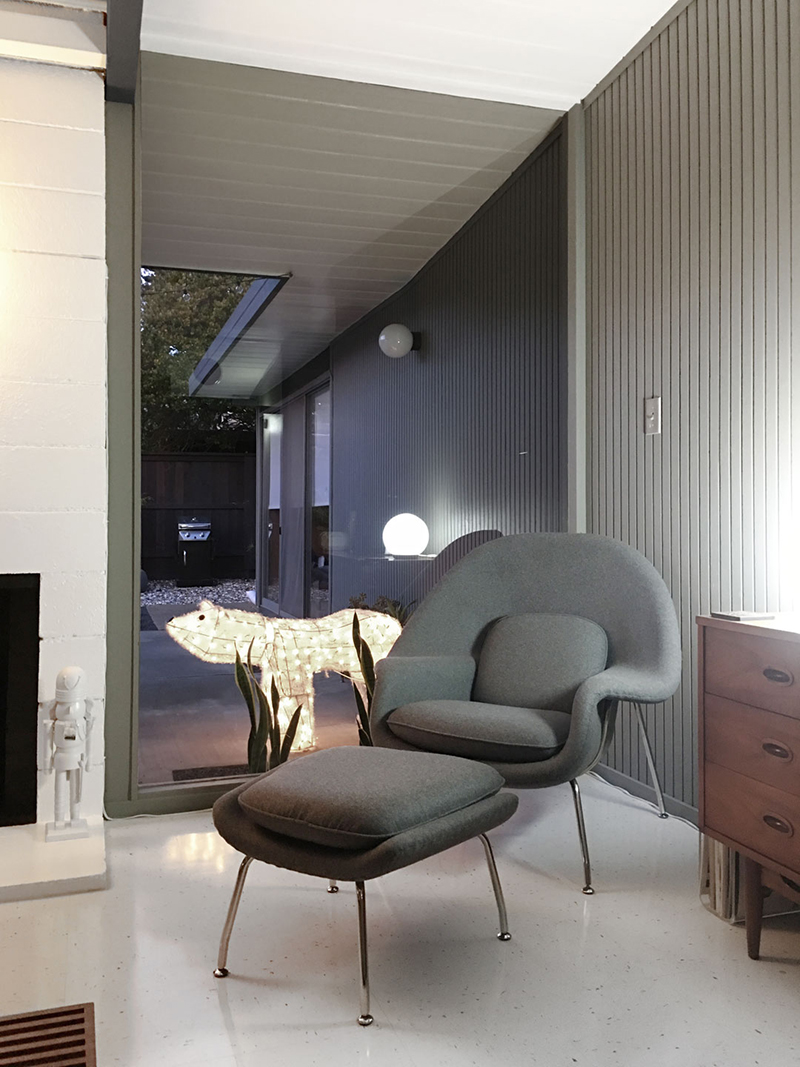 Also new for this year, this patio light string –these were our front pitch lights last time, but they happen to fit pretty well here.  We hard-wired the electrical, controlled by a switch in our master, but the lights can be removed and re-hung easily.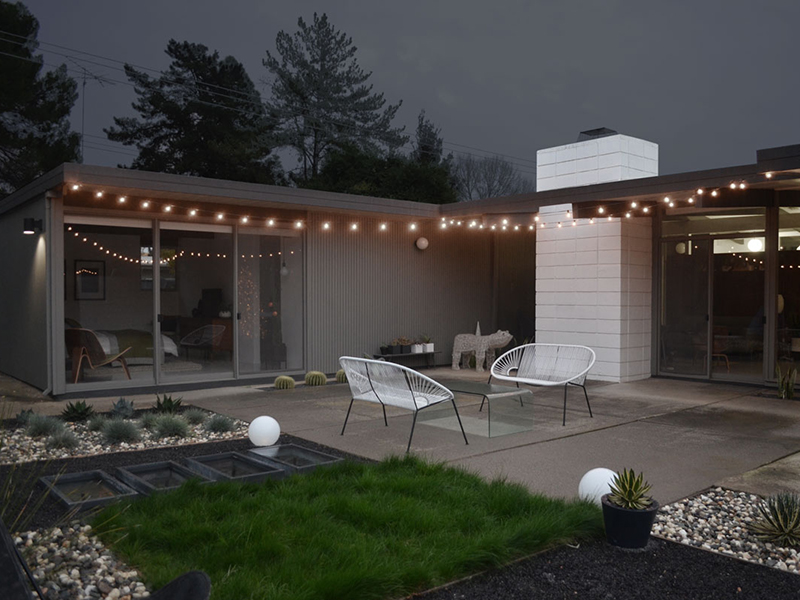 They give-off a nice glow, and light this area pretty well. We plan to reinstate them, come summer.
Back inside, we finally bought a white tree, as we've been meaning to for years. We considered vintage, but ultimately opted for a new tree, as we like the full look –that said, it took hours of 'fluffing' (for want of a better expression) to create that fullness out-of-the-box.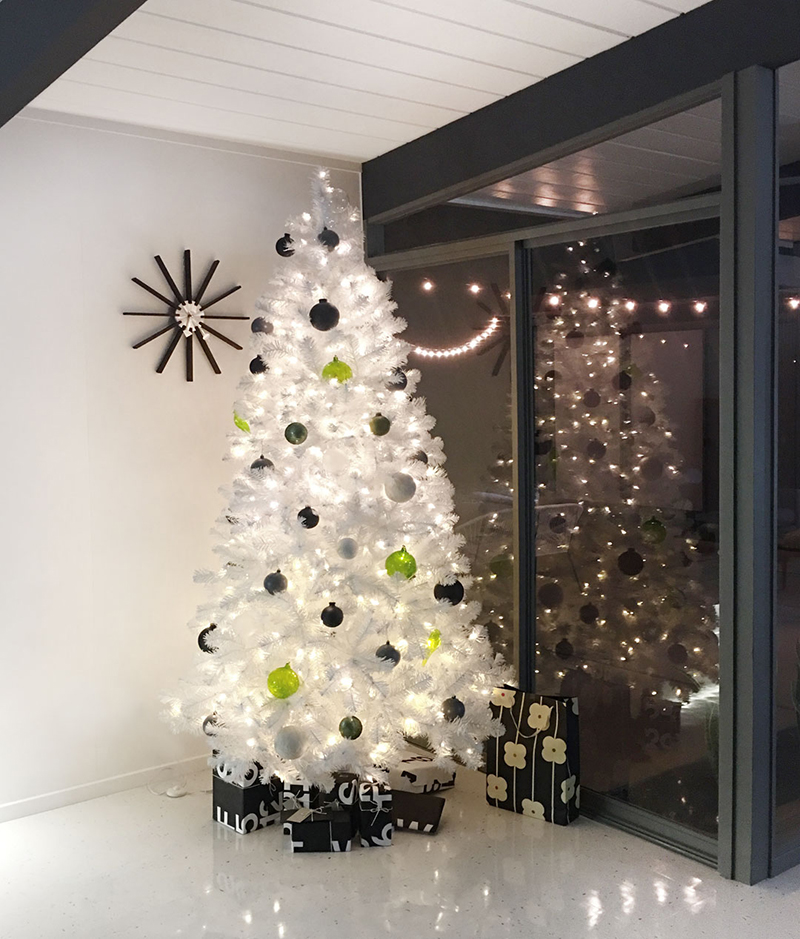 But we love how it looks. We dressed it with black, gray, white, and green baubles, to fit our house color palette. Many we already had, but some we sprayed (from purple/orange) to gray or black. We also bought some cheap new baubles, and sprayed those too.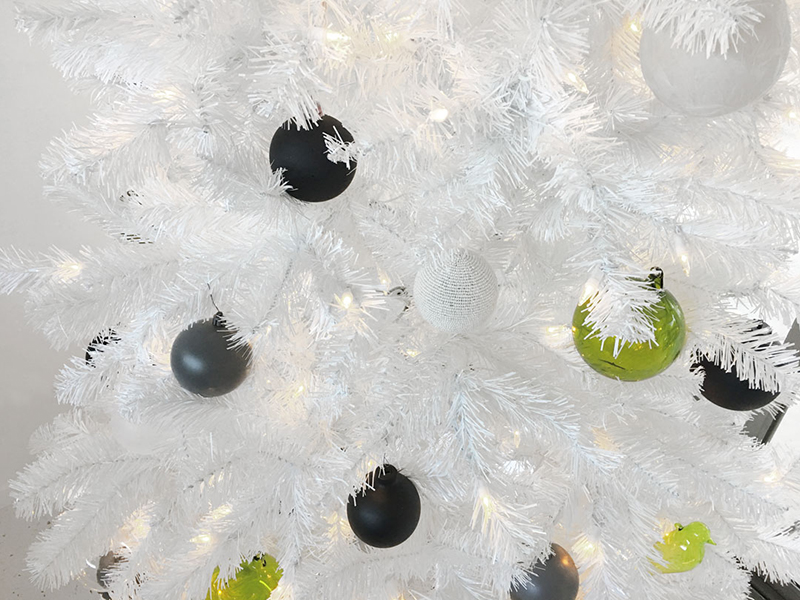 Our sputnik fixture makes a return, hanging from the white hook we left up all year, and capturing green rays from our LEDs. You can see this from outside too (as you may have noticed, above) adding to the street-view sparkle.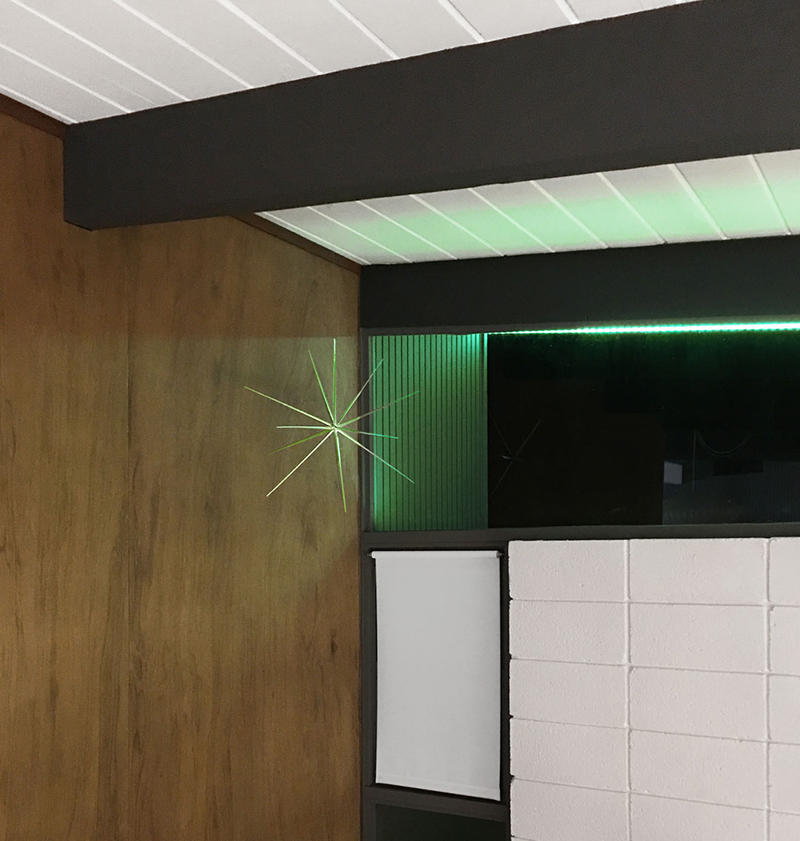 Our Mother in Law's Tongue, Mike (the collective name we use, having taken so many off-cuts) gets his own lights this year, adding some sparkle to our Moderni-corner –see what I did there? Never mind.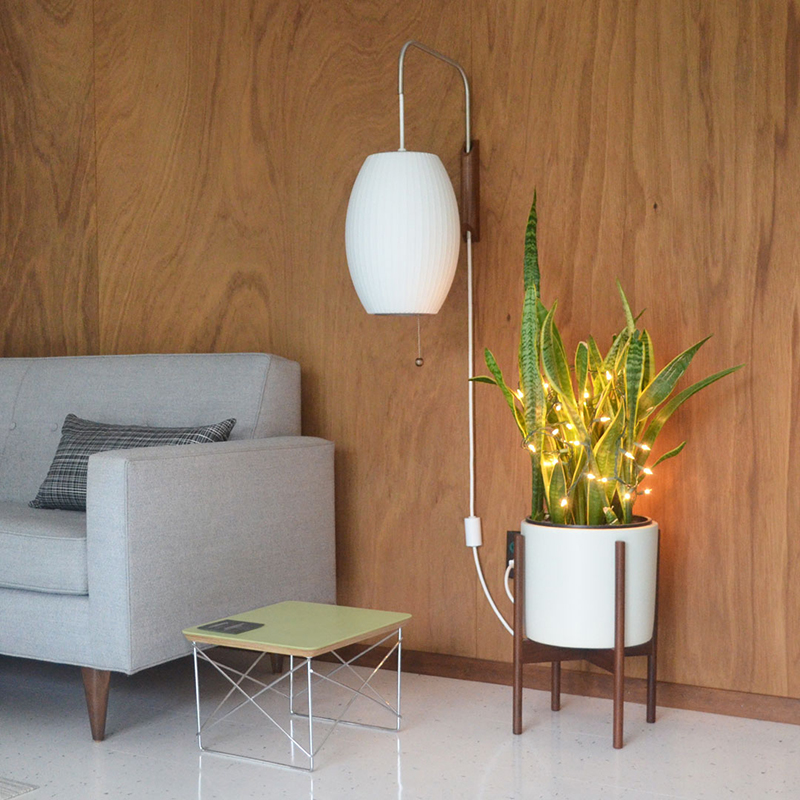 Not to be outdone, Colin (on vacation, in our master) gets his own minimal holiday decor. Thanks to the texture of these orange baubles, I couldn't re-spray them, but I think the pop of color works here. This is a variation on last year's green attire. Follow that link, and you'll see Colin's enjoyed his own growth spurt.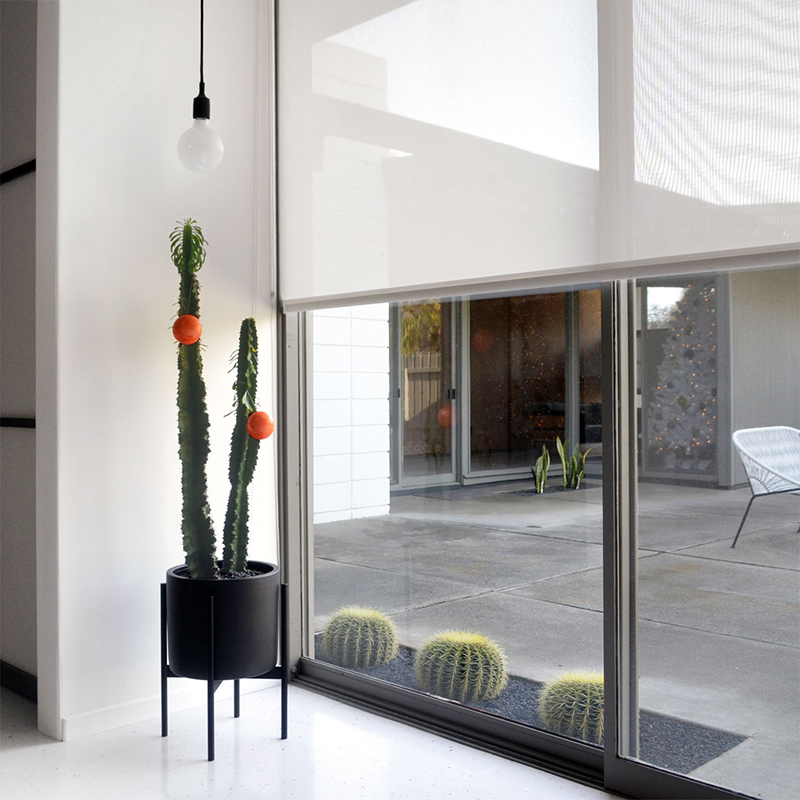 As have our golden barrels, in the neighboring patio cutout. On our dining table, one of our more subtle holiday decor additions –these CB2 Pillar White Trees. Wish we'd got two of the smaller size –sadly, it appears they've now sold out.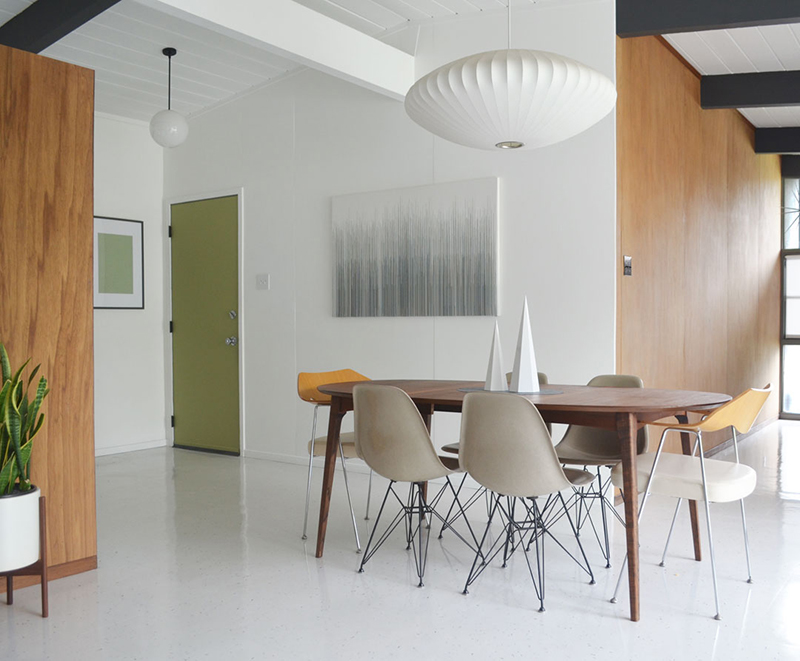 Here's an evening view, including a rare triple-Nelson bubble lamp sighting. You'll also see our table is full of food –this was prior to our holiday party, last Saturday, when friends and neighbors gathered to eat, drink, dance, and sing. We had lots of fun. Maybe too much fun.
Speaking of neighbors, we haven't photographed our neighborhood holiday lights yet, but we're planning a photo walk soon. There are definitely some great additions, so we'll do our best to capture the festive flavor. For now, we're happy with our own light show.
We hope you truly have a wonderful Christmas, Hannukah, Festivus…or whatever you choose to celebrate. Most importantly, relax and enjoy, with people you want to be with. See you on the other side…
Save
Save
Save
Save
Save
Save
Save
Save
Save
Save
Save
Save
Save
Save
Save
Save
Save
Save
Save
Save