Of all the standard Eichler models, variations of the 'double A-frame' are arguably the most impressive. This one is in a neighborhood we know well –Greenridge, in Castro Valley. At $825K it's a bargain…by Bay Area standards.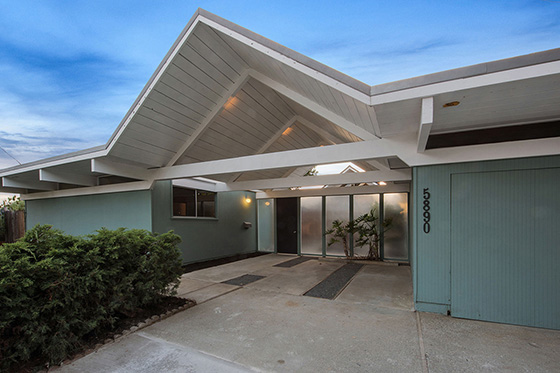 Huge volume in this model with a higher pitch, larger atrium, more bedrooms (5) and more square footage (2050) than most Eichlers. And this is a great example, with plenty of original features intact, like globe lights, mahogany paneling, atrium slabs/cutouts and aggregate loggia.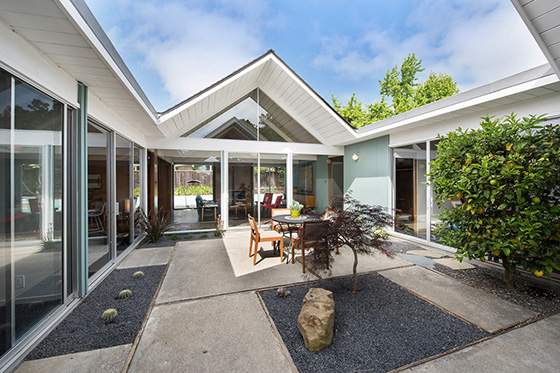 The owners have added black VCT, which looks amazing, plus a new foam roof. Oh, did I mention it has a pool? This has been on for a week already, with plenty of interest. But it's not too late –open house this Saturday/Sunday, so plenty of time to sneak-in an offer.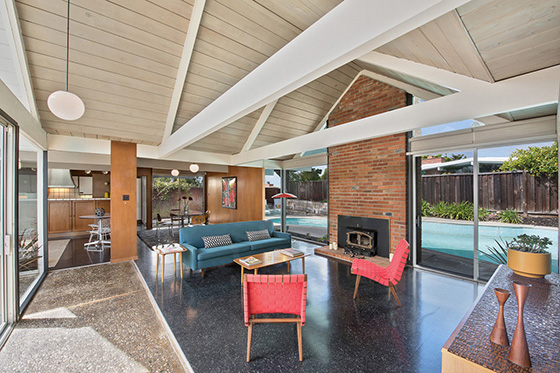 The property is presented by Thomas Westfall, who was also our realtor, as we told you here. Thomas does an amazing job marketing Eichlers, as you'll from his dedicated 5890Greenridge site.
Disclaimer: I am a Sacramento Eichler owner, and these observations are my own. Prospective buyers should conduct a home inspection, via a licensed professional.
Save