Not a typo. This is our second front door, supplementing the original, and completing the fence project we recently shared. As you may recall, we worried this door may be too wide. When it all shook out, it wasn't. But we did have to custom-make it, to fit the space. And it turned out pretty well.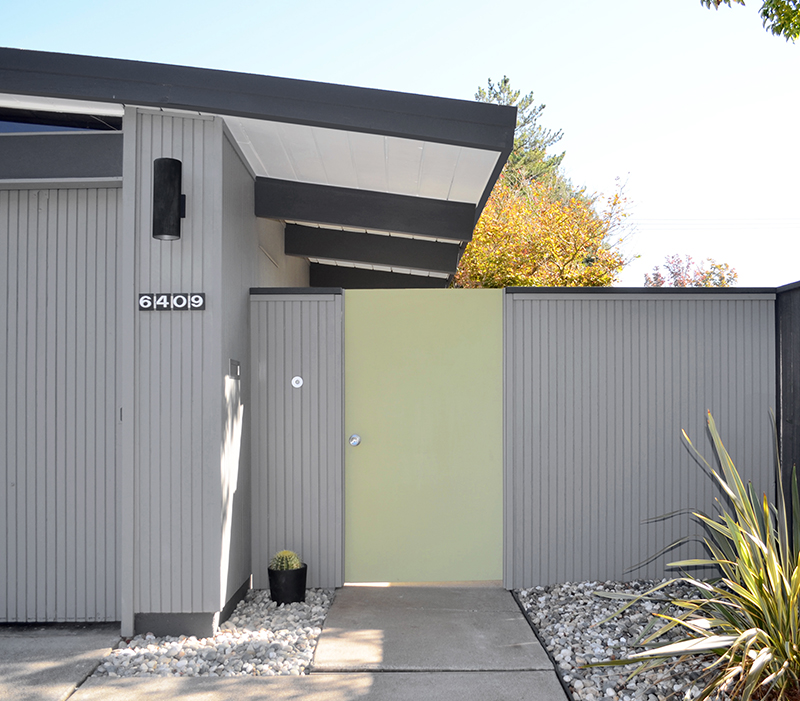 First, we measured the gap: 70″ high, 38.5″ wide. We had two pieces of ply cut to size. We glued and nailed four perimeter wood strips to the first, then attached L-brackets at each corner. We added cross braces, and a solid block to house door hardware. All went well, but it didn't look like a door yet.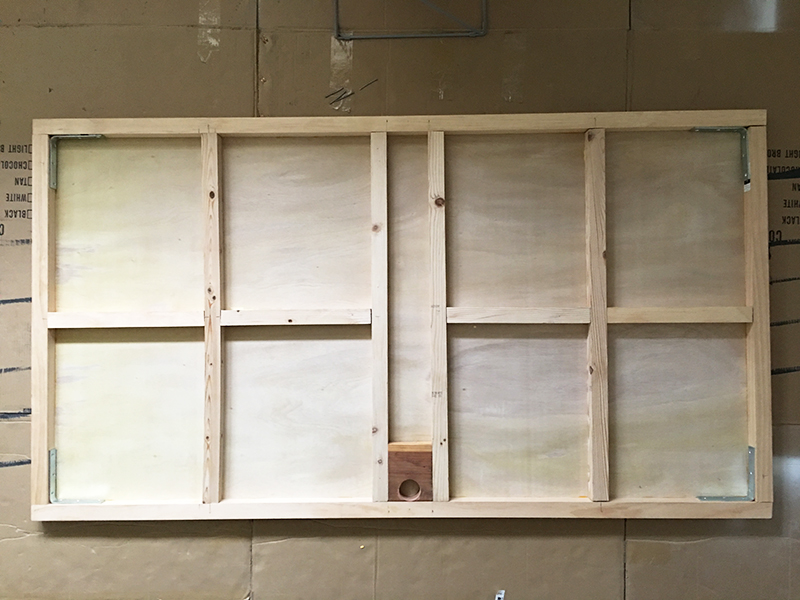 We added the second sheet of ply, and drilled holes for hardware. Now it looked like a door. We used our fourth bedroom for this –conveniently empty, pending 'music room' transformation. Karen caulked and painted the door, while I…failed to take any progress pics. This naked door shot will have to do.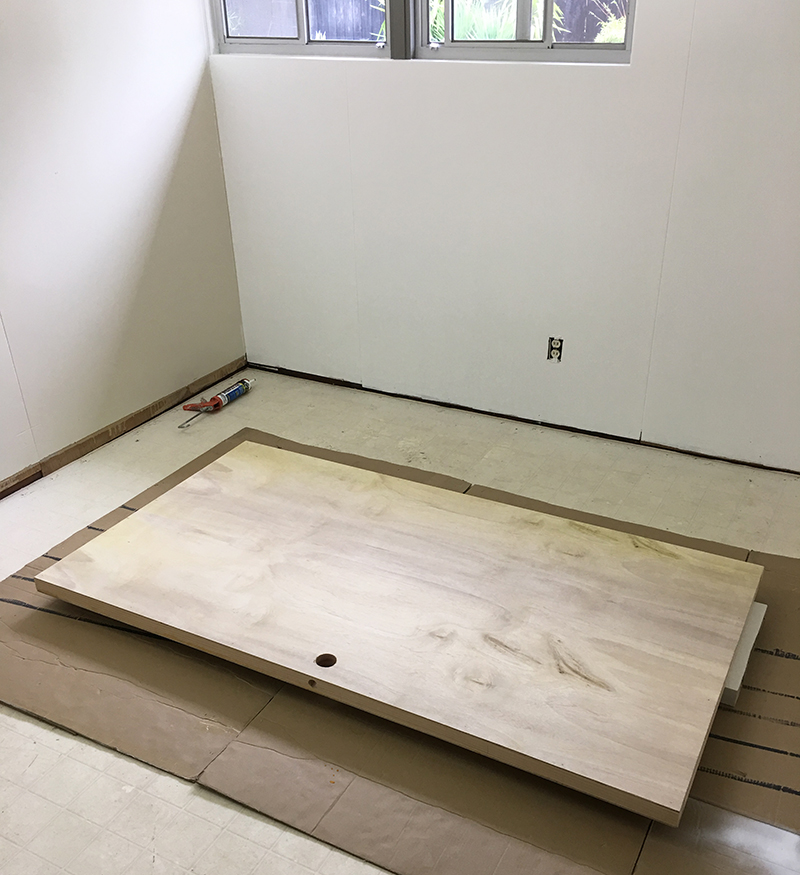 We mortised/added three black hinges, as per our color scheme throughout. I wish we'd bought new hinges for our other doors, rather than spray-paint them all. But we rarely take the easy route. More fun that way.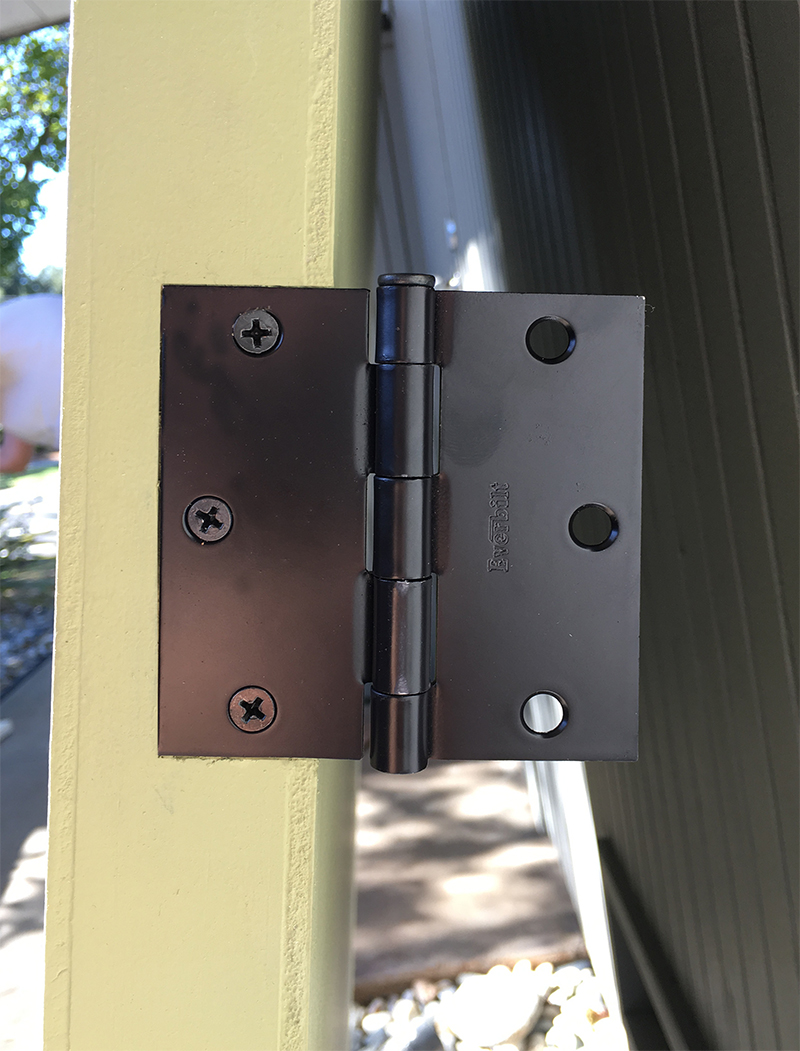 This door will be mostly covered by our roof overhang, but will get some rain. And it has already. We figured protection wouldn't hurt, so added a strip of flashing on top, then painted it to match the door. This is the same muted green as our main front door and panels –Behr's Fresh Olive.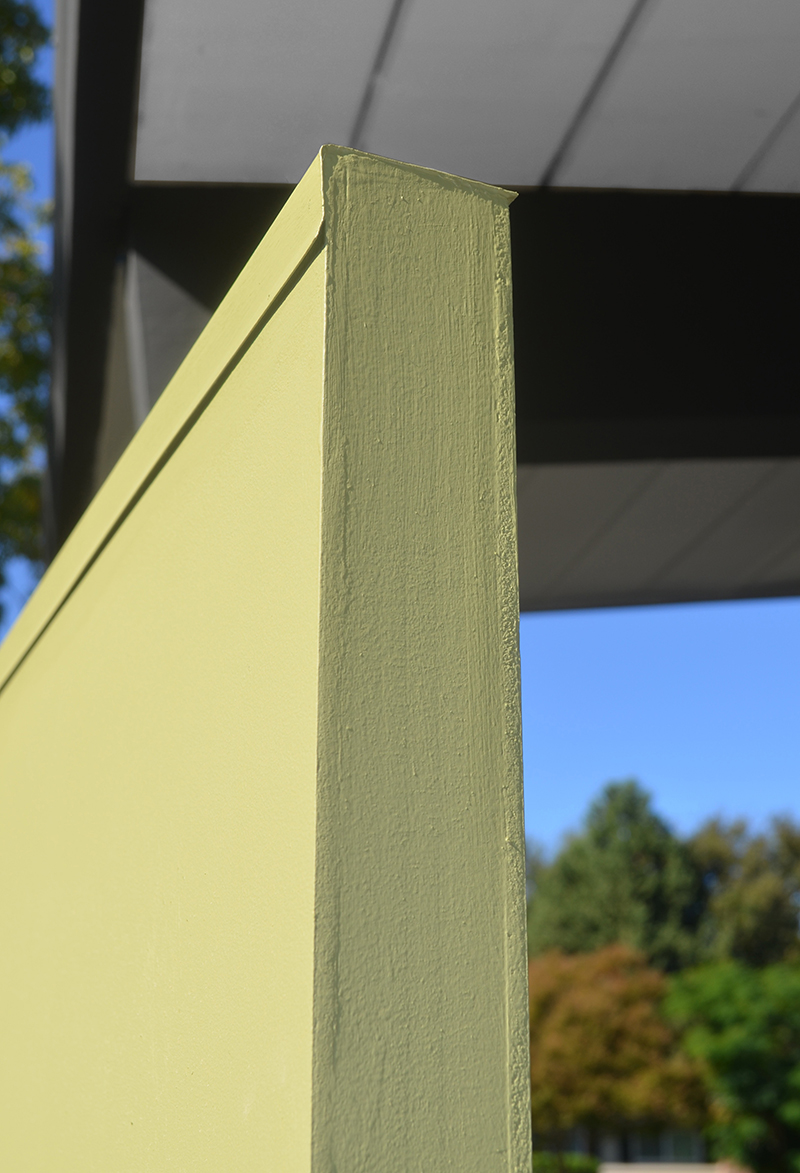 The drip edge is on the back of the door (courtyard side) so the flashing isn't noticeable from the street.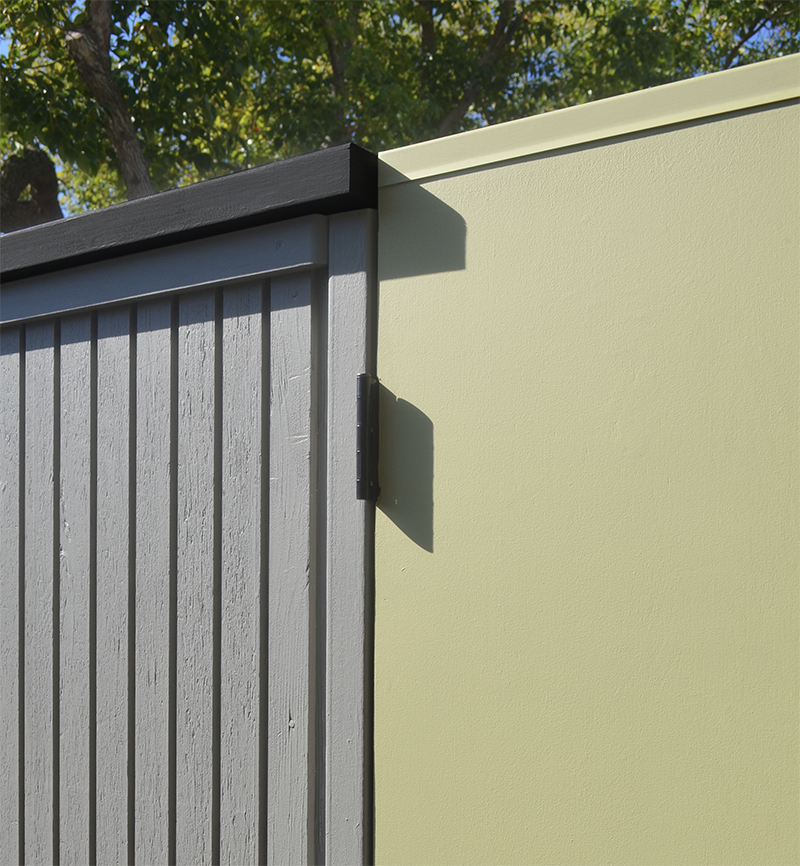 We made the door flush with the top of the fence. When we added the door jamb, we realized the mid-gray would join/contrast the charcoal top trim. We weren't sure this would look right, but it's fine. We think.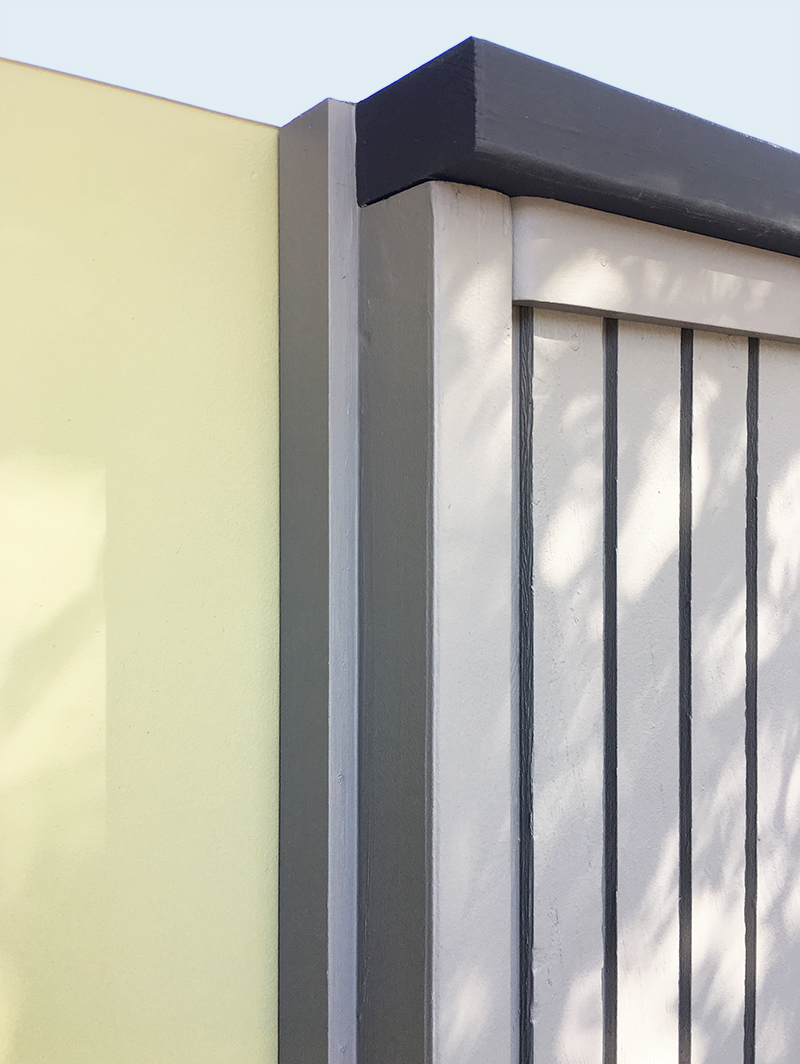 We used the same Schlage Bell hardware as our other doors. We considered installing a replica Eichler escutcheon, with roll-out elsewhere. We even consulted our friend (and Eichler door whisperer) on our options –thanks for the input Hunter! Ultimately, we stuck with what we knew.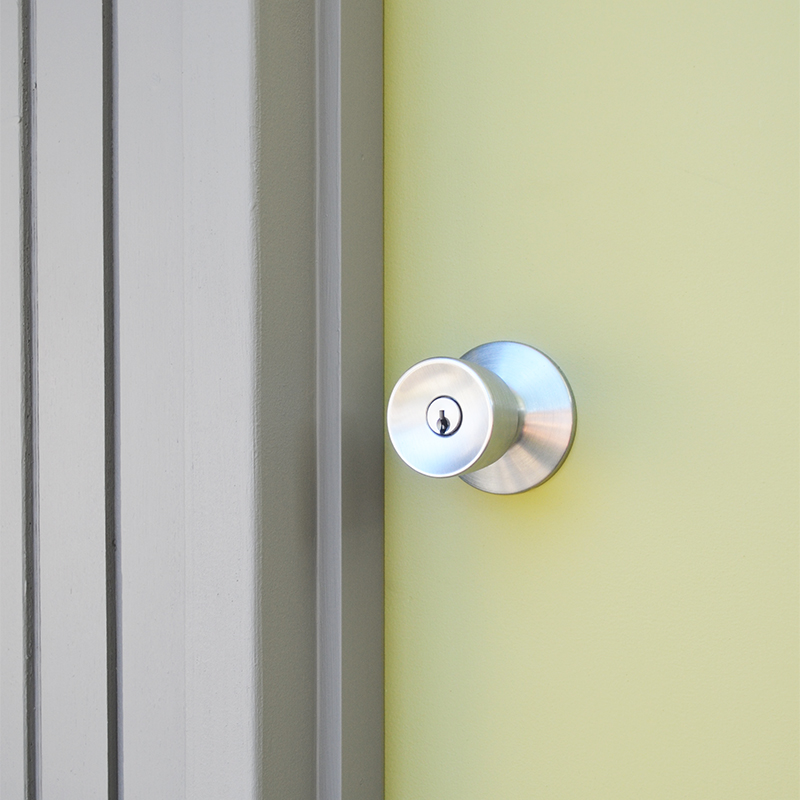 The result may not be 100% Eichler authentic (and a 5-inch backset would look cooler) but it's fittingly MCM, matches everything else we have, didn't cost a fortune, and looks pretty –good enough, right?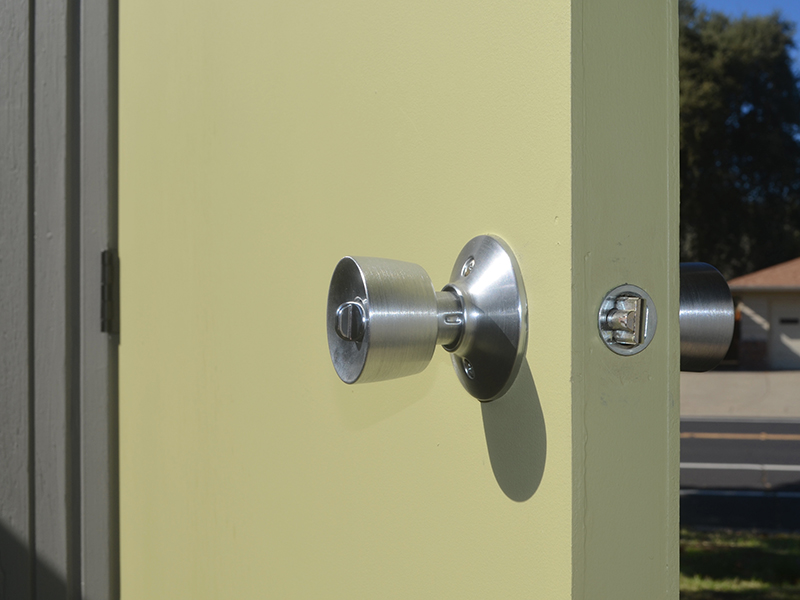 The door does look wide, but in a good way…we hope. Long-term readers may recognize the perpetrator of this two-pronged foreground attack. Yep, that's Russell, planted here about 18 months back. He's a big boy now (see pic #1). Our other (way pricklier) meeter-greeter was drafted in from our patio.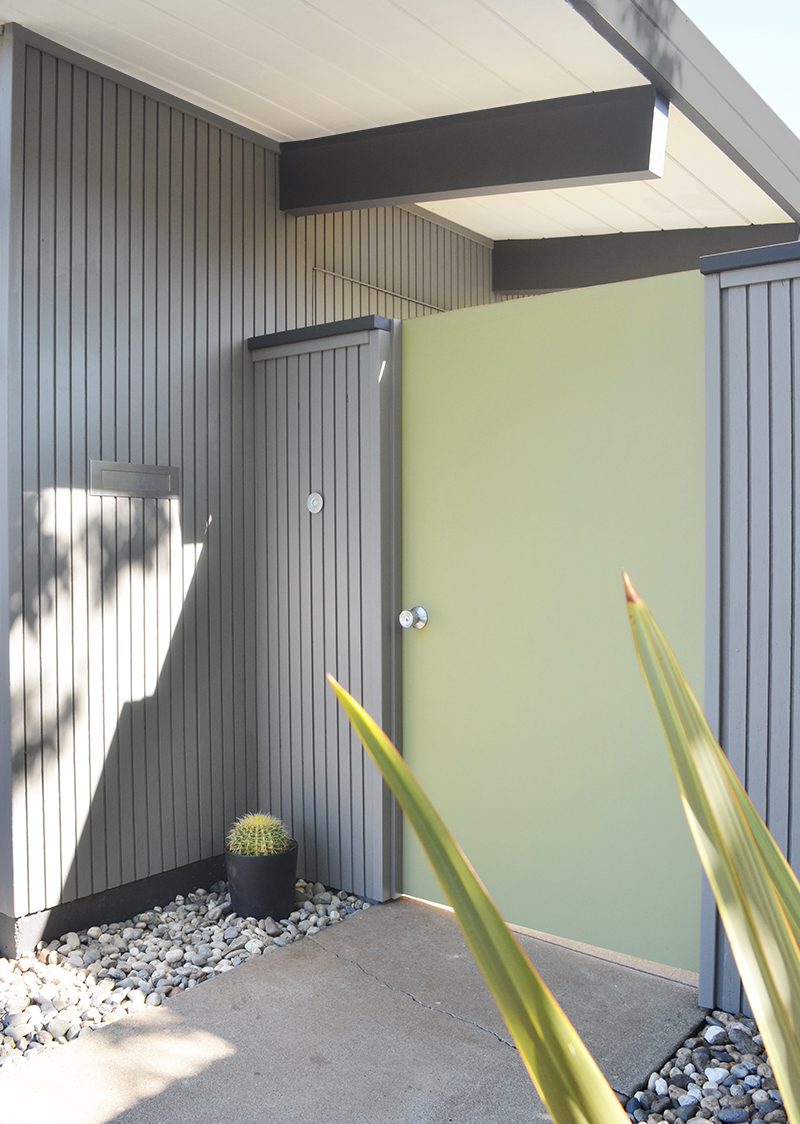 Here's the other side. We should do something more interesting with this entry. And we will. For now, we're enjoying the neatness. And we love how this new door marks the start of our private space. We do need some evening light here, so will add a wall-mounted globe, on the right, when we sort the garage.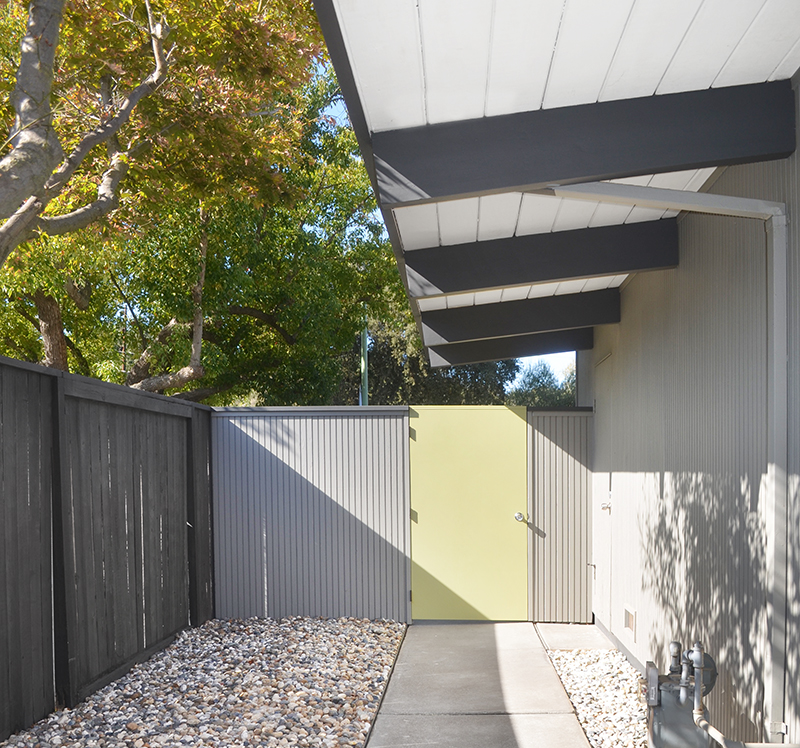 We now have an enclosed courtyard –the closest we'll get to an atrium, with our model. When we'd finished the door, we sat for a celebratory beer –likely the last here 'til spring, thanks to the early onset of winter weather. Still, looks nice. The door-side golden barrel was also snagged from our patio. We do need something for our giant CB2 planter, now in the opposite corner.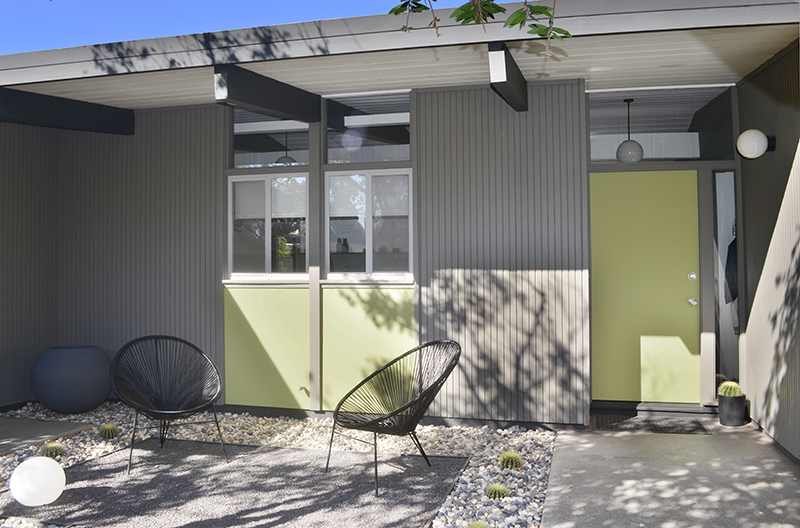 We installed this privacy film nearly three years ago, and it made sense then. With the new door, we don't need it, so took great pleasure peeling it off. We're still adjusting to the new view, as is Fog –he was very curious, so we let him investigate the new (cat-friendly) enclosed courtyard. Cool you can now see the wall-mounted globe through here…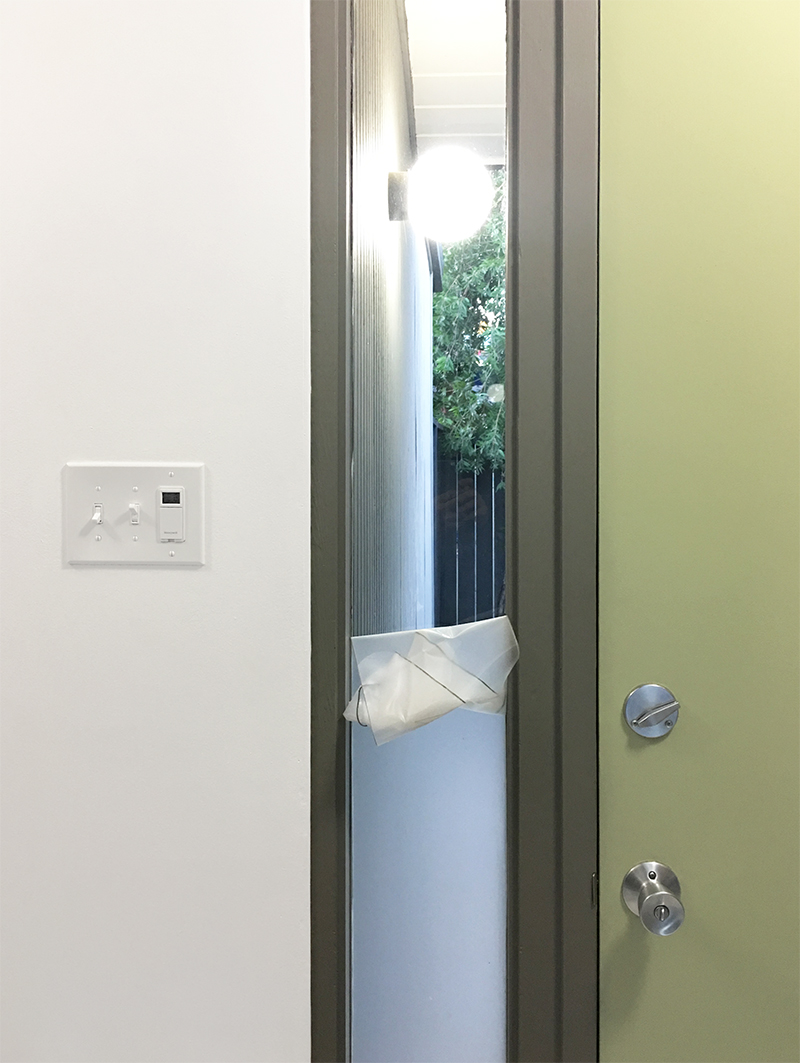 …and also the wall of siding, extending outside. We're convinced our model has the longest stretch of continuous indoor-outdoor siding, running from beyond the front door, back through our living space, through the glass, and to where our master sliders begin –about 46 feet (I measured). Anyway, and more importantly, losing the privacy film improves one of our (already) favorite views.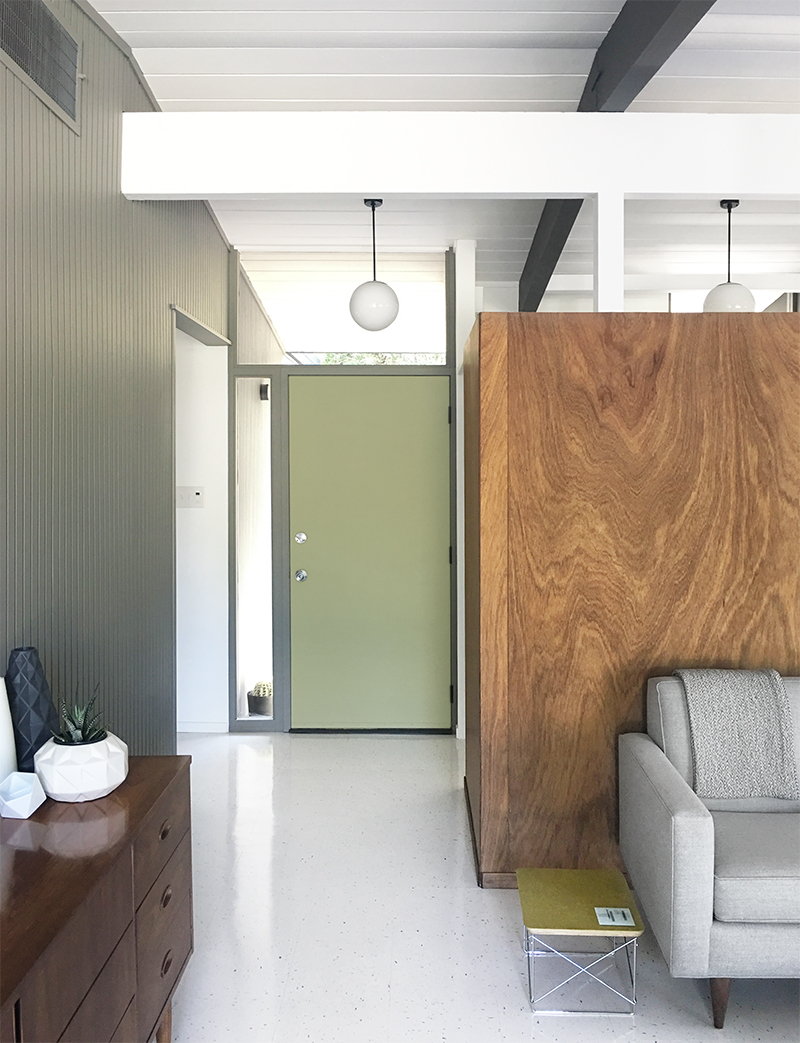 And that concludes our most extensively teased, thoroughly planned, and laboriously executed project. Luckily, it worked out great. We're juggling a couple of other jobs right now, along with an increasingly hectic (for us) social schedule. More on everything when we come up for air…
Save
Save
Save
Save
Save
Save
Save
Save
Save
Save
Save