All our neighborhood Eichlers have a cinder-block fireplace –either in standard 16 x 8″ block, or narrow 16 x 4″. Some (like ours, below) also have a matching wall up-front. We inherited all our block in good shape, but some neighbors weren't so lucky.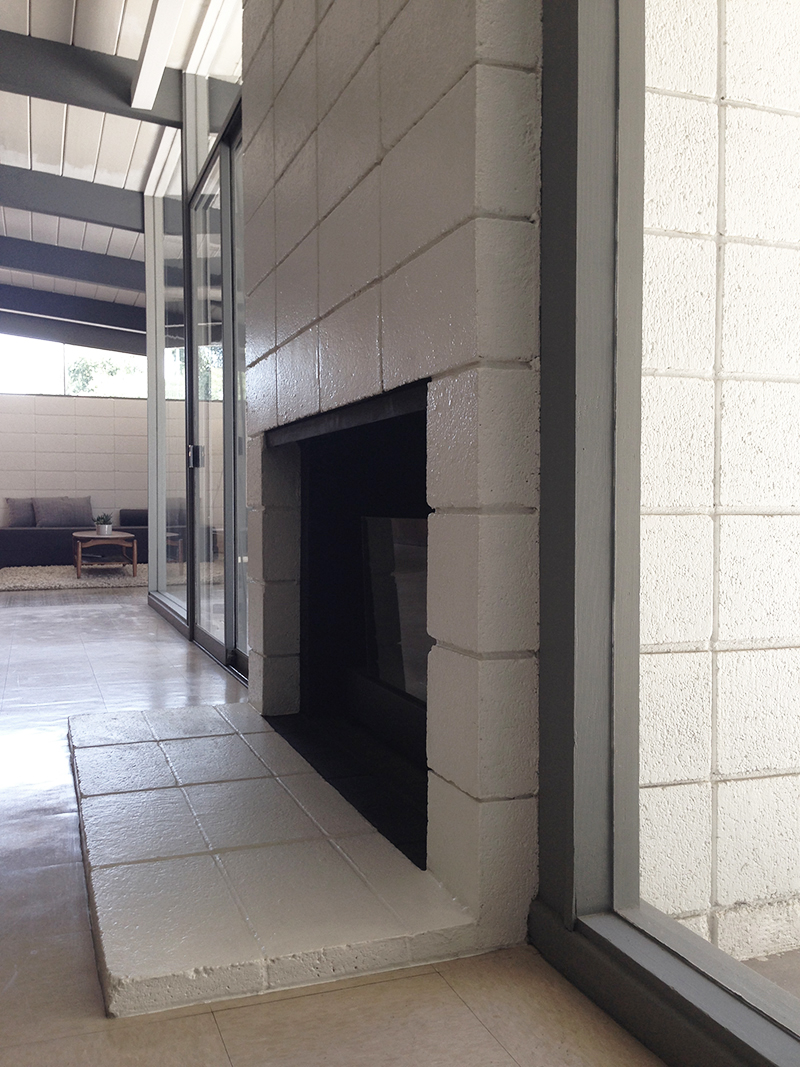 Our good friends, Kelly and G, had this to contend with. The former owner had clad their fireplace in black granite. They didn't know how the tile was attached, or what damage could be caused by removal –so they lived with it, afraid to make things worse.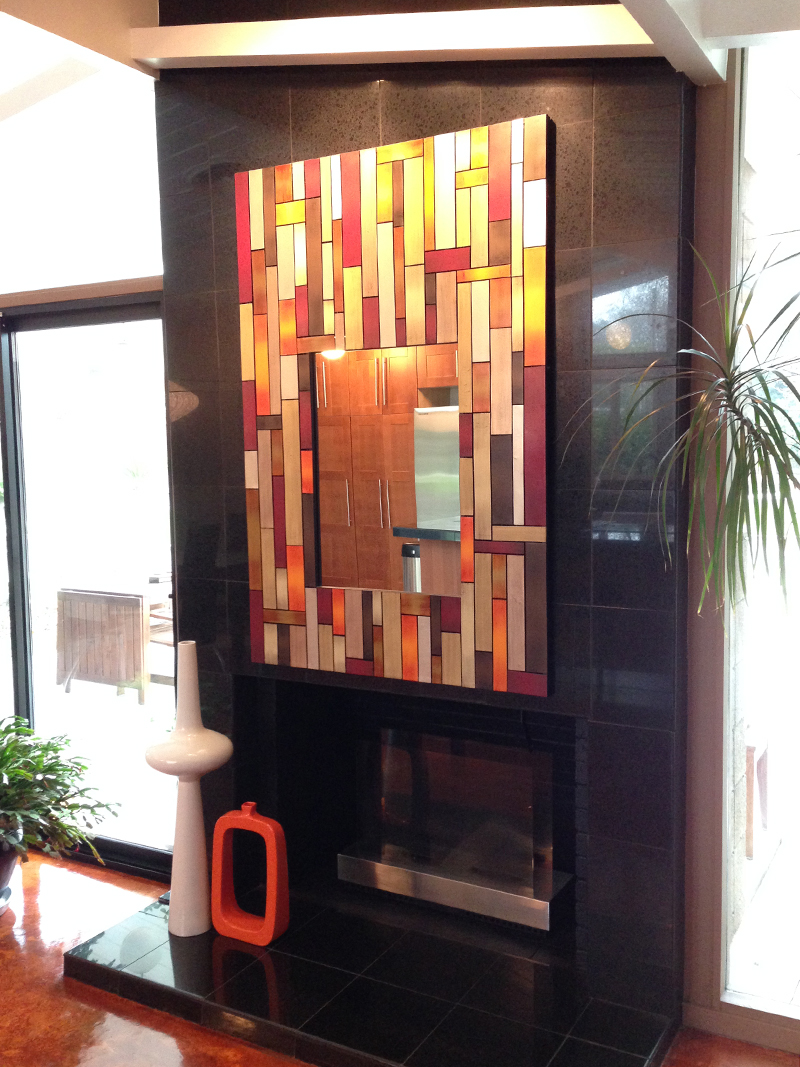 They meticulously finished the rest of their home, but the granite survived. Then we came along. As fellow DIY-ers, we immediately clicked, and they gave us 'the tour'. They clearly wanted rid of the tiles, but needed a push…so we did. After a year, they buckled.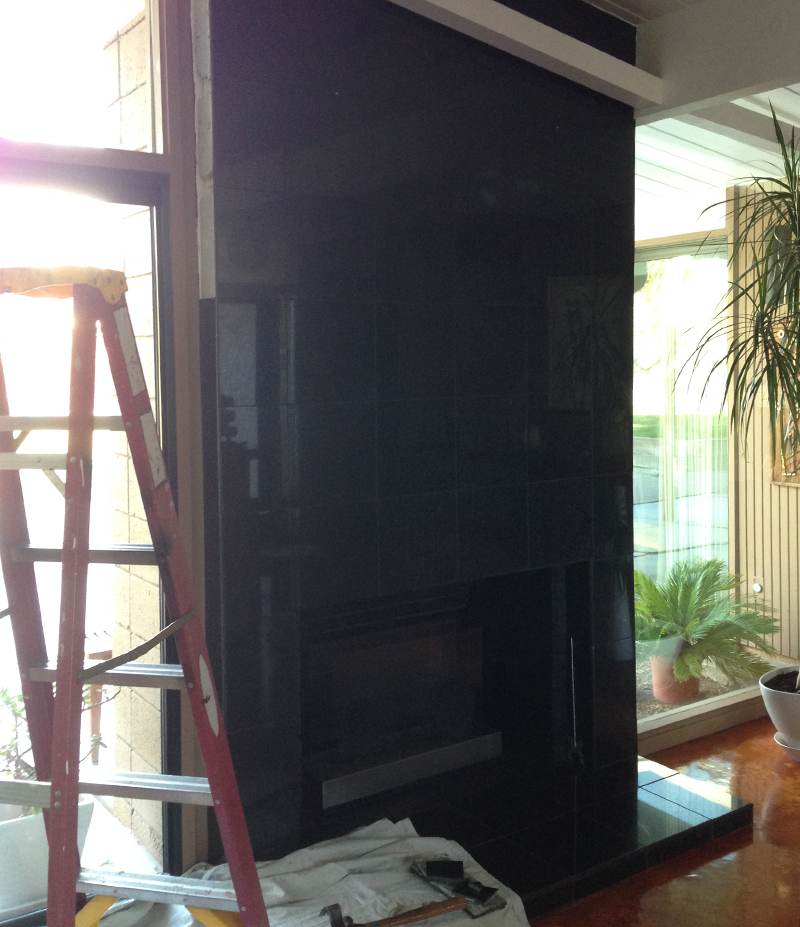 Once the tools came out, we joked they were on their own. They tentatively chipped away at the top edge (above) revealing relatively intact cinder-block. We were all very relieved. From that point, things moved pretty quickly –they removed all the tile, mainly with a hammer and chisel.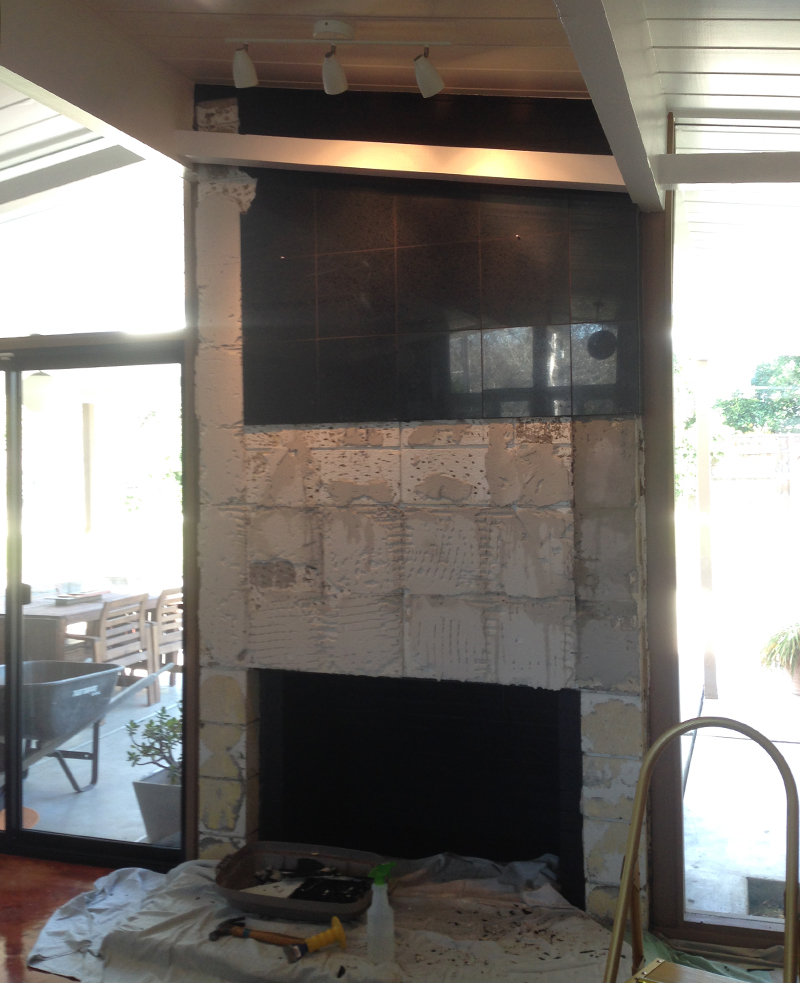 This left a thick layer of adhesive in some areas –to tackle this, they used a jackhammer, with tile-remover attachment. Next, they redefined the lines, using a Dremel multi-tool, with grout attachment. During this messy stage, they (sensibly) tented the area and masked-up.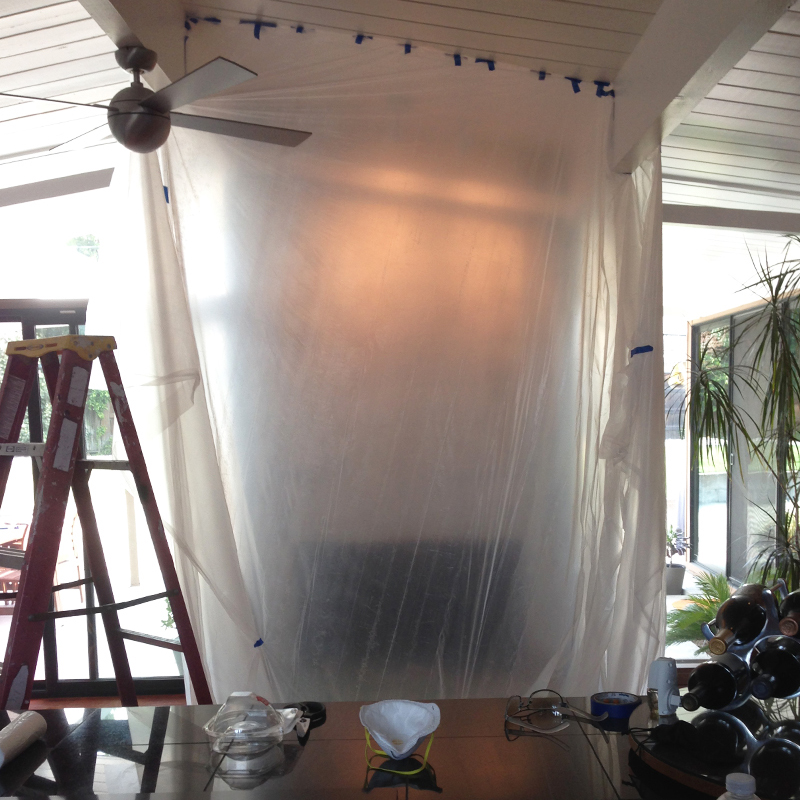 With the tile/adhesive gone and the cinder-block cleaned, you can see what they were left with. Pitting was caused by the former owner, during cladding. They did consider filling, but decided against it –the block is naturally textured, and would look odd if too smooth.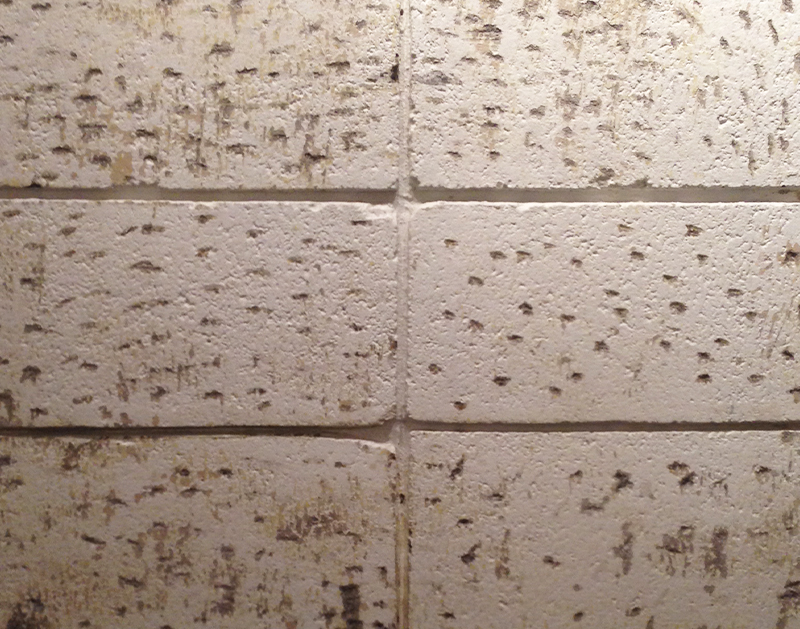 So they painted. After a false start with bold yellow (an antidote to the black they'd lived with) they went with white –a good decision. They painted the front, hearth and exterior portion (visible here). And that was that…save for some discussion on optimum clock placement.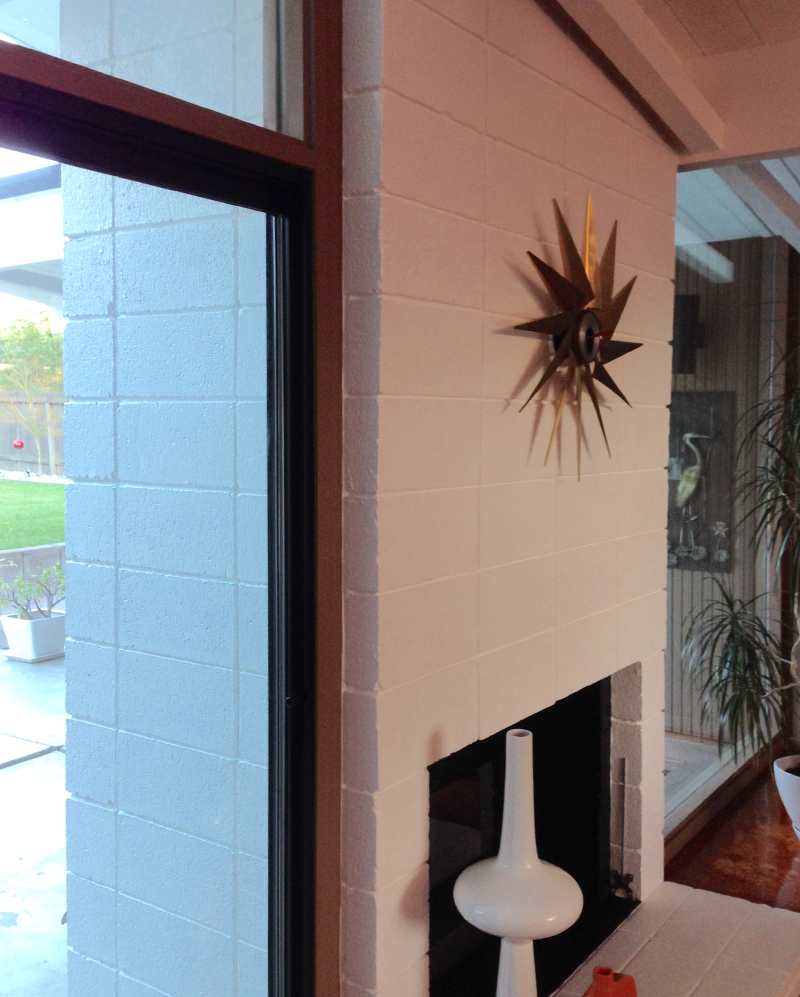 They got that right too. And now their fireplace looks the way it should. I've summarized the steps, but this was a BIG project. And the guys tackled it with their trademark care and eye for detail –if you saw the rest of their house, you'd appreciate what I mean.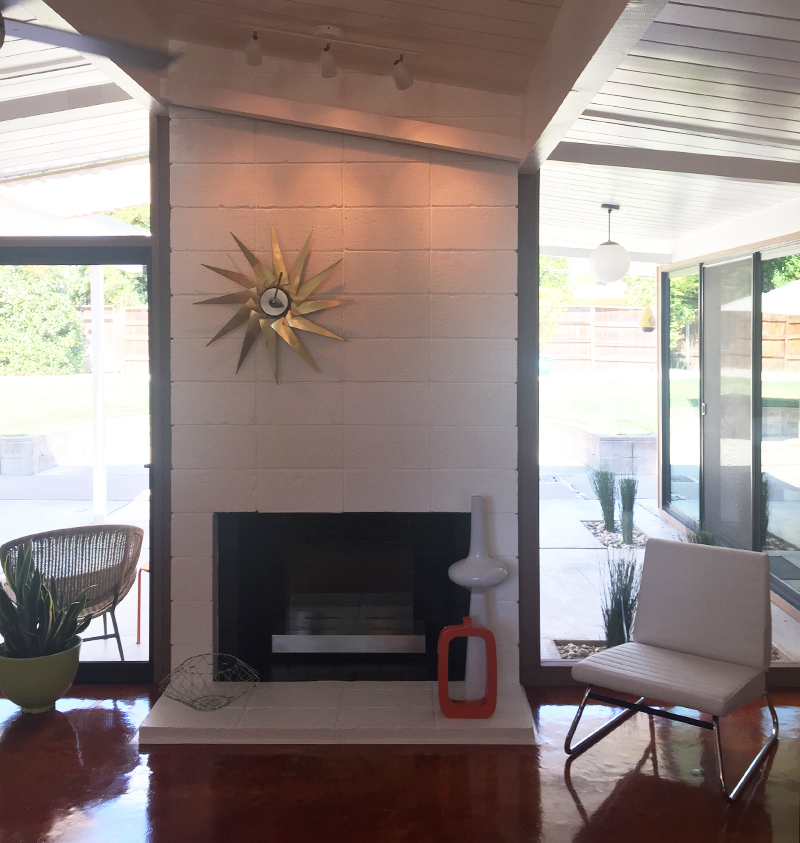 It's a cool model too, with some differences to ours –check the extended patio overhang, with globe lights. And this home is rotated 90º (compared to ours) so the pitch peaks above the fireplace. I could geek-out about the subtle differences. But I won't. Maybe I'll post a house tour down the line.
Save