Two years ago, we awoke in our Eichler for the first time. As I explained this time last year, we hadn't been inside (or even to Sacramento) before getting the keys, so this was surreal. Until then, we'd just obsessed over videos and pictures, shot by our superstar realtor, Thomas Westfall.
Naturally, our 'Eichlerversary' is a time to reflect, and remind ourselves (and you) how far we've come. I snapped all the 'afters' today, starting up-front. The lawn is way worse, clearly, but we're happy with the rest. Still can't believe we painted the entire exterior.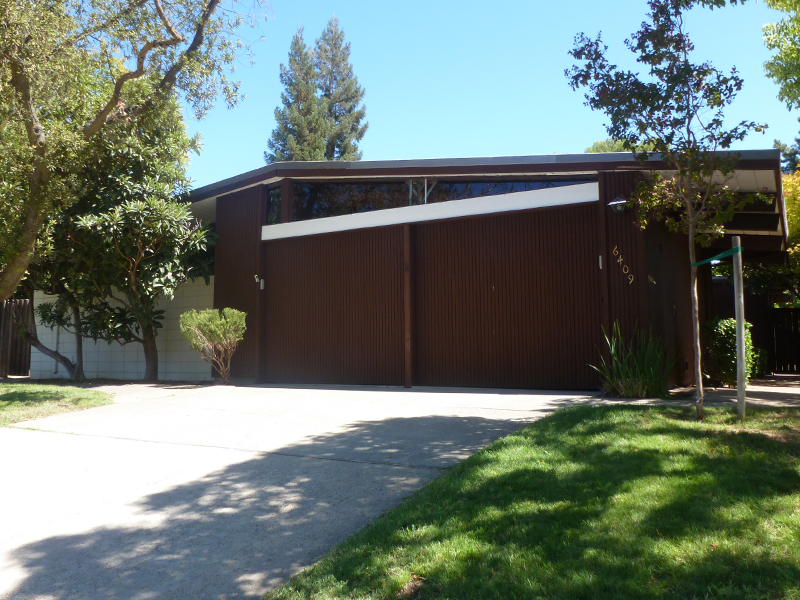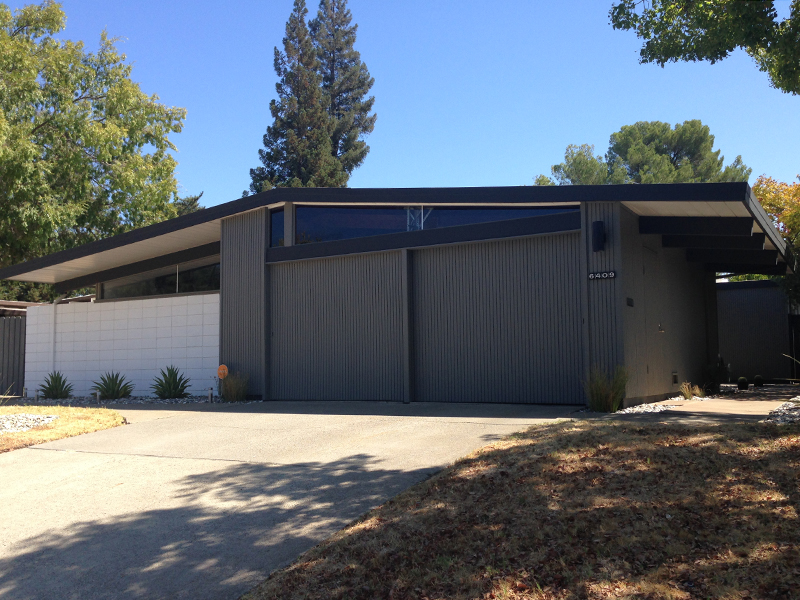 This gold number and letter plate didn't quite fit, so we took great pleasure in removing them. We'd optimistically bought our Eichler number way before closing, so couldn't wait to get this up. We sourced the stainless steel letter plate from England –'cheap as chips', as we say.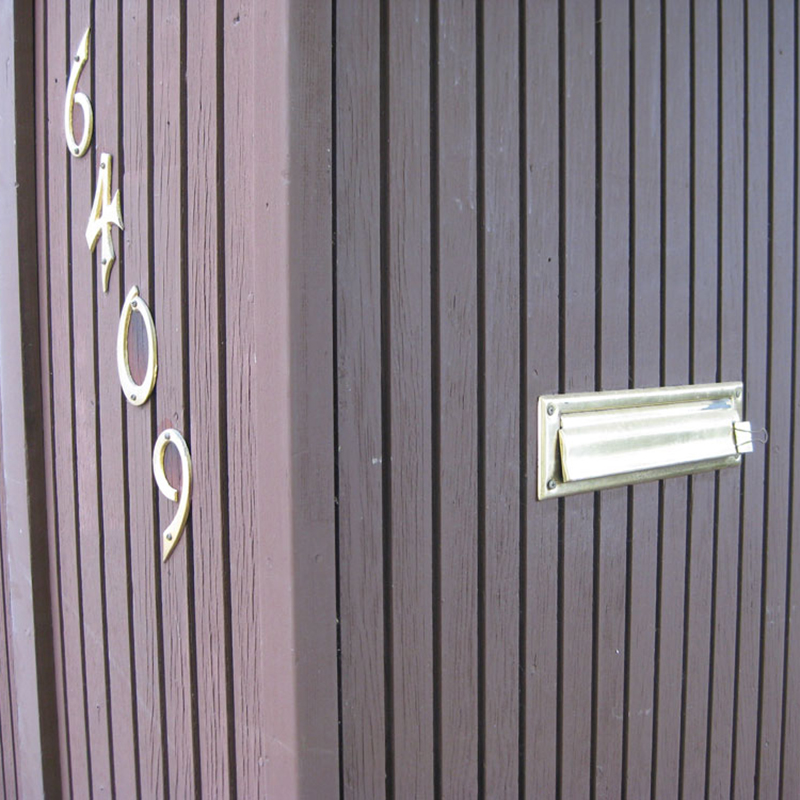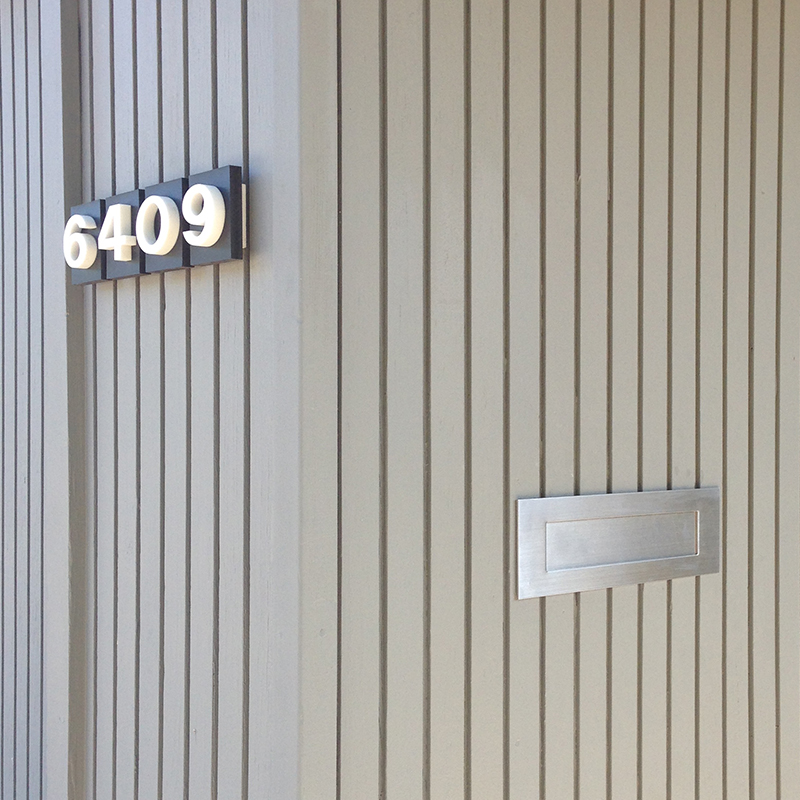 Our entrance courtyard had plenty going on. We swapped brown/orange for gray/lime, as we'd always planned. We re-housed the bird of paradise and umbrella plants (no idea what they're actually called), removed everything else, and put down rock. No firm plans here, but neat enough for now.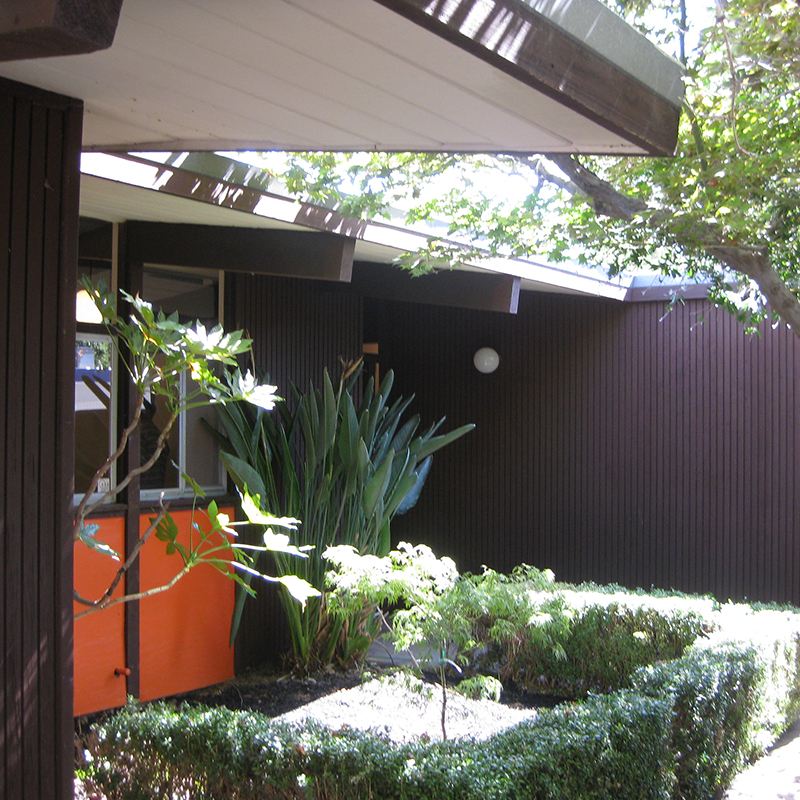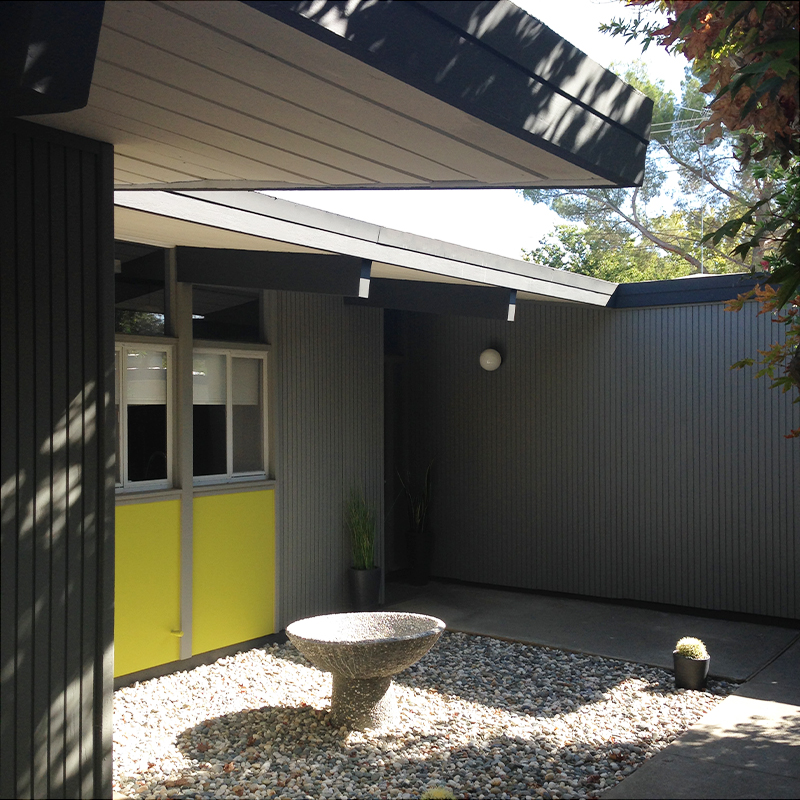 Inside, seemingly every surface had been spray-painted white, save for the orange accent door and a few matching walls. Oh, and the siding wall had been stained glossy ebony. We painted the door, siding, beams and trim, removed the bookcase, and restored the mahogany paneling.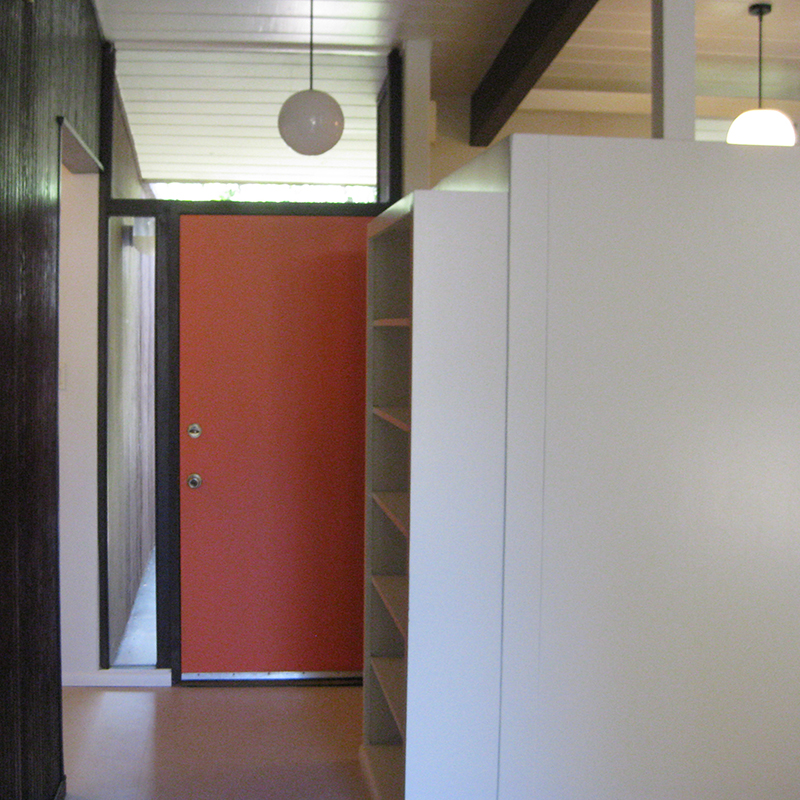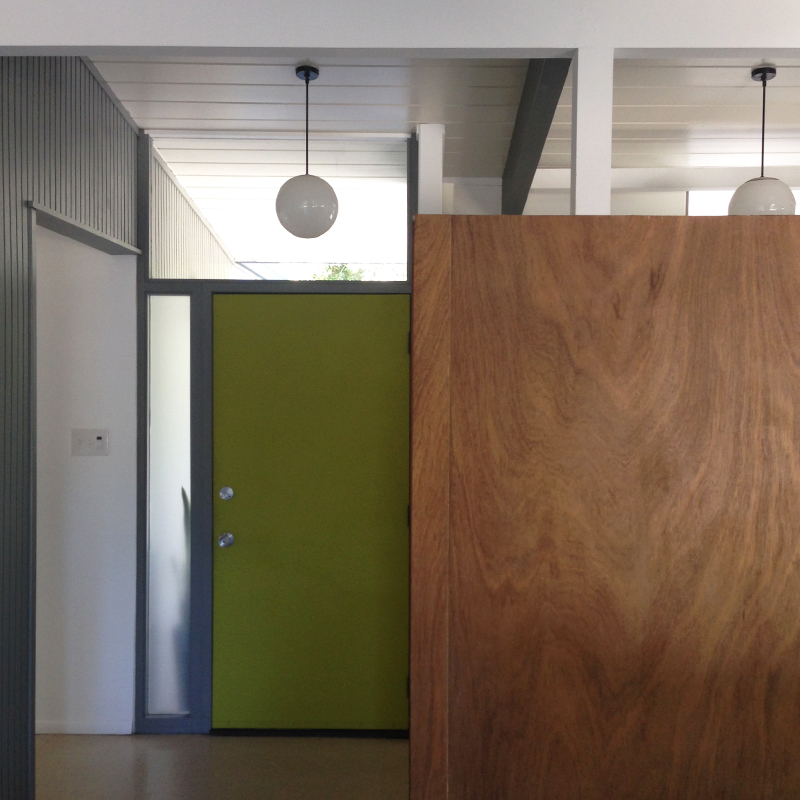 An early kitchen view from the hall. The orange wall was too much for us, so we painted it white, and the door (to our garage) gray. The beams also went from brown to gray, though they don't look vastly different here. Oh, and we uncovered/restored wood paneling behind the bookcase.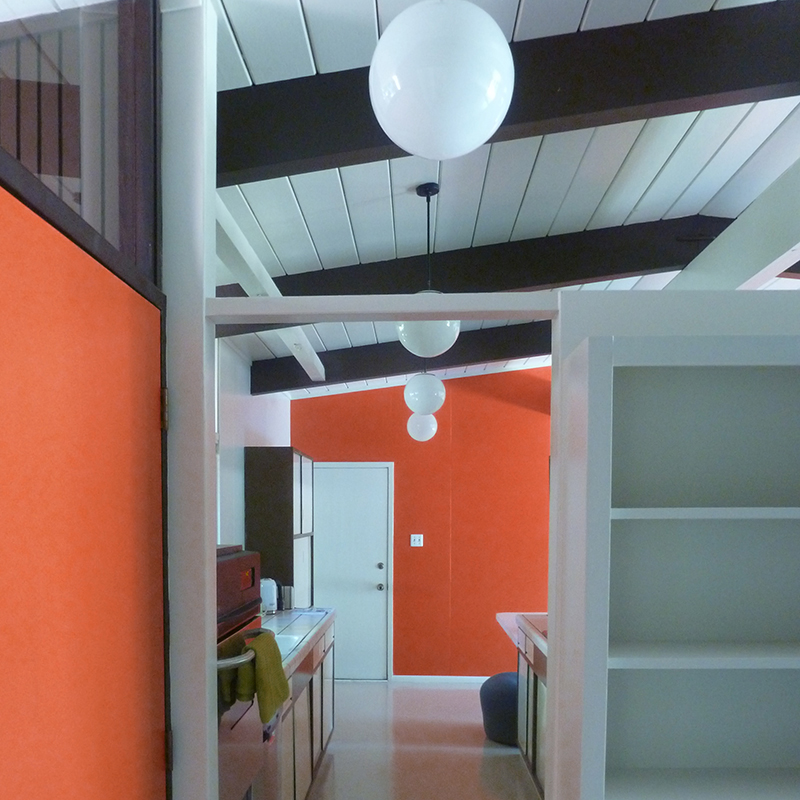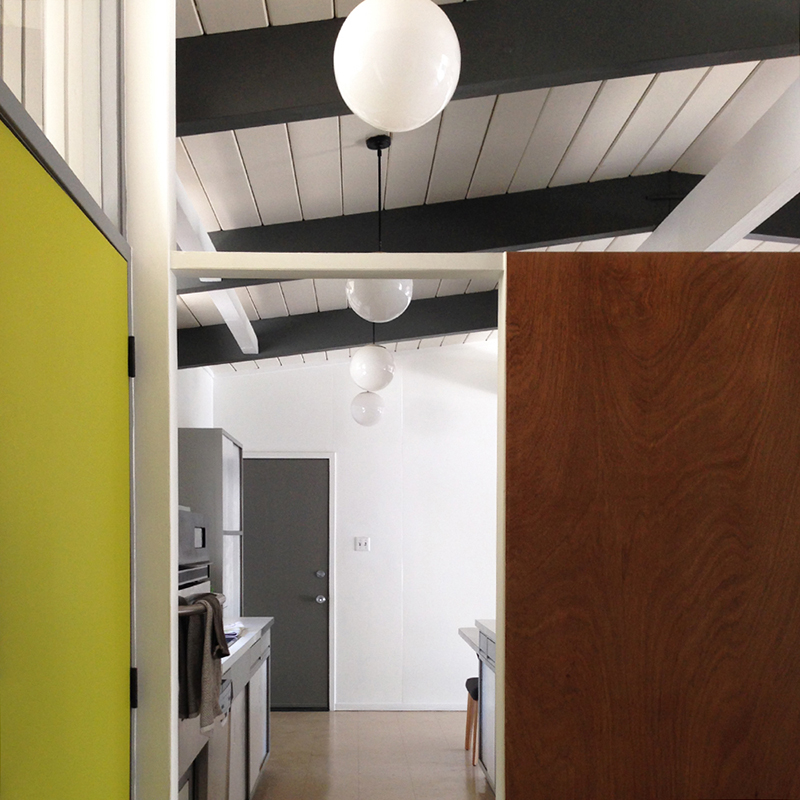 Here's the opposite view, showing our tiled kitchen, in all its glory. We removed those (with some difficulty) and added laminate tops. We also replaced the painted(!) sink and faucet. We painted all the cabinets and walls, plus the walls/door in the distance. We'll upgrade appliances down the line.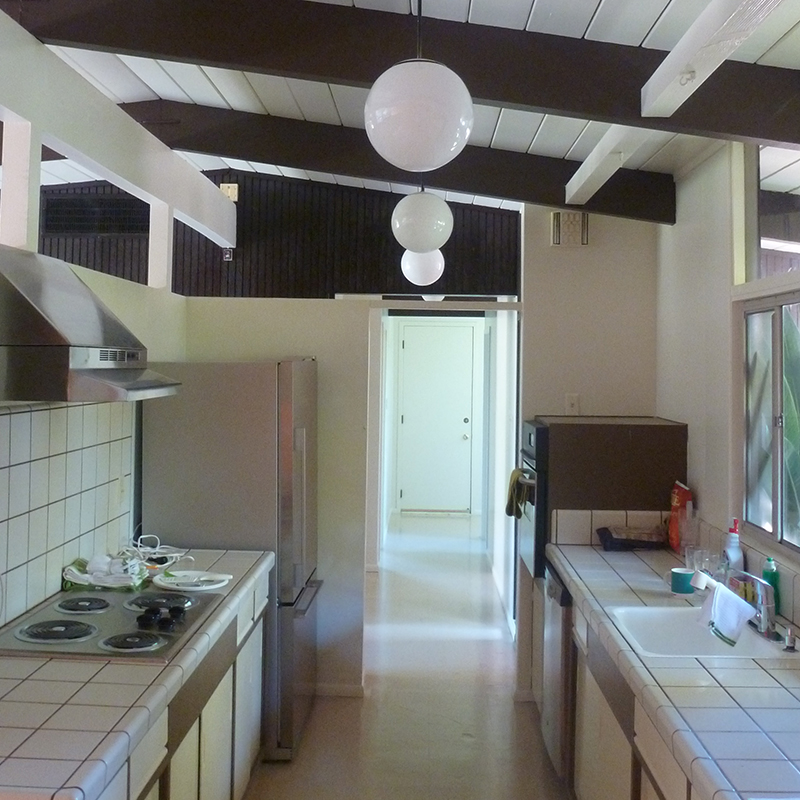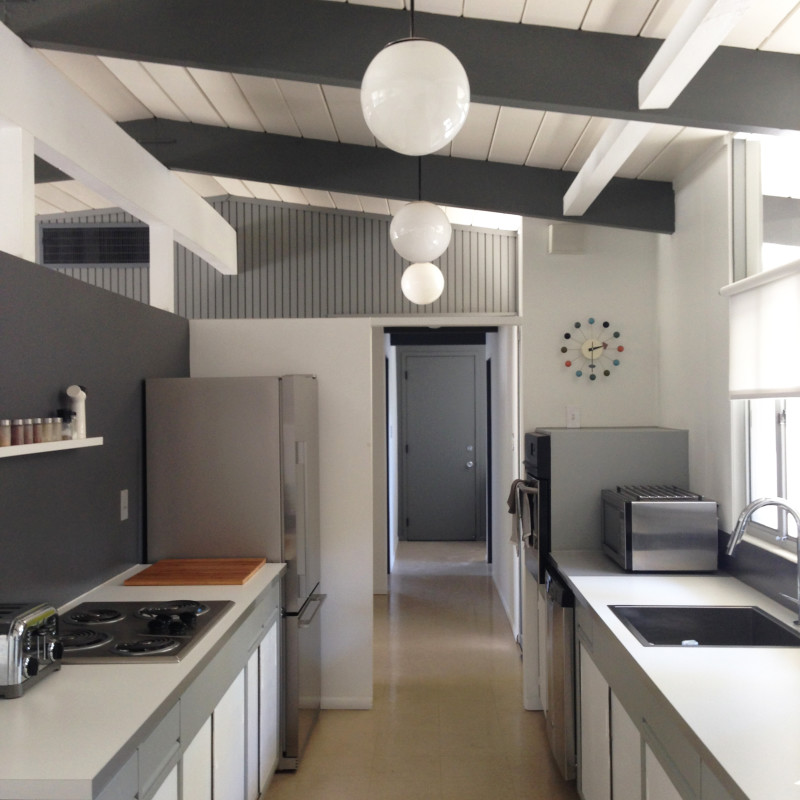 More orange in our 'all-purpose room' –actually, this wall was an even deeper, reddish shade. It's also the first wall we restored to wood. You'll notice the external siding is now gray. We also repainted the cinder-block, beams, trim and ceiling, and added a window blind for privacy to the street.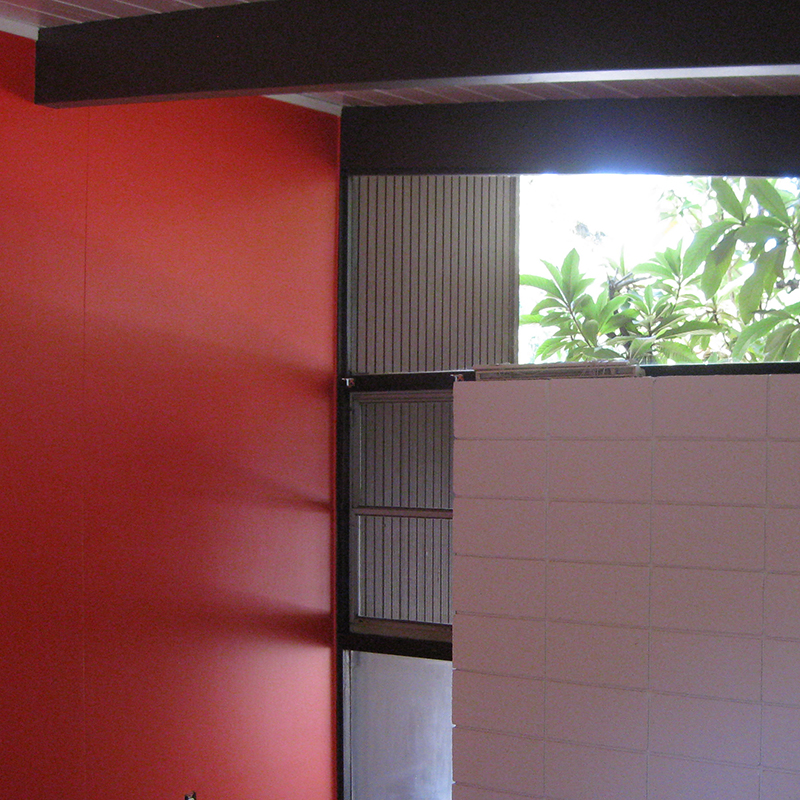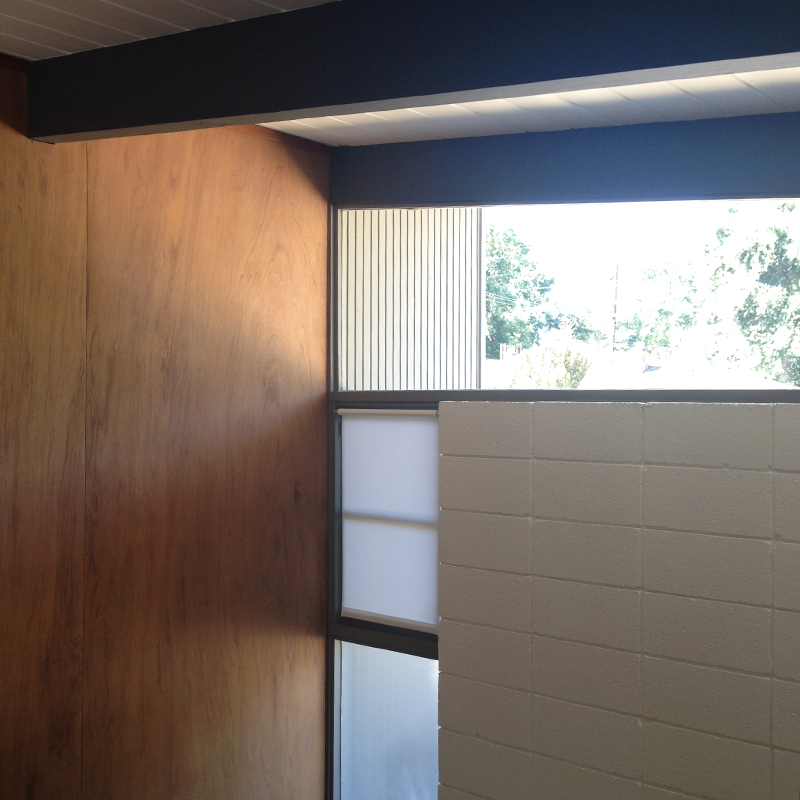 We've done plenty more in here, but it's not finished yet, so I wouldn't be doing it justice. One room that is done, our office. This is the largest bedroom after our master, so made most sense to work in. We installed shelving and a desktop, and lots of other stuff. Looks a little better, I hope you'll agree.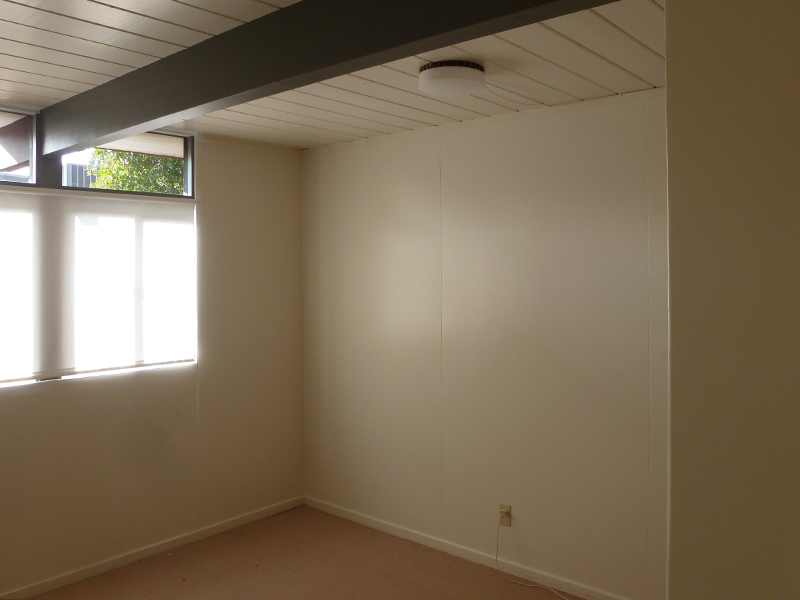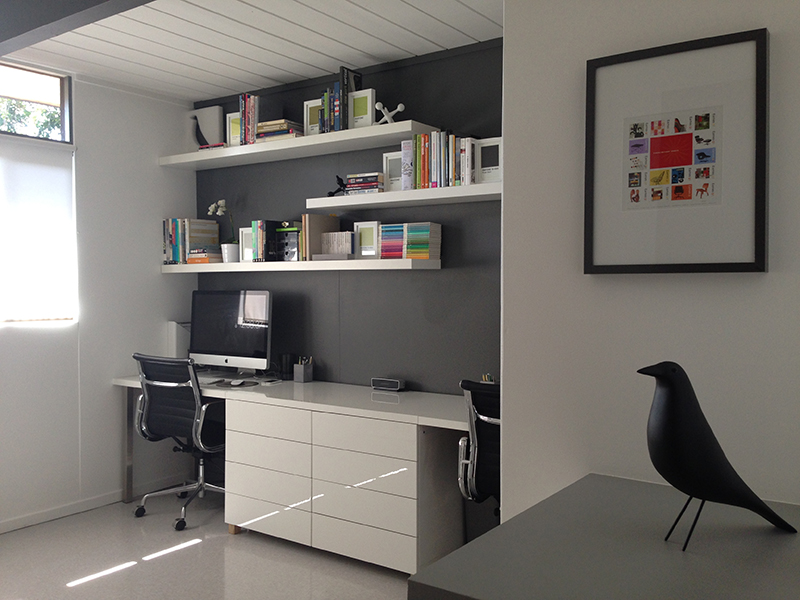 I don't have a great 'before' for our master, but this should give you an idea –all cream, with beige carpet. We restored a wood wall, added lighting, and painted. We also installed VCT, though we'll be redoing everything throughout…soon. Oh, and we lost the outdoor(!) curtains, in favor of a solar shade.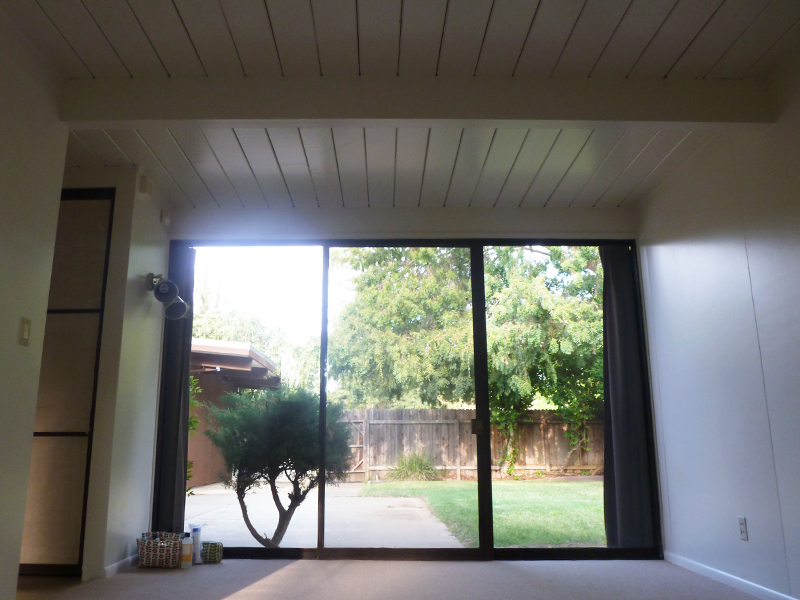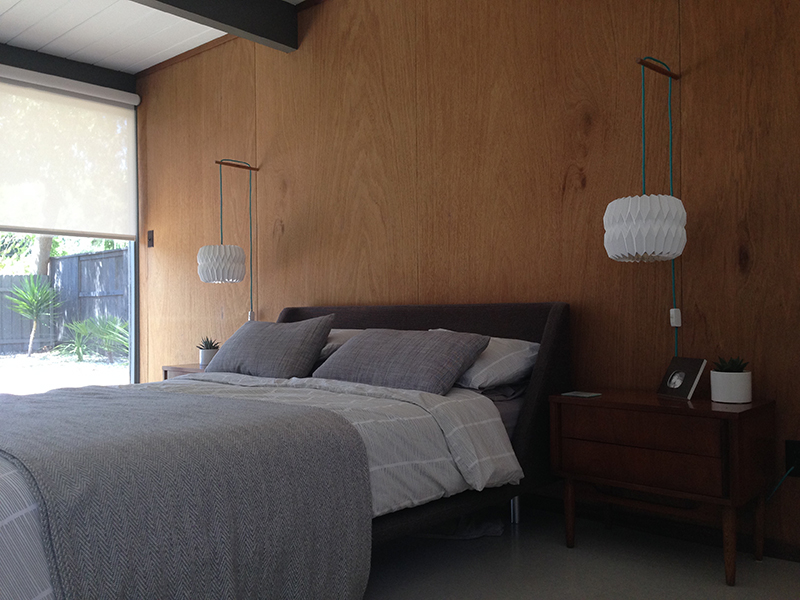 Perhaps the saddest 'before', featuring a neglected sofa –thankfully gone when we arrived. We made that spot our dining area, adding a wall-mounted globe light. We painted the siding, beams and cinder-block, and installed a rain chain, greenery, and furniture.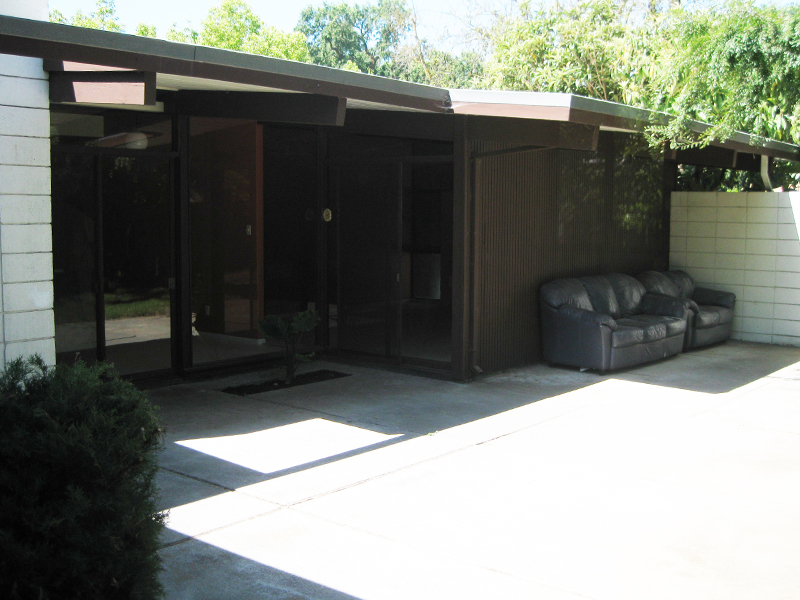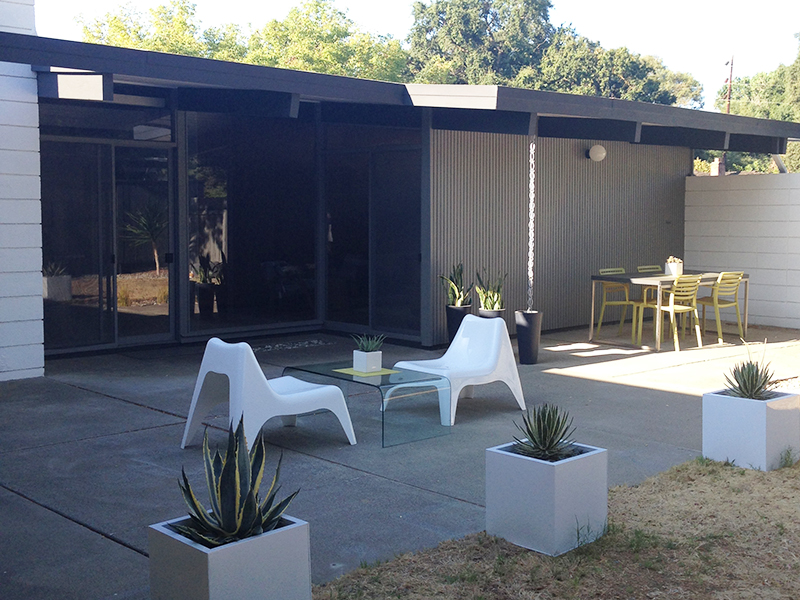 I could share many more before and after pics, and mention much more we've done, but you get the idea. Conspicuous by their absence, our main living area, and (much-neglected) back yard –those are two areas in-progress right now, so I'm saving the 'before' pics. I'll catch you up on all that over the coming weeks.