I recently shared this lounge chair on Instagram –a local Craigslist find, which has clearly seen better days. But for $30 (yeah, you heard right) I wasn't turning it down. I enlisted the help of our friend, Andy, who has a bigger car than us (not difficult) to pick it up –turns out this chair would have squeezed into the Cooper. Anyway, here it is…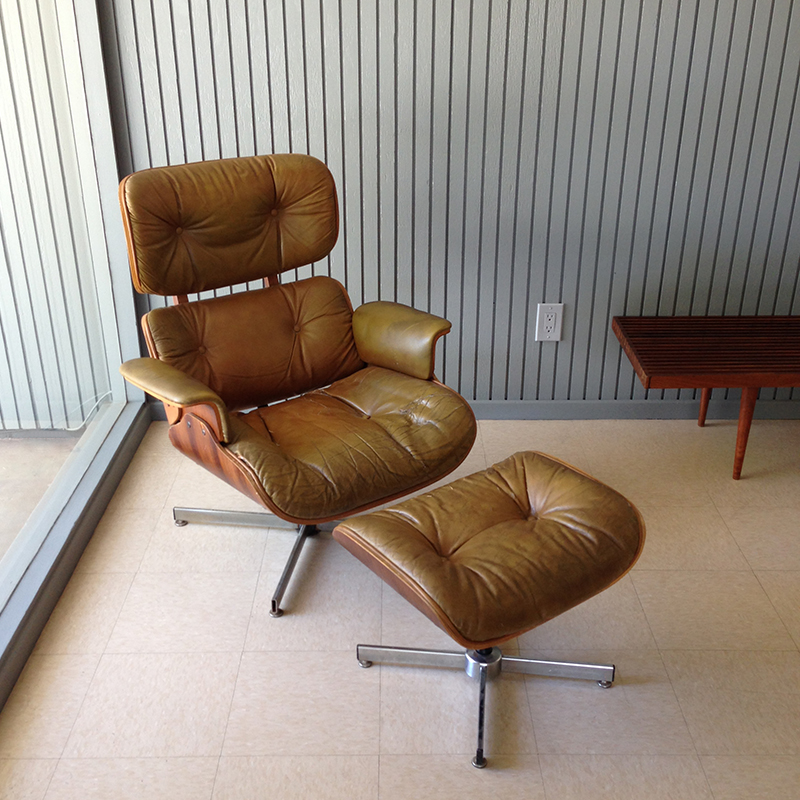 Looks okay here, but the leather was done for. It also squeaked if you stared at it too long. But the wood was in great shape. I knew this wasn't an original Eames Lounge, so obviously Plycraft or Selig –these names are used interchangeably in ads, and I couldn't find a chair sharing every characteristic, so I wasn't sure which.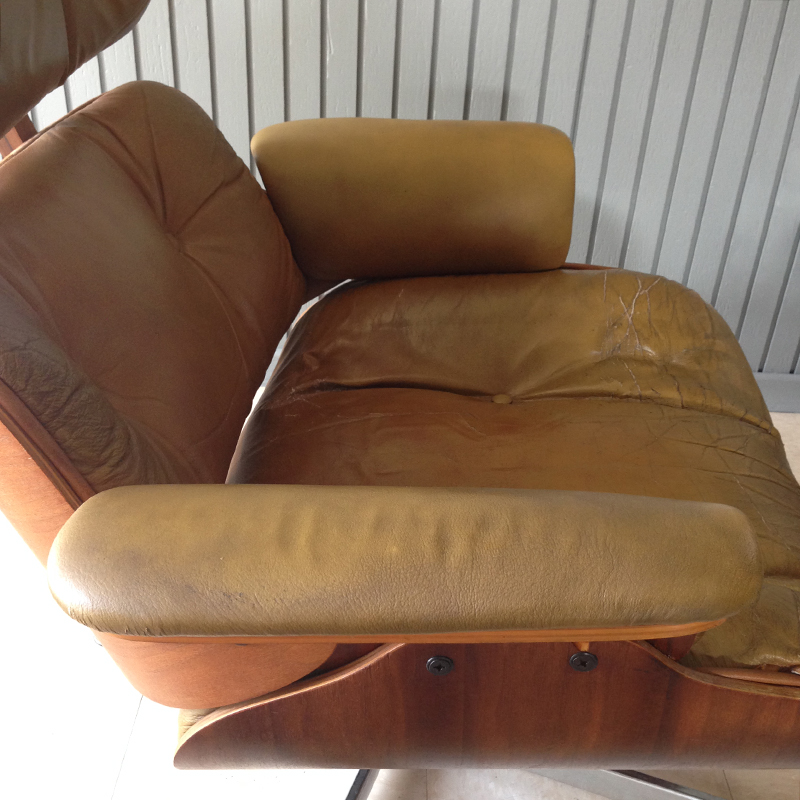 I've seen a few Plycraft chairs before, but this one seemed different –the arms are curved over, not flat, like those I'd seen. And the rear cushion connectors (for want of a better descriptor) are wood, not metal. But the legs are the same hollow chromed steel I was familiar with. Speaking of the base, that carried the only marking.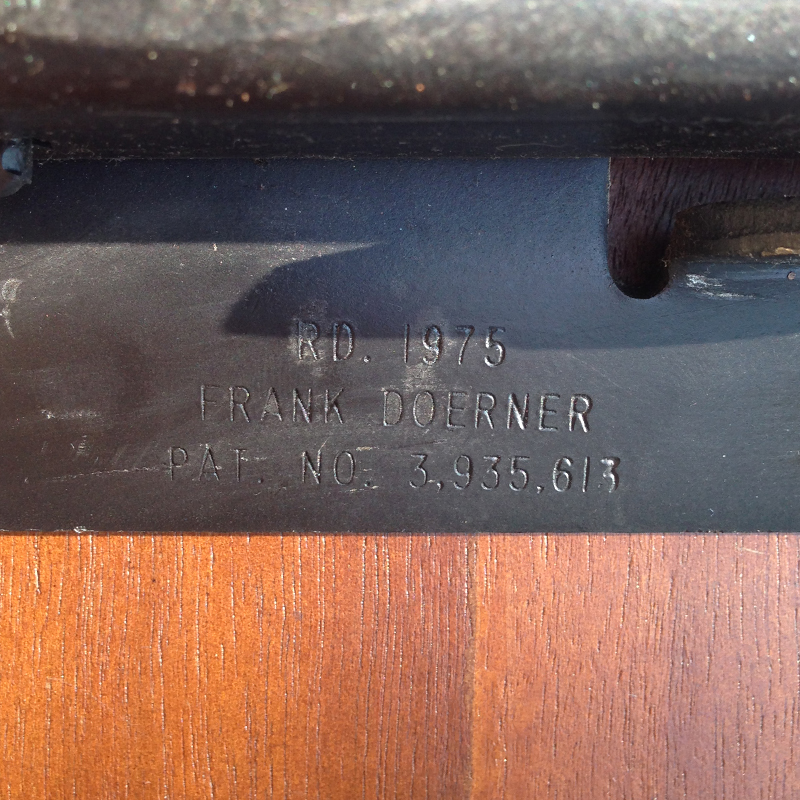 So, this is a Frank Doerner base, made in 1975, to a patent registered almost ten years before. And here is that patent –well, the pictures. The base is cool, actually (apart from the squeak) and permits a standard office chair swivel, plus a full recline –this, in conjunction with the ottoman, allows a very comfortable seating position.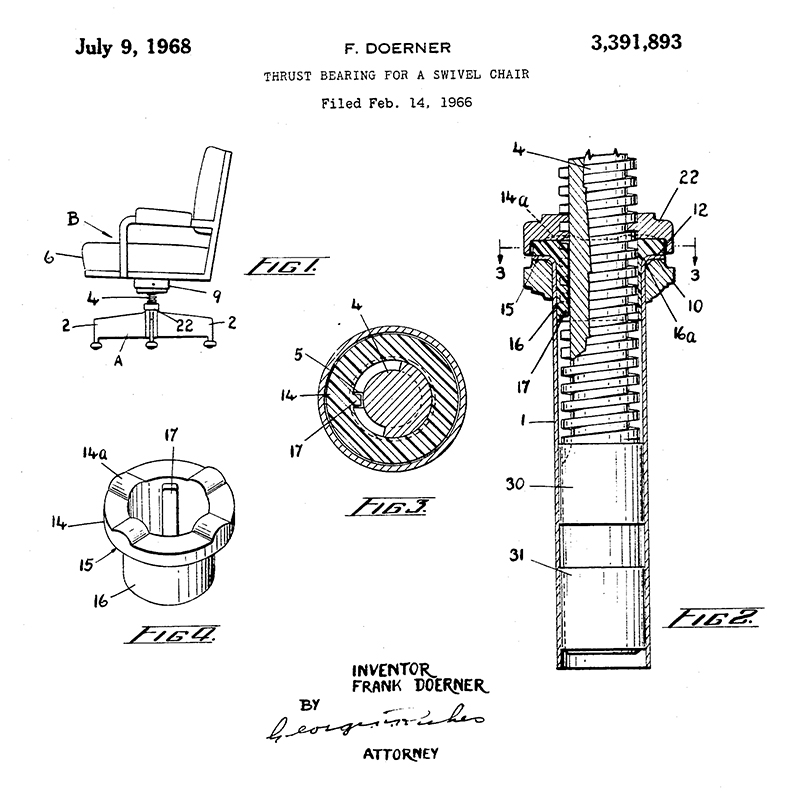 Still no clue if this was Plycraft or Selig, but the base was in fact the clincher –only Plycraft chairs have this style, apparently. Selig bases are more like the original Herman Miller-made chairs. That's according to Peter Triestman (author of this post), who I emailed. I also reached out to our Instagram/Facebook friends –"it's a Plycraft", they said. And that was that.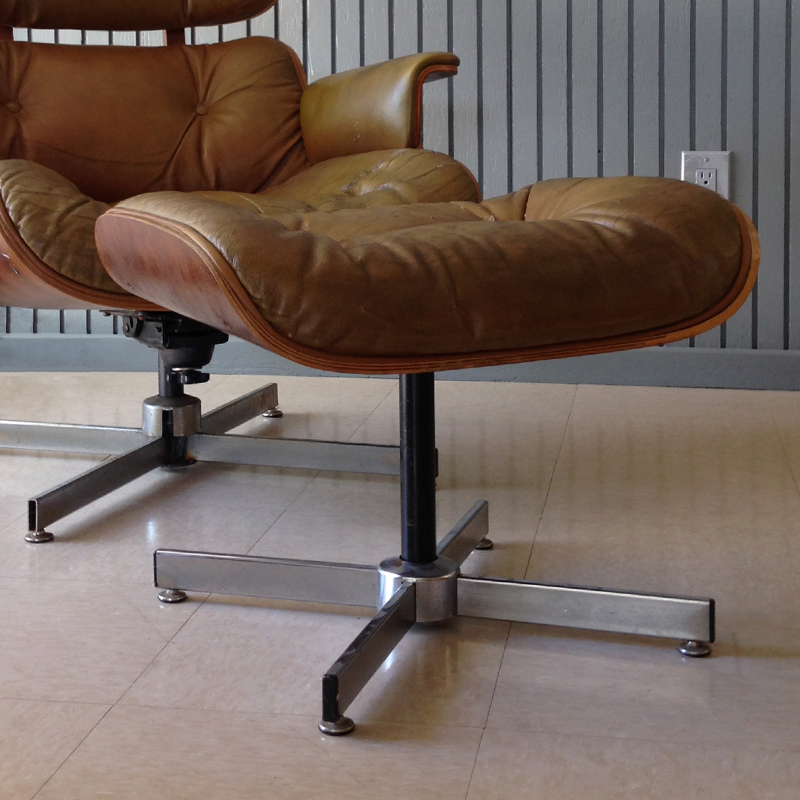 Meanwhile, we've been hanging onto a Kardiel repro Eames Lounge. It was a steal (thanks Jon!) and filled a spot nicely for the last year or so, but was always a placeholder. It's in good shape, save for the odd chip and a leather repair. But it's not comfortable. It's super-firm, with no 'give' and no tufting in the cushions. And it just doesn't look or feel quite 'right'.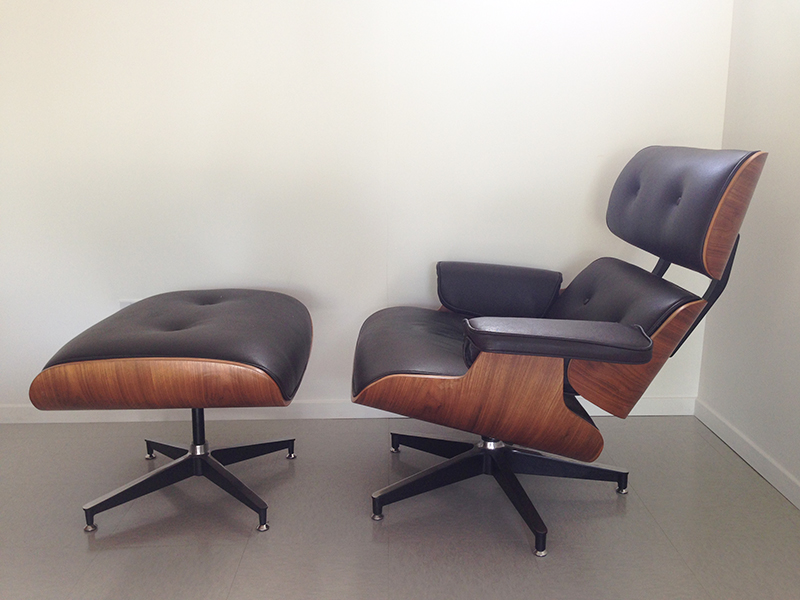 We decided to sell it to fund re-upholstering the Plycraft. May seem crazy to sell a new-ish chair to repair a 40-year-old version…but that was the plan. We got a few offers. Most amusingly, a guy said his wife was having a C-section, but gave him permission to buy the chair. He also said this would make the perfect breast-feeding chair –too much information.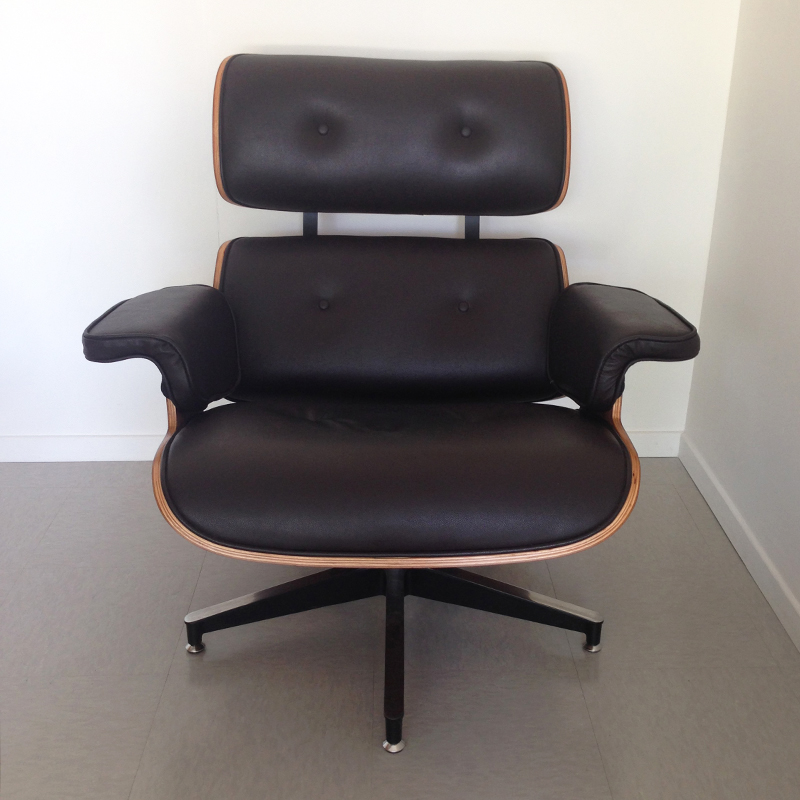 Then Jason emailed. He offered a low price, explaining he would reupholster it himself. I had a 'light bulb moment' and thought we could help each other out. Turns out he'd done at least thirty before, so we hatched a plan –he agreed to reupholster the Plycraft, in exchange for the repro. Based on prices we'd been quoted, this was a good deal.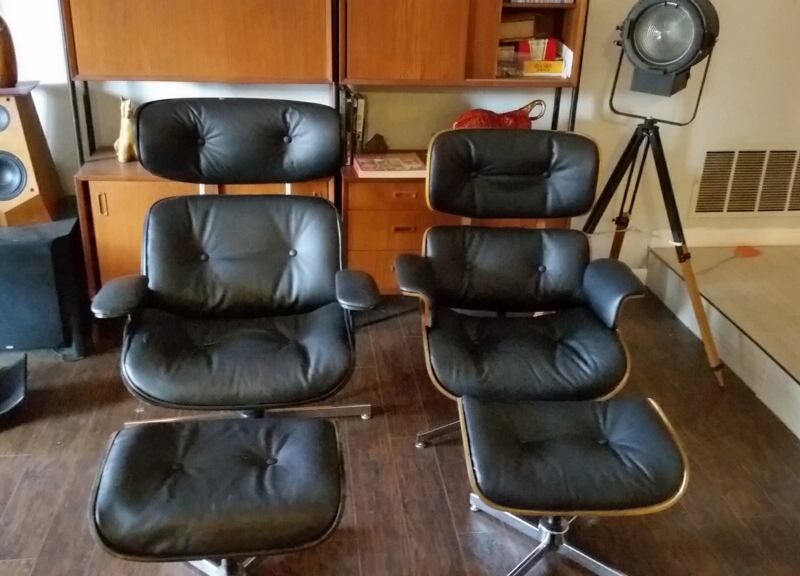 Next day, Jason visited us with leather samples. We retained the repro while he worked on the Plycraft. Under two weeks from collection to delivery and he sent updates throughout the process. Ours is the chair on the right, next to a more typical Plycraft. Note the significant size difference, and the variation in arm style. And here's the final result…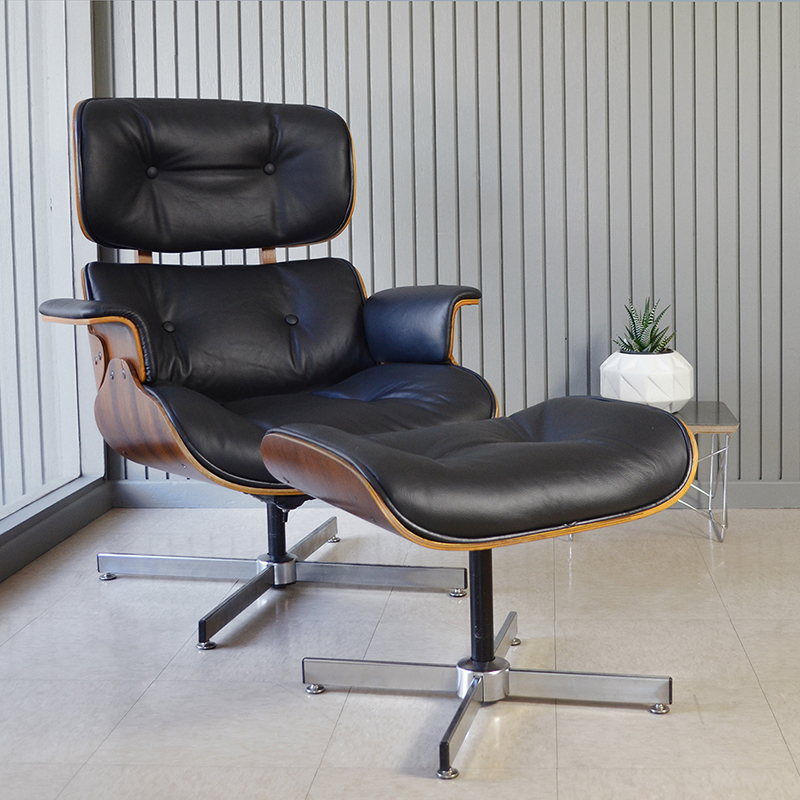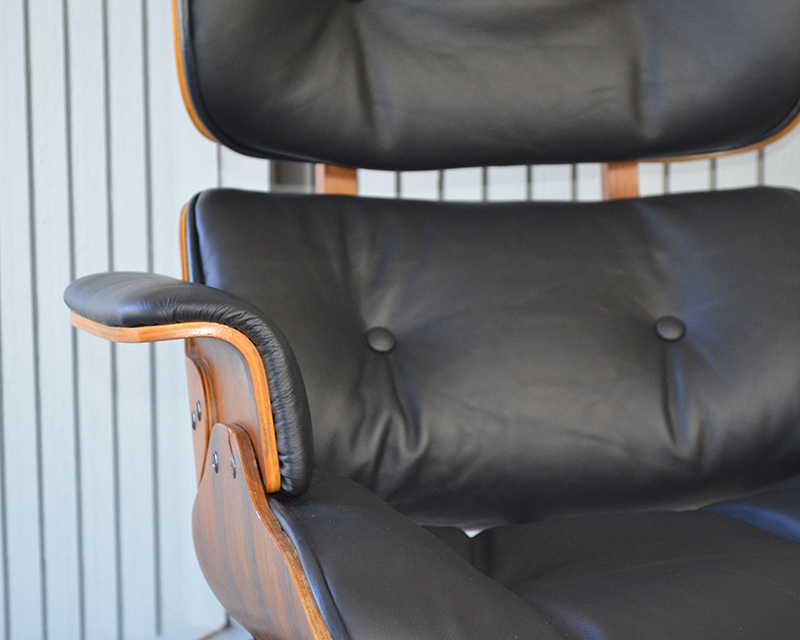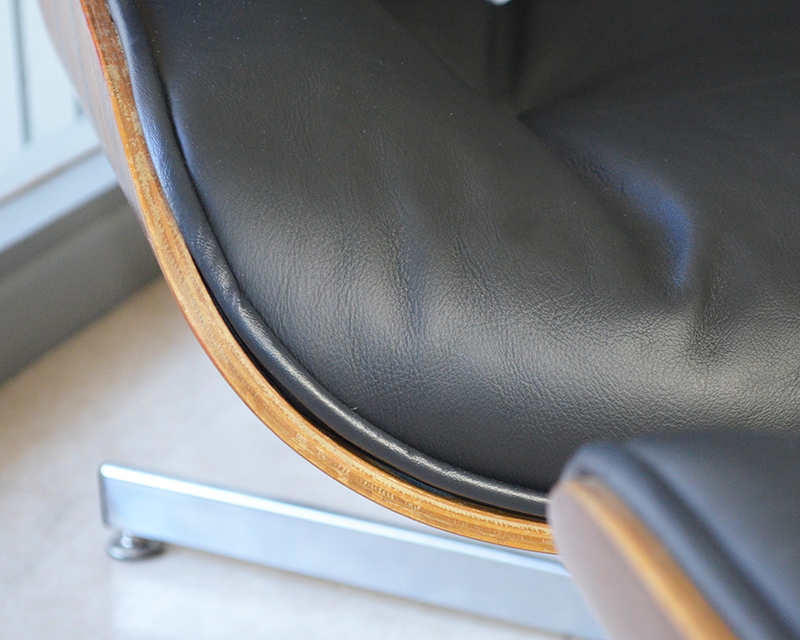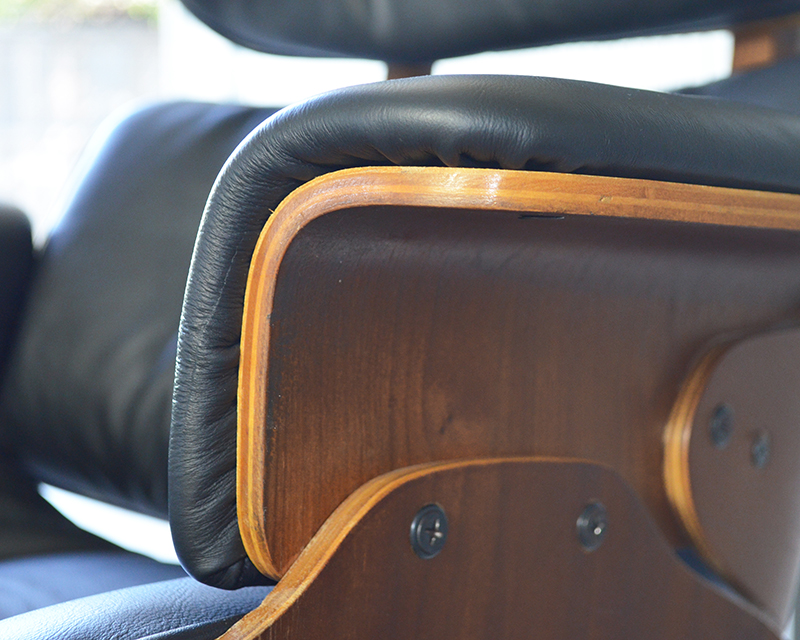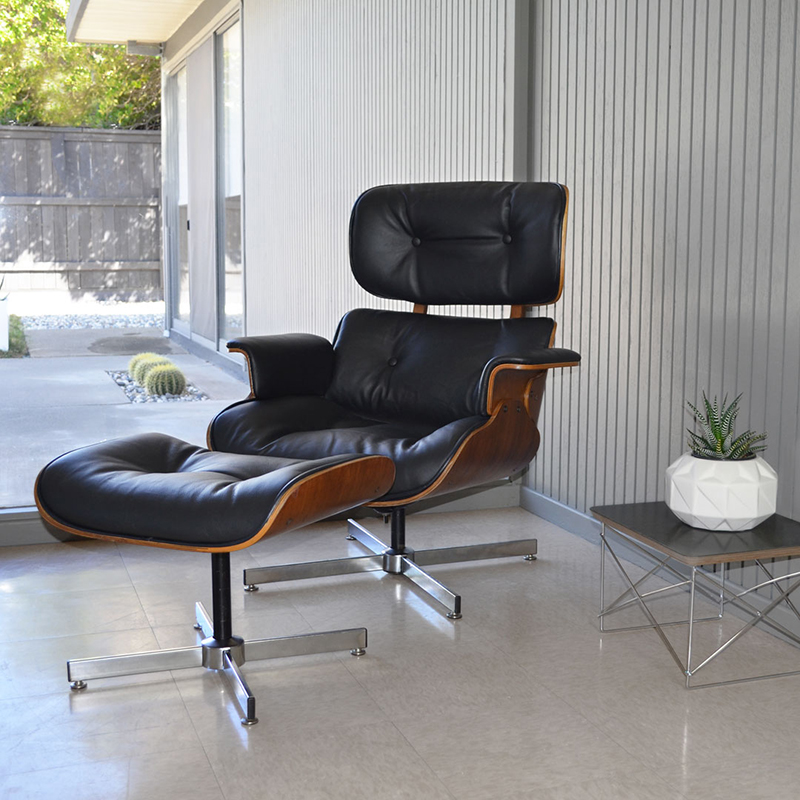 We love how the chair turned out. Jason was a pleasure to work with and his prices (even without a repro to swap) are very reasonable. See more of Jason's work here. We're not quite at the furnishing stage yet, but sometimes you get an opportunity and have to take it –we're very happy we did.