I thought we'd go an entire year without an Eichler for sale in our neighborhood (after 3 in 2013 and 5 in 2014). I was wrong. The latest offering is a 1955 Jones & Emmons-designed 4/2 flat-top, with 2300 SqFt (extended from about 1800) on .28 of an acre. It's a big property, with potential to match.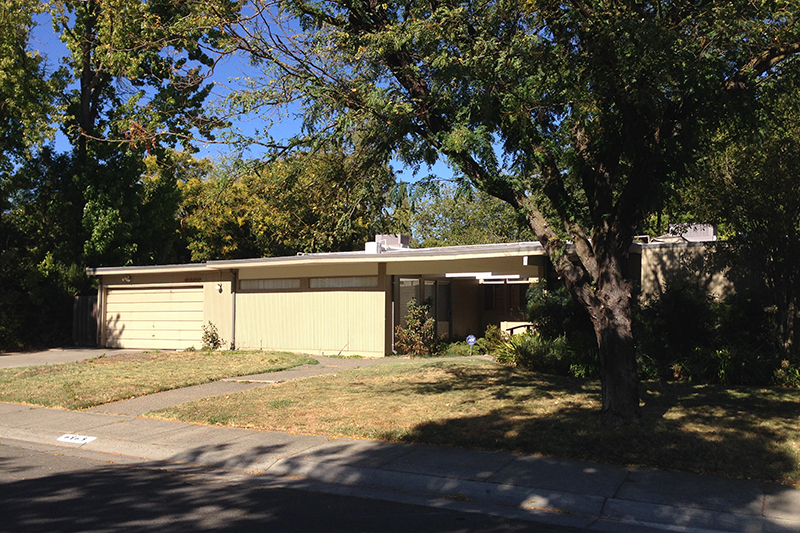 I say "potential" as it's far from the finished article. Scruffy from the front, with a tree-cracked driveway and unloved front yard…but who are we to point the finger? The house has been extended, with the former garage converted and a new one added, to the left, above.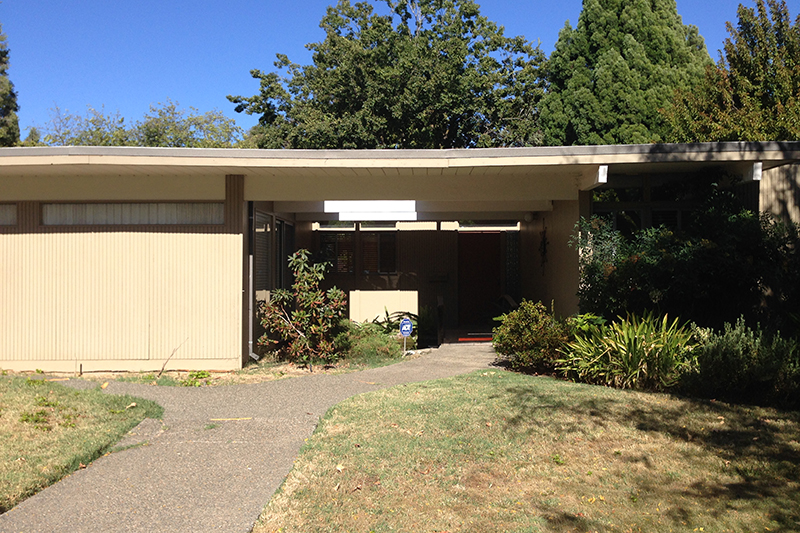 Entry is through an open courtyard –the closest our neighborhood gets to an atrium. Inside, the half-wall between kitchen and living has been removed, and the cinder-block fireplace wall (originally screening the dining area) reduced. Too radical for some, but it gives this home a bright and airy feel.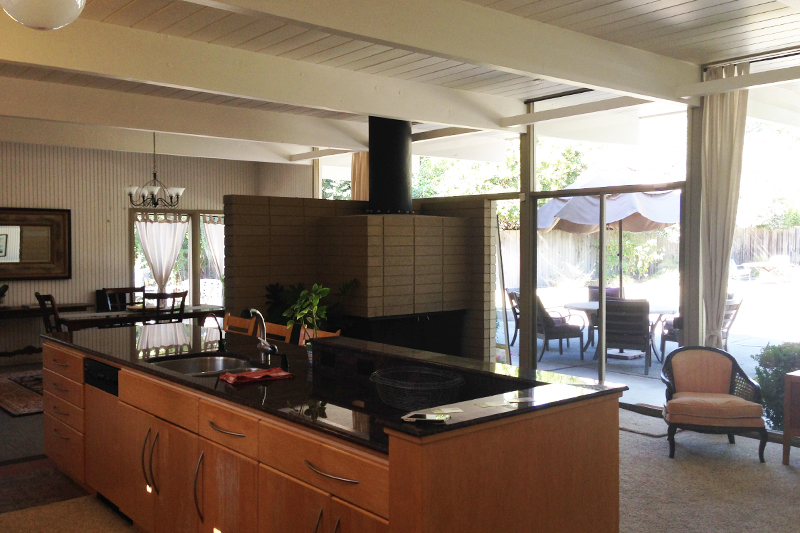 The kitchen is clearly a re-do, but looks functional. In the distance, corner windows have been added. Though things have changed, it still feels very Eichler, and seems well taken care of. Looking up, all the globe lights are intact, and the ceilings have been caulked –not everyone's preference, but a clean look.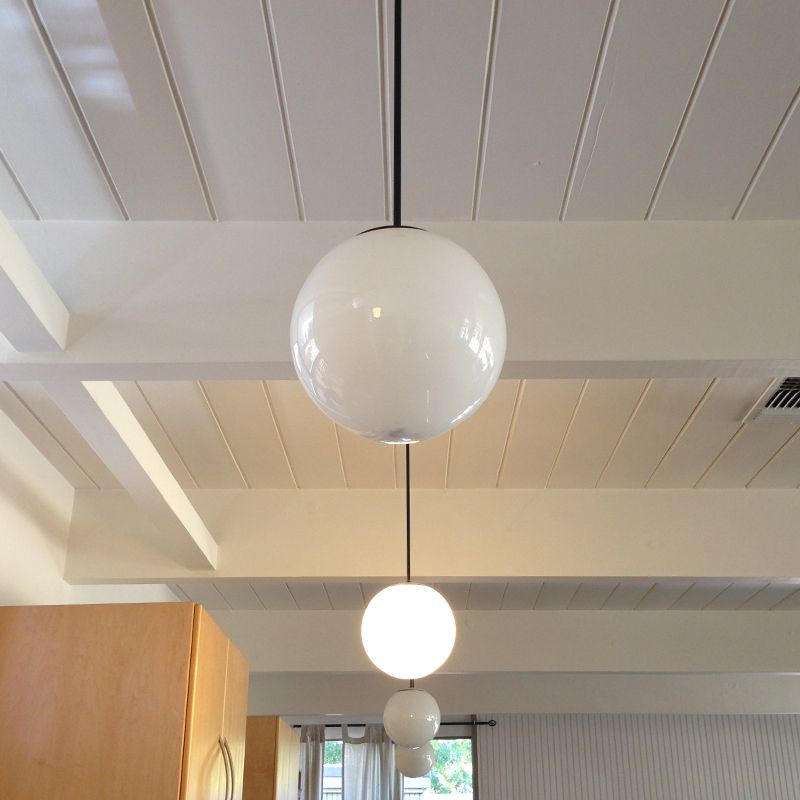 Talking globes, I like the trio by the siding wall, in the distance, below. Non-original, but I have a feeling they've been there for some time. Curtains hang throughout, plus dated decor and furnishings, which don't help the vision. But honestly, based on the outside, it's in way better shape than I expected.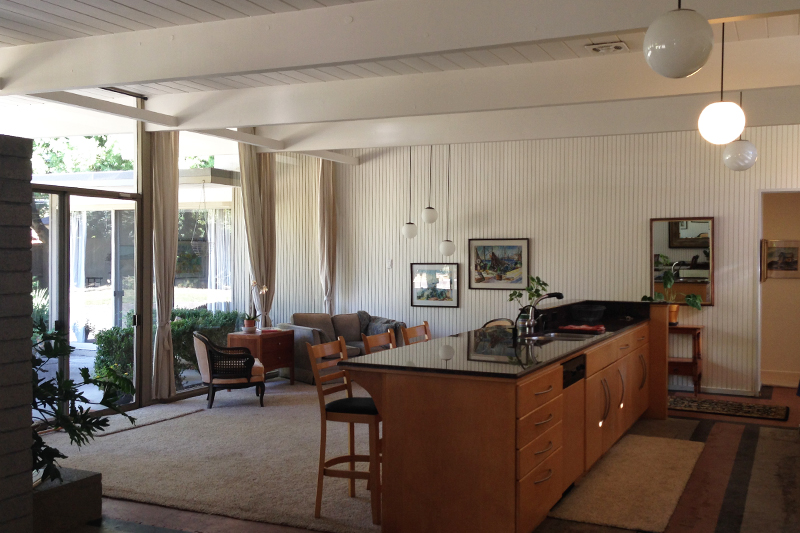 The garage was originally through that doorway, beneath the clock. Instead, there's a small utility area, plus a cozy den, with clerestories to the front and sliders flanking the entrance courtyard –these could work better if the front was enclosed, to create more of a true atrium. Perhaps an option for the eventual buyer.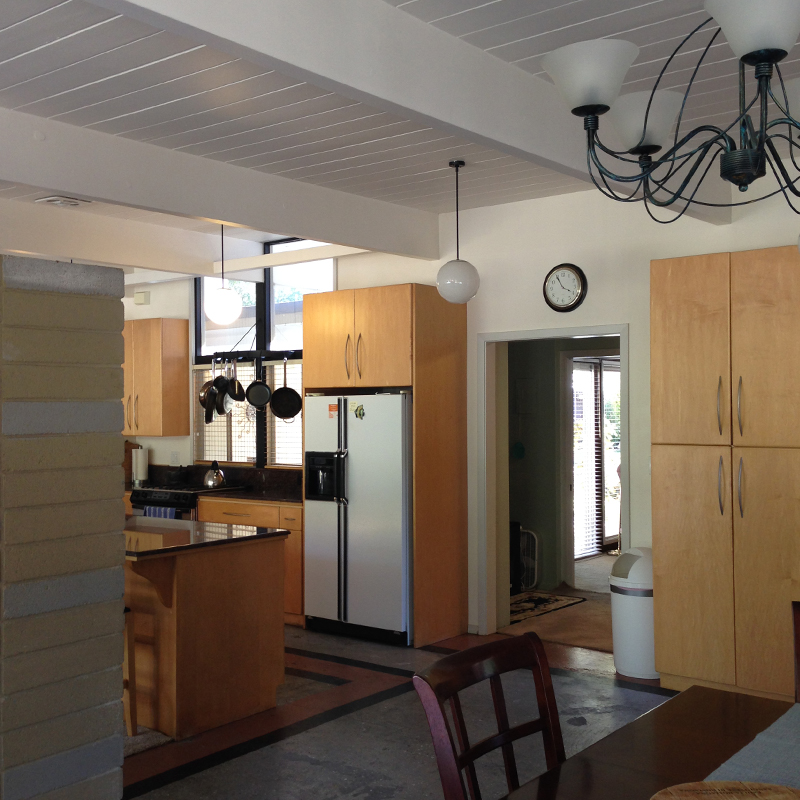 I toured this house with friends, looking to buy, so just took a few discreet snaps. As with most Eichlers, the bedrooms are small and non-photogenic, and the baths were nothing to speak of, so I skipped those. Elsewhere of note, a laundry room has been added. The back yard is vast but the pool is non-functional, so would need fixing.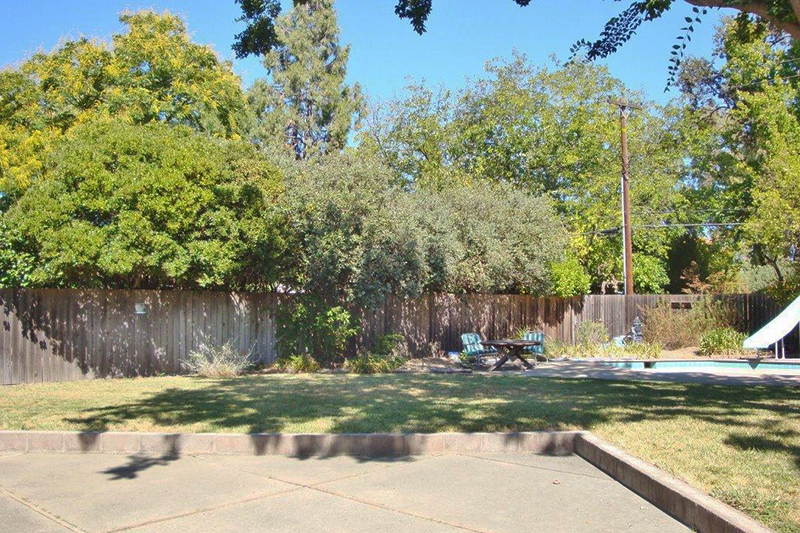 This home is offered by Sue Olson, of Coldwell Banker, for $550K –up $50K from last year's benchmark, but still great value per SqFt, and the cheapest Eichler you'll get, by some distance. No open house advertised, but Redfin calls this a "hot home", so lots of activity. If you're in the market, jump on it. More pics/details here.
Disclaimer: I am a Sacramento Eichler owner, and these observations are my own. Prospective buyers should conduct a home inspection, via a licensed professional.
Save