We have two great spots for feature chairs in our living area. We filled one, in our main living room, with our Plycraft lounge chair –a $30 Craigslist find. That left this spot, in our TV room. This has been a revolving door for chairs, but nothing has stuck, or done the space justice. Until now…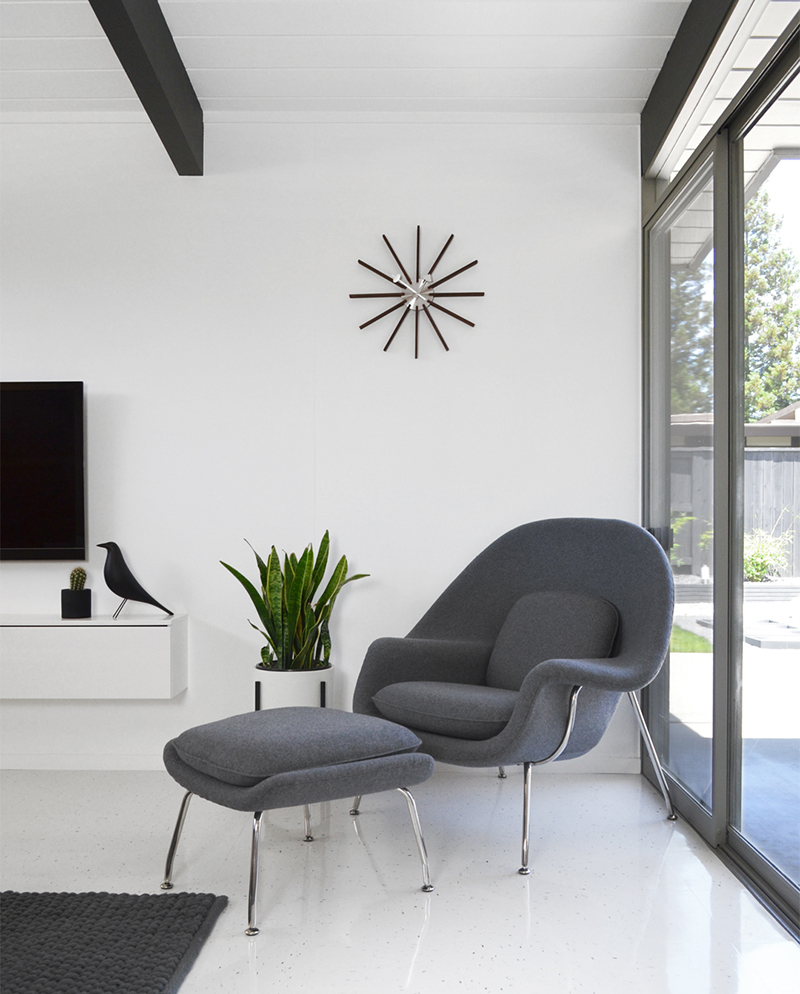 Most of you will recognize this as the iconic Womb Chair and Ottoman, designed by Eero Saarinen, in 1946. We've wanted one forever. Like most chairs with this pedigree, licensed originals cost big bucks. A new Knoll version, in a similar configuration, sells for about $7,000. We're all for supporting designers, but that's ridiculous. You can buy relatively cheap knock-offs, but quality and durability take a big hit.
Lucky for us, there's a solution. Rove Concepts manufactures high-quality reproductions of classic MCM furniture, including this chair. More expensive than most repros, but with good reason. Rove uses premium fabrics and skilled craftsmen, working to true specifications. And there's a 5-year warranty. We did plenty of research, and kept coming back to Rove. Reviews for quality and service are glowing.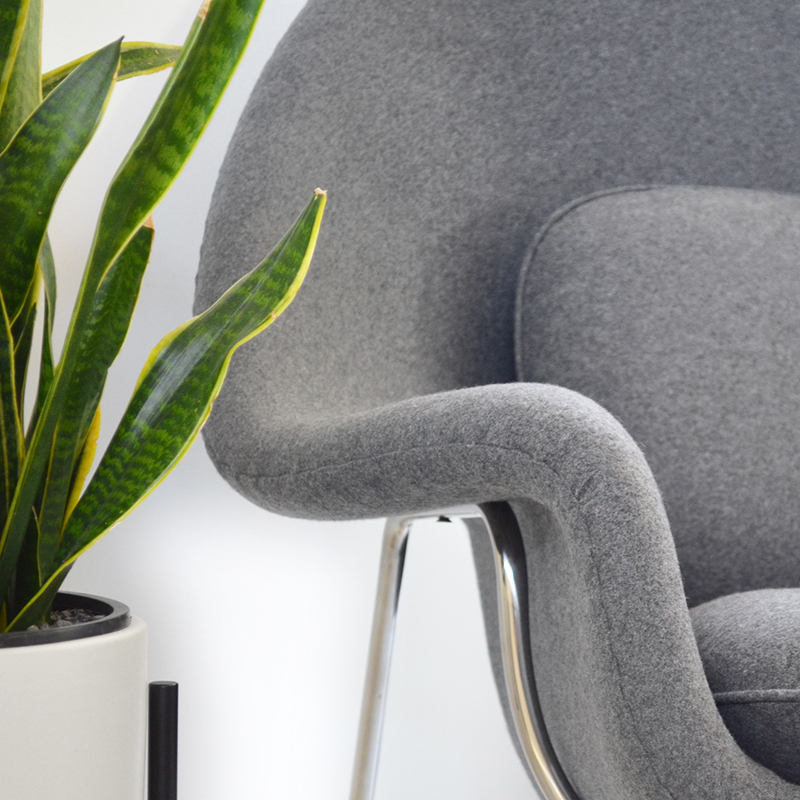 So we took the plunge, and ordered Rove's Womb Chair and Ottoman in light graphite –a beautiful mid-gray, that regulars here won't be surprised to see in our home. Truth is, we wanted a pop of color here, but we had to pick from in-stock configurations, as we're on a deadline –we're expecting a few guests tomorrow (eek!) as you may have heard.
The chair arrived quickly, and we weren't disappointed. It arrived in one piece (well two, if you count the ottoman) in a giant box. Also inside, a 'thank you' note and some white gloves, to help you gently ease the chair into place…or pull-off an MJ impersonation. The chair is big, solid, and reassuringly heavy. It fills our space perfectly and has real presence.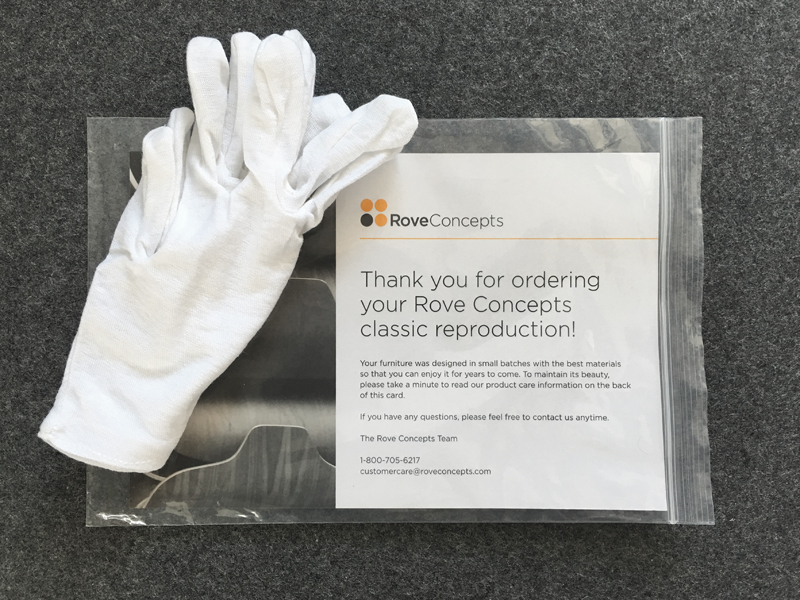 Once we saw the chair in-place, we were so pleased with the color. We like our monochrome world, and our ability to change the feel of a room by adding an accent pillow, plant or side-table. But if color is your thing, there are plenty to choose from. These custom options (multiple fabrics and colorways) are among the things that distinguish Rove furniture from cheaper reproductions.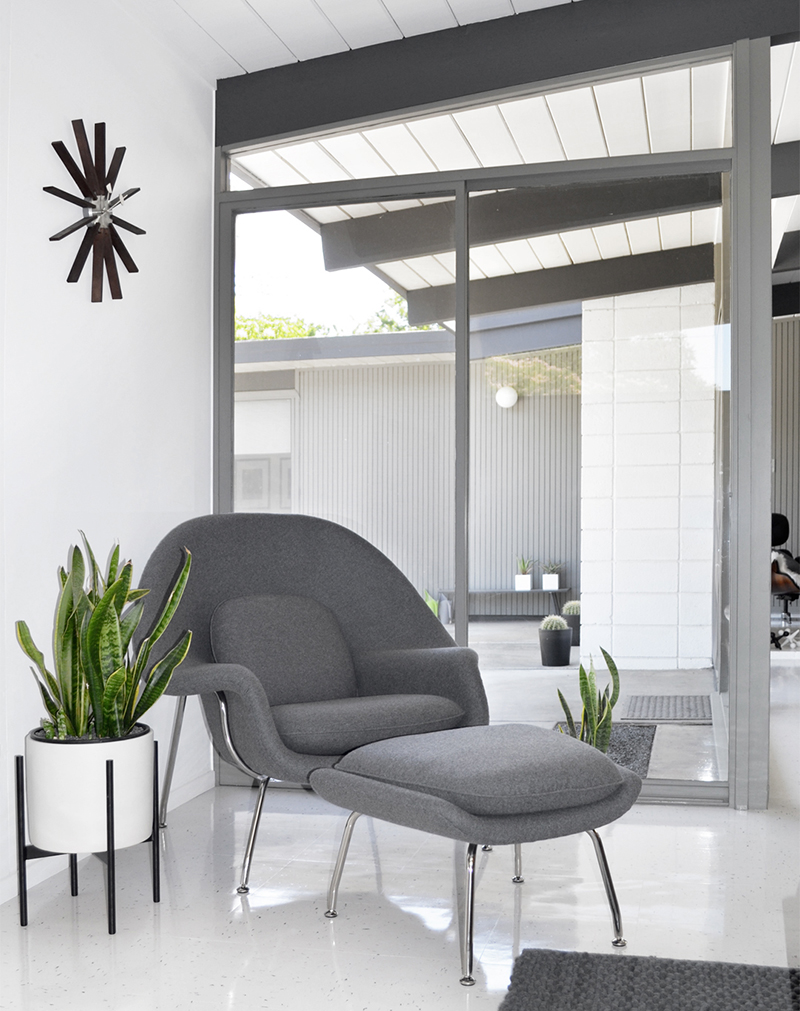 And when you see, feel and smell this chair (yes, we sniffed it) you know it's well made. It's constructed around a curvature-true fiberglass shell, matching original Womb Chair dimensions. On top, "high density CA-117 cushioning with PU-injected foam wrapped in synthetic Dacron silk, providing smoothly shaped contouring and cushion platform resilience".
I have no idea what all that means, but it's super-comfy –it's called the Womb Chair for a reason. All Rove fabrics are imported from Denmark. Our chair features premium cashmere wool, hand-stitched, using braided lockstitch throughout. The legs are polished #304 grade stainless steel, resistant to chipping and flaking. The level of detail is impressive, and it's built to last.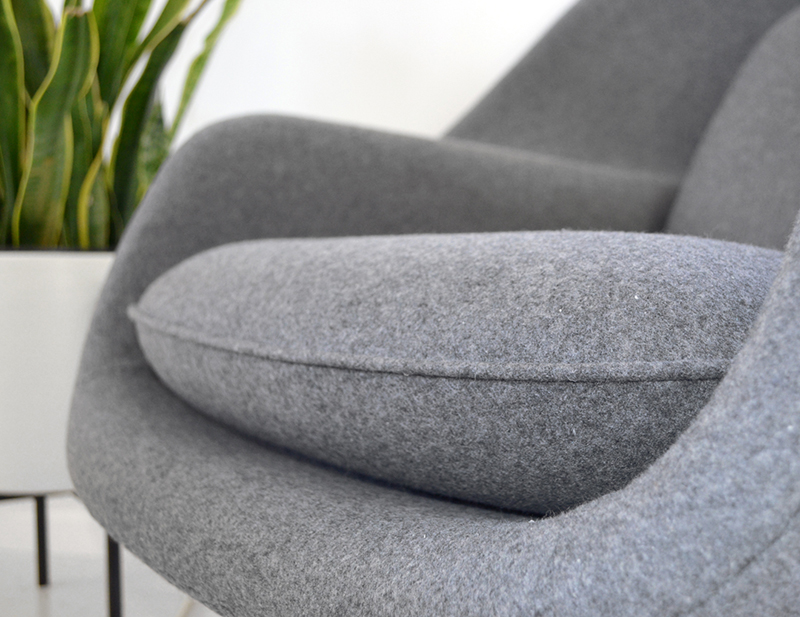 And with that, our TV-room is complete. Good job, because 1,000+ people are about to come and see it. This final shot was taken later than the rest –notice the planter has moved to the corner and is now charcoal/black rather than white/black –they sent us the wrong one initially, but quickly replaced. Much better contrast this way.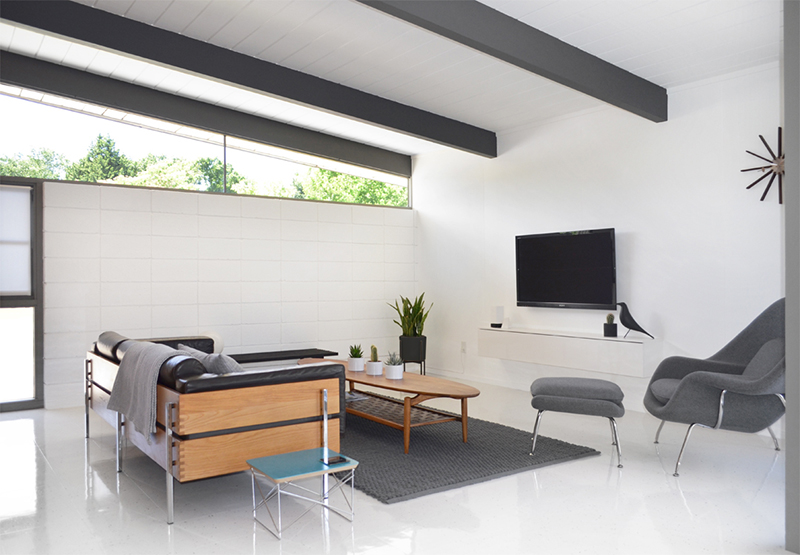 If you're reading this pre–tour (Saturday, June 18) you can still get tickets. The tour has been a great motivator to get things done, but we have plenty more projects planned. We look forward to sharing more on the other side. But before all that, we'll be putting our feet up for a bit…and I know just which chair I'm picking. Post kindly sponsored by Rove Concepts.