Yep, our third Eichler Christmas. This year, we added to our usual roofline string, with more lights, atop our cinder-block wall. Still couldn't get the darn things straight, but I need to let that go. Looking back at last year's post, I realized this is our agaves' first Christmas…with us, at least.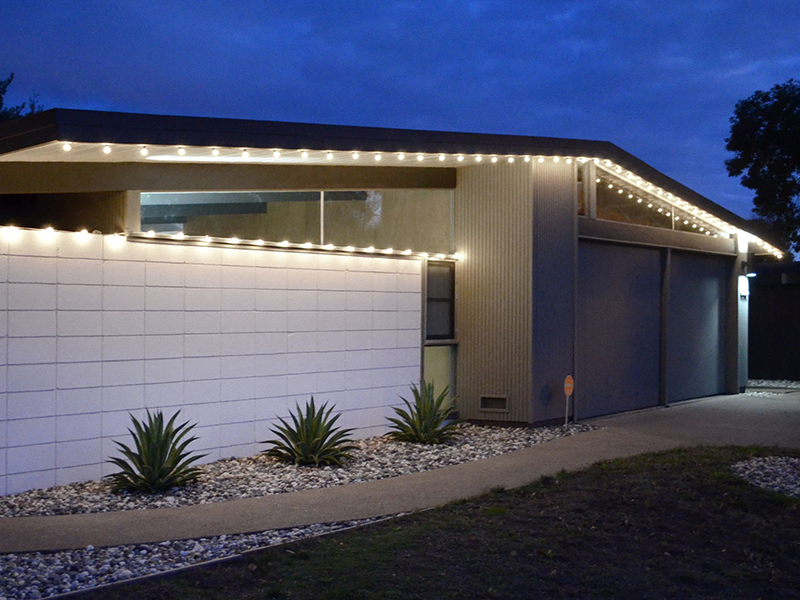 And our large Chinese Elm is gone –shame, but it does allow a clear view of those Redwood trees behind. Not much else new out-front, but we did wrap some solar lights around our two queen palms –should look better next year, with a bit more trunk to work with.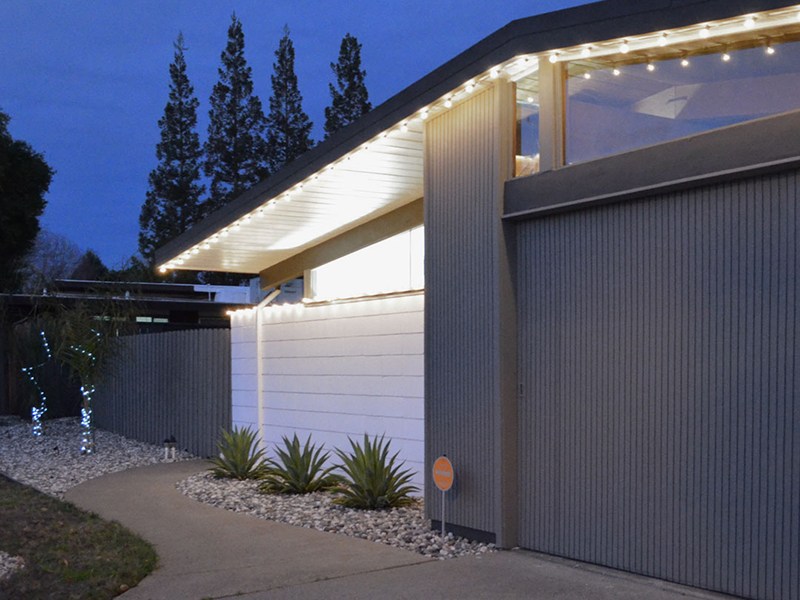 Inside, our lit wreath came out again –we love how this looks (so did CB2, sharing via Instagram) but the fireplace seems SO bare when we take it down. We're thinking a Sunflower clock would be perfect here, for the rest of the year, but (at $1295) it's way down our priority list.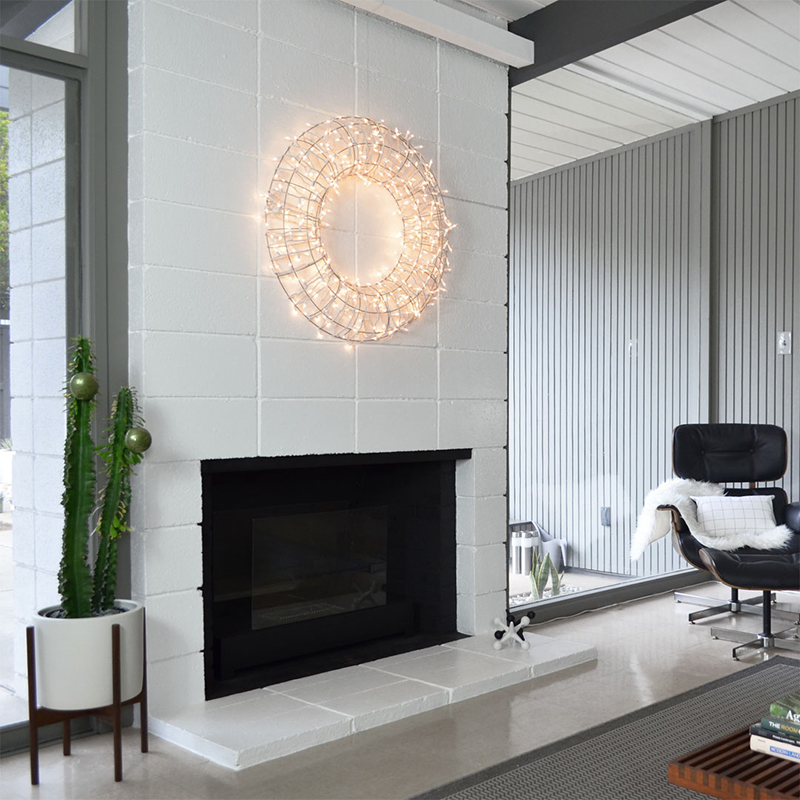 We planned on baubles for this wreath, initially (last year) but they kept falling out. Good job, as Karen experimented with these lights and they turned out way better. Next year, we'll add a matching wreath out front…presuming we (finally) tackle our front fence/door project.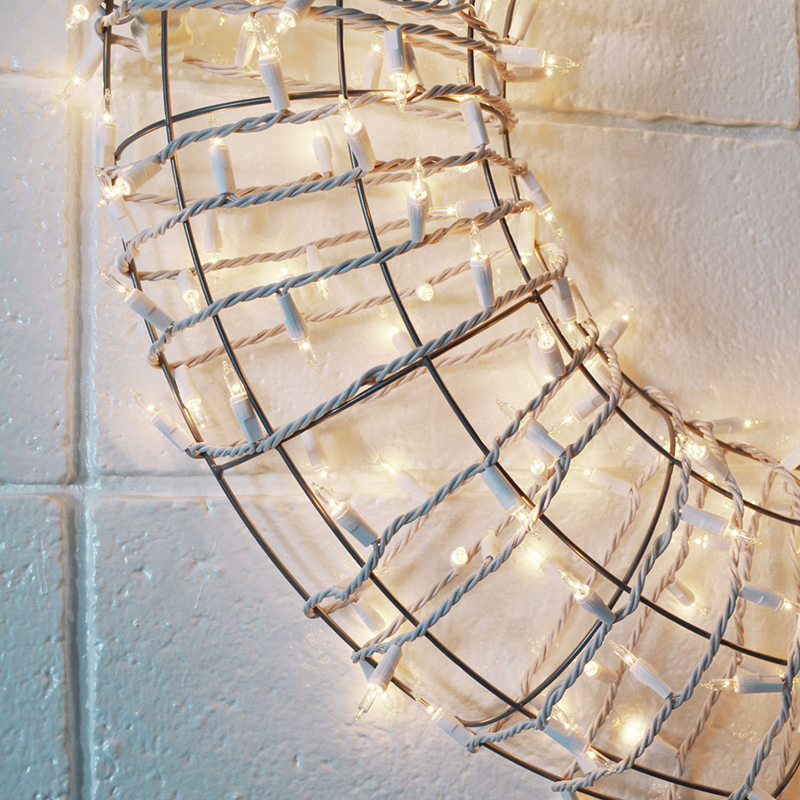 Talking baubles (as I'm inclined to do) Colin, our cactus, got a pair of his own, in matching green. He's been spoiled recently, finding a new home in our Case Study Ceramics planter –an early Christmas present.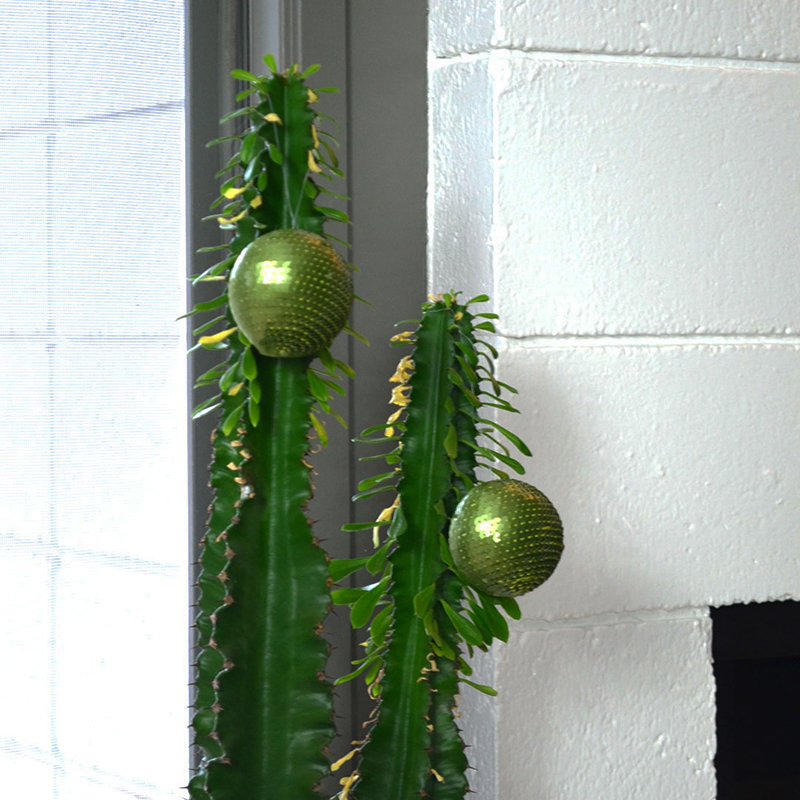 Doug, our Douglas Fir, is back, bigger than ever. Ironically, he's in a tighter spot this year –our TV room corner. We're thinking fake white tree next time…though we said that last year. We love the smell of a real tree, but we're pining for something more MCM-apt. Pun intended.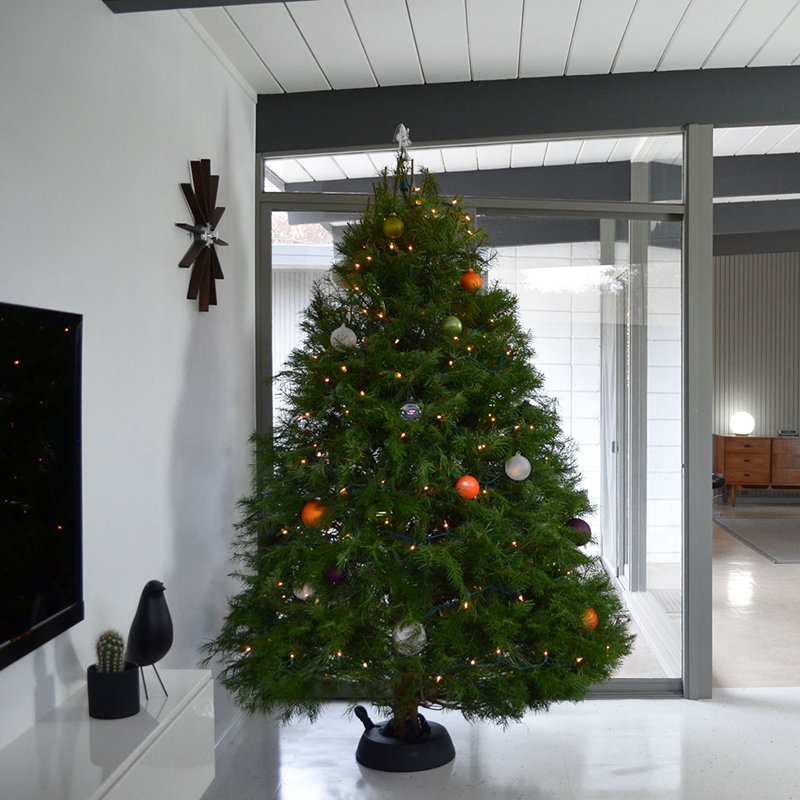 Christmas Day was intentionally quiet –just the two of us (not counting family FaceTime). I do most of the cooking, but roasts are Karen's 'thing' –so, she made a tasty trad-English roast dinner. Delicious. Sitting at opposite ends may look formal, but it's a practical decision –our Robin Day chairs are SO comfy.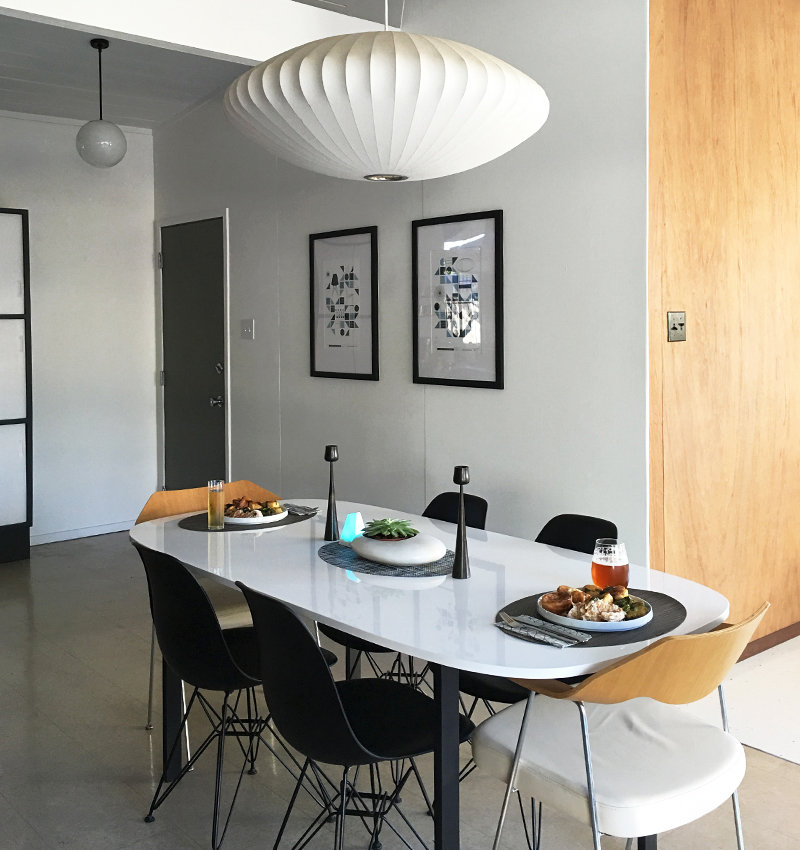 We got some cool gifts from family and friends, including a few used on the day –oval Chilewich placemats and Danish candlesticks (from my mum) and a super-cool Notti Smart Light (from our friends, Jon and Jose). Our kitchen shelf is filling-up nicely.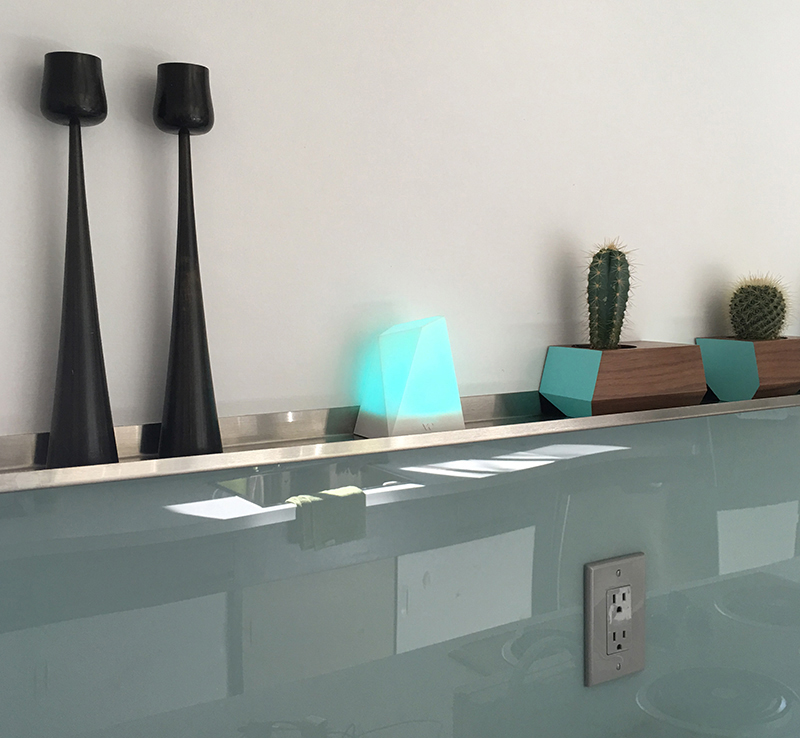 Our Christmas decor got a boost, thanks to another friend (and neighbor) Frank, who bought us this beautiful Sputnik-style decoration. It looks so good in this spot, we're tempted to keep it here year-round.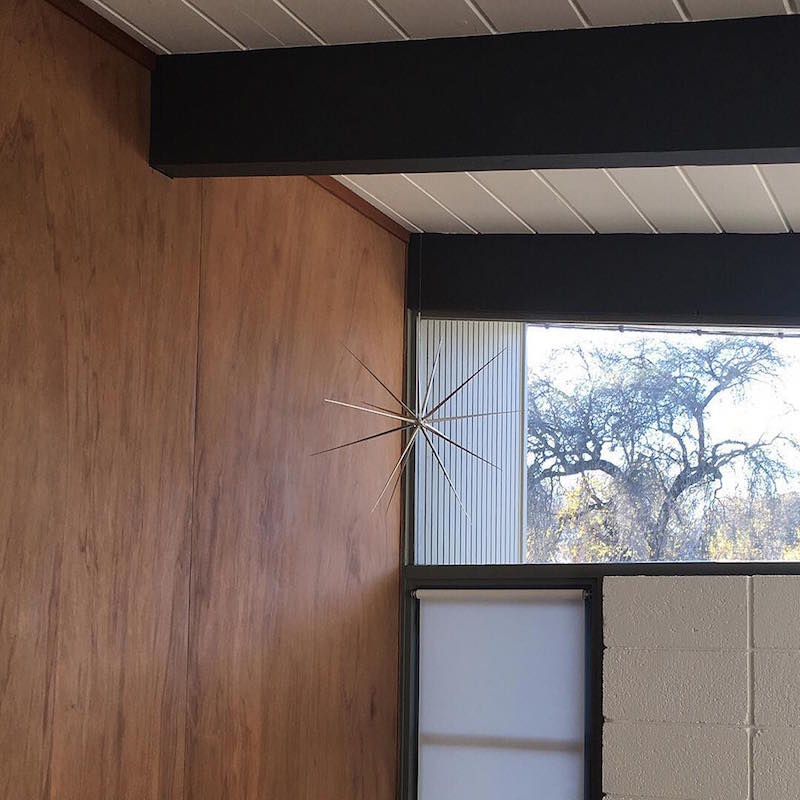 Talking of Frank, here's his Eichler –among those snapped on a recent neighborhood walk. He upped his game this year, switching to orange and blue bulbs (some people have too much time on their hands). He also added Frosty –a vintage-looking snowman…from some place in Michigan, I can't recall.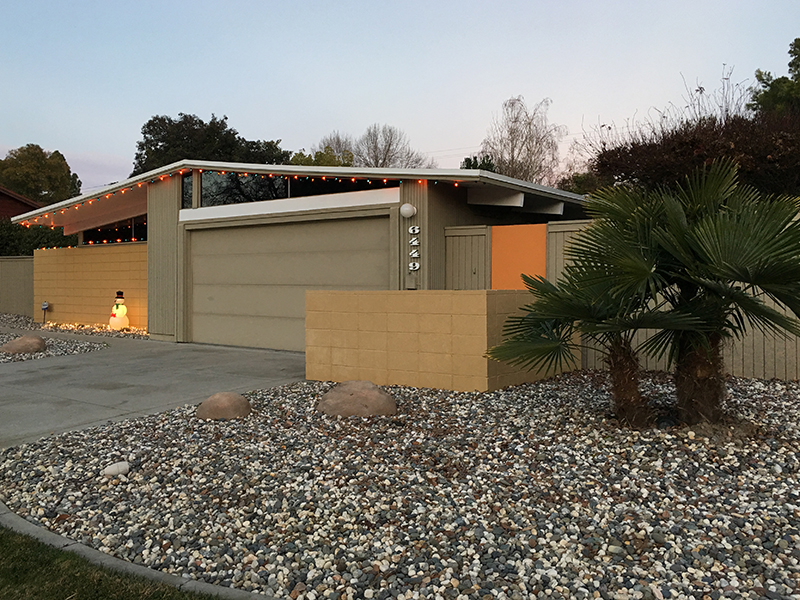 I went back later, as Frosty looks best in the dark –shining bright, on a carpet of lights. Nice work, Frank.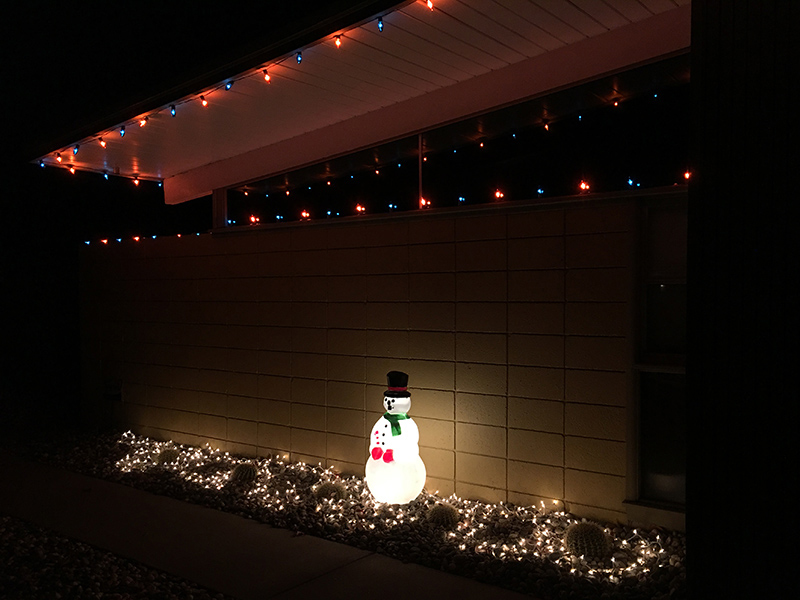 Kelly and G's Eichler (a couple doors down) always looks good. They have a special stapler (or something) to help them get the lights perfectly straight. I'm not jealous. Not at all. The up-lit house number (not just for Christmas) is new since last year, and a nice touch.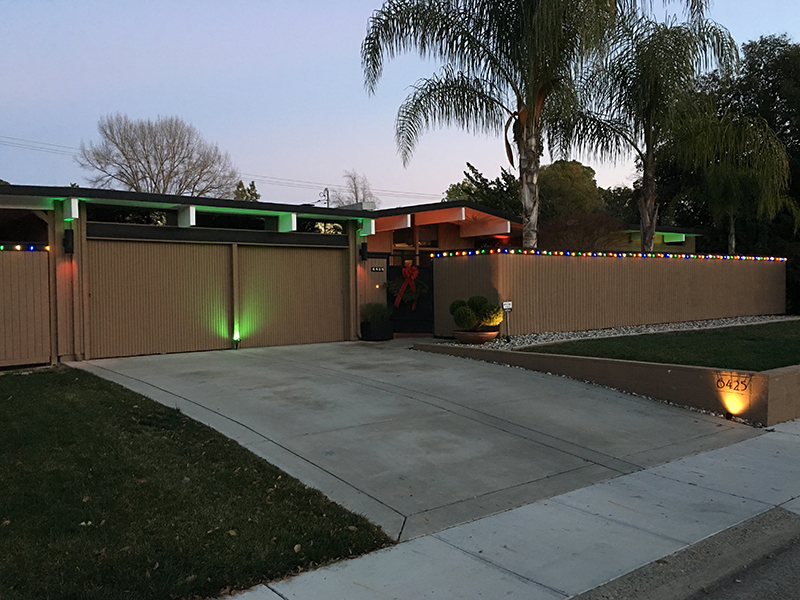 As last year, Zann and Jeff placed lights behind their front door/guest room opaque glass –love this effect, especially when it gets a little darker. These guys had new front/back landscaping completed this summer –still bedding-in, but starting to look really good.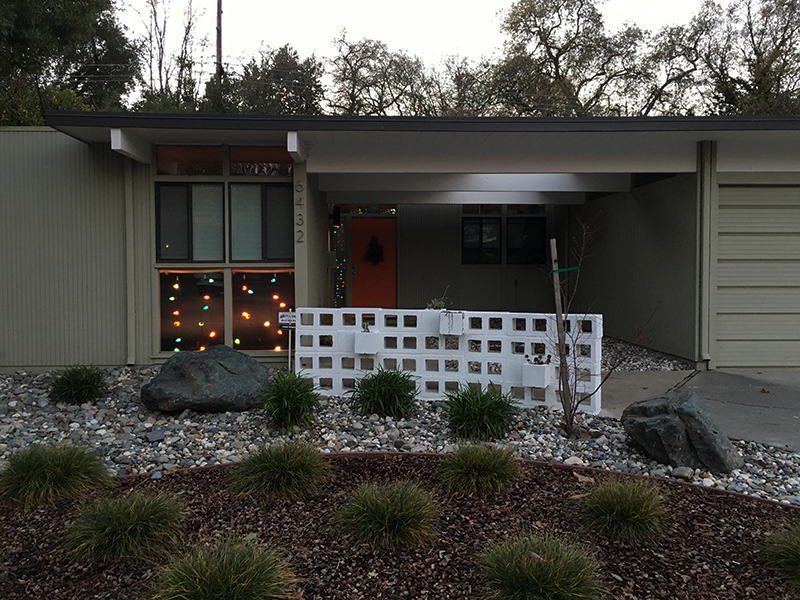 More sparkle further along, at John and Joan's. Love their concrete steps –something we need, to manage our steep slope. I get nervous eyeing these enormous flax, hoping ours do indeed max-out at the "3-5-feet wide" stated on their labels.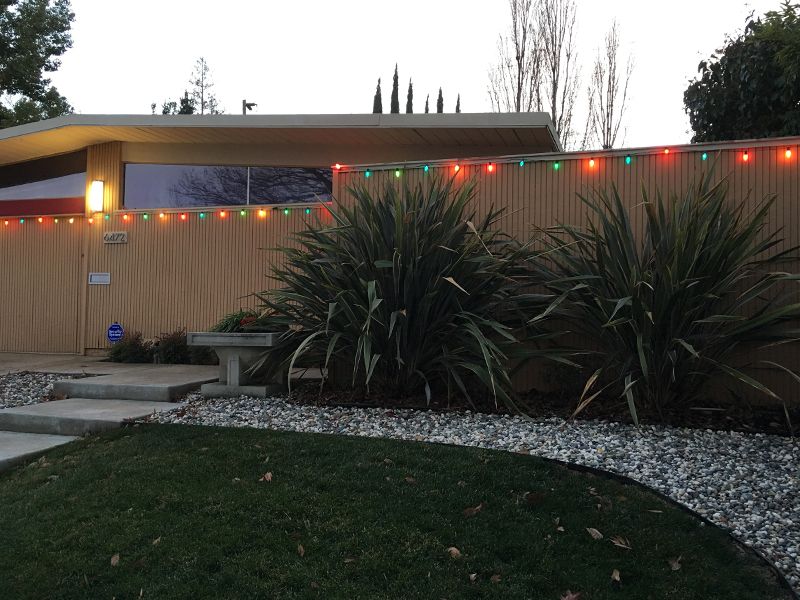 Lastly, just a dash of color at Tom and Lisa's –probably our favorite neighborhood Eichler (though my pic doesn't do it justice) with a jaw-dropping rear addition, and new landscaping in-progress. Would love to post a brief tour at some point –we popped-in for a quick beer after this, so should've asked them.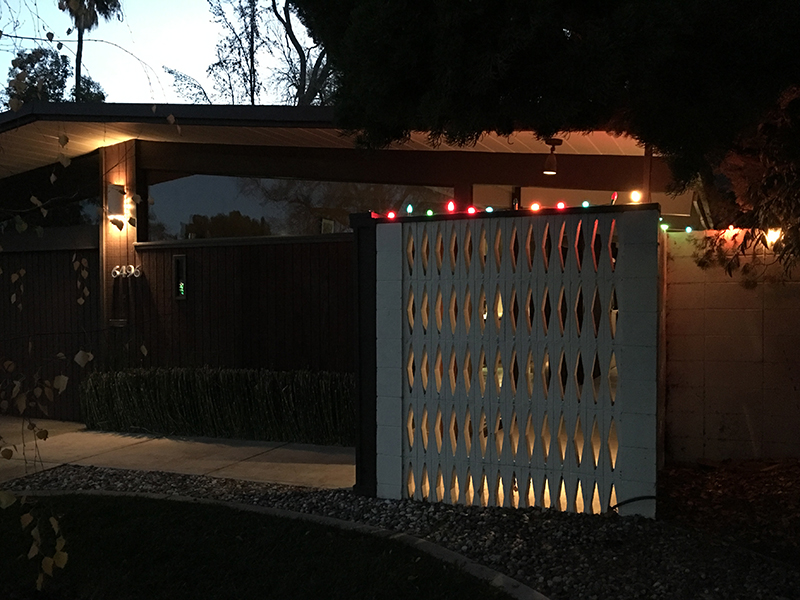 Anyhow, that was Eichler Christmas #3 –honestly, one of our best ever. Hope you had a good one too. This will be the last post of 2015, so the perfect time to say –thank you SO much for following along this year. Karen and I wish you a very happy new year! See you on the other side…