The weather continues to be mild –at least to us, as we've grown accustomed to Boston winters. So, it seemed like a good opportunity to paint our front door, and fit new hardware. The weather's relevant, as we'd be temporarily door-less. Et voilà…
We'd love to install a new door, but budget dictated sticking with this one, which we're sure is original to the house. And it's in pretty good shape. Once off, we removed all the existing hardware, which also appears original…albeit very tired-looking.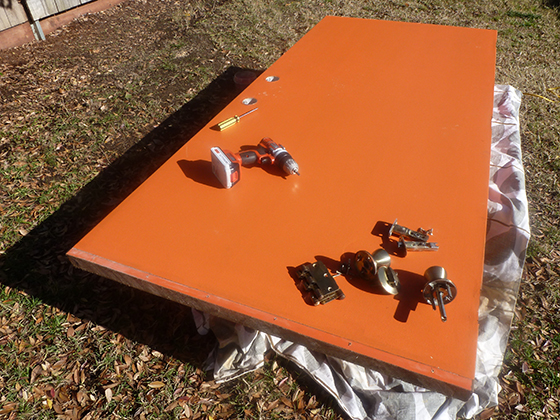 Next, lots of sanding, priming and multiple coats of paint, with Sherwin Williams' Resilience in High Strung. Then we re-hung the door. That was tough –it's SO heavy. And because we switched out all the hardware/hinges, getting everything to fit was a pain.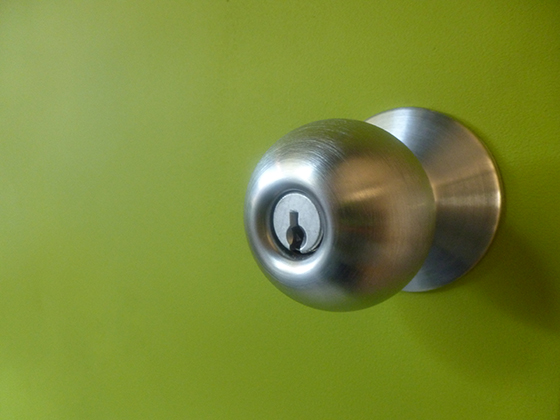 We picked the Schlage Orbit F-Series door knob, in satin chrome, with matching deadbolt. Lots of other Eichler owners have used these sets. We'd also seen a few first-hand, so we knew it'd be a great match. And we're pleased with how it turned out.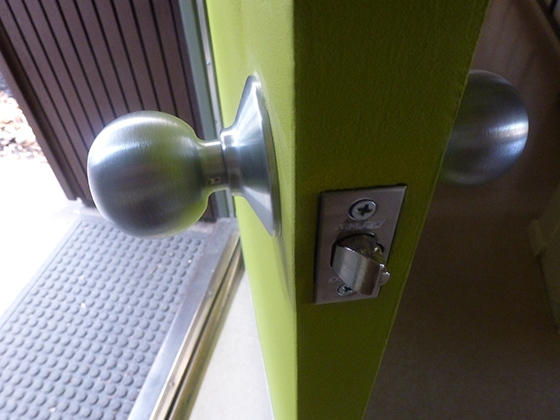 In truth, the paint may need another coat, as it's still a little patchy in the light. Good for now though. We also installed the green door bell I mentioned, as it now makes sense, rather than clashing with the previous orange door.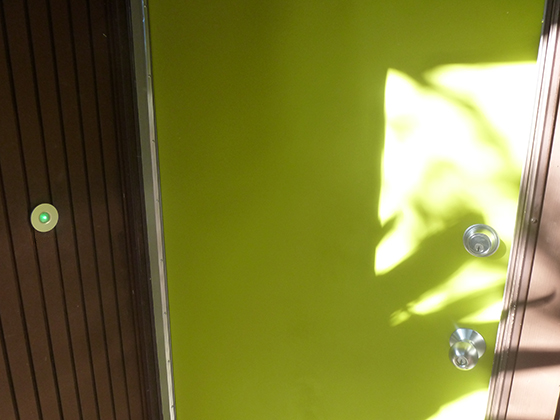 Unfortunately, the same can't be said for the new door color –it now clashes with the orange wooden panels, under our kitchen window. We need to replace these, as they're very weathered, then we'll paint them to match.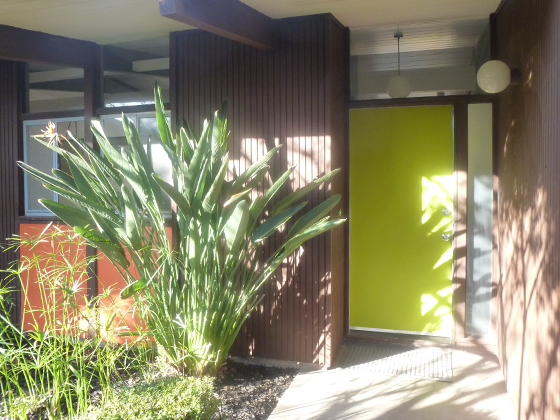 For now, we're considering painting a lime green "X" on each panel, to indicate our intent, and show people we haven't gone all psychedelic. We should really replace these panels soon, before the elusive rainy season hits.