For a change, here's an Eichler for sale that's not in our 'hood –it's in Castro Valley's Greenridge neighborhood, in the East Bay. We do have a personal connection, which I'll get to later. Before that, let me show you around.
This 4 bed/2 bath flat-roofed atrium model is one of around 200 Greenridge Eichlers, built from 1960-63. This neighborhood includes designs by the most recognized Eichler architects –Anshen & Allen, Jones & Emmons, and Claude Oakland & Associates.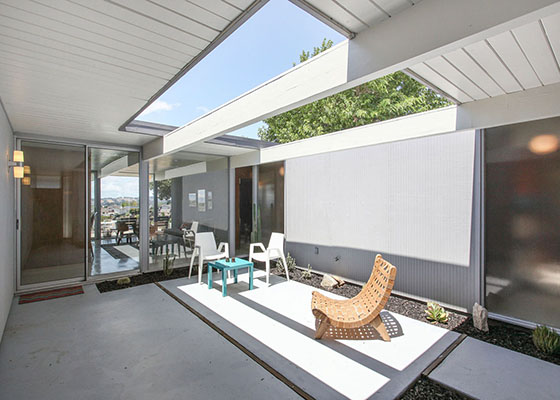 Greenridge Road is the neighborhood's central artery, which extends up a steep hill. Homes on the left side, like this one, benefit from ridiculous Bay views, enjoyed by three large spaces, spanning the rear –living room, kitchen/family room, and master bedroom.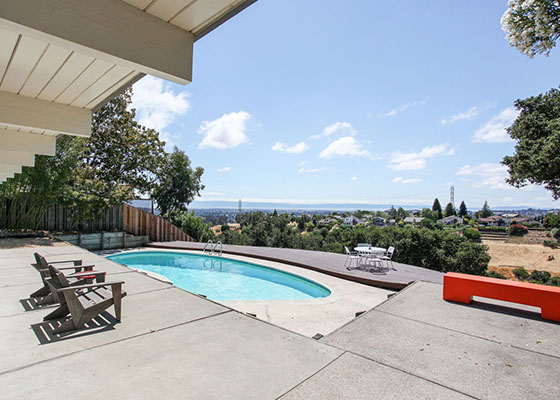 The model is Anshen & Allen's E-111, though it's rumored that Claude Oakland actually designed it. Below is an almost identical floorplan, the LA-81 (found here). The original wall between living and dining room was removed in this home.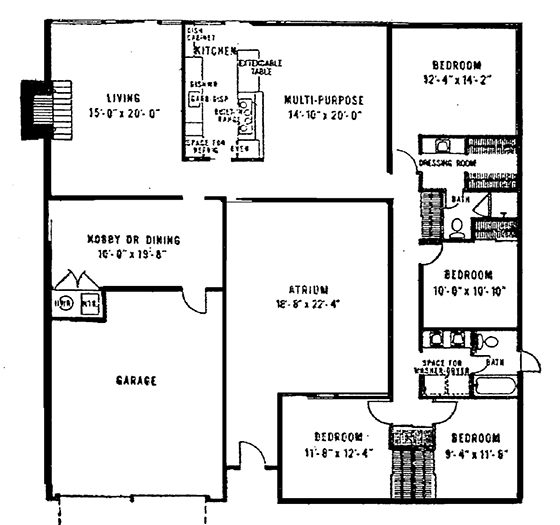 This is a change for the better, in my opinion, and really opens up the space. This model has the (gas burning) fireplace on the left side wall, allowing more windows/sliders at the rear –ideal for taking-in sunsets over the Bay. Sigh.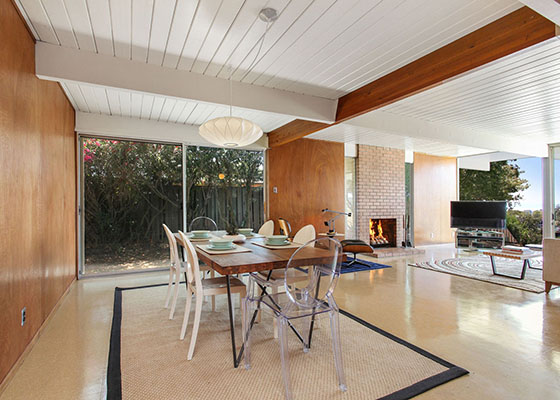 The home shows really well, and is packed with period-appropriate furniture. I counted at least five George Nelson lamps, along with furniture from all the usual suspects –and why not? It looks SO good in this space.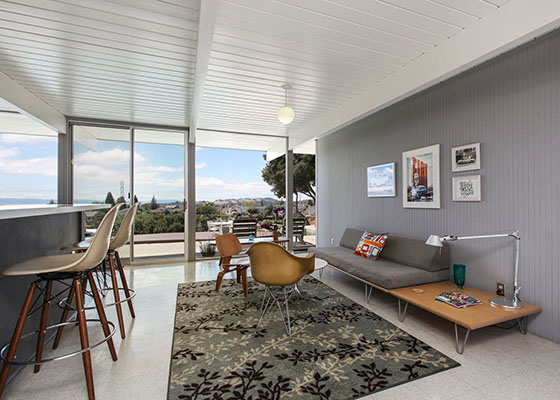 The kitchen is original, complete with Formica counters, swing-out side table, and all the cabinets. The appliances have been upgraded, but the replacements are fittingly modern, and obviously very functional. We like.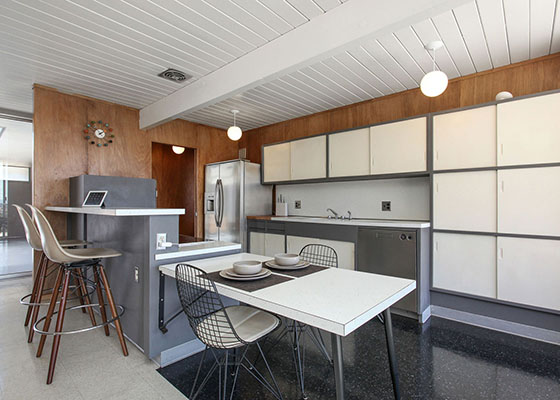 The bathrooms are original too. Most later Eichlers have this configuration, with a double-vanity guest bath, and a door out to the side yard. This model doesn't have a dedicated laundry room, but a stackable set fits in here nicely.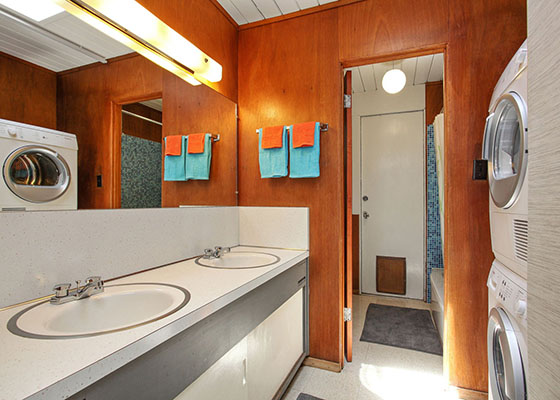 All the wood paneling and doors are intact or restored. In fact, I didn't notice any painted paneling. We won't be replicating this in our own home, though (after seeing this) I am trying to convince Karen that we should restore a couple more walls.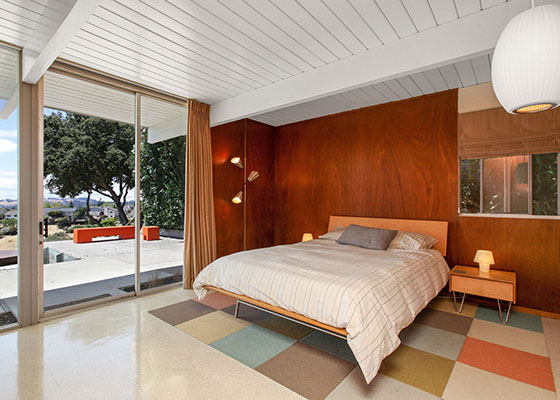 In addition to having incredible views, and an atrium, this home has something else I wish ours had –these windows. Even though this model was built only five years after ours, they are larger, with cleaner lines, and make the small bedrooms feel bigger.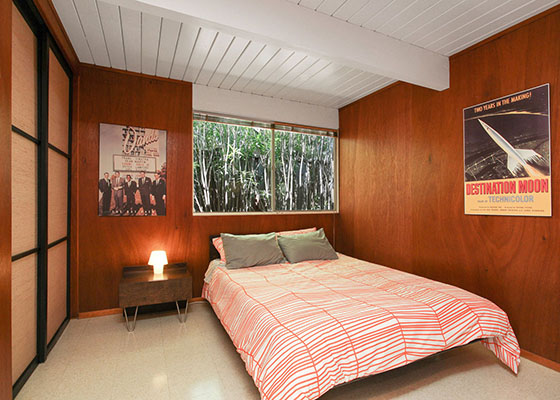 As per most atrium Eichlers, It also has an office/4th bed at the front, with sliders into the atrium. This looks like a nice place to work. Truthfully, our current office is a better fit for the two of us…but we'd cope, I'm sure.
So, why were we there? Well, the listing agent, Thomas Westfall, is our realtor. He decided one of the bedrooms could use some 're-purposing' and asked for our help. We provided some toddler bedding and decor.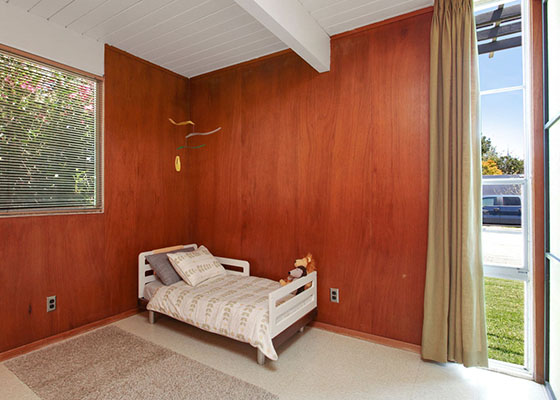 The room is minimal. Partly because that's our taste, and partly due to a lack of space in our MINI. We took the trip down on short notice, so we had to make do with what would fit. We need a bigger car. Or a trailer. Or maybe just a roof-rack. I digress…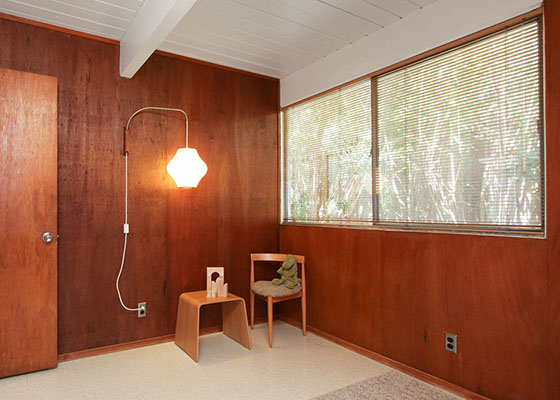 This mobile came courtesy of our Sacramento-based retail partner (and good friend) Brian Schmitt, of Schmitt Design.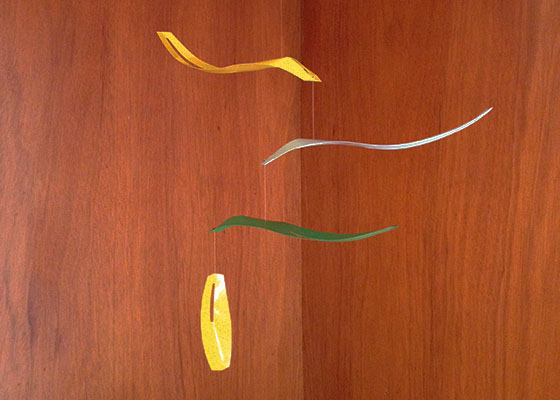 This home has just been listed for $850K –more pics and info here and here. Bay prices are crazy right now, and competition is stiff in this neighborhood as it is. But with those views? As they say, better bring your checkbook.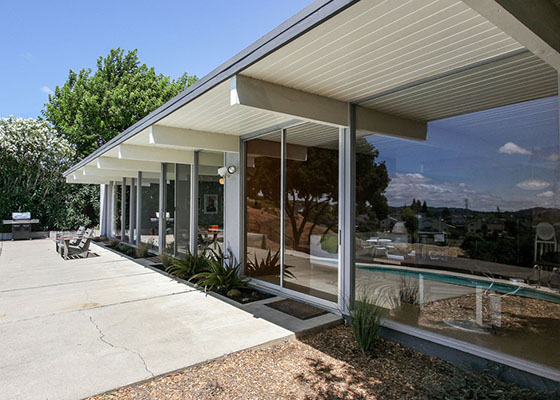 While there, we took a walk around the neighborhood, to steal landscaping ideas appreciate the homes, while snapping  a few pics –I'll share some of those with you in a later post. Listing photos courtesy of Thomas Westfall.
Disclaimer: I am a Sacramento Eichler owner, and these observations are my own. Prospective buyers should conduct a home inspection, via a licensed professional.
Save
Save