When you buy an Eichler, you join a club. Neighborhoods, models, and prices vary wildly, but we're all connected by one thing –our homes were built by Joseph Eichler. That, and this free quarterly magazine…which reminds me, did you see us on the Eichler Network recently?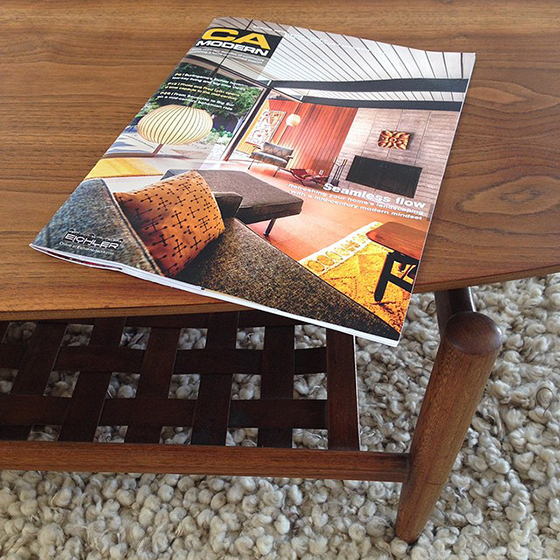 Aside from SoCal and upstate New York, our tract is farthest from the Bay Area – and Sacramento may as well be the moon to most of those folks – but we still share the Eichler connection. And that's usually enough for people, to let down their guard, make conversation, even welcome you into their homes.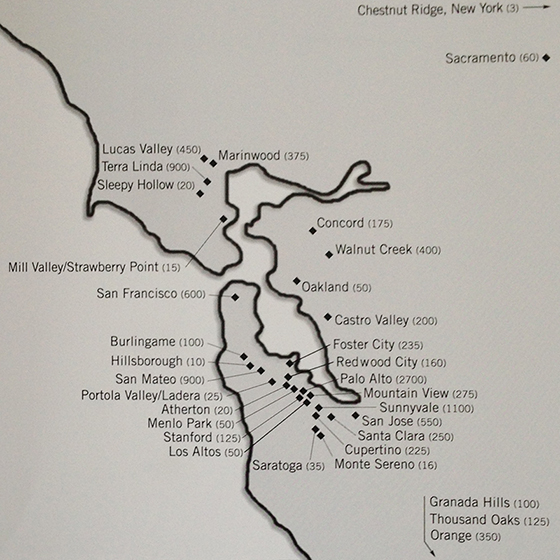 Speaking of which, we just took a trip to Willow Glen (via our friends in Walnut Creek) to visit Karolina and Dave –they live in this awesome 1960 carport model, in Fairglen. Cue atrium envy. And this is their adorable Schnauzer, Winston. Cue dog envy. This is better than any pic I took, so I snatched it –hope that's okay, Karolina?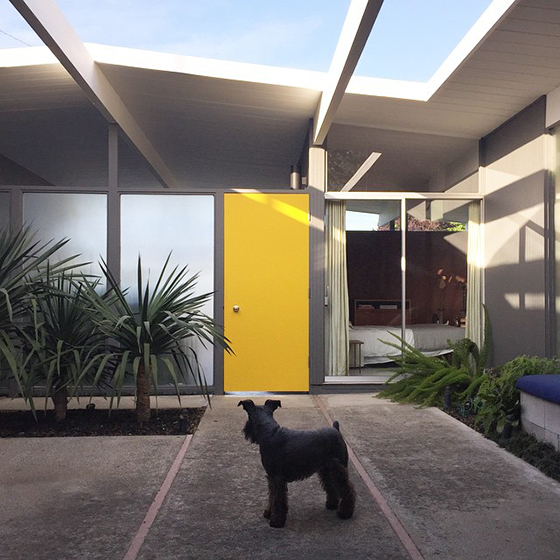 Before now, we'd only visited Eichler 'hoods in the East Bay –Concord, Walnut Creek, Oakland, and Castro Valley. We aim to visit every tract, eventually, and this trip allowed us to check a few more off the list. We started with Fairglen, which has these date-stamped sidewalks. Kinda cool.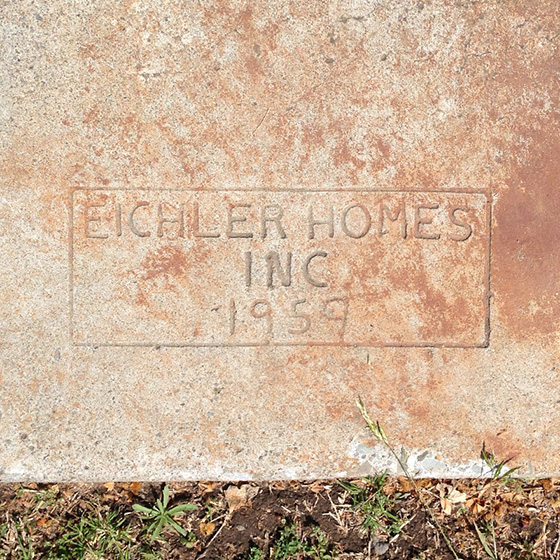 This is the largest of three Willow Glen tracts, with about 250 Eichlers, including some of our favorite flat-top and carport models. Love this slatted overhang, and the shadows it creates. Lots of nice landscaping ideas to steal here too. We saw multiple blue doors, and lots of horsetail.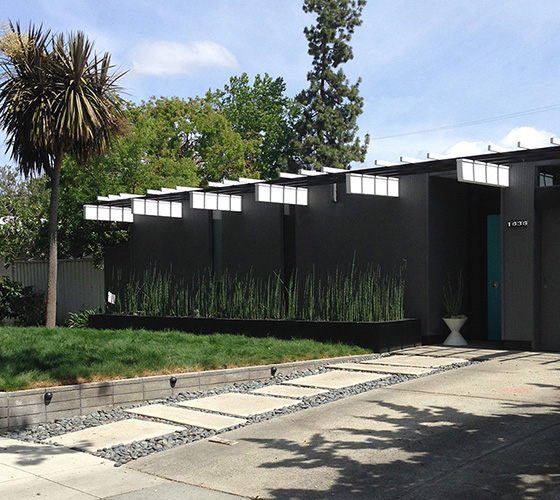 See, here's another blue door. And more horsetail. This is a combination I'm recommending for our friends Kelly and G, who already have a similar siding color. Though in shadow, you can see that a pop of turquoise works nicely. Do it guys!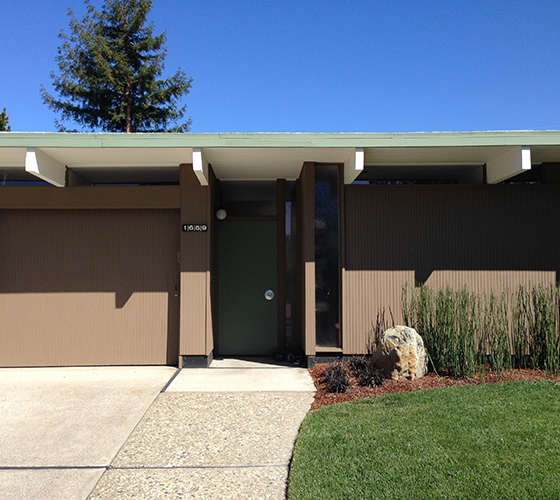 Plenty of classic carport models to see, though (somehow) I didn't manage to photograph many. Love the long horizontal strip spanning the front of this model. Most people (rightly) paint it two-tone, to accentuate this distinctive detail.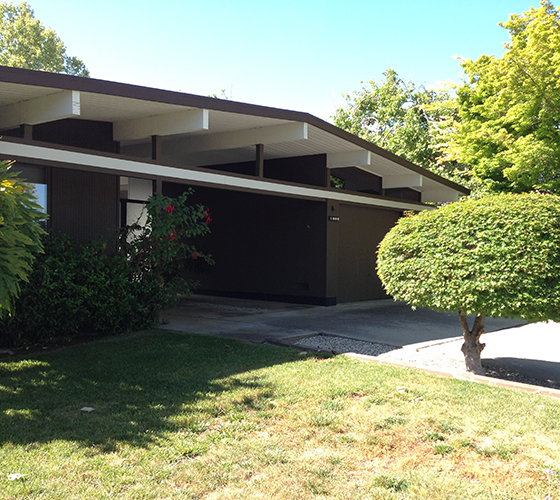 Here's our hosts' home. Again, better than any pic I took, so I 'borrowed' it from their site –honestly, I think it's the best-looking carport model in the neighborhood, so I wanted to do it justice. But then I'm partial to gray. Love the mistlite glass in this model. And that door color is awesome.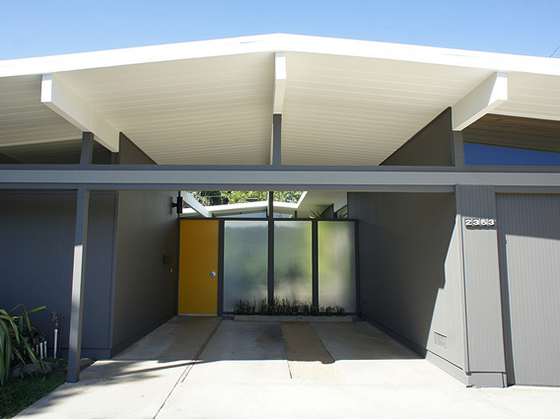 Talking of door colors (as I'm known to do) this one is pretty cool too. Love how the vibrant orange works with the deep charcoal/navy siding. Nicely done.
Next, we walked to a tiny tract of 30 homes, in the Dry Creek area –the first to be built in Willow Glen, from about 1951. Interesting and varied models here, including this one. Looks like they restored the original ceilings inside and out. Nice landscaping too.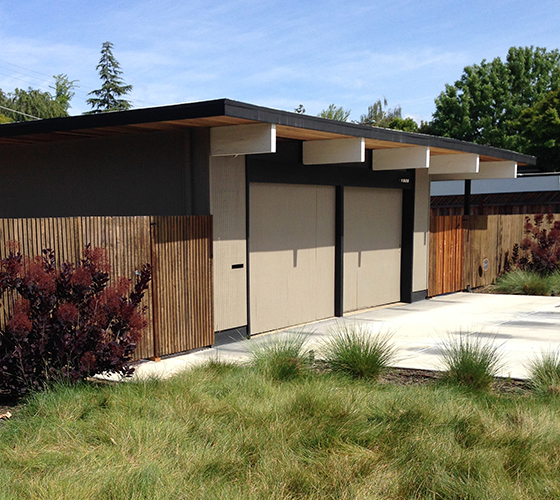 In contrast, and like all Eichler neighborhoods, some owners haven't been so faithful to the Eichler aesthetic. This color palette actually works for me. And that's where it ends. That sculpture is kinda cool though.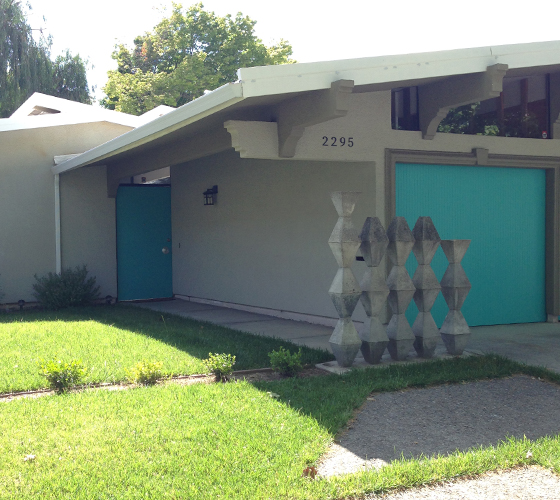 Also some models just like ours here. I'm kind of digging this "1964" numbering. These are the only pics I have from this tract –for a more thorough tour, showing the variety of models, see Karolina's post.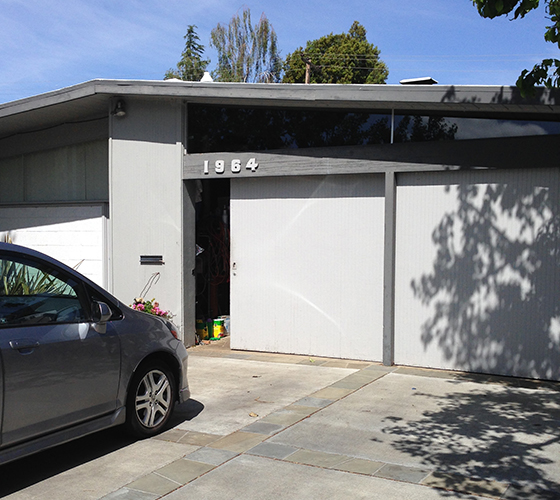 We drove through the nearby tract of Fairhaven –around 60 homes, built around 1962 –these are 'drive-by' pics, so excuse the quality. Some of these homes looked familiar to us, like the models in Concord. Nice colors and landscaping on this one.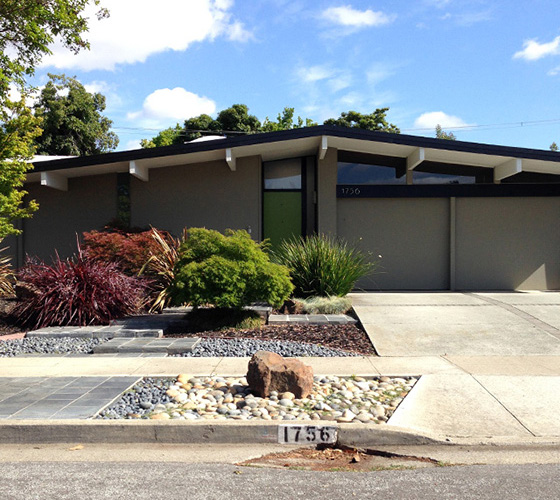 Love this flat-top (presumably courtyard) model, with a cinder-block front wall –lots of these here. Love this subtle shade of green for the front door.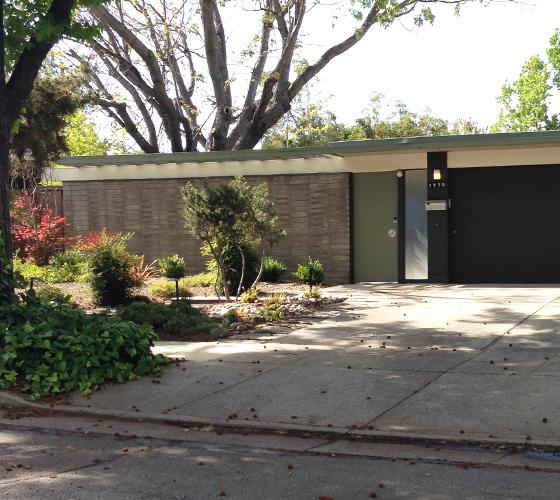 This tract also had something we haven't seen –these modern bay-like windows. Not the best description, so see for yourself…and try to ignore the overpowering solar intrusion. At first, I thought they were non-original, but there are many like this in the neighborhood. Interesting. To me, at least.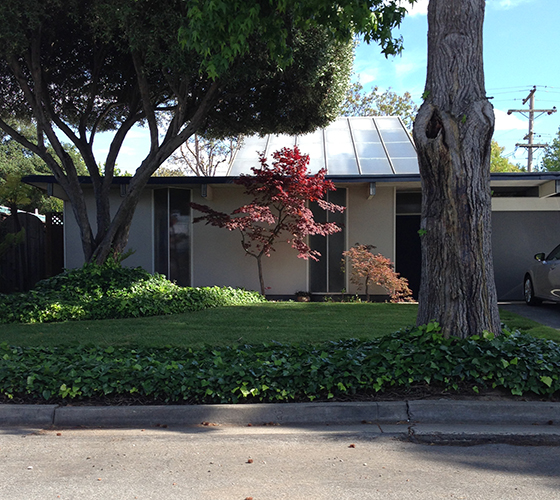 That was it for Willow Glen, but not for our tour. Next, we drove through Sunnyvale's Gavello Glen, built from 1952-59. Not Eichlers, but designed by Eichler architects, Anshen and Allen. And you can see the resemblance. This looks like a precursor to our own home.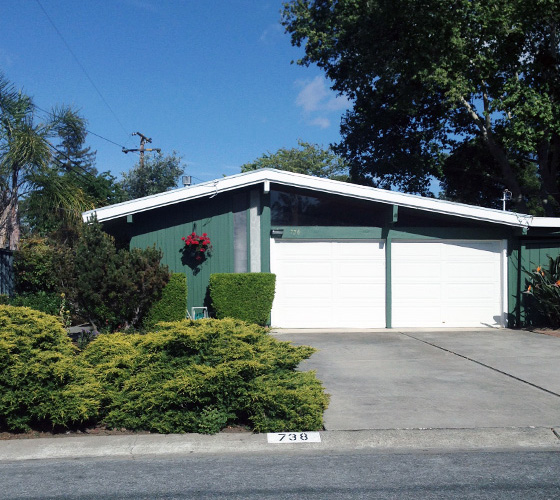 And this high-pitch has the feeling of an Eichler double A-frame. For much more on Gavello Glen, see this recent article on the Eichler Network.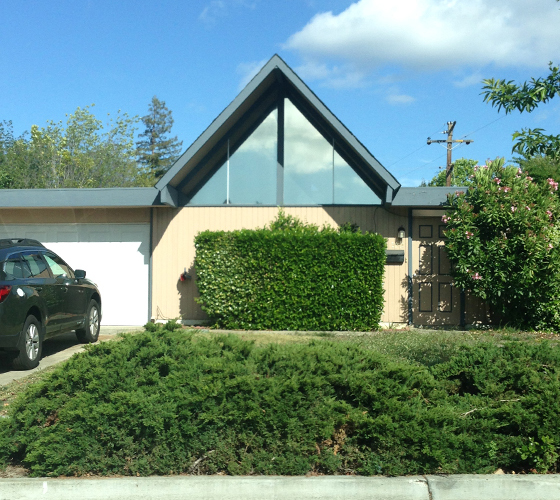 Next stop, Palo Alto, for more actual Eichlers. First, Greenmeadow, which we loved. These homes were built from 1954-55, the same timeframe as our own neighborhood. We parked-up, and quickly fell in love with this custom home.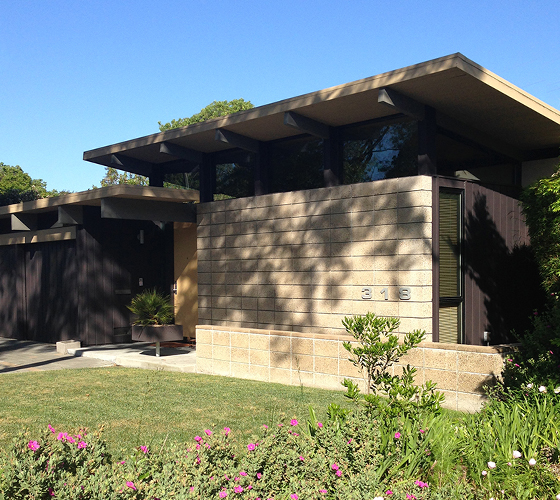 Worth two pics, right? I'd never choose these colors for our own home, but something about this blend of earthy tones works for me. Love the cinder-block. And that planter is awesome.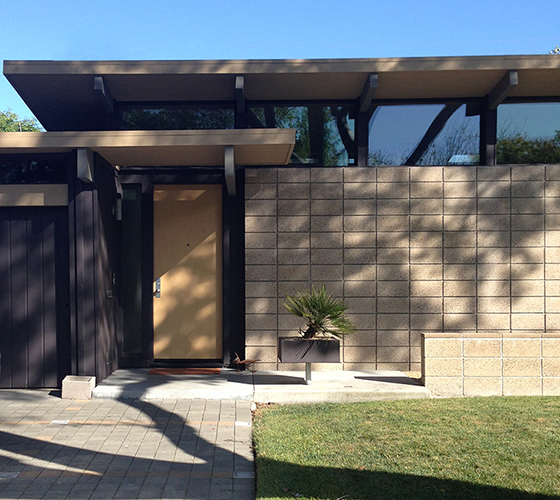 Another looker, fronted with red brick, in place of the typical cinder-block. You can't tell from here, but the front is the lowest portion of the house –the pitch rises towards the rear. Nice.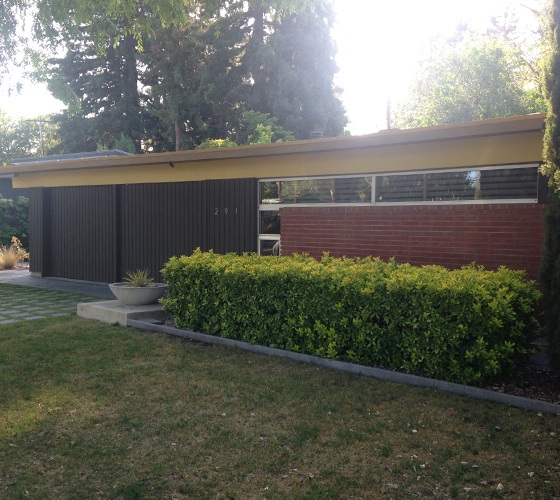 Here's a similar model to ours, with some interesting variations. The cinder-block is unpainted, and a beam protrudes from the garage clerestory –not something I've seen/noticed before. All these homes had wider Plank-Tex siding too –more common on much later Eichlers.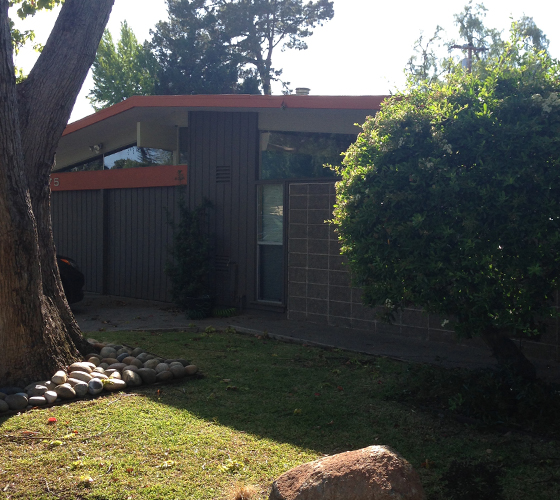 Lastly, we drove through Fairmeadow, where the streets run in circles, as per this famous cover shot. 160+ homes, built from 1951. Prices are similar (mostly $2M+) to Greenmeadow, but it's surprisingly scruffy, by comparison.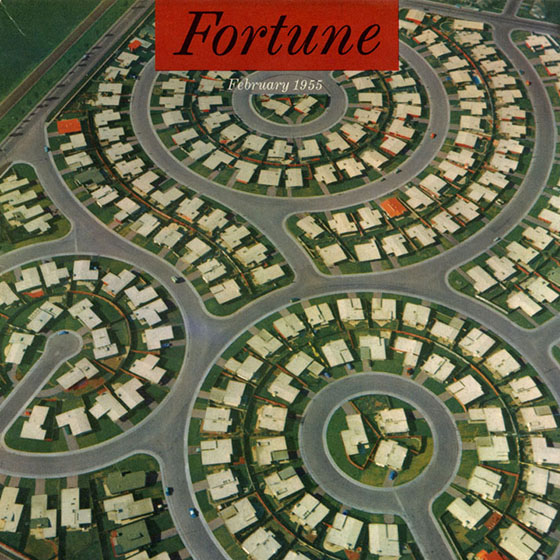 We just missed an open house on this place, which has since gone pending. This was one of the better-looking homes from the street. I don't have any other pics to share, so you'll have to take my word for it.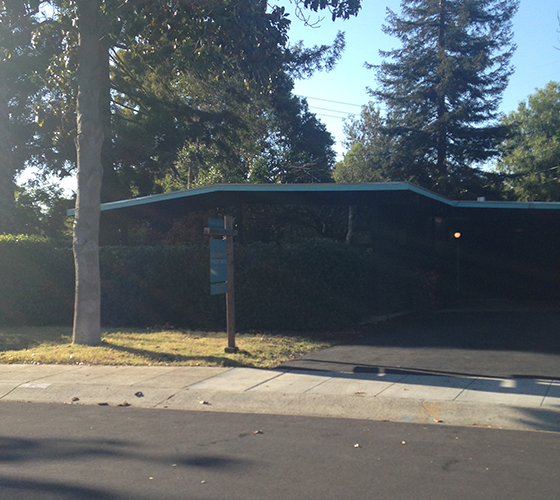 And that was that. We got a good feel for Willow Glen, which we loved, but only dipped our toes in the South Bay (metaphorically) as a whole. So much more to see –we'll definitely be back. I'm considering making a "fogmodern on tour" sticker for our Mini Cooper. I jest.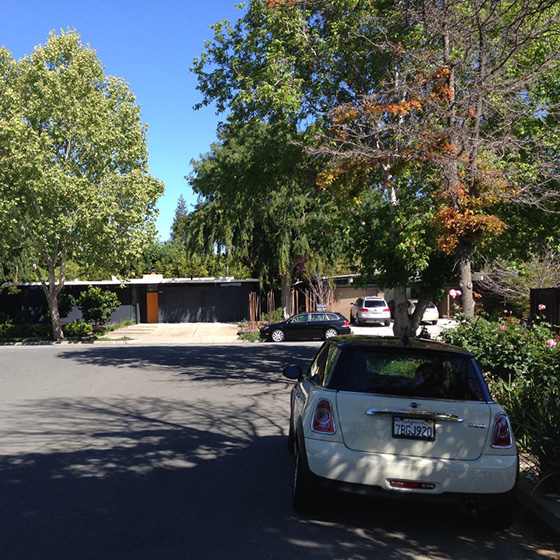 But we do have a few outstanding invites in various Eichler tracts, so we'll be checking more off the list soon. Meanwhile, back at the ranch, we've been working hard on multiple projects –updates on the way…