Last summer, we completed 'phase one' of our kitchen makeover. It was a BIG improvement (unless you love tiled countertops) but we were never 100% happy, and didn't post a final reveal. Recently, we undertook what we're calling a 'refresh' –fixing functionality, and re-doing stuff that didn't quite work out. And here's where we're at now…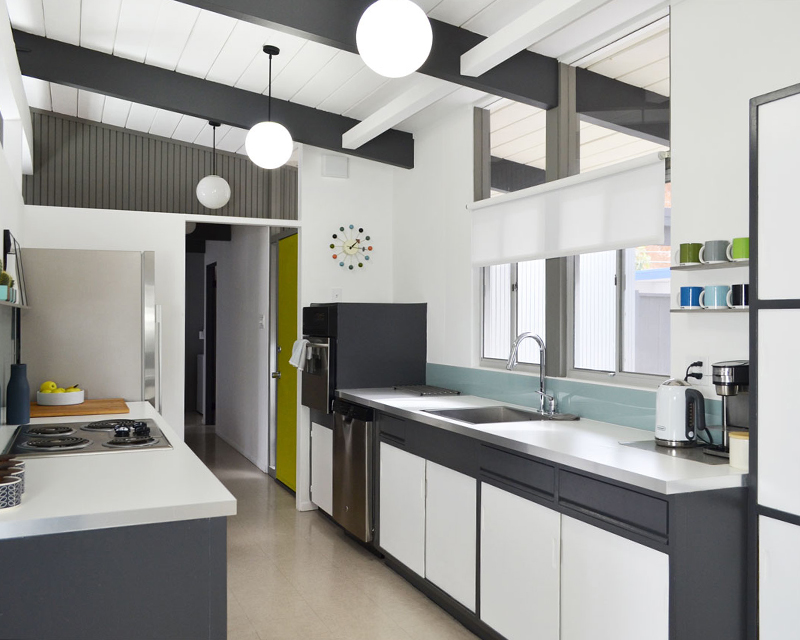 We're still not finished (will we ever truly be?) but we've come a long way. To show you how far, let's take a look back –here's our kitchen in September 2013, just after we moved in (check the "new home" cards). It's not pretty…except for the refrigerator, which arrived the day after we got the keys.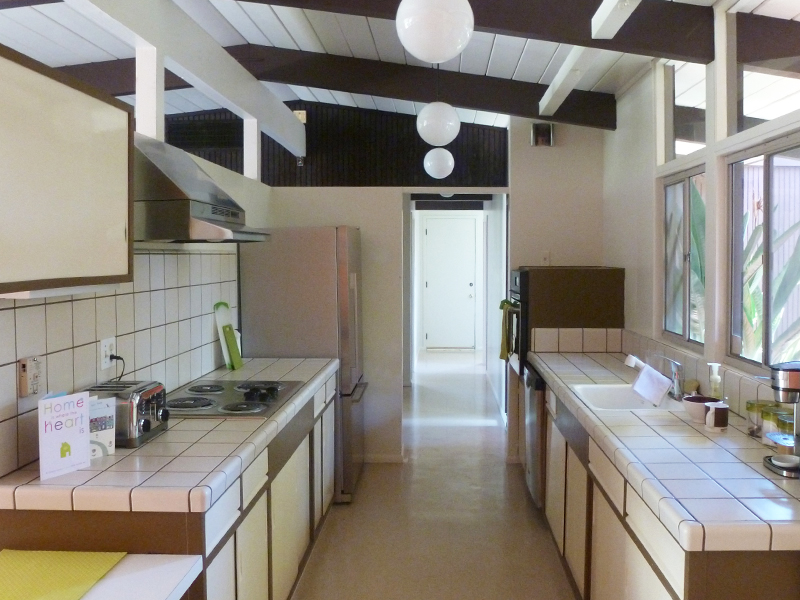 Nine months' later, phase one –we ripped out tile and replaced with laminate counters, removed the ugly range hood, replaced the (painted!) sink, and faucet, added Formica backsplash, and painted cabinets, doors, drawers, and walls. Much better, I hope you'll agree. After that, we took a deep breath.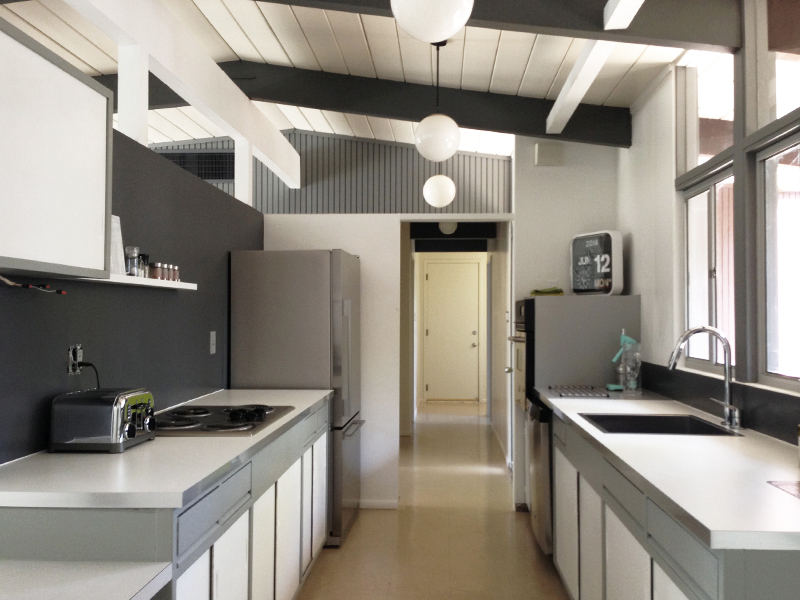 Another year on, more tweaking. First, we agonized over removing the flying coffin/table –tough decision, but the right one for us. Next, the backsplash –we'd picked thin Formica which came rolled, and never lost its memory, making it pull-away from the caulk. We also didn't love the color –things always look different scaled-up, from a swatch. So we switched it, for this painted acrylic…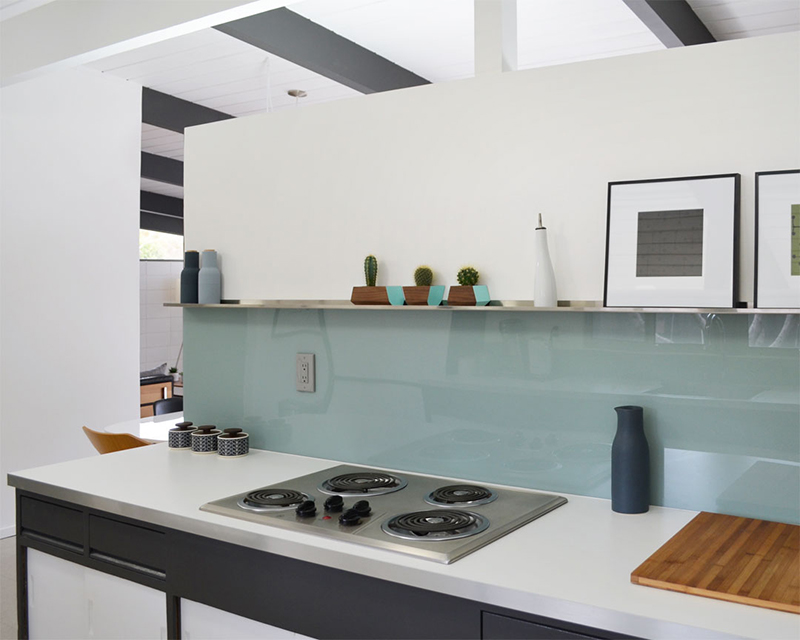 We LOVE how it turned out (click for install details). We painted the wall behind it white, for contrast, and added a stainless-steel ledge above it, mainly to display pretty things –speaking of which, we just bought these stunning boxcar planters, in solid walnut and robin egg blue. We're in love. Also the perfect excuse for more cacti…like we need one.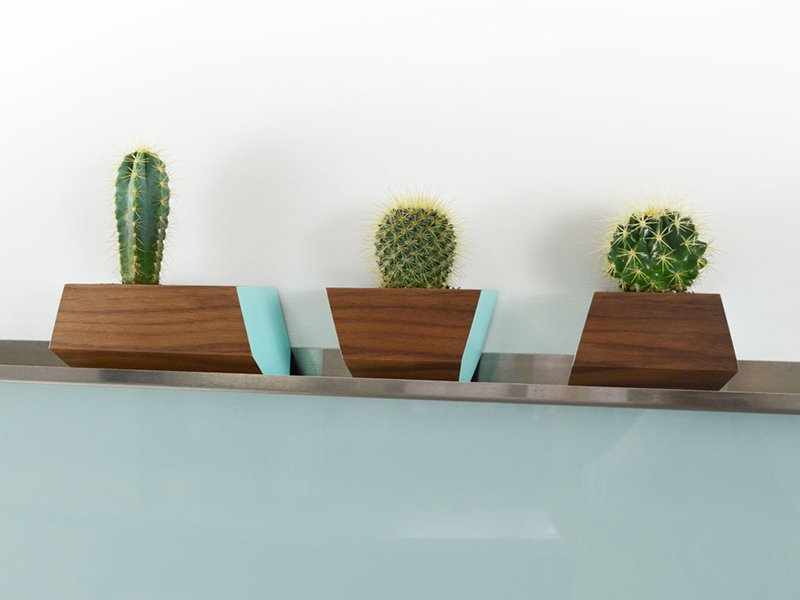 We added two matching stainless steel ledges on the opposite side, above our tea and coffee area. These indulge our PANTONE fetish (yes, we have a problem) with both devoted to our mug collection.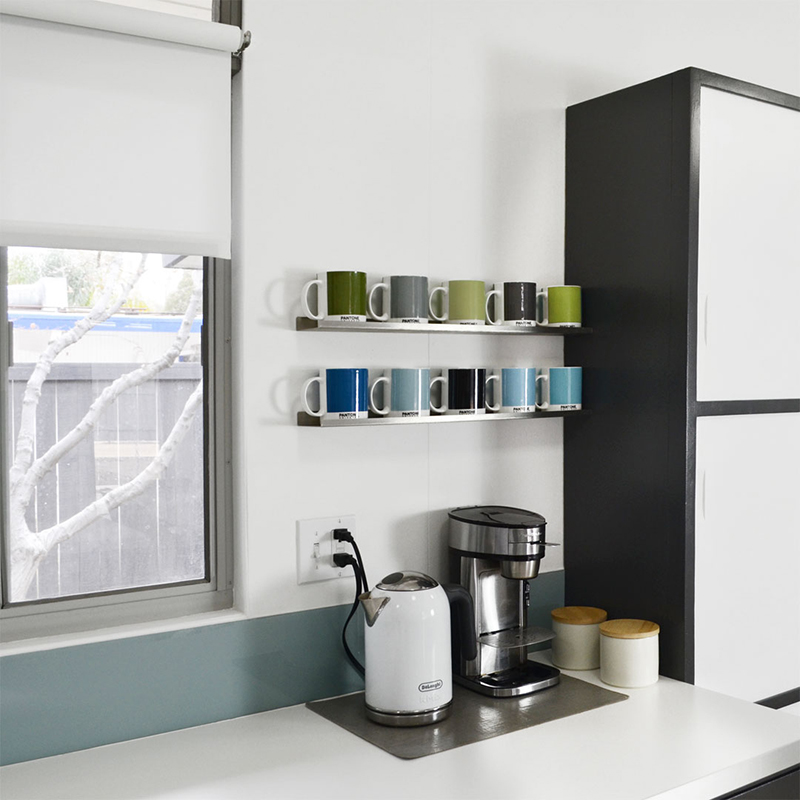 We have many more in the cupboard, collected over several years. We did buy some additional mugs to fit our kitchen palette…and played around with color combinations for longer than I care to admit.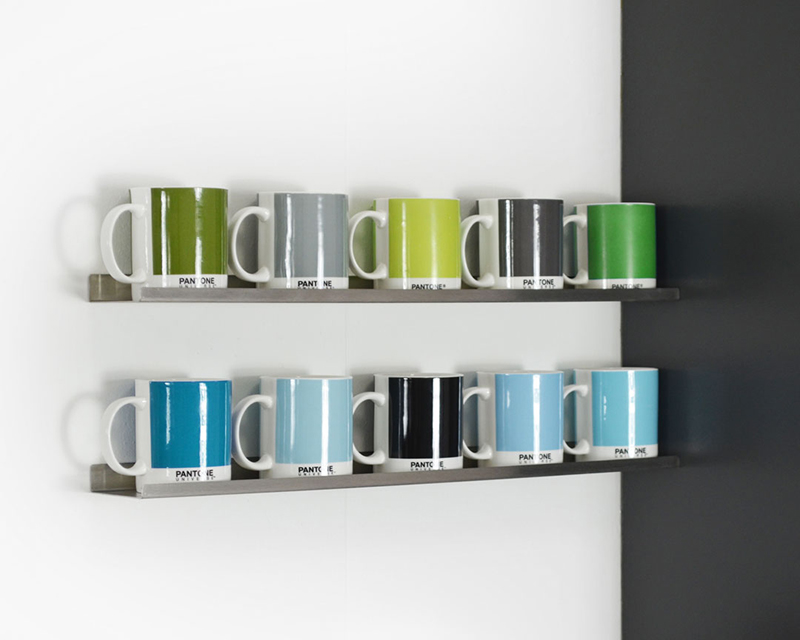 But it's not all for show –we also improved functionality in a few places. We added IKEA staples like drawer liners, spice jars and trays, to make everything feel newer and better organized –that said, this drawer could do with some sorting…but you get the idea.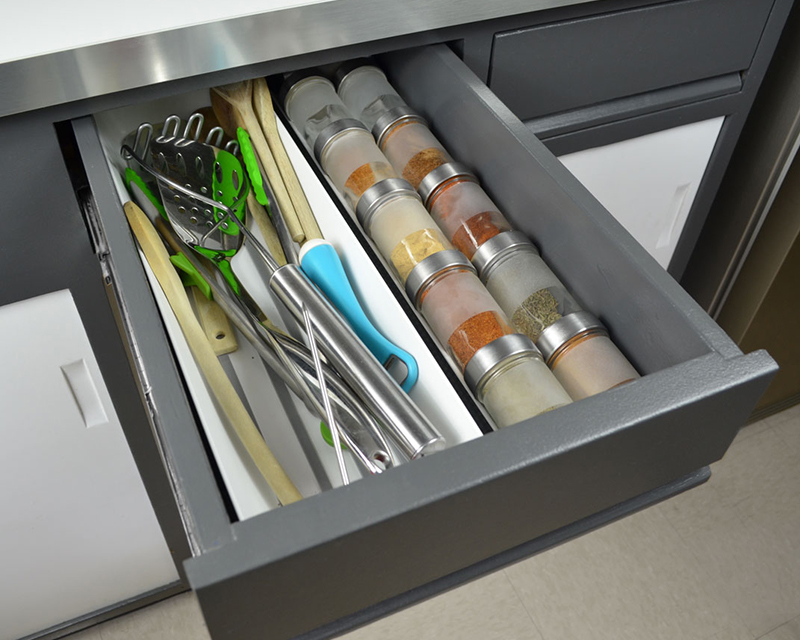 We also added soft-close drawers, inside a few cabinets, to make cleaning products etc. more accessible.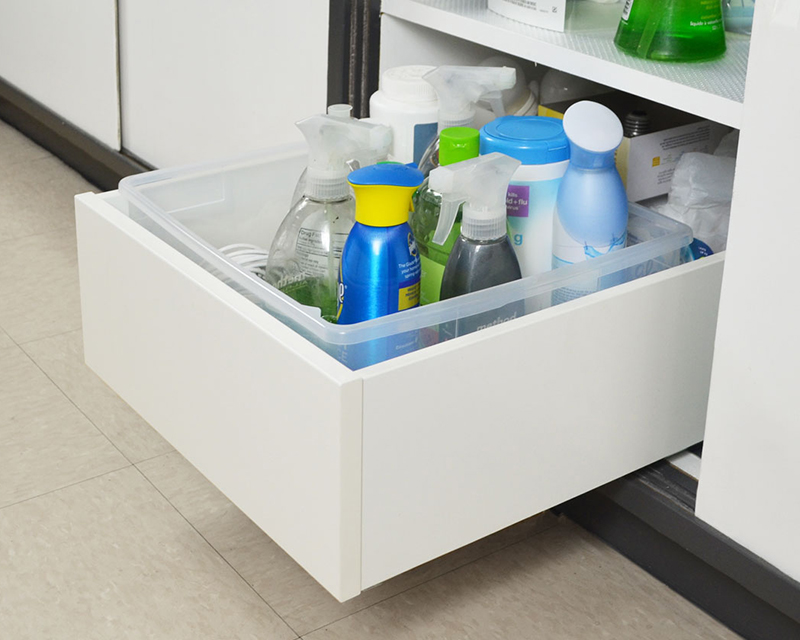 And my personal favorite (as I do most of the cooking) soft-close shelves, for pots and pans. We had to cut them down to fit (trickier than we hoped) but now they work like a dream. We lined the shelves with spare placemats, as they happened to fit perfectly.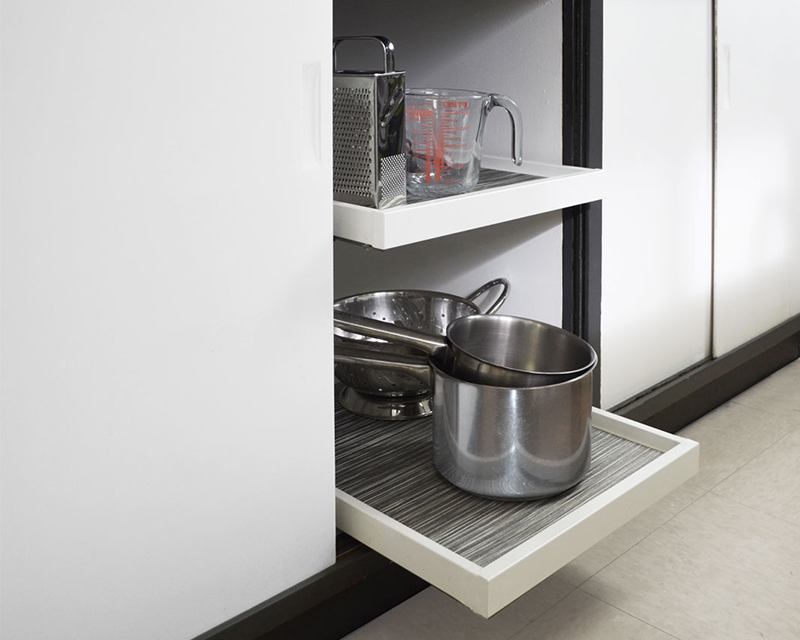 But perhaps the biggest change was repainting the cabinets. We were never convinced by the mid-gray color we originally picked and painted (see third pic) and the finish wasn't holding up too well –perfect excuse for a color change…which has become our specialty.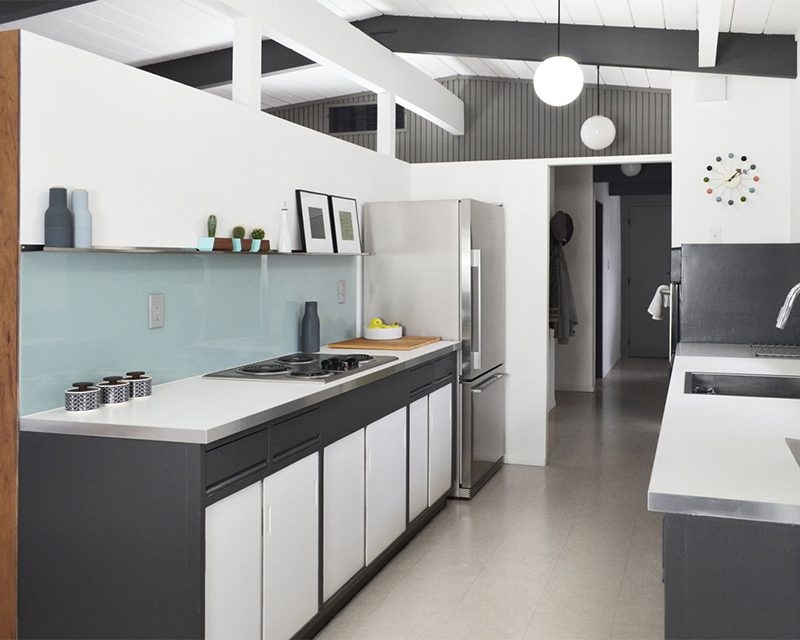 This time (I think) we got it right, using our dark gray (custom mix) beam color. It's a much stronger contrast, which we love. And we think the darker color looks more authentic, somehow. I believe the cabinets were originally black (or close) Zolatone, though I'm happy to be corrected.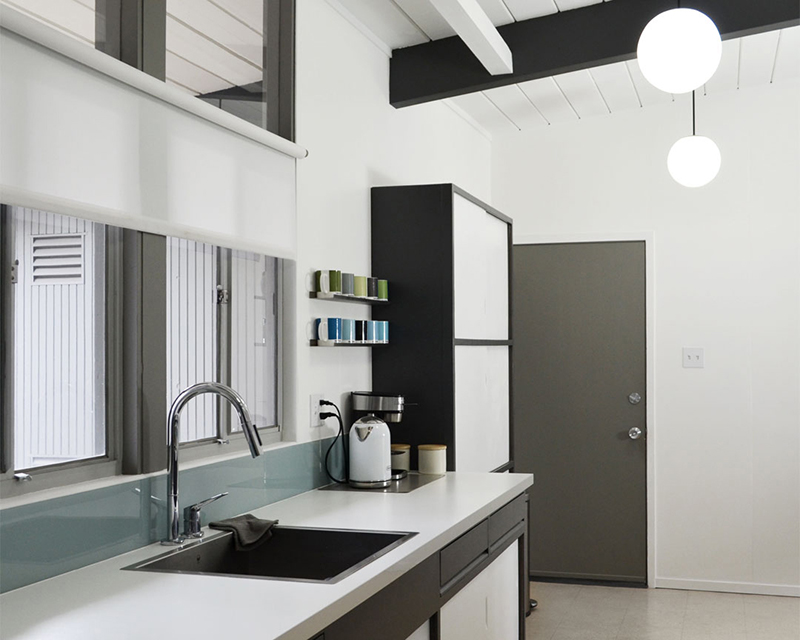 And that's that. We need to add/replace stuff on the long shelf, switch-out the appliances eventually, and replace counters in the long-term. Oh, and install our new white VCT flooring. For now though, we're very happy. And we're enjoying our kitchen more than ever. We hope you like the changes.
Save
Save
Save