We typically only post Eichlers for sale here. Time for an exception. Our friend Blaine is selling his gorgeous modern home in Bermuda Dunes, south-east of Palm Springs. We've been closely following his meticulous restoration via Instagram (worth reviewing) and now it's ready, just in time for Modernism Week.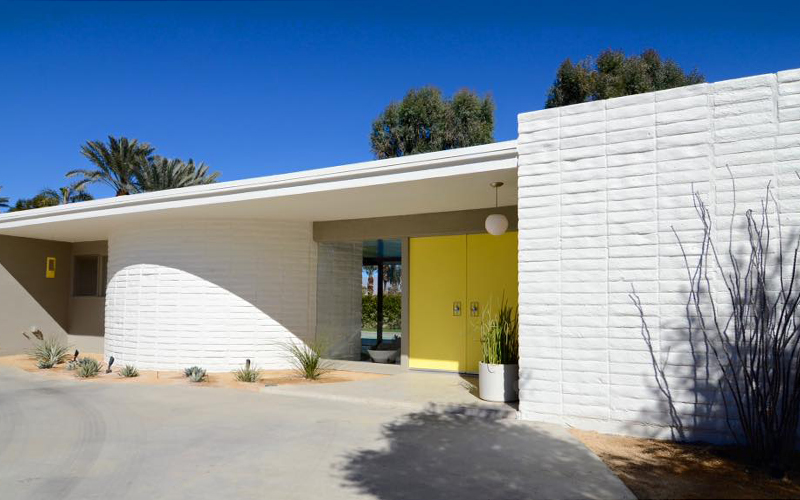 Built in 1960, this 3 bed, 2 bath home spans 2709 square feet, on nearly half an acre. We could almost eat it –that curved Roman brick facade, those bright yellow double-doors. Blaine placed a cherry-on-top with twin vintage Schlage escutcheons. Delicious.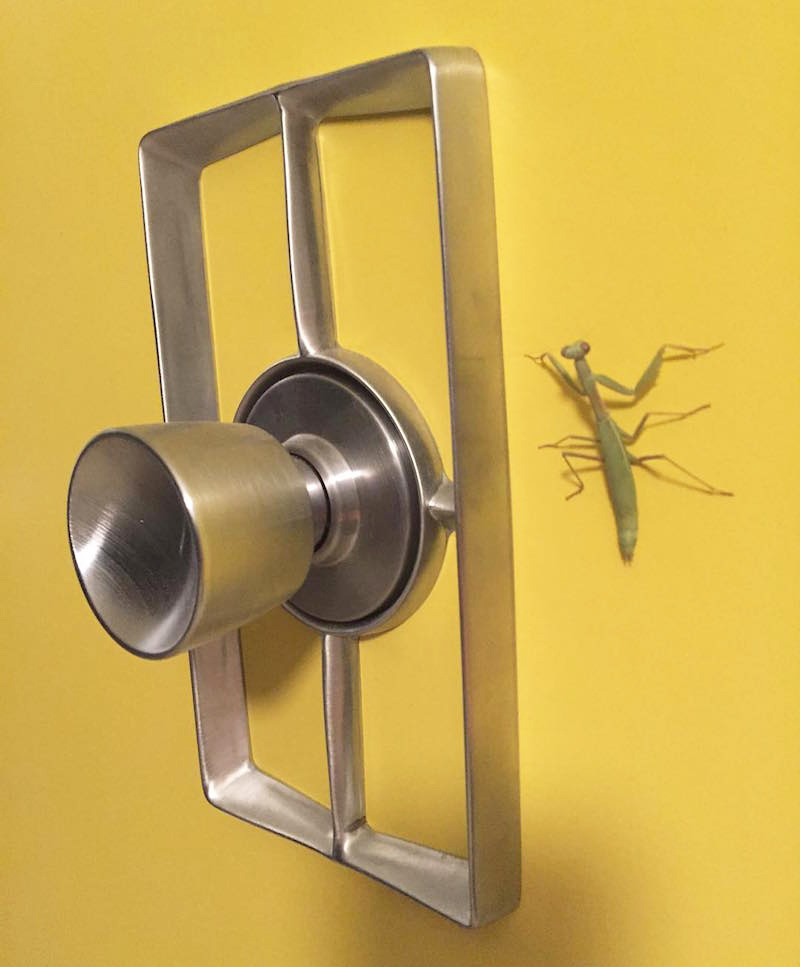 Not bad inside, either. If this sofa looks like it was made for the 24ft curved wall, that's because it was. All about the details here. No surprise, as it's Blaine's 'thing'. You may recall his last house –a spectacular Eichler in Concord, that smashed the neighborhood sales record.
Love the huge circular shaggy rug. And in case you're wondering what's on the wall, here's a close-up. Now you know what $1000 worth of decorative urchins looks like. Pretty damn cool, no?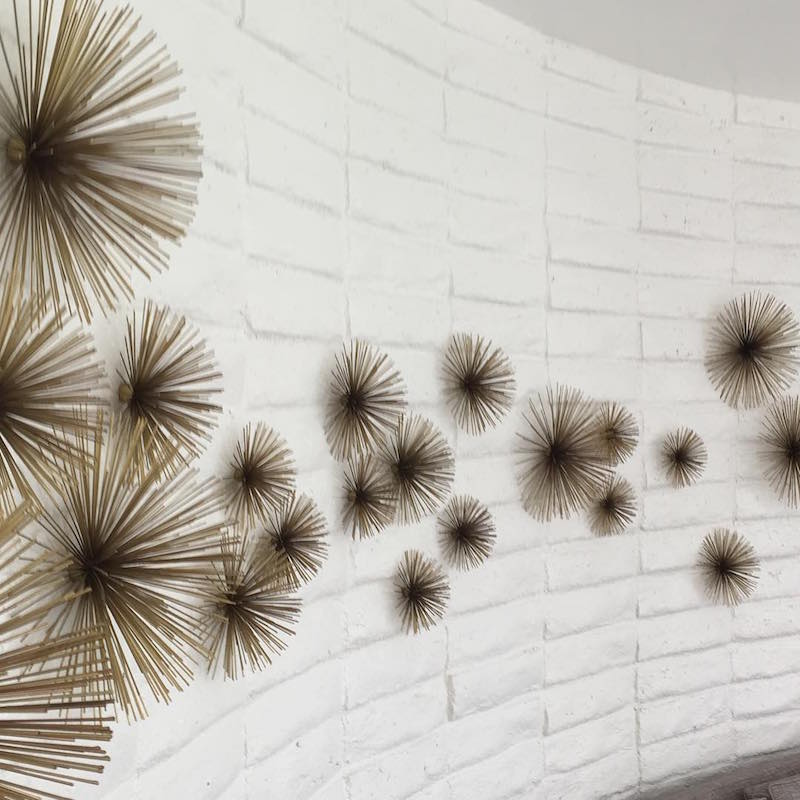 On the opposite side of the wall, the kitchen is all new, with quartz counters hugging the curve, and matched vertical grain walnut cabinets. This opens to a dining area, with an adjacent den completing the living space. Everything is flanked by a wall of glass, connecting to the outdoors.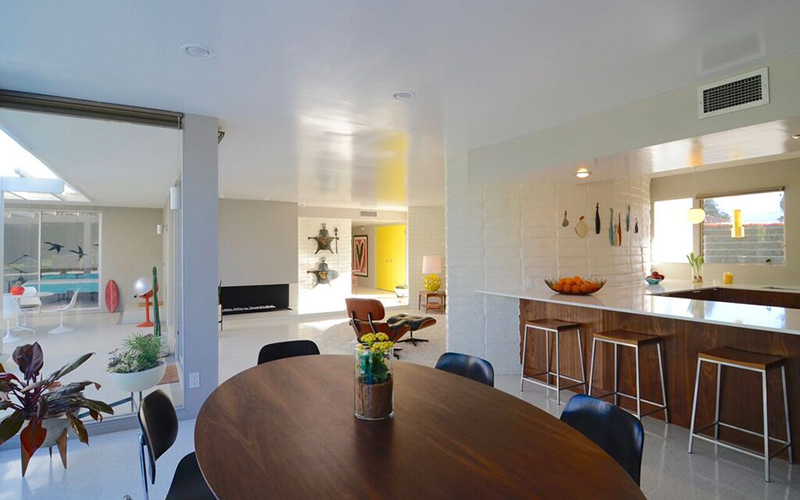 The flooring is to die for –Cortina Grande solid vinyl tile (SVT). Similar in appearance to our own VCT, but a little more luxurious, with a price tag to match. Blaine says the installers did a fantastic job. Looking at this level of detail, it's hard to argue.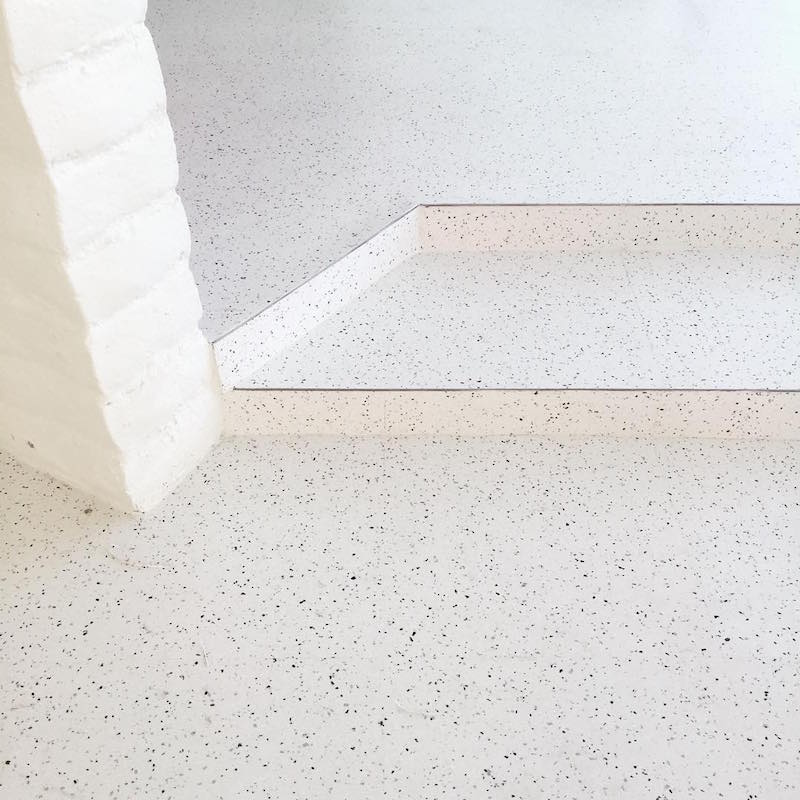 Three beds, with the master being the pick. Those flying ducks started life looking like ours –after much deliberation, Blaine sprayed them matte black. I dig them this way, and they'd suit our own palette (Karen may even prefer them) but we'll be keeping ours au naturel.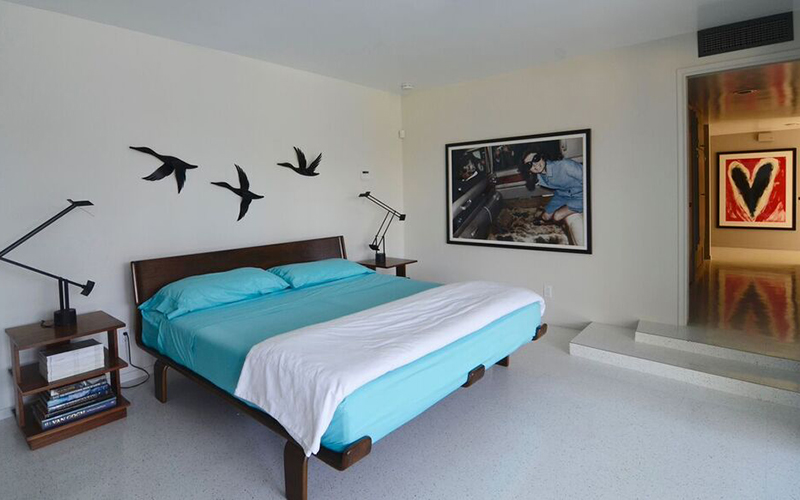 Big master bath, with double sinks, sunken shower, and original Jalousie! door (the "!" is for you, Blaine).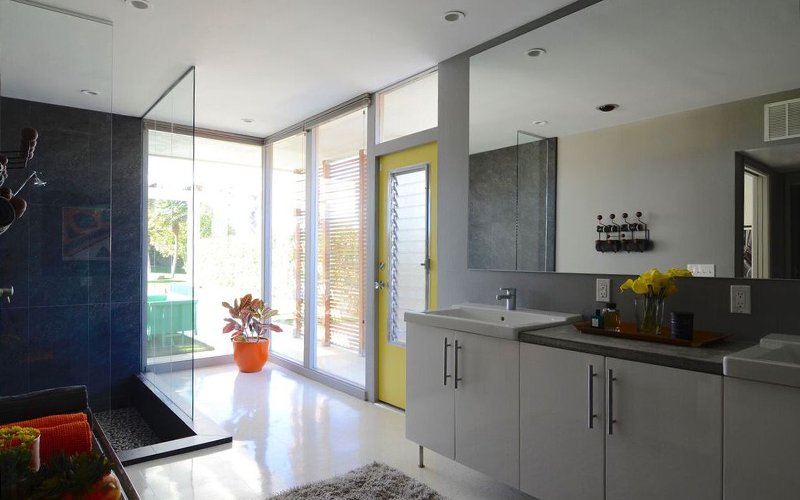 Beyond the door, a nice shaded patio, also accessible from the large master sliders. Abundant outdoor space includes a pool, naturally, and obligatory mountain/palm tree views.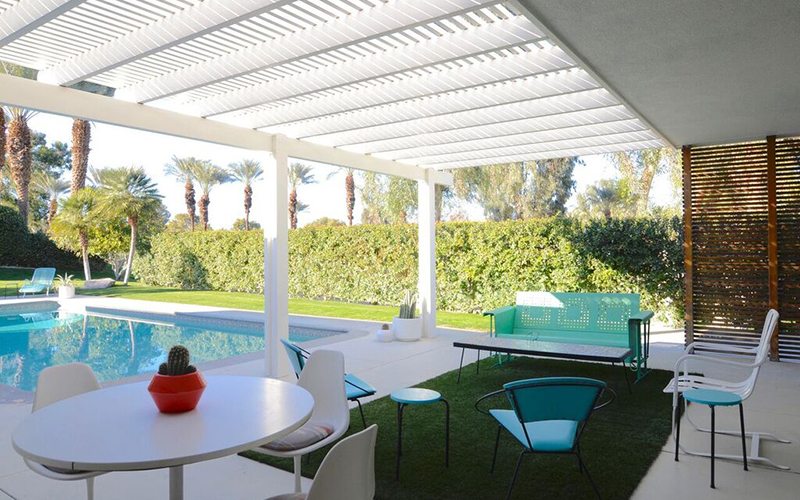 The home sits within the Bermuda Dunes Country Club development, overlooking the golf course. Celebrity kudos too, with Rock Hudson a former rear neighbor.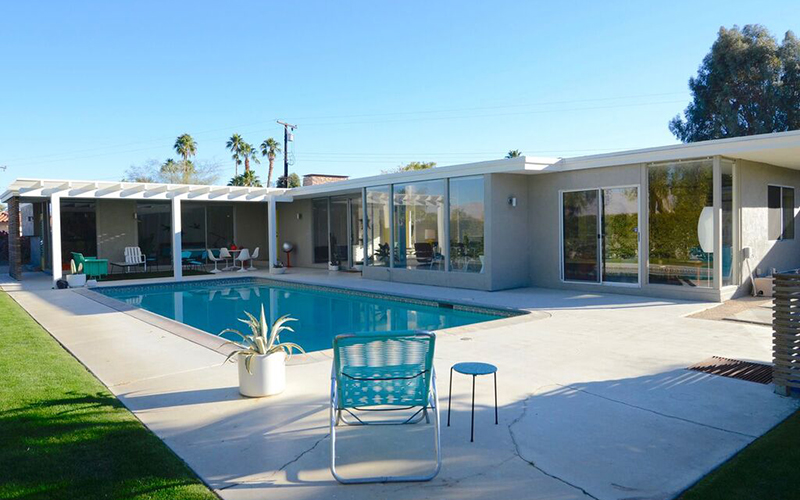 This house doesn't sleep at night, thanks to some cool landscape lighting. We particularly love the Ocotillo Blaine added in front of the right-hand wall. We must make room for some –just need to find the right spot.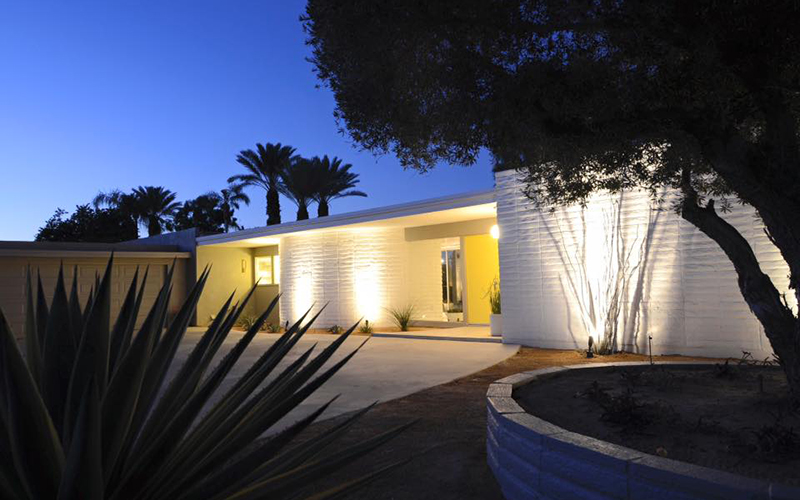 While we're on that wall (so to speak) I should mention it has been completely restored, having been clad by a previous owner. Hard to believe anyone would cover that up, but here's the gruesome evidence…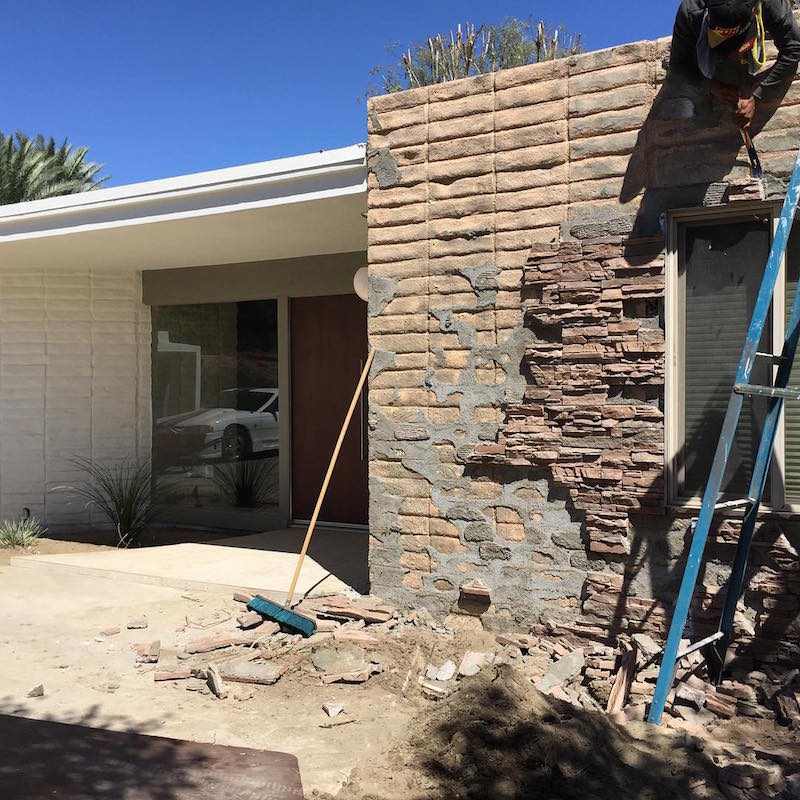 Like everything else, it now looks pristine. Let's cleanse our palates with a look at the present day version. You'll notice an Eichler-esque globe light Blaine added by the entrance. Just the perfect touch. I could share so many more pics, but I need to stop somewhere.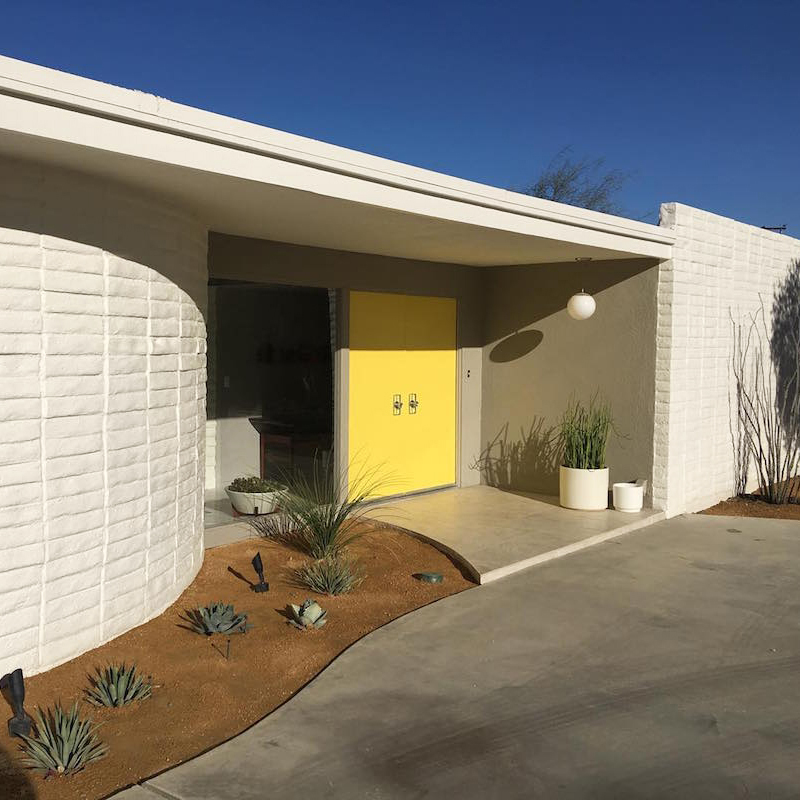 Thirsty for more? Click here. Listed for $720K, by Steven Ward of Keller Williams. Open houses next two Sundays (Feb 14+21), both during Modernism Week. We planned to visit Blaine, but won't make it before this sells. Shame, but I'm guessing another restoration is around the corner…
Disclaimer: I am a Sacramento Eichler owner, and these observations are my own. Prospective buyers should conduct a home inspection, via a licensed professional.
Save