People say you should live with your home a while, before making major changes. Good advice. And advice we've taken, having lived here almost two years (I know, time does fly). Truthfully, I didn't think we'd ever make significant changes. But that's about to…er change. And this is where it's happening.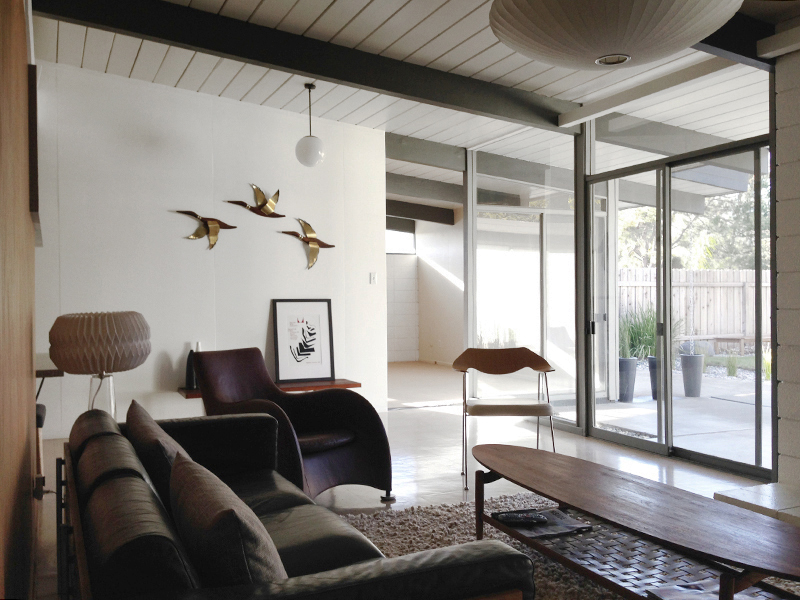 Our living room (LR, below) is pretty dark –this, despite a wall of windows, overlooking our terrace (T). Problem is, those windows face north. There's a half wall fronting our kitchen (K) to the south, and a full wall to the east. To the west is our all-purpose room (AP), divided by another wall, marked in red…ominously.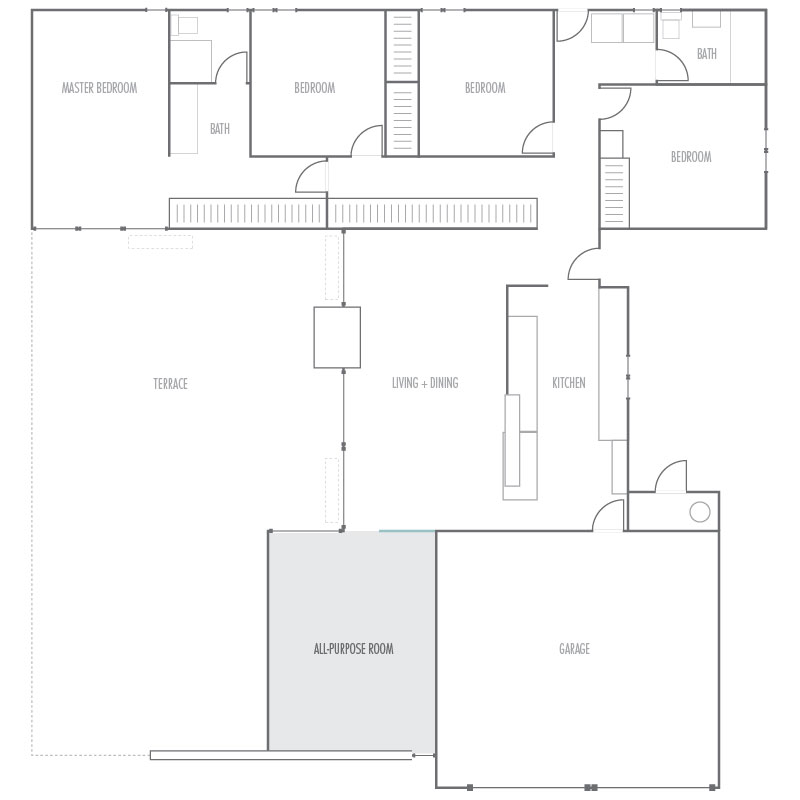 The AP room gets a little morning sun, and plenty of afternoon sun, through large wedge-shaped clerestory windows. But the only light path to our living room is through a door-width opening. The rest is blocked by the wall. Separation is clearly intentional, and we like how it looks, architecturally, but it just doesn't work for our home's orientation.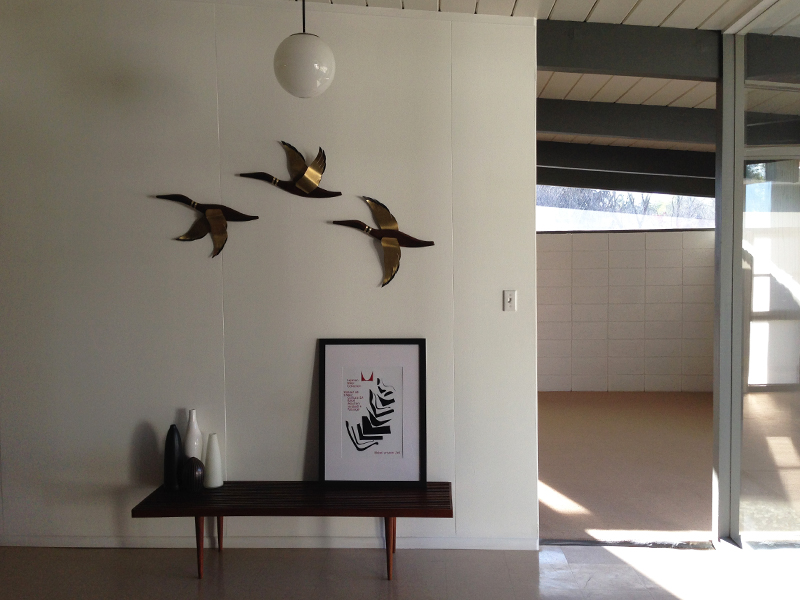 You can see where I'm going with this, right? We decided to remove this wall, up to the left-hand duck (above). FYI: no ducks were harmed in the removal of this wall…though they have been re-homed. Here's a look from the other side. Incidentally, the ill-fated wall is wider than it appears in the plan.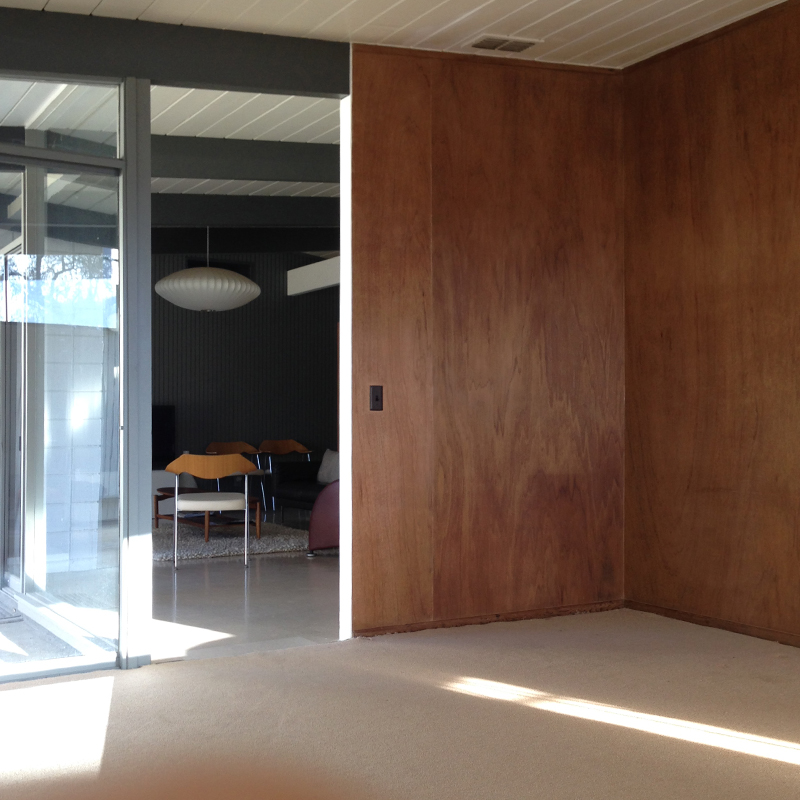 Still not a big wall. But it was a big decision –one we (especially me) wrestled with for a while. We even visited a neighbor (thanks Randy!) whose home had undergone our desired change. Convinced, we got to work. First, we stripped the room. That meant removing another ugly carpet –yay!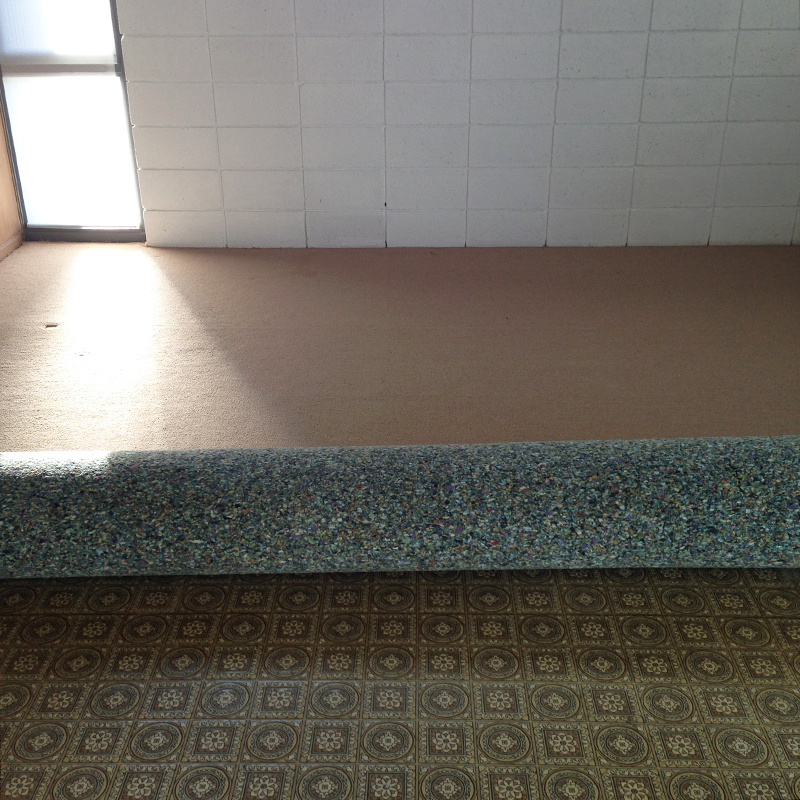 Downside is, we revealed this 70s linoleum. I'm surprised how many people say they like this. Guess it has a certain retro authenticity. To quash visitors enthusiasm, we'd show them these cigarette burns, and paint overspray (which I've since scrubbed off). We're eager to get rid.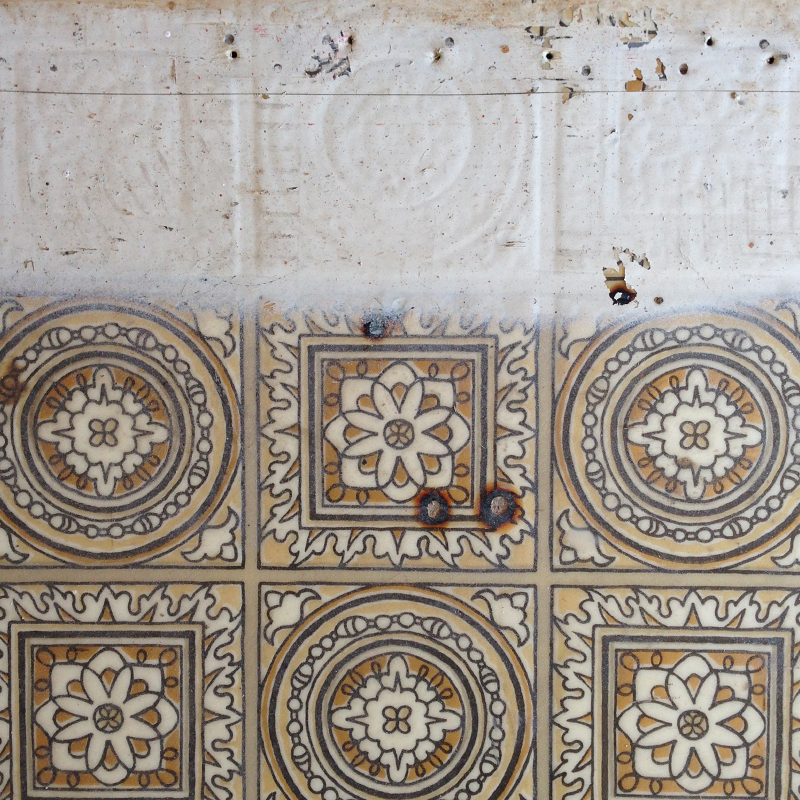 But right now, we had bigger fish to fry. We couldn't put it off any longer –we tackled the wall. First, we removed the paneling from both sides. This didn't take long, and we were quickly back to the studs. Now we got a sense of how things would open up.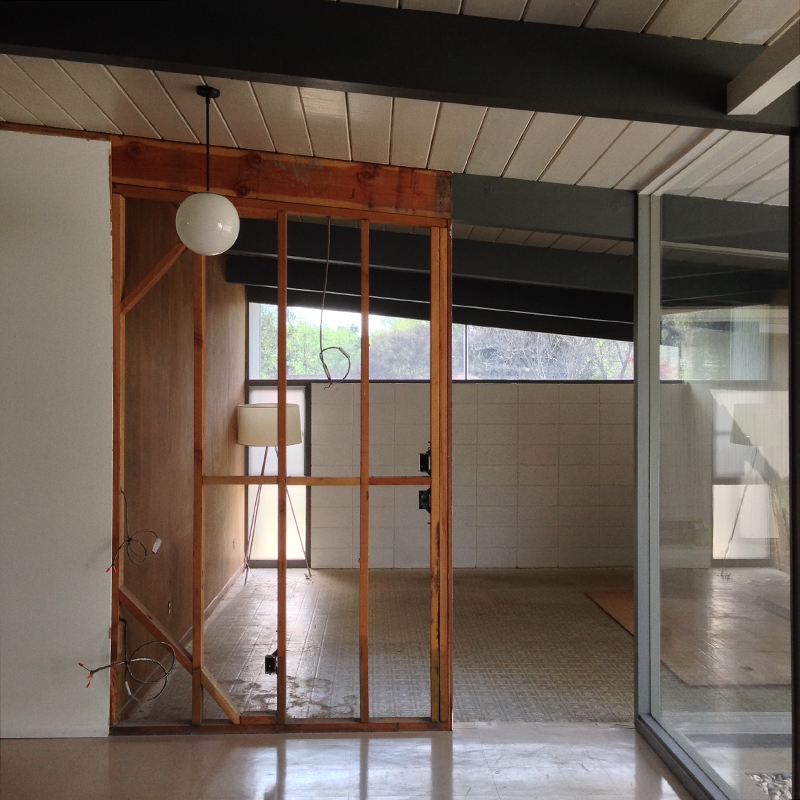 I'd always figured we'd gain light to the living room, and views into the AP room, but not views back out. Until now. At this point, we were pretty excited. We were also aware that we could still turn back, if we changed our minds. But we weren't about to do that. We pressed on.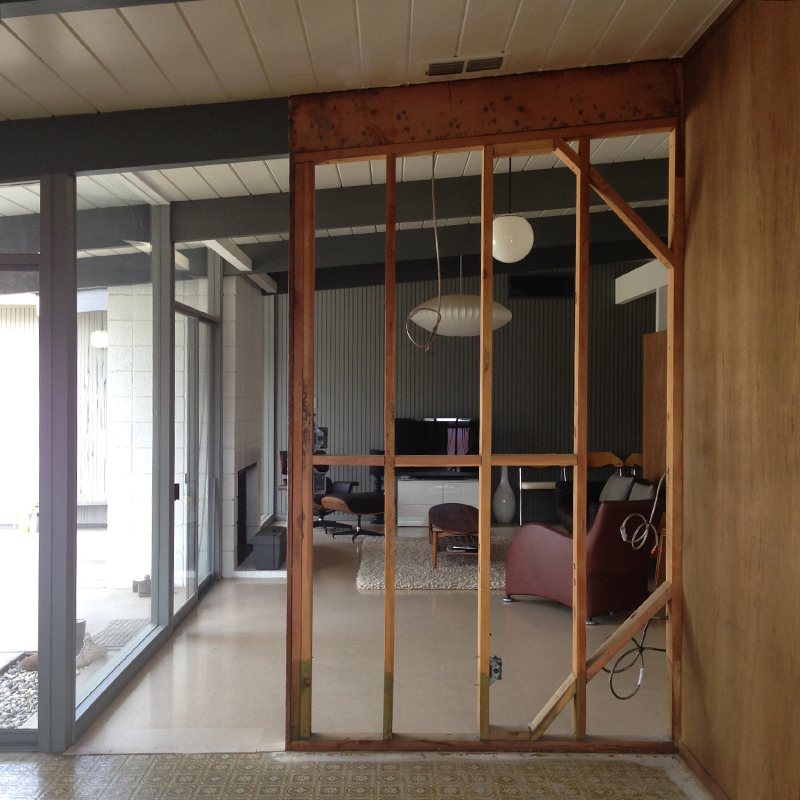 And the wall was down in no time. Literally, Karen went for a cup of tea, and I'd pretty much finished demo. Next, just the simple task of re-routing the electrical. I jest. Luckily, our resident electrician (AKA Karen) is deadly serious about her work. And she did a great job.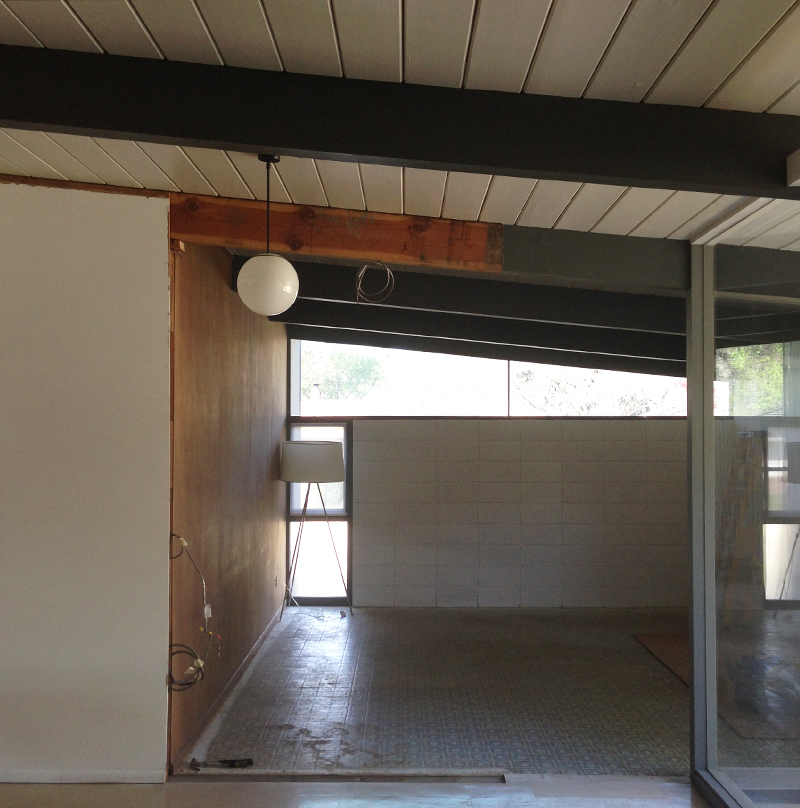 We removed the remaining paneling, baseboards and trim, enabling me to sand and re-finish everything. With that off, we insulated this wall, which backs onto our garage. Unlike our master, there was no insulation here, which was actually a relief –we knew adding some would improve efficiency.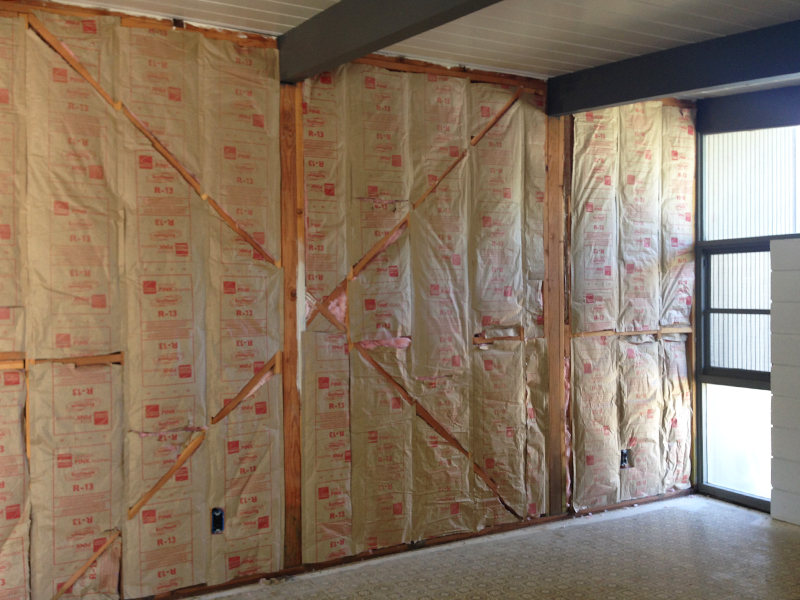 Next, we began the painting phase, starting with cinder-block. As usual, we used Behr Premium Plus Ultra, but this time in semi-gloss –having previously painted this in matte, we concluded it looks better (to us) with a little sheen.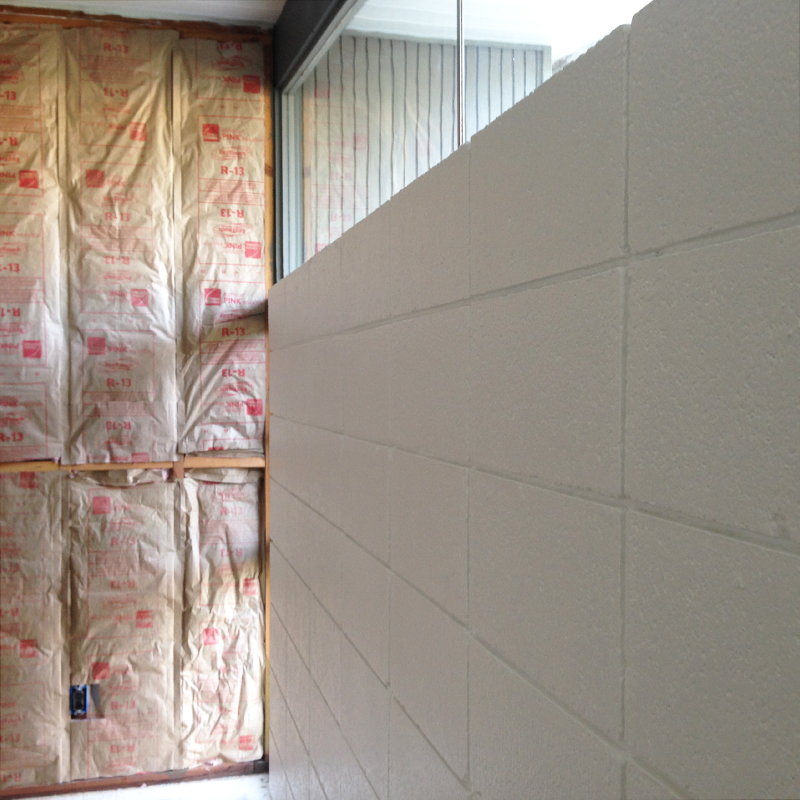 Next, we transformed the ceilings from our ubiquitous off-white, to 'white-white'. Some patching required here and there. We also had to repaint the beams, as they're in our old (lighter) gray.  The previously covered section of beam (in the distance) needed extra attention –more sanding, filling, and bondo-ing– having been covered for 60 years.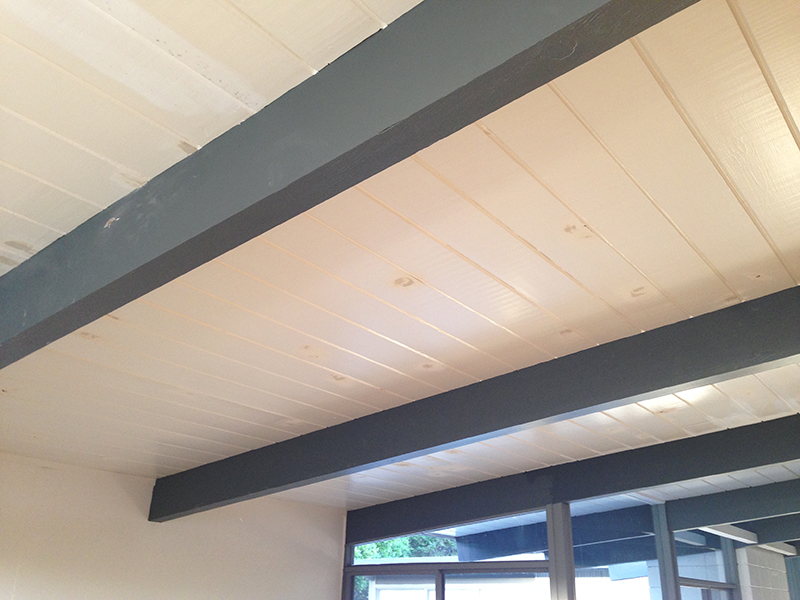 On the living room side, we had to remove and shorten the top trim, having exposed more of the beam. Obviously it's not painted here, but you get the idea.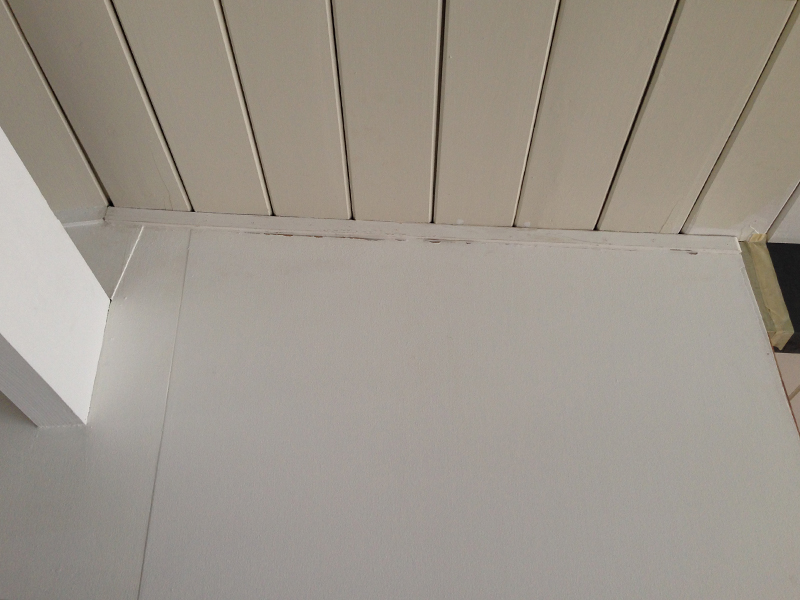 Next, we re-installed the paneling –time-consuming, but not too difficult…until we reached where the wall used to be.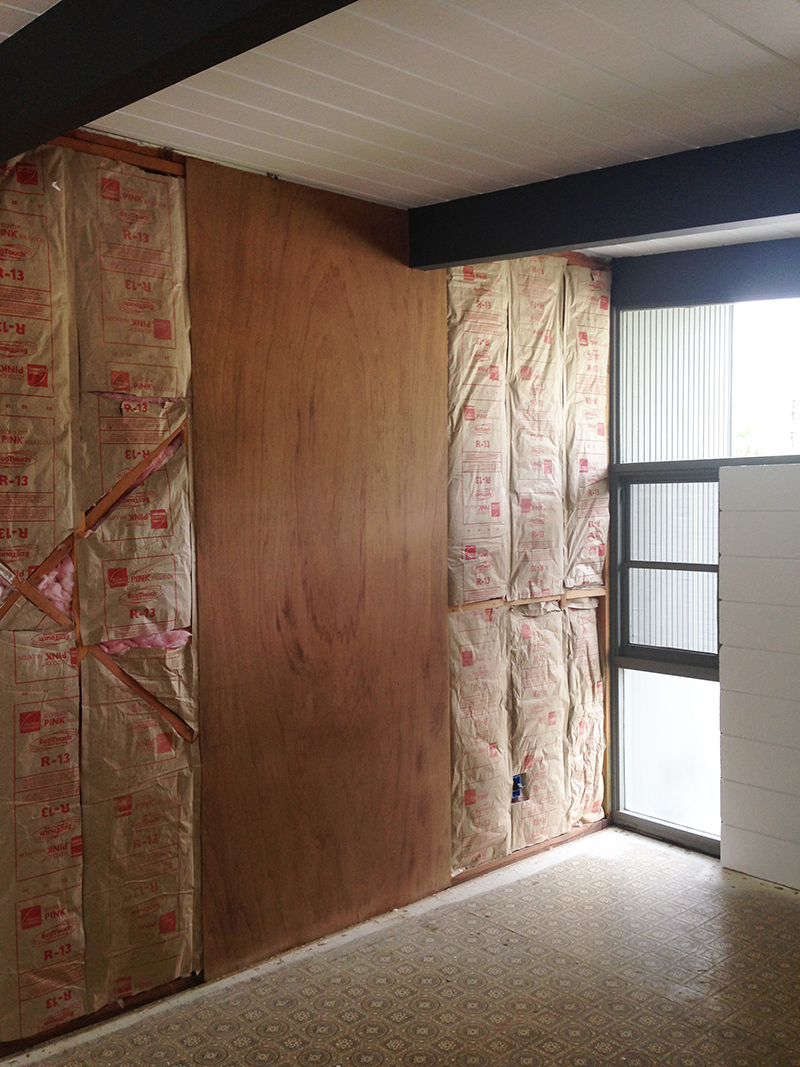 Obviously, the wall had left a gap. We measured several times, then cut a long thin strip to fit. You can see the join line, clearly, but it came out pretty well. We also bought an original bakelite double switch plate, to replace the two switches (either side of the wall) that we'd removed.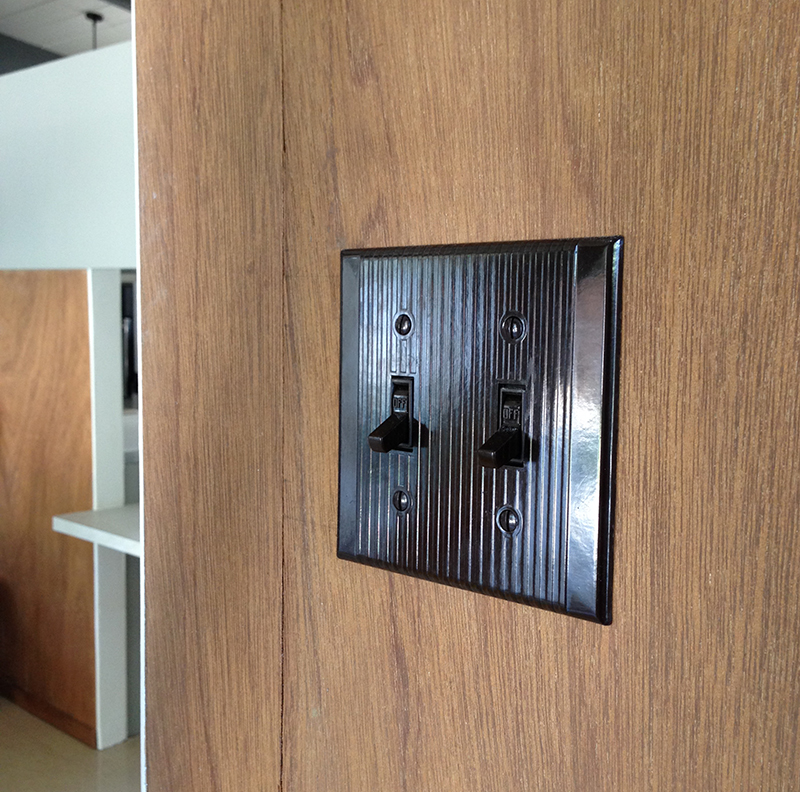 As a bonus, while sorting the electrical, we ran some to our Nelson saucer –previously, this had been just for show. We managed to tuck the electrical wire into a ceiling groove, so it's completely hidden. One downside –the saucer and nearby globe run off the same switch. But it's progress.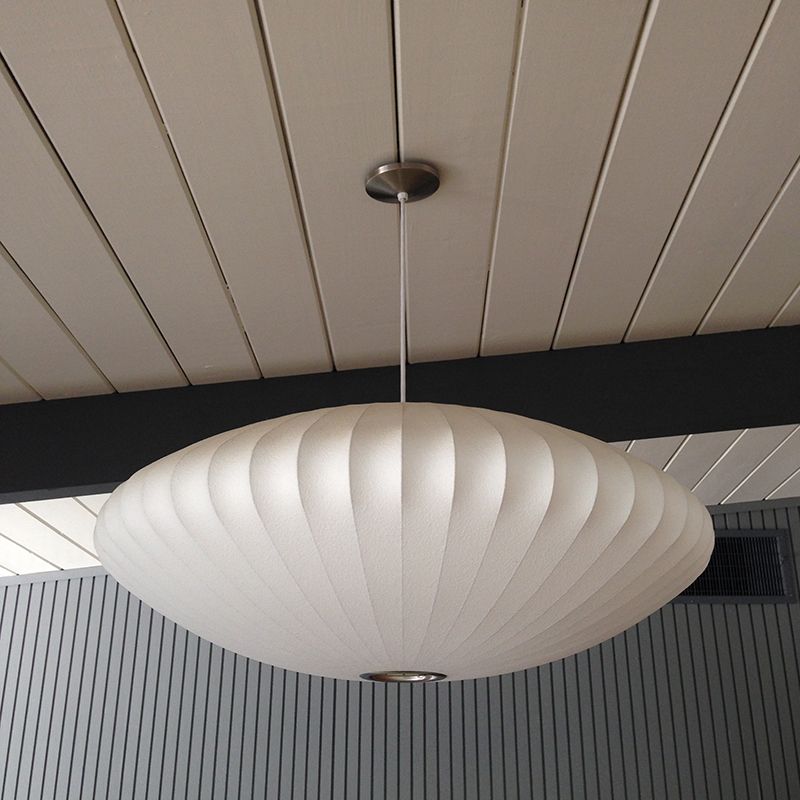 We refinished the baseboards and top-trim, and installed them on the paneling. Funny, this section of tongue-and-groove has been caulked at some point (unlike the rest of our ceilings) presumably because of a water issue. I'm still in two minds whether I prefer this look.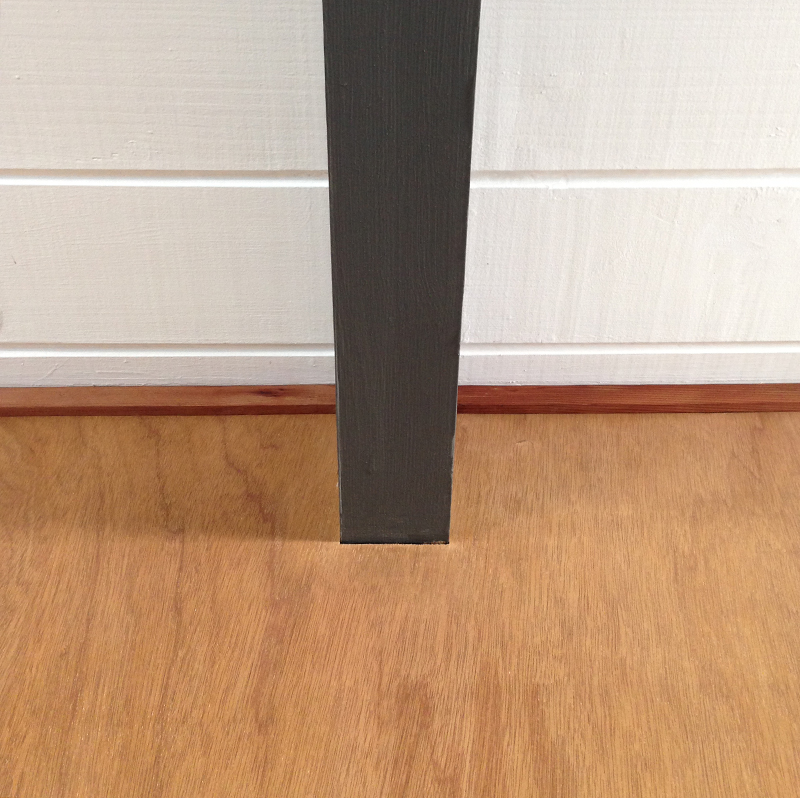 We also patched the floor, where the wall used to be. Luckily, we had some beige VCT in the garage (left by the previous owner). This came out pretty well, and provides a nice flat surface/transition, prior to us installing our final VCT.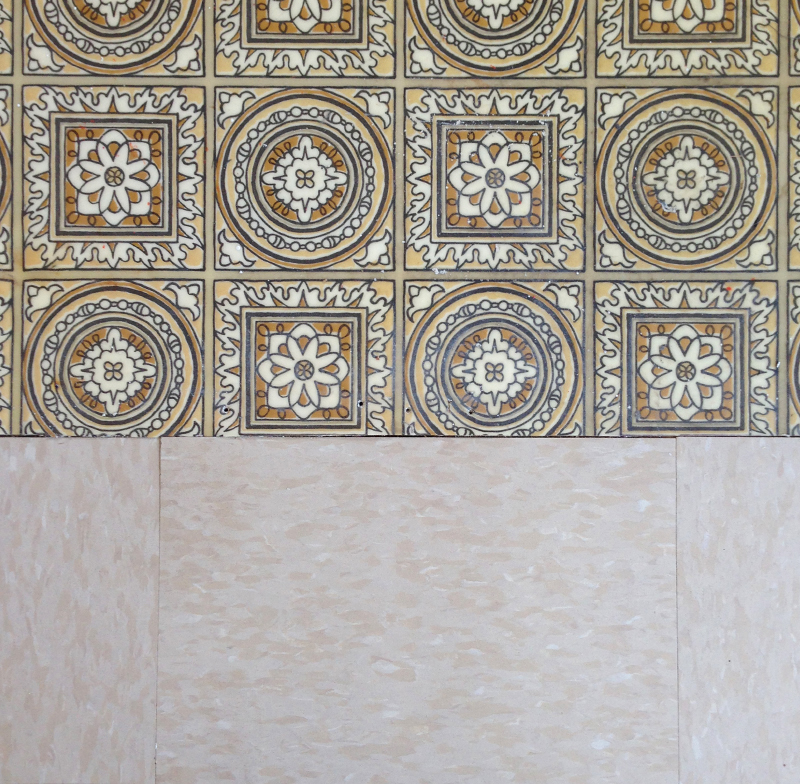 This is a big project, so I'm splitting it into two parts (as you no doubt guessed). Sorry, no big reveal yet. We'll leave it there, with three surfaces done –this wall, the cinder-block, and the ceiling. Next, we'll move onto the right-hand wall, and the business of turning this into our TV room.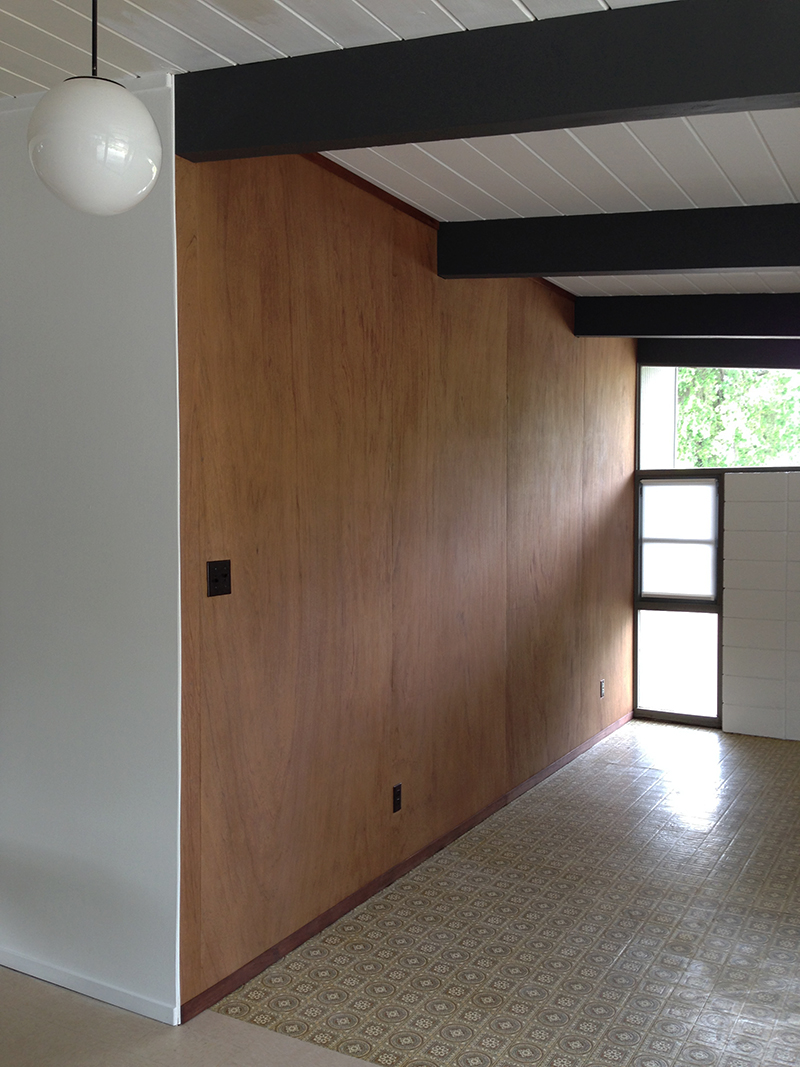 Just one more thing (as Columbo would say) –having made this change, we've been nervous about revealing it. Feels hypocritical, as we fly the flag for maintaining original details. Hopefully you can understand this was the right decision for us, and not one we took lightly. Back soon with what happened next…