As I write, we're flying back to England. But this time it's no vacation. In fact, we'll be calling that a "holiday" from now on. You see, this is a one-way trip –we're leaving California, our Eichler, and our MINI behind. Some of you knew this was coming, some had an inkling, and some had no clue. But we've known a while. And it further explains our posting pause (in addition to Fog). So why did we leave?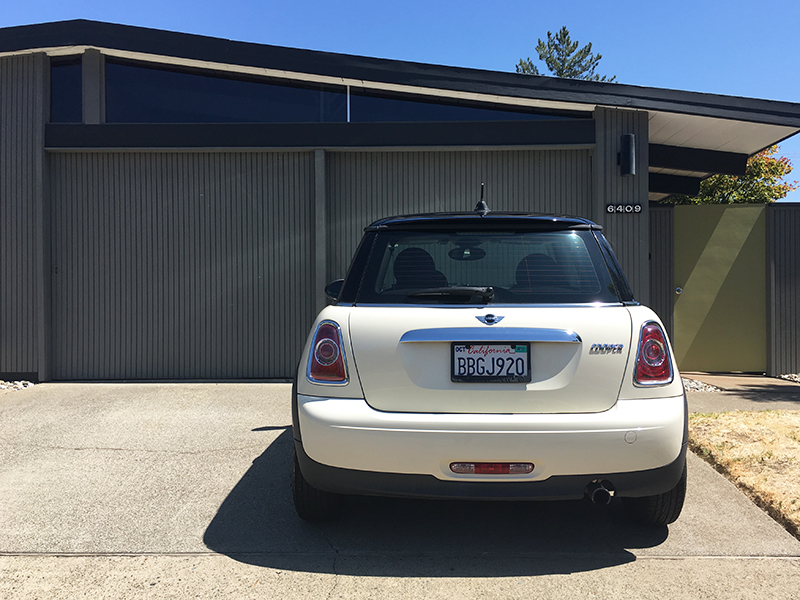 After almost seven years of living in the US (three in Boston, four in Sacramento) we're fed up. Fed up with feeling like second-class citizens. Fed up with playing the visa game. I won't bore you with the details, but it's a misconception that emigrating to the US is easy. We had no route to permanent residency or retirement, despite investing $100K upfront, employing US citizens, and manufacturing there.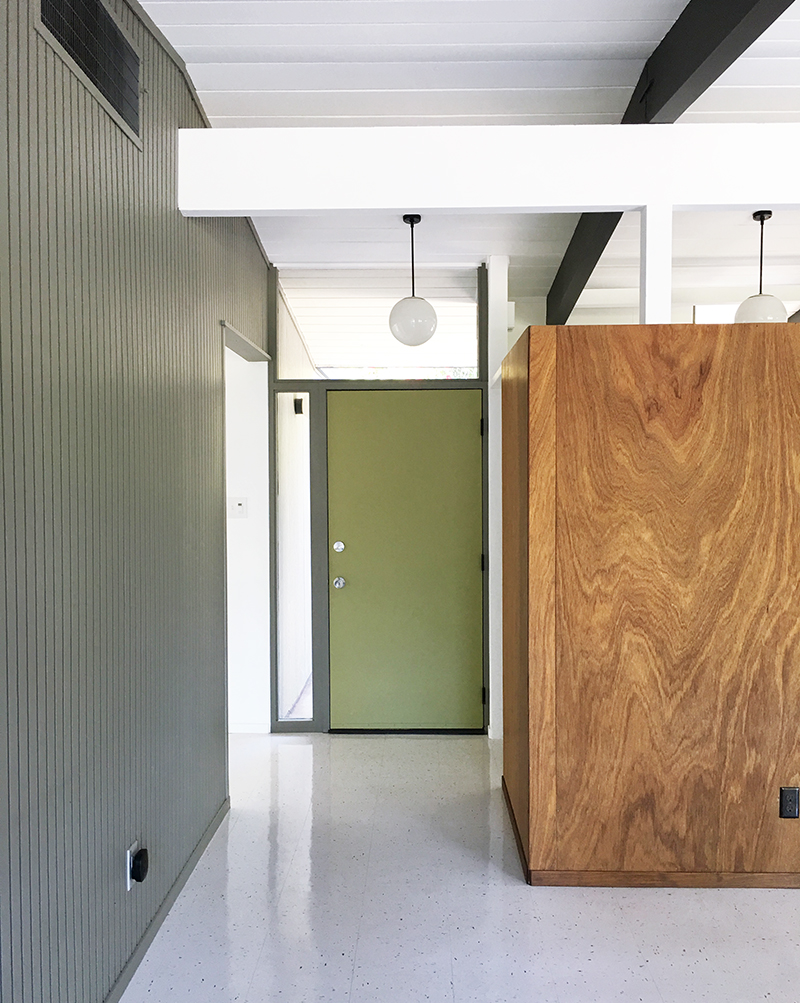 But that's not the whole story. We miss family and friends in the UK. And we've missed many of their significant birthdays, weddings, even funerals. And while we'll now miss those occasions in reverse, it's time to redress the balance. Time to go home. But it's bittersweet. We're sad to leave California, Sacramento, our neighbo(u)rhood, the wonderful friends we've made, and our beloved (now empty) Eichler.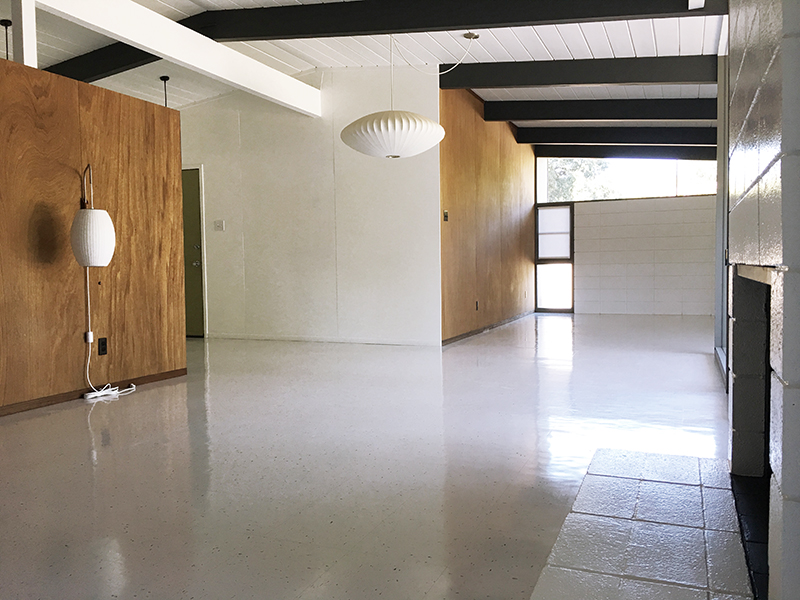 Our furniture is currently floating across the ocean…hopefully safely onboard a ship. We (or these guys) loaded this 20' x 8' x 8' shipping container in Sac, and it won't arrive in Cheltenham 'til the end of September! It's a long, long way. Having your possessions at the mercy of the ocean is unsettling. Fingers crossed.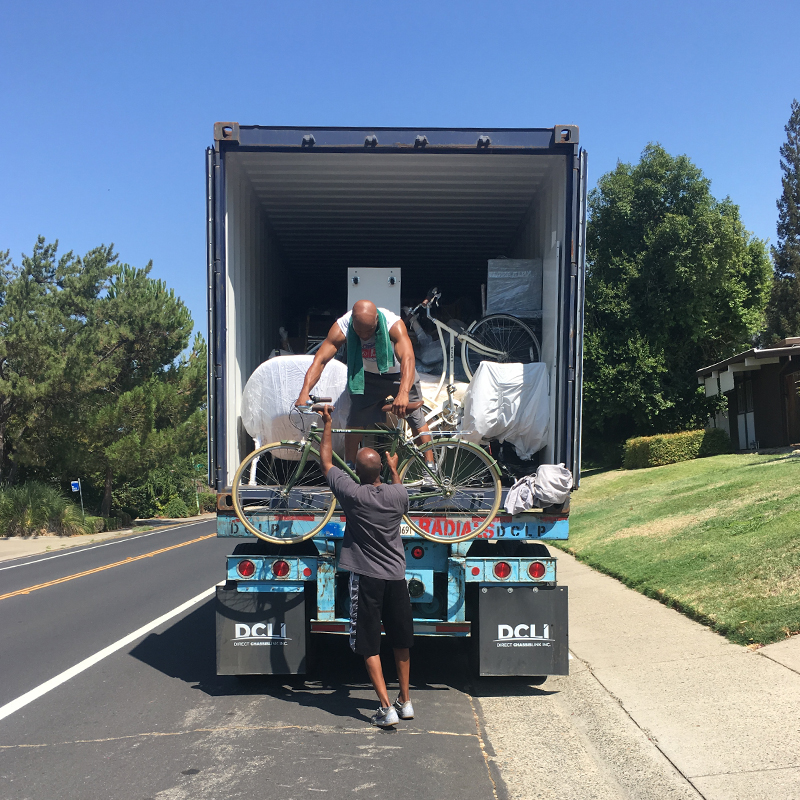 Not all our furniture is making the trip. To our ex-neighbors' (and our) benefit, we sold our bedroom dressers/nightstands, dining table/chairs, and a few other pieces. But you'll soon recognize some familiar furniture from our Eichler days. That said, these most recent memories are devoid of any furniture –another strange reversal, echoing our early days in Sacramento.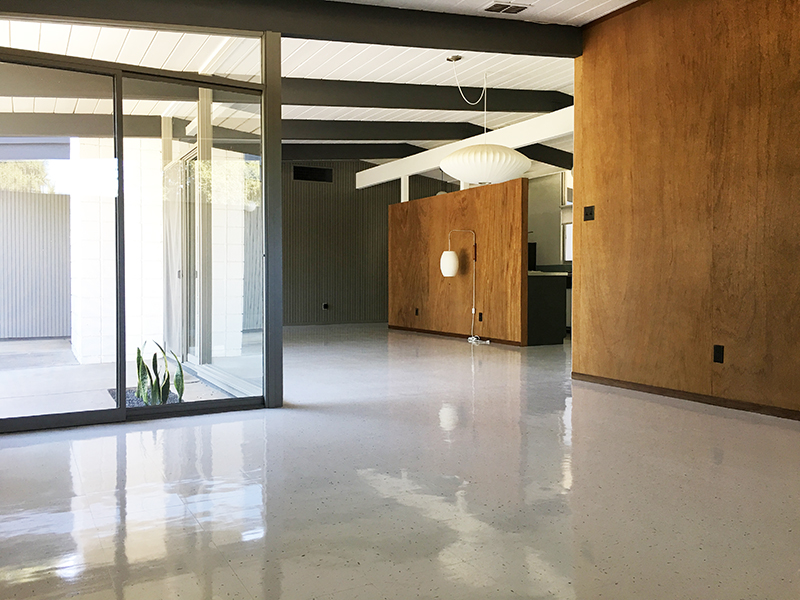 We had a while to get used to the idea of leaving, having sold then rented-back our Eichler for the last few months. When the time came to go, we were okay with it. The magnitude of managing a move across the pond (plus Fog's ordeal) took our minds elsewhere. Ultimately, we were sad to leave, and there were some tears. This wasn't helped by multiple neighbours showing-up to see us off…but we appreciate the gesture. And we're happy how this chapter closed.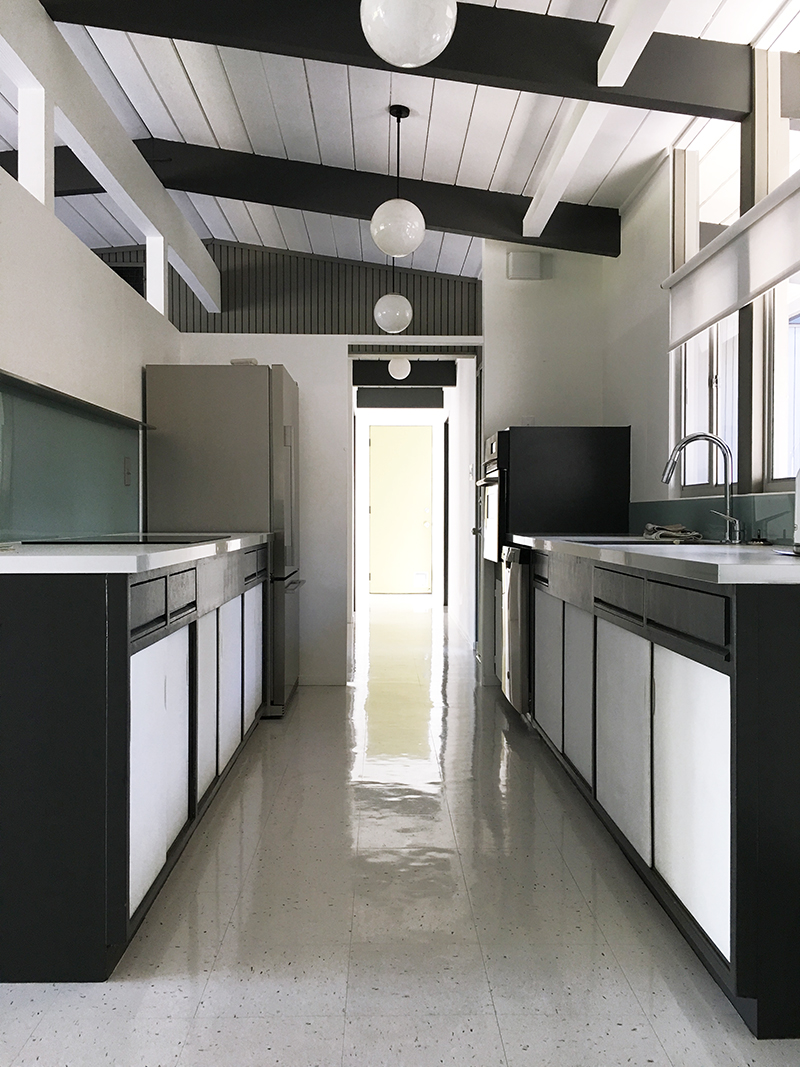 I failed to finish this post on the plane –the lure of Virgin Upper Class indulgence got in the way. We justified the upgrade thanks to our six overweight suitcases. And it being a one-way trip. So, now we're back in Cheltenham, where we lived previously. A spa town in the Cotswolds, known for its well-preserved Regency and Victorian architecture. Certainly no mecca for modernism…in fact, you'll see more red postboxes than modernist houses (this one in our new neighbourhood).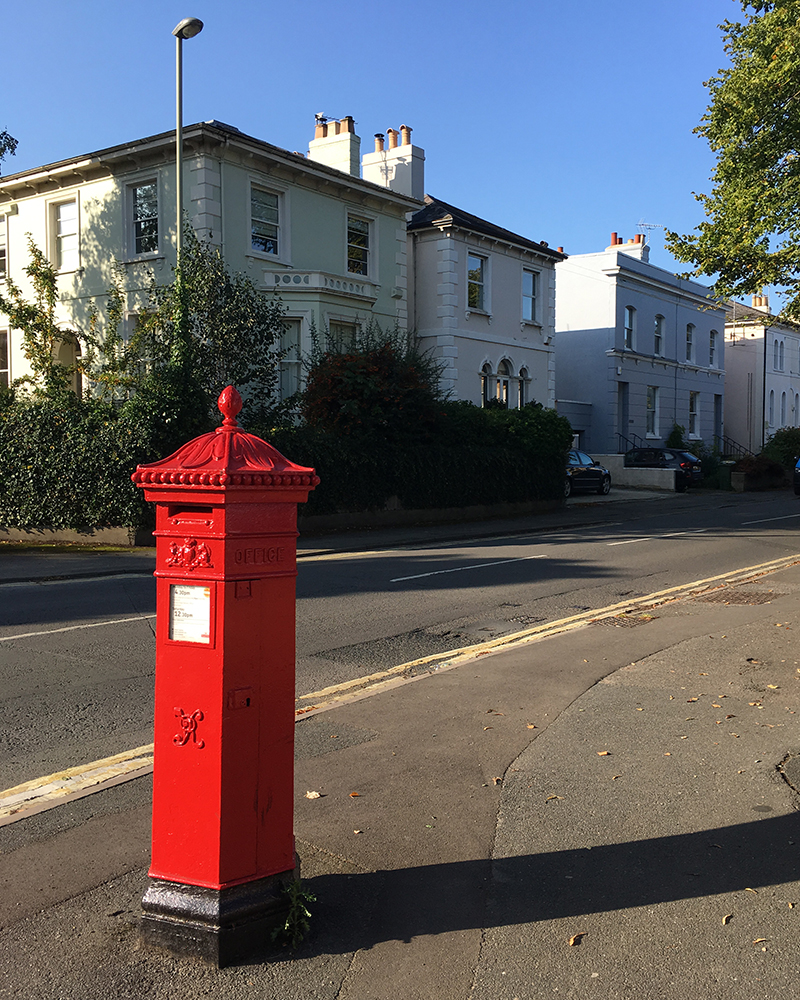 Importantly, though, most of the people we know live in and around this pretty town, and it feels like home. There will be negative trade-offs. I have the Happy Days theme tune in my head, reversed: "goodbye blue sky, hello grey". Weather is not on the 'pros' list, clearly, but we're looking forward to wearing more of our wardrobe –coats, hats, gloves, and scarves that never left the house in Sacramento. But that can wait –the weather has actually been pretty decent since we got back.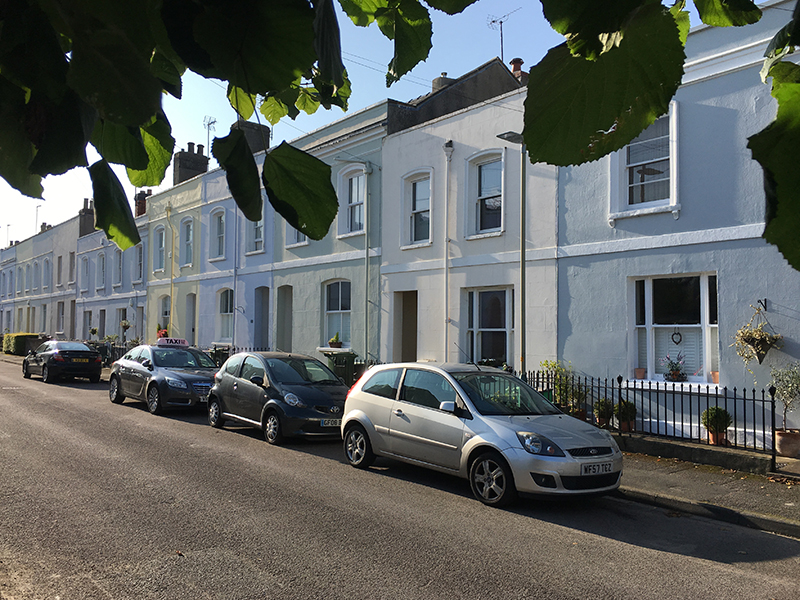 Another departure, our new (rented) accommodation is about as far-removed from mid-century modern as it gets. That's our street (above) and our new house (below) –a three-storey (English spellings from now on) Victorian townhouse, just a short stroll from the centre of Cheltenham.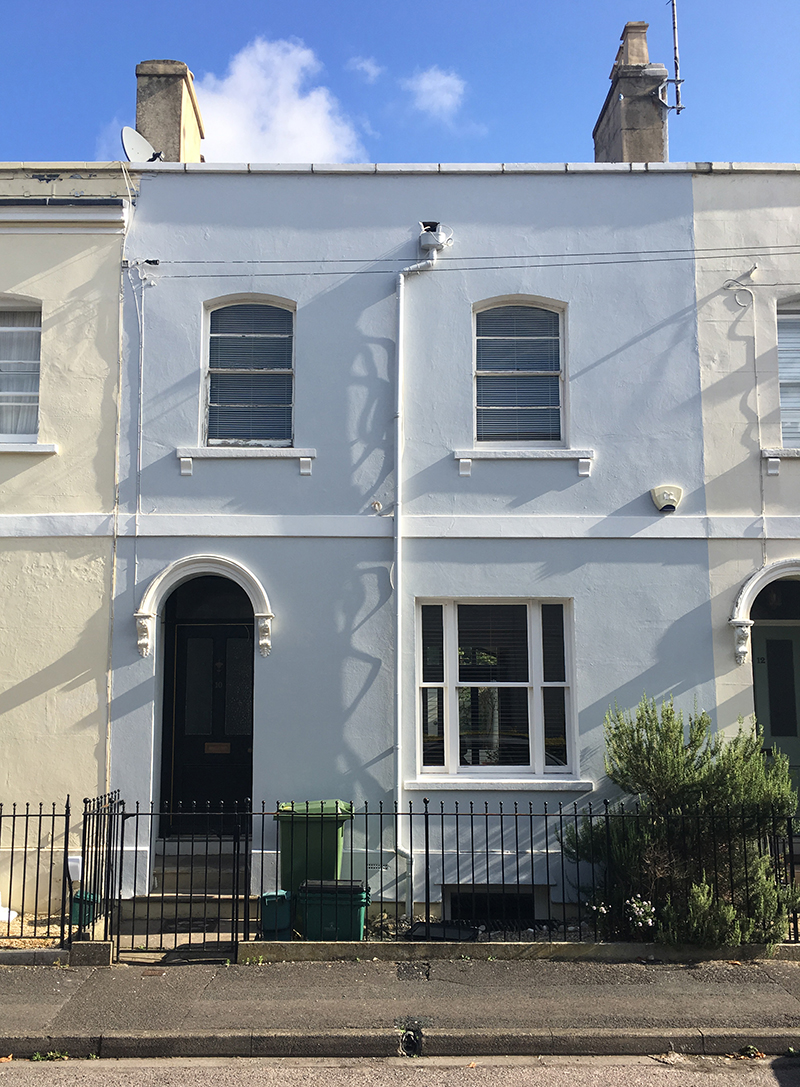 It may surprise you that we're fans of this architecture. We like anything with volume and glass –including Eichlers, lofts, church conversions (we almost bought one here years ago) and period properties, like this one. It's smaller than we're used to (2 beds/1 bath + basement, over 1300+ SqFt) but a good size by British standards, and plenty big enough for us.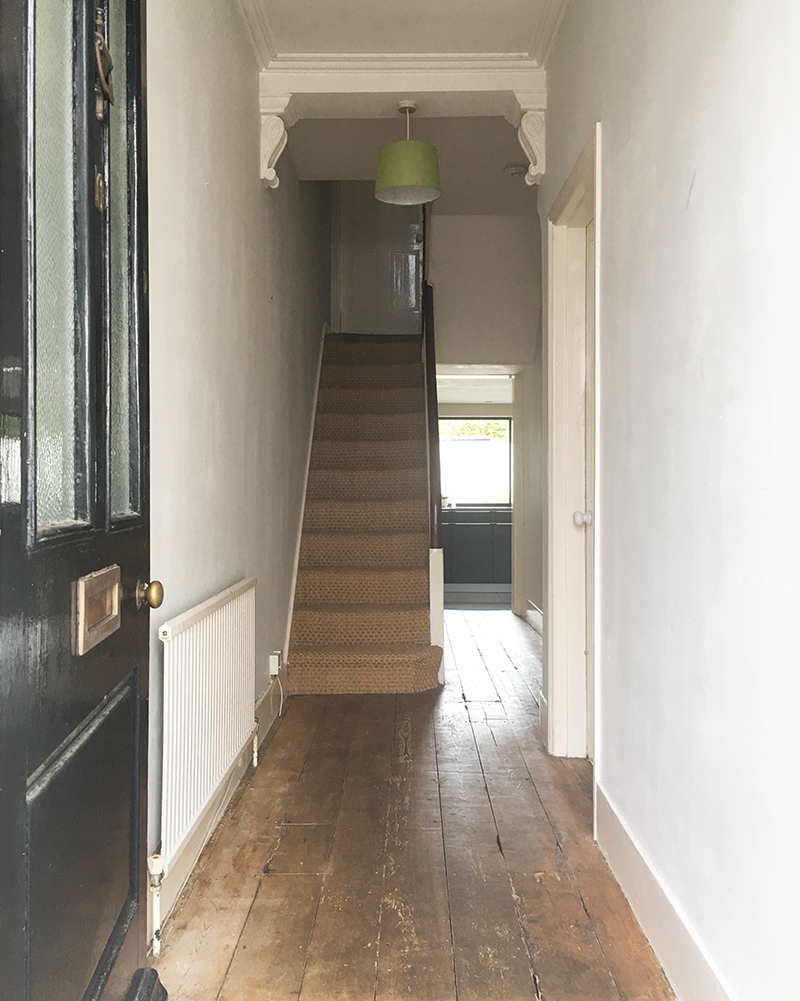 So now we have another empty space to contend with –but not totally empty. Thanks to generous family and friends, we arrived with chairs to sit on, a bed to sleep on, and a well-stocked kitchen…including beer. This was supplemented by a thoughtful gift from our good friend (and ex-Eichler neighbour) John, who supplied this travel-proof Sactown-fave IPA. Tasted so sweet this side of the pond, thank you!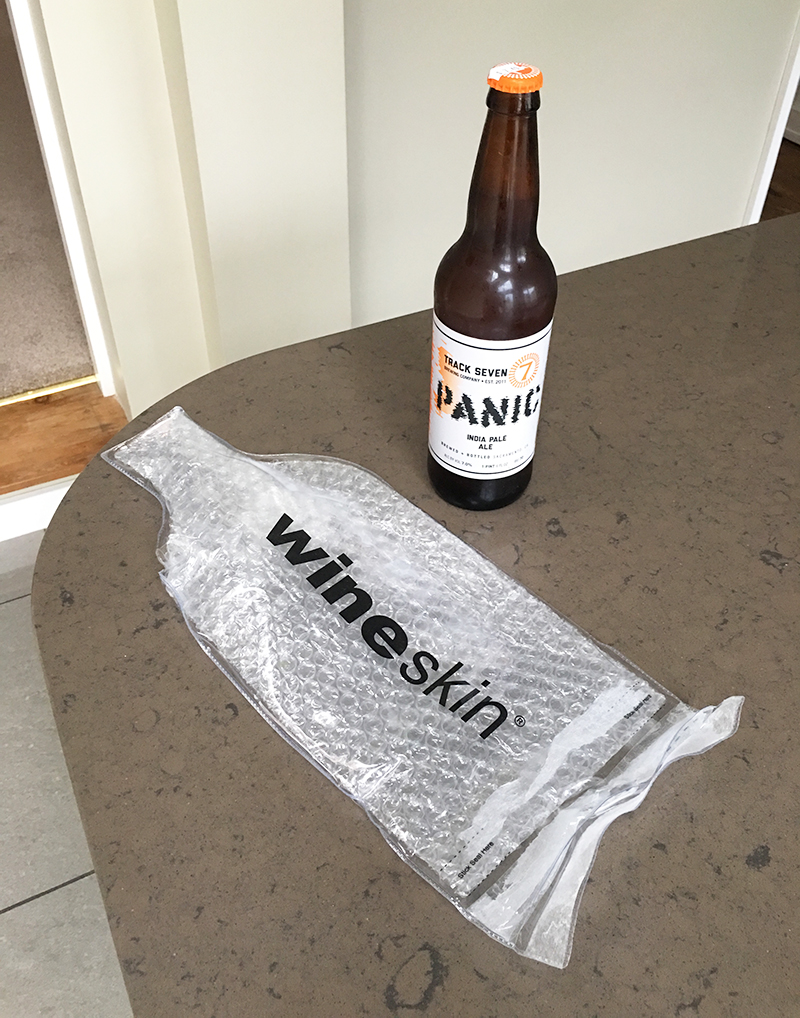 We are SO grateful for everyone's support –we even got taken to SFO, courtesy of our ex-neighbor (Karen) and collected at Heathrow by my sister (also Karen, to keep things simple) –thanks guys! Now we're here, it feels surreal, compounded by the jet lag. It'll feel weird for a while longer, no doubt, especially without all our stuff. Here's our living room, with a borrowed TV, IKEA chairs, and two familiar-looking numbers…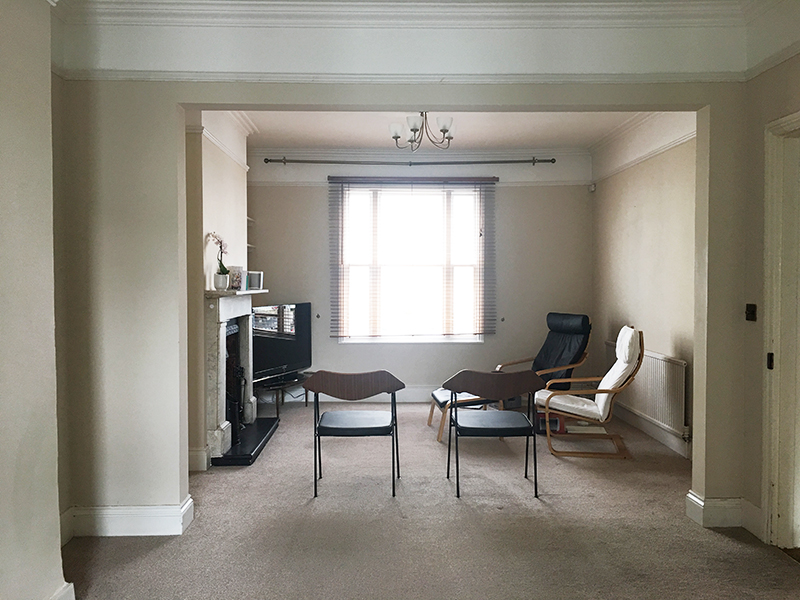 We couldn't resist ordering these Robin Day 675 Chairs ahead of our arrival –the same type we left behind (now residing in two neighboring Eichlers) but with a different palette –black leather/black legs/walnut backs, replace cream/stainless steel/oak. These will sit either end of our (yet to arrive) dining table, in the space just behind where they are now. Through that opening, the kitchen.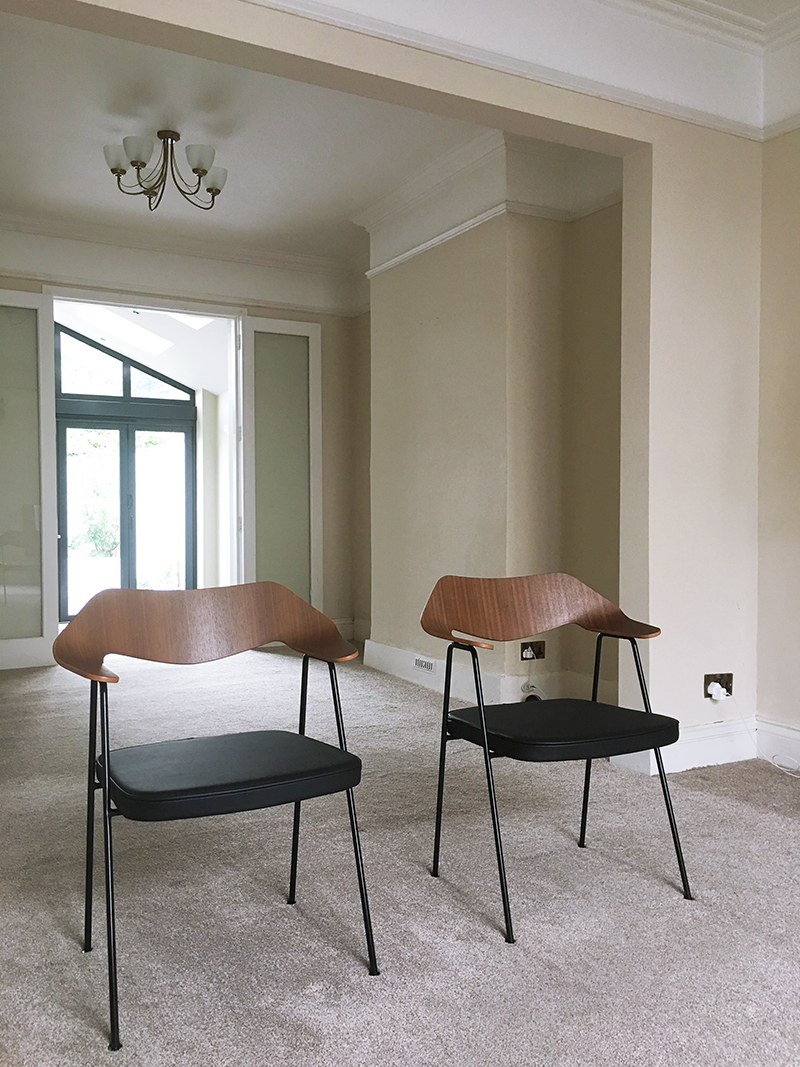 A pretty slick addition, installed by the current owners, in recent years. Glossy cabinets/doors house an integrated dishwasher and fridge/freezer (per UK norms). There's also an oversized induction hob (AKA cooktop), retracting downdraft extractor, and twin ovens –ironically, we barely need one oven, being within walking distance of many restaurants and takeaway options. But we're not complaining.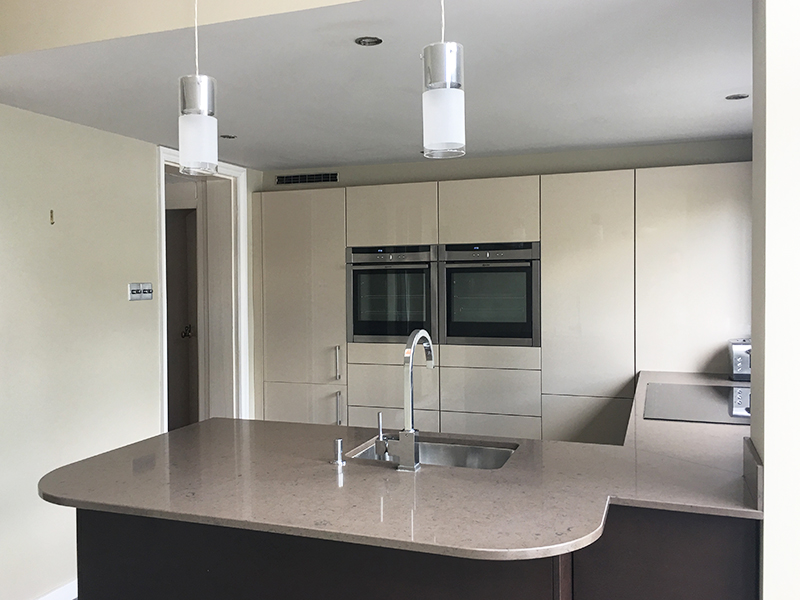 Talking takeaways, it didn't take us long to order some proper chips –there's a great fish & chip shop within a short walk. Oh, that's a "jumbo battered sausage". And a "pickled egg". Funny the things you miss when you can't have them.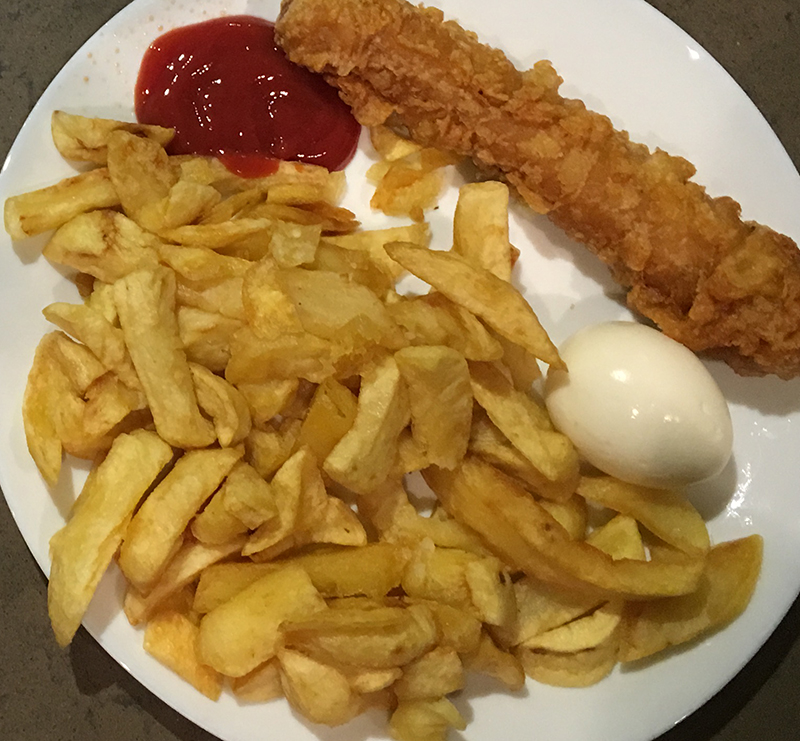 Still in the kitchen, these clerestory windows and skylights offer a taste of modernism, and a nod to days gone by. And the bi-fold doors open all the way back, which is pretty awesome. Not that English weather facilitates much indoor-outdoor living. Note the blue sky above, and puddles down below –a reminder that the weather here can change at any moment, any time of year.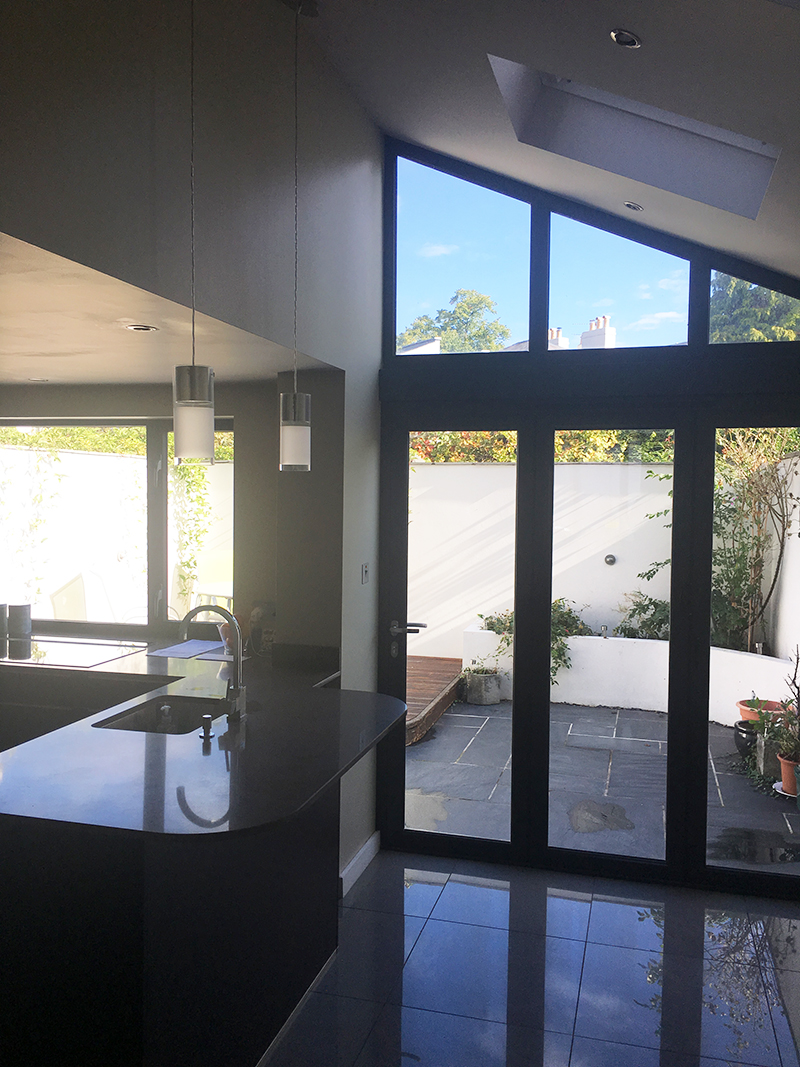 Out back, a teeny-weeny courtyard garden with raised deck and patio –obviously a significant downsize for us…not that we'll miss the maintenance. We've retained much of our outdoor furniture (this set came with the rental) so this will look a little crammed, and we'll likely have to store some items, pending a house with more outdoor space.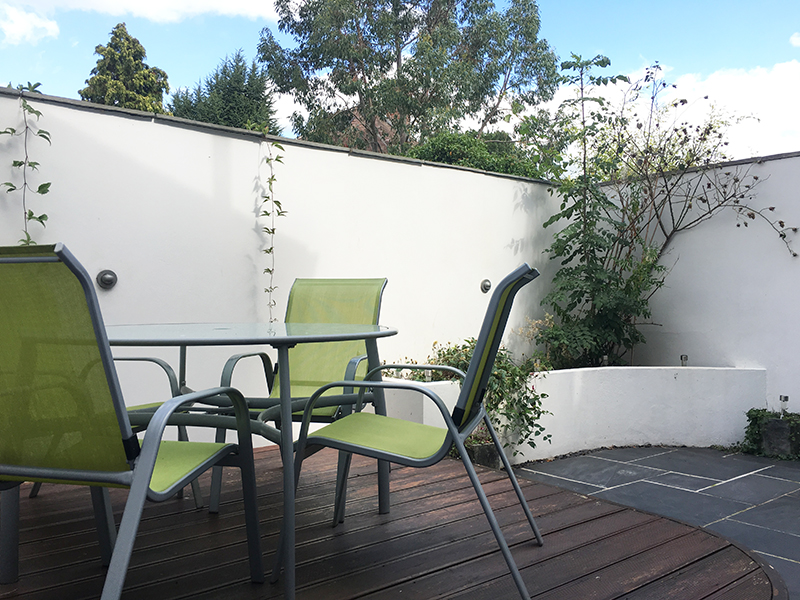 We did try to buy here (sight-unseen, naturally) but couldn't make the finances work. No trace of our UK credit history. A cruel and ironic reversal of our US move, where we waited a frustrating two years, while establishing credit. That coincided with a spike in house prices/interest rates. This time, the wait will be shorter (we hope) and the market isn't too crazy…yet. A huge range of prices and sizes here. Something like this (just around the corner from us) would be nice, though a little beyond our means right now…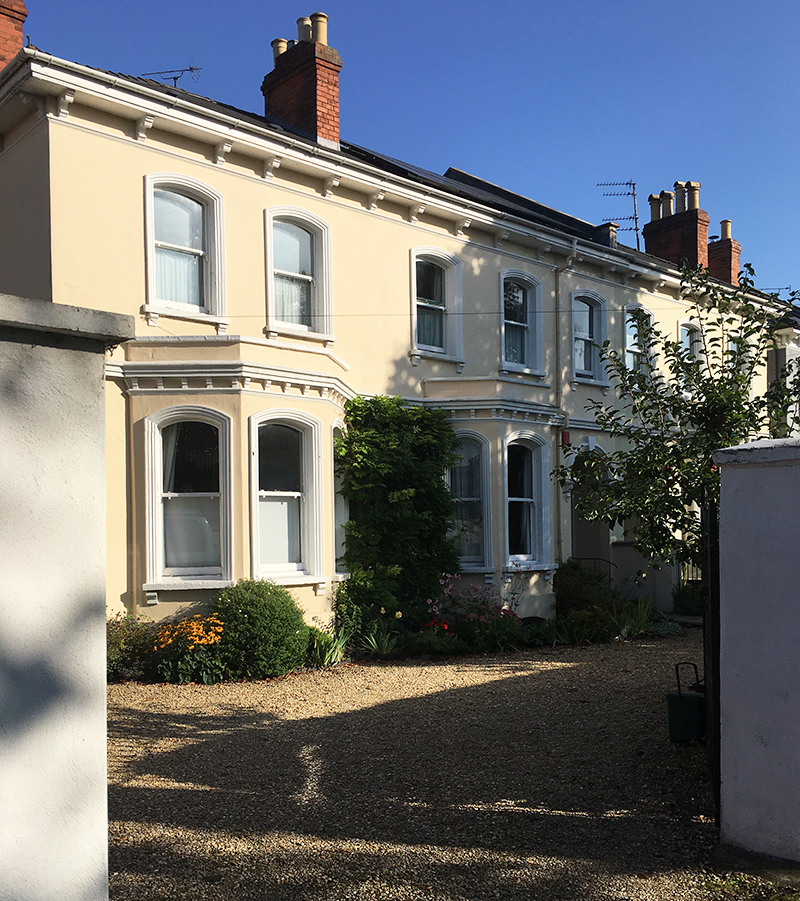 As I now write, it's almost two weeks since we arrived –life is full of distractions, so I've struggled to complete this post. But now most of the big stuff is sorted, and it's been easier/cheaper than expected. Not so cheap is our new car –this MINI Clubman Cooper S, which we pick up tomorrow. Ironically, much larger and more practical than we had in Sac. And we don't even have a driveway, let alone a garage.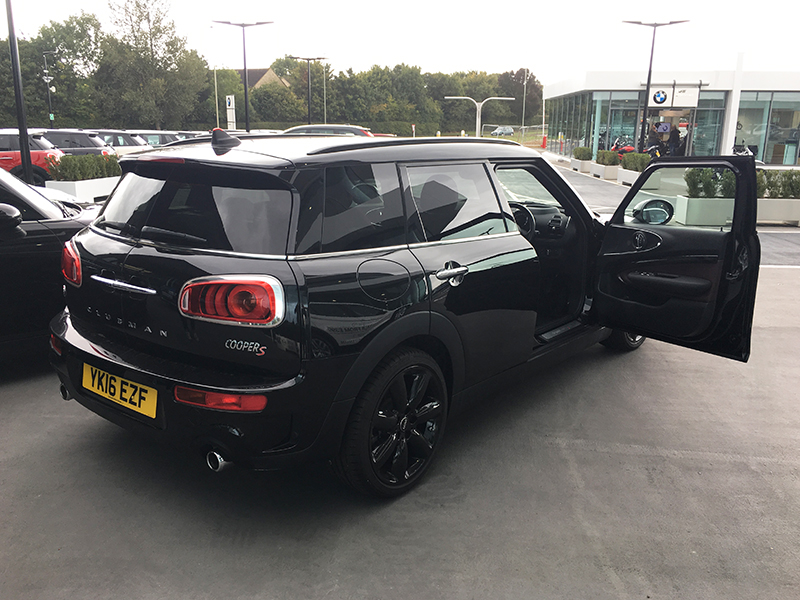 So, what next? Ultimately, we'd love to make a career of buying and selling houses. We'd also love to build our own modernist home. First, we have lives to re-start, relationships to re-form, and a town to get re-acquainted with. Posting frequency won't be high (for a while, at least) but we'll continue sharing our story here, and on Instagram, with the odd California flashback, no doubt  With a shift in focus, we're expecting some fallout, but we'd love you to stick around for the next chapter.
Save
Save
Save
Save
Save
Save
Save
Save
Save
Save
Save
Save
Save
Save
Save
Save
Save
Save
Save
Save
Save
Save
Save
Save
Save
Save
Save
Save
Save
Save
Save
Save
Save
Save