Mind the (posting) gap –transitioning back to UK life has been all-consuming. Following our last post, we endured two furniture-free weeks, before our shipping container arrived from California. On the plus side, that gave us time to do what we do best. Cue déjà vu, as we embarked on another quest for the right grey.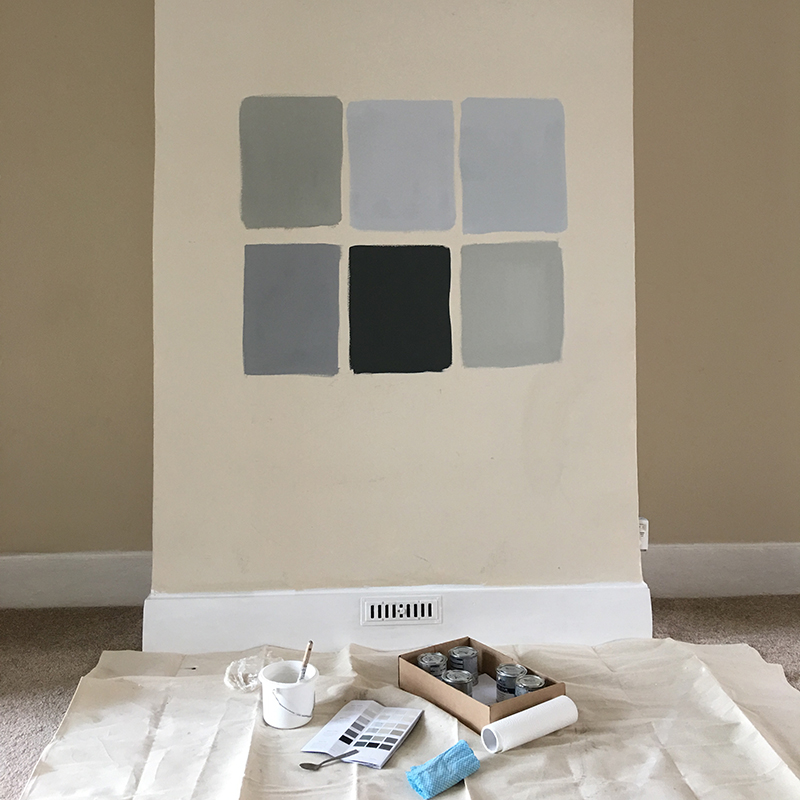 Yes, we are only renting, but couldn't resist some tweaks…after checking with our landlord, of course. While the kitchen and bathroom are updated (and off-limits) the living/dining space looked tired, and very beige. So we got to work. We painted all the cream-colored woodwork first, starting with the doors. In progress, clearly, so you can see the old cream/new white contrast.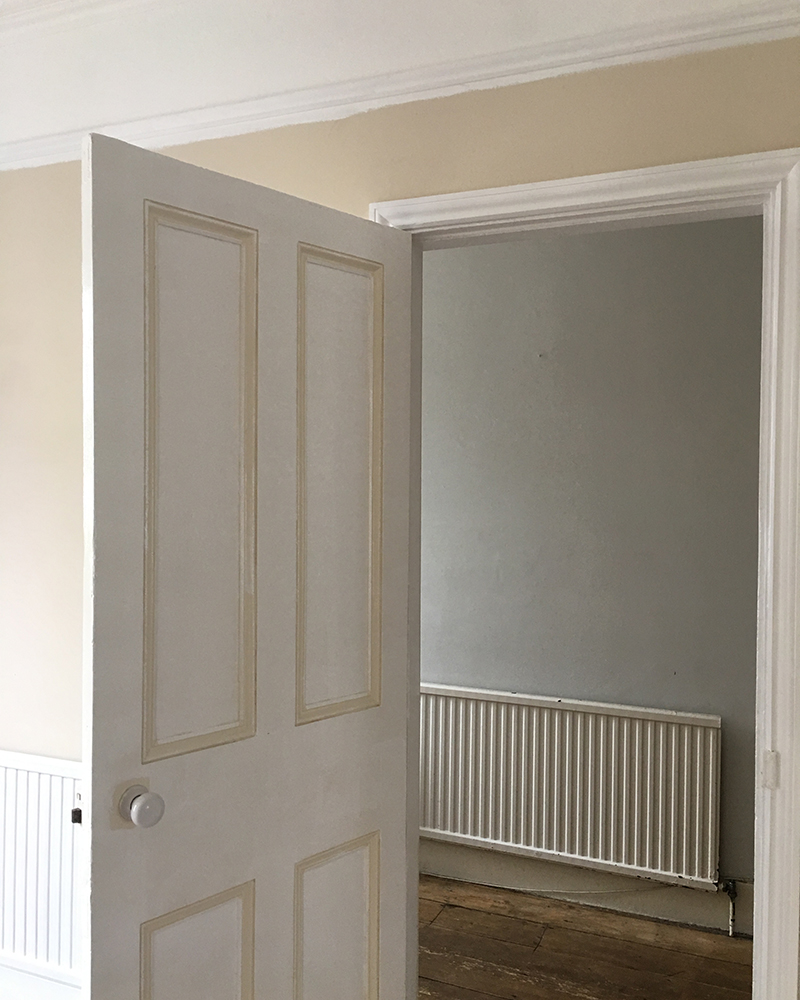 We also painted skirting boards and cornicing (baseboards and molding to our American friends). Side note: we often still use US terminology here, then quickly correct ourselves. But we're happy –the sidewalk is now the pavement (and the pavement isn't the road) and all is right with the world. Anyway, back to painting…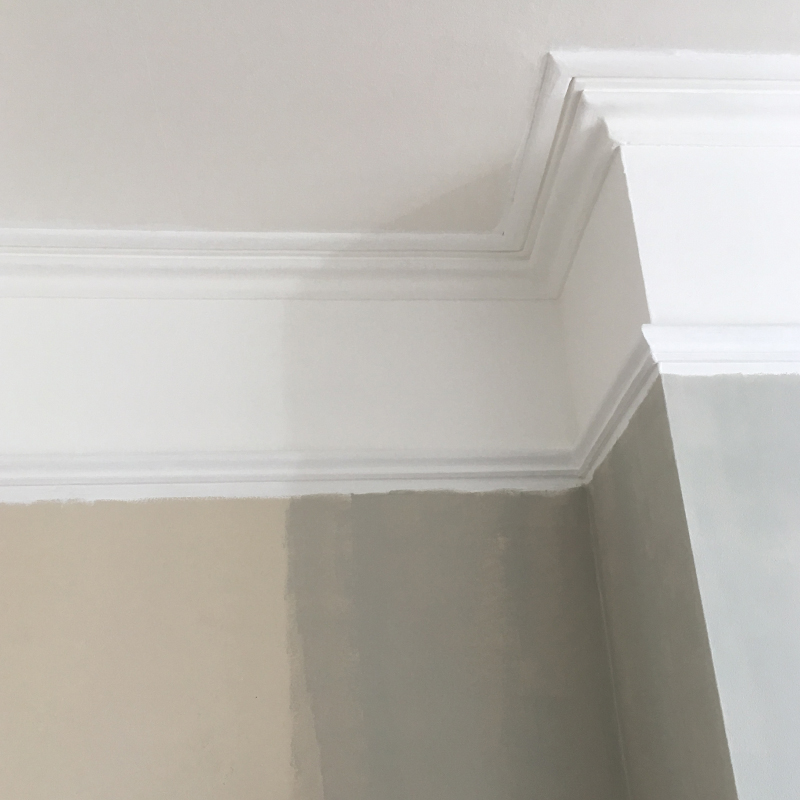 Only a first coat (above) but a big difference between between the old beige and new gray. Our colour pick was guided by less than abundant light, and resident beige carpet (we'd love to restore the wood flooring, but we may as well burn money). So, we picked a pale grey, with complementary green/brown undertones. Once done, we felt a lot better.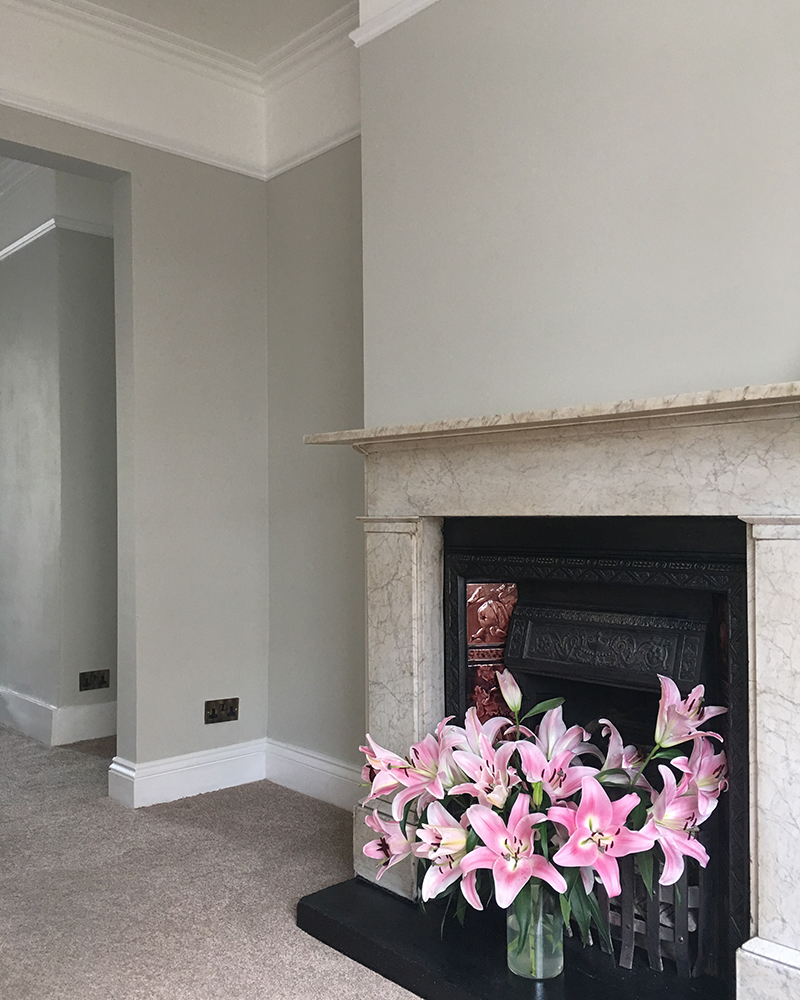 The lilies won't be staying there –we didn't have furniture to place the vase on. We did some other stuff, like paint the fireplace hearth, patch and fill holes etc. And we painted the guest room/office white. Then, eventually, the day came. Our shipping container arrived. It's the middle one, conveniently.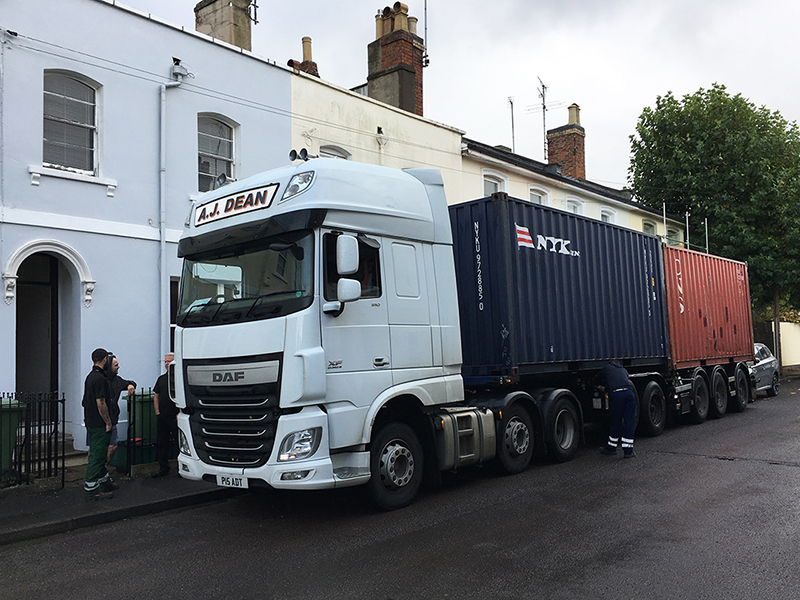 Yep, just to make things even more difficult, the driver had two 20-foot containers on-board. While that's no biggie in our old street, it is here. For starters, it's a dead end, so no turning this beast around. Also, it's pretty damn narrow –we breathe-in just driving our car up here. Somehow, the driver reversed all the way up (without a scratch) and parked within an inch of the curb. Man-crush impressive.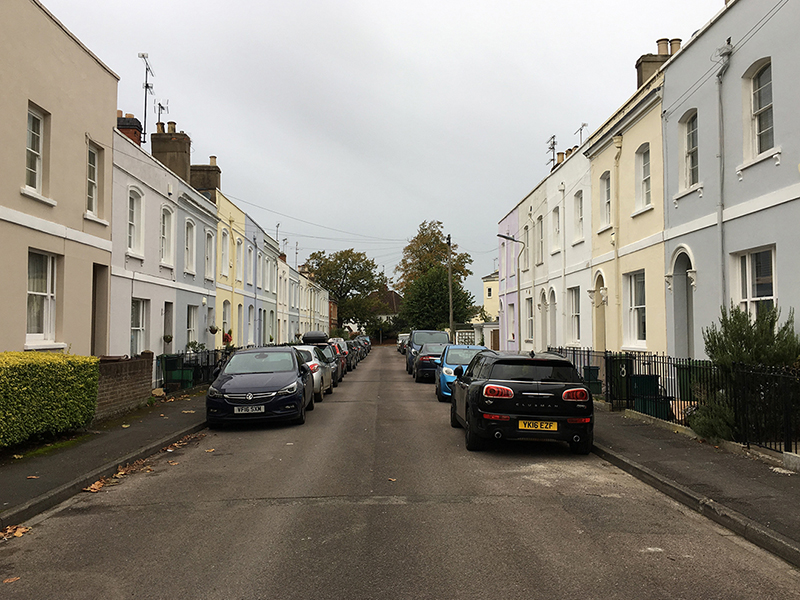 Karen couldn't look, and I was too panicked to take progress pics, sorry. Unloading was quick. We soon had a house full of boxes, and way more furniture than we could shake a stick at. But we also had a big sense of relief, with just one casualty from the move –our glass coffee table (seen here) broke in two. Surprised it lasted this long, having journeyed from the UK, to Boston, to Sacramento. Shame though.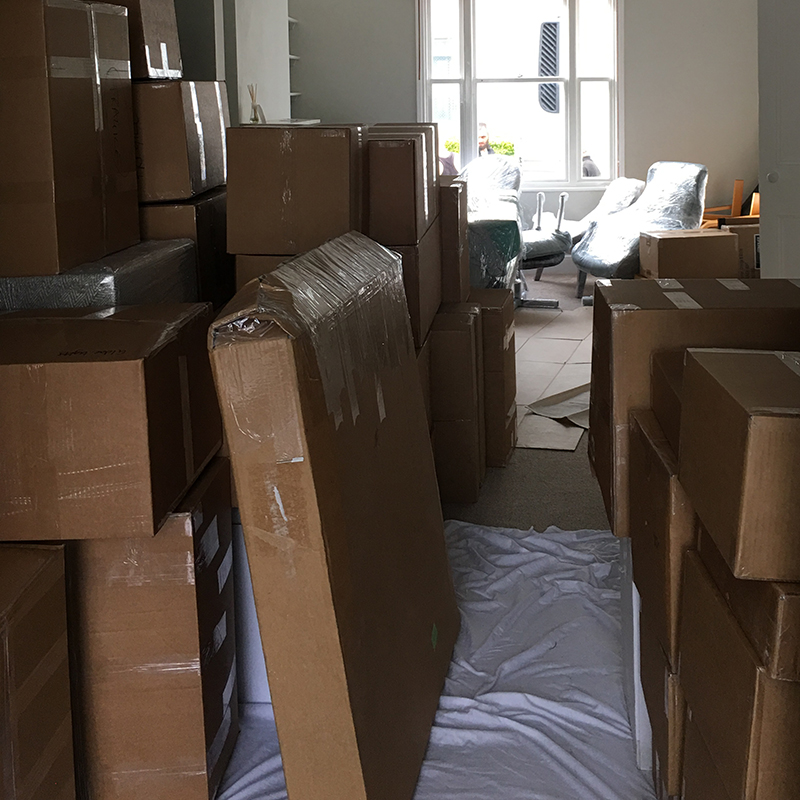 We spent the next week unpacking and organising, until everything was in its place…sort of. We have about 400 SqFt less here, so it's tighter than we'd like, but do-able. Main issue is our outdoor furniture –though we sold/donated much of it, there's still plenty of over-spill (we dream of a bigger back garden when we buy). But we're pretty happy with the inside. Here's the living room.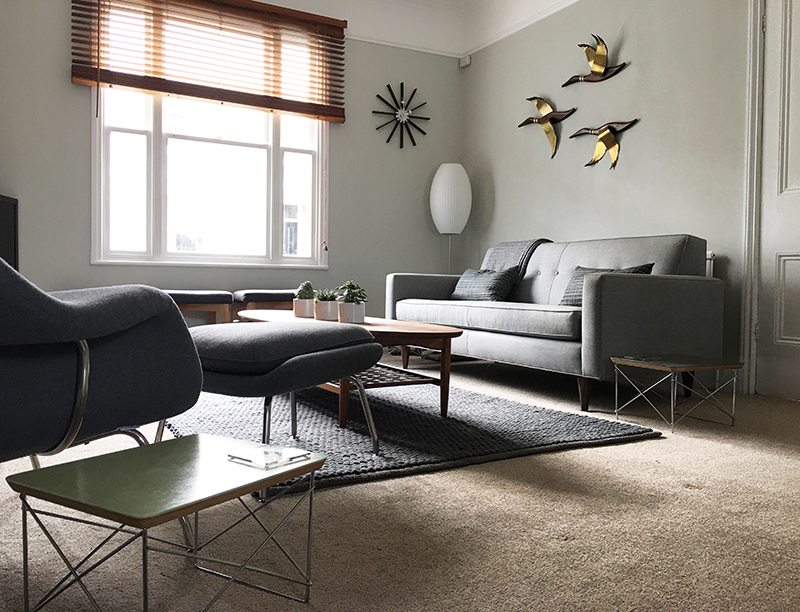 Familiar sights include our flying ducks, who survived their migration…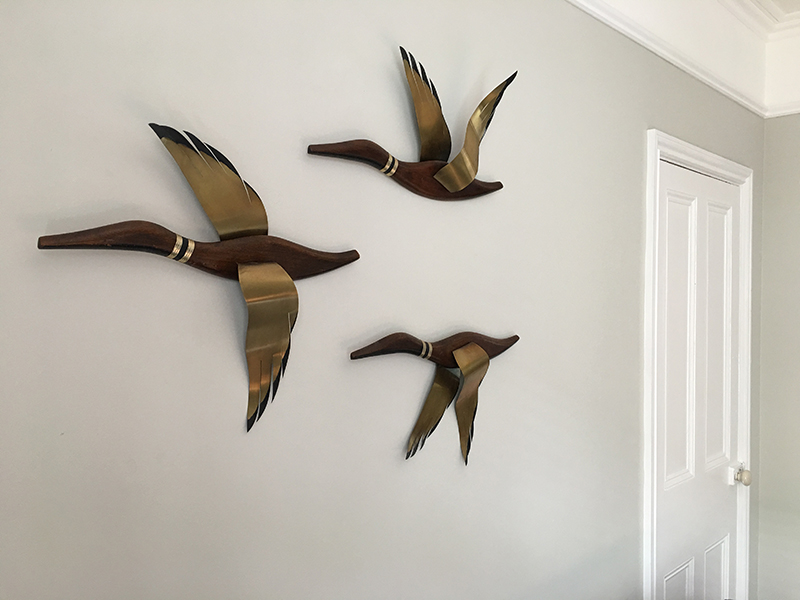 …and our George Nelson lamp and clock…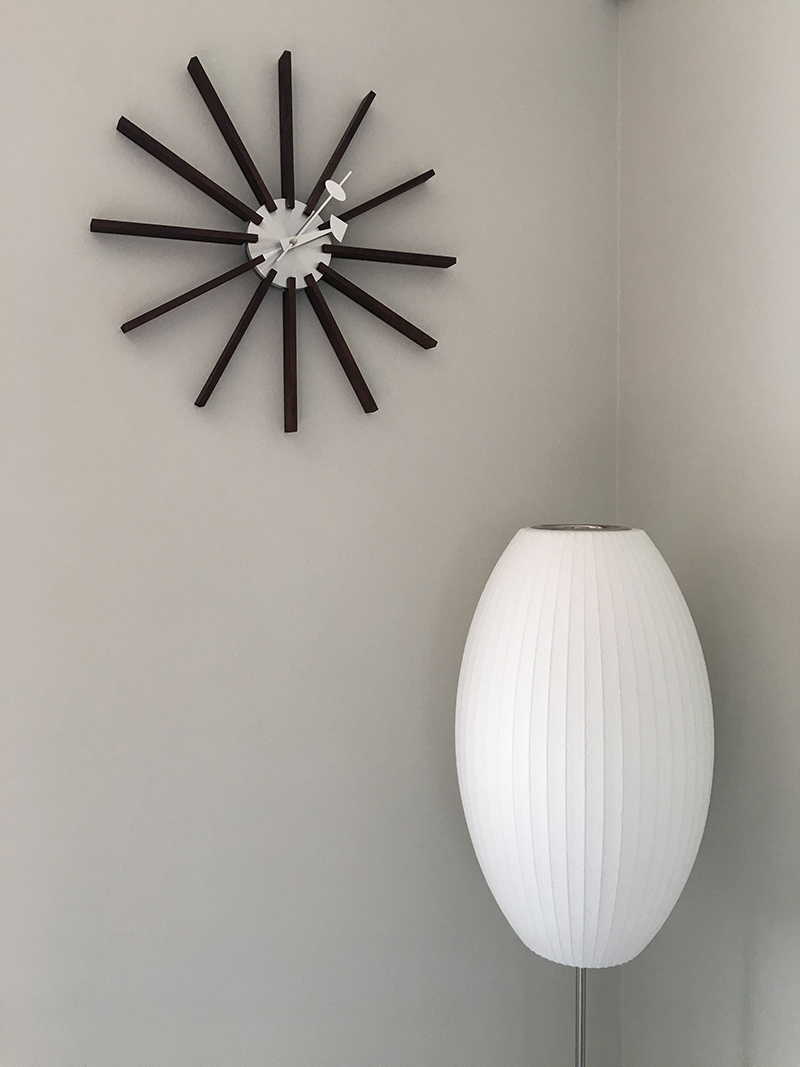 Here's another living-room angle. Our TV is a little oversized for the alcove, so we'll need to bear that in mind when we move. The last tenants used a bracket above the fireplace (we repaired the holes) but it's way too high. Might be easier to get a smaller TV versus a bigger house. Plenty of book-space though.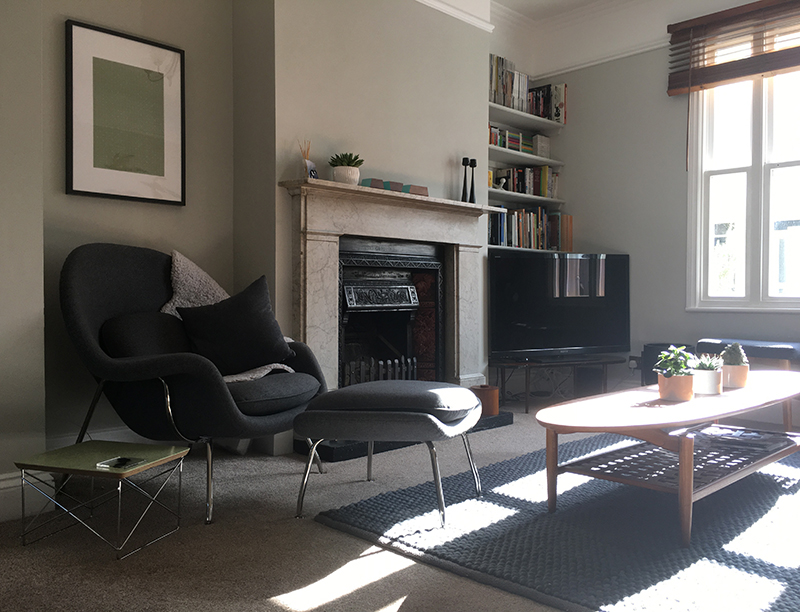 From here you can see through the dining room and kitchen addition, into the garden. It really is a nice living area, and not too much of a comedown, space-wise. We just threw a few bits of artwork up, without considering it too much. We may tweak, if we stay long enough.
For dining we're using our old outdoor table –a white gloss IKEA top, with new black wood legs we ordered here. We bought new Modernica shell chairs in elephant gray, and paired these with new black/walnut Robin Day licensed reproductions –we sold our old set (including the table) before we left, and put the money towards this new combination, which we've had our eye on for a while.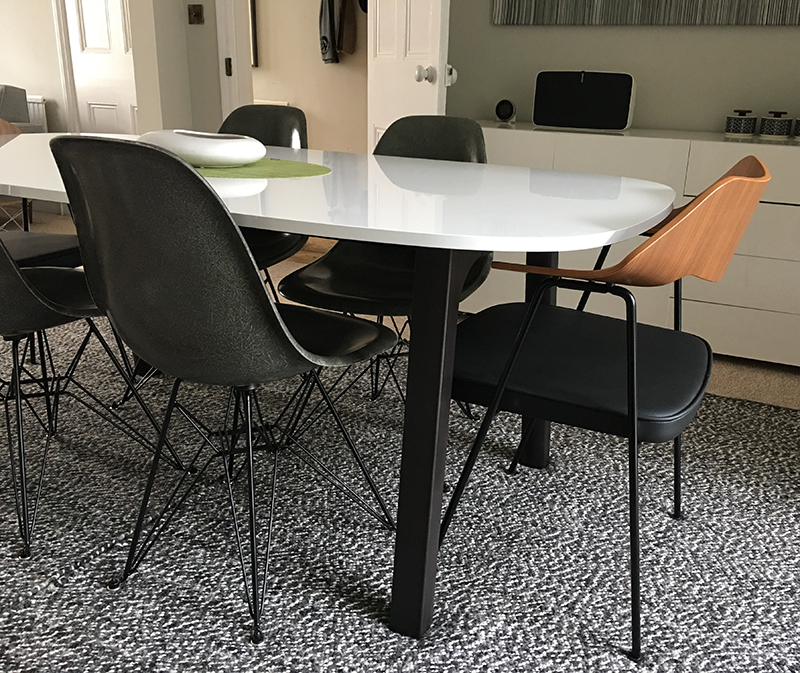 Keen observers may notice our table centrepiece is empty –we couldn't transport any plants, so we'll have to buy new. We also have some empty Case Study Ceramics dotted around. Oh, there's our Nelson pendant on the white cupboard –we'll wire it in 'when we buy' (now a regular phrase in these parts).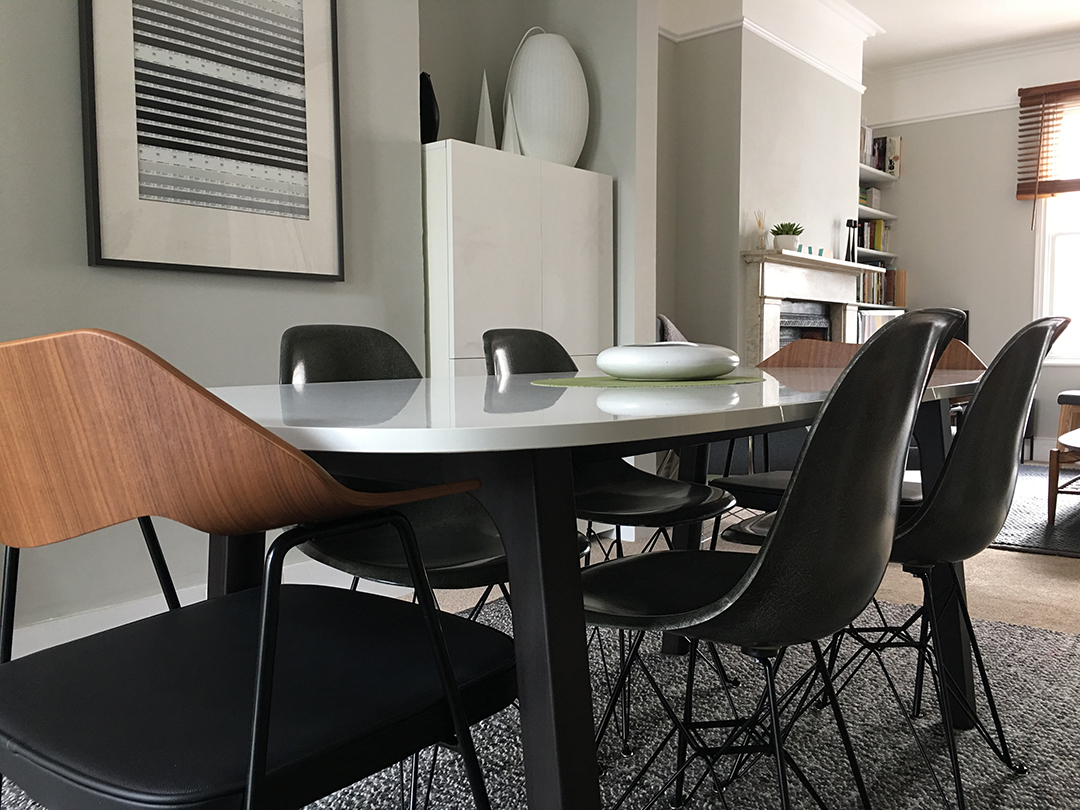 More stuff you'll probably recognise. We have an embarrassment of vases. We put some out, but have a whole kitchen cupboard-full too. We'll tinker over time. You'll spy our large canvas (Karen created) too –fits pretty well in this spot, alongside its muted mates.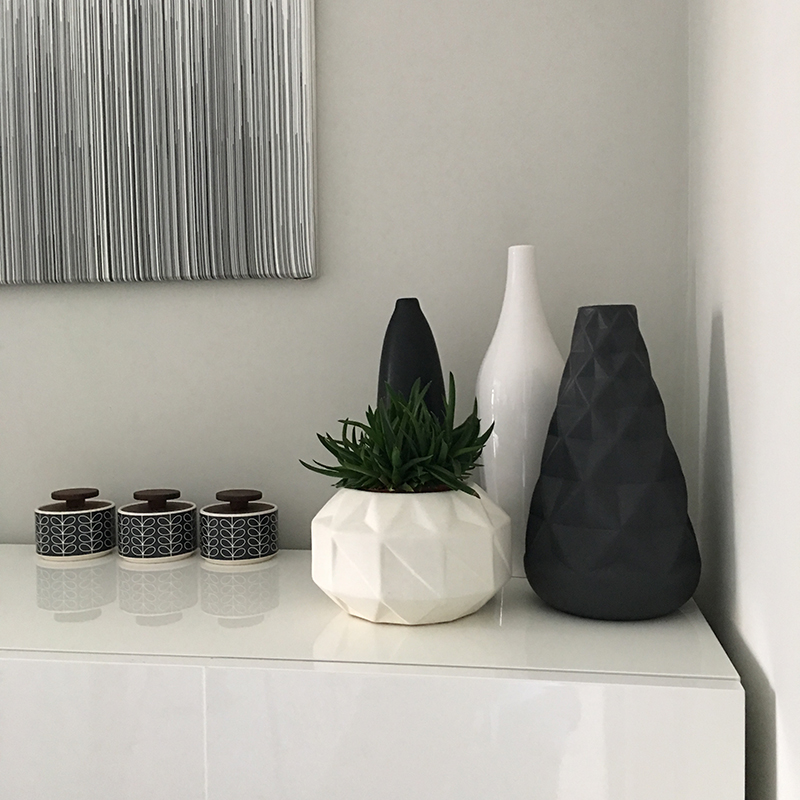 Our Sonos PLAY:5 is back too, but we need a new turntable –our old one needed a $150 specialist transformer. That seemed excessive, so it became another pre-move sale. A welcome addition is the Nest thermostat. We never got round to buying our own back in Sac, but this came with the rental.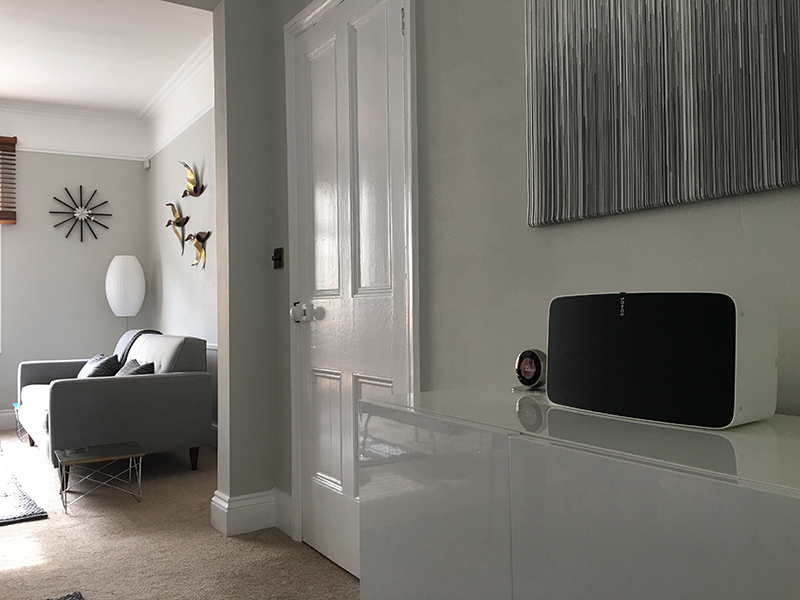 In the kitchen, our Robin Day sofa –we considered doubling-up in the lounge, but it felt too tight. It fits well here, with our Chilewich floormat. We've found homes for all our rugs –handy to cover the owner's flooring. This space gets lots of natural light, thanks to large windows/skylights.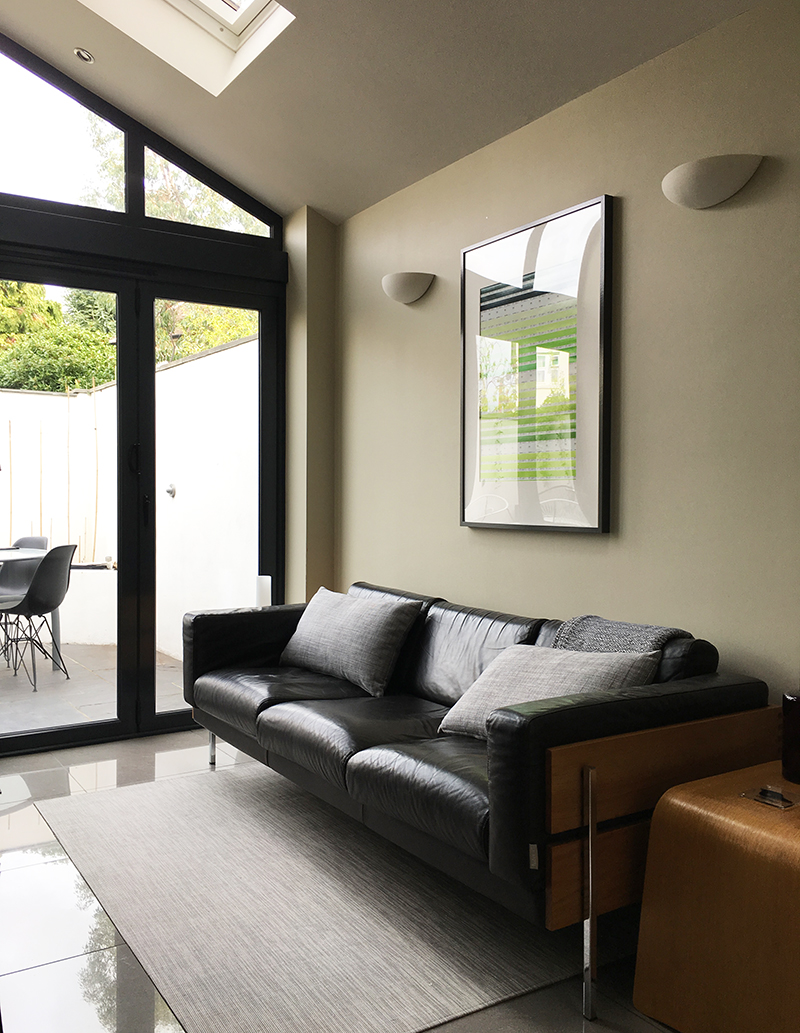 Not much else cooking in the kitchen (despite twin ovens) other than these stools…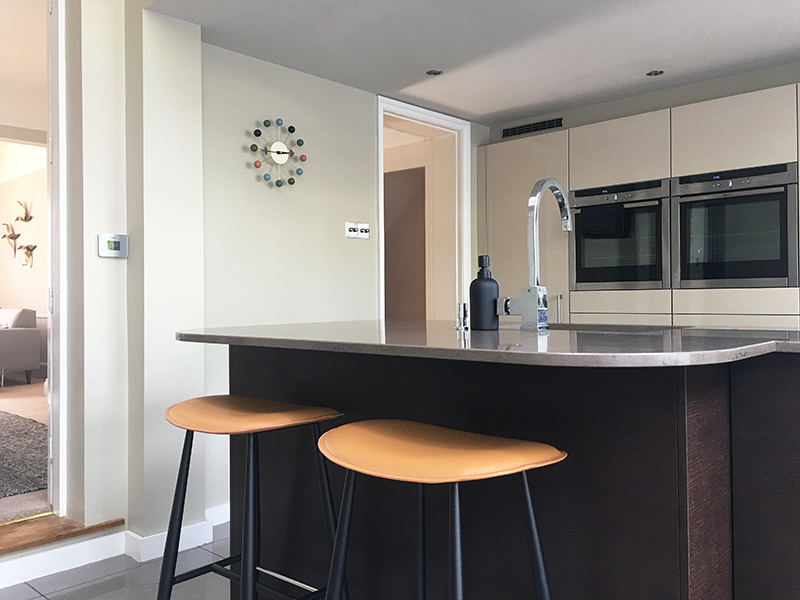 We bought them (for a ridiculously cheap price) from made.com, before our shipping container arrived,  Digging the form, and the tan leather/black combo. Extremely comfy too, and well made, which is apt.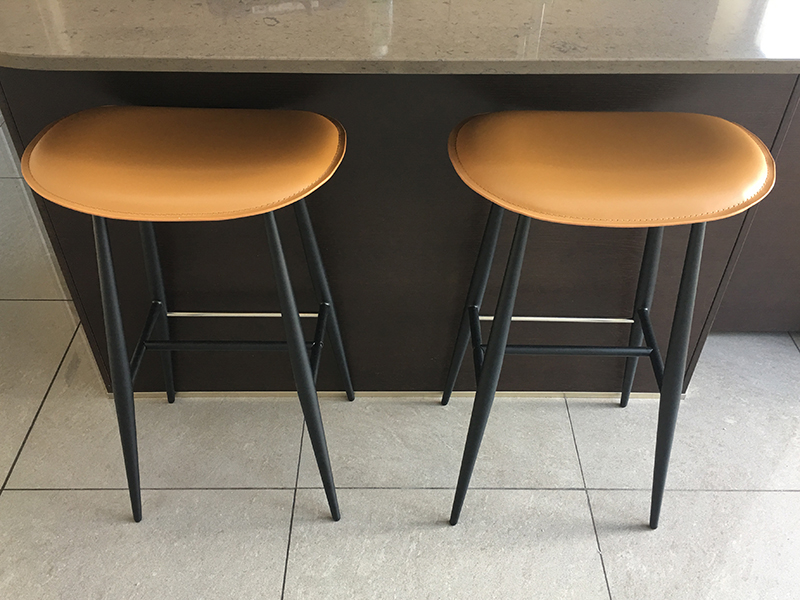 Found the perfect spot for our ball clock…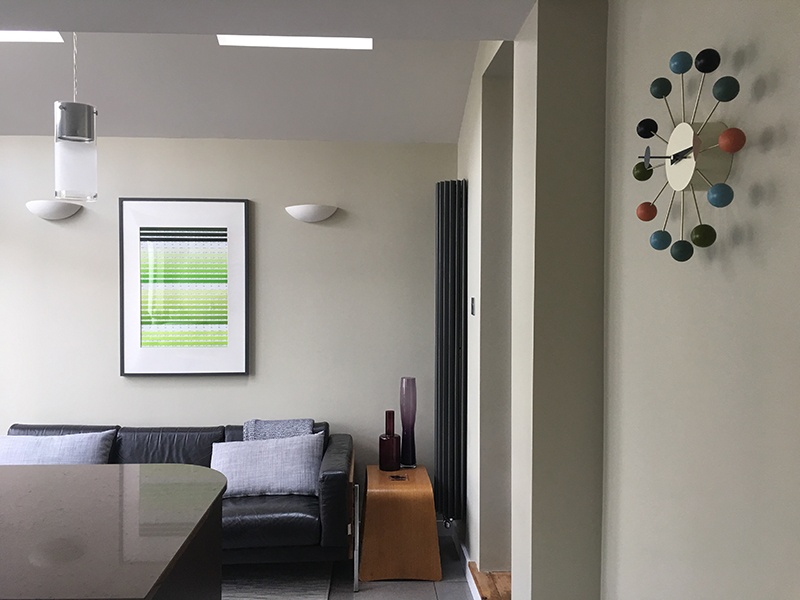 In the hallway, we resurrected our hang-it-all. With colder weather upon us, this puppy will get a lot more action. Scarves and coats are already in full effect, with gloves coming soon. Nice it gets some use though. It may look like we've gone Pantone crazy, but we just hung what we had on existing hooks.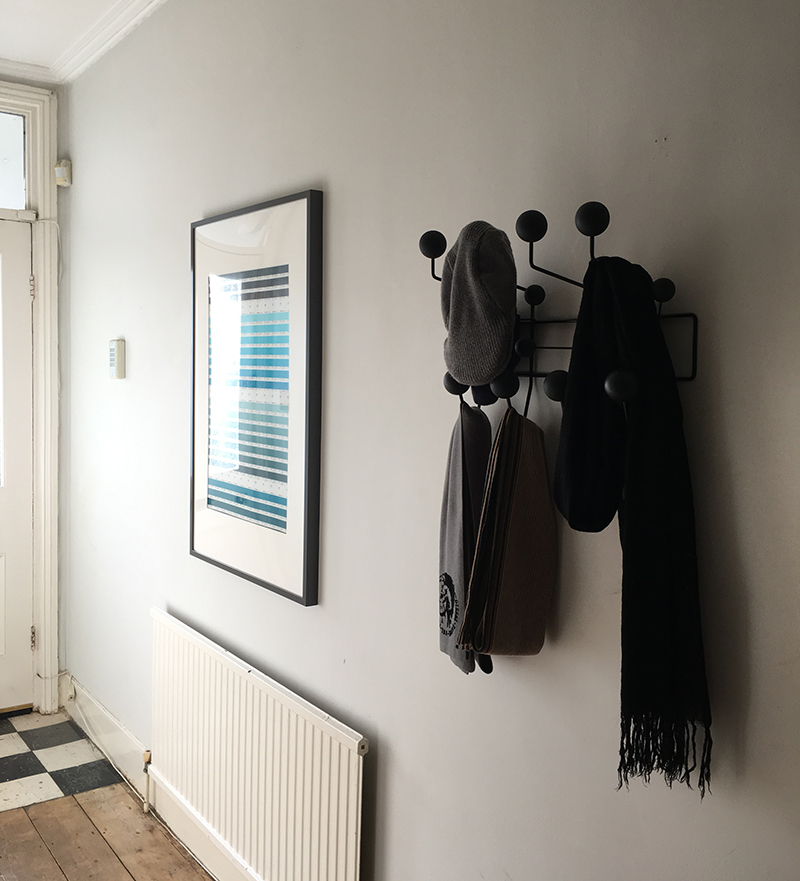 Here's the view back, for some context. Like I say, we'll tweak over time. From here you can see right through to the kitchen/back window, and upstairs to the bathroom. I don't have any decent pics of our arrangement up there, but will share some later.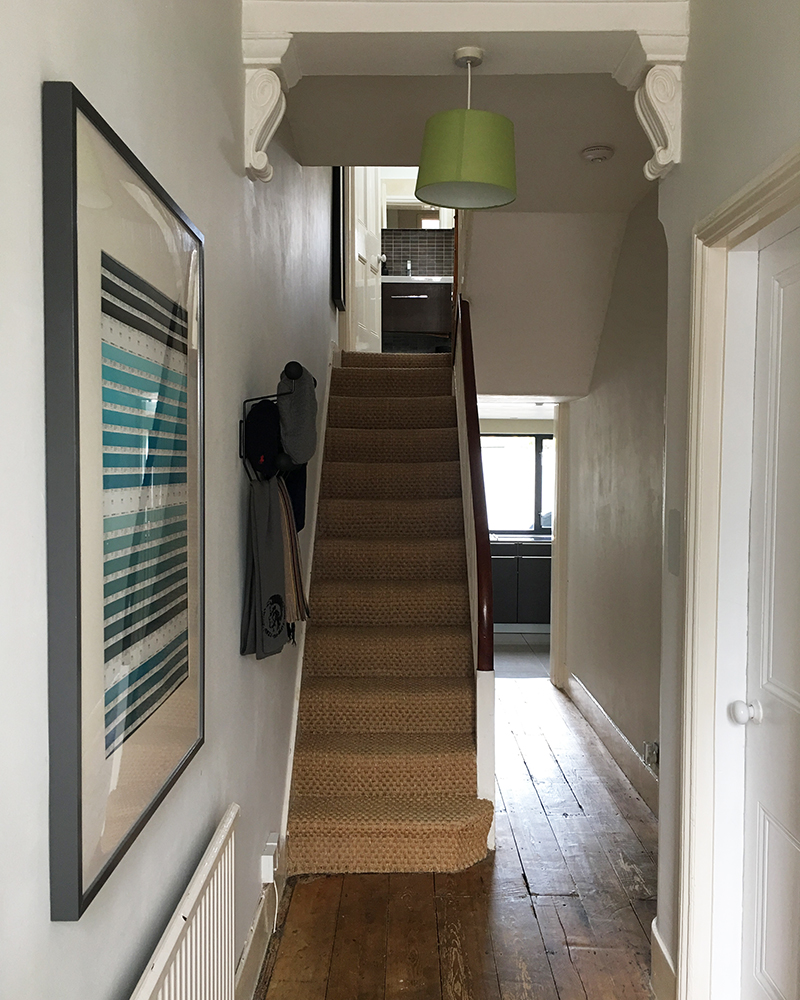 Downstairs, our new drum kit (well, Karen's, in reality) gets a new home. We upgraded our Ludwig set, and added Silentstroke heads and low-volume cymbals (to keep the neighbours happy-er). We do crave our detached house/big yard existence, but we can't complain…and neither have the neighbours…yet.
In fact, we're settling-in very nicely. We can walk to pubs and restaurants, the supermarket, and everything in-between. It's been such a refreshing change, and something we've craved since leaving Boston. That said, we still miss our Eichler, our neighborhood, our friends, and the sunshine. But life goes on. More soon…
Save
Save
Save
Save
Save
Save
Save
Save
Save
Save
Save