We're gradually checking-off Eichler neighborhoods –remember our Burlingame visit, before meeting Karen's folks at SFO? Well, this was the return leg. With more (rare) time to kill, we headed for Diamond Heights, Eichler's first urban development, in San Francisco proper.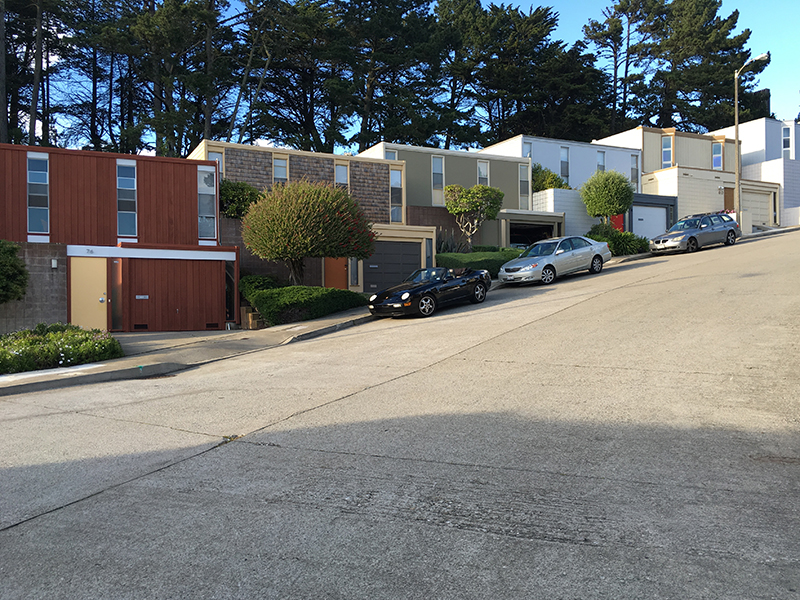 It's way up high (the clue's in the name) above Noe Valley –an area we know well, having stayed there on our first ever SF trip, in 2010. We hadn't pre-planned this neighborhood visit but we were relatively nearby, checking-out this chair at Blu Dot, in the Mission.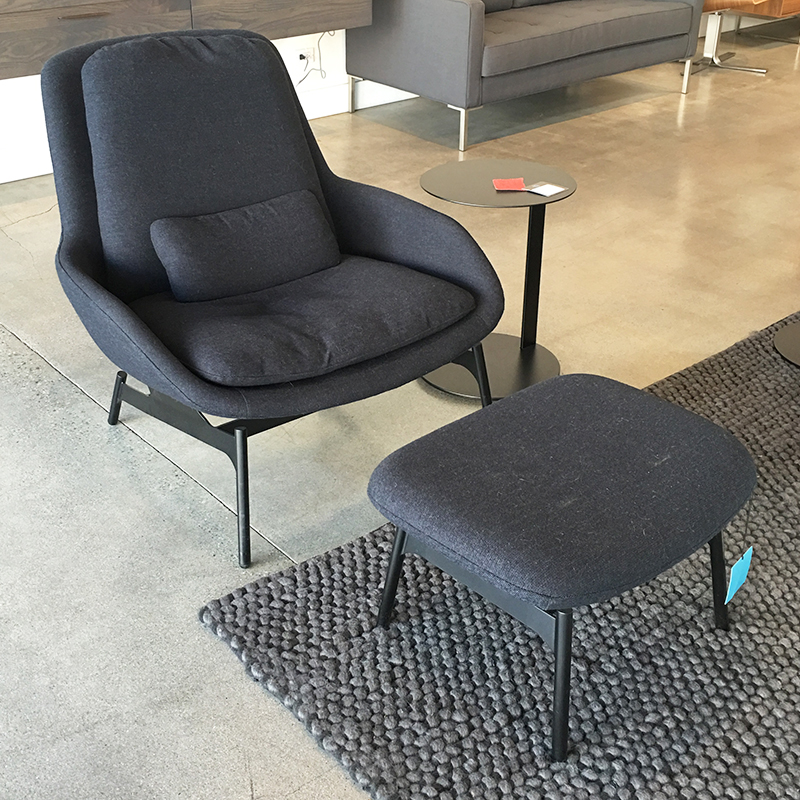 Then it came to us: "let's walk to Diamond Heights" –not far (only 2.5 miles away) but via some steep streets. We don't often use the word "hike" to describe what us Brits call 'walking', but it felt apt here. Part way up, we caught the view from Mission Dolores Park, full of post-game Warriors fans.
Flip-flops probably weren't the best footwear choice, but we pressed on, as the streets got steeper. And steeper. Now it became our mission (see what I did there?) to reach the top. Once we arrived, we were rewarded with a neighborhood welcome.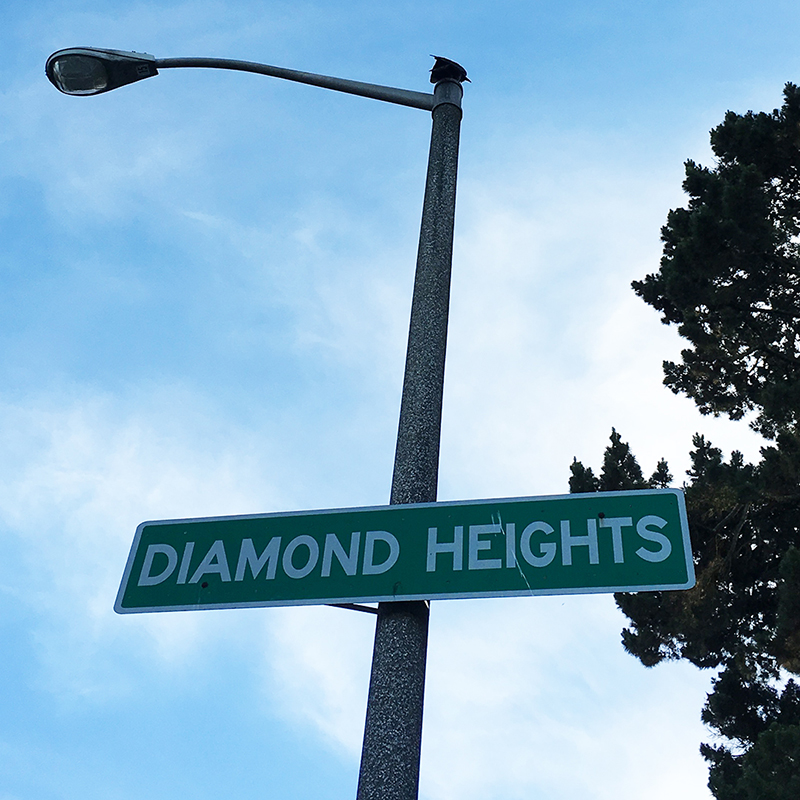 Not much time to hang around, so we just walked a few streets, snapping any standout homes. Around 100 Eichlers here, built from 1962-64 (I believe). Some familiar traits up-front (slab door, original escutcheon, cinder-block, overhead beams) but these are no ordinary Eichlers.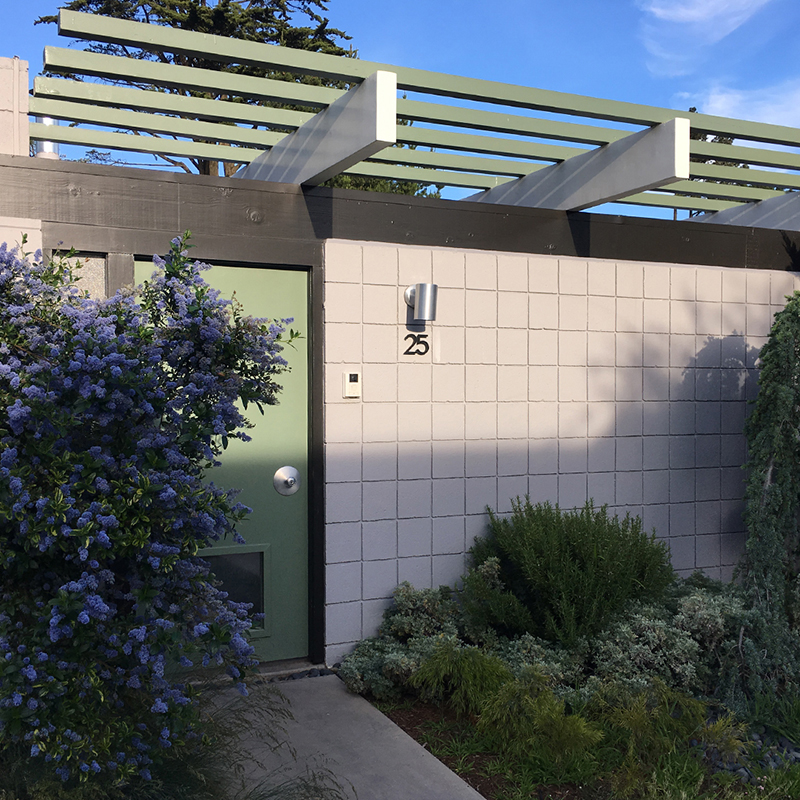 A mix of split-level and 2-story models, like this one. Love this buttery yellow door, paired with rusty orange siding. Though these look like townhouses, there are no shared walls –confirmed on Instagram by the owner of this very house, who also said we should have rung his doorbell.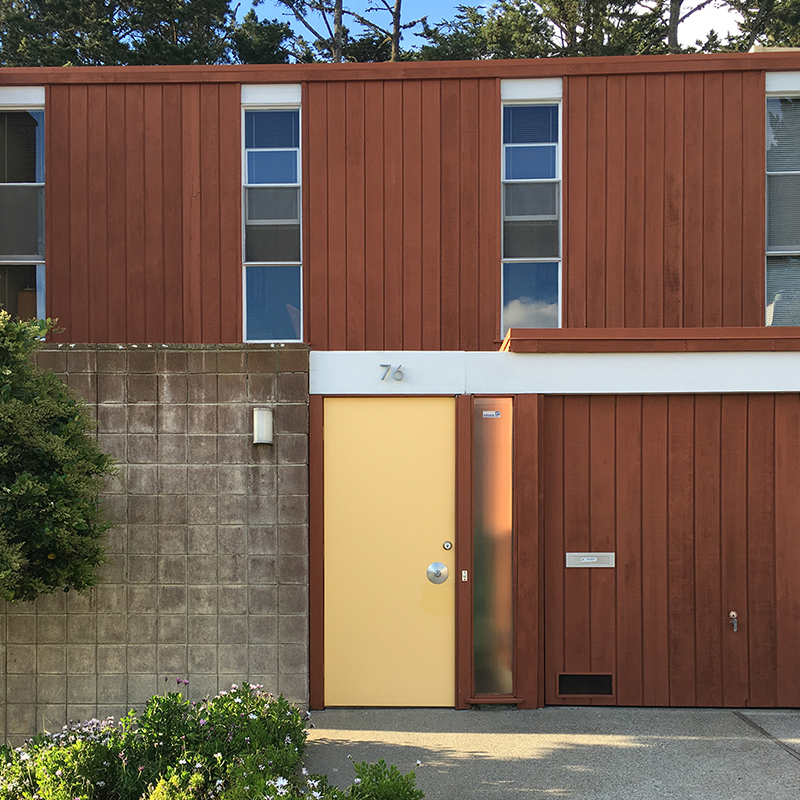 Maybe next time. Would be amazing to see inside. We have seen a few listings online –it's always interesting to contrast models to each other and with more typical Eichlers, and see how much original remains. We recognized this one as a recent redo –love the simple landscaping and exterior.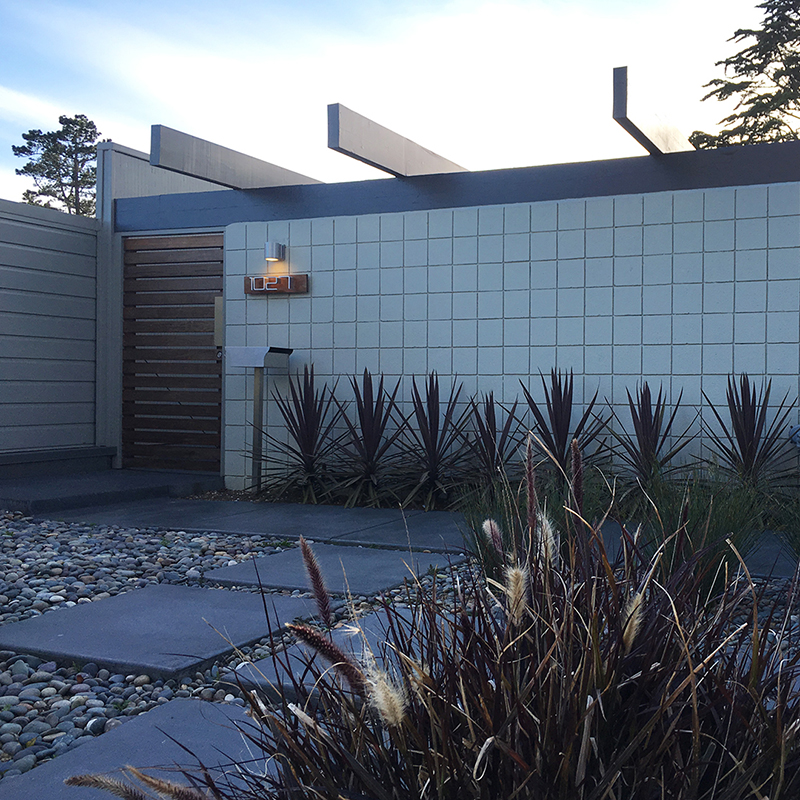 Another 2-story with natural cinder-block, this time a yellow door, paired with gray. Nice combo. Looking through my pics, I spotted some subtle differences. Notice the flat-fronted windows here (there are four total) and the long window beside the door.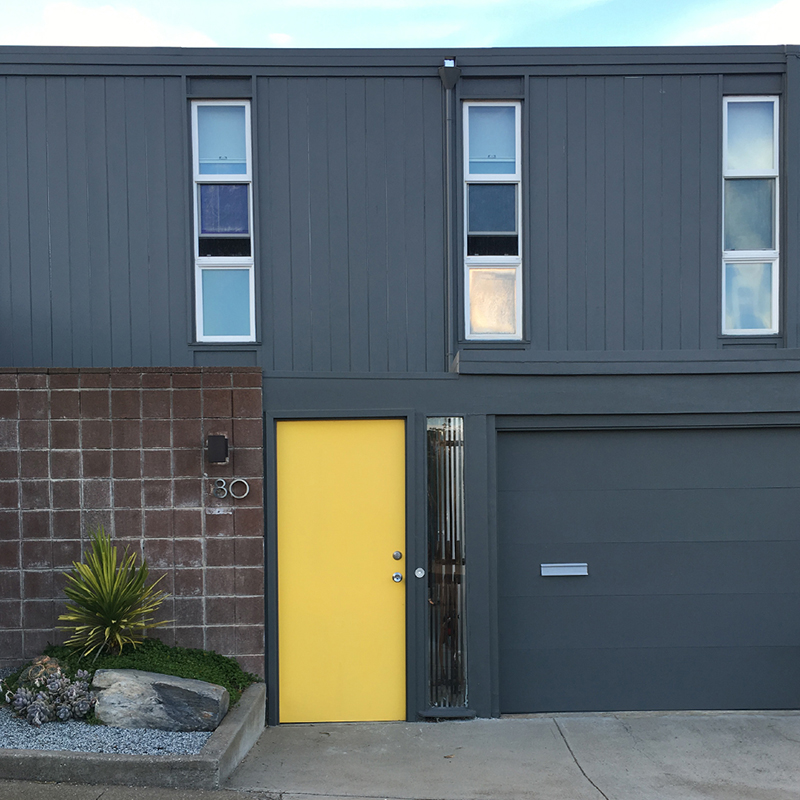 Then contrast with this similar model. The door-side window is different, and only two double-sided top windows –interesting detail, reminiscent of some Eichler models in San Jose and Burlingame. Looks narrower too, so maybe this model has a smaller footprint.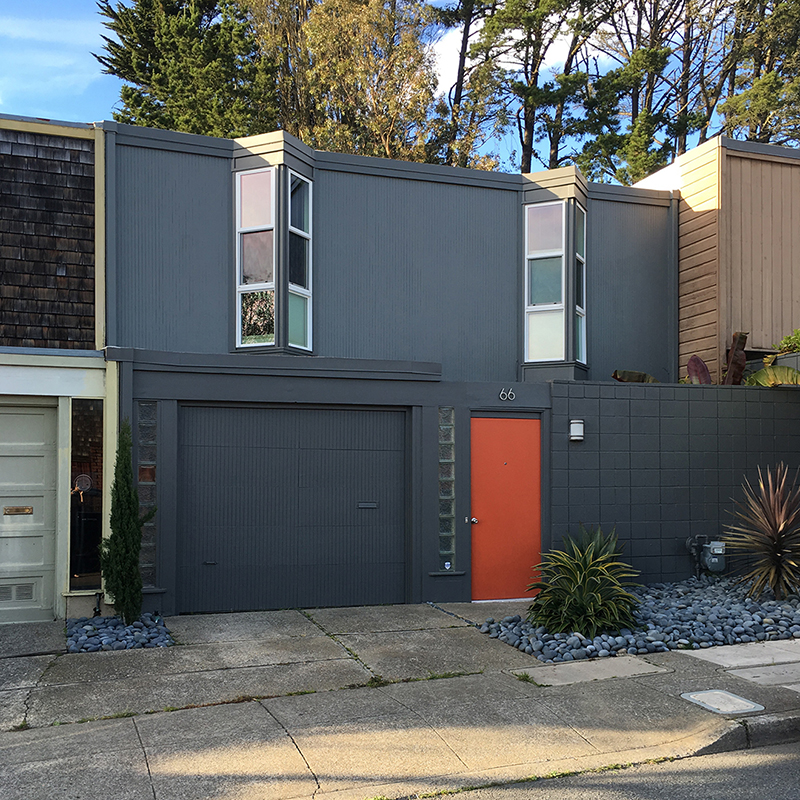 No atriums in any model here, but some have courtyards behind the front wall, like this one. In fact, they look a lot like standard courtyard Eichlers from the street, just scaled-down –that said (with the extra level) these homes are comparable in size, at around 1600-2000 SqFt.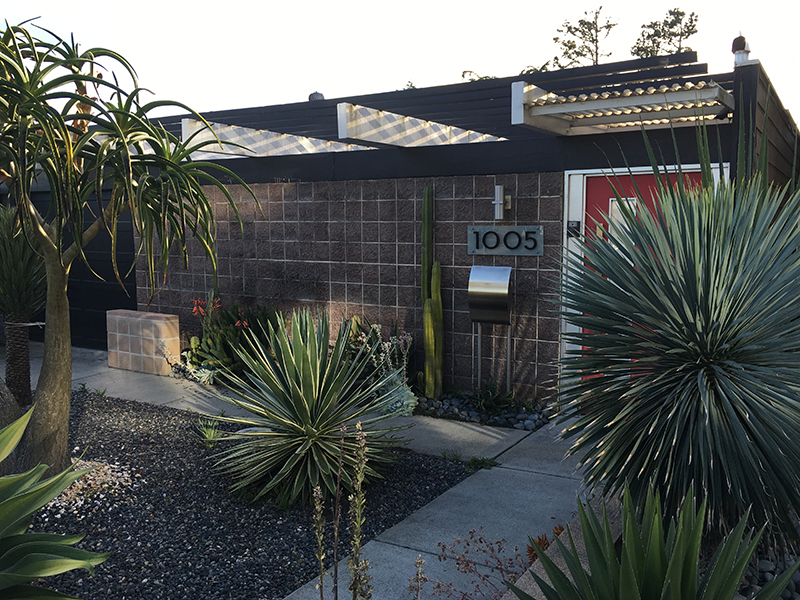 I like this one, but it's possibly too gray, even for us –just imagine what a bright accent door would look like, maybe in turquoise or yellow? Nice-looking reproduction escutcheon though –something we plan on adding to our front door(s), down the line.
Talking of accents, this vibrant red provides a nice pop. And I love the reflected light in the windows. Didn't see many original garage doors, and we did see the usual mix of inappropriate replacements. I like this solution though –the simple horizontal lines work nicely.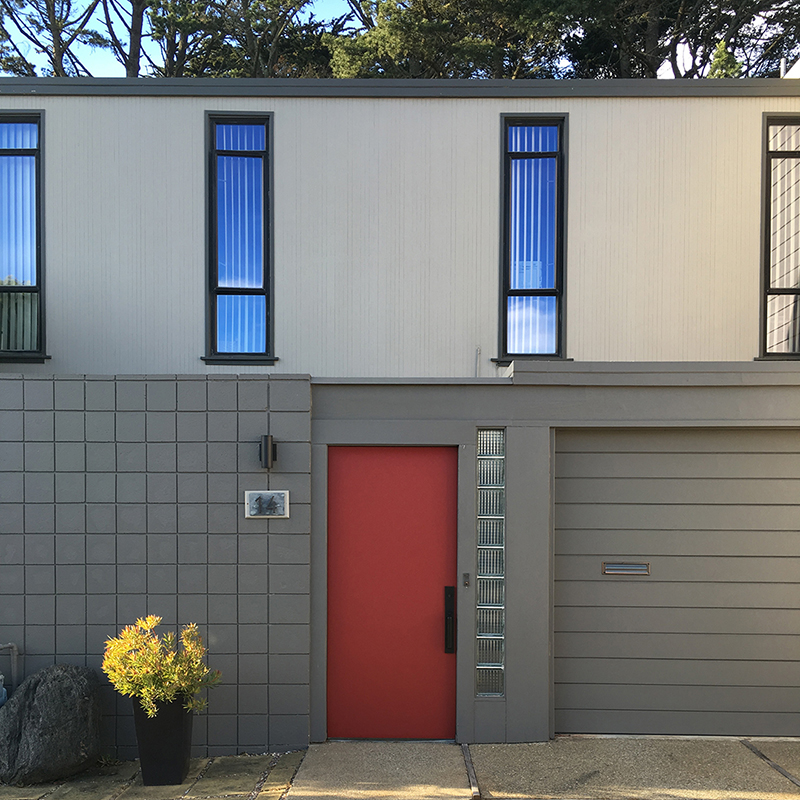 Unusual mix of colors on this one, but I like it. Pairing an orange door with olive block/siding and darker beams –nice. The wall sconce and house number are nice modern touches too. Not sure I could cover the front wall with shrubbery though –these homes look so good 'naked'.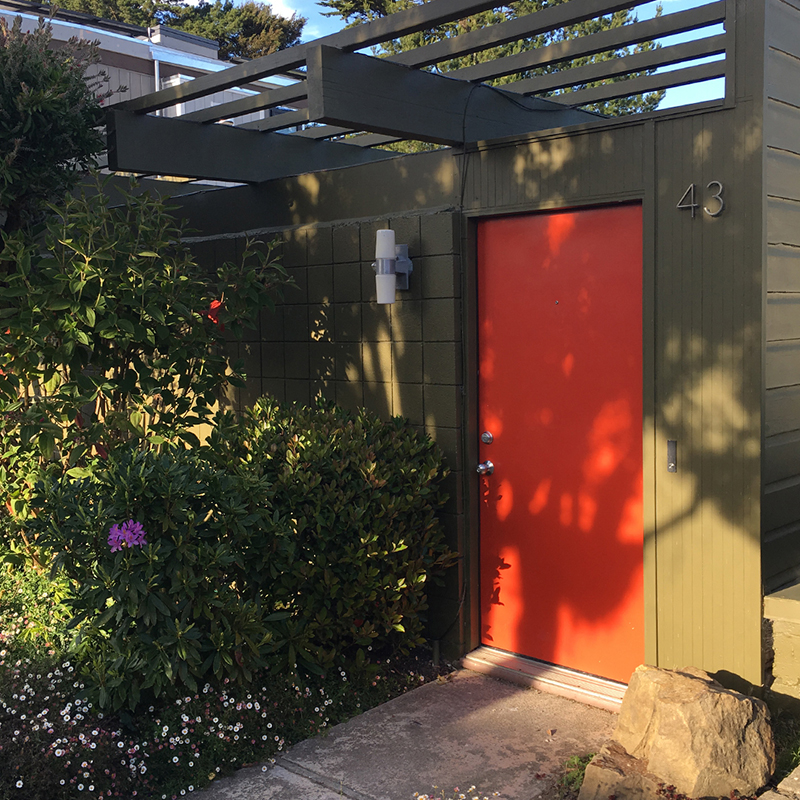 Thanks to the slope, these 2-story homes are gradually staggered in height as you progress up the street. And the varying palettes create an interesting contrast. Those aren't the only pleasing visuals –I failed to capture the spectacular bay/city views you get from up here.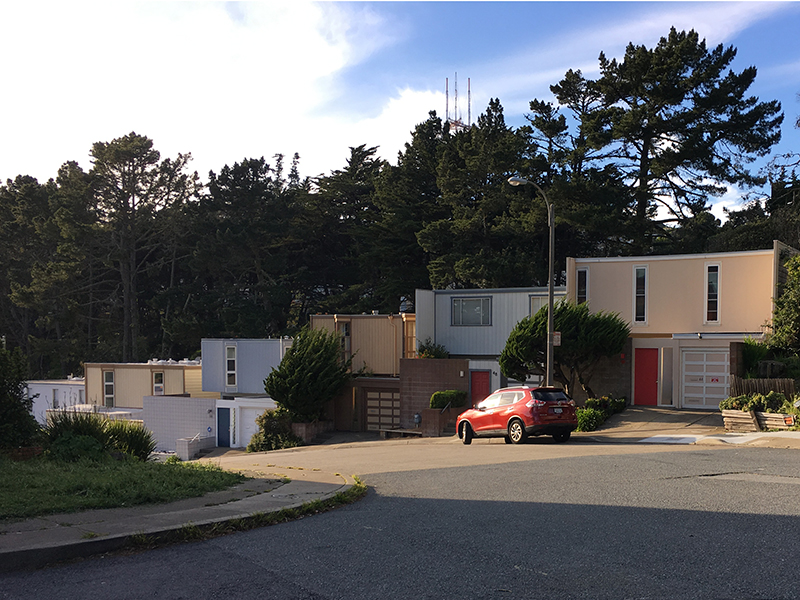 With light fading, and a long (but easier) walk ahead, we said goodbye to Diamond Heights. Such a cool neighborhood, just a stone's throw from the hustle and bustle. If only we could afford the $2M+ price tag. We know a couple homeowners here though, so at least a future house tour is on the cards.