burlingame super-eichlers
Whenever we visit San Francisco (not nearly often enough) we try to check-out a new Eichler neighborhood. Couple weeks back, we picked-up Karen's parents from SFO, and swung-by Burlingame's Mills Estates –home to 100 or so Eichlers, built between 1964-65, with models by Claude Oakland and Associates, plus A Quincy Jones and Frederick Emmons (the architects responsible for our home/neighborhood).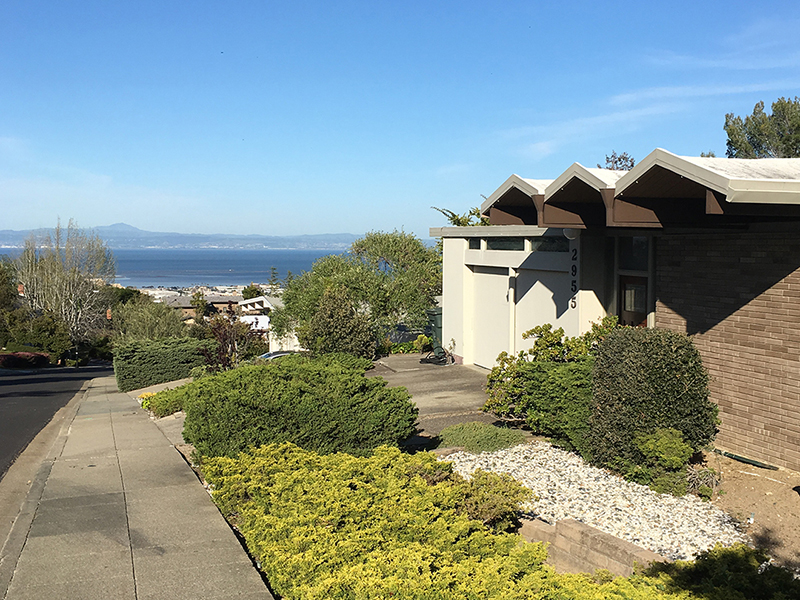 This is the closest Eichler subdivision south of San Francisco. Airport proximity makes for convenience, but some overhead traffic. The hillside location affords great views of the East Bay, but mean it's not the most walkable Eichler 'hood. See, lots of steep streets. But the Eichlers are big and beautiful.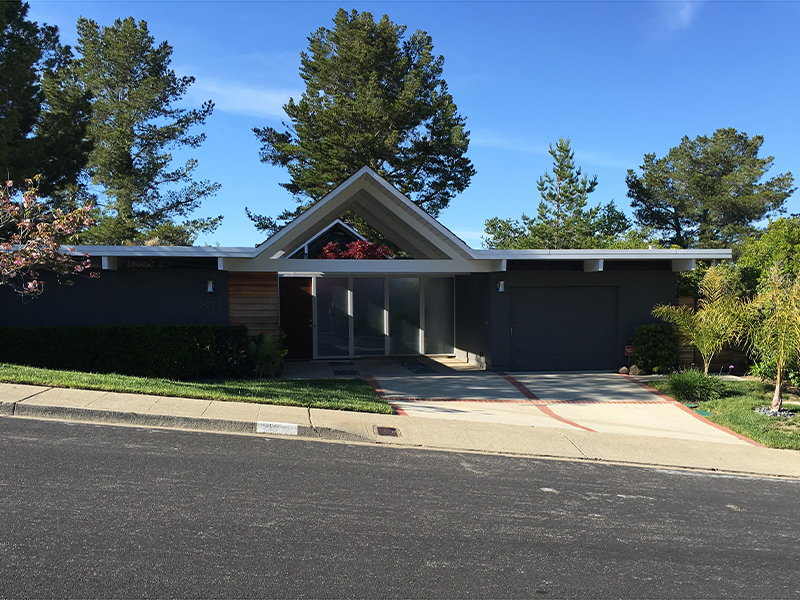 Many models look familiar, but all (we believe) are 2K+ SqFt (larger than close Eichler cousins) earning them "super-Eichler" status. Subtle differences too –this carport model has a 2-car garage (a "double garridge" to us Brits) rather than the usual single. It also has wider T1-11 style siding, typically seen on later Eichlers. Love the landscaping, and the horizontal slatted fence.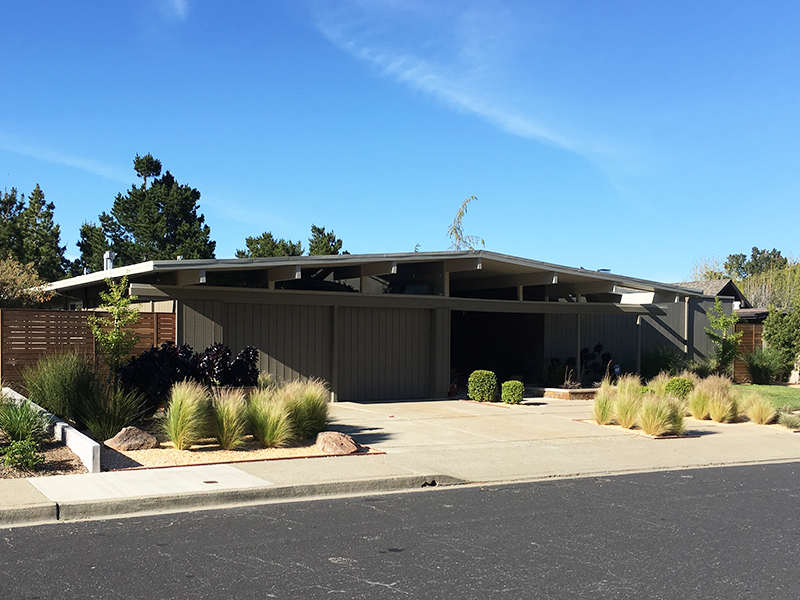 No overhead power lines in this neighborhood, thanks to buried electrical, which always feels more exclusive –funny, as it's fairly standard in the UK. There were a few models we'd never seen before, like this one, with a concertina roofline and brick facade on the central portion.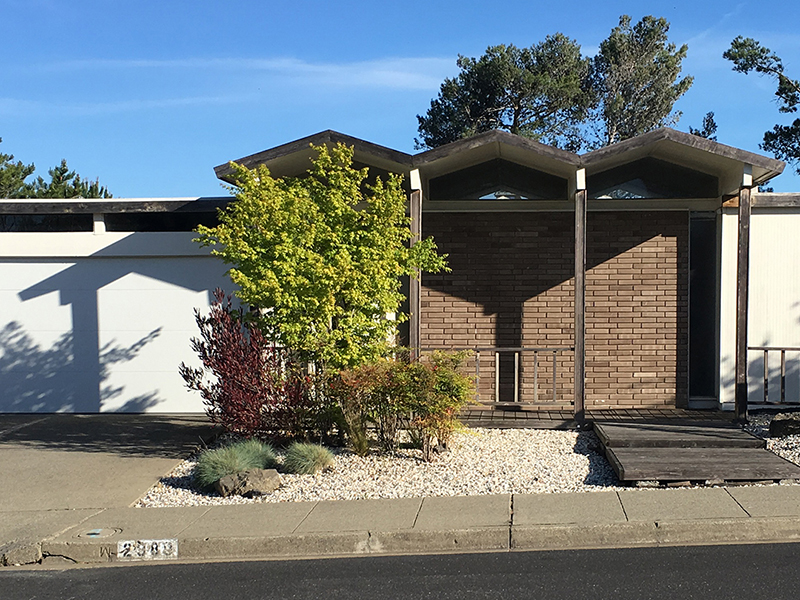 And another brick-fronted model, with a more conventional central pitch. Love how the lines of this entry frame the glass, slab door, and brick. Good to see unpainted ceilings too –I hope they continue inside. And more nice landscaping.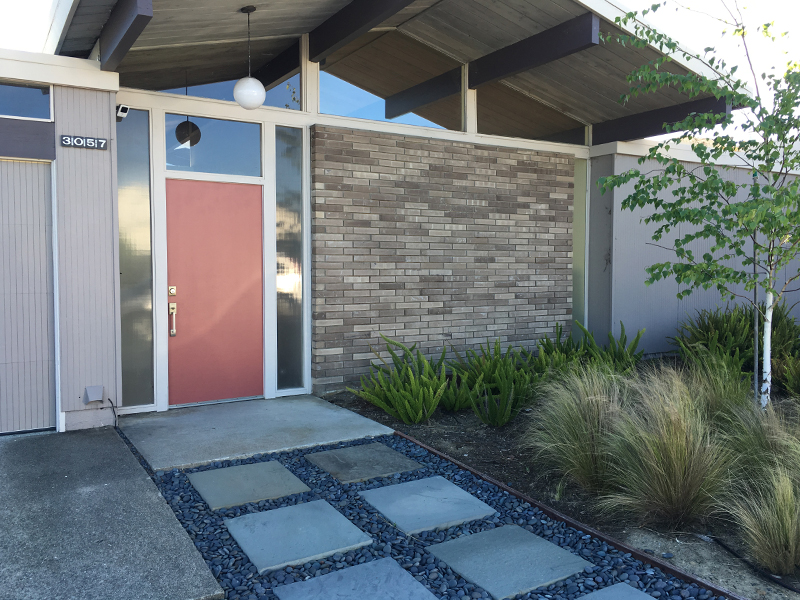 Yet more brick fronting this model –notice the two protruding sections, to the left. Wasn't sure this was original, until we saw a few more here. Kinda cool, but a little severe and bulky –sorry, apt architectural terms escape me. In any case, I can see why this model wasn't rolled-out en masse.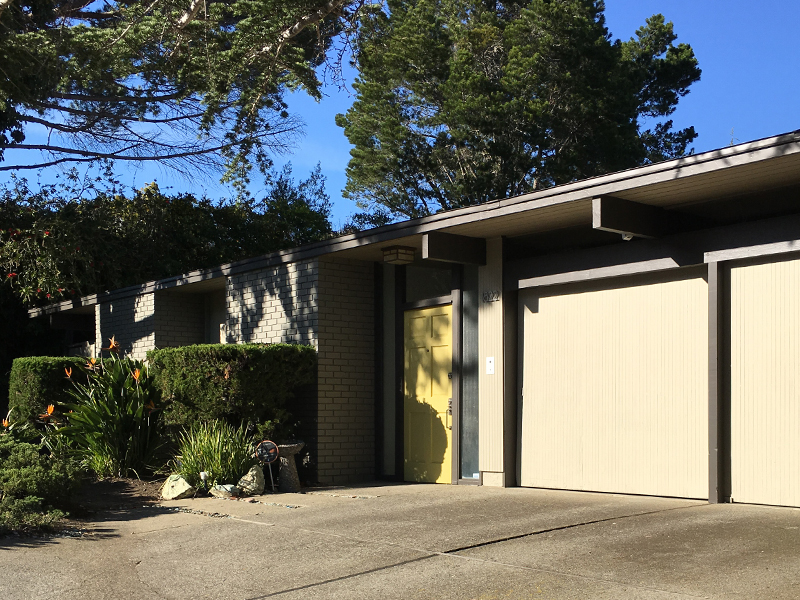 We've seen this graduated pitch roofline before (in Sequoyah Hills and on Rummer Homes) and it's classic Claude Oakland. The supporting column is typically red-brick, not square cinder-block. Don't know if this was natural or painted from the start but it works for me. More unpainted gray-wash ceilings too. Nice.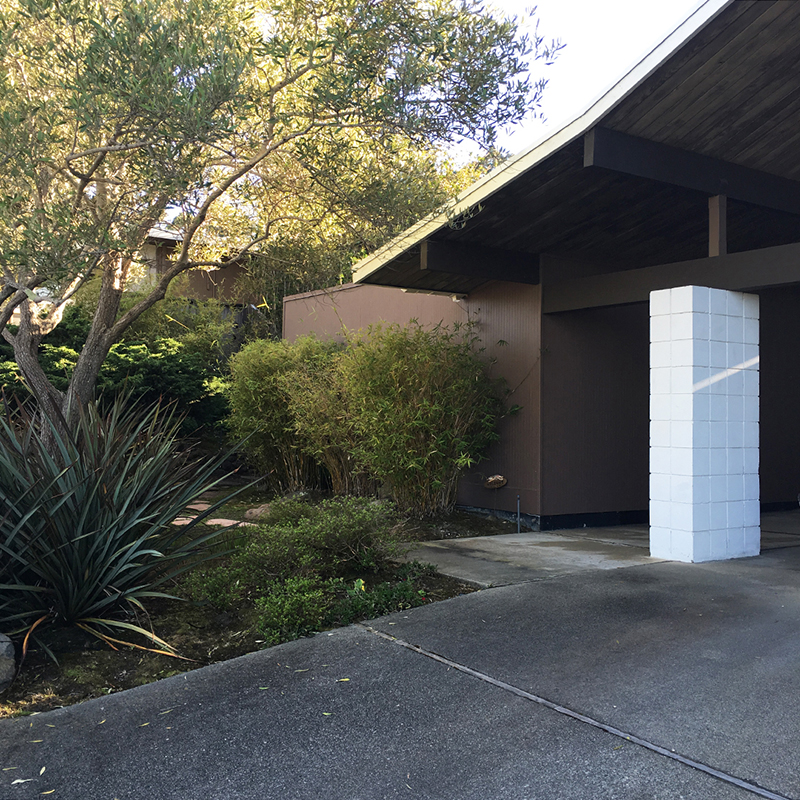 Here's the same roofline, with a closed-in garage. Where Eichlers have been altered, and many clearly have, most are done well. Sadly though, money doesn't guarantee taste, so (just like every other we've seen) this neighborhood has it's share of unfortunate facelifts. A few 'fixers' here too, ready to be snapped-up when the time comes.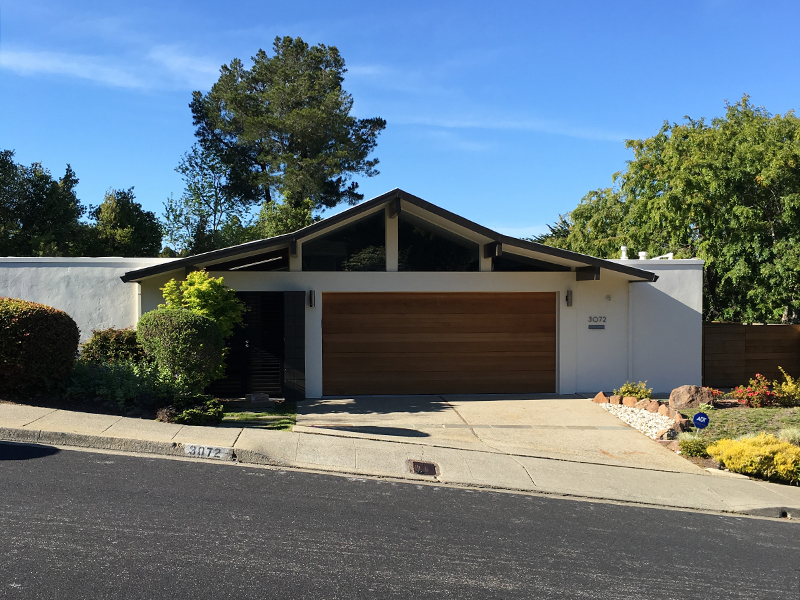 On a more familiar note, plenty of classic A-frames, all with the bonus of a larger footprint. Difficult to beat that silhouette, no? As you can gather, it's a well-preened neighborhood, with plenty of inspirational fodder for our own (yet-to-be-landscaped) front yard.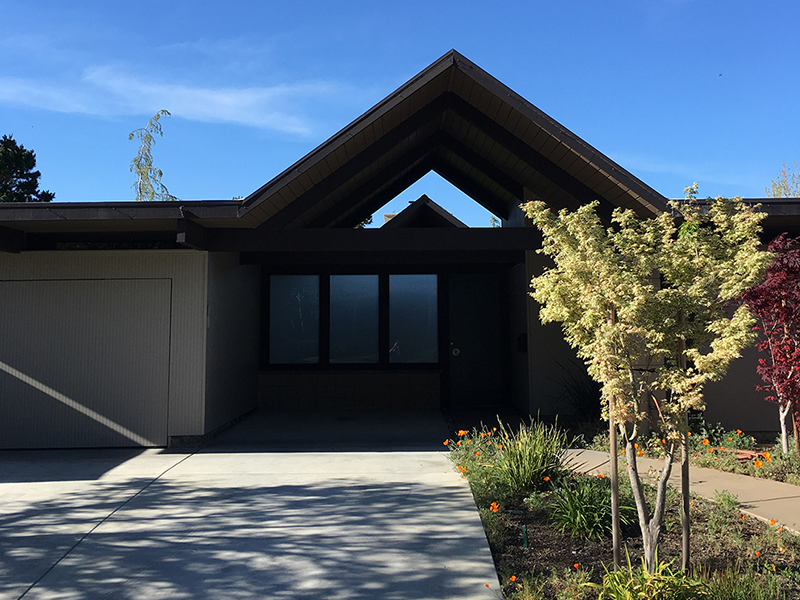 Here's another double-A, with a gorgeous blue door. We're sticking with lime green for now, but toying with switching to a more subtle green or blue at some point. This shade would complement our mid-gray siding and dark gray beams nicely. Hmmm…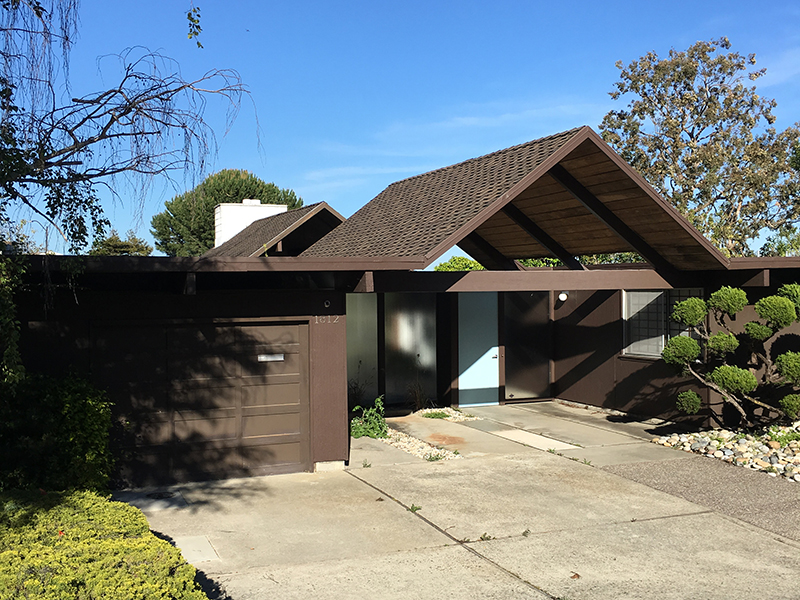 Seems we weren't the only British exports in Mills Estates last week. This bold turquoise double-carport model (with more typical siding this time) had a classic Cooper outside. Wonder how many Mini/Eichler combos there are across California? We'll keep an eye-out during future neighborhood tours.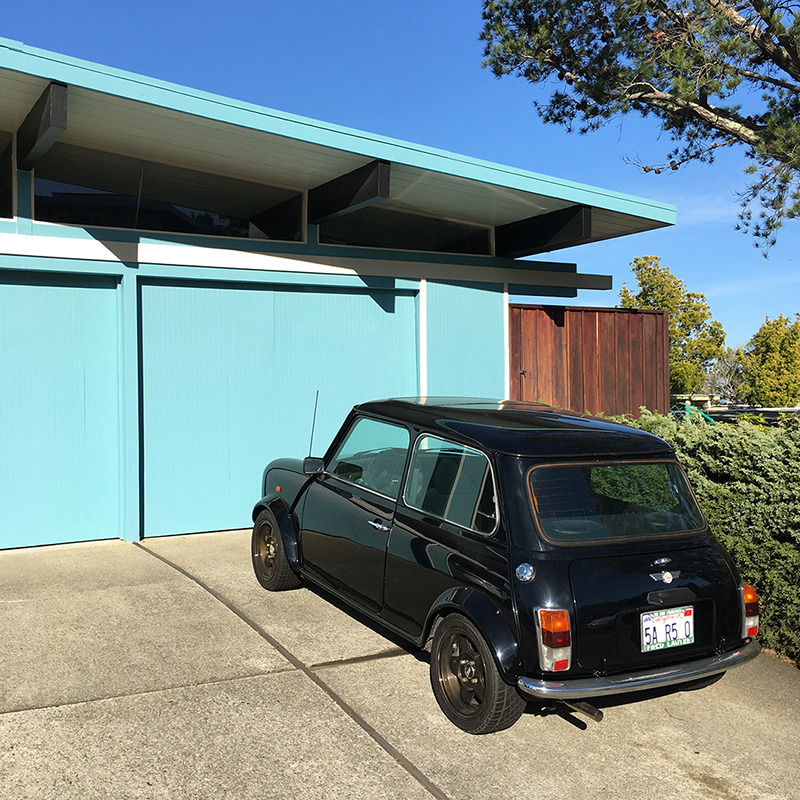 Shame we couldn't see inside any homes, but we did get the next best thing –this Eichler listed just after our visit. It's an even bigger (2720 SqFt) custom, not attached to the main tract, and built much later (1973). Listed for a shade under $2M, and will likely go higher. The furnishings aren't to our taste, but the model is spectacular. Pics/deets here.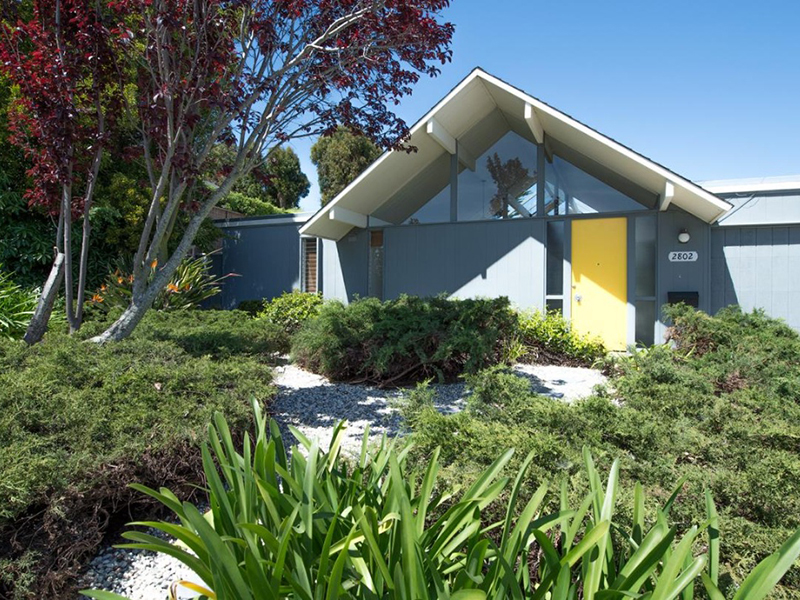 And that concludes our whistle-stop tour of Mills Estates. We loved it, and it certainly had a high-end feel. Plenty more we could say and show, but so little time right now. Did I mention, we're working hard to get tour ready? More on that soon. Anyway, hopefully this gives you a good sense of the neighborhood. If you thirst for more, see Eichler Network's great article and Eichler for Sale's neighborhood page.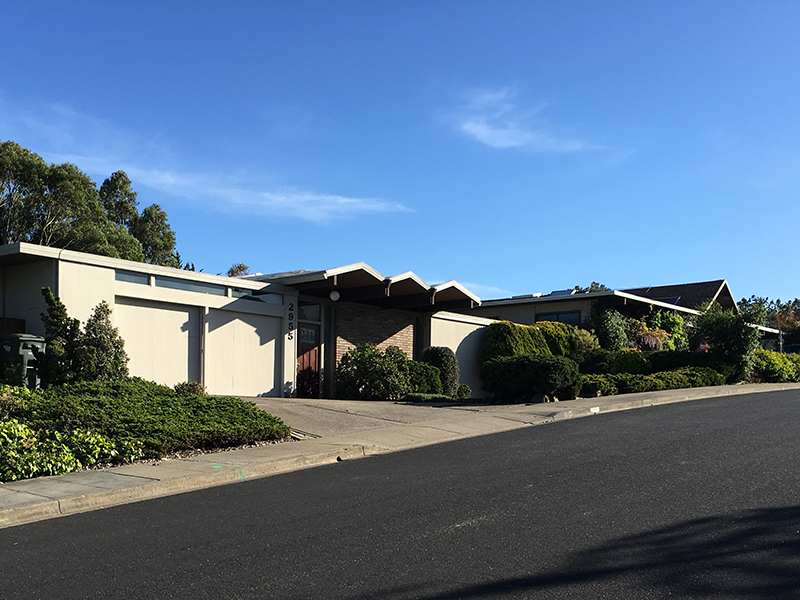 We visited a couple more Eichler 'hoods the next weekend, when we returned to SF to wave goodbye to Karen's folks –as a side note, it was fantastic to have them visit, and it forced us to take a rare vacation of our own. Sort of. More Eichler tours soon, more on that tour, plus some overdue in-house progress…