Remember the Walnut Creek 'super-Eichler' we posted? Well, here's another. Also built in 1969, in the same Northgate neighborhood. Different model (though also designed by Claude Oakland) but a similar size, with 4/2 over 2294 SqFt, on a quarter acre. On a quieter street, but needs work. That accounts for the $900K price tag –$400K less than the last one sold for.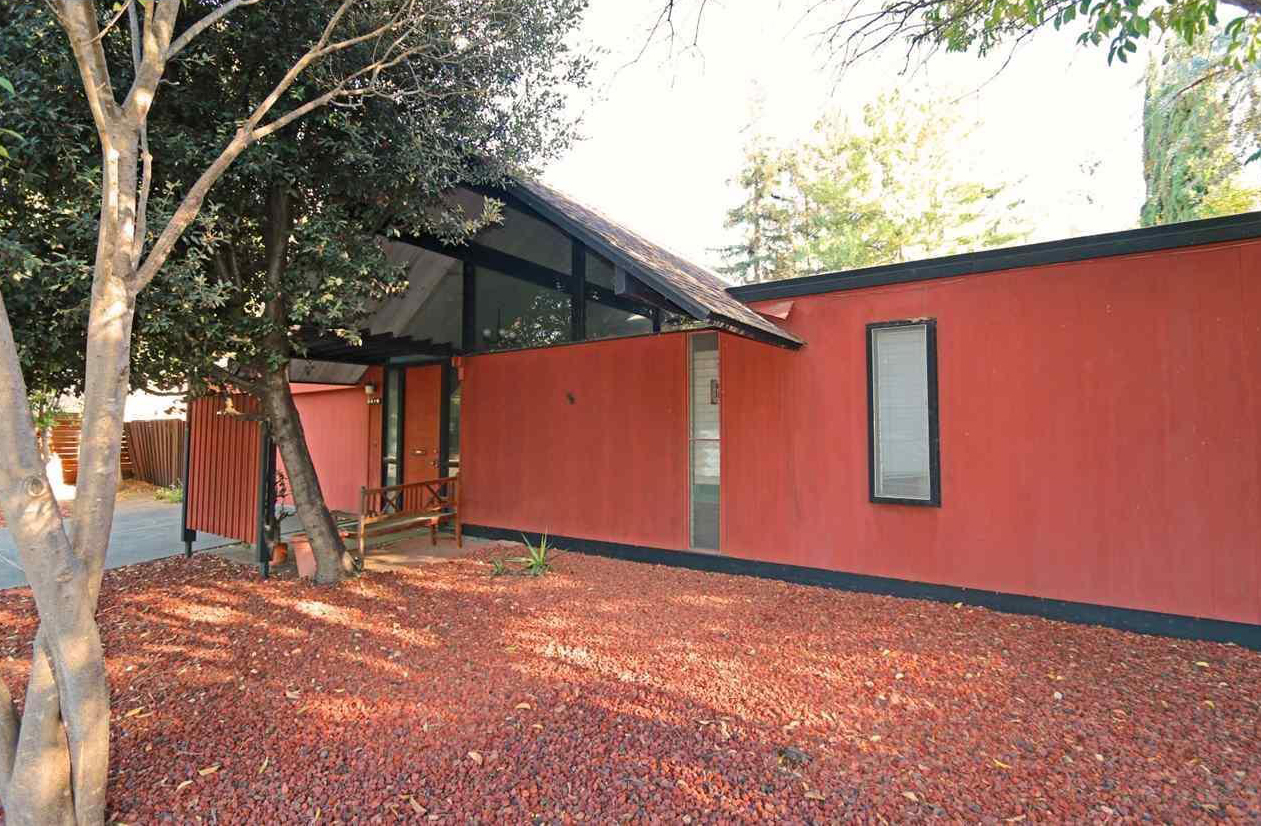 Walk through the front door (visible to the right) and you're in a large atrium. We'd remove that glass roof –can't understand why people cover these, in the California climate. We'd also reinstate the slab/cutouts. But look at the size of it. Some entrance, eh? Love that glass-walled front room too.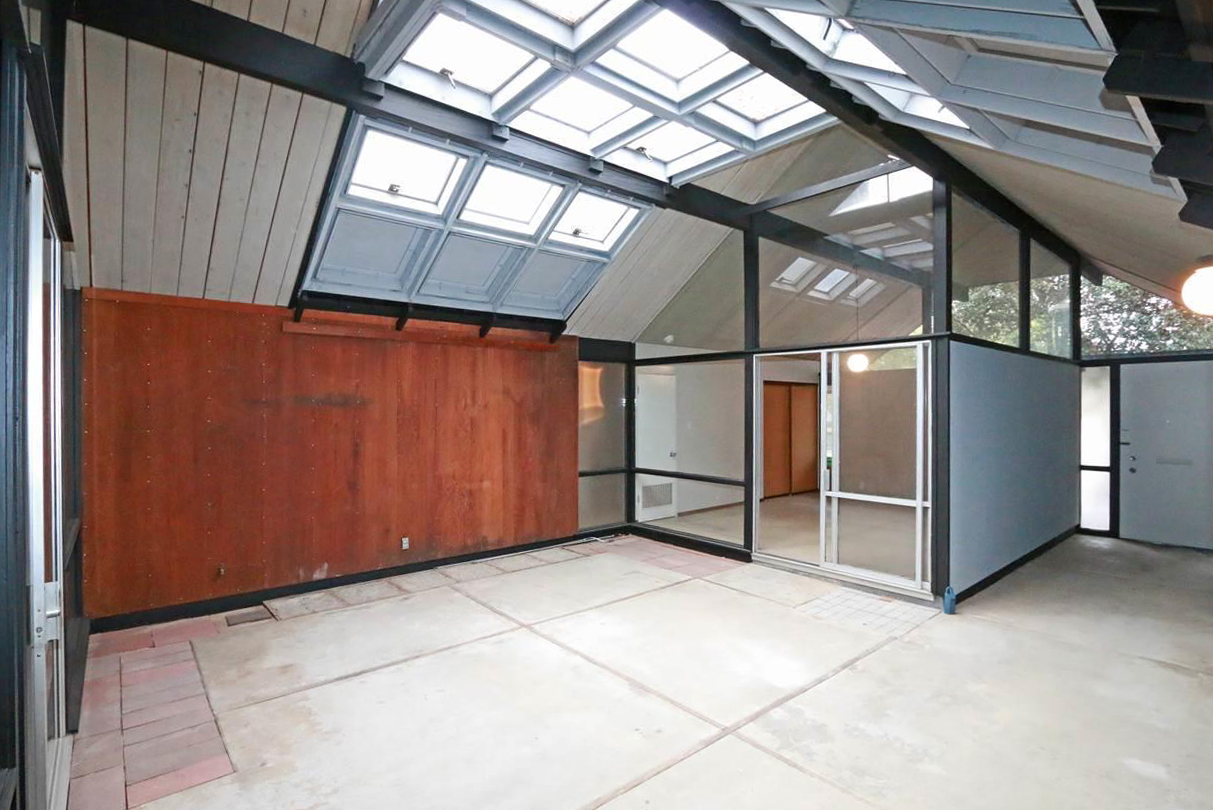 While it wouldn't make the best bedroom, it could be the perfect office. I think Karen would lobby hard for this as her art/design studio. Either way, perfectly placed, with so much glass/light/height. Wider plank siding on the exterior of these later models, with stained siding replacing more familiar wood paneling, on the inside.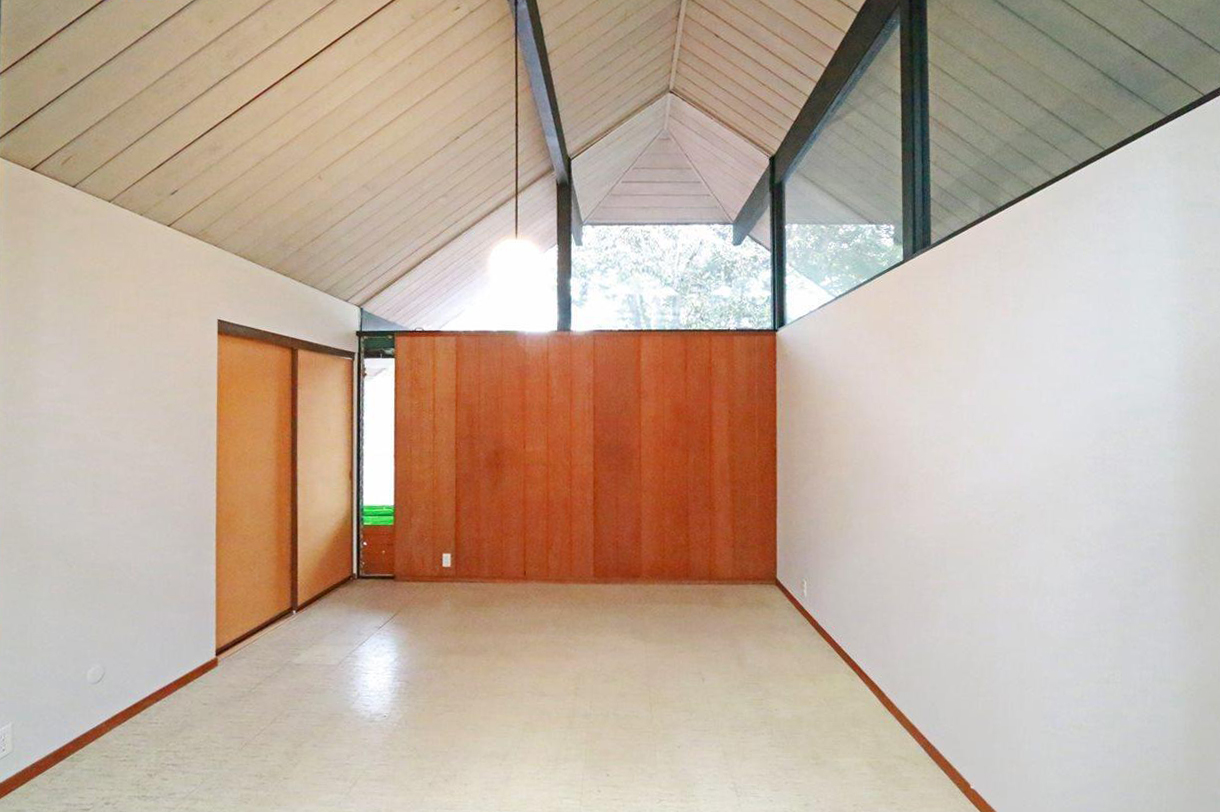 Here's the view back through the atrium. I could get used to that. Again, would be improved with an expanse of sky in the middle, as intended. Clearly the flooring needs sorting (everywhere) and some paint would help. Oh, and furniture –obviously this home isn't staged, so you'll need to use your imagination.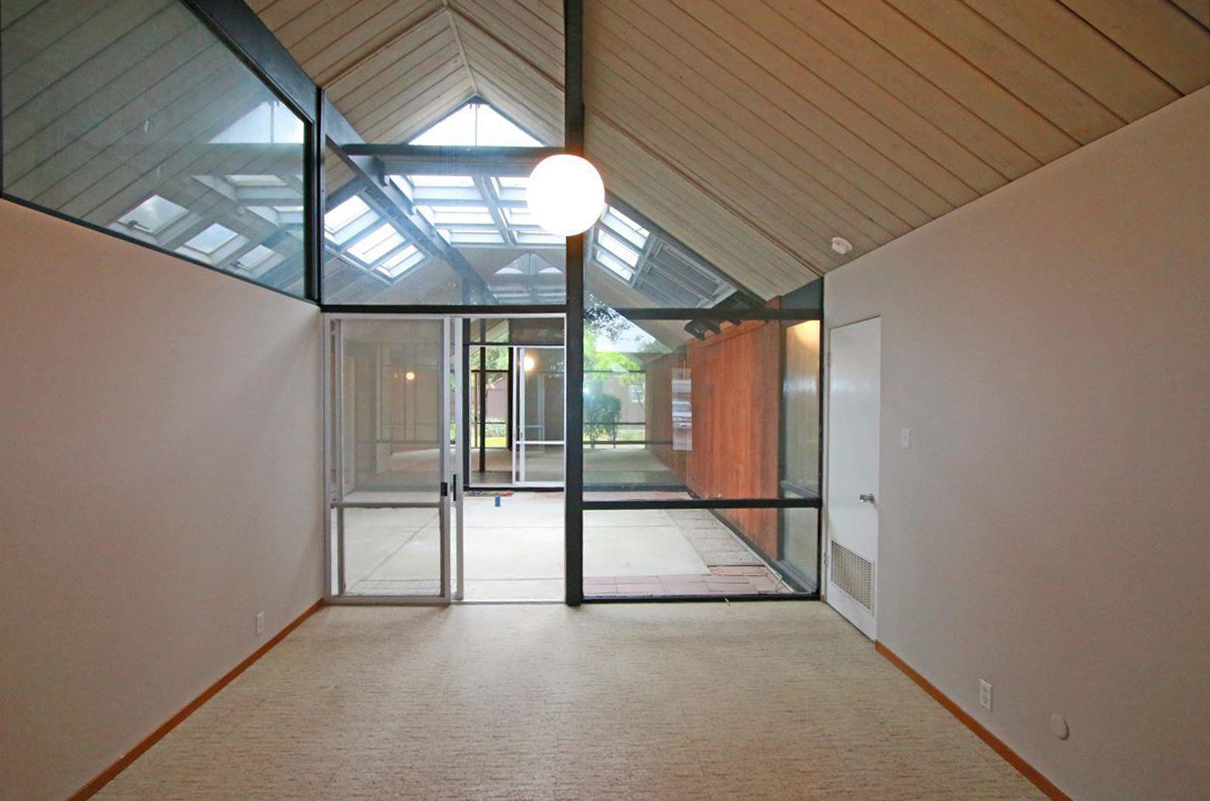 We actually prefer seeing homes this way, as it allows the architecture to breathe. Don't get me wrong, staging can really enhance the architecture, and help sell the house. This table isn't doing it for me though. Perhaps it was too heavy to shift. Great living space though.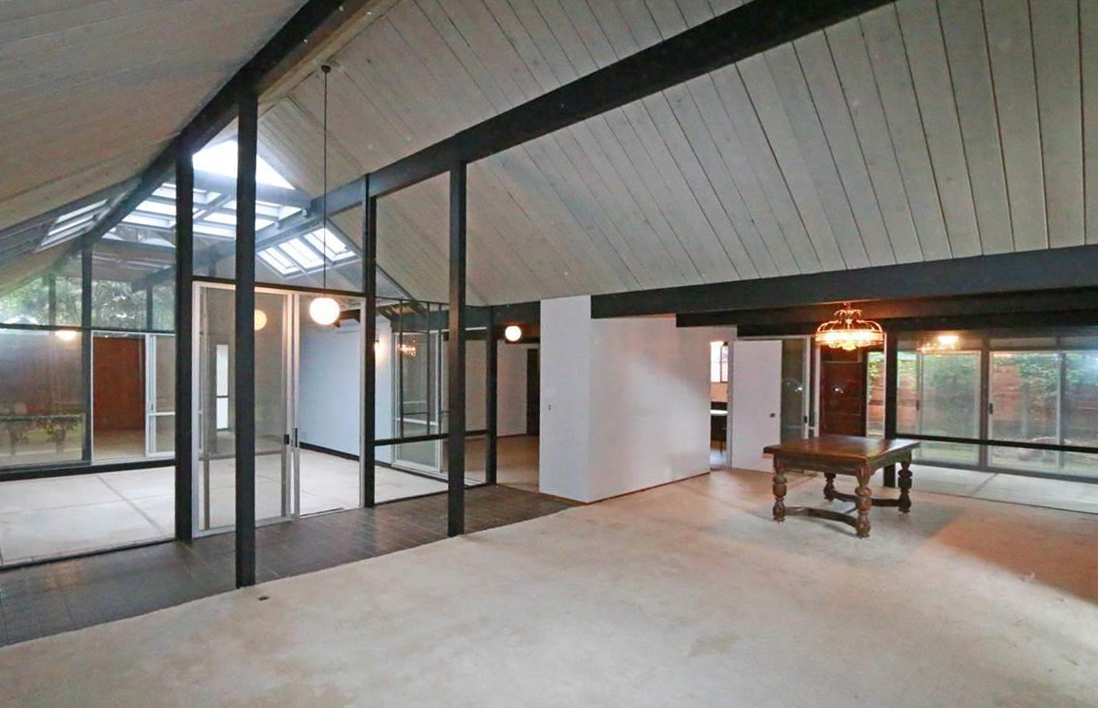 I could (and would) spend hours staring at these ceilings –unpainted throughout, revealing gorgeous pickle-stain. Lots of globe lights too, including the ridiculously long-stemmed one (above) hanging from the central pitch. Lower ceilings in the side portions, though the scale is still impressive.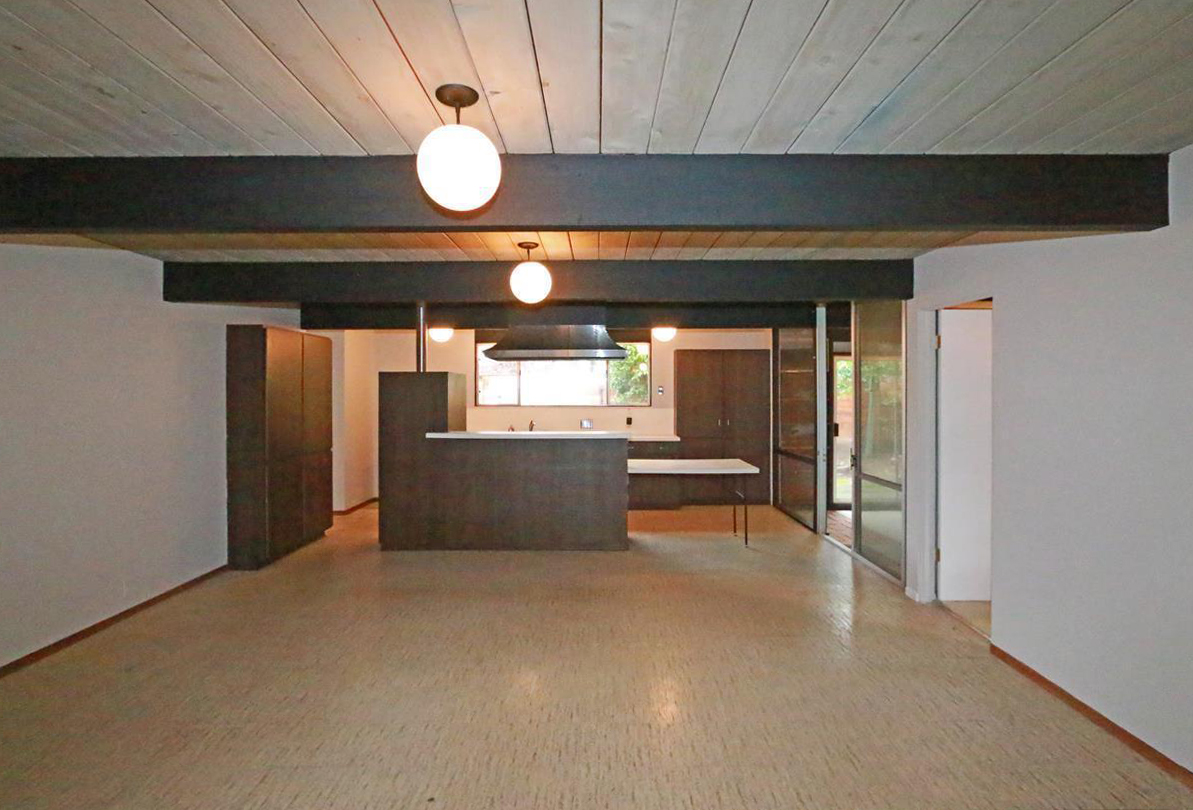 Big family room/kitchen combo. Mostly original, with familiar swing-out table, stove top and spice rack. Nice view through the atrium too. This model also boasts an adjacent laundry room, to the right.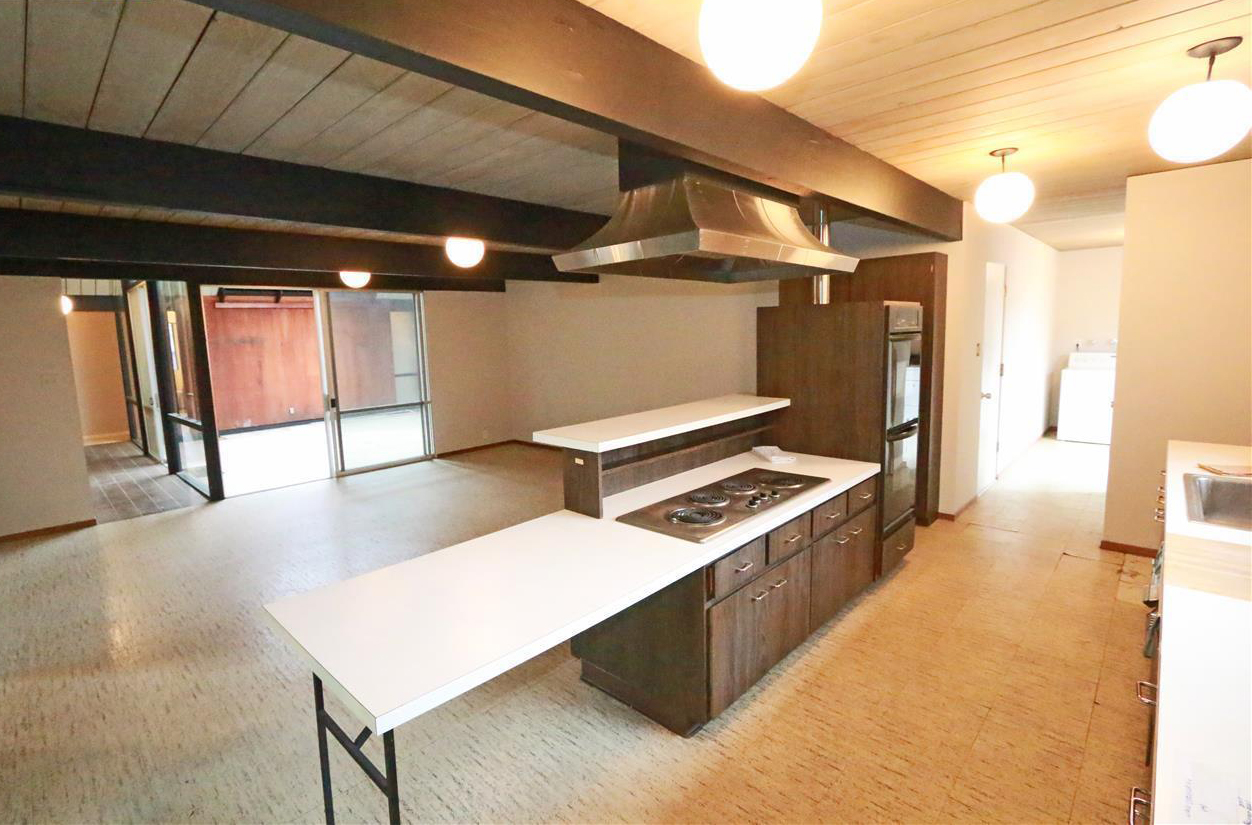 The bedroom shots are kind of boring, thanks to a lack of…stuff. Same unpainted ceilings though. Good-sized windows too. The walls are all white-painted sheetrock (with original. baseboards) which does make for a nice blank canvas…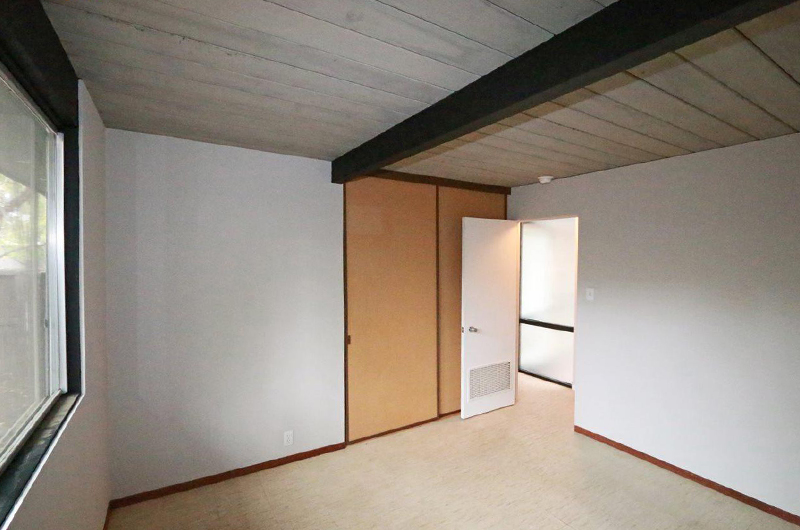 …and an antidote to this colorful bathroom. A bit much for our taste. Loving the slider access though.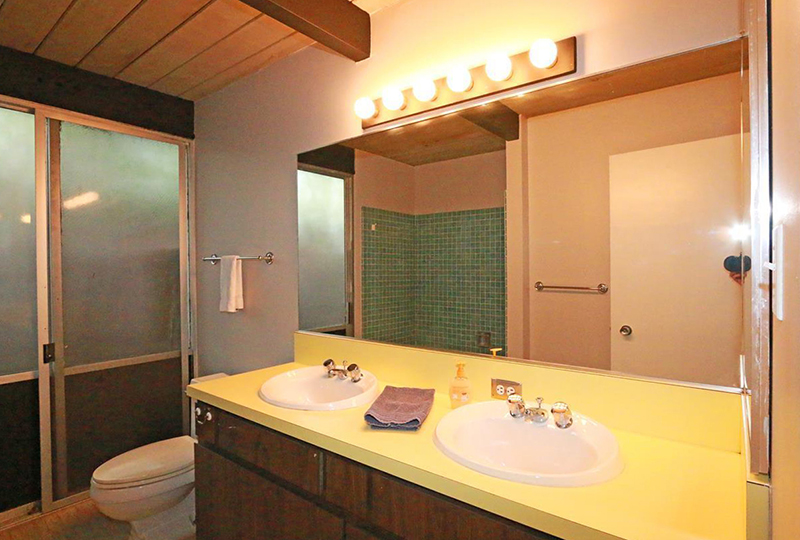 The yard is big, but unkempt. Wouldn't take much to tame it though. And a pool would be sweet here. Note the jerkinhead roof -only found on these relatively late Eichlers. The huge fireplace provides a great focal point –not sure if it's painted inside, as there are no pics. Speaking of paint, we'd have to pick a more muted shade for the siding.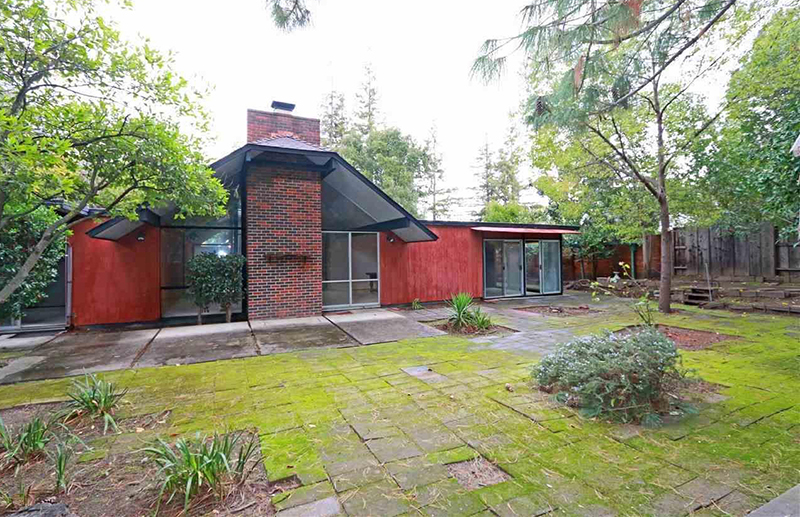 This is a very cool model, in a desirable neighborhood. It needs work, but that's the fun bit –how we'd love to take this on. Offered for $900K (and surely it'll go way over) by Todd Scheid, of Alain Pinel Realtors. More pics/deets here. Open house 1-4pm this Saturday and Sunday.
Save
Save
Save
Save
Save
Save
Save
Save
Save