Eichler season is in full swing. Amid the noise, this jaw-dropping Walnut Creek listing demands your attention. Designed by prolific Eichler architect, Claude Oakland, this 1969 H-plan has glass galore, and oversized everything. With 4/2.5 over 2435 SqFt, on a quarter-acre, its 'super Eichler' status is fully deserved.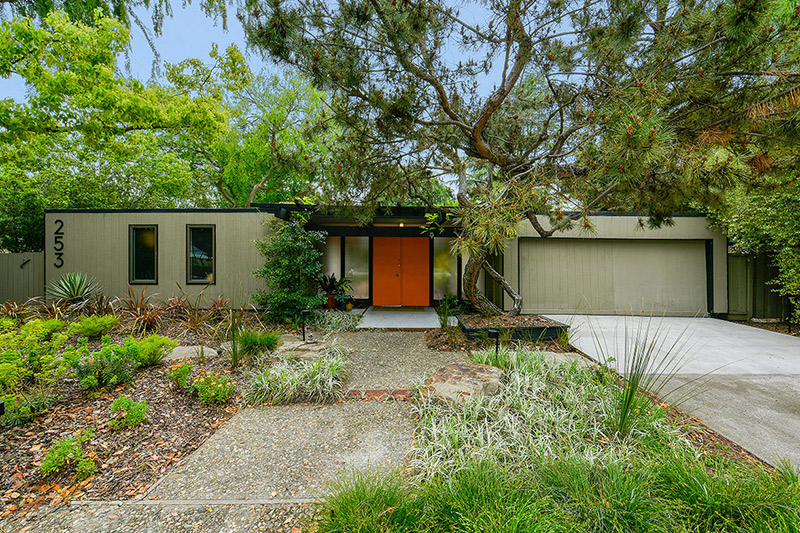 The home sits within Walnut Creek's desirable Northgate neighborhood –you may recall we visited way back (see end of this post) and fell in love. A relatively small Eichler 'hood, with great nearby schools and all that jazz. As a result, these homes rarely come-up for sale. Anyway, let's get inside…
Beyond the dramatic orange double doors, a hugely oversized atrium –like we need more atrium envy. Looking back, you get a sense of the scale. With this plan, there are no beams intersecting the atrium, just a giant rectangular opening, which makes for a spectacular entrance.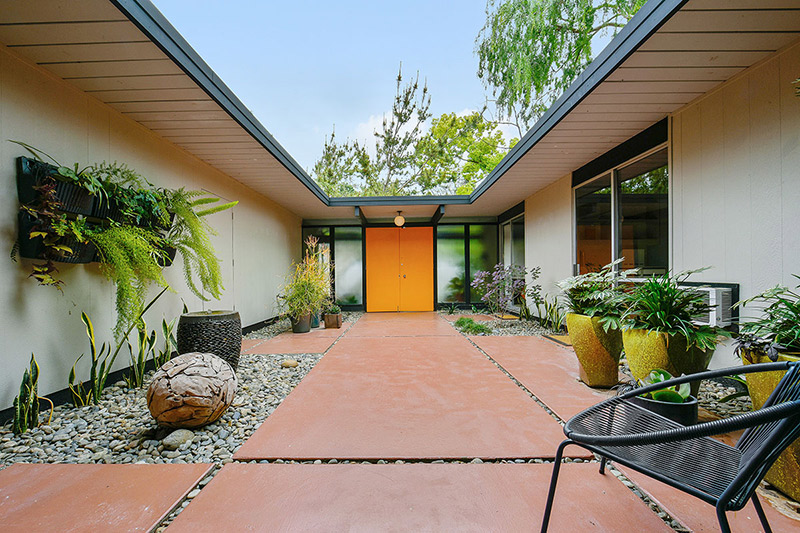 Here's the floorplan, so you can see how it all fits together. Like we mentioned, it's an H plan, with a huge atrium entry, then a central foyer, multiple living spaces, and dedicated laundry room. There's a big master suite, on the right, with the kitchen and three further bedrooms on the left side.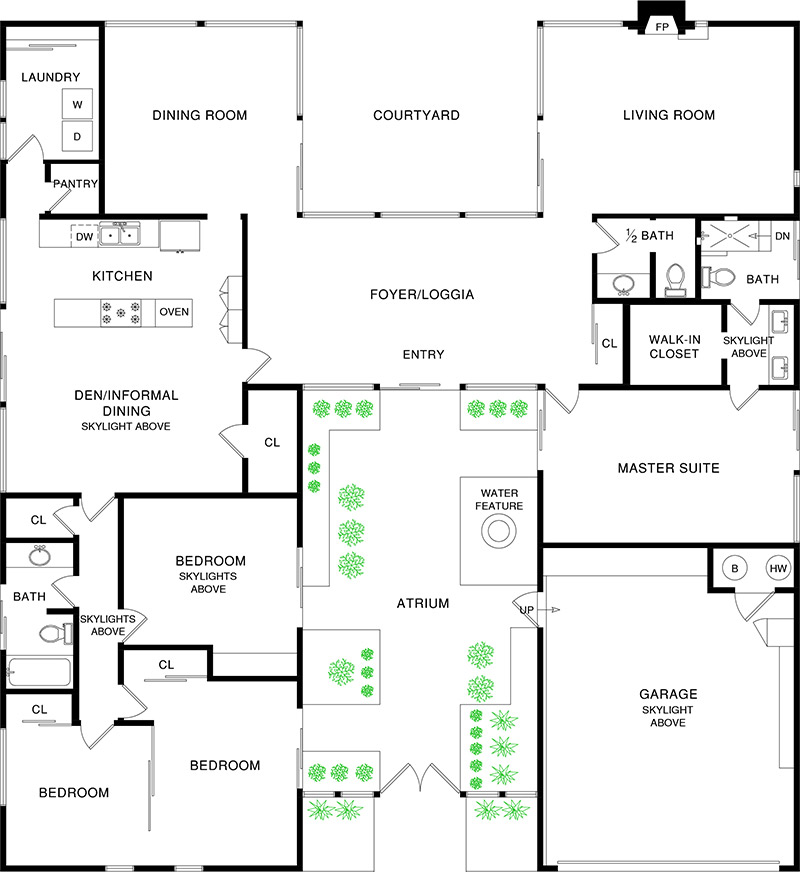 This is the foyer, with adjacent living room (right) and dining room (left). All surround the rear courtyard, with pool and larger yard beyond. These are distinct living spaces, but walled in glass, making them relate to each other, and the outdoors –probably the best aspect of this model (in our opinion). I'm also a big symmetry fan, so this really floats my boat.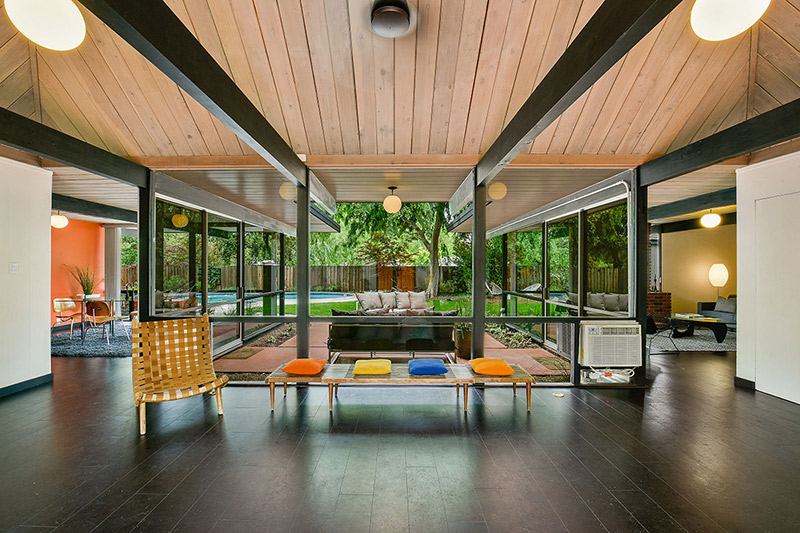 This ceiling is a bit special, with a pitch extending high above the flat roof –just in case you need some extra drama. Speaking of ceilings, the tongue and groove is unpainted throughout, and it's the light pickled stain we all love…and if you don't, you should.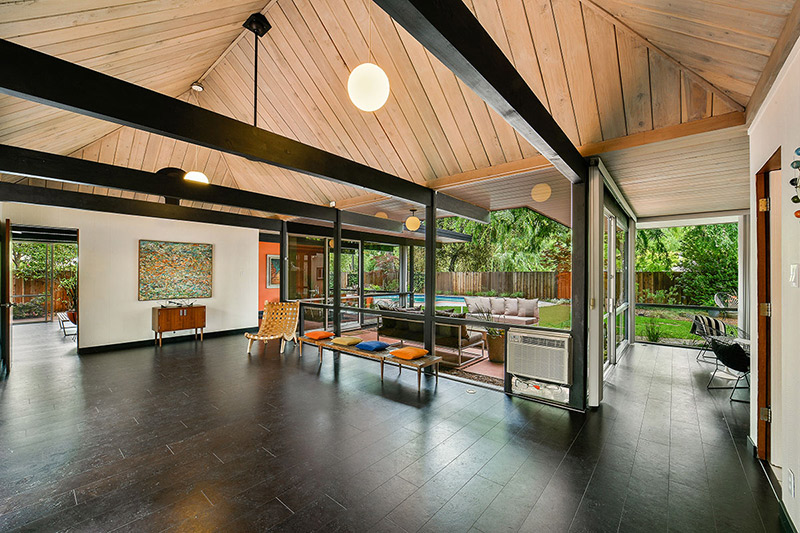 Amazing view through the living space, with the courtyard in-between –it's like having a second atrium. The living room has a classic (unpainted) red-brick Eichler fireplace, and the globe lights are intact throughout. The floors are a little dark for us, but period-appropriate cork.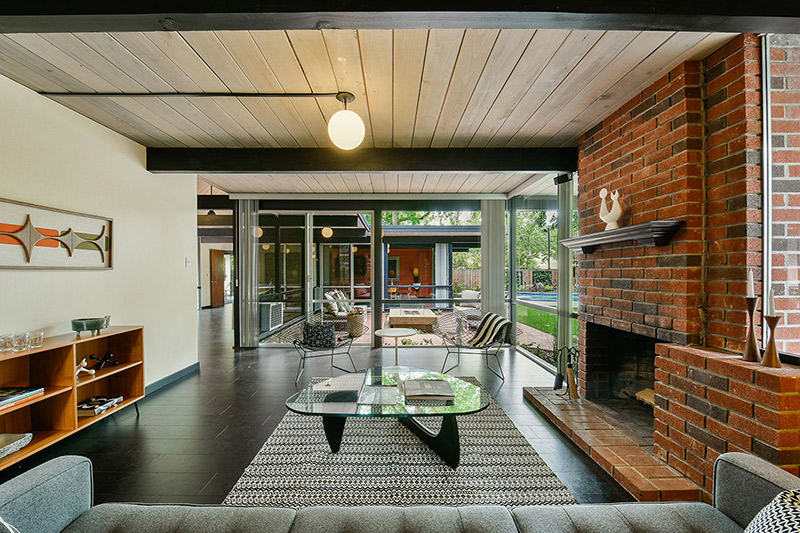 Here's the dining room, on the opposite side of the house. If you think the staging looks good, that's 'cause our friend Camila (Redux Stage Co) is responsible –she does such an awesome job with Eichlers, setting just the right mood, while allowing the space to breathe.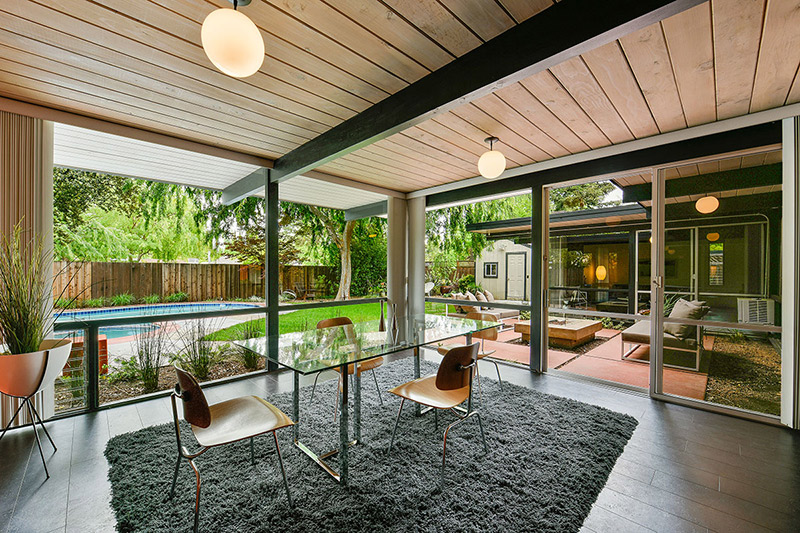 The kitchen is big and functional, with high-end appliances and bags of storage. While we don't love the granite, many do, and it's an easy fix, if you desire. There's an adjacent den/casual dining area, should you need more living space.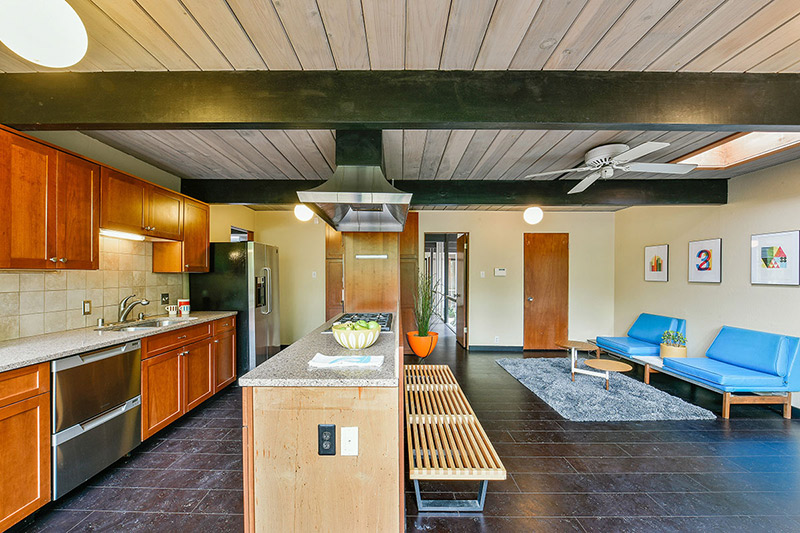 Oh, and yet more glass, with sliders overlooking the left-side yard.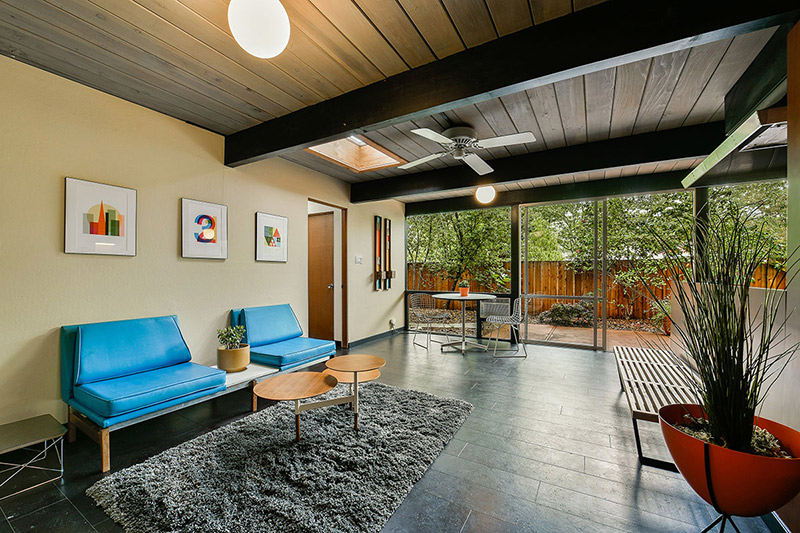 All four bedrooms are generously proportioned. The master has sliders out to the right-side yard…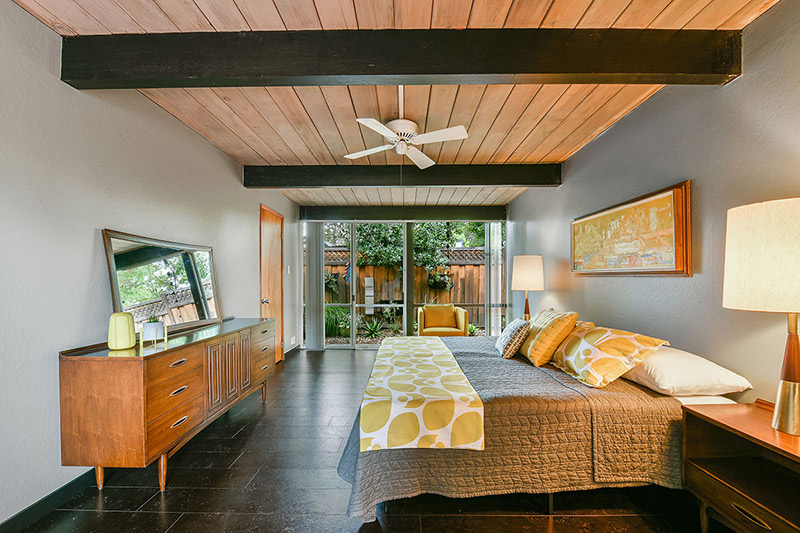 …and sliders opposite, into the atrium. And that's the door to the master bath, with double sinks, large tub and shower, and walk-in closet. We won't be showing everything here, but do follow the link below for more.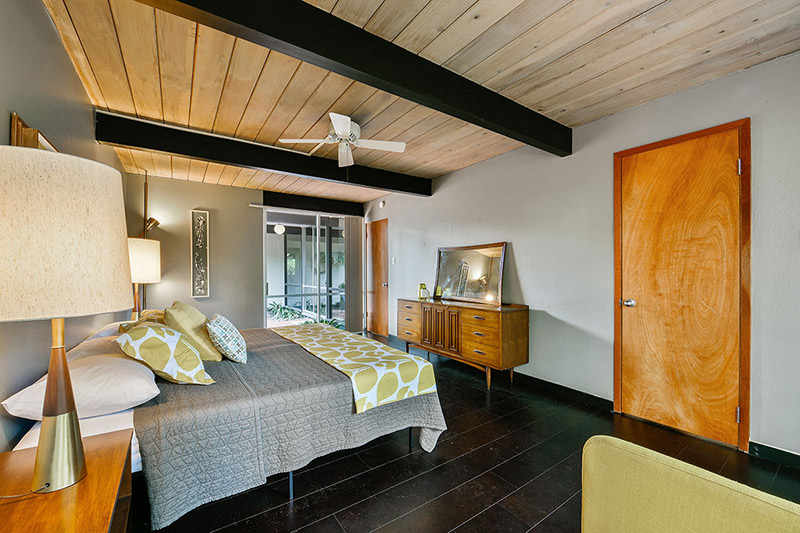 Here's a quick look at the rear courtyard., which truly does look like a second atrium here. Again, love the symmetry, and the view through the house, to the front double-doors.
And did I mention the pool? This place has everything. I could share much more, but I really must get on. Needless to say, we love this house. I'm sure there will be tons of interest. And if we had $1M+ we'd be lining-up.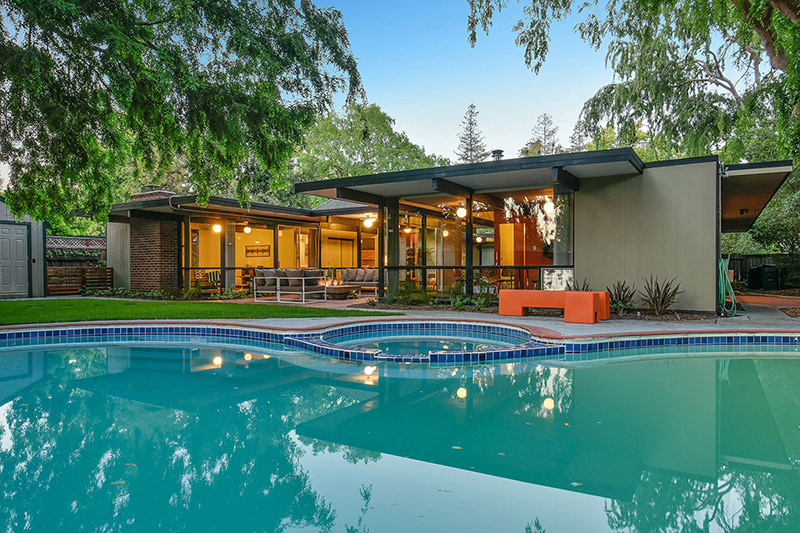 Masses more drool-worthy pics on the dedicated website: 253wiget.com. Listed by our friend and realtor, Thomas Westfall, and offered at $1.1M. Open house from 1-4pm this Saturday and Sunday. We happen to be nearby on Sunday, so we'll be taking the tour –yay! Hope to see you there…
Save
Save