With Christmas over, and time on our hands, we decided to tackle a room that's been bugging us –the guest room, AKA the media room (we'd like to give it a purpose, outside accommodating rare guests). It's decently-sized, by Eichler standards, at about 13 x 11 feet.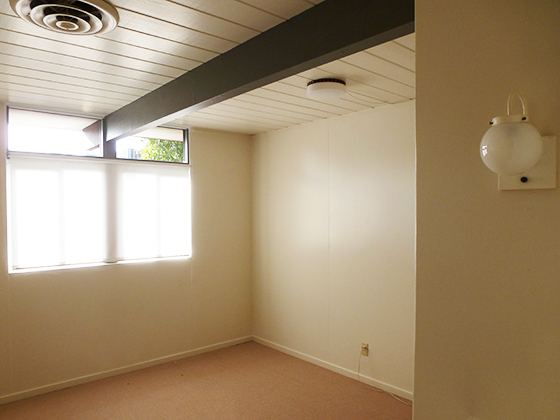 So far, we've just painted the ceiling beam gray, and added a blind (made-to-measure but pretty cheap, from Blindster). It still lets in plenty of light when it's down, and the clerestory windows maintain a good connection to the outside.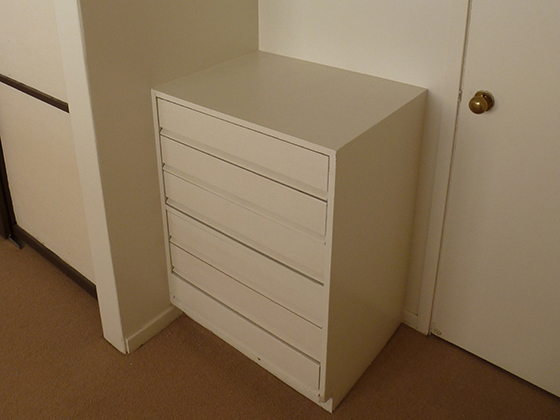 It doesn't look too inviting here, with yellowy walls and crappy beige carpet (which we can't afford to replace right now) but it has some cool features, like a built-in drawer unit, which is original to the house, and a wall-mounted globe light.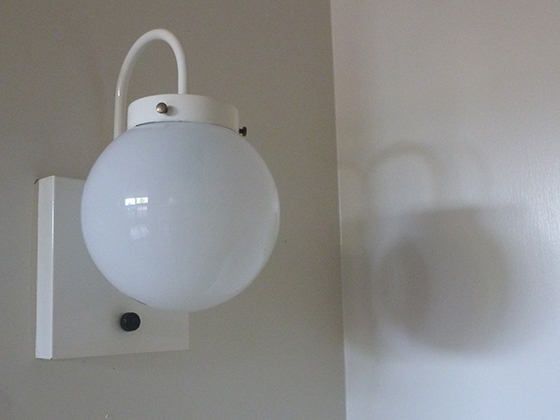 Anyway, I'll give you a quick run-down of what we did, over the space of a couple days. First, we de-yellowed the room, painting all but one wall white. The difference in color is clear from the part-painted wall, below.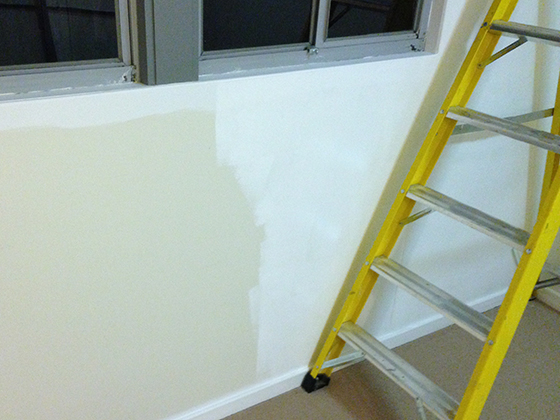 We wanted one feature wall, so we mixed up some green and gray paint samples we had left over, until we had a shade we liked (in retrospect, this should have been a daytime activity). Anyhow, the result was this muted green, which we applied to the wall.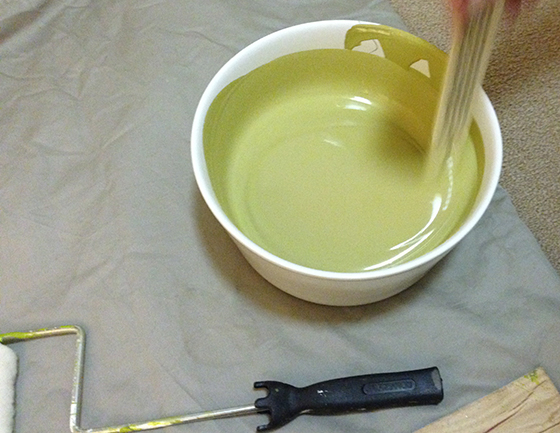 In the morning, we realized that we'd created more of a gold-green color. Not really what we were aiming for. We thought for a while about changing it, but didn't. Now we like how it turned out. And we already had the paint, so it didn't cost us a penny.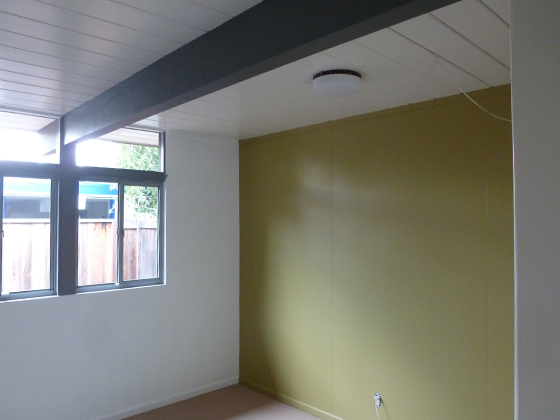 Next we tackled storage, starting with the drawer unit I mentioned. We removed all the drawers and sanded them back. We had some green paint left over, so painted the insides to match the walls. Sounds odd, but it turned out pretty cool.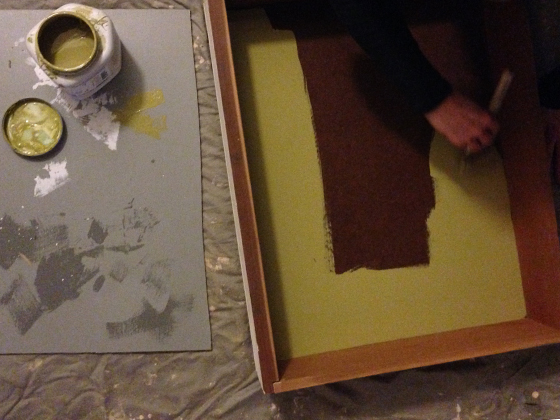 Then we masked off the drawers and re-sprayed the fronts white. While the drawers were out, we sanded the unit itself, and painted that gray (there's a theme developing). Here's a look at the gray/white/green/wood mix, which we like.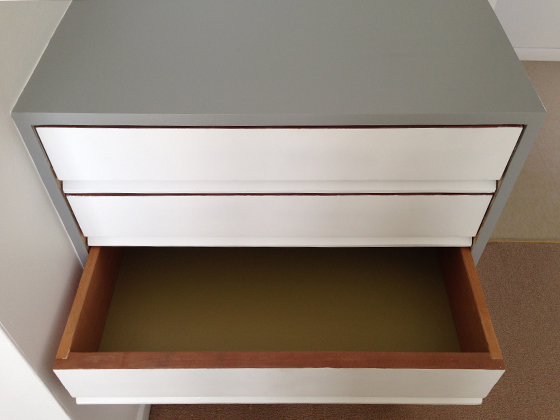 The room also has an original closet…well, original except for the grasscloth panel doors, which have been painted an off-white color. The trim is brown, and tired looking. We have seven other identical closets, so we need to develop a permanent solution for them.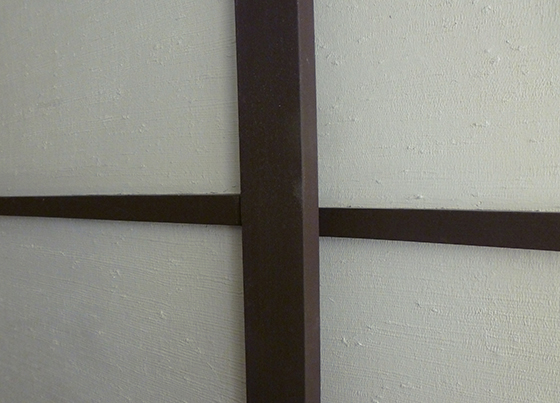 For now, we repainted the panels in fresh white, and the trim in gray. Here's a look at the closet and drawer unit, together with the globe light fixture, which we removed and sprayed in gloss gray. Over-coordinated? Perhaps, but that's how we roll.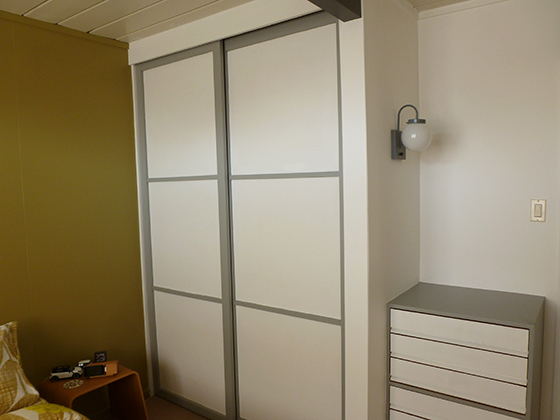 Talking of coordinated, the gray goes really well with the ceiling beam too…though looking up highlights that we haven't yet painted the ceiling itself –but that seems like really hard work, so it's way down the list.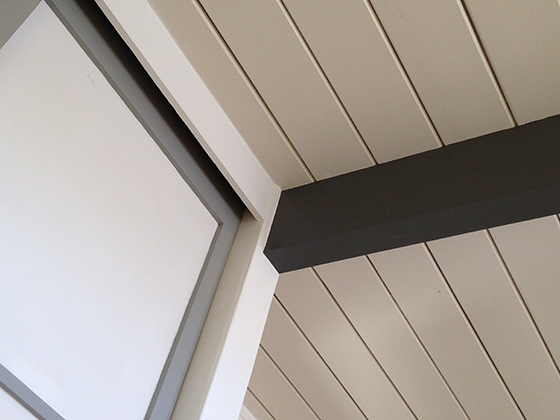 And you can see the green feature wall goes pretty well with our bedding, which is a bonus. On the other side of the room, we used an old IKEA storage unit we had, to house books and PS2, with TV etc on the top. Nothing fancy, but it works.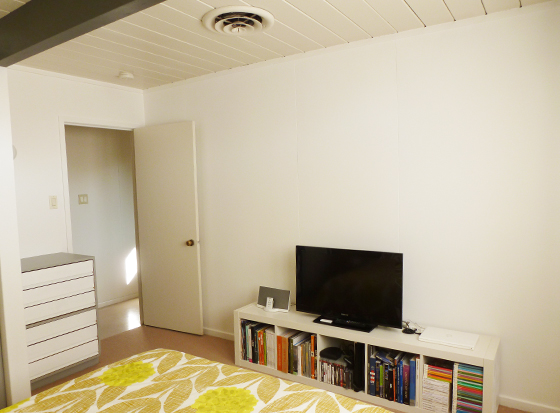 So, now we have somewhere for guests to stay, and a retreat when we have a TV-clash, need some quiet reading space, or (in my case) want a quick blast on the PS2. Like I say, we still need to paint the ceilings, plus replace the flooring, and the single-pane windows.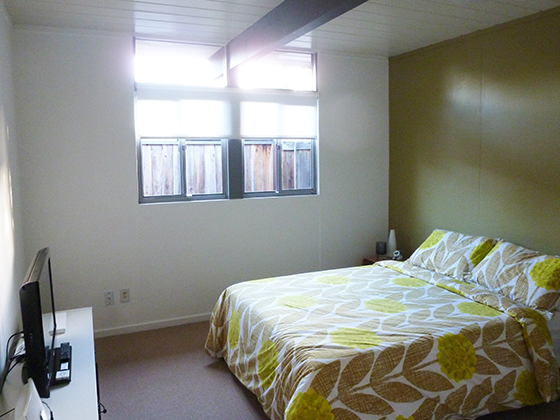 But at least it's looking a lot more like a functional room  And we had another motive for doing this –it gives us somewhere comfortable to sleep when we tackle our master bedroom…which is rapidly moving up the to-do list.