Not the first Sequoyah Hills Eichler we've posted here, and with good reason –somehow, this tiny 48-home neighborhood consistently turns up good-looking Eichlers, retaining all the important characteristics. For us Eichler geeks, at least. This 1965 Claude Oakland 'gallery model' is no exception. Oh, that stacked brick support up front is original and, thankfully, unpainted.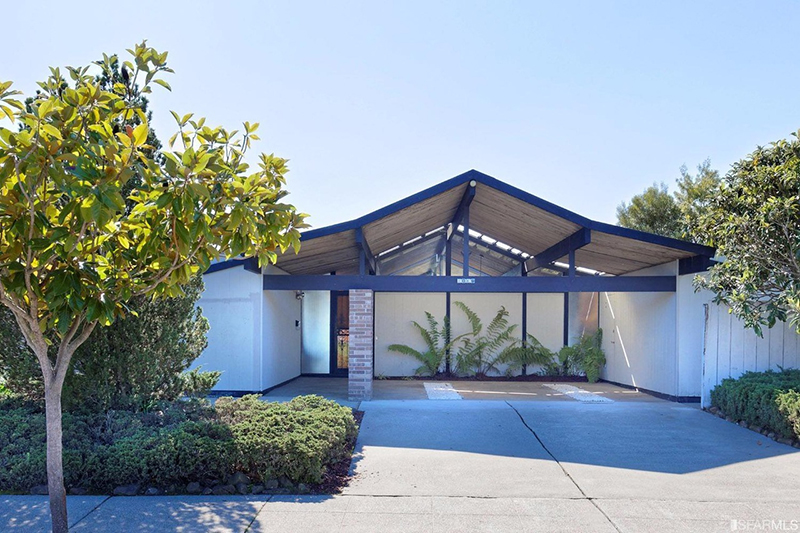 By 1965, atriums were an Eichler staple, but Oakland included an open 'gallery' space instead (where the dining table is). It's bigger than neighboring atrium models, as the gallery is included in the 2400 SqFt plan. There are 4 beds, 2 bathrooms, a hobby room, storage room, and generous living area, partially divided by three-quarter height walls. Confused? Hopefully this similar plan will help.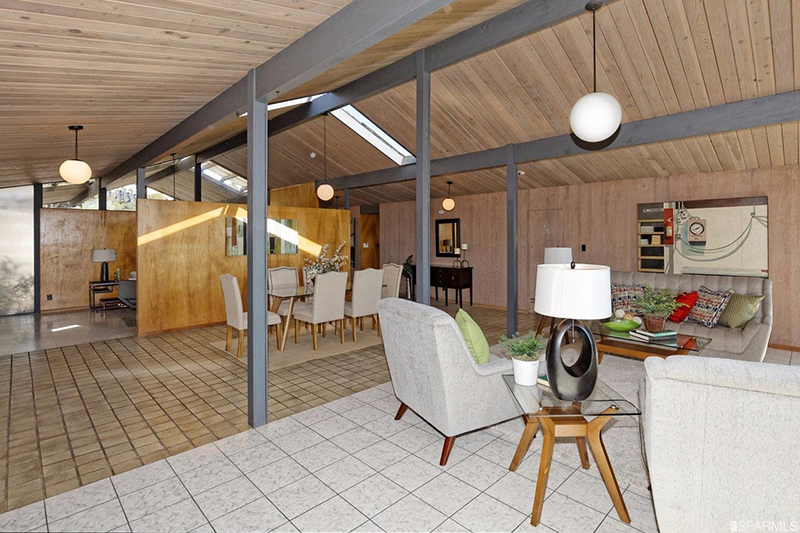 Look beyond the flooring, and you'll find original everything, including unpainted mahogany paneling, fireplace, and pickle-wash ceilings. Also, intact globe lights, with varied length stems, to account for the pitch. Long walls of bare-wood siding flank the living area –this is the same material as the exterior, and we'd paint everything to match, especially with so much other wood on show.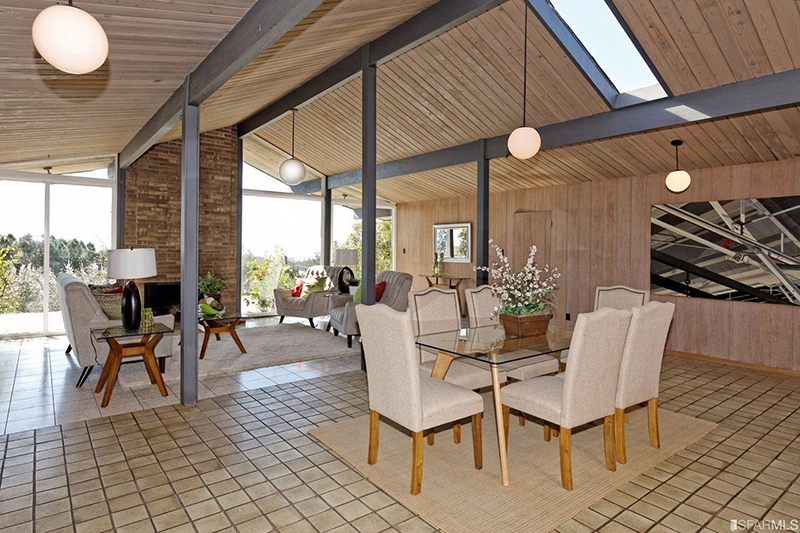 Here's the 'multi-purpose room', positioned near the entrance, between the two three-quarter wood walls. It's great to have all this space, and multiple living areas, but we'd still prefer an atrium model. But, with the right furniture/usage, it could make sense, both practically and aesthetically.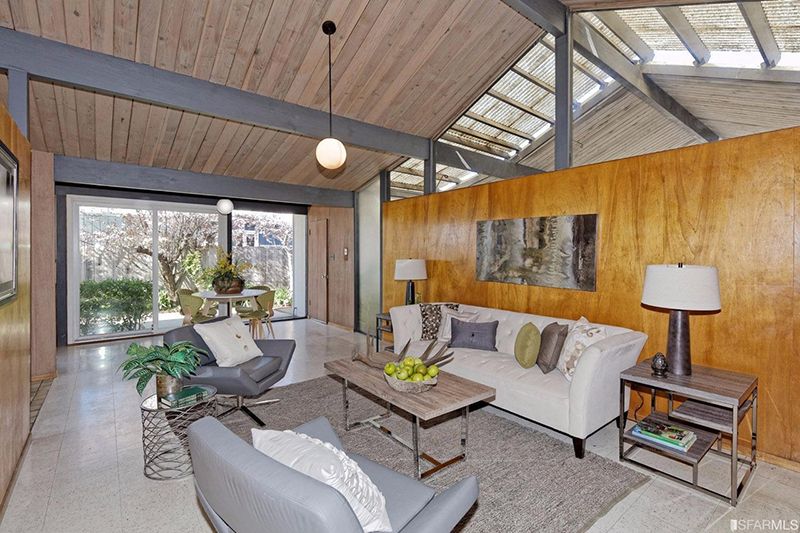 The kitchen is mostly original too, in a long galley style, with adjacent breakfast/dining nook –like you need more dining space! Around this time, Eichler introduced finger pulls to the cabinet sliding doors, for easier sliding –a progression from our version, which has indented pulls. Jealous? Yep.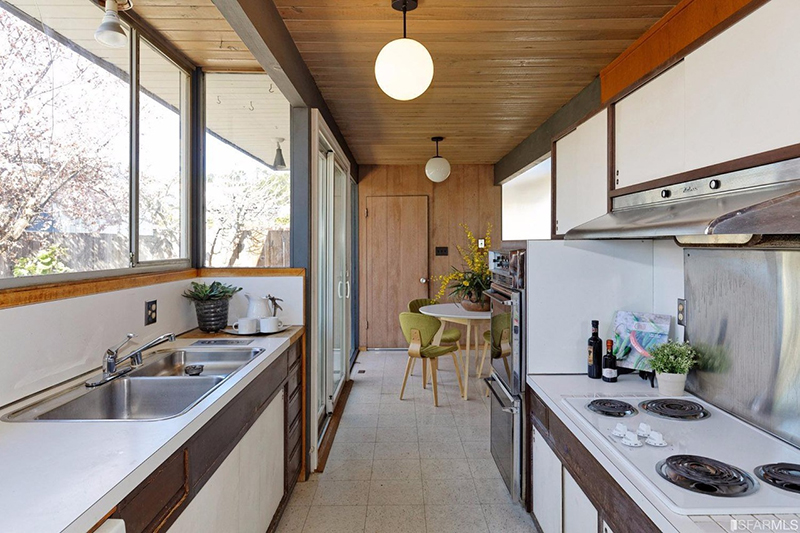 This is the 'hobby room', just off the kitchen, with slider access to the side yard, and decent views, by the look of it. Would make a nice office, or (logically) a laundry room –presumably that's currently located in the storage room, up-front, though not pictured.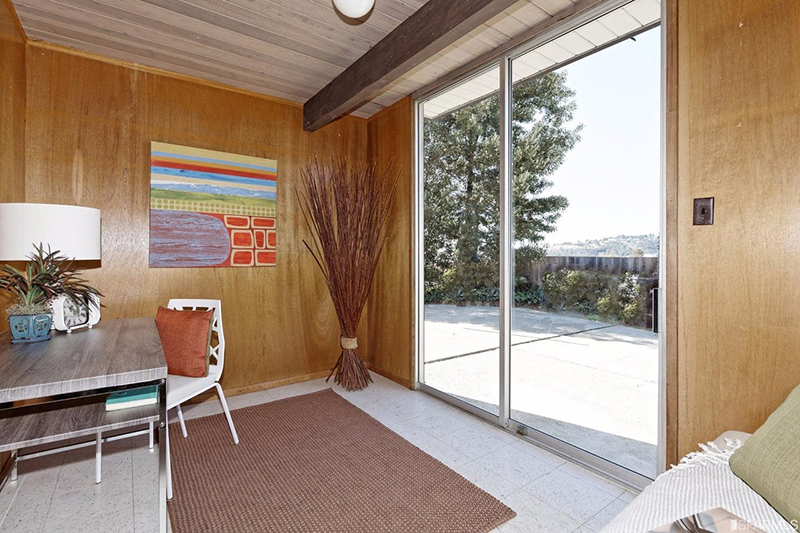 Both bathrooms are original too, though the cabinets look a little tired, as per the kitchen –we'd paint those. The master bath (right) features a sunken shower, with a wall of opaque privacy glass. The guest bath has outdoor access. Both have skylights.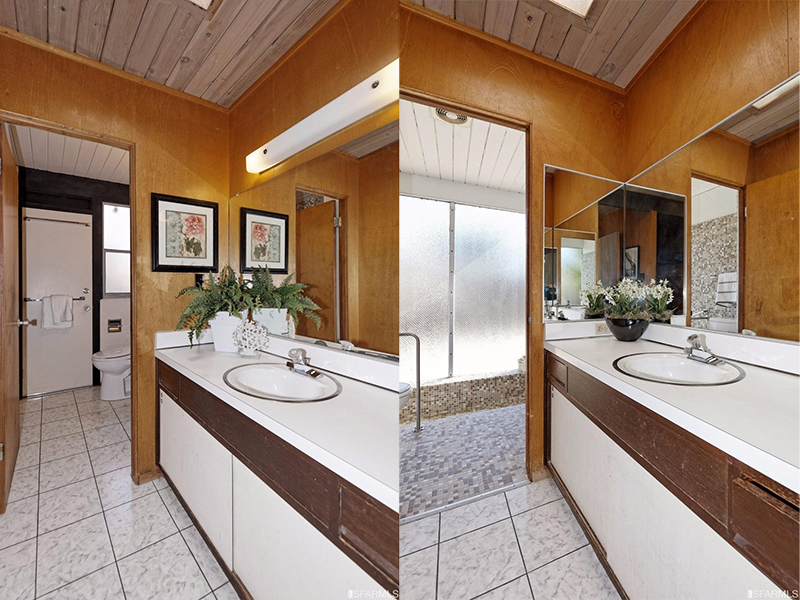 The master is the largest of four bedrooms, with slider access to the rear, plus an adjoining bathroom, and walk-in closet. All bedrooms have plenty of gorgeous mahogany paneling and unpainted pickle-stain ceilings…in fact, the entire house does.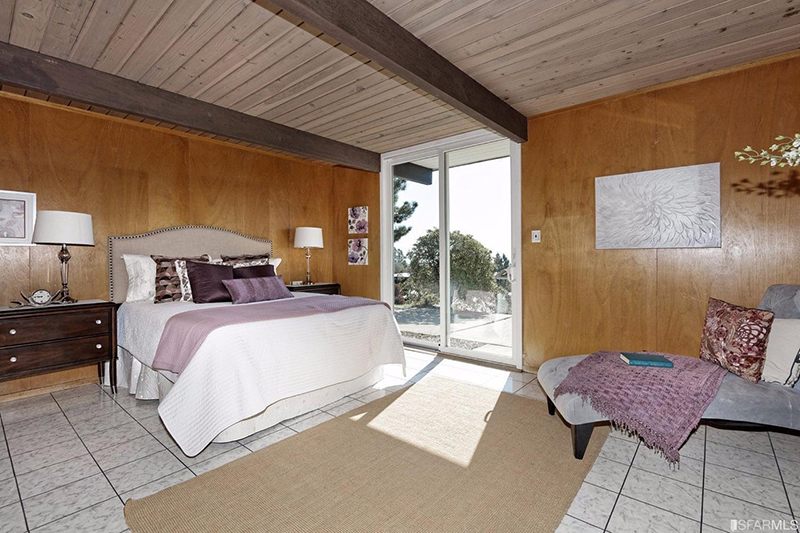 This rare Claude Oakland 'gallery model' Eichler is particular to this neighborhood, plus Thousand Oaks, and maybe more (answers in the comments, please!). The graduated roofline is mirrored at the rear, naturally. We'd lose that shrub, masking the fireplace –we prefer architecture to be the star.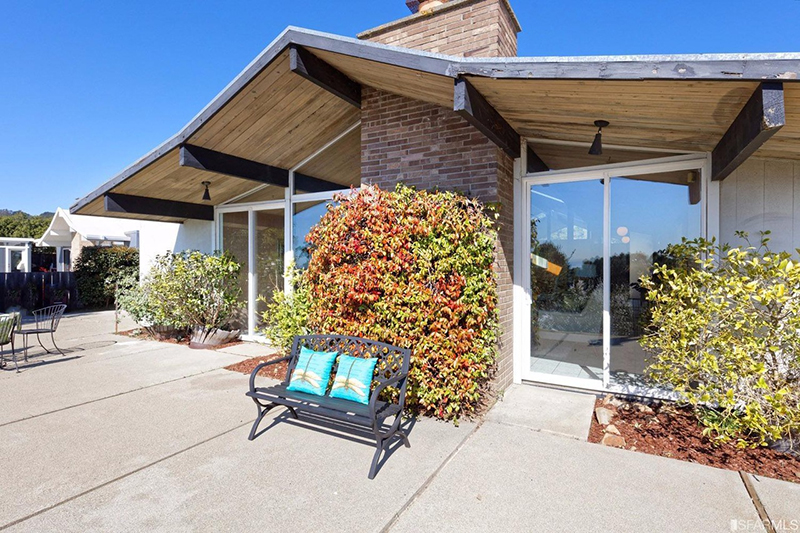 It sits on almost a quarter acre, overlooking San Francisco, with Bay and skyline views. Not too shabby. A little isolated, compared to most Eichler 'hoods (not counting New York, obviously) but seems like a decent trade for those views. Plus, it's close to San Francisco, Berkeley, and everything else the Bay Area offers.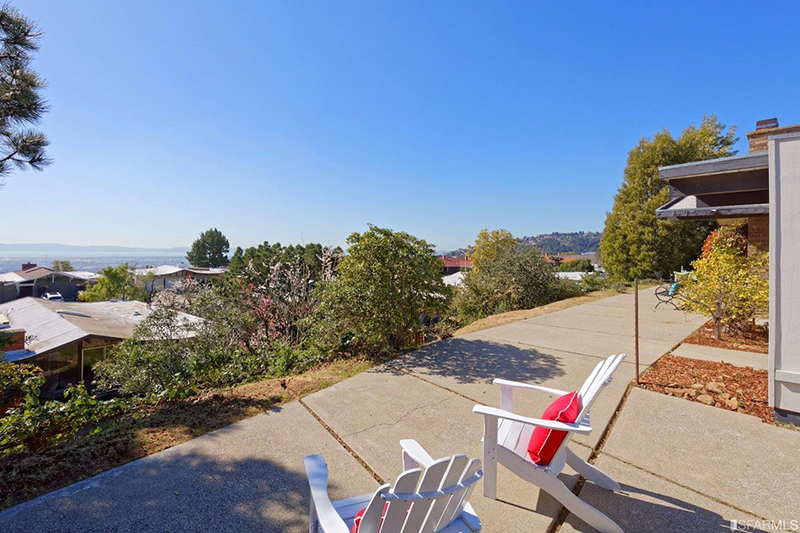 Offered for a competitive $899K by Andrew de Vries, of Berkshire Hathaway-Franciscan. Already a Redfin "Hot Home" so will likely go over asking. Many more pics/deets here. Open house Sunday, March 12, 1-4pm –we'd love to go, but can't. If you make it, please let us know what you think.
Save
Save
Save
Save
Save
Save
Save
Save
Save
Save
Save
Save
Save
Save
Save
Save
Save
Save
Save
Save