Palm Springs' Racquet Club Estates features around 550 single-family homes, built in the late 50s–early 60s. Most are classic Alexander-built William Krisel designs. These are small houses, designed as vacation getaways, but they live large, thanks to quarter-acre lots and connection to the outdoor space.
These homes share almost identical floorplans, with 3/2 over 1225 SqFt, but show variety from the street, thanks to two orientations, and five rooflines. Most familiar/prevalent is this classic butterfly roof design, synonymous with the Krisel/Alexander team, and Palm Springs per se.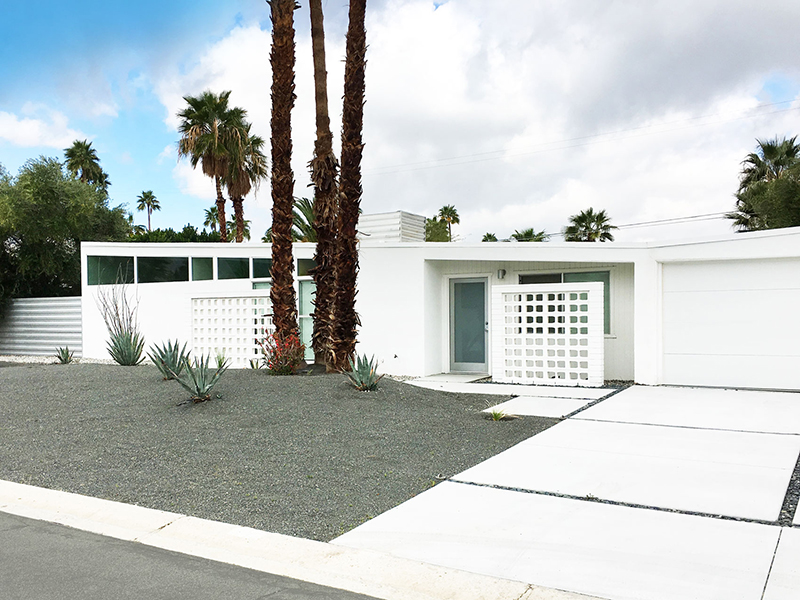 We toured six such homes, on the ninth annual Racquet Club Estates Home Tour. This is home #1 –a 1959 flat-roof variation, originally owned by actress Sandra Dee and singer-songwriter, Bobby Darin. Love the crisp white exterior, with orange breeze-block/slatted wood accents.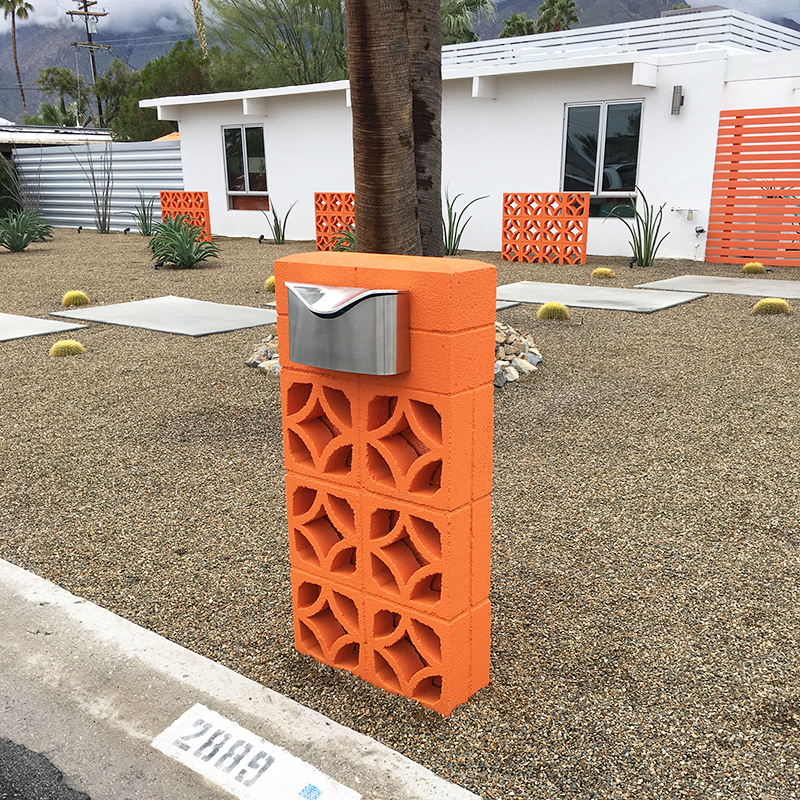 Home #2 is a classic butterfly, built in 1961. Interesting how paint colors and landscaping completely change the feel of identical models, much like in Eichler neighborhoods. Honestly, we wouldn't pick these colors, but it works. And it's cool there's so much variety here.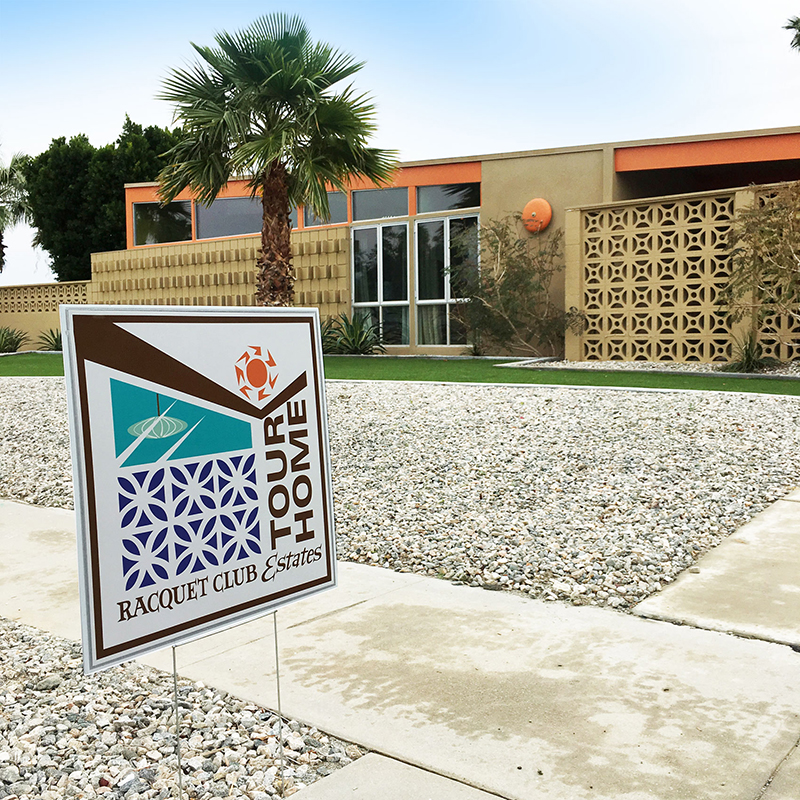 One highlight in this home was this metal cactus sculpture, out back –following some research, we discovered it was part of Eric Carroll and Richard Turner's innovative Desert Steel collection, which also includes some spectacular agaves. We're seriously tempted to order something.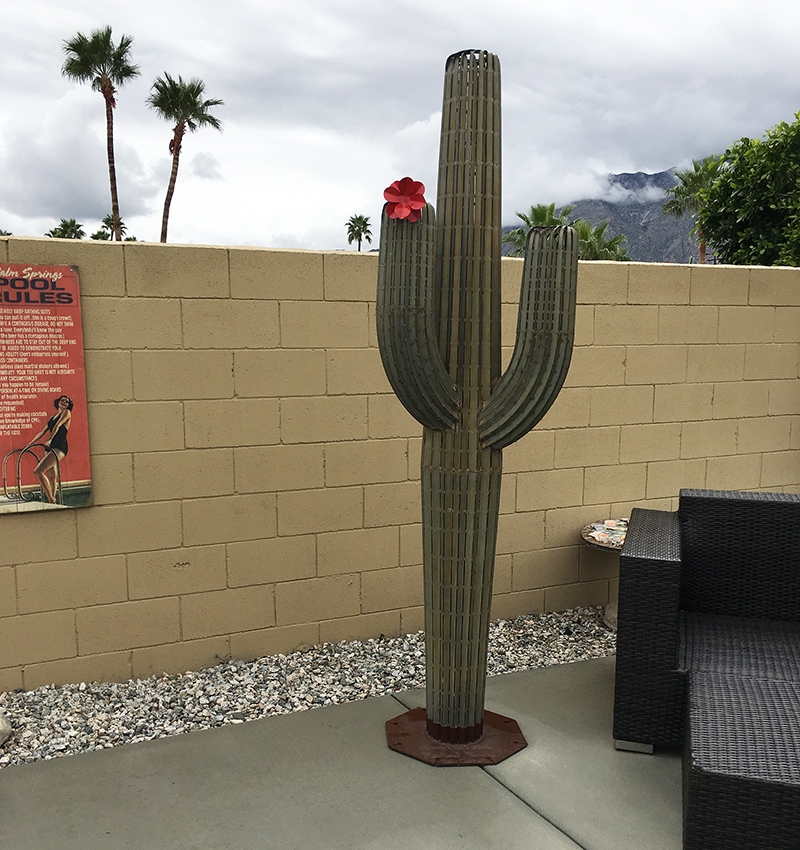 Sadly, this is the only pic we got from home #3 and it really doesn't do it justice…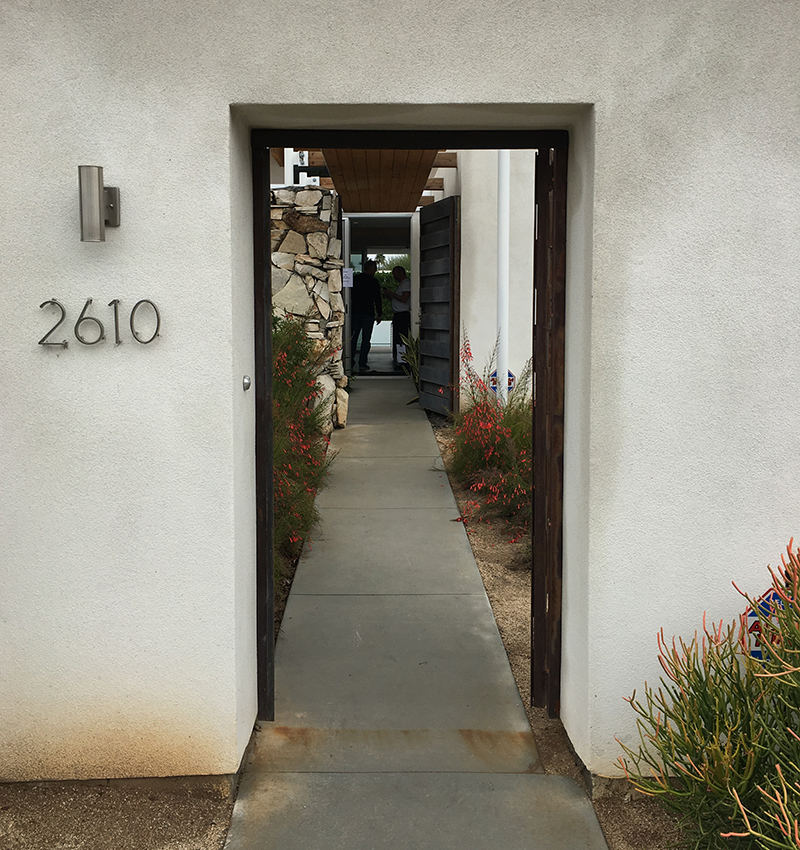 …so we grabbed this from Google Street View. This was originally a 1960 flat-roof Krisel/Alexander, but had fallen into disrepair, having been abandoned for many years. The new owners integrated a new home into the old, extending it to 2256 SqFt, but remaining sympathetic to the original design.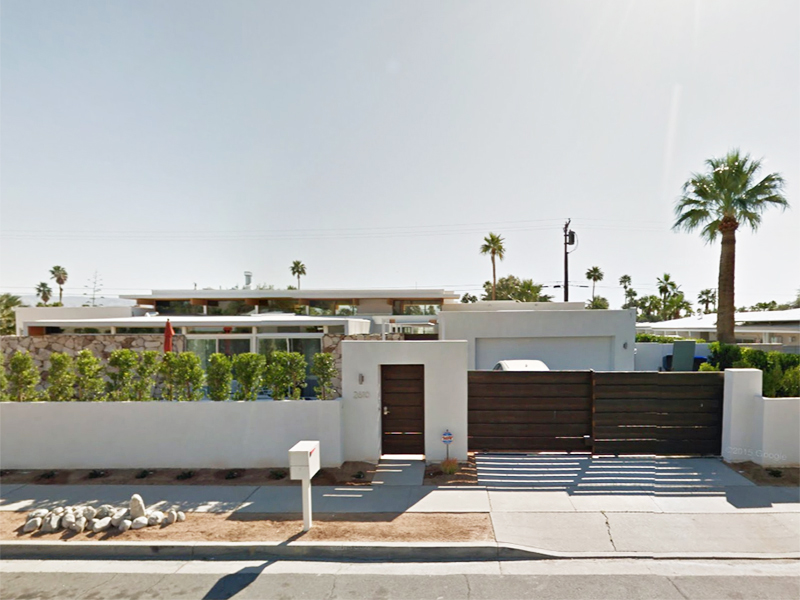 Home #4 AKA "Blue Butterfly" is a vacation rental, built in 1960. Looks original from the street, retaining its carport (many are enclosed). Like many homes here, it has a corrugated metal fence –we love the look, but wonder how it would translate outside Palm Springs. Inside, it's been modernized, with taste and restraint.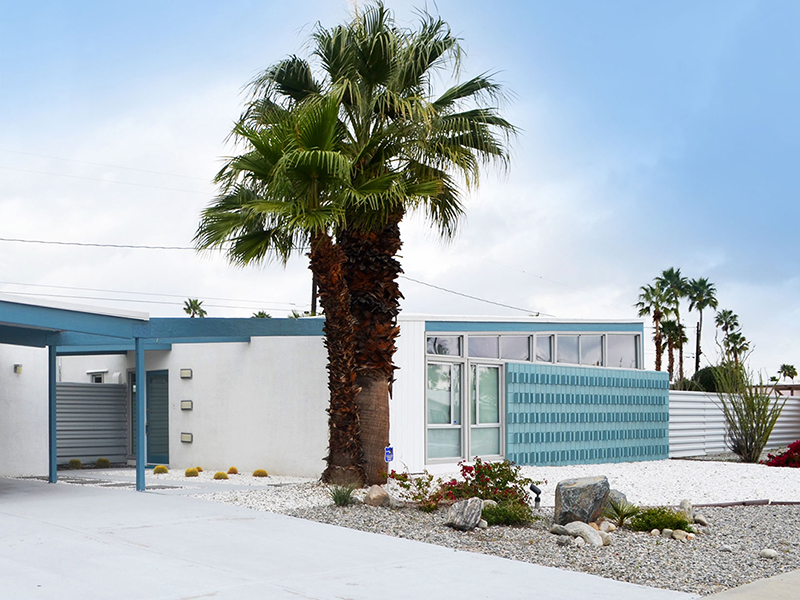 Also inside, the original acoustic ceilings have been preserved –most have the tongue 'n' groove exposed.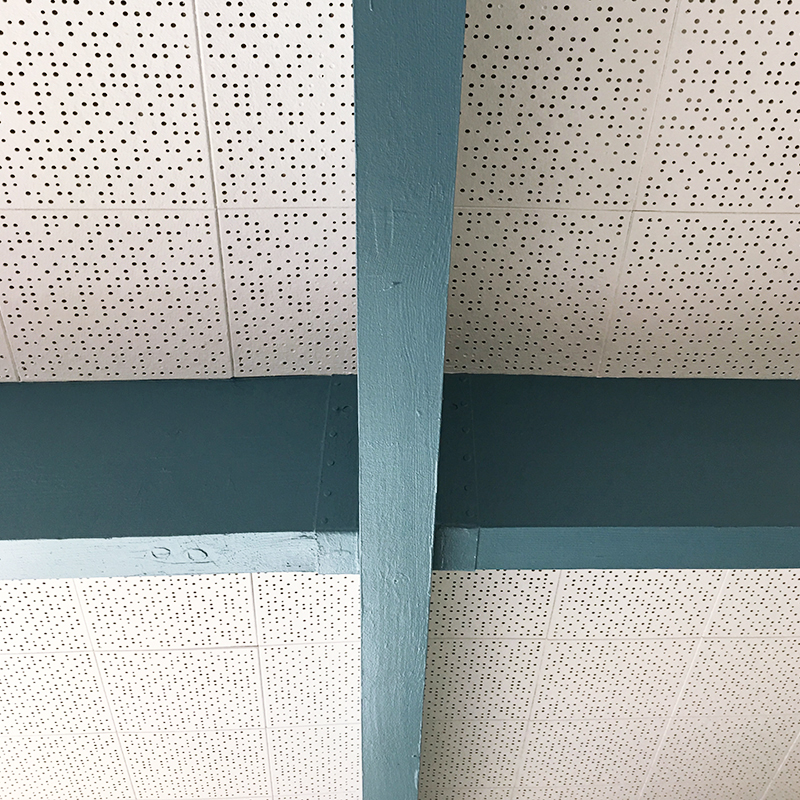 Home #5 AKA "Mellow Yellow Butterfly" is another vacation rental, with an enclosed carport, modernized interior, and impressive outdoor/entertaining space –not sure we saw a single home without a pool, which is understandable in this climate.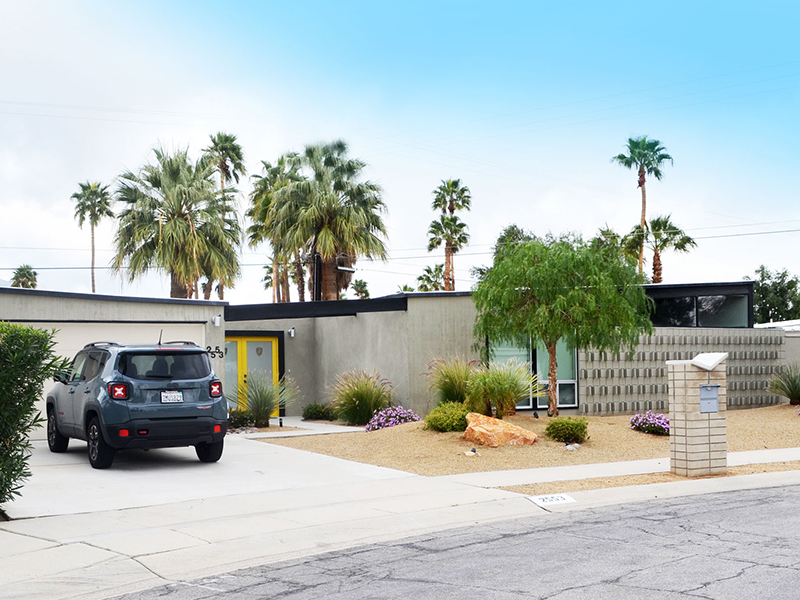 Home #6 was recently purchased from Dolly Parton's costume designer (Palm Springs is full of celebrity connections!). It also showcased a beautiful 1962 Studebaker GT Hawk –all the homes had matching cars to salivate over. This was the last home we toured, so we had little time…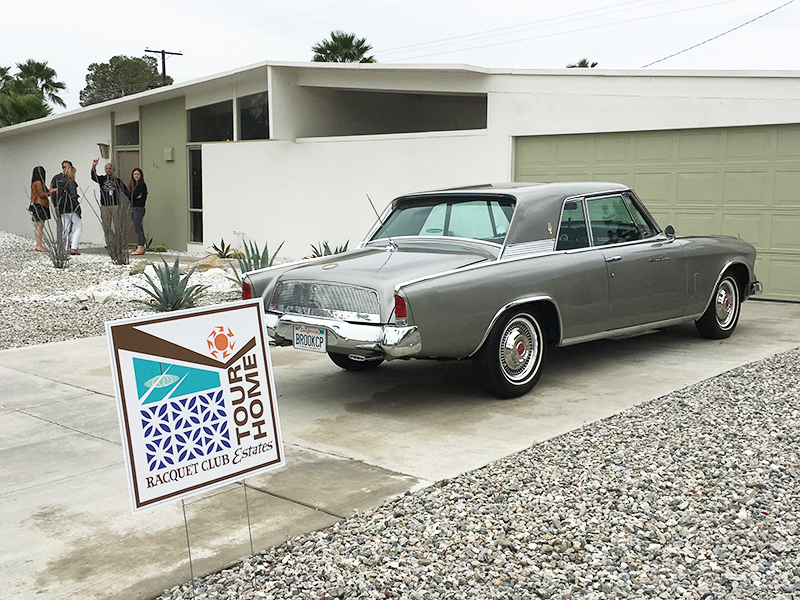 …but we did eye the gorgeous all-original kitchen. We couldn't take pics, but we did spot its double in William Krisel's Palm Springs –a fabulous (highly recommended) coffee-table book, bought on our return. Adore these cabinets, on hairpin legs, with sliding pegboard doors. Matching bathroom cabinets too.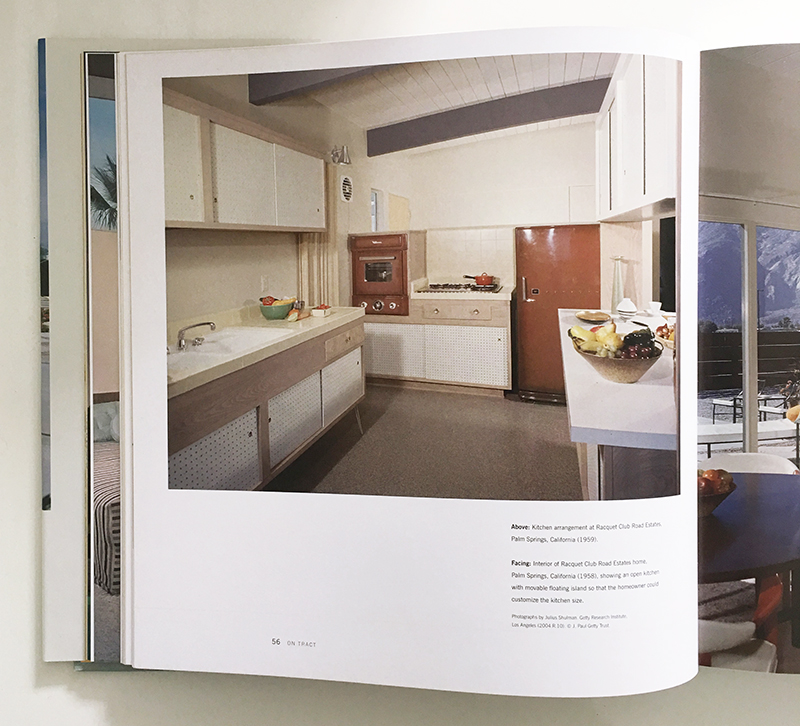 We over-ran an earlier appointment, so had to rush through these homes, plus some owners didn't allow interior photography. The upshot was a lack of good pics –but Karen and I returned the next day, for a leisurely stroll, and more exterior shots (hence the non-vintage car in home #5). Here's a selection…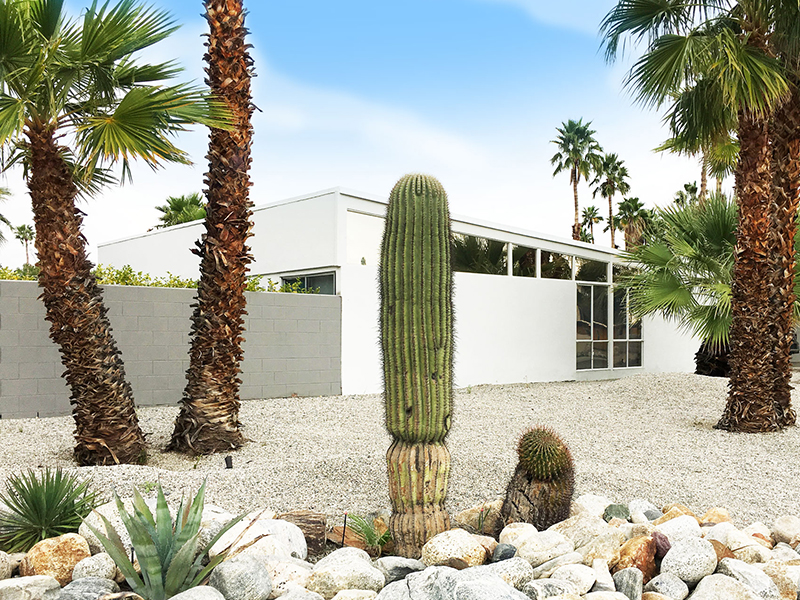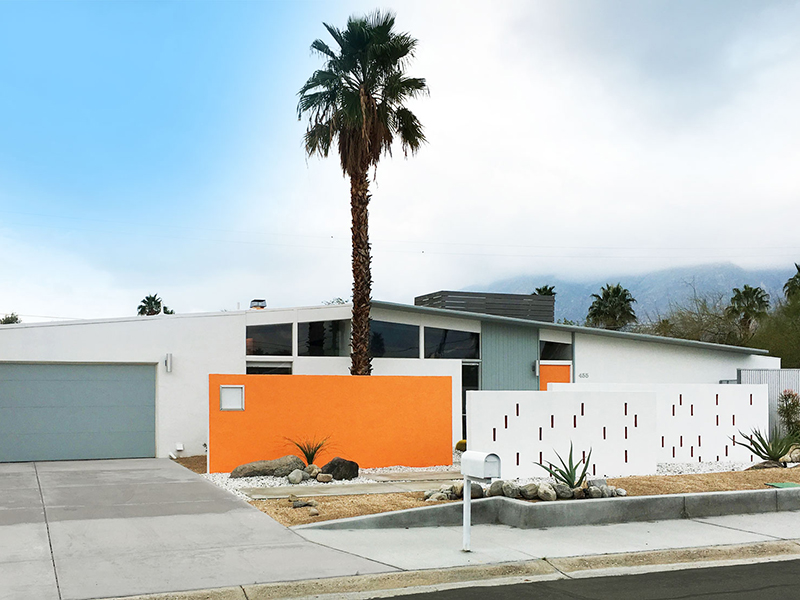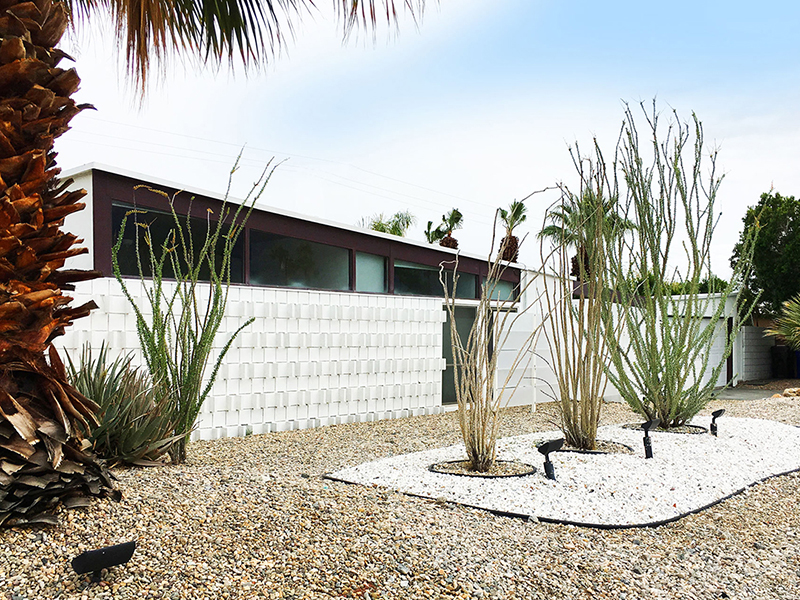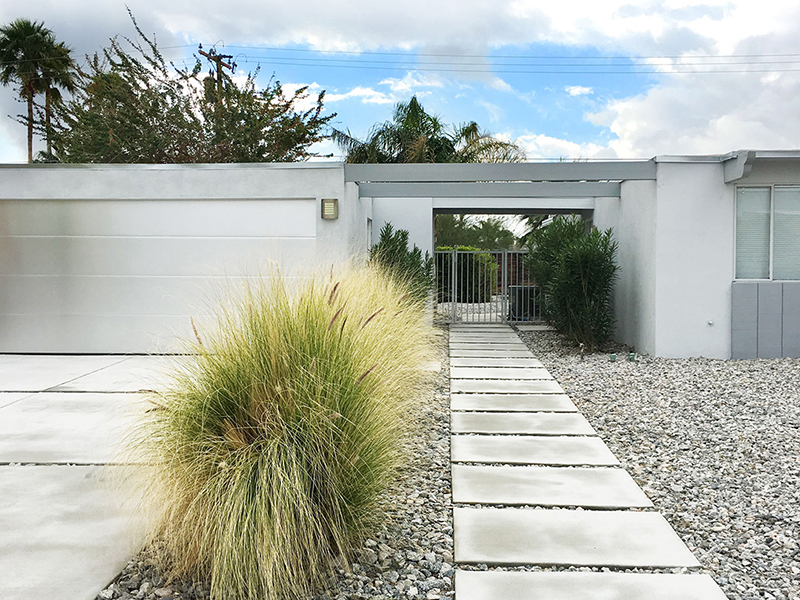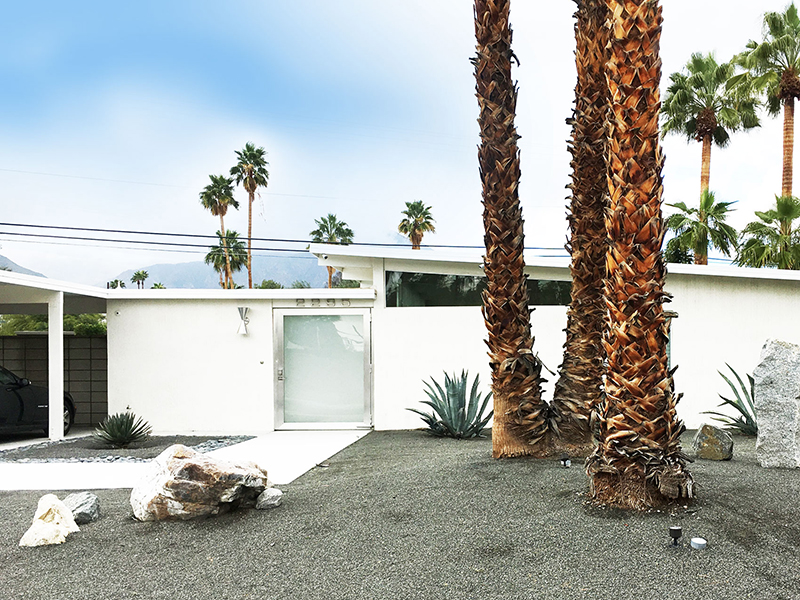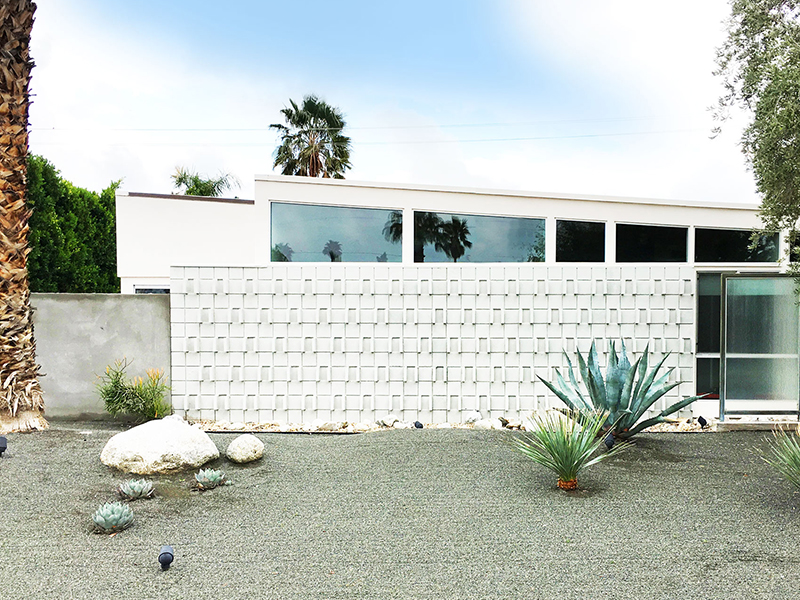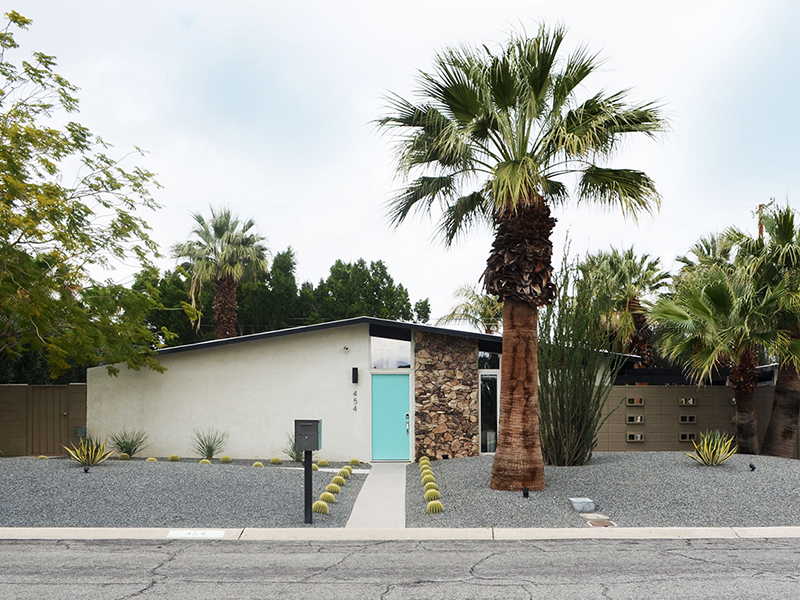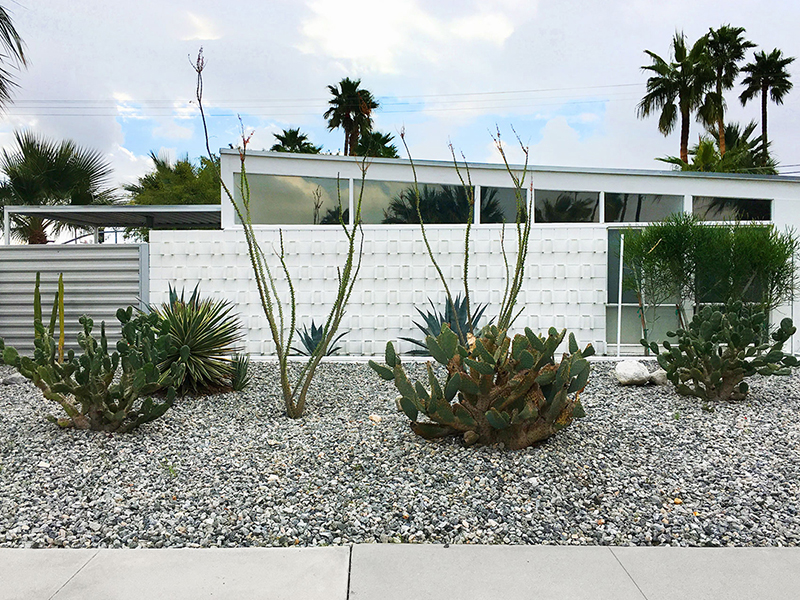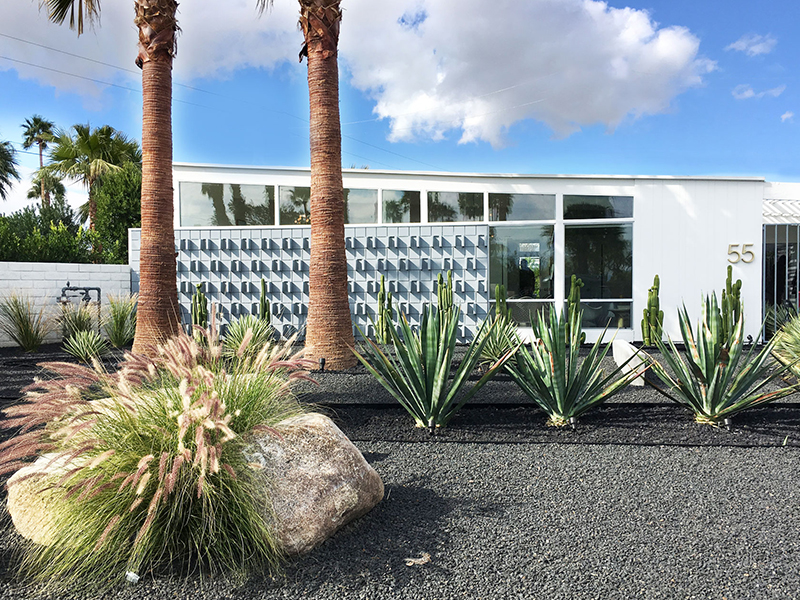 We spied various mailbox treatments, like breeze block (home #1) and this modern/colorful solution.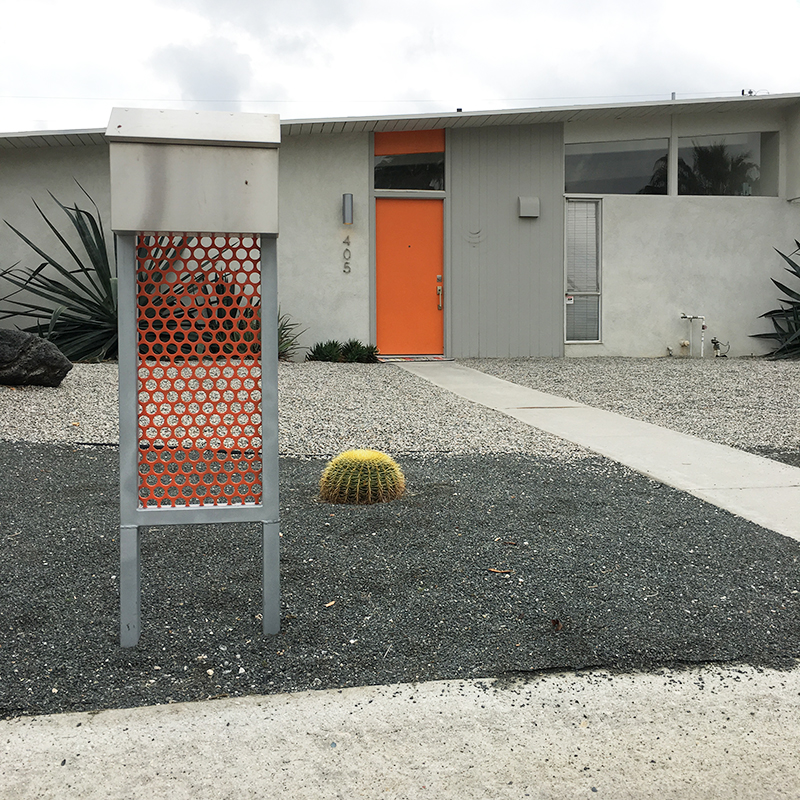 We also saw the odd Modbox –and they mesh perfectly with the Palm Springs aesthetic.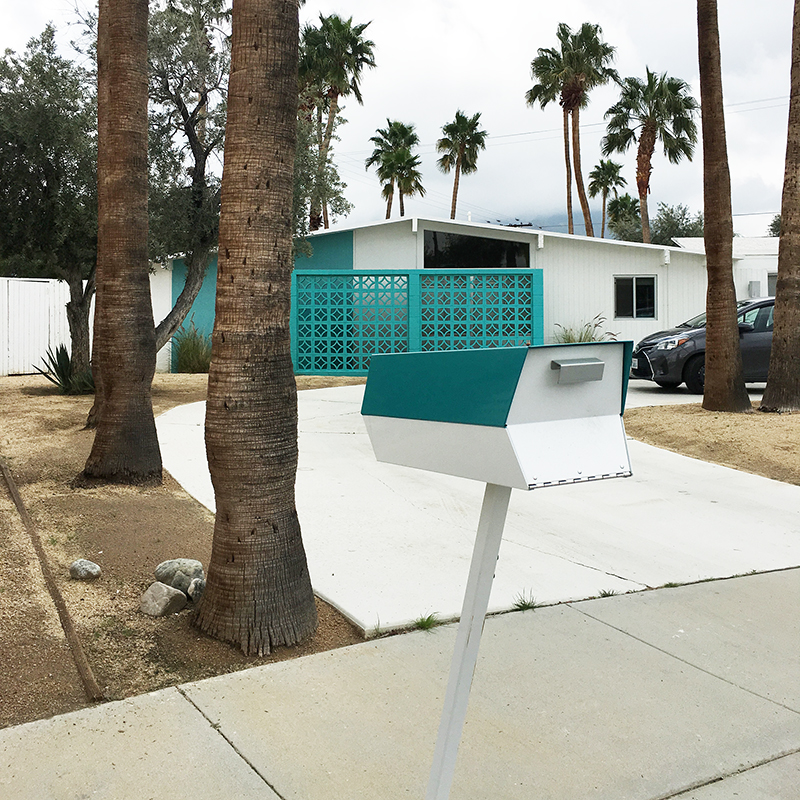 Annoyingly, we missed the small number of steel-framed Donald Wexler homes (we really should've done more prior research) positioned to the north-west of the neighborhood, along North Sunnyview Drive. This stunning example comes courtesy of Google Street View. Gotta love that distinctive Wexler roofline.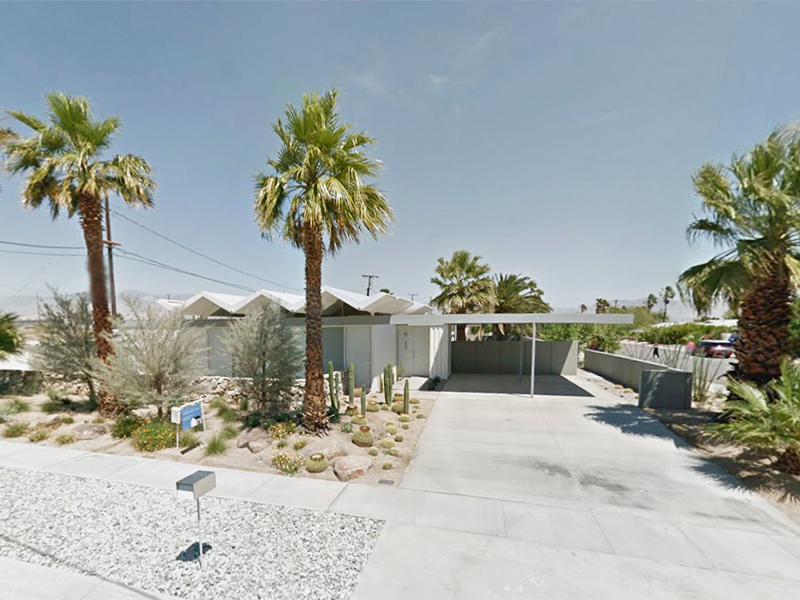 We also missed the Meiselman Homes (similar to Krisel's butterfly) and Alexander-built ranches. But we got a good feel for the 'hood. And really liked it –read more on the Racquet Club neighborhood site. One more Palm Springs post to come (from this visit). Also see our Modernism Week roundup, if you missed it.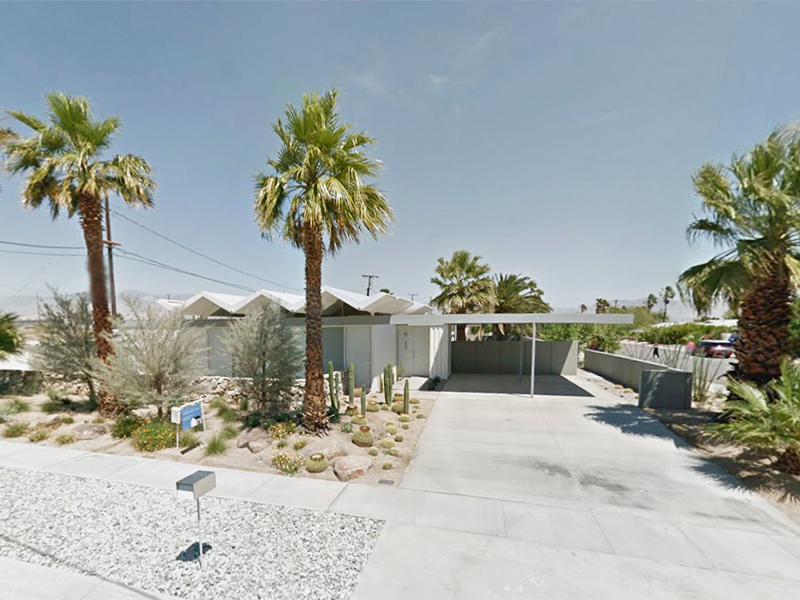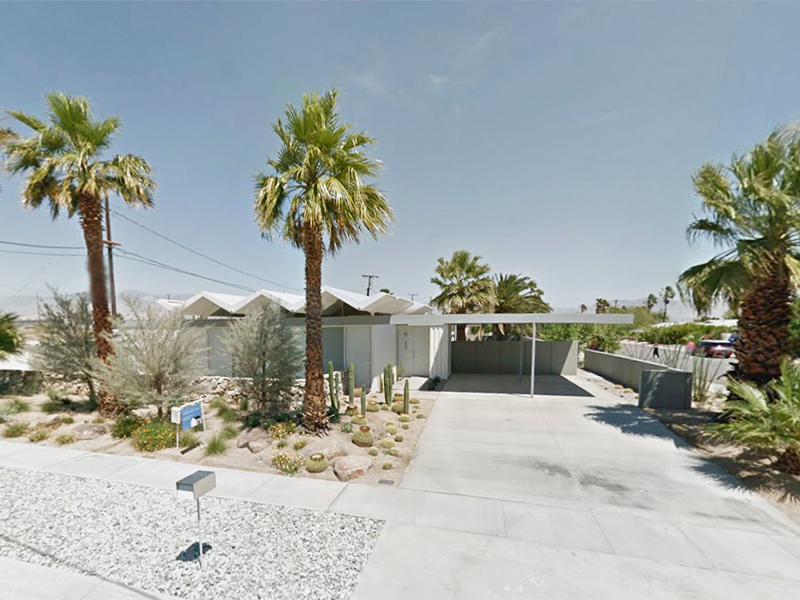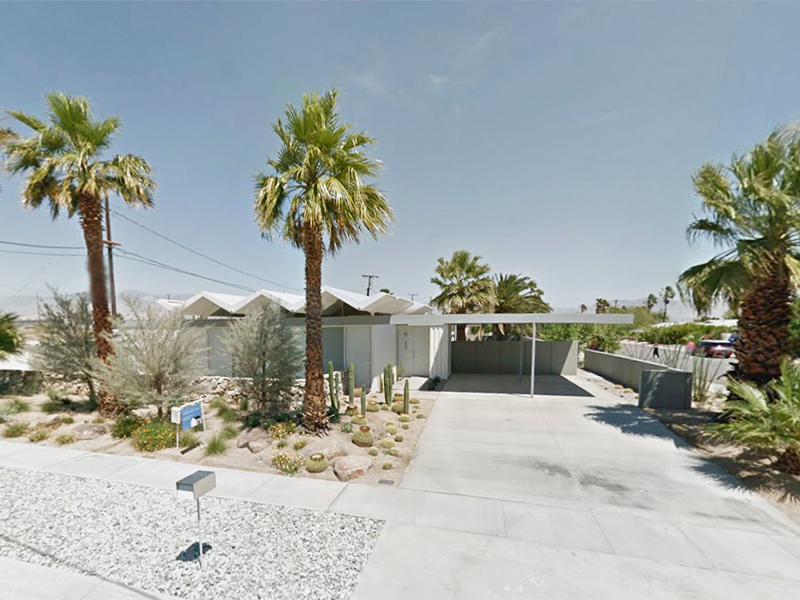 Save
Save
Save
Save
Save
Save
Save
Save
Save
Save
Save
Save
Save
Save
Save
Save
Save
Save
Save
Save
Save
Save
Save
Save
Save
Save
Save