Here's something you don't see every day…a few things, actually. This classic 1962 Jones and Emmons double A-frame is one of just three Eichler Homes outside California –part of Joseph Eichler's abandoned 216-home development, in Spring Valley, New York. Best of all, it's priced under $500K.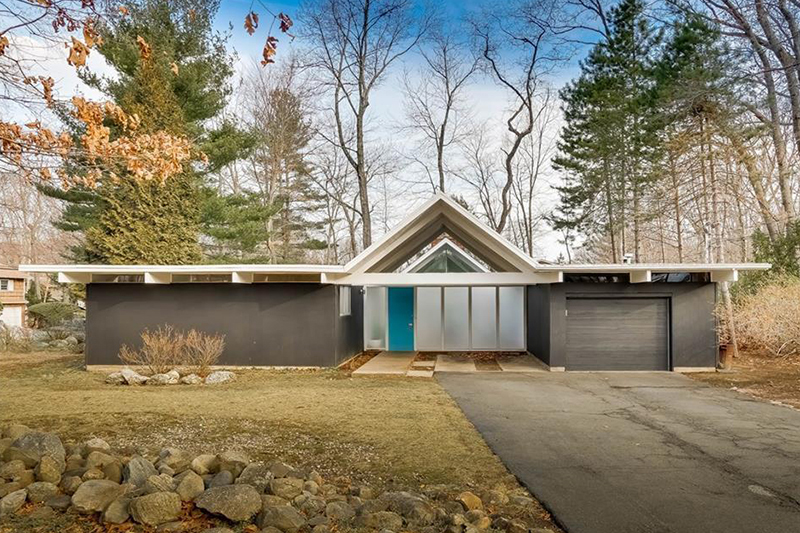 This home has 5 beds and 2 baths, over 2060 SqFt (floorplan here) on a .39 acre rural/leafy lot –this is not your regular Eichler community, but buy this home and you'll definitely join the club. Looks like the original Eichler escutcheon. Nice color palette too.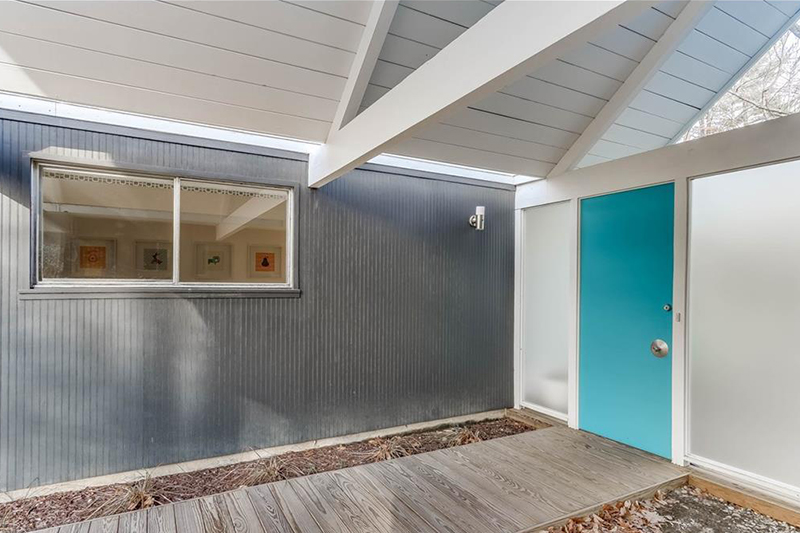 Entry is through a large central atrium, surrounded by glass/sliders, providing access to a the main living area, kitchen/family room, bedroom, and office/retreat. The atrium is decked, but I'm guessing the original slab/cutouts could easily be exposed.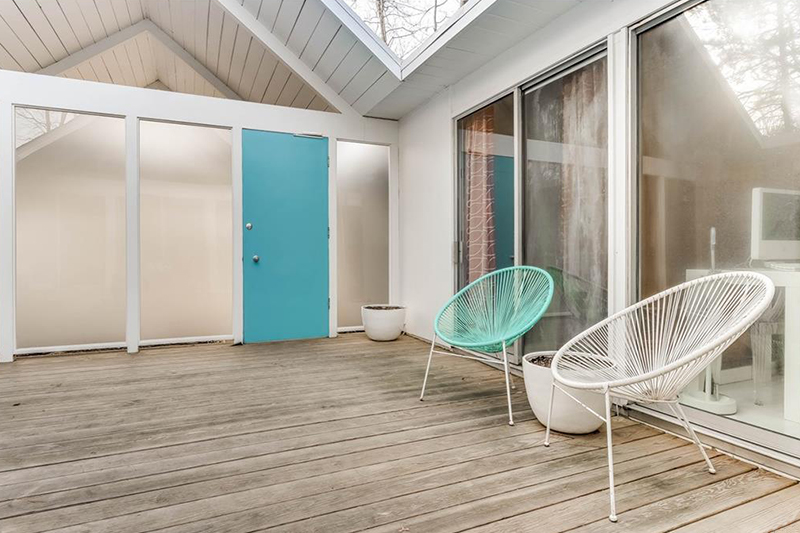 Inside, there's a surprisingly intact Eichler, with some familiar features. Maybe too white for some (including us) but we love the modern, airy feel. We'd paint the beams gray, for contrast, and match that far siding wall (continuing through the atrium) to the home's exterior siding color.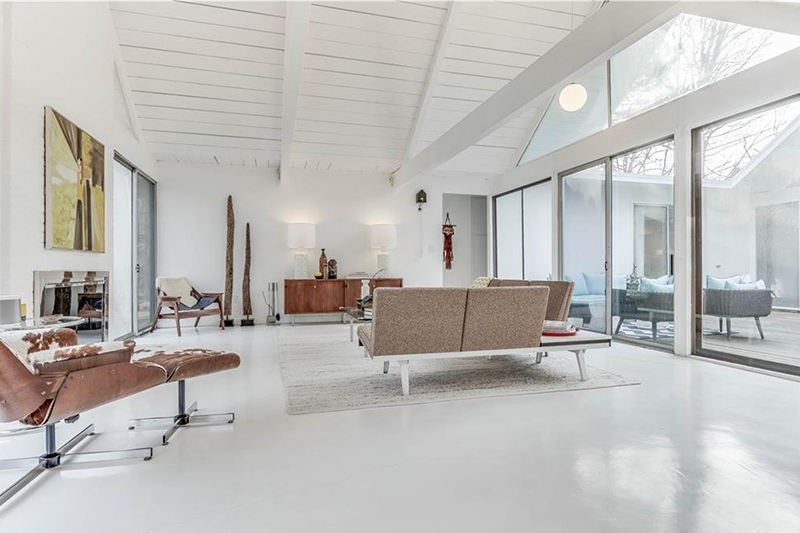 Shame the fireplace has been painted white, though it could be restored, demonstrated by our friend, Ivy. Still, a great room, in every sense, with impressive volume, and masses of glass, flooding the space with light, and providing access to the large rear yard.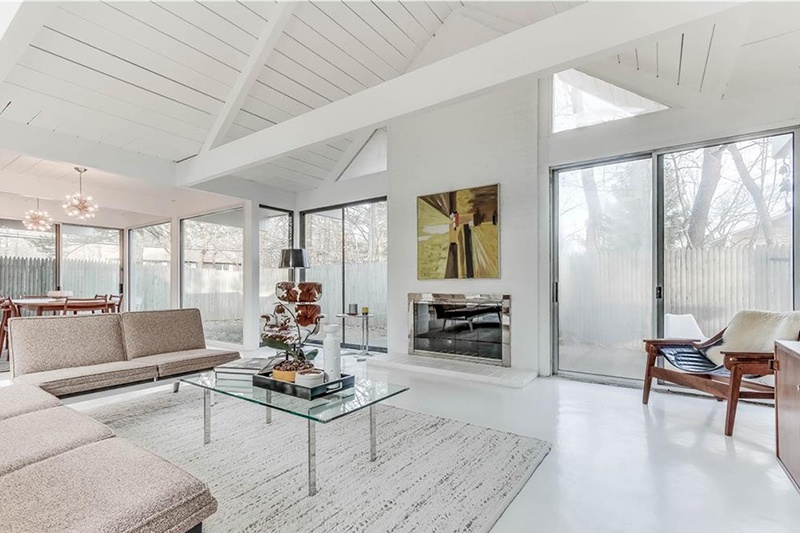 Speaking of which, that fence could do with staining, and the landscaping needs some help. I guess planting choices are limited, in this harsh winter climate –we're definitely not in California any more. That said, this is still a dreamy dining spot, and would be magical with snow on the ground.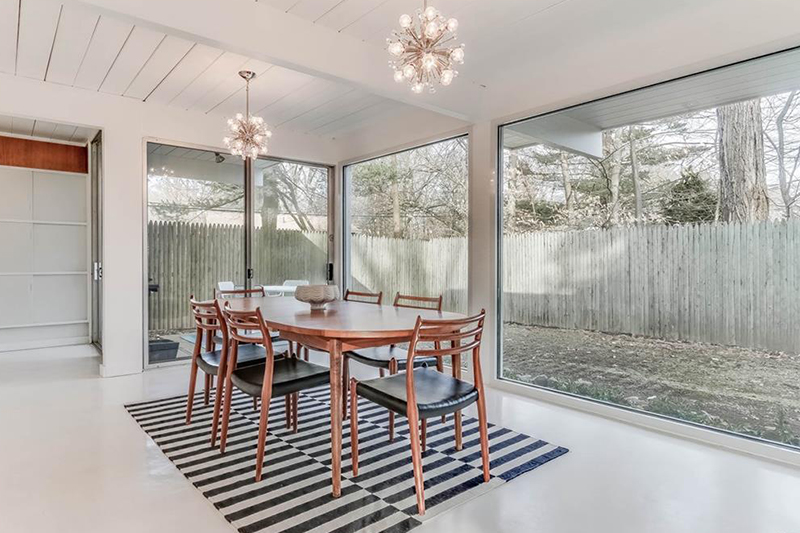 The kitchen/family room combo is large in this model, and overlooks the atrium. There's a much warmer feel in here, with plenty of intact mahogany paneling. The kitchen itself is mostly original too, though we'd paint the cabinets gray (like ours) to create some definition.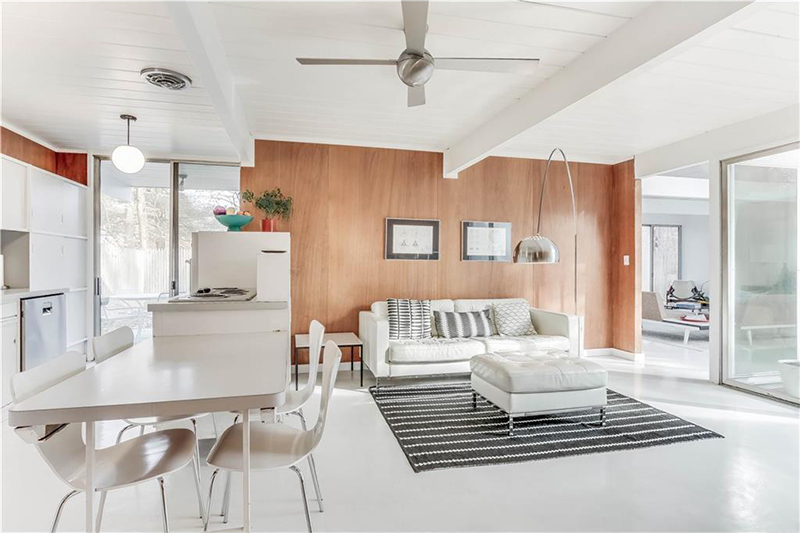 As per most Eichlers, the bedrooms are compact, though the master features a walk-in closet and adjacent bathroom. Both baths have been remodeled, but in a modern, sympathetic way. The master is the only bedroom with backyard access –through that slider, in the distance.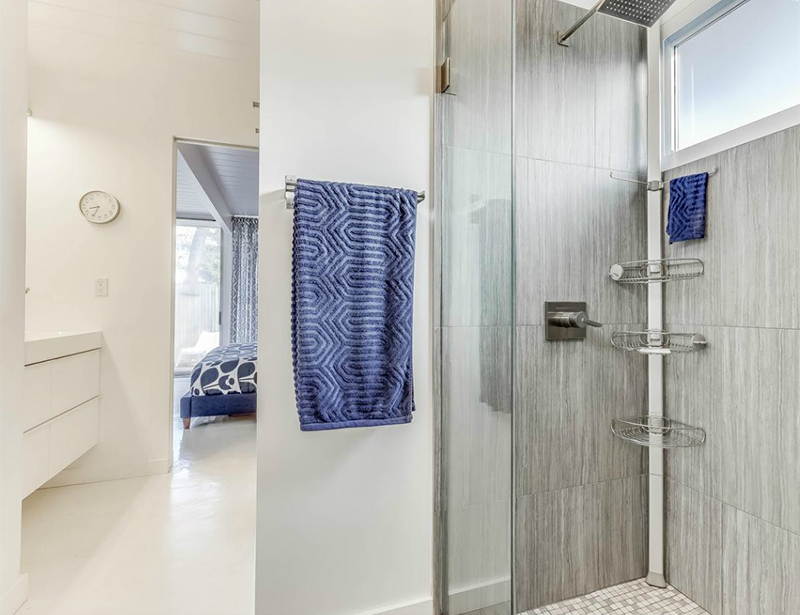 A helpful view of this model, showing how the rear-access rooms are arranged –starting from the left, master, living, dining, then kitchen. Interesting how the glass is stepped, rather than one continuous plane, helping to define living areas, without the need for walls.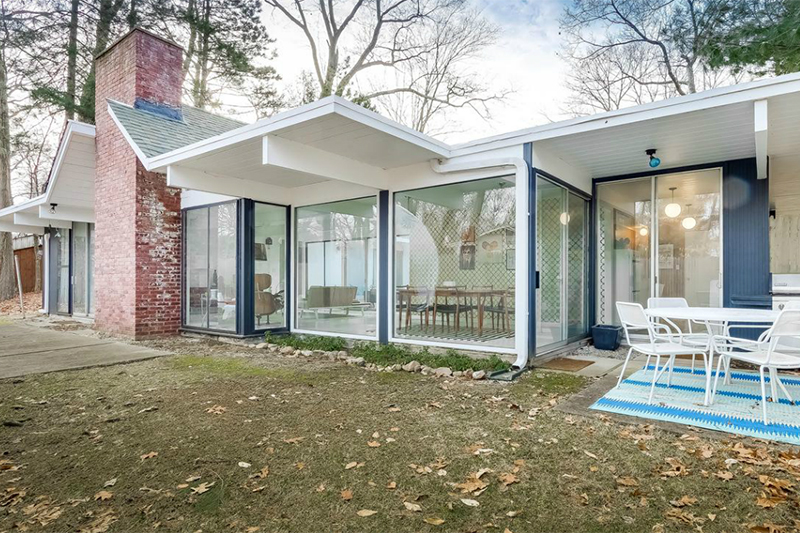 This is the cheapest Eichler you'll find, offered for $489,900 by Platinum Realty Consultants –many more pics/deets here and here. Hope the eventual buyer appreciates what they have, and continues to preserve this fascinating part of Eichler history.
Save
Save
Save
Save
Save
Save