Attention-grabbing 1960 atrium model, in Orange's Fairhaven tract. A seductive single-pitch climbs left to right, with crisp white ceilings topping a dreamy palette of muted green/brown/mustard. Garnish via modern house number, double-cone sconce, and original Eichler escutcheon. Yes please.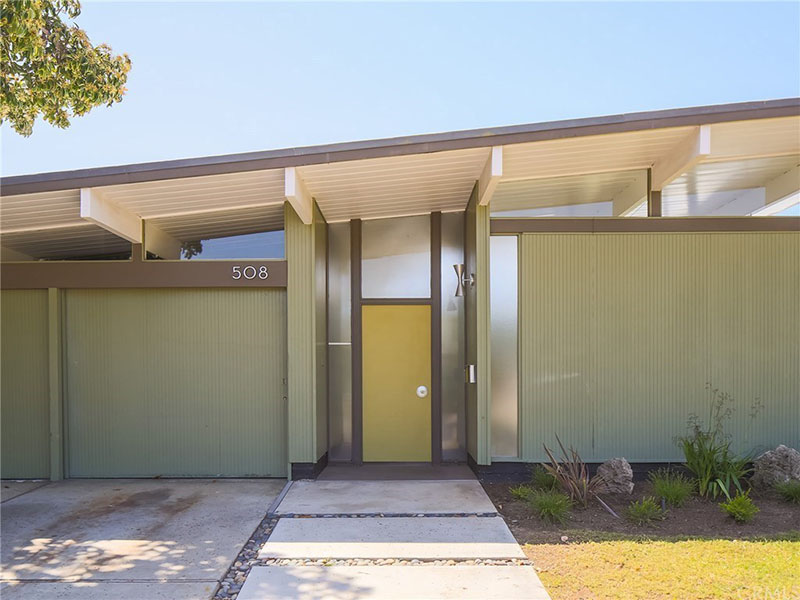 Inside, 4 bedrooms and 2 bathrooms, over 1729 SqFt, with entry via central atrium. The pitch allows for a long run of clerestory windows, dissecting the home, through the atrium and living space. Front door is to the right, alongside a bedroom, with slider atrium access.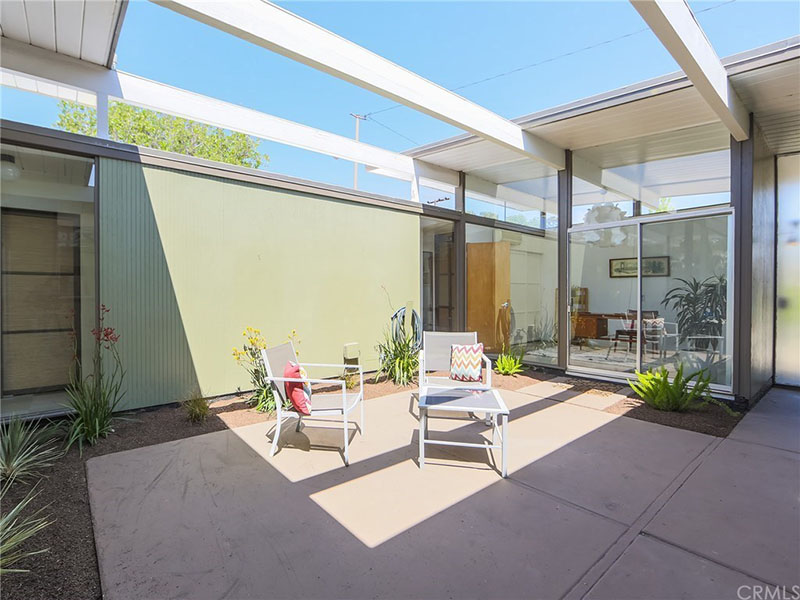 Would make a great office. Nice and bright, with more clerestories, and a vertical slit window, to the front.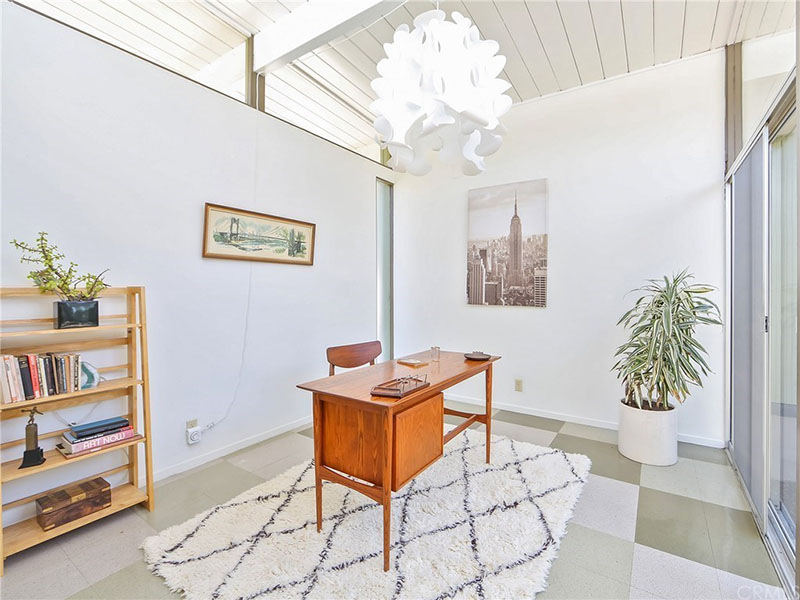 Looking the opposite way through the atrium, to the living apace. Original concrete slab and planter cutouts intact. Here you can see the siding wall extending through the living room, with clerestories above.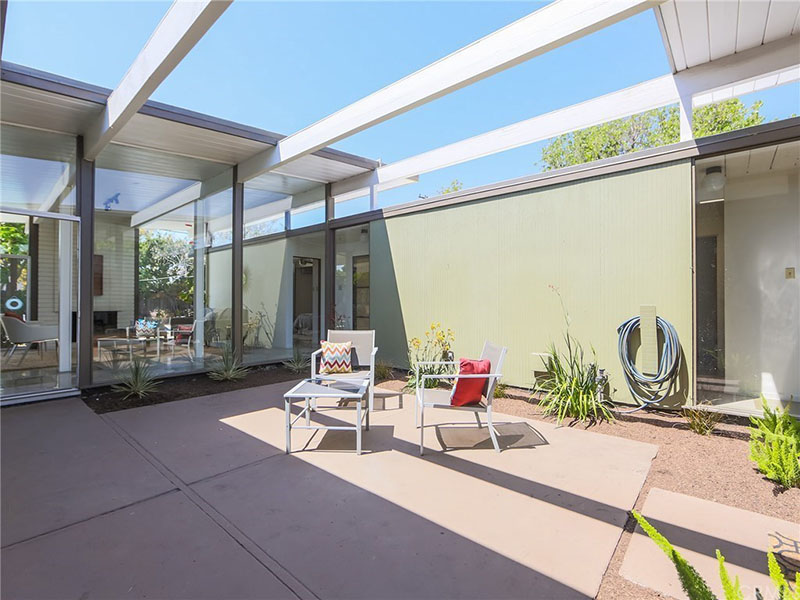 Main living space, with back yard/pool views. Fireplace and ceiling painted, sadly. Siding wall also painted white –we'd match this to the exterior. And we'd replace the track lighting. Still a fabulous space, though.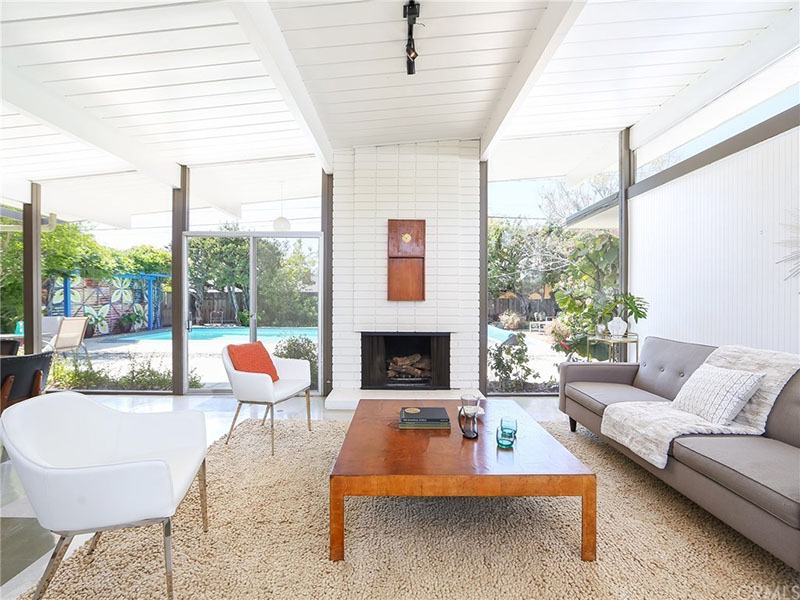 Adjacent dining area, flanked by gorgeous mahogany paneling –the whole house was paneling originally, but most has since gone. VCT installed throughout, in an unusual checkered pattern –we'd have stuck to one color, but I like the palette, and the creativity.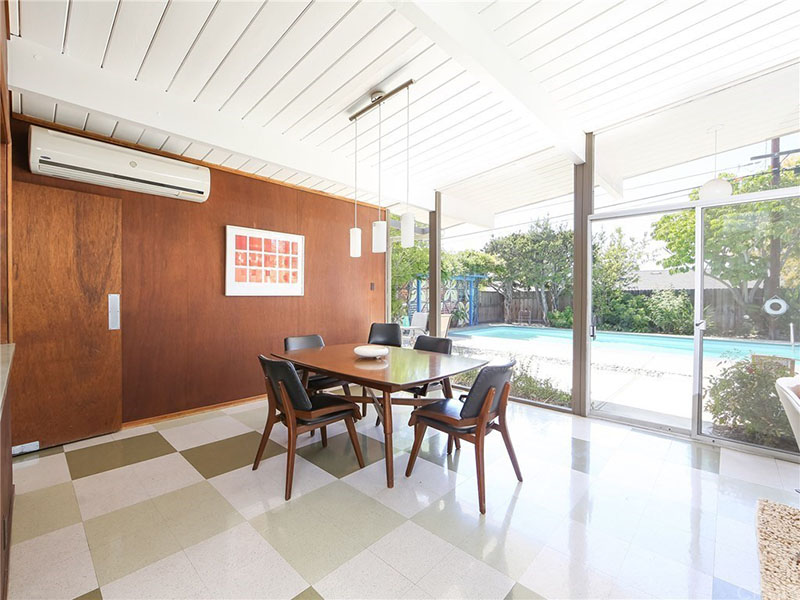 Better view of the living room clerestories, extending through the atrium, to the right. Looks like original grasscloth closet doors in the distance. To the left, the unpainted/outdoor portion of the red-brick fireplace –this could be rescued, as demonstrated by (FM friends) Ivy and Kyle.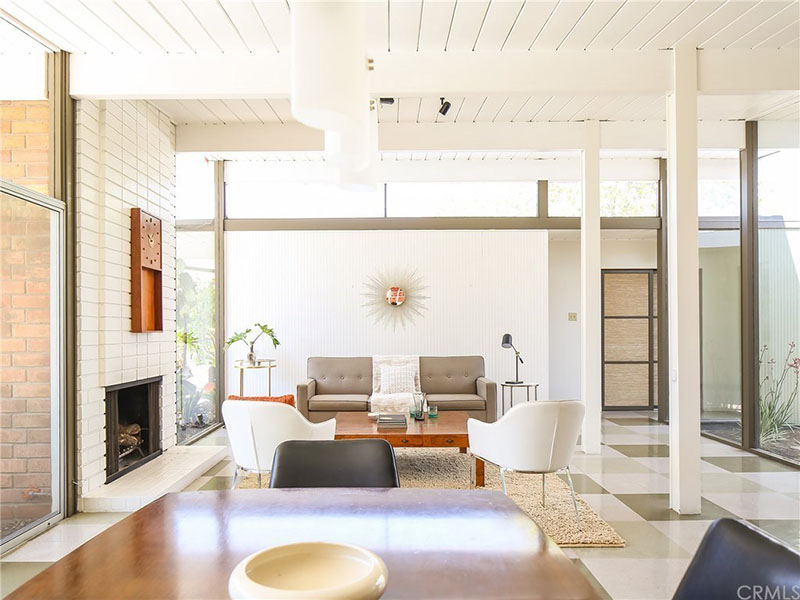 The kitchen has been tastefully redone. In the distance, a bar punctuates the kitchen/dining areas.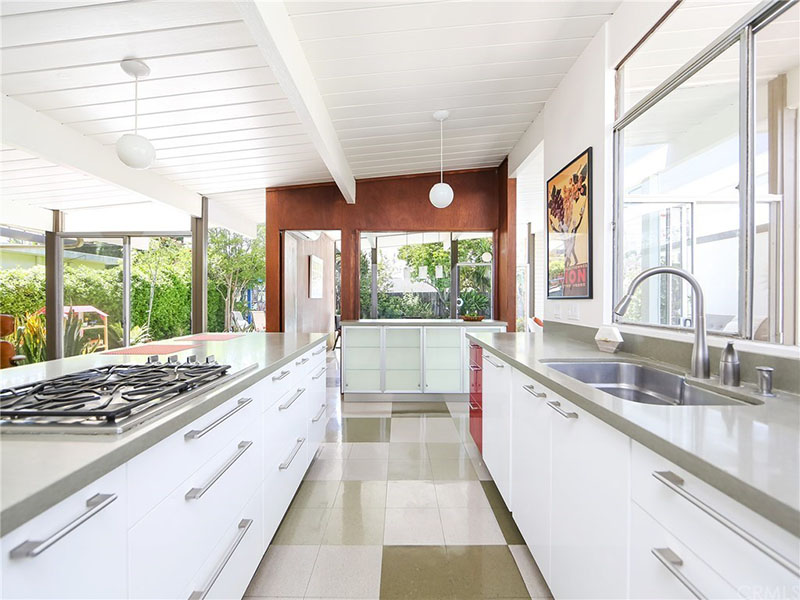 Off the kitchen, a good-sized family room, with more wood paneling (and a matching Plycraft lounge chair). A few globe lights here, too. You know, the more I look at that checkered VCT, the more I like it. That said, it took us long enough to pick just one tile color, let alone three.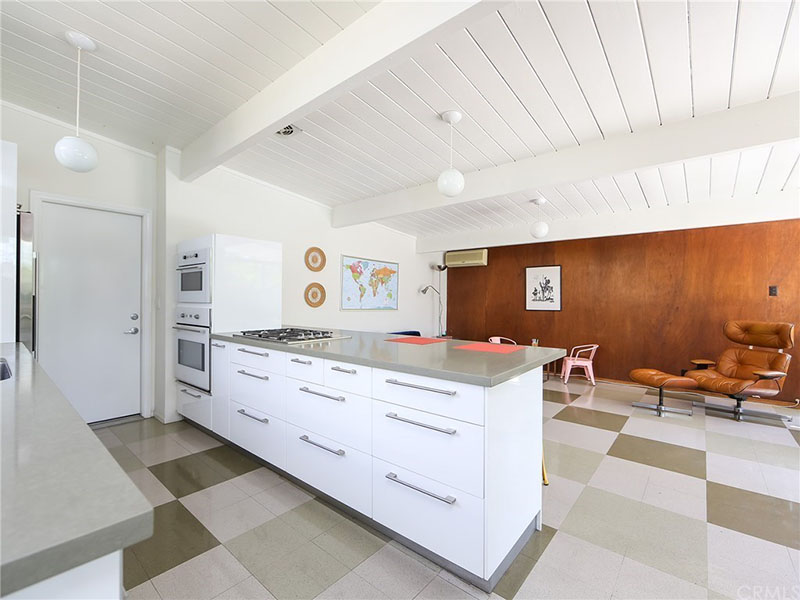 Spinning around, the kitchen connects to the atrium. Bold red drawers accent the muted palette.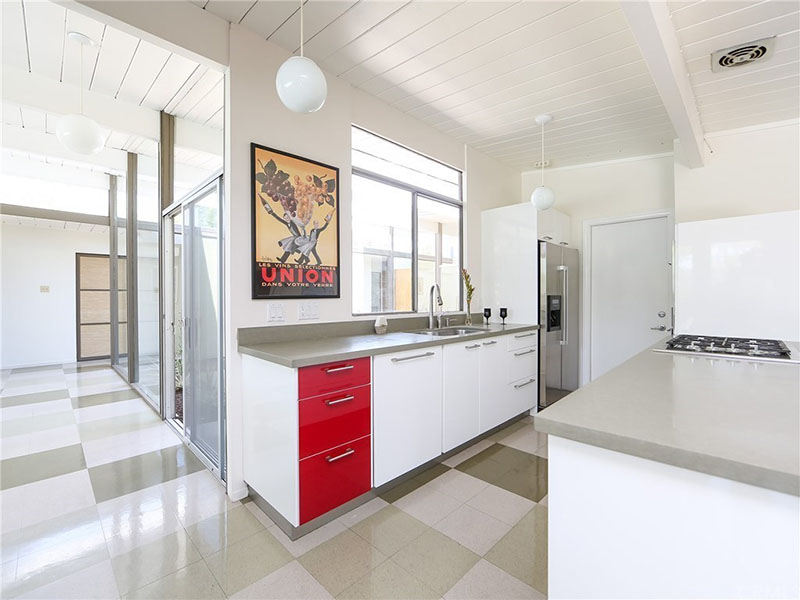 Here's the master, with rear-access slider. Looks like a grasscloth feature wall. Kinda cool, and fitting.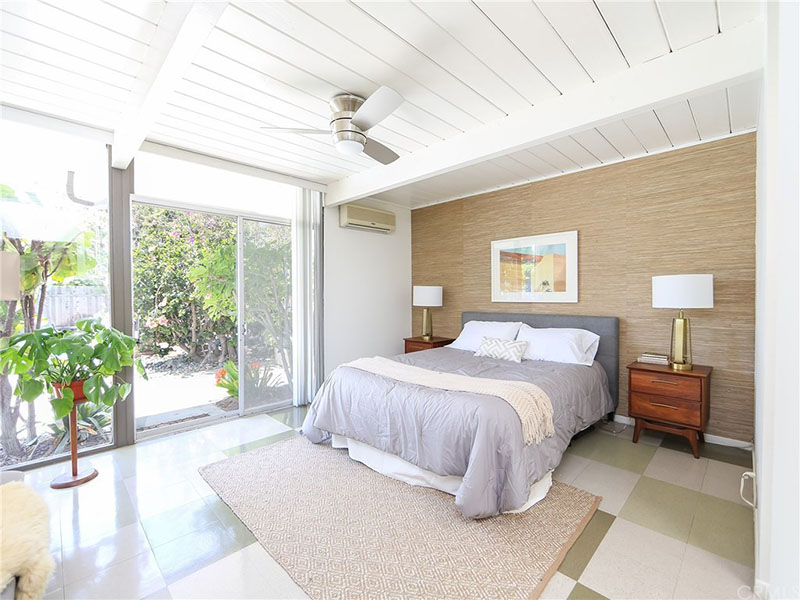 Original door and cabinets in the master bathroom. Same checkered VCT. Definitely growing on me.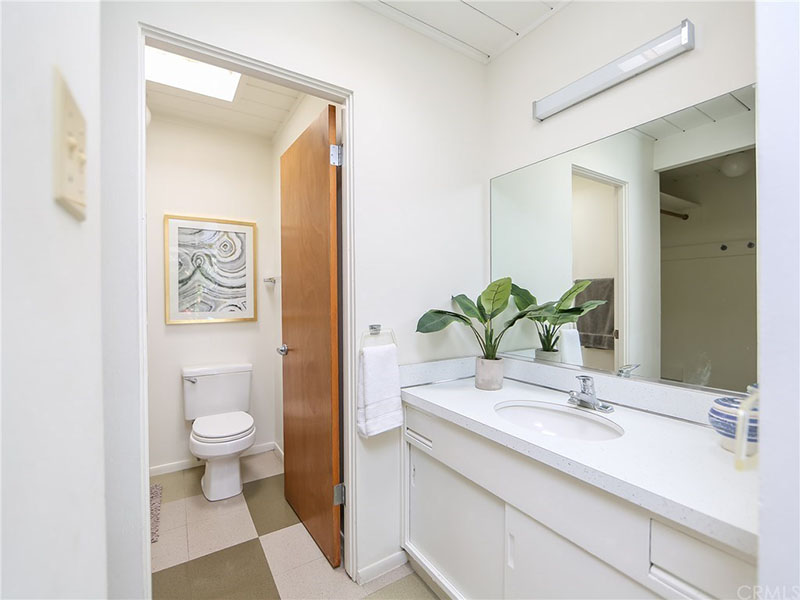 Nice sized pool out-back, and a good view of that striking roofline. There's a small flat portion too.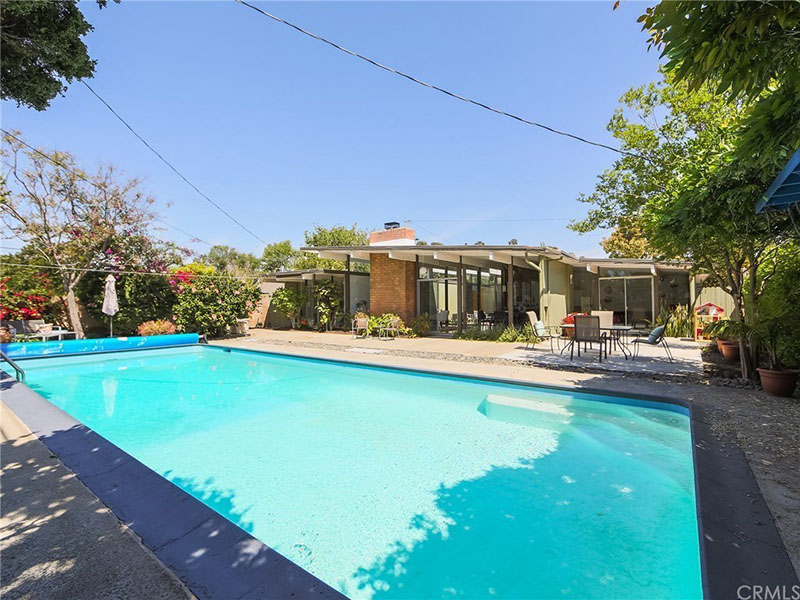 This really is a beautiful Eichler, especially street-side. More pics/deets here.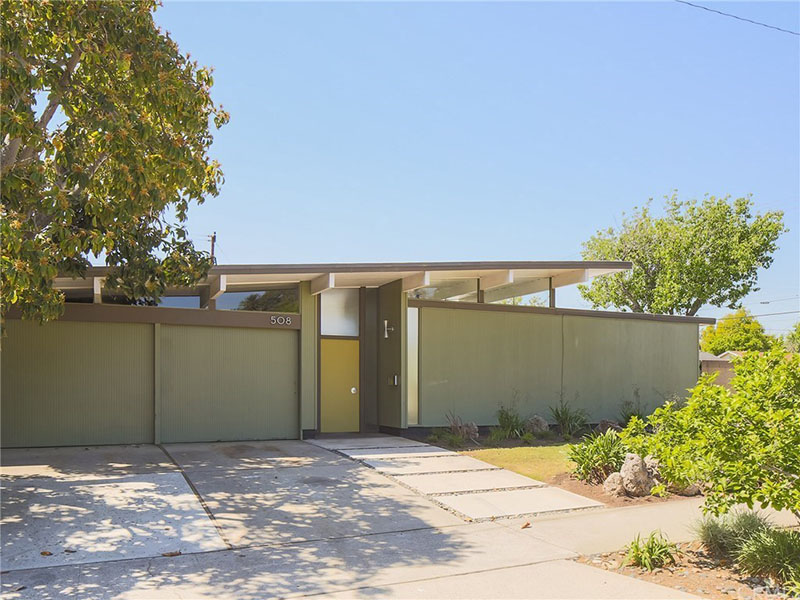 Offered at $950K by Kelly Laule, of Better Living SoCal –also friends of FM, who do a great job marketing Eichlers. Open house Friday 5-7:30pm, Saturday 12-4pm, and Sunday 1-5pm. Too far for us to travel, though we hope to visit some day. If you go, do tell us what you think.
Save
Save
Save
Save
Save
Save
Save
Save
Save
Save
Save
Save
Save
Save
Save
Save
Save
Save
Save
Save
Save
Save
Save
Save
Save
Save
Save
Save