Just before Christmas, we took a trip to Walnut Creek, to check out Rancho San Miguel –home to about 375 Eichlers, built from 1955-59. We walked every street, and soaked-up the neighborhood. By the way, I don't pretend to be an expert, so feel free to correct me on anything.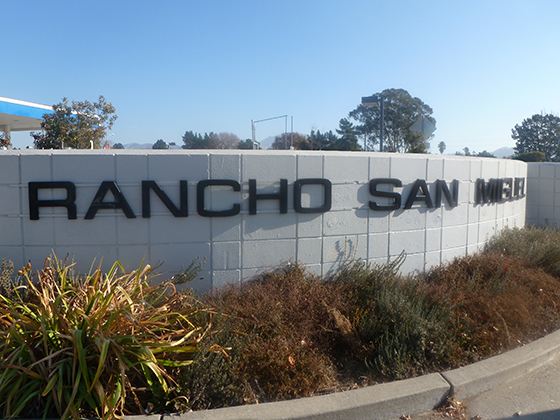 This is a desirable neighborhood, in a good school district, with easy access to San Francisco. Eichlers currently fetch $750K+ –way more than Sacramento, but reasonable by Bay Area standards. The homes were built at the same time as ours, so they look oddly familiar.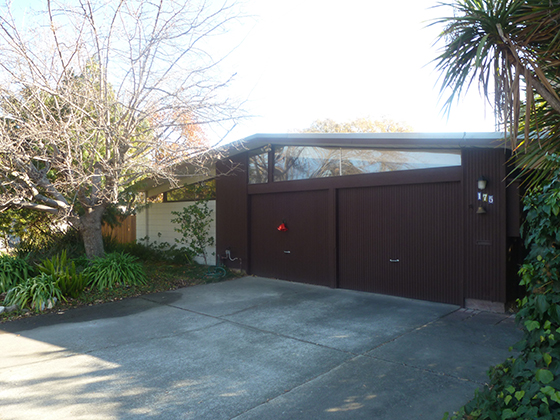 The one above is identical to ours, right down to the color scheme…for now, at least. Shame we couldn't go inside. Still, it's fun to see how people tackle everything outside, and to steal some ideas. We love this cinder-block wall, complete with Neutra-style numbers.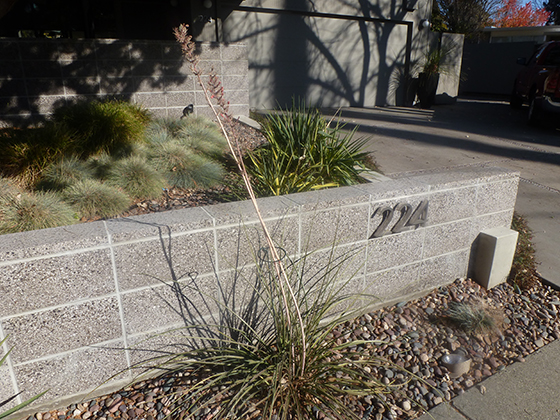 Back in Sacto, some neighbors have added painted cinder-block walls out front. We like them, and have considered copying. Plenty to do before we tackle landscaping though. Here's another of our model, with a brightly-painted cross beam, which really pops.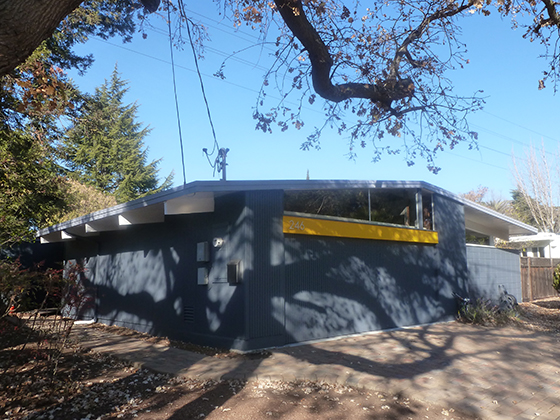 And here's a variation on ours, fronted with siding (to the left of the garage) instead of cinder-block. We saw many original Eichler garage doors (sliding doors, clad with siding) on display –sadly, they're often replaced with 'modern' up-and-overs.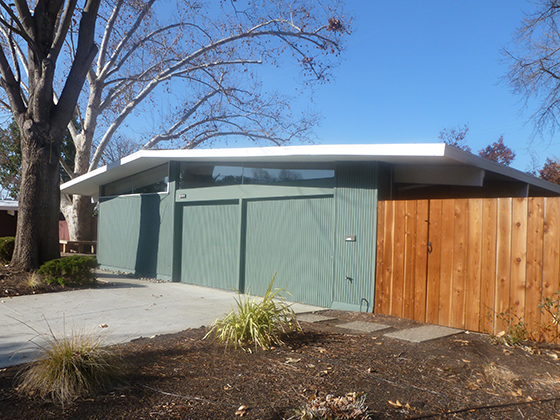 Below is another model that features prominently in Sacramento, notable for its recessed entrance, entirely flat roof, and high ceilings throughout –making for impressive internal volume. We saw several of these during our visit.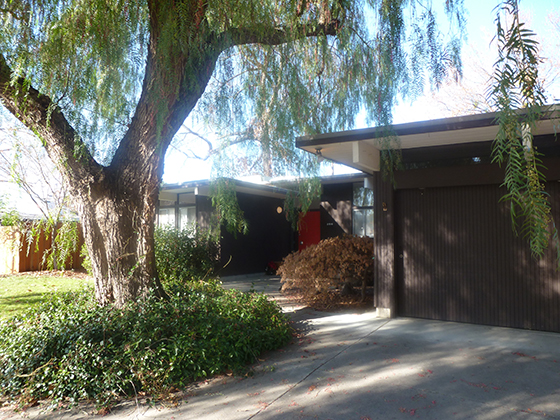 There are also Eichler types we lack in Sacramento, like this carport model. Perhaps not as practical, as garage-space is sacrificed, but we've always loved these, aesthetically. Nice mushroom/dark brown paint job too.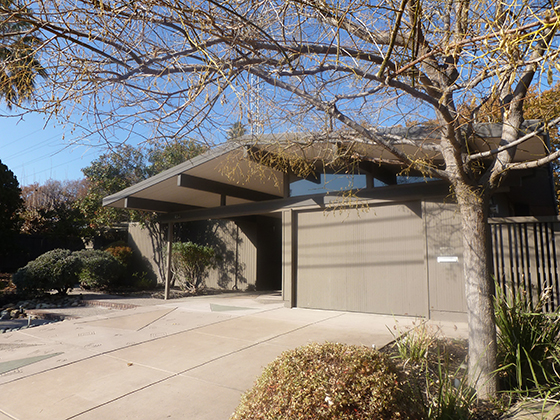 As with all the Eichler neighborhoods we've seen, it's a mixed bag. It's common to see neglected homes, even in expensive areas. This one looks pretty far gone. Thankfully, due to current Eichler popularity, there's no shortage of people clamoring to rescue these homes.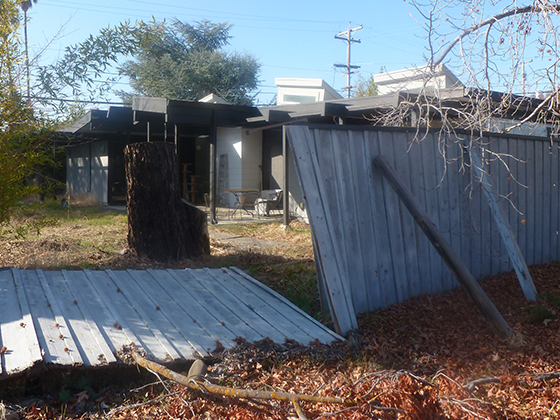 On the flip-side, some homes are given a little too much attention, resulting in some interesting modifications. Second-story addition + single-story neighborhood = bad idea. Private yards and rear walls of glass become not-so-private.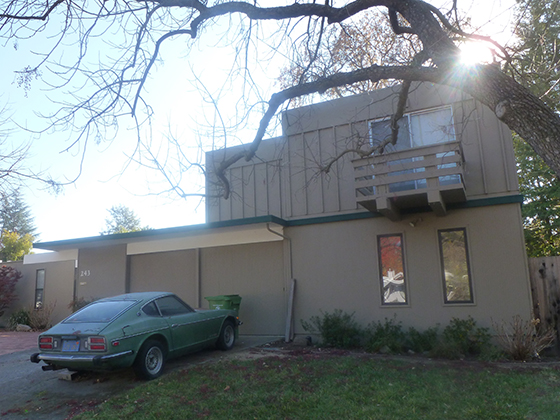 Some additions are less glaring, like this Palm Springs-esque butterfly roof, bolted onto a model just like ours. I'm aware that Eichler worked with buyers to modify plans and certain elements, but I'm sure this isn't original.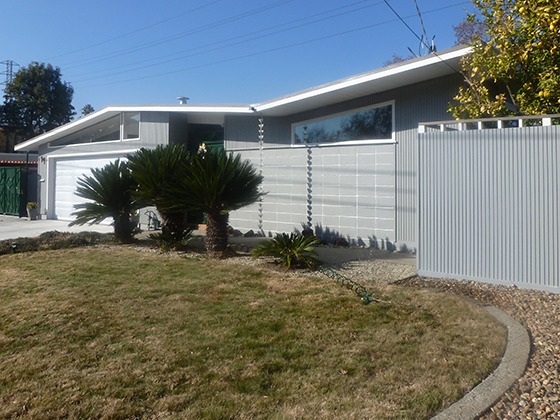 Once we were done with Rancho San Miguel, we took a short trip down the road, to a much smaller development. Known locally, I believe, as "super Eichlers", these homes are 2500+ SF (big by Eichler standards) with price tags to match.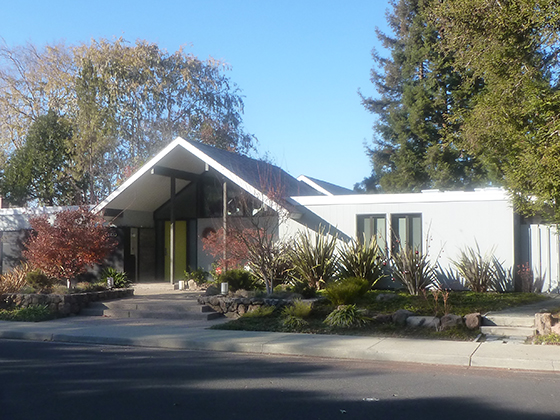 These later-built models mostly feature double A-frame construction, some with a straight pitch, as above, and some with a capped pitch, as below. I believe these are Claude Oakland designs, but I haven't researched it.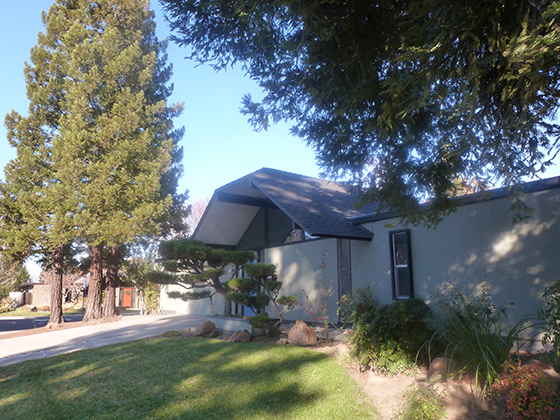 This totally flat-roofed model features double front doors, something we'd not seen on an Eichler before. The doors look great, painted a nice vibrant yellow, with original-looking escutcheons. Sorry about the glare –it was a particularly sunny day.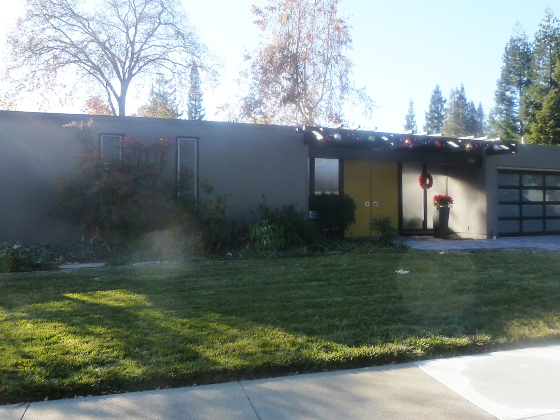 This neighborhood looks pristine, aided by buried electrical –common in our native England, but seemingly not so here (maybe we hang around '50s hoods too much). I'm guessing most residents have a healthy landscaping budget, which helps.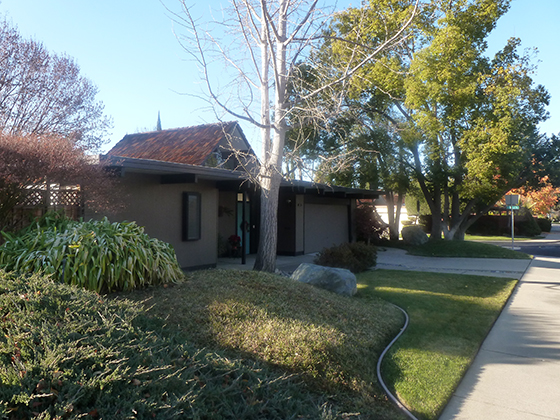 We spotted a pretty rare Eichler model, with two parallel pitched roofs. As a side note, we spent a lot of time researching Rummer Homes (essentially Eichler copies) in Portland, Oregon, and this style is common there.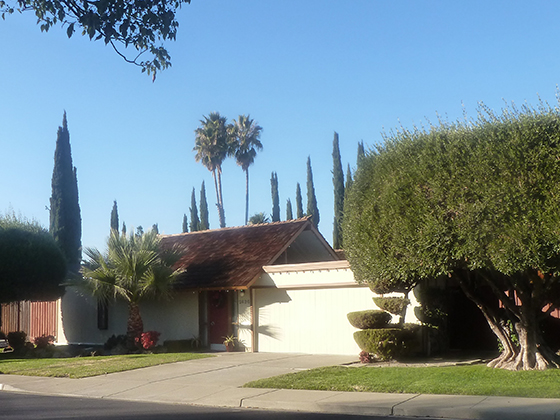 All these 'super-Eichlers' feature a central atrium, something all the homes in our neighborhood, and most in Rancho San Miguel, lack. As I understand it, from the late fifties onwards, almost all Eichlers were built with an atrium, gallery, or courtyard.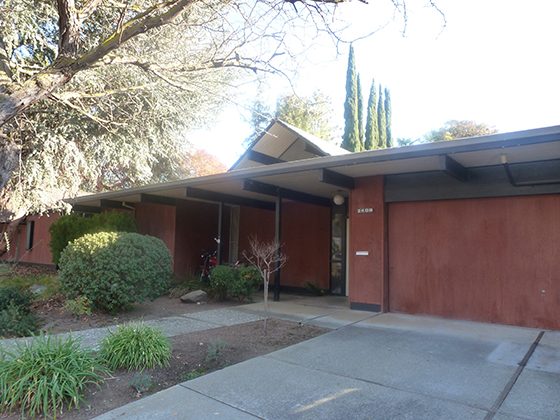 I took many more photos (too many, according to Karen) but that's enough for now. Before we drove back to Sacramento, we stopped by a friend's Eichler in Concord, home to three more Eichler neighborhoods, all of which we know well. But that's for another post…