When this listing hopped into our inbox, we just had to share. This 1964 double A-frame is in Granada Hills' Balboa Highlands –the only Eichler 'hood in LA County. Pretty much original everything, including the owners, Frances and Larry, who've taken great care of this remarkable home.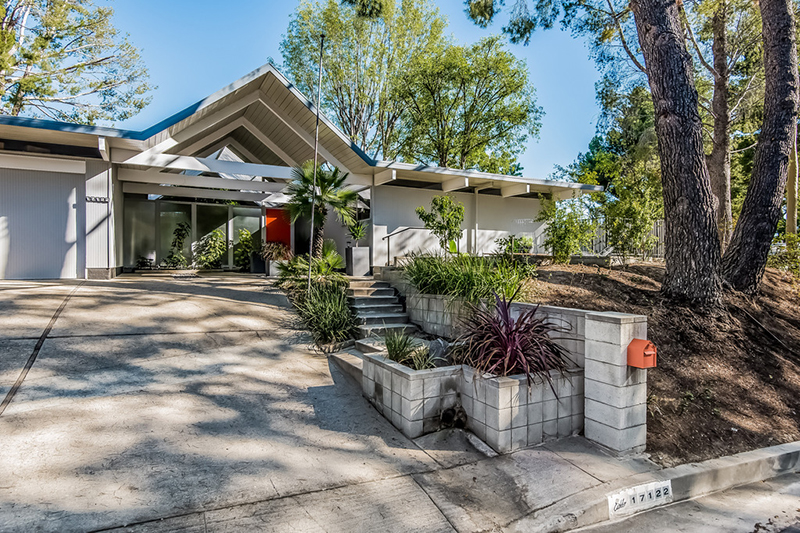 It's a big floorplan, with 5 beds, 2 baths, over 2078 SqFt, on just shy of a quarter-acre. I like this layout, with the master in a separate wing, on the left, plus retreat/bedroom, and three further beds on the right. Just a one-car garage, but you gain a huge carport, walled in opaque glass.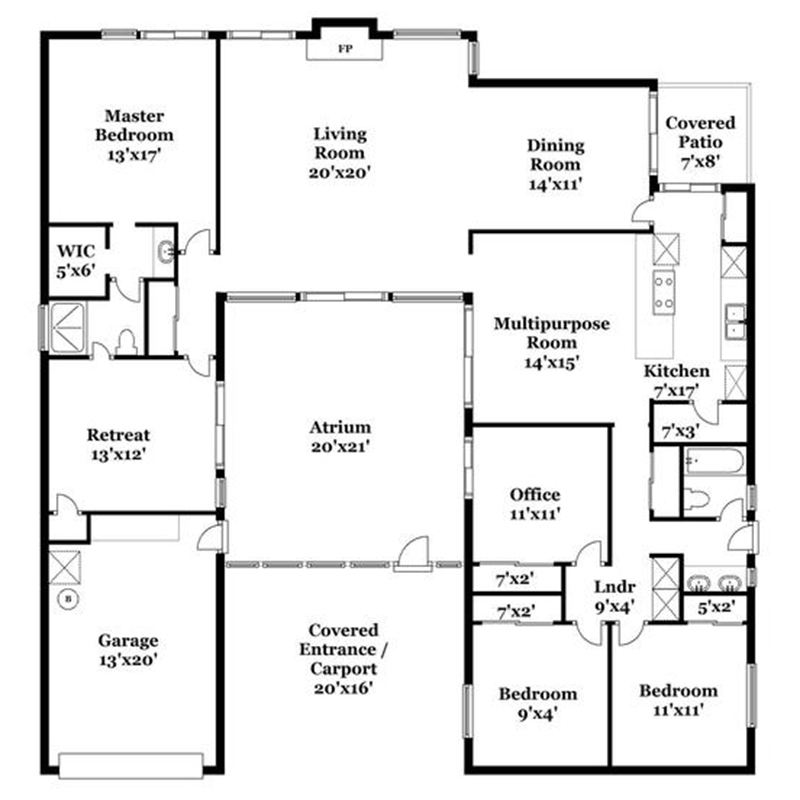 Beyond the carport, a huge central atrium, with glass on all sides. We'd prefer the roof completely open, but that's an easy fix if desired. The concrete slab and cutouts are all intact, which is good to see.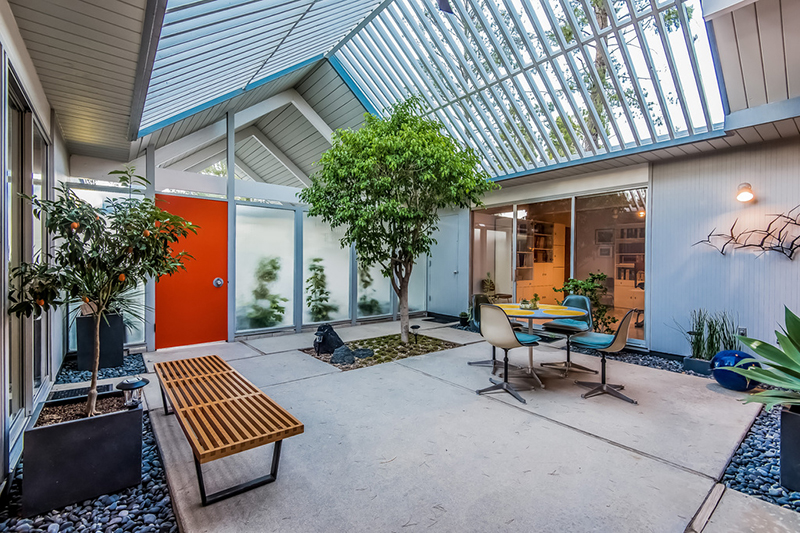 This view greets you on entry, looking towards the main living area. A pleasant sight to come home to, no?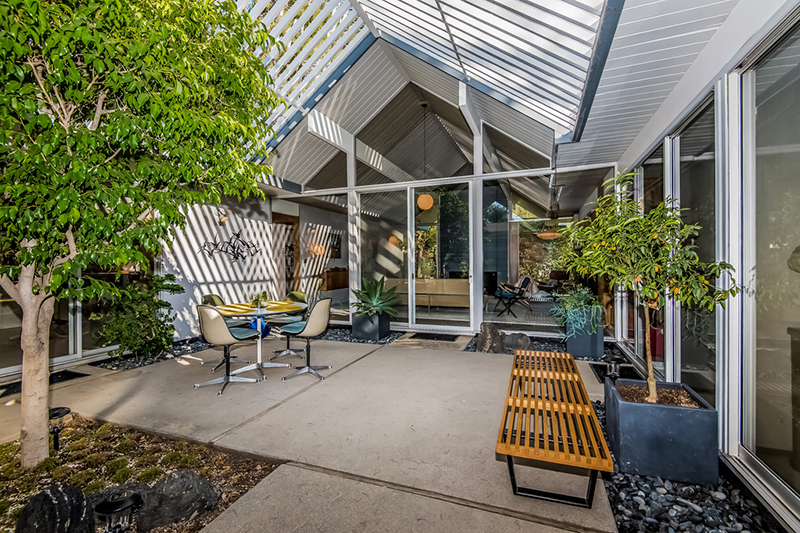 And looking back. Crazy-tall pitch, with unpainted pickled ceilings. Love the long-stemmed globe too.
We'd re-paint the cinder-block, and lose the carpet. Can't argue with the mahogany paneling, though.
Here's the adjacent dining room. More paneling. Globe lights in all the right places. Forced-air underfoot.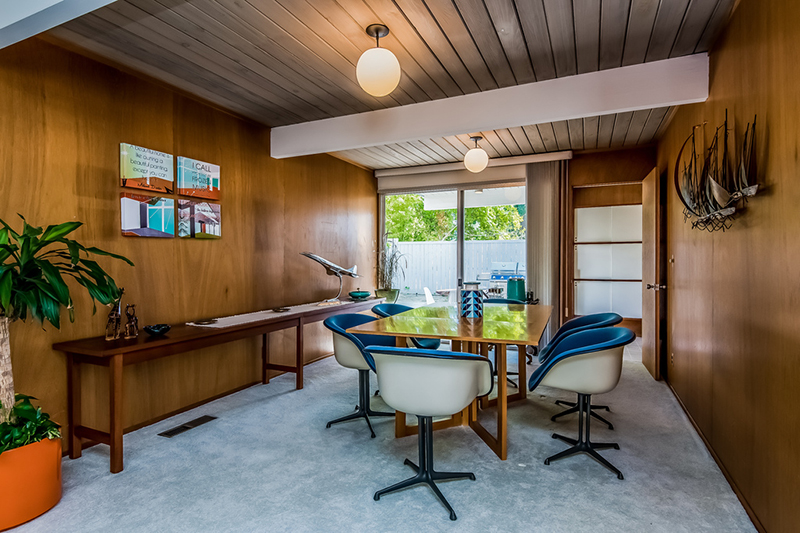 Yet more paneling in the 'multi-purpose room', just off the kitchen. Again, flooring's not ideal but practical.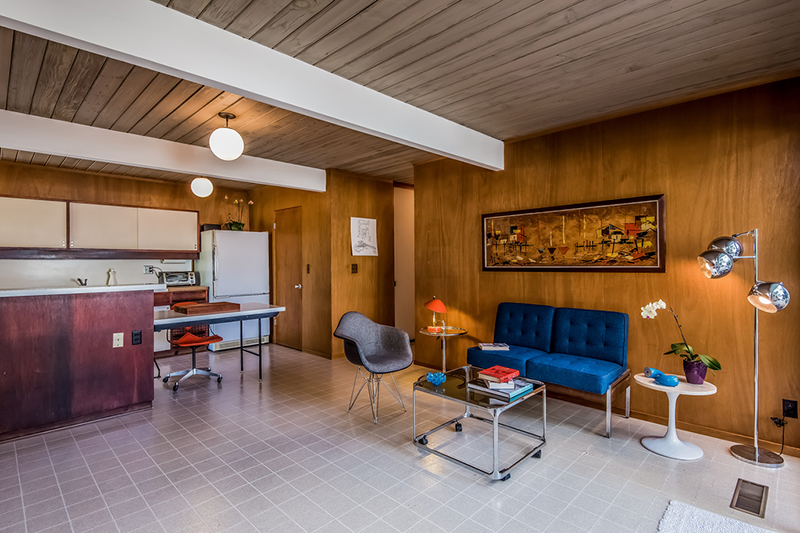 This generously-sized room overlooks the atrium. So much glass in this home. We're not jealous at all.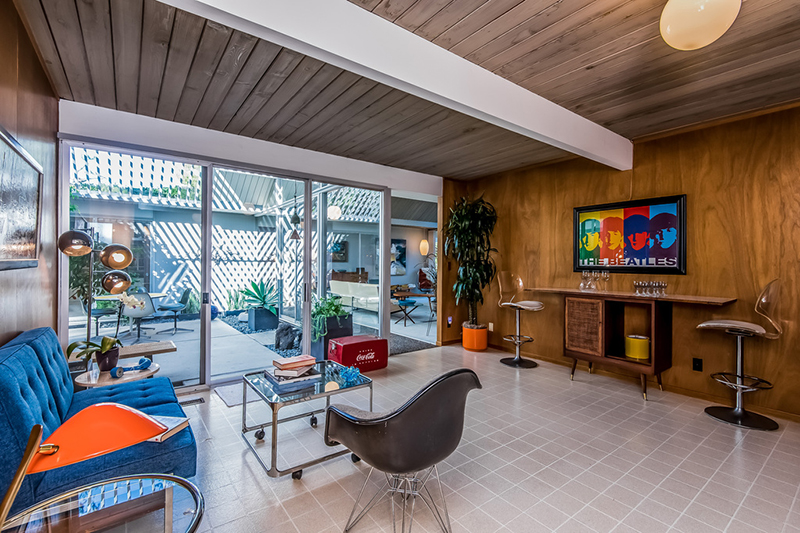 In the kitchen, all original cabinets/doors (with those cool little finger-pulls), formica counters and fold-out table, integrated spice-rack, original sink, appliances, ceiling fan, the list goes on. Pretty awesome, eh?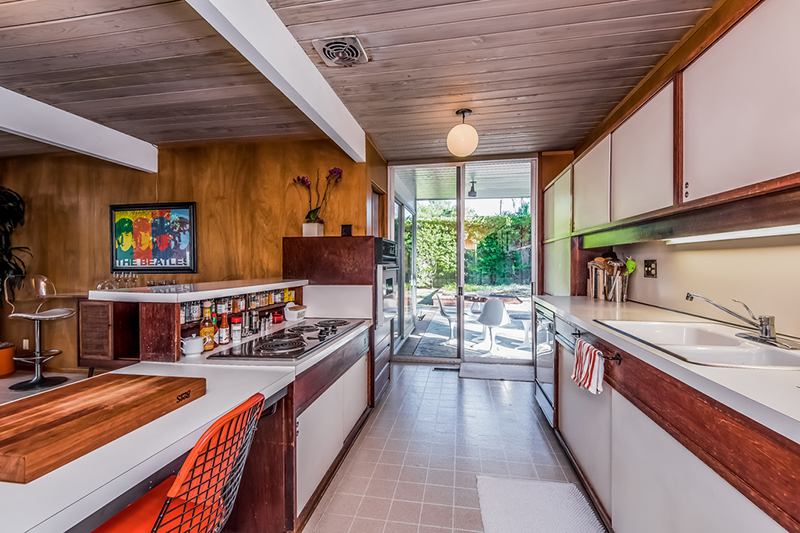 There's even an elusive NuTone in-built blender, with instruction manual. Oh, and the butcher block insert.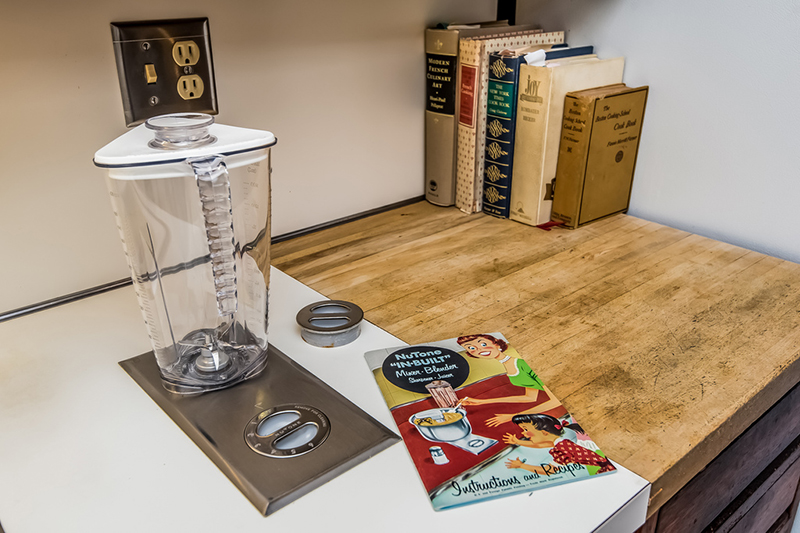 Bathrooms are also mostly intact, with original cabinets, counters and sinks/faucets.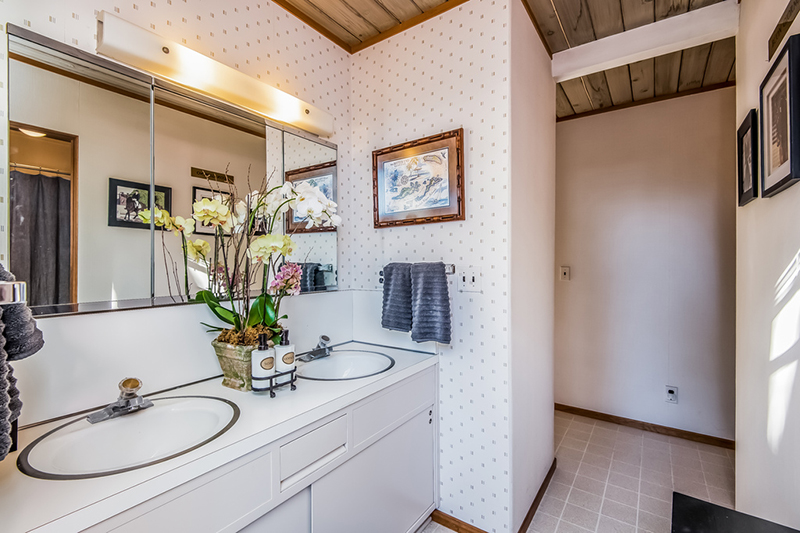 The master looks out to the back patio. As you can see, the ceilings remain unpainted throughout.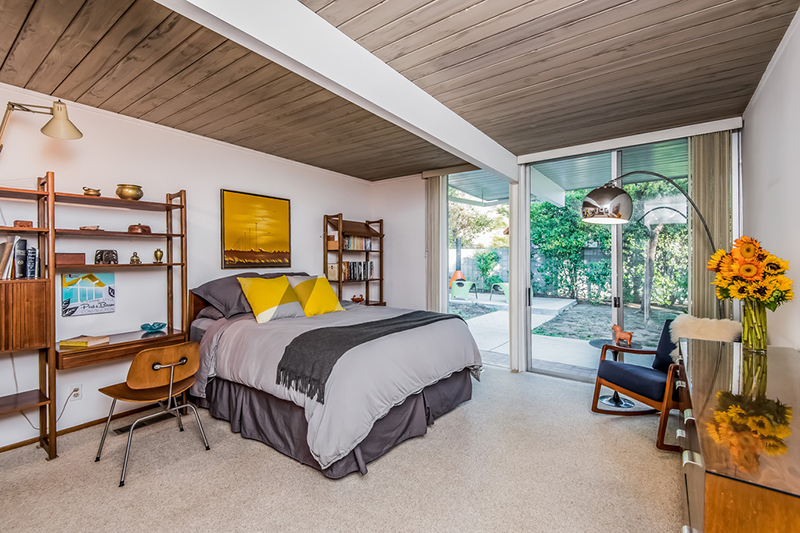 Here's the view back, to the master bath and walk-in closet. All internal doors/hardware are original too.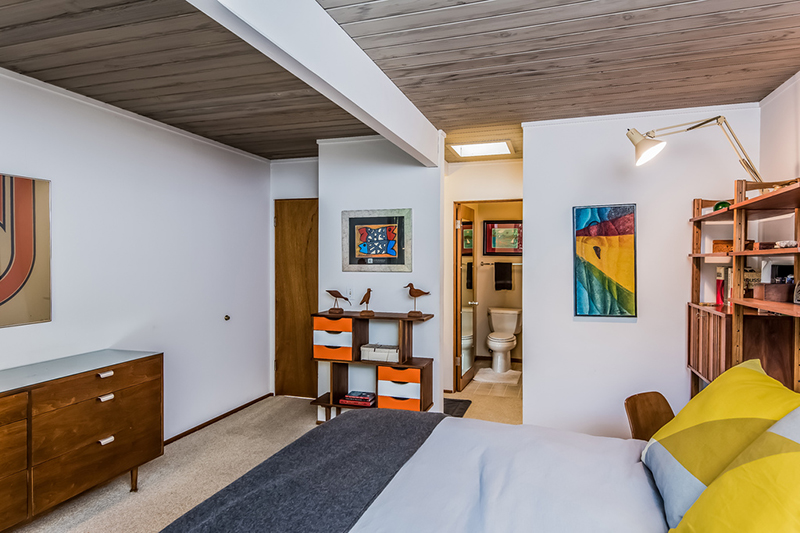 And here's one of two bedrooms overlooking the atrium. Not too private, but would make the perfect office.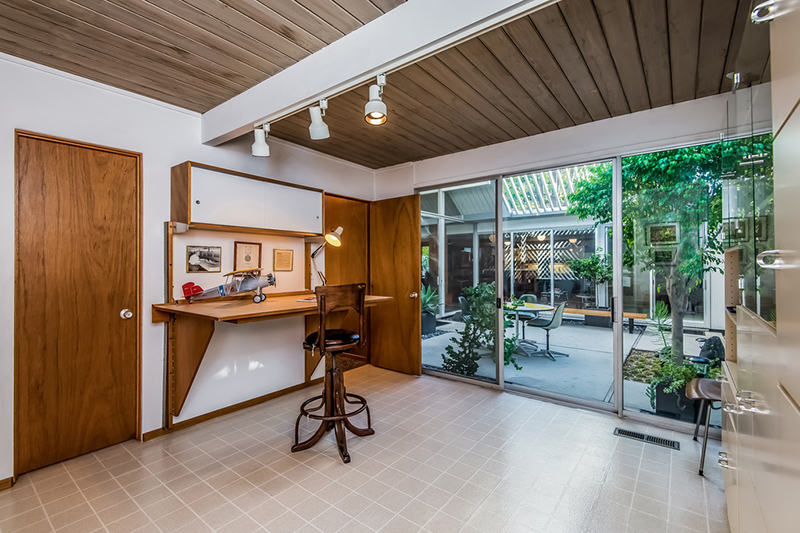 It's a large lot, with mature trees, and multiple patio/seating areas –accessible from kitchen (left) and living room (right). Room for a pool if desired. And with the wonderful SoCal weather, you'd almost have to.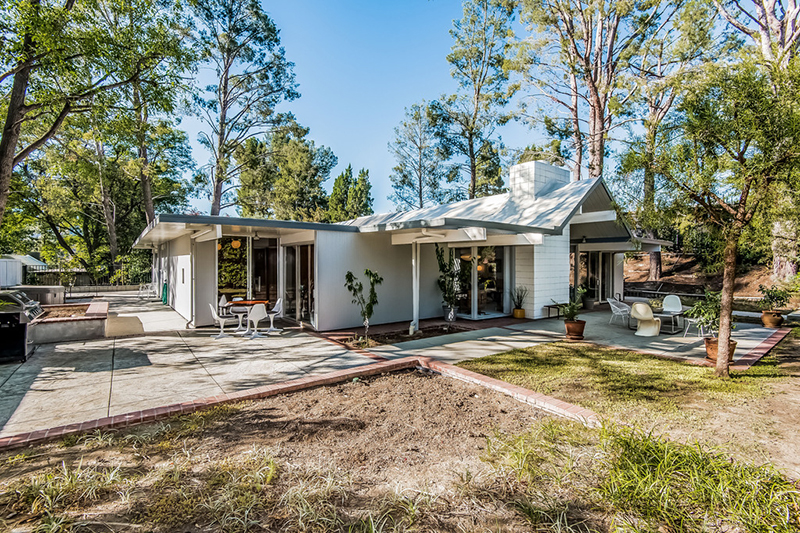 There's even a patio area at the front –perfect for people-watching. We have those exact same wire chairs, on the left –ours were a kind (and cherished) donation from our former neighbors, Michael and Clyde.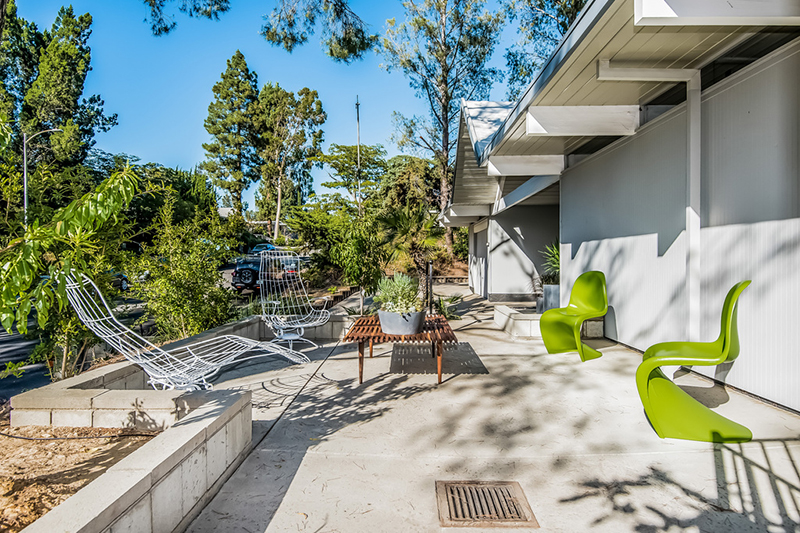 Clearly the owners appreciate what they have. Would love to see these numbers in all Eichler 'hoods.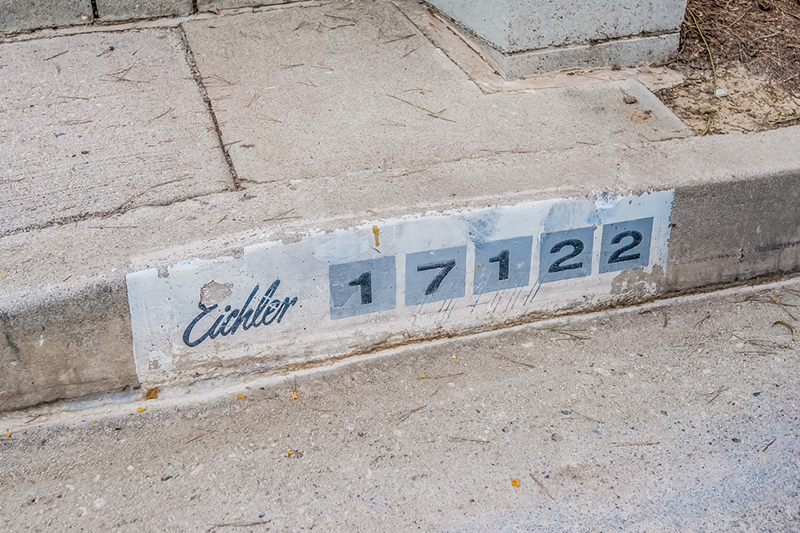 Well, that'll do for now. Told you it was good. If you're thirsty for more, visit the dedicated website.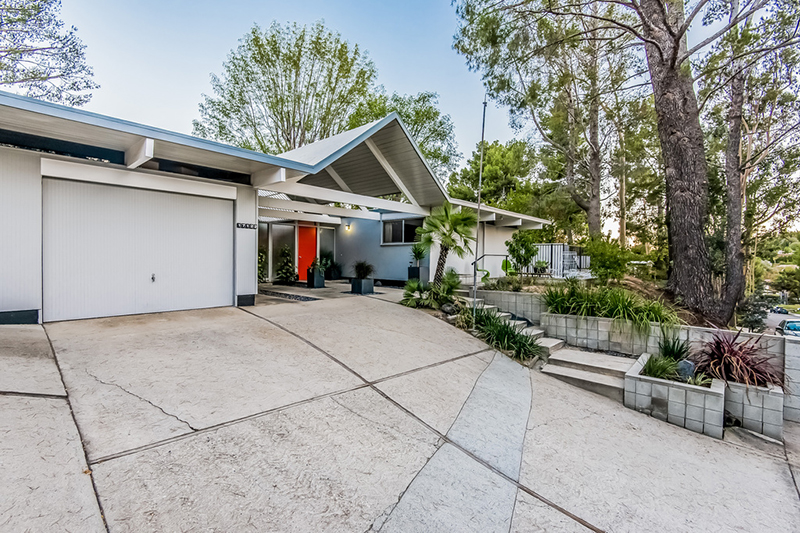 Better still, see it in-person at the open house this Saturday and Sunday from 11am-3pm. Would love to walk this beautiful neighborhood –if only we lived a little closer. Offered for (a very reasonable sounding) $789,900 by Greg Guinto, who kindly allowed us to use these photos.
Save
Save
Save
Save
Save
Save
Save
Save
Save
Save
Save
Save
Save
Save
Save
Save
Save
Save
Save
Save
Save
Save
Save
Save
Save
Save
Save
Save
Save
Save
Save
Save
Save
Save
Save
Save
Save
Save
Save
Save
Save
Save
Save
Save