Since last posting about our side patio, we've completed no major projects here, but have made some 'tweaks' that collectively make a difference. First-up, we added this rain chain. Being on the edge of our pitch, this downspout got much of our run-off, with water pooling here, too near the house.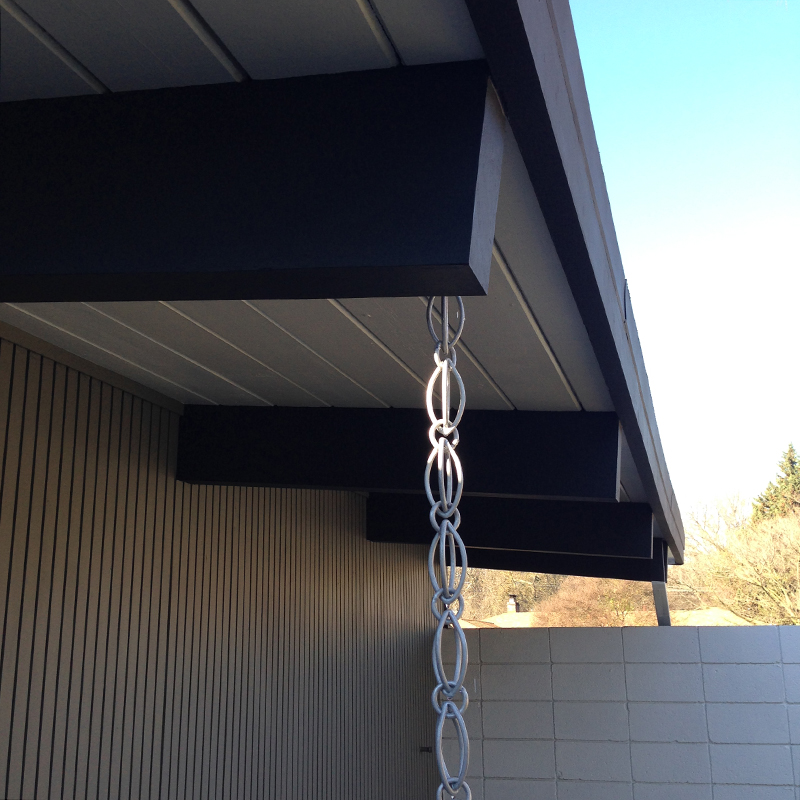 Now this chain feeds into an empty plant pot. We added two matching pots, of Mother in Law's Tongue –this is happy outside, in all but the 'depths of winter' (sounds silly, having moved here from Boston). Anyway, the plan worked, eliminating mess, and keeping water away from the house.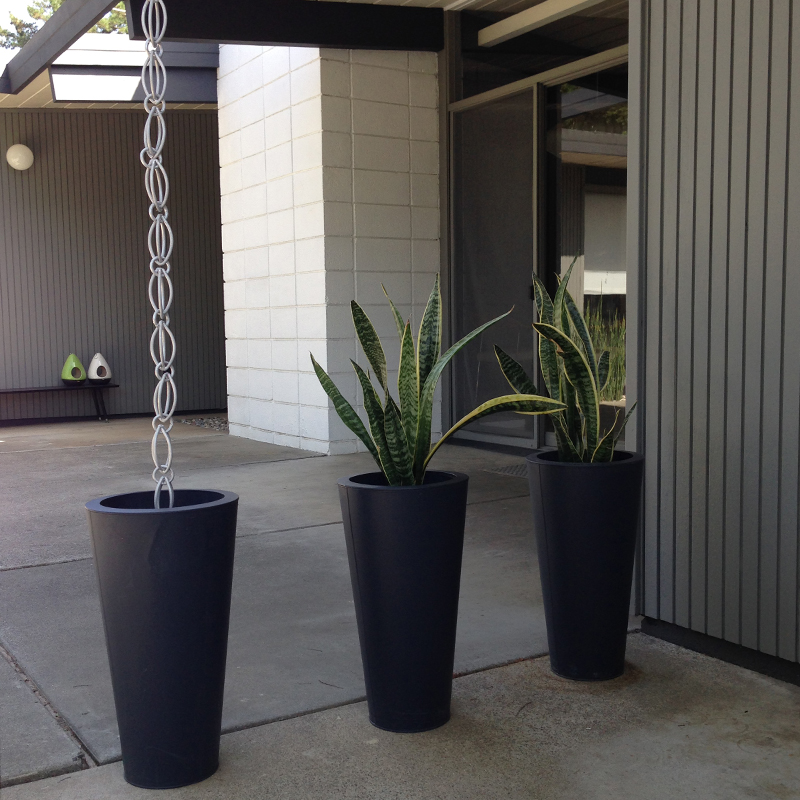 We plan to add a valve to the rain chain pot, so we can easily dispense the water. Currently, I have to lift the (sometimes very heavy) pot and disperse over nearby plants. As you can see, these pots also section-off our outdoor dining area nicely. Oh, and that globe light is new.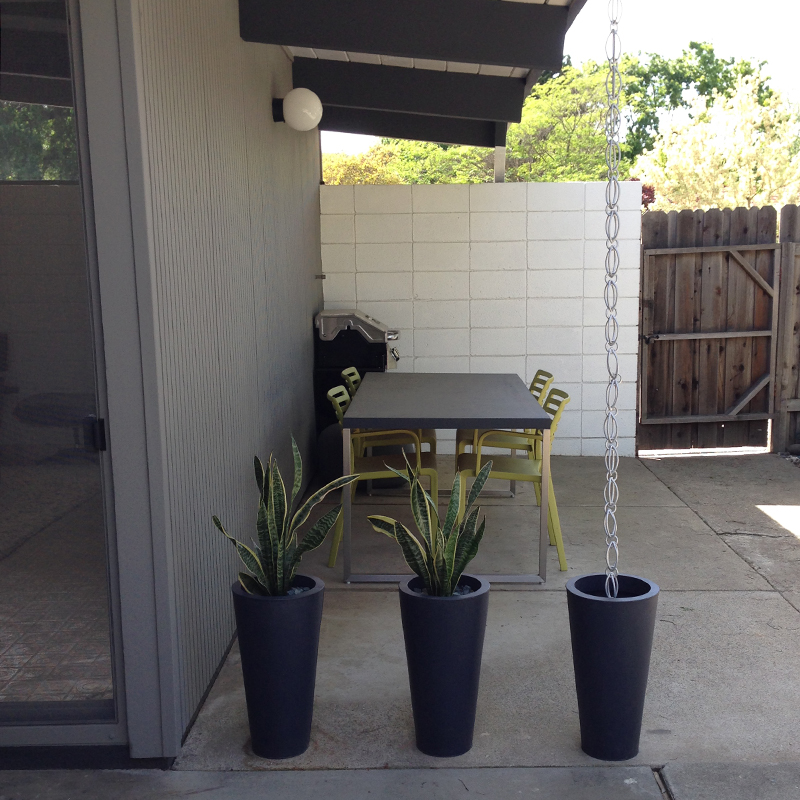 We ran electrical while our TV room wall was opened up (as I mentioned last time) and positioned the globe at the same height as the one we reinstated way back, where it had been replaced by an inappropriate fixture (to put it politely). This one is totally new, but hopefully looks like it belongs.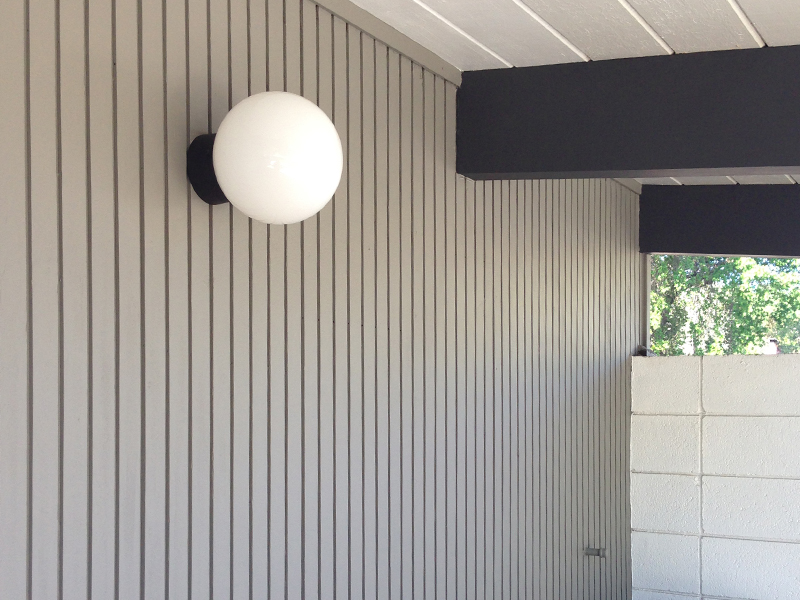 That's thanks to more neighbor/ex-neighbor globe/base donations –thanks Kelly, thanks Jon! It even gives off a nice glow, which is a bonus…and good for a light, I guess. It's also visible from the street, which we didn't realize until we were walking back, the night after install.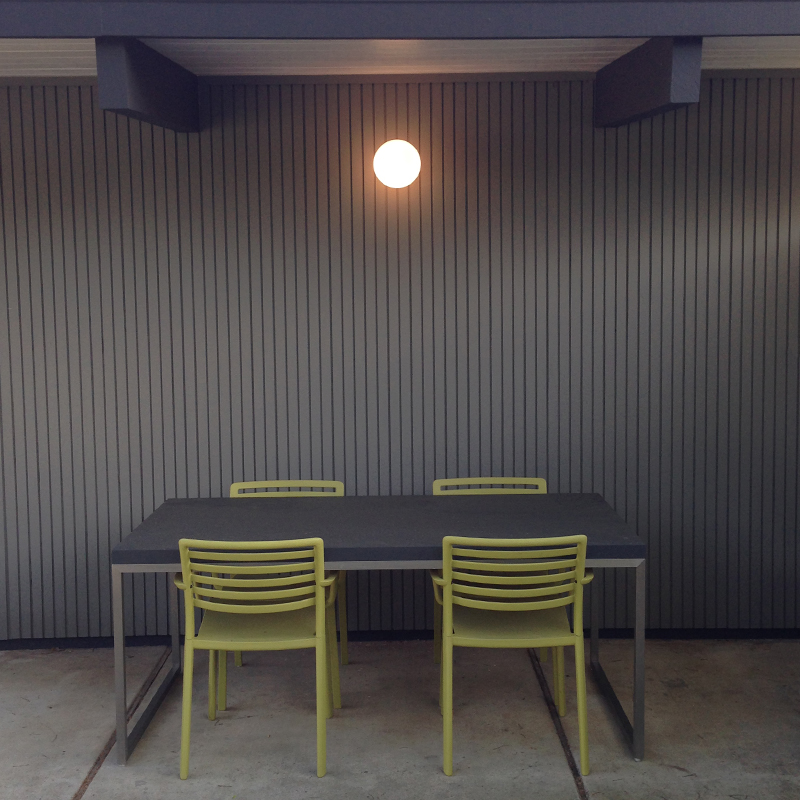 Another simple addition was these cube planters, we snagged on sale at CB2. The high-gloss white adds a touch of 'bling' here, which we're not opposed to, and shows-off the agave inside.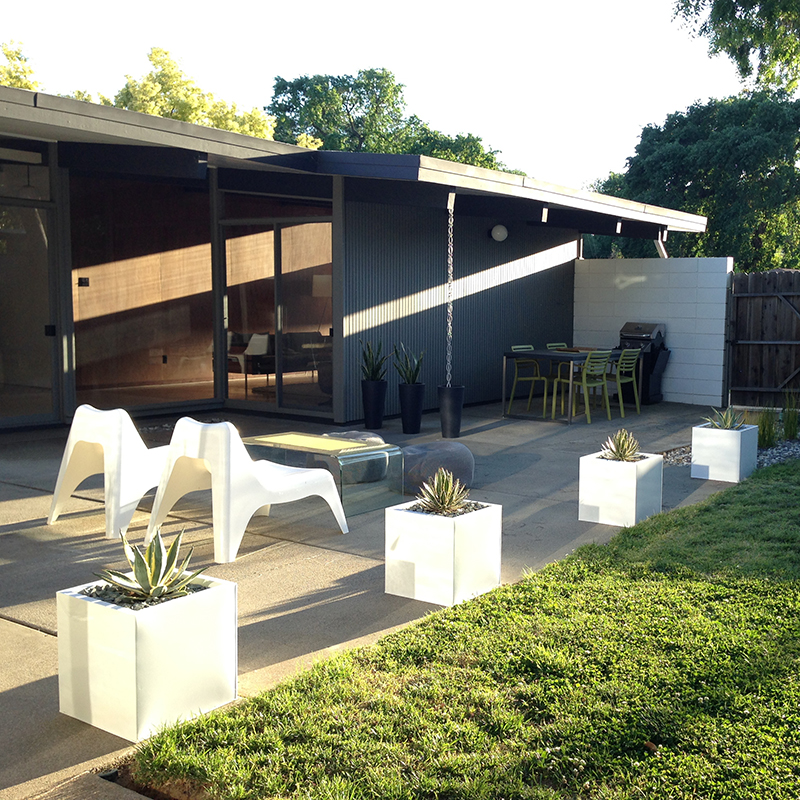 On that, this variegated century plant grows up to eight feet (seriously!) so will need re-homing, eventually.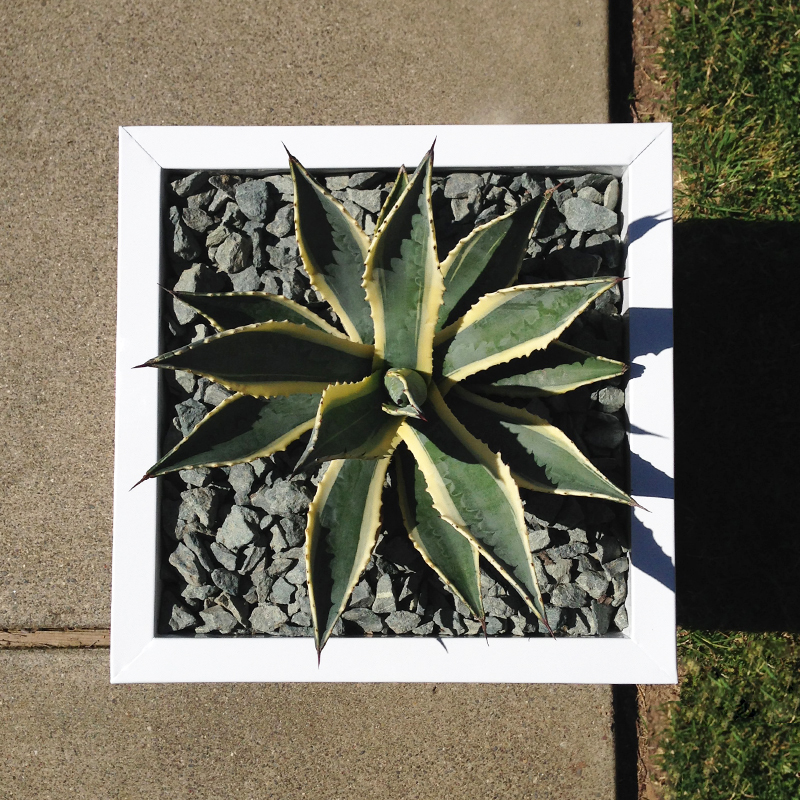 This variegated agave Schidigera (modeled by our furry friend, Ryder) maxes-out at 18 inches, so will stay here long term.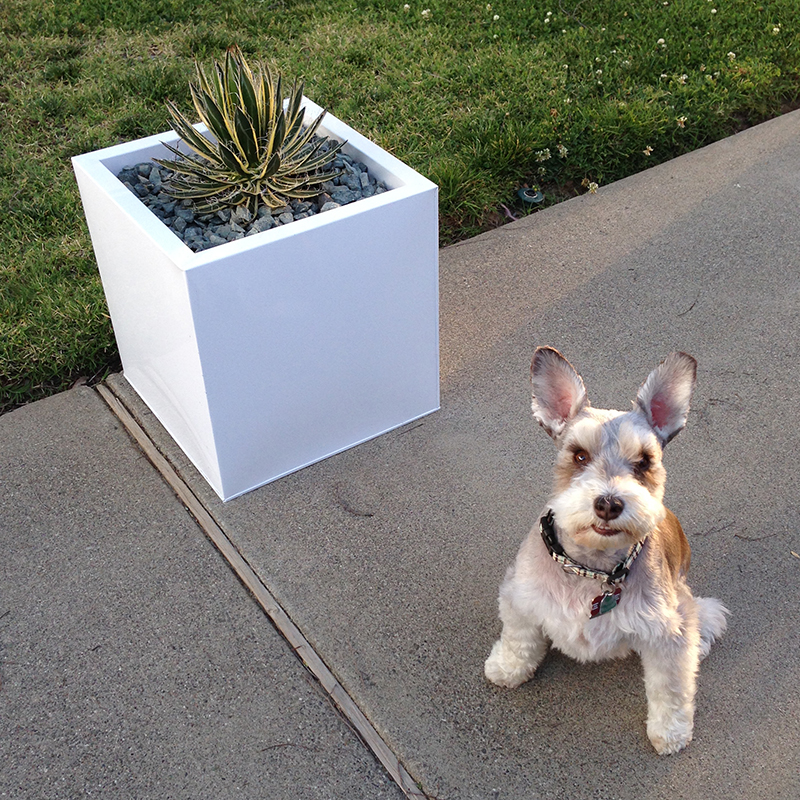 We also just solved an ongoing conundrum. Remember our horsetail, planted in this concrete cutout? We love the look, but people kept telling us horsetail wasn't a good idea, due to its invasive nature and thirst for water. So, we dug it up. Thankfully, the root system wasn't very developed.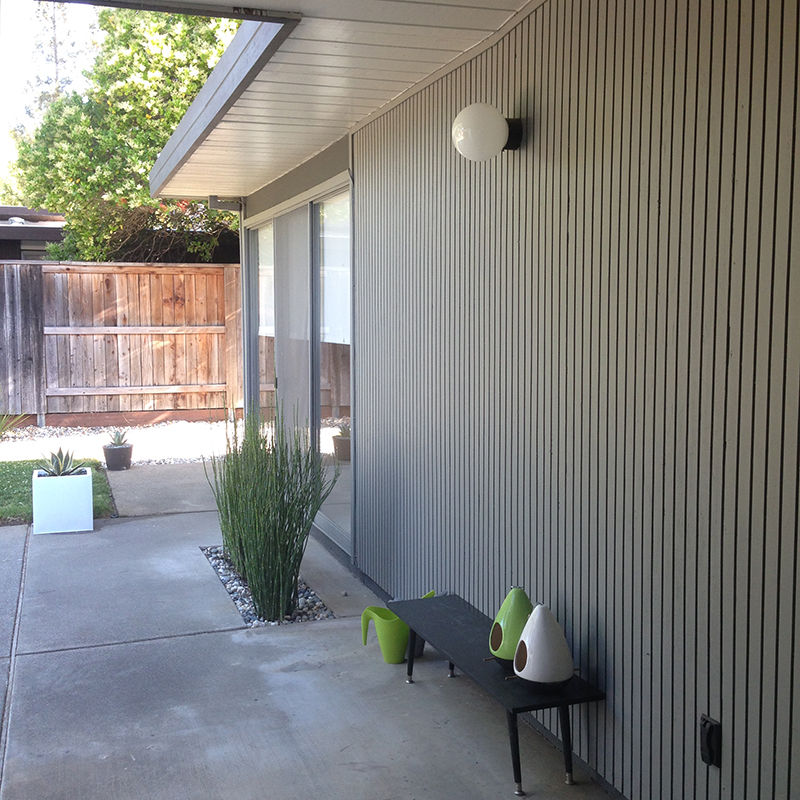 Eventually, we settled on Golden Barrel cactus to replace it. As a birthday surprise (for me), Karen found three good-sized specimens, and planted them here –she has the scars to prove it.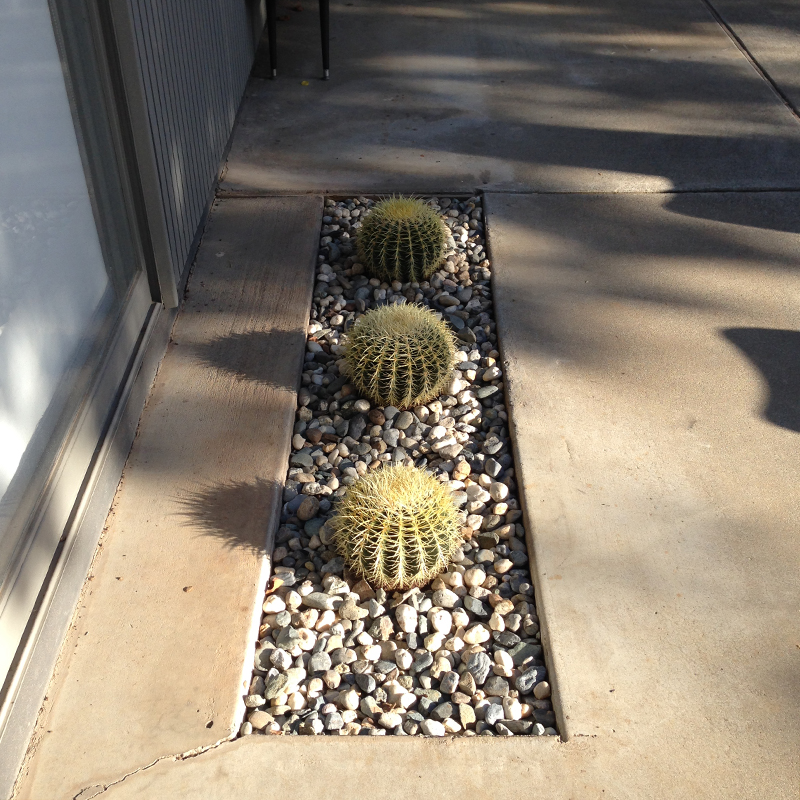 We couldn't be happier with how they look –here's another view. That black pot in the background is one of a pair, containing agave Celsii Nova, which will stay small for a while, but eventually need re-planting.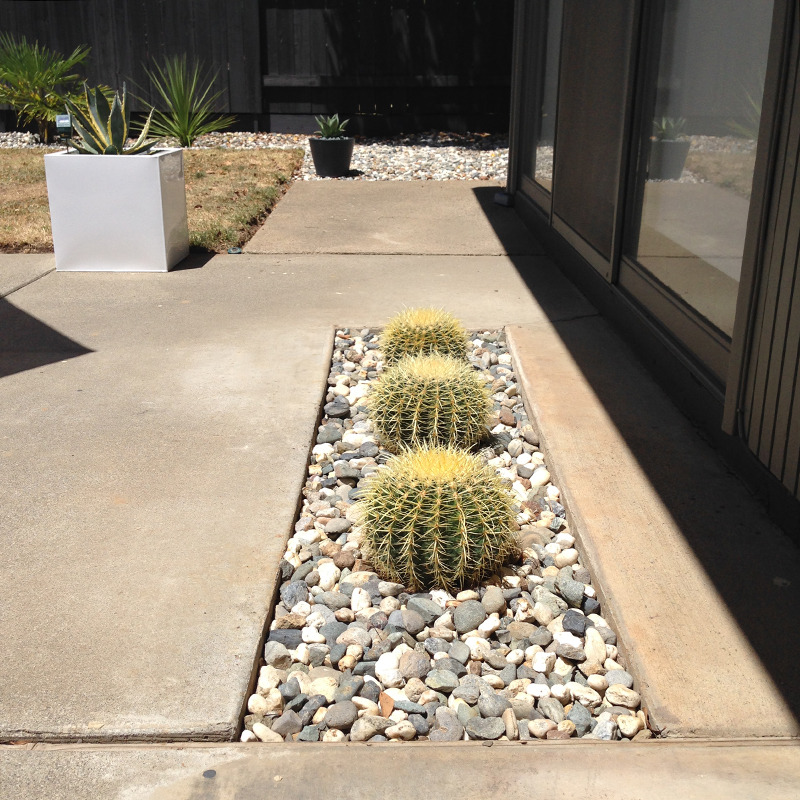 The last change to share is to the front fence. Some neighbors use Eichler fencing here, or clad this portion in Eichler siding, to match the house. We'll do that too, eventually, as we like how it visually elongates the house.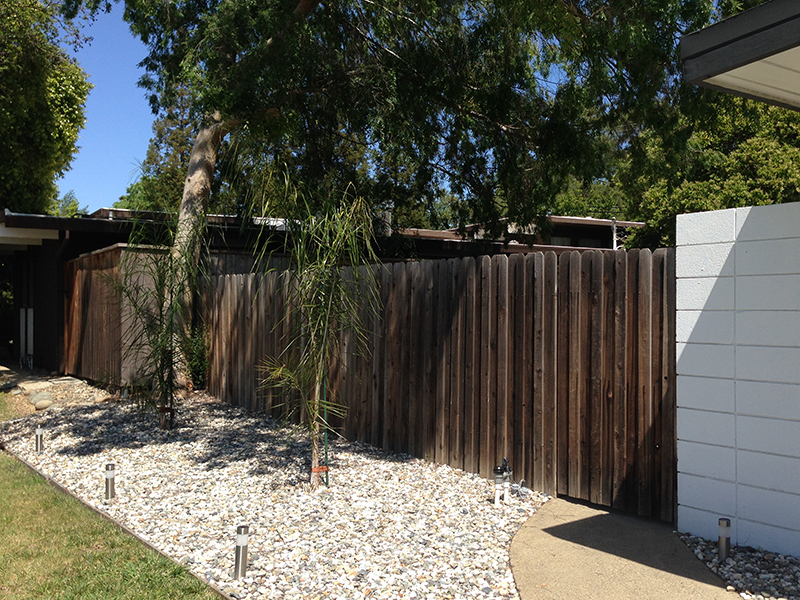 For now, we just painted it gray, to match our siding –not perfect, but preferable to the tired wood look…to us, anyway.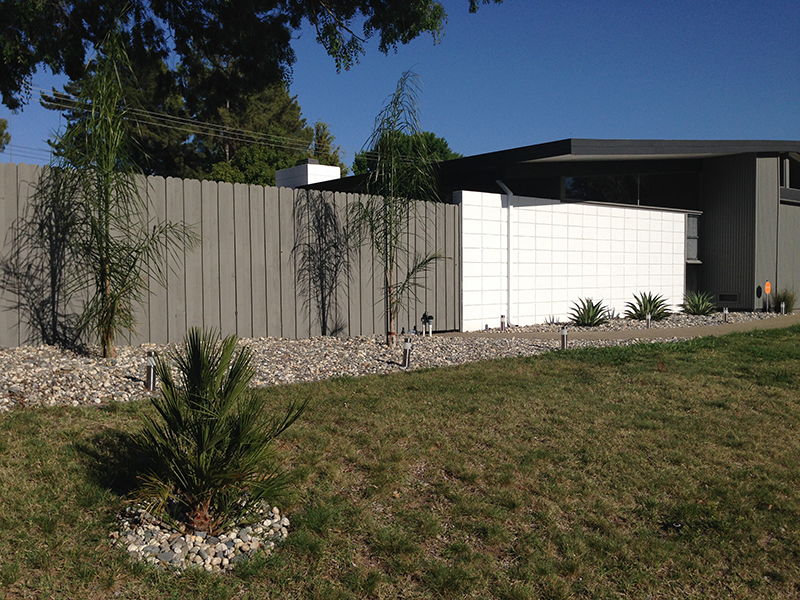 We painted the reverse too, and immediately noticed how the greenery 'pops' against the gray. This is Mulligan –so called 'cause we planned to remove him first-off, then gave him a second chance. He's been flowering like crazy, so I'm guessing he's happy with our decision.
Further along, Mr Yucca was donated by our friends up the street (thanks K+G!). Here you can also see the charcoal stain we applied to the rest of the fence. This will extend around our entire perimeter fence, to unify everything.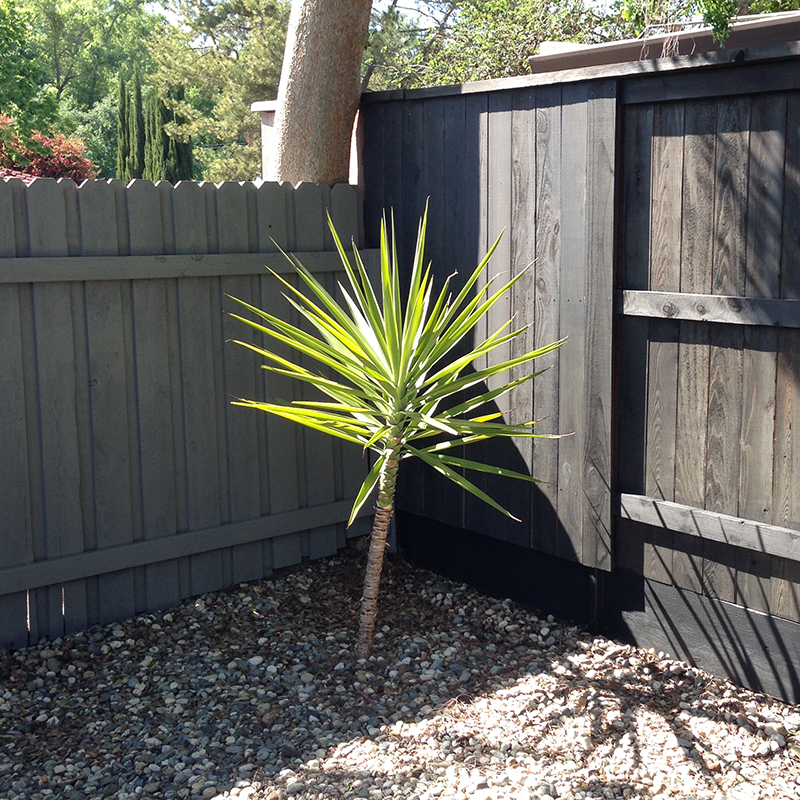 Still two large elephants in the room on the patio –a leaning Chinese Elm (seen above) and our desperately tired patch of lawn. We'll tackle both before the end of this year. Hopefully. In the meantime, we've been busily DIY-scaping (as I like to call it) out back. More on that soon…