Most later Eichlers have laundry rooms. Not ours –we have a small 'nook' instead, sandwiched between back door and guest bath.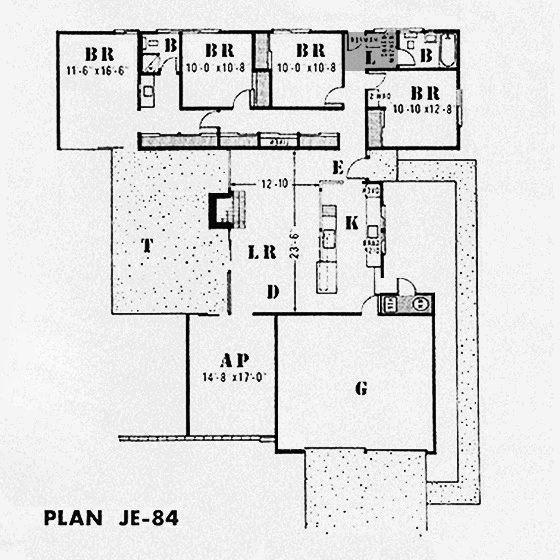 It's tight in here –notice the door trim, cut to fit regular-sized machines. Still an upgrade for us Brits, accustomed to kitchen-based washer/dryers.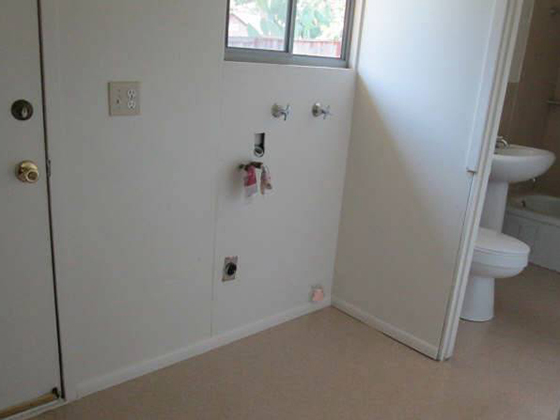 Though a small space, plenty to do. We installed a new dryer vent, replaced an electrical outlet and light switch (not shown), painted the washer wall gray (what else?) and worked on the guest bath door/trim –more on that later. Here's a rare 'during' pic.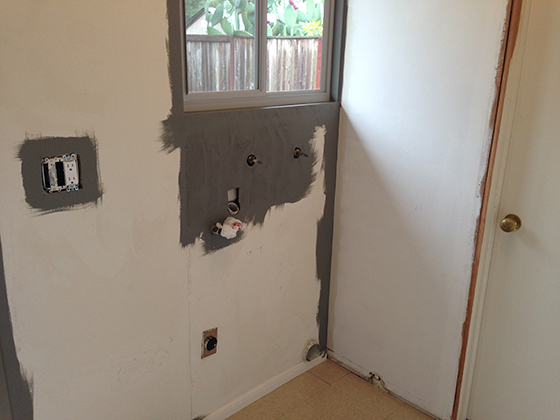 We painted the back door (out of shot) gray, to blend with the washing wall, and painted the other walls and ceiling white. We sanded/filled/painted the beam above the window, in our dark gray beam color. Here's the 'before' and 'after'…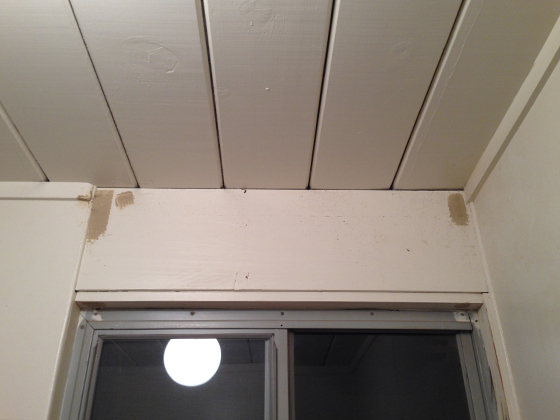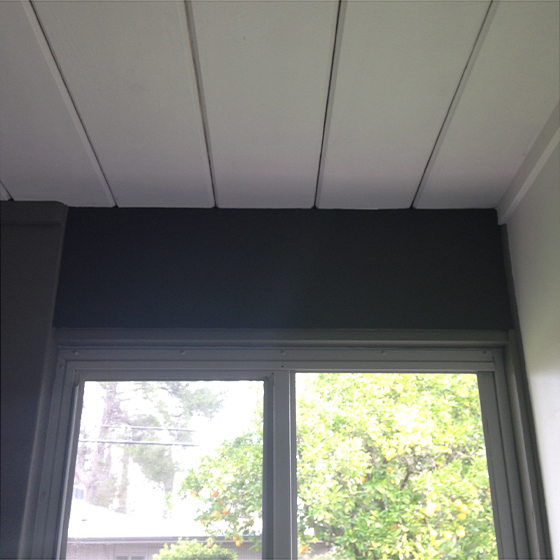 And of course we added a washer/dryer –these micro machines are typical for the UK, and fit perfectly (must've been this size in '55) allowing a clear path to the bath. Oh, we just met some lovely new Eichler neighbors (hi K+K!) who picked the same combo for their space.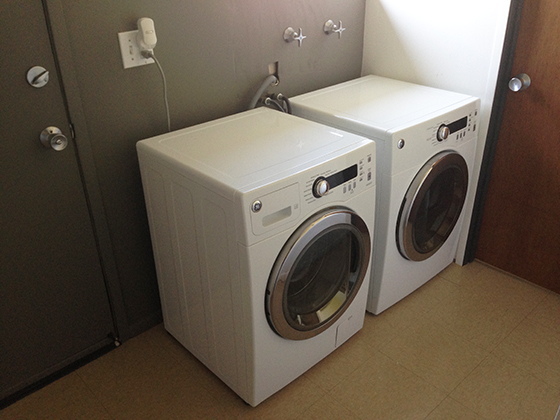 You can see the now gray back door (left) and revamped bathroom door (right) –we added new matching door hardware to both. We refaced the bathroom door in luan –an easier process than my earlier sanding efforts, with better results.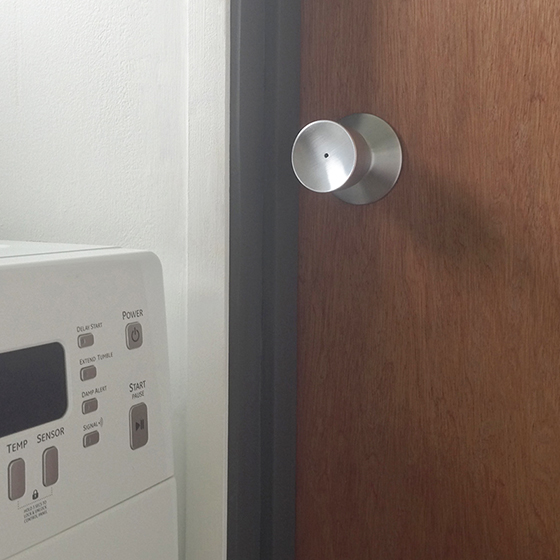 We had wanted no door trim and naked wood door jambs, to mimic later Eichlers. That didn't work out. It would have meant sheet-rocking the walls, and I just couldn't get a decent finish on the jamb. So, we added this lower-profile trim and painted the door jamb dark gray.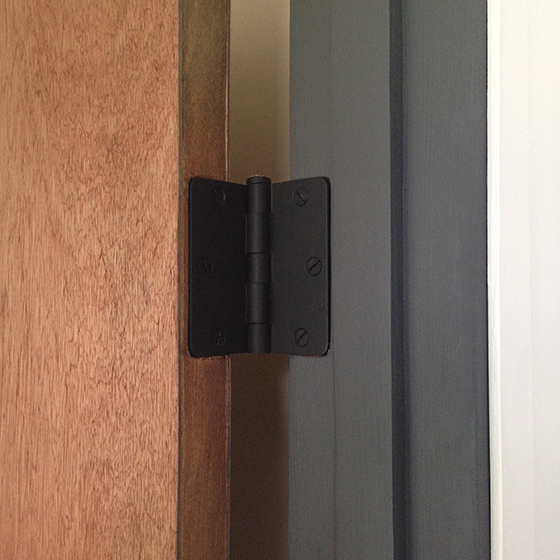 At first (having invested hours) I resisted Karen's idea of painting them. I later succumbed, and now love the look. I sprayed the brassy hinges matte black, for contrast. I also sprayed the back door hinges black, which contrasts nicely with the gray door and white wall/ceiling.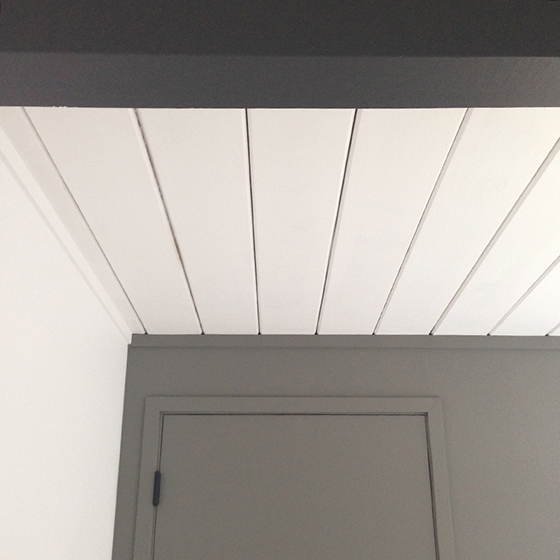 We thought fabric artwork would be a good fit for the wall opposite the washer/dryer, so ordered these Eames Small Dot swatches –I'm a long-time fan of this fabric, but at $100/yard, we were half hoping not to like them.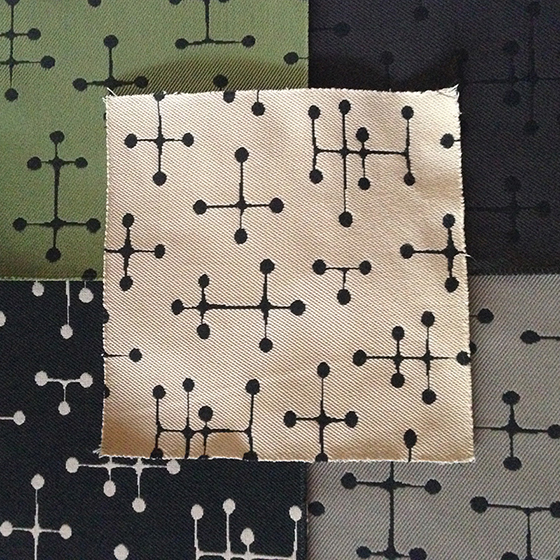 Of course, we did. The next bit makes me feel guilty –the swatches were actually large enough to frame, so we did. We didn't pay a penny for them. There, I said it. Anyhow, we love how they look, perched on an IKEA picture shelf we added.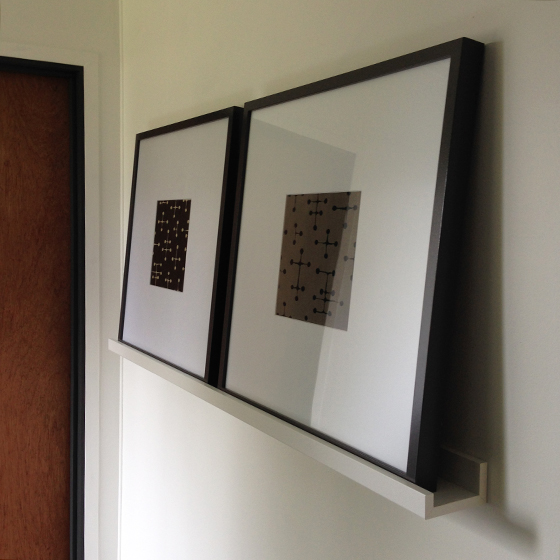 They have a dual purpose, masking an ugly sub-panel. Here's the view out from the bathroom. There's another beam we painted, and the light switch we replaced. Love how everything is monochrome here. Just don't look down –we're ignoring the beige VCT for now.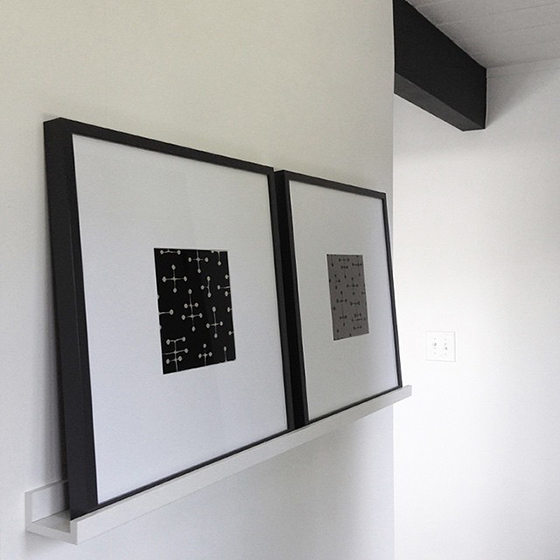 Here's a view past our front door, into the laundry area. You can see how the color scheme works together, with the door jambs matching the beams, and pops of contrast from the doors. That gray for the washing wall is the same as our exterior, but looks much darker in this spot.
We need to add a countertop over the washer/dryer, and storage in-between. Oh, and the flooring will be replaced throughout. Other than that, it's done. A lot of work for a tiny space, but it's made such a difference. So much more to share soon…